10 Simple Ways To Spruce Up Your Home In Just 1 Weekend
A well-maintained home can be a source of joy and relaxation, promoting mental and physical health. It also imparts an air of order and tidiness that makes it more inviting to visitors. Have you been feeling a little blah about your home? Maybe it needs a little TLC to jump-start its refresh cycle, or maybe you just need to shake things up a bit and get some new inspiration.
No matter the reason, we've got you covered with 10 simple and easy tips that will help you spruce up your home in just one weekend! So get ready to bring some life back into your space, and don't forget to share the progress and photos on social media!
1. Declutter your home
Decluttering your home can help to improve your mental and emotional health, as well as increase the space you have to live comfortably. Not only that, but decluttering also helps you get organized and reduce stress levels.
Here are some other tips for decluttering your home:
– Sort your clothes by type (e.g. summer, winter, etc.) and put them in a designated drawer or closet space.
– Remove all unused or redundant items from your shelves and drawers.
– Get rid of any old decorations or furniture that you no longer use.
– Clear out all the clutter in one specific area of your home, such as a corner kitchen cabinet or a bookshelf in the living room.
– Arrange all of your belongings according to their purpose (e.g. clothes in one section, shoes in another, toys in yet another).
2. Rearrange your furniture
If you're looking for ways to spruce up your home in just one weekend, consider rearranging your furniture. This will give your room a fresh new look and can make a big difference in how you feel about it.
Start by assessing the layout of your room and deciding where you want each piece of furniture to go. This will help in planning which pieces need to be moved and when. It is also important that any new items you purchase fit into the current décor scheme.
Once everything has been categorized, start moving things around! Try not to stress out about making too many choices at once – take your time as this process will gradually relax tensions in the room.
3. Reupholster or repaint furniture
If you're looking to spruce up your home in just one weekend, you can do either of two things: reupholster or repaint furniture.
Reupholster is a quick and easy way to add a new look to your furniture without having to tear it down and rebuild it from scratch. All you need is some new fabric, some staples, and a sewing machine. You can find cheap reupholster kits online or at your local hardware store.
Repainting furniture is also a quick and easy way to change the look of your living room, bedroom, or any other room in your house. You just need some paint, a brush, and some time. Most stores offer free paint samples so you can get the right color for your furniture.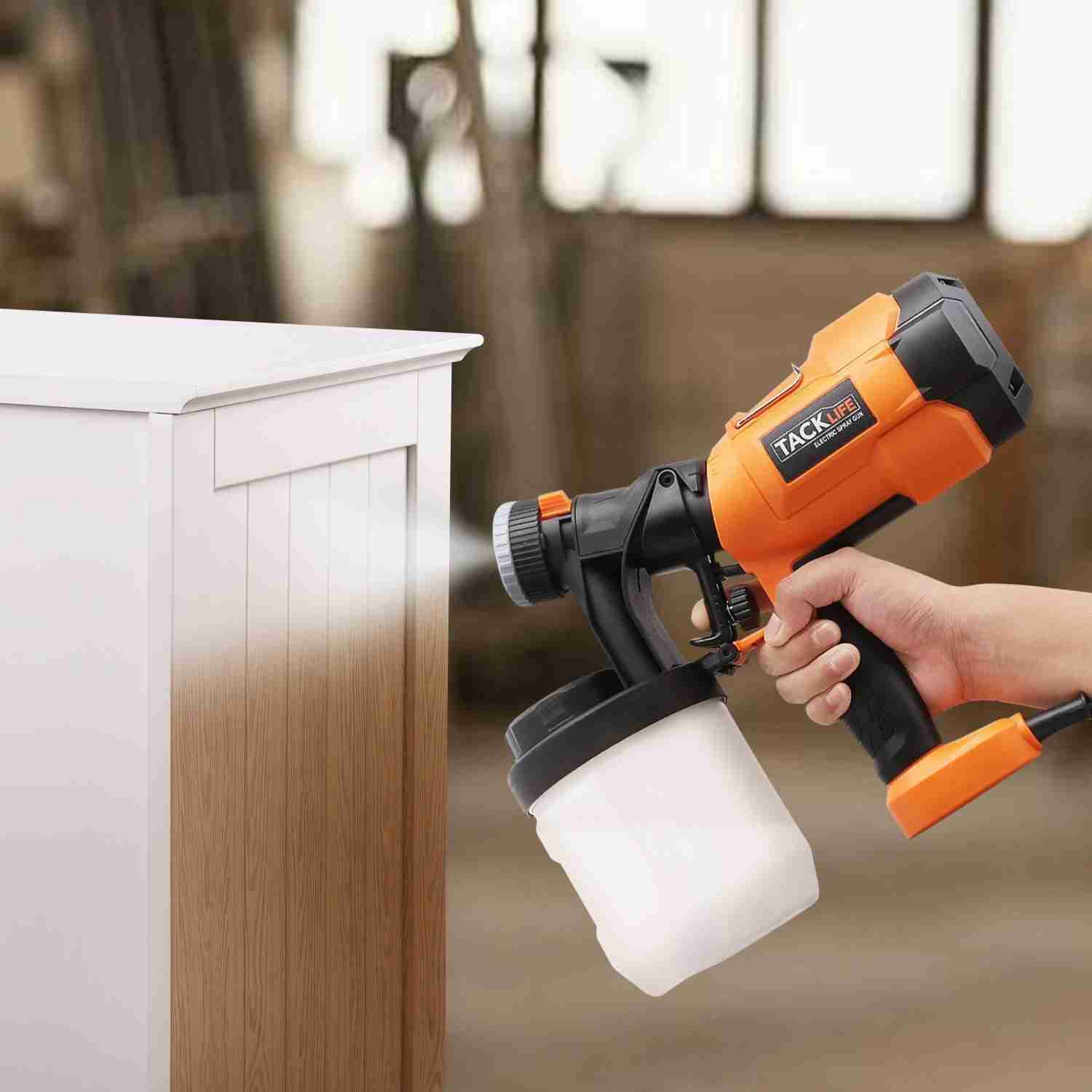 4. Update your lighting
Lighting can make or break a room! One of the easiest ways to spruce up your home is to update your lighting. By replacing old lighting with brighter, more modern options, you can make a big impact on how your home looks and feels.
There are a number of ways that you can update your lighting and some of the simplest methods include:
– Installing new light fixtures: This is probably the most common way to update your lighting. By replacing old light fixtures with new ones, you can achieve a variety of different effects that will make your home look more modern and stylish.
– Use darker colors: A darker color scheme can create a more dramatic effect, while still giving you the light that you need. You could also try out some light metallics or crystal lights for an extra touch of luxury and class.
– Using natural light: If you don't want to spend money on new fixtures, then why not try installing window shades or curtains? This will allow natural sunlight into your home, which will give it a warmer and more inviting feel.
– Adding mood lighting: Not everything needs to be brightly lit; sometimes all you need is a little bit of ambient lighting to set the tone for the room. You could try out some sconces or wall lamps for this purpose.
5. Update your wall canvas 
One easy way to spruce up your home is by updating your wall canvas. By replacing old, drab paintings with exciting new pieces, you can instantly improve the look and feel of your home.
You can do this by adding fresh new artwork or decorating with vibrant colors that will add energy and life to your space. There are a variety of options available, so you can find something that perfectly matches your taste and style.
You can also choose to use decorative poster prints or photographs as wall art. This is a great way to show off your favorite memories or photos of family and friends. You can also add some personality by choosing frames that reflect your personal interests and lifestyle.
6. Add plants & flowers
Adding plants and flowers to your home can not only make it look nicer, but it can also improve the air quality and reduce stress levels.
Plants and flowers release oxygen into the atmosphere, which is good for your health. They can also help to reduce stress levels by releasing calming hormones like serotonin. In addition, they provide a natural source of beauty and color that can brighten up any room in your home.
There are many different types of plants and flowers that you can use in your home – so there's sure to be something that will fit perfectly into your needs. Just be sure to take care of them properly so that they continue to bring you benefits long into the future!
7. Change your bedding
One of the quickest and easiest ways to spruce up your home is by changing your bedding. Not only will this make your room look neater and more organized, but it will also help to improve your sleep quality.
There are a number of different types of bedding that you can choose from, including cotton sheets, synthetic sheets, and duvets. Though it's important to decide which type of bedding is best for you, it's also important to take into account how hot or cold your room gets during the night. If you're extremely hot or cold, then a thermal mattress pad may be a better option for you.
8. Buy new home accessories
One of the best ways to spruce up your home in just 1 weekend is by purchasing new accessories. This will give your home a fresh look and make it feel more organized and stylish.
Some of the best new accessories that you can buy for your home include décor items like rugs, curtains, lamps, metal prints, ornaments, and so on. You can also buy new furniture such as sofas, tables, chairs, and beds. Finally, you can also purchase decorative accessories like plants and vases.
9. Layer your rugs and carpets
One of the easiest ways to spruce up your home is by layering your carpets and rugs. This will help disguise any wear and tear that your floors may be experiencing, as well as adding a bit of color and texture to your space.
To layer your carpets and rugs, start by picking out a rug or carpet that's slightly larger than the one underneath it. Then, place the smaller rug on top of the larger one, making sure that the edges are tucked in behind the bigger rug. Repeat this process until you've covered all of the floorings in your home.
This simple technique will not only add a bit of color and life to your home, but it will also protect your floors from damage.
10. Keep it simple
Keeping it simple is always a good idea when it comes to decorating your home. This is because it can be easier to change things up or add new features if everything is simplified.
Here are a few tips for keeping things simple:
– Stick to one color palette: This will make it easier to create an overall look for your home, and you won't have to worry about blending in with the other furniture or decorations.
– Use neutrals: This will help you avoid feeling overwhelmed or trapped by your choice of colors, and you can use different shades of neutrals to create a variety of looks.
– Choose natural materials: This will help you avoid using any artificial colors or scents, which can be damaging over time.
– Keep everything organized: kind of like with color, using organized containers and shelves will make it easy to find what you're looking for.
Conclusion
To sum it up, the weekend is almost here! In case you haven't started to do any of the tips mentioned above yet, start now! Using the code CHIQUE10 to get 10% off, shop stylish and affordable wall canvas at CANVASDISCOUNT.com – Not only will your home look amazing in just one weekend but also it will give off an aura that expresses your personality.
In addition, if you are running low on budget, we have another secret tip for you. The most inexpensive upgrade is often the smallest change that can make a big difference. Sometimes less is more when it comes to decorating your home!
Alex Grigoryan is a Professional Home Improvement and Lifestyle Writer. He has been in the industry for over 6 years and has been writing for Chique Home Living since 2019. His work has been featured in prestigious blogs such as Spruce Home, Better Homes & Garden, and more.