10 Tips to Make Your Bedroom More Comfortable & Peaceful
The bedroom is your sanctuary from the outside world. It is your personal space where you can leave all the stresses at the doorstep. When you are starting and ending your days in the same room, it's important for your bedroom to be the most comfortable it can be. 
Whether you are unable to relax or struggling to sleep through the night, we are happy to share expert tips to make your bedroom more restful. Take a look.
Stick to neutral colors
Instead of going all out with bold wallpapers and accent walls, it would be better to stick to neutral tones for your bedrooms. Pastel blue, grey, white, taupe and other lighter hues promote calmness and give you a blank canvas to work with.
Use natural materials
Avoid using metals, plastic, and synthetic materials for bedroom decor. Go for natural materials such as wood, rattan, wicker, stone, wool, and so on.

Switch lighting fixtures
Harsh overhead lights work well for kitchens but aren't suitable for bedrooms. Swap such lighting fixtures with dimmable lights or a subdued bedside lamp.
Since adding new lighting fixtures will likely increase your electricity bills, it's a good time to compare gas and electric providers in your area and switch to a better plan.
Install heavy-duty drapes
Whether you live in a sunny climate or a noisy neighborhood, any light coming in through your windows can make it difficult to sleep. You should replace flimsy curtains with heavy-duty drapes. A dark room tells your body that it's time to rest. Full coverage blinds will allow better quality and quantity of sleep.
Add a pop of green
Just because you have neutral interiors does not mean it has to be boring. You can add a fun pop of green with plants. Indoor plants are a way to bring some outside into your bedroom. Such greenery has also been shown to improve air quality and boost positivity.
Minimize technology
Having a TV in your room sounds extremely convenient, but it can adversely impact your quality of sleep. Technology stimulates your brain, which is bad news for your sleep schedule.
You are better off minimizing technology in your bedroom. Apart from television, you should also avoid bringing your work laptop to your place of rest.
Don't overdecorate
If you are an interior decor enthusiast, then you may be looking forward to decorating your place. However, the bedroom is one space where less is more. Rather than going overboard with decor, it is best to keep it simple and minimalistic. This also ensures that you have enough space to move around.
Keep it clutter-free
It is never fun to come home to a messy space, particularly an untidy bedroom. Try your best to keep your bedroom as clean as possible. You can do that by making your bed right after waking up, this will not only instantly tidy up your room but also give you a sense of achievement first thing in the morning. Also, get a laundry basket for your bathroom instead of piling dirty clothes on the floor.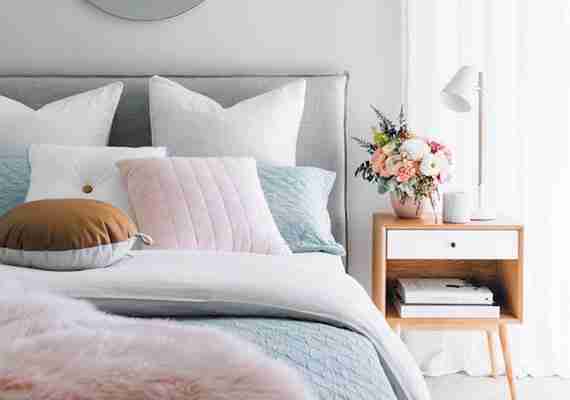 Invest in high-quality bedding
Do you usually buy the cheapest bedding you can find online? Bedding significantly impacts your quality of sleep. So don't hesitate to splurge on high-quality organic bedding. Additionally, it's also a good idea to get a new mattress and pillows if you have been using them for a long while.
Explore aromatherapy
In addition to organization and decor, you can make your bedroom cozier with aromatherapy. Scented candles or aroma diffusers can be a part of your evening unwinding routine. Sea breeze, lavender, lemon, and rosemary are some popular scents that help with relaxation.
Alex Grigoryan is a Professional Home Improvement and Lifestyle Writer. He has been in the industry for over 6 years and has been writing for Chique Home Living since 2019. His work has been featured in prestigious blogs such as Spruce Home, Better Homes & Garden, and more.