11 Tips to Renovate Your Home On A Budget
Whether you have moved into your dream house that needs a little makeover or the existing property needs an upgrade, home renovations are the perfect way to remodel a house. The idea of countless renovations and reconstruction projects seems might seem fancy as a thought, but once it starts, it may seem like you are paying through the nose. But it doesn't have to be that way. Who says home renovation projects have to cost the same as buying a new one?
If you're planning to freshen up your living space any time soon and are looking for money-saving tips, this is for you. Here, we will uncover 11 Tips to Renovate Your Home on A Budget.
1. Set a budget 
Before you pin style ideas on Pinterest for your new space, look at your finances. Knowing what you are going through within a renovation project is necessary. Whether you have personal savings to back you up or plan to take out a loan, make sure whatever it is doesn't cost more than the house's value. Keep an extra 15-20% margin for unexpected price hikes or expenses.
2. Set up a temporary spot
Renovating the same house you live in can get congested and crowded. So before demolishing old cabinets, set up a space to store essential items like toiletries and kitchen utensils. A great tip for setting up a temporary space is to move out anything you won't be using for some time.
You can easily find storage units if you look up "RV storage Rockwall tx" that will take care of your stuff while you revamp the space. So, for example, the stacks of books you won't be reading until the renovation is over, put away in a storage unit so that you have room to put out building supplies.
3. Do-it-Yourself (DIY) Projects
To save bucks when renovating, try to DIY whatever you can unless it is serious business like dealing with electrical wiring or air conditioning. In that case, it is better to hire a professional so that you don't hurt yourself. Jobs that you can do on your own, without prior experience, are gardening, painting, polishing furniture, or installing wallpaper.
4. Declutter before you purchase new items
Before you get tempted to upgrade all existing furniture and fixtures, consider what you can upcycle and what needs to go. For example, if the rattan chair you have had for years doesn't fit the aesthetic of your new space, sell that!
What's better than selling old stuff to buy new ones? Or to finance your renovation? In addition, Decluttering frees up your physical and mental space, and you might feel the need not to buy any new furniture, thus saving more!
5. Buying Floor Models
Apart from selling old items, the ones in good shape and can get you a reasonable price, try to go for floor models or secondhand items when purchasing new ones. The flea market and thrift stores are great places to start shopping for your new space. Not only will you get better rates, but you might also have room for negotiating.
Other than buying secondhand goods, look for floor models when purchasing appliances. Floor models are appliances on display in stores and thus have been through minor wear and tear but never been fully used. Some even come with a manufacturer's warranty. The plus point is that floor models are sold at a discounted rate so that you can save up a little!
6. Spruce the design up
Instead of demolishing the old structure to make it appear airy, try incorporating design elements like bright light and paint. Painting with lighter shades can enlarge the space and make it seem less overpowering. The same goes for lighting. Go for white light and ensure your windows are not blocking the natural sunlight with heavy curtains.
Of course, you can keep the thick ones for privacy, but a little light hurts no one! This way, you can spruce up your space without tearing down the walls and reconstructing everything, which costs more than a coat of paint.
7. Add Mirrors to make the space look larger
Another money-saving tip when enlarging the space is to add mirrors. Even the smallest rooms can appear bright and relatively spacious if the mirrors are adjacent to a light source. Again, there is no need to tear down the walls or hire builders to enlarge the guest bedroom; add a few mirrors!
8. Hire a contractor
Contrary to the DIY point, hiring a contractor can be the best budget-friendly tip for your home renovation project. Tackling a renovation project can be difficult with the added burden of a full-time job or taking care of your family.
Also, it can be more costly if you mess something up. Better to hire someone who knows what they're doing. You can interview a few contractors and get a price quote for your renovation project. Then, whatever fits within your budget, go with that!
9. Rearrange, redecorate and refurbish!
Simply rearranging furniture around the house can give your home the facelift it needs. For example, if the living room couches feel stuffy and old, get them upholstered or trade in for a different set at the flea market.
Similarly, you can switch up décor items around the house to give every nook and cranny a new look. This way you won't be spending money on furniture or new things. Though some spending action may have to happen, nothing too dramatic like purchasing a new couch set!
10. Ditch the old door!
The rather infamous saying "first impression is the last impression" might apply to your front door. What are you doing if you're renovating the entire house and haven't thought about touching the front door? Your front door is the first thing people visiting your home would ever note, even the passer-by on the street!
Paint it something bright and attention-grabbing or line the entryway with colorful plants, do something. Of course, installing a new one is costly, but painting it won't go too out of your budget.
11. Add space-saving features to your home
Are you renovating your space only to replace old cabinets and cupboards with new boxy ones? Instead of only focusing on the aesthetics, incorporate space-saving features into your house. It will reduce future spending on storage solutions like an extra cart for the kitchen. Add pull-out drawers inside cabinets to maximize space and cut future costs.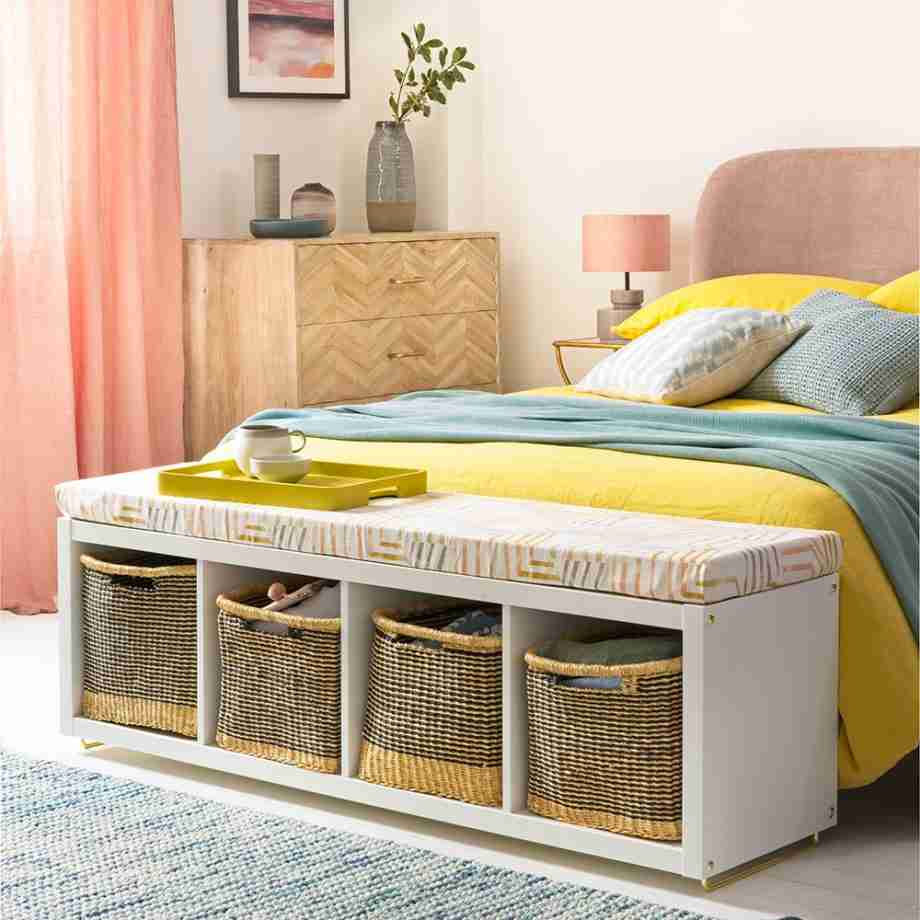 Conclusion
Renovating your space shouldn't feel overwhelming and daunting; neither do you have to make the renovation process stressful and sad. Instead, take it as a fun and creative process so that you can experiment with design while staying conscious of your budget. Start planning what changes you need, set a budget, and work your way up!
Alex Grigoryan is a Professional Home Improvement and Lifestyle Writer. He has been in the industry for over 6 years and has been writing for Chique Home Living since 2019. His work has been featured in prestigious blogs such as Spruce Home, Better Homes & Garden, and more.