5 Classy Furniture Ideas For A Timeless Living Room Design
Your living room is the heart of your home. It's where you gather with family and friends, relax after a long day, and enjoy some quality time together. So, it's essential that your living room perfectly embodies your unique taste. It should be a space that you're proud to show off to guests for many years to come—a design that never goes out of style.
One way to achieve a timeless design in your living room is to choose furniture that'll stand the test of time. That doesn't mean you have to sacrifice style for durability; there are actually plenty of beautiful, well-made pieces that can last for such a long time.
To help you get started, here are some furniture ideas for creating a classic living room design that's both stylish and cozy:
1. Sofa
A living room isn't complete without a sofa—it's often the focal point of the space. When selecting a sofa, opt for clean lines and timeless details that you'll love for years to come. A classic shape, like Chesterfield sofas with tufted leather upholstery could be a good choice. You may also go for a more modern look with a sleek, minimalist sofa in neutral tones, such as grey or beige.
Whatever style you choose, make sure your sofa feels comfortable and looks inviting. It should be a place you can't wait to sink into at the end of a long day. And, don't forget to accessorize!  Add some throw pillows in complementary colors and patterns to give your sofa a little extra flair.
2. Coffee Table
There's nothing better than kicking back with a good book and a cup of coffee in hand. Whether it's morning, afternoon, or evening, your coffee table is the perfect place to do that. So, make sure this furniture is up to the task by picking a beautiful and functional one.
When choosing a coffee table, think about the shape, size, and material that'd work best for your space. A round wooden table with polished details would be a good choice for a timeless feel. You could also go for a rectangular glass table with a sleek metal base if you want a more modern approach. Or, if you're looking to make a statement, consider an antique piece with intricate details. You can also find this furniture with built-in storage as a practical option.
It's also essential to note that the coffee table's size should be in proportion to the sofa—it should be about 14 to 18 inches away from the couch. This way, you can have plenty of room for people to walk around and sit down comfortably.
3. TV Rack
Nowadays, the television (TV) is often the center of attention in the living room. It'll make a blank wall more interesting and can be a source of entertainment for family and friends. But, to complete the aesthetic appeal of this area, you'll need a TV rack that complements the theme of the space to enhance your viewing experience.
There are plenty of stylish TV racks that'd suit any living room. A vintage-inspired wooden design would be a good option for a more traditional space. Another idea is a luxurious metal stand that can add a touch of elegance to the room.
Both of these choices would make excellent conversation starters when guests come over. Just ensure that the TV rack is the right size for your TV set and should be sturdy enough to support the appliance's weight and other accessories. This is one of the most common mistakes people make when buying furniture for their homes.
4. Armchair
Sometimes, all you need is a cozy place where you can curl up, listen to music, or read your favorite book. An armchair is a perfect furniture for this purpose as it's both comfortable and sophisticated. It can also act as an accent piece in your living room, adding a pop of color or a touch of luxury.
One of the most popular choices for an armchair is a wingback style. This design has a fashionable appeal and can be upholstered in crevin chic upholstery fabric to suit your preferences. You may also consider a slipper chair, a more compact option, and a shallow seat ideal for smaller spaces.
You can place your armchair near the sofa or coffee table to create a cozy reading nook. Or, if you want to use it as an accent piece, place it by the window to enjoy the natural light.
5. Shelving Unit
A shelving unit is a versatile piece of furniture that can store books, display décor pieces, or organize your media collections. It's an essential piece in any living room, especially if you have a lot of stuff.
One option is a ladder shelf, which has a unique, space-saving design. It's perfect for small living rooms as it doesn't take up much floor space. A wall-mounted shelf is another good choice if you want to save space. And, if you're looking for something more robust, consider a metal or wooden shelving unit.
It's best to position the shelving unit against a wall to make the most of the space. There are also minimalist styles that you can place beside the sofa or in the corner of the room. Also, put some greenery or your favorite picture frames to create an eye-catching feature.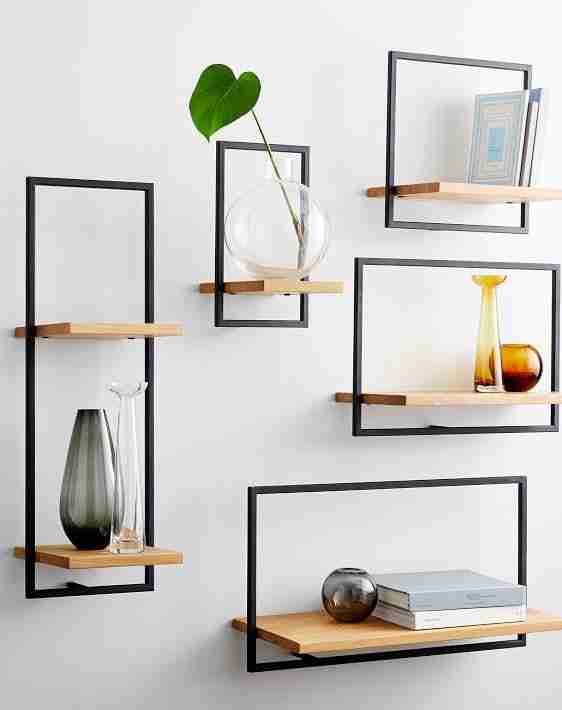 Takeaway
Creating a timeless living room design doesn't have to be complicated. You can achieve it with some simple yet stylish furniture pieces. Consider the ideas mentioned here, and you'll be well on your way to a chic and classic living room.
Alex Grigoryan is a Professional Home Improvement and Lifestyle Writer. He has been in the industry for over 6 years and has been writing for Chique Home Living since 2019. His work has been featured in prestigious blogs such as Spruce Home, Better Homes & Garden, and more.