5 Kitchen Trends that Will Never Go Out Of Style
As a homeowner, it is important to keep up with the trends in order to maintain your home's value. But what about when it comes to your kitchen? What are the trends that will never go out of style and what should you be focusing on for your remodel? In this blog post, we will discuss five kitchen trends for 2023 that will never go out of style!
As the kitchen continues to be the heart of the home, kitchen trends for 2023 are all about creating a warm and welcoming space. From colour palettes incorporating natural hues to smart home technology, here are the top 5 kitchen trends for 2023 that you should watch out for.
Firstly Smart Home Technology
Smart kitchen gadgets are becoming increasingly popular and kitchen technology is only getting smarter. Whether you're looking for smart kitchen scales, voice-controlled cookers or refrigerators that can order groceries, kitchen tech is here to stay for 2023.
As you may know, everybody is worried about the environment right now, which has prompted changes in political and environmental policies. Including voice-controlled appliances in your kitchen regardless if it is contemporary or old can help the environment and improve air quality indoors. Gas-powered cookers can blow over and be superseded by electric cookers that consume less energy.
As technology evolves, it is impossible to think that smart home gadgetry will get outdated soon. These appliances allow us to have better control over the home interior temperature and reduce energy costs in winter without sacrificing the essence of the kitchen design.
Secondly, Natural Color Palettes
If you're looking to create a cozy kitchen space, natural colours are the way to go. Natural hues such as white, light grey and beige are making a comeback in kitchen design for 2023. Add some bright colour accents like green or yellow to bring your kitchen to life.
The palette colors in the kitchen trends for 2023 will be brown, gray, and white, yet this is not limited to these three tones only. Other colors you can include for your kitchen decoration next year may be mossy green, sky blue, and sunny yellow. Of course, you should be careful when combining the color of your walls, cabinets, and accessories. Always use accent colours like these.
Thirdly Open Shelving
If you're looking for an easy kitchen upgrade, open shelving is your answer. Open kitchen shelving offers an easy way to show off kitchen decor and provides improved storage solutions.
If you have an old kitchen and want to modernize it, maybe open shelving can help transform it into the thing you desire. Open shelves are great for those kitchens that have some odd and unusable space. Not only does it upgrade the kitchen, but it also adds extra storage.
Selfies are trending, and so is open shelving, for a good reason. Open shelving allows taking selfies easier. An open shelf is also easier to arrange and re-decorate. Do you like switching up the decoration style? Try installing open shelving in your kitchen.
This set helps a lot in the organization of cutlery and items in the kitchen. Open shelving prevents messes and helps keep things neat.
Fourth Textured Tiles
Textured kitchen tiles are the perfect way to add interest to a kitchen space. From terracotta tiles to exposed brick, textured kitchen tiles come in all shapes, sizes and colours, giving your kitchen a unique and modern touch.
The kitchen is an area that is always exposed to spills, oils, water, and even water leaks. For this reason, you need textured tiles. These tiles absorb humidity and stop the floor from getting slippery. Textured tiles are more slip resistant and their popularity has held throughout decades. The variety of textured tiles is overwhelming. This is one of the kitchen trends for 2023 that never go out of fashion, undeniably.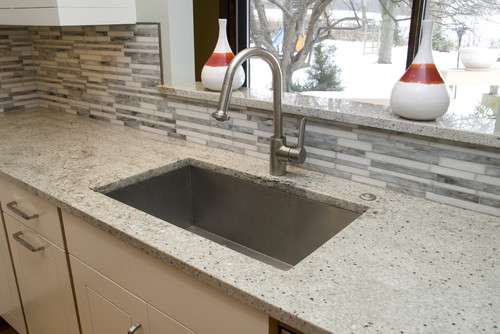 Lastly Minimalistic Design
Less is more in kitchen trends for 2023, as minimalism continues to be popular. Investing in simple kitchen furniture with clean lines makes for an elegant kitchen space that will stand the test of time.
Minimalist designs are in fashion again, just like they were in the 1030s. People are looking for more practicality and tasks that require minimum effort. In the case of kitchen tends for 2023, many kitchens will have handleless cabinets, monochrome themes, access to light, and clean lines. This stuff has never been out of date, indeed.
Applying a minimalistic style keeps everything in place and organized. It will be easier for you to find utensils in a kitchen like this. This kitchen trend will always be fashionable because of its versatility and because of the fact every element has a special place. Consider the minimalistic design as one of the top kitchen trends for 2023.
Summary
Keep these kitchen trends in mind for 2023 and create a kitchen space that is both functional and stylish. With the right kitchen accessories, you can create a kitchen that you'll be proud of and can see yourself spending quality family time in for many happy years to come.