5 Must-Have Features to Include in Your Kitchen Renovation
Did you know that more than 10 million people renovate their kitchens each year in the United States?
People spend a lot of time in the kitchen cooking three meals a day and then having to clean and eat.
If you want to update your kitchen so that it is more desirable, there are a few things to try.
Keep reading to learn about the best features for a kitchen renovation this year that will make your space more practical and nice!
1. Convenient Cabinets 
One of the latest trends for a kitchen renovation project is to install convenient cabinets.
Cabinets are typically used for food storage, spices, and Tupperware. You can get custom cabinets that will fit all of your favorite kitchen utensils and cooking pans. Companies can also include drawers in your pantry or cabinets that can be pulled out.
Cabinets with a lazy Suzan built-in and self shutting technology are popular in modern homes.
2. Cabinet Lighting 
If you enjoy mood lighting and want to upgrade kitchen features, you should include lighting underneath the cabinets.
Adding lights under the cabinets can make it easier to see things while you are cooking or grabbing a midnight snack. This is a great way to cut costs on your energy bill since you won't have to turn the ceiling light on as often.
Cabinet lighting is beneficial because you never have to worry about not seeing what you are doing.
3. Practical Island 
A kitchen remodel is incomplete without a practical island in the center of the room.
Contacting Mal Corboy Interior Design will give you insight into the best island for your home and lifestyle. Depending on your lifestyle, you can include an island with an additional sink or cooking surfaces like an oven or stove.
If you have a lot of kitchen items, you should consider an island with extra storage space. Some people use their islands as a place to eat quick meals, you can do this by adding stools next to the counter.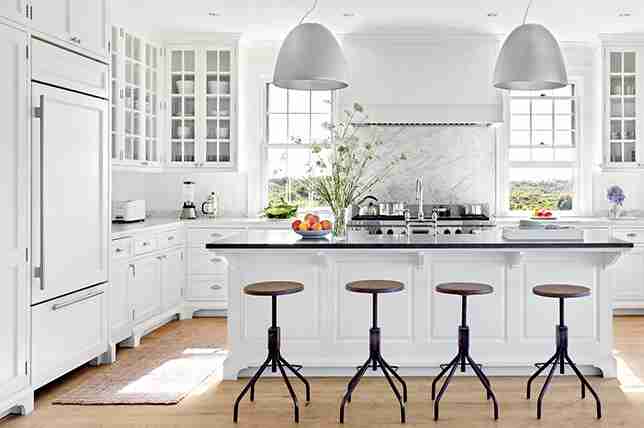 4. Large Sink 
If you are sick of running out of space in the sink or want more room to clean your fruits and veggies, you should get a larger sink.
Farmhouse sinks are a popular choice in modern, rustic, and chic homes. This type of sink can handle anything you need and you don't have to worry about a piece of metal dividing through the center.
5. Storage Space 
Whether you live in an apartment or mansion, it seems like everyone could use more storage space.
Adding storage space in your renovation designs can help make your life easier and you won't have to venture into the basement for your mixer. Not only will storage space give you a place to put your pots and pans, but you can also display your china or keep dried goods close.
Make the Most of Your Kitchen Renovation
Planning a kitchen renovation is fun but it can also be overwhelming when you think of all the things you want.
It seems that this year, people are looking for more storage and functional space. Since many people have smaller homes and kitchens, smart renovations are essential. Upgrading your cabinets and adding mood lighting can make your kitchen a place that no one wants to leave.
Be sure to check out our page for more content about home renovations and customizing your house to your lifestyle!
Alex Grigoryan is a Professional Home Improvement and Lifestyle Writer. He has been in the industry for over 6 years and has been writing for Chique Home Living since 2019. His work has been featured in prestigious blogs such as Spruce Home, Better Homes & Garden, and more.