5 Must Have Items for Your Newly Landscaped Garden and Patio
Now that you have that new patio built on the back of your home and a newly landscaped garden, it's time to think about how to furnish and decorate them. You have been dreaming of this for several years and as summer approaches, you haven't long to wait until you can be enjoying your patio and garden.
So, where to start? Perhaps the best thing to do is take some time to think about exactly how you will be spending your time out there. Will you be simply relaxing in a warm breeze, entertaining friends or perhaps eating a meal or two under the cover of your patio? Once you've decided that, you can start planning outdoor décor for real.
1. Lounge Chairs
If you plan on soaking up some of the sun's rays, a Vidaxl sun lounger would do nicely. It's a place where you can relax on a warm summer day if left outside in the garden but also a place to quietly relax if you've chosen a lounge for the patio.
Some are light enough to be carried outside but then there are others that rival some of the most exotic furniture gracing home interiors everywhere. Whether you would like a covered patio lounge bed or a sun lounger with a side tray for beverages and snacks, there is a plethora of styles to choose between.
2. Outdoor Benches
Here is another outdoor piece that could be used inside a covered patio as well as outdoors in the garden. Many of the most popular styles are crafted from solid teak wood and they are just as sturdy as they are beautiful. You have gone to all the effort to have your garden landscaped, so why not add garden benches where you can sit to enjoy all the beauty around you?
3. Ambient LED Lighting
Over the years LED technology has seen many advances. Today there are garden lights that can be programmed from a smartphone to display a multitude of colors shining steadily or flashing in a kaleidoscope of colors. The best kind of garden lights to look for would be solar-powered lights because, after the initial expense, they cost nothing to operate. How energy efficient is that?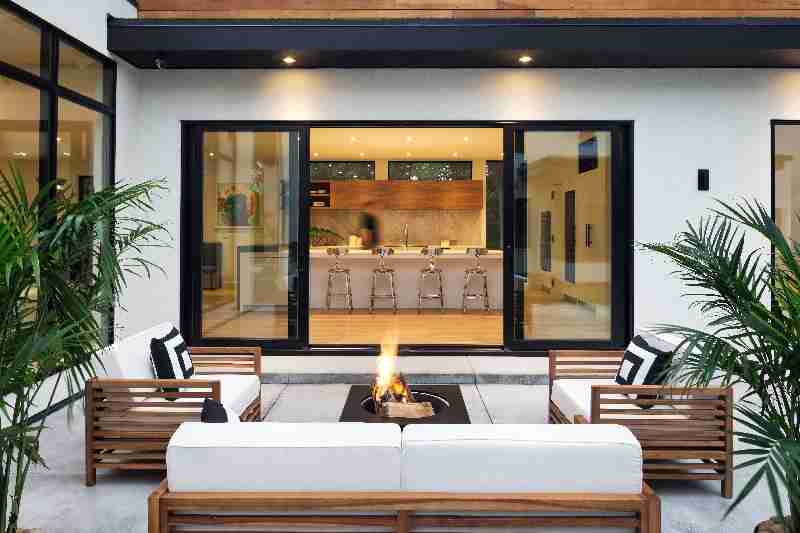 4. A Fountain or Bird Bath
What would a garden be without all the lovely songbirds flitting in and out of view? A birdbath would be nice because the water calls to them even when they are flying high. However, be advised that bird baths need to be cleaned and filled often. A fountain, on the other hand, needs cleaning much less often because algae builds up much slower in moving water.
5. Pottery and Bits of Décor
Once you have all the furniture in place, don't forget to add some pottery or other pieces of patio and garden décor. You want just enough to add character to your new outdoor space but not too much to make a distraction.
Garden décor is similar to interior décor in that you need a few prominent pieces but not so much that they take away from the focus your décor is meant to stimulate. Clutter is always a distraction, so avoid it at all costs.
Alex Grigoryan is a Professional Home Improvement and Lifestyle Writer. He has been in the industry for over 6 years and has been writing for Chique Home Living since 2019. His work has been featured in prestigious blogs such as Spruce Home, Better Homes & Garden, and more.