7 Tips On How To Make Your Home Look Stunning
We all want our home to be comfy and cozy and if you are enjoying design, then you will feel a constant need to redecorate your home and give it new vibes. Truth to be said, it is all about the vibe. Your home decoration speaks volumes about your personality and, hence, you need to be careful while choosing the pieces you will use to make your home look impeccable.
Striking for magazine interior aesthetics is impractical since family is family, wires are wires, and making your house seem flawless will consume all of your efforts; it is a well-known reality that it will never look perfect, but you can always make it appear spectacular. To make your space radiate home vibes and look amazing, here are some tips that will help you create a dreamy space. 
1. Color Palette 
Colors have a great power to make it all look better or worse, depending on the space. There can be numerous coloring solutions to your space; you can go single color, make a contrast, or even combine it with some other techniques. Going with a single color can be quite demanding, but the results, on the other hand, can be amazing.
If you are in doubt about which color to use, then you can try to match your favorite piece of furniture. Creating monochromatic space can be a stunning display. Uni-color patterns can make a room radiant and sophisticated. In contrast to this, some designs such as contrast painted space and some interesting details such as metal wall decorations and light decorations can make quite an impression. 
2. Windows 
If you are in the process of home construction or even renovation, it is a perfect chance for you to consider getting bigger windows. There are many reasons for this. Firstly, the benefits of natural light are immaculate and the effects on your overall health and productivity are a special topic to talk about.
Secondly, you will be surprised how much energy bigger windows can save. With more natural light, your home will receive sunlight that will heat the space, and there are also some super fancy window shutters to keep your home cool during summer.
Lastly, bigger windows will make your home aesthetically pleasing, and if you use your best taste for some decorations, such as bigger plants and long curtains, then the aesthetics of your space will be unmatched. For instance, windows installed by The Advanced Group offer you previously mentioned possibilities. The best thing about this group is your freedom to choose the windows that will match your space the best. 
3. Long, Heavy Drapes? Sounds Like a Perfect Idea
There are some secrets for making your draperies look extra sophisticated and will make your rooms stand out. The first thing you should consider is hanging them from the top of the wall, and all the way down. This is very important, despite the fact that the window is not so big itself and does not stand so high.
In this line, hanging curtains from the very top will draw all the attention to the height of the room and will make it appear visually bigger and taller, not to mention that this will give a note of drama to the design. To make it a statement, it will be incredible if you hang them this way and in a catchy shade that will draw instant attention to them. This way, everyone will be able to see what you have done.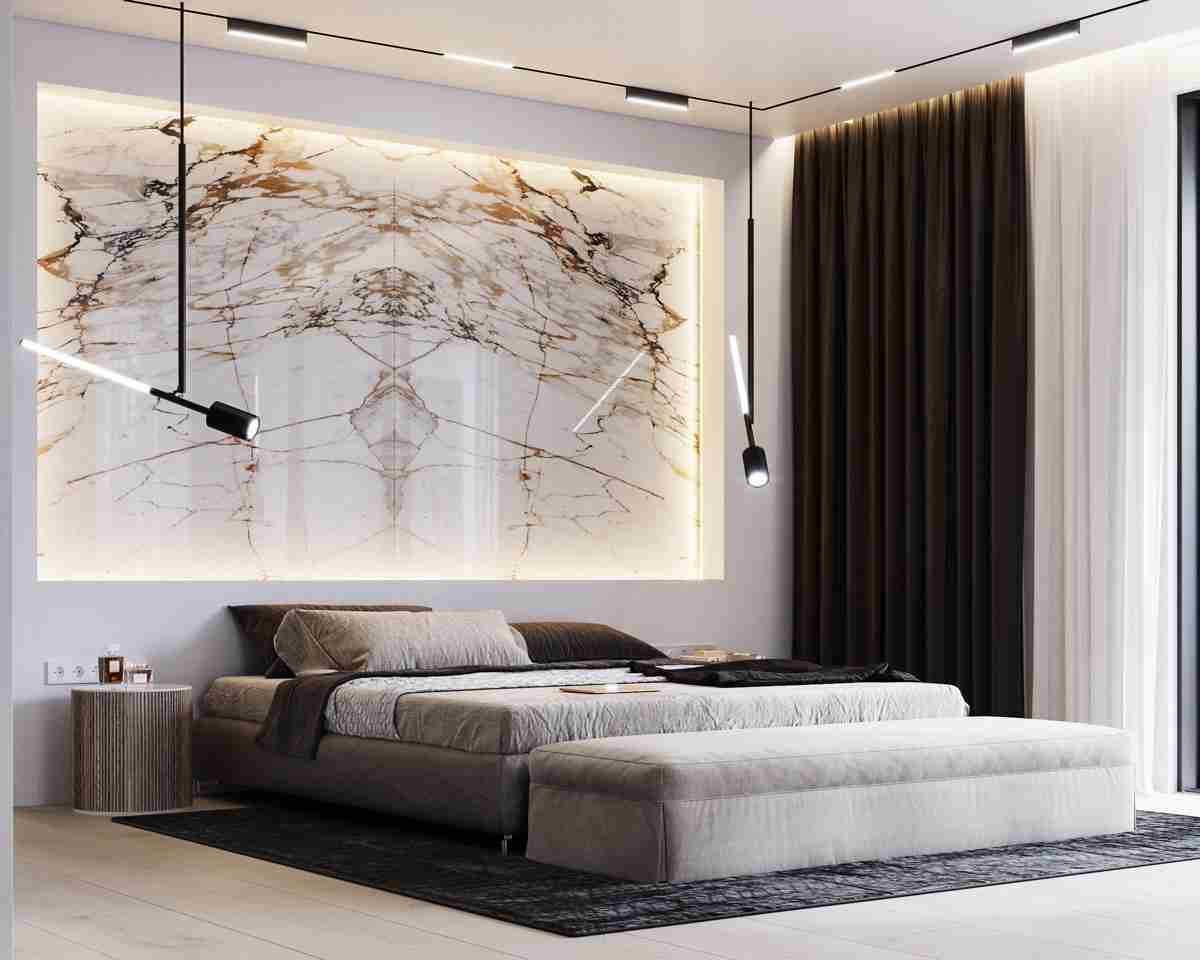 4. Fresh Flowers 
You might be wondering how this will make your home stunning. Well, we are talking about flowers. By looking at the different editorials, we can spot that almost every single of them has something mutual, and this is a vase of fresh flowers as the finishing touch to the room.
It is all about details, and you should never underestimate the power of such a small and simple addition to the space. Flowers are always a beautiful detail in the space since they add a natural element to it and have a refreshing note. Aesthetically, they will add some colors to the space and will make a beautiful spot in it, so that every single element within is brought together. 
5. Paint Your Ceiling 
This is something that will hardly ever pop up in your mind, but is an interesting idea indeed. You can create an interesting motif by painting your ceiling with some interesting and vibrant colors that will either be in line with the color palette or will make a contrast to it.
Anyway, this is something that will draw your eye up and will let you soak up the entire space. Visually, a moment like this has the purpose of bringing all the elements together and making the entire space function as a whole. 
6. Colors, Colors, Colors 
We just cannot get enough of some colorful moments that will make your home extraordinary, and painting some of the most interesting places will certainly add up to the uniqueness of your space. To be honest, have you ever considered painting your door trim?
You can give your space artsy and sophisticated looks through these small details that are skillfully executed with an unusual color scheme. You will surprise your people by introducing this unique pattern.
Just by painting your door trim, you will give leverage to the space to make an introduction to your home and create a dynamic entrance for the visitors. This is something that will add up to the color scheme and make subtle and unexpected moves in bringing together the entire palette.
7. Think Outside the Box 
This era is marked by some brave moves when it comes to interior design and making your place marked with some details, such as a brick wall with some hanging plants, is a choice not to be missed. There is a whole new charm in this and the universality it gives to the space allows you to combine it with some brave and contrasting furniture choices and even bring freestyle to the color palette. 
It is all about the taste, but this does not mean that you should not be in line with time. Interior design is something that allows you loads of freedom to decorate in the way you want to make it suit your taste, however, there are always some chances to spice it even more. 
Alex Grigoryan is a Professional Home Improvement and Lifestyle Writer. He has been in the industry for over 6 years and has been writing for Chique Home Living since 2019. His work has been featured in prestigious blogs such as Spruce Home, Better Homes & Garden, and more.