A Modern Guide To Bathroom Designs 2022
Statistics say that we Brits spend around 3.5 hours every week on the loo, but that doesn't include the extra time spent bathing the kids, grooming, styling, and shriveling away in the bath for hours in the end challenging day. The bathroom is such an important room in the home, and yet, it often gets forgotten about when it comes to design and decoration.
Personalityless white tiling and the latest neutral blah adorn the walls in the name of functionality. A saggy, mismatched bathmat sits beneath single source harsh lighting surrounded by bursting baskets of unused toiletries, whilst a flaccid and slightly moldy shower curtain hangs, surrounding a basic electric shower unit and more neutralities in the name of a hygienic palette. 
Guess what? The bathroom doesn't have to suffer this fate. Stylish and creative homeowners can have a bathroom that is beautiful, timeless, and full of personality. 2022 is the year that the bathroom gets to be center stage! 
To help you bring the beauty, the glamour, and the gorgeousness to this overlooked functional room of the house, here are this year's most popular modern bathroom designs: 
Japandi
Japandi is a great option to consider if you're a little hesitant to give up that super-clean bathroom looks just yet. 
This popular trend is a mixture of Scandinavian and Japanese designs. It is the kind of look that will appeal to lovers of minimalism and Scandi design, but those who want a little extra something to make it different and fresh in 2022. 
It's very sleek, simple, and clean, using natural materials, simple shapes, and textures. There's also a little splash of darker metal which you'll see in example mood boards, which adds a more industrial and masculine element. 
Marble
Marble is the material of the moment, seducing homeowners with its whirlwind of swirls, swishes, tones, colors, and style options. It's opulent, luxurious, impactful, and has the price tag you'd expect it to have. 
However, if you are looking to make an investment and you can push for the floor to ceiling marble *everything*, you'll get longevity from it as long as you commit to the right level of maintenance. 
Choose seductive and rich dark marbles for a modern and moody finish, or move towards greys and whites for a more classic look overall. 
Green
Green is all around across home decor at the moment, and there's a place for it in the bathroom too, without an avocado suit anywhere to be seen. 
Lovers of softer, earthier palettes may lean towards the sage and the creamy vintage greens, whereas those who prefer more impact may go straight in for the jewel shades, and the colors that echo tidal pools. There's a go-to green for everyone's bathroom in 2022. 
Industrial
Taking influence from American bathroom trends, the UK is seeing a lot of American city loft-style bathrooms this year. Rich, raw brick walls with metal accessories and vintage bathroom suites are paired with plants, to mix together the industrial and the natural. 
If done well, it's exceptionally cool, although homeowners in the UK have to be careful not to theme it so far as to create a bit of a tacky Americana vibe, because loft apartments aren't so much of a thing in the UK. 
in4mal / Getty Images
Zen's, Zen's Across The Board
Zen is an umbrella term for the various 2022 bathroom design trends that are encouraging us all to embrace what really matters when it comes to the bathroom. No, we're not referencing the great 'how many squares of loo roll do you use' debate, but rather, the sheer ability of the bathroom to be more functional, beautiful, and stripped back of 'stuff' – which is something to be valued if you can achieve it. 
So, rather than filling the room with more unnecessary toiletries, ornaments, or expensive makeup, what about instead, investing in a rainwater shower, or decluttering the space so that it has more functionality. 
Decluttering in particular is a real focus of pretty much any home decor tips and tricks in 2022, and for good reason – clutter can have a detrimental impact on your mental and physical health. 
Remove clutter and unnecessary items from the bathroom, and only place well-considered items in the room such as better facilities, health and wellbeing accessories, or beneficial features like plants. 
This zen trend is truly one of the most beneficial bathroom trends this year both aesthetically, and functionally, so if you want to embrace any trend at all, make it this one.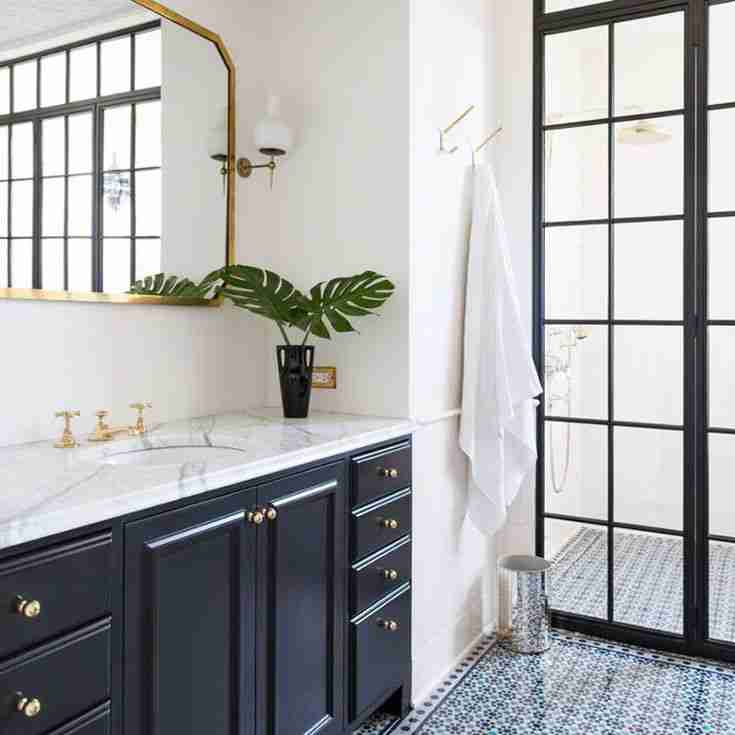 Deep Blue
As with greens, blue has also made a bathroom comeback and there are no cheesy seaside blues or dried-up starfish (RIP Patrick) to be seen, either. Instead, the blues are rich, deep, opulent, and perfectly paired with brass and other metal accessories.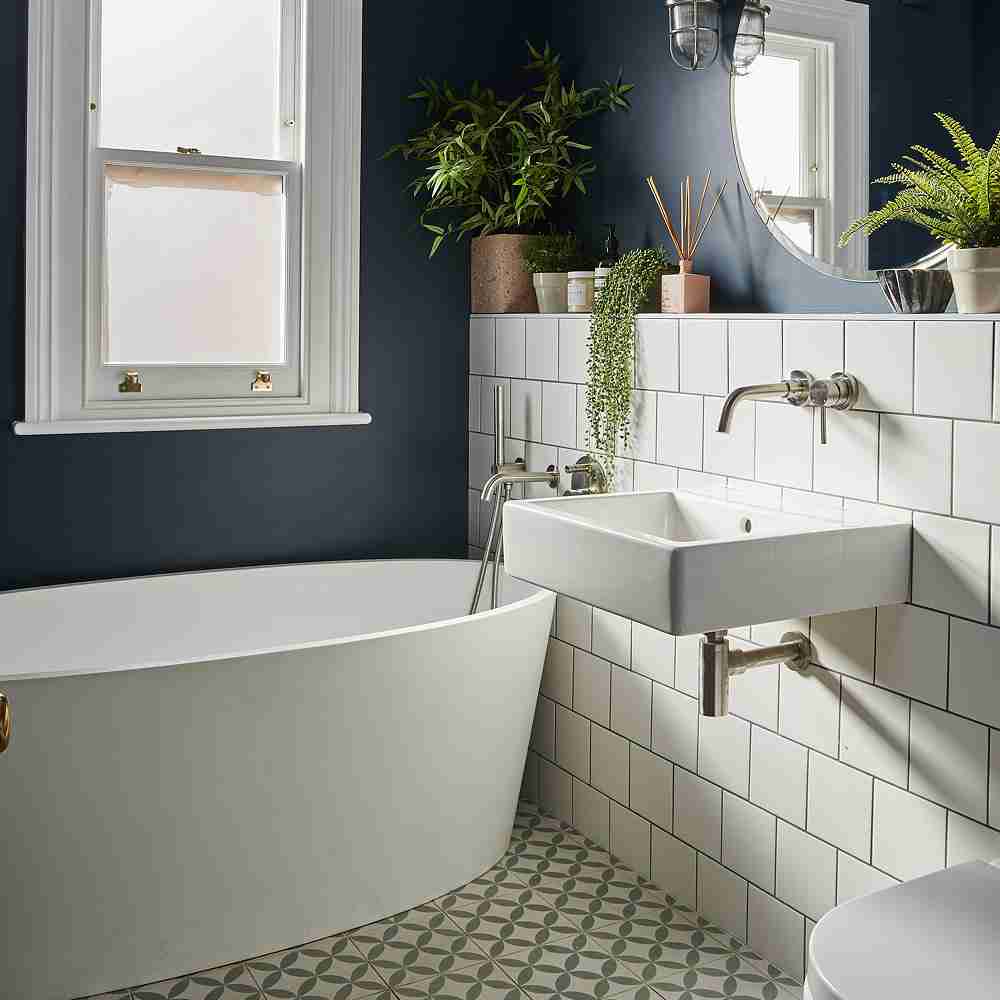 Nature & Biophilic Design
If you're a bit yawny when it comes to houseplants still, you need to catch the jungle fever that's getting everybody absolutely supercharged (and broke) on all things houseplants.
The bathroom, in particular, is a very special room when it comes to houseplants because it is perfect for so many of them. Hanging monstera adansonii, beautiful blossoming orchids, structural Sanseveria, forgiving spider plants – there's space for the whole green gang in there, and it's so easy to water them – you just all take a shower together (absolutely normal and not weird at all). Just don't have the water too hot otherwise you'll end up with twenty pots of spinach. 
When it comes to the aesthetics of the room, if you can use cute plant stands (wicker and cane are having a moment) and avoid cluttering the window up as not to choke the room of natural light, you can't go too far wrong. Just be sure to follow the likes of Planterina and Harli G on Youtube so you don't end up killing them all and creating more of a tragic jumble, than a thriving jungle. 
Soho House 
The Soho House blend is a little bit like cottage core for the bathroom in that it mixes together old and new designs to create a unique style.
Think rolltop baths, contrasting textures, single color mosaic tile walls, vintage wooden flooring or tiling, chintz wallpaper against brass towel stands, and a pile of crisp white towels. It's a highly individual style, but one that is both comforting and modern enough to suit a lot of homes. 
Terracotta
All kinds of clay, terracotta, and apricot tones are finding their way into modern bathrooms in 2022. If you love color and want to get creative without utilizing crisp bolds, this is the perfect way to be both colorful and natural at the same time.
These kinds of shades work so well with plants, neutral materials, and surfaces, it's more of an accessible palette than you might think at first, so it's definitely worth considering again if you initially felt a bit intimidated by it. 
Bolds
Crisp bolds, as we mentioned above, are very bright bursts of color that are being incorporated into bathrooms in various creative ways. A pink sink, yellow tiling, and clashing colors on every wall. Post-pandemic there's a bit of a creative fizz amongst homeowners who are finally thinking 'fudge it, I'm going to design it in a way that I like' and that's coming through with very expressive bold colorwork in bathrooms.
Why not let that urge to explode color all over a room come out in the bathroom? If you don't like it in the end, you only have to be able to stand it for 3.5 hours a week anyway, right? 
"Sometimes it's important to get out of that comfort zone and, I think, try new things, and sometimes you can express yourself better." –
Gautam Gambhir
(Image credit: MY VICTORIAN HOUSE LOVE
)
2022 is a great year for truly transformational bathroom design. Whether you go bold and bright, all-out marble, or perhaps design yourself a mini-jungle – there's a bathroom design this year to suit you. Bye-bye saggy bath mats – hello creativity and expression! 
For more information please contact Matter Designs today! 
Alex Grigoryan is a Professional Home Improvement and Lifestyle Writer. He has been in the industry for over 6 years and has been writing for Chique Home Living since 2019. His work has been featured in prestigious blogs such as Spruce Home, Better Homes & Garden, and more.