Aiming For A Minimal Look – 6 Ways You Can Redesign Your Interiors
"It is so simple to be happy but it is so difficult to be simple" Someone spoke these wise words a long time ago. You can relate to them very well now that you have a color palette in one hand and a designer brochure in the other. It suddenly dawns upon you that you do not want any of these complications in your home. You want it to be simple. What do you do? Here, we have put together 6 incredible ways to redesign your interiors.
1. You Stick To A Color Scheme
If you are aiming for a minimalistic look in your home, the best and the most basic approach to take is sticking to a particular color scheme. You should ideally go with 3 shades of the same color and stick to their combinations throughout your living area.
For example, you can go with a dark navy blue for one of the walls of your bedroom, and then switch to a lighter shade of the same for all the 3 walls. You can paint a night sky on the darker wall giving it a smooth velvety feel. Now, that is the kind of star gazing anybody is going to love. Do not play with a wide spectrum of colors if you are looking for a subdued and subtle look. The upper limit should be 4 colors and nothing more than that.
2. You Add A Beautiful Texture
There are plenty of ways to add texture to your home. You should be able to find some really beautiful and drop-dead gorgeous wallpapers in the market. Do not go for an all-grey or a monochromatic look for your home unless you like getting bored every time you look around. Stick to a particular color like mentioned above and then build and create your textures around it.
For example, you can go with a very traditional, beautifully crafted, and warm wallpaper for your living room. Do not make the mistake of accessorizing the wallpapered wall beyond a limit. Keep it bare. It is always better to make it more functional rather than decorative.
You may put your smart TV or rest your gaming console against that wall instead of populating it with family pictures and photo frames. Keep that idea for the walls adjacent to or opposite to it. You can also look for a similar pattern in your curtains to balance the textured wall(s) out. Do not use the embroidered curtains next to or on the papered wall. Instead, choose a similar color but a plain variety of the same curtains to accentuate your wallpaper.
3. You Design Your Interiors Around Furniture
You will have to begin by measuring your interior furniture. If you have a specific spot in your mind that you want to reserve for power lift recliners or a diwan, do it right away! It will be like creating a point of attraction somewhere in your living room. You can do the same with your bedrooms as well as your other living areas.
For example, you can select a lavish sofa set with clean lines for your large living area. You can add a glass-top table in the middle to complete the look. Now getting inspired by these objects is not going to be very difficult. Create elements similar to these in the exact opposite direction. You may create a corner with a wood and glass bookshelf and a comfortable chair and table set crafted from similar upholstery as the sofa. Voila!
4. You Dress Up Your Walls
Opting for plain walls? This might turn out to be one of the most interesting decisions for your décor ever! You can choose a wider color scheme for your interiors if you have made up your mind about keeping them plain. No intricate decorative elements, no family photo frames, no textures, and no wallpapers. Your walls will be studded with beautiful art pieces and similar items.
If you are fond of collecting canvas paintings and antiques, local artwork, and craft products, your wall can be your playground. If the color of your wall is neutral such as pearl white, light grey, light blue, and pale yellow, you have various canvases and watercolor paintings to choose from.
They add depth and texture to your plain walls and allow you to incorporate practically any kind of furniture piece into your interiors. They also allow you to play with color and include a wider spectrum of hues without disturbing the whole scheme. Just don't go overboard by including contrasting colors.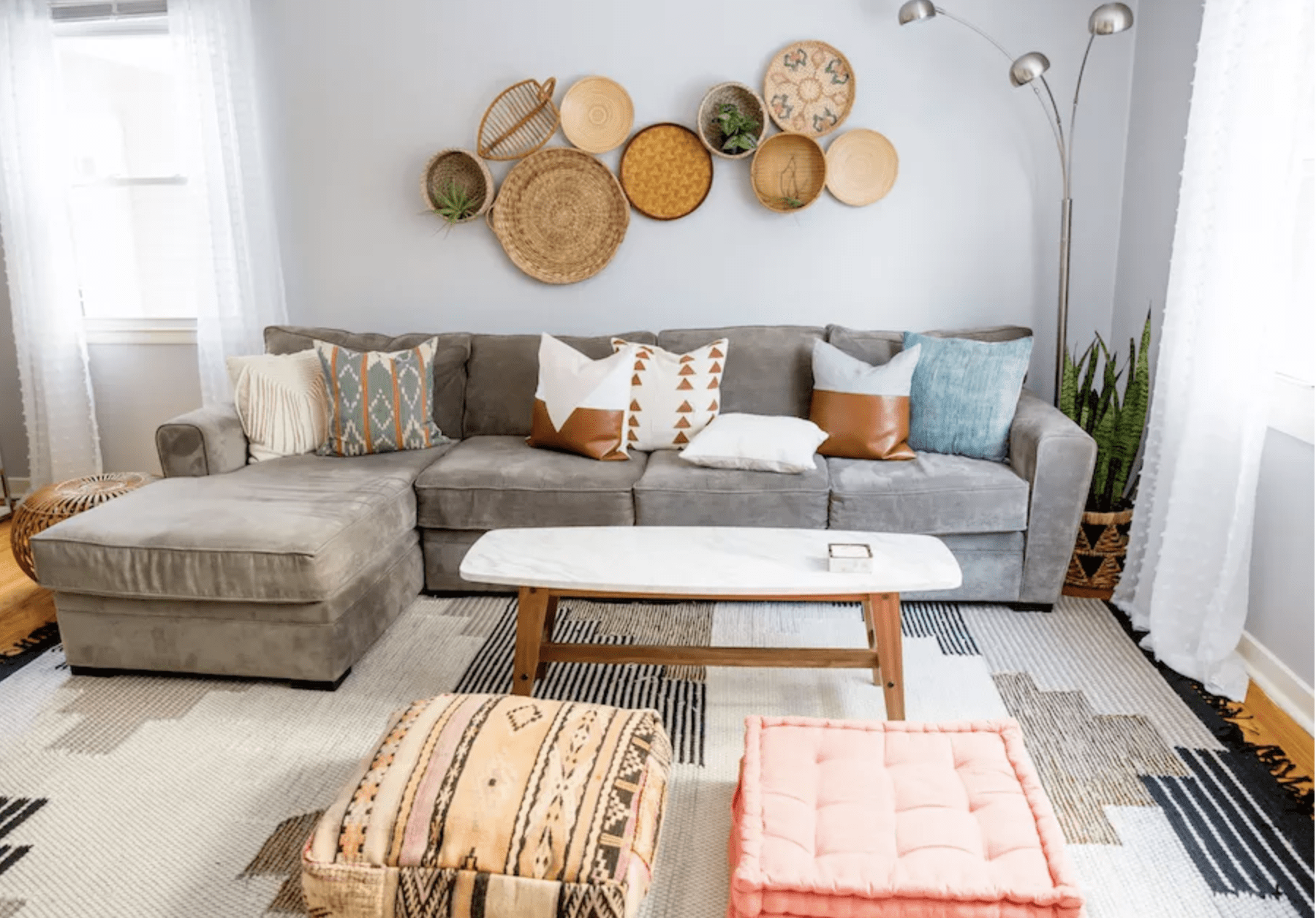 5. You Let The Lights Hang Low
Have you ever thought about incorporating pendant lights and similar low-hanging chandeliers in your interiors? Those can be a complete game-changer for your décor. They do not have to be very complicated or intricately designed. Pendant lamps also work as skylights, especially if they come with adjustable chords. Pick something that can be extended as low as possible as well as moved right back up close to the ceiling.
For example, you can always place a dark center table underneath them with mahogany chairs to complement the off-white color of your minimally textured walls. Pendant lights are easy to install and come in various sizes and shapes as well. The finish can be as glossy or as matte as you want them to be.
6. You Turn Them Green With Envy
Who can say no to beautiful and lush green plants? They don't just add color to your minimalistic house but also a character to your walls. They bring life to your home and you just feel happier in their presence. And to be fair, these live plants for your home are much more environmentally friendly than any recycled paper products or bamboo furniture that you might be considering.
And To Conclude
The décor of your home should reflect your personality. It should speak to your guests about your tastes and preferences. The design elements should tell a story, not necessarily a long one though. At the same time, not every decorative element in your room or living space has to have a rationale behind it. It can just be a trait of your temperament. It can be reminiscent of a distant memory. It can be anything you want it to be. 
Alex Grigoryan is a Professional Home Improvement and Lifestyle Writer. He has been in the industry for over 6 years and has been writing for Chique Home Living since 2019. His work has been featured in prestigious blogs such as Spruce Home, Better Homes & Garden, and more.