Choosing the Best Front Door for Your Home
The term 'curb appeal' is a popular expression on home renovation shows, DIY blogs, and on social media accounts dedicated to household revamps.
Making the front of the home (in other words, the front of the house, the driveway, and the front garden) look inviting, tidy, and stylish is a tried-and-true method to attract eager buyers, as well as to create a sense of pride and joy if it's your forever home. In fact, an elevated curb appeal will increase the value of a home from anywhere from 5 to 11 percent, according to a study by Michigan University.
Choosing an easy-on-the-eye front door should definitely be considered when boosting your property's curb appeal. However, aesthetics isn't the only factor you should take into consideration when it comes to choosing a new front door.
Here are some other elements that you may want to consider.
Prehung versus Slab
First, you'll need to establish if you're looking for a prehung door or a slab door. The difference between the two can be summarized as follows:
Prehung Doors: Prehung doors are relatively easy to install (all being well!) as the door comes in a premade frame. Installers will simply need to push a prehung door into an existing opening. Installers will then use a masonry drill to affix the door to the house; they can then caulk the trim to seal any small gaps where air can get in or out.
Slab Doors: Slab doors are a little bit more challenging. They're usually a cheaper option, however, as they do not come with a frame. They're usually best suited to door openings with unusual measurements (such as old farmhouse doors, or the doorways of century homes).
Note that slab doors can be very basic. In addition to not coming with a frame, they don't come with a knob or predrilled and aligned holes for hinges.
Once you've established the best type of door based on the logistics of your unique space, you'll be able to narrow down your decision further based on your wants and needs.
If Energy Efficiency Is a Factor…
If you're looking to lower your utility bills while doing your small part for the environment, opt for a fiberglass front door for your home. If you've gone to the effort of installing energy efficient bow windows or triple-glazed bay windows with heat retention in mind, keep the ball rolling by installing a fiberglass door, too.
Fiberglass is naturally insulative; this is because it's a poor conductor of heat. Fibreglass doors are also filled with foam insulation to help houses retain warm or cool indoor air while blocking out outdoor temperatures. For these reasons, a fiberglass door is a great choice if you're looking to insulate your home.
According to the World Economic Forum this year, "Households that heat with oil or gas will experience a cost increase of 27% and 28%, respectively, compared to 2021/22." Keep these rising numbers in mind if energy efficiency and bill reduction are top of your 'must haves' when making renovation decisions this year.
Another boon for fiberglass doors is that fiberglass is incredibly strong; it requires little maintenance — it won't rot, dent or rust. Fibreglass doors are also quite versatile in that they can be made to mimic the look, feel and finish of real wood so that they aesthetically blend with the rest of the house.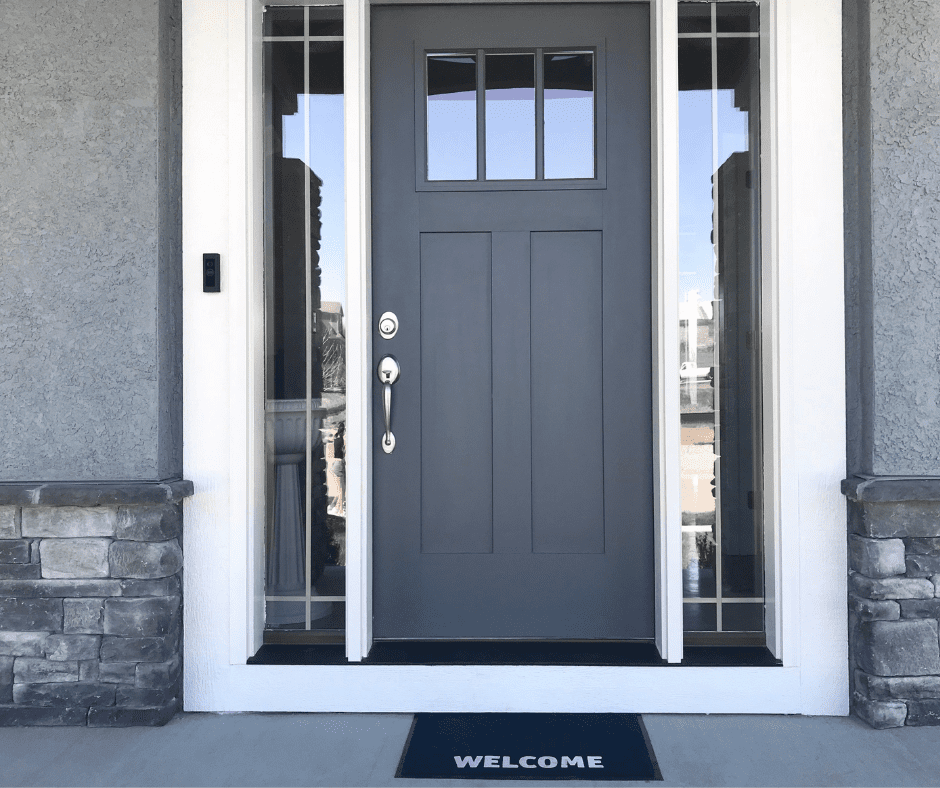 If Security Is on Your Mind…
If you are concerned about security in your area (maybe there's been a spate of burglaries nearby), or you're helping a senior parent choose doors, the comfort of mind may be the dominant factor in picking new front doors for your home.
Steel doors are a good choice if security and safety are indeed an issue. While fiberglass is also heavy-duty material, steel will give you that extra reassurance. Reputable door installation teams will offer extra thick steel doors, which makes them incredibly durable and resistant to rust, fractures, and bowing.
Using heavy-duty steel in manufacture makes a door difficult to open or manipulate when it's locked. As an extra bonus, steel doors are great for blocking outdoor noise.
If an Aesthetic Is Most Important…
While solid fiberglass doors and steel can be finished to match the aesthetic of your home, French doors can give an immediate impression of elegance and refinement; even the name 'French door' denotes an air of class and luxury.
In addition to looking beautiful, French doors have a double opening, making it easier to maneuver large pieces of furniture in and out of the home. French doors can also have large inbuilt windows; this is a huge perk as windows allow more natural light into the home, bringing the outdoors in.
This bright and airy impression will give the illusion of more space. Additionally, the windows will allow you to see who's on your front step.
Some Tips for Buying a New Front Door
Whichever design and aesthetic you choose, it's important to keep the following three tips in mind when it comes to looking for a new front door from a supplier.
Integrity: Does the provider take responsibility and accountability for their product and services? Look for a company that does it all. In the event of a mishap with your new door, calling one central phone number will save you a great deal of time — it saves you from having to connect with multiple manufacturers, suppliers, and installers.
Certifications: With energy efficiency in mind, make sure the supplier is using certified energy-efficient components in the manufacturing of their products.
Insurance: Accidents happen. Does the provider have a thorough insurance package? Check to see what sort of coverage the supplier has, and how you'll be reimbursed in the event of damage to your property during the installation.
To Conclude
Front doors make an immediate impression on guests, passersby, and potential buyers. While aesthetics are obviously important, consider these other sensible factors when choosing new doors for your home. Often, you'll be able to choose a type of door with practical features in mind, then get it customized to suit the unique design and style of your house.