10 Expert Tips On Decorating Kitchen Shelves
The kitchen is the heart of the home and probably the most used room in most homes. Hence, it is important that your kitchen is well-organized and aesthetically pleasing. Shelving is a highly functional organizational element in kitchen interior design.
Shelves make it easier to find things you need and this minimizes stress. Functionality asides, kitchen shelves ought to be visually appealing otherwise the kitchen will look cluttered and disorganized. Although decorating kitchen shelves tend to be quite complex for even skilled decorators.
The most common kitchen shelving ideas are modern open shelving, traditional base, and wall cupboards. Open shelves and floating shelves tend to be the most tricky to style because it is open for everyone to see and can make an impact on the look of your kitchen.
When done right, shelving will make a major impact on the look and feel of your kitchen. They are lots of ideas to help you transform dull or cluttered kitchen shelves into chic and inviting ones. In this article, we've curated 10 expert tips on decorating kitchen shelves that are sure to elevate the aesthetics of your kitchen.
1. Give It A Rustic Feel
Add a rustic feel to your kitchen shelving using distressed wood, natural earthy tones, stoneware, and other unpretentious materials. This adds irresistible charm and injects character into a space.
This styling idea isn't limited to farmhouses, Japandi, or Scandinavian homes. It can evoke character and add a sense of nature to your modern kitchen.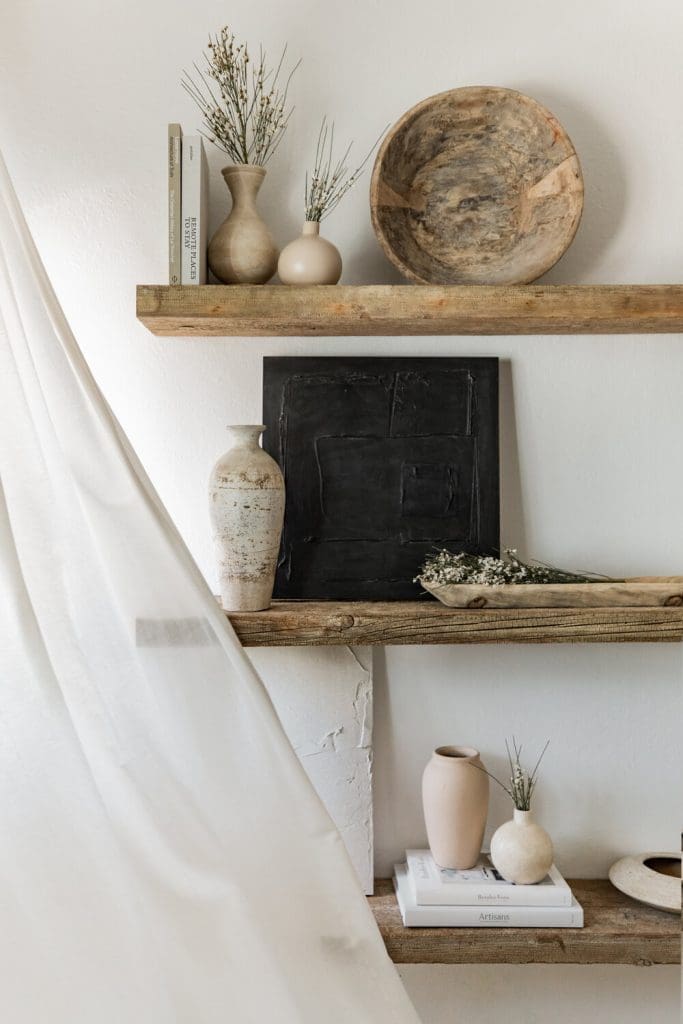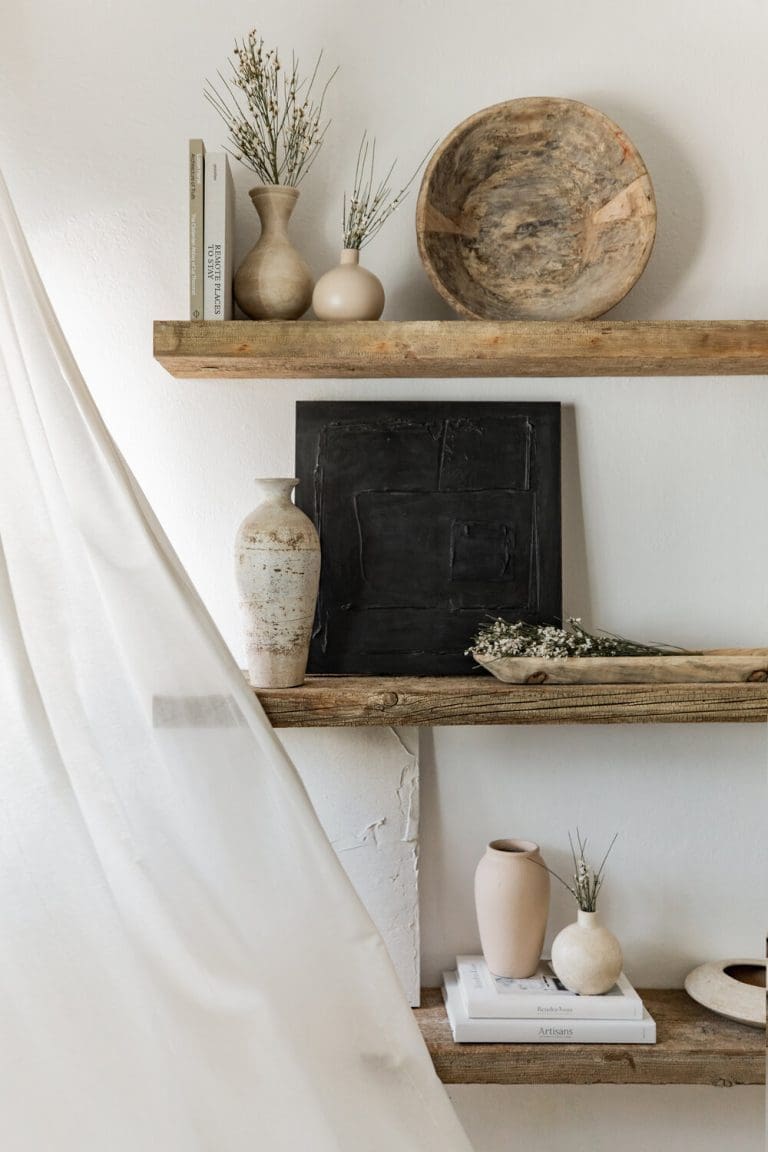 (Image credit: Public Three Eleven Design)
2. Liven It Up With Plants
The importance of greenery cannot be overstated when it comes to styling interior spaces. Plants can add life to even to dullest spaces. Other than their aesthetic quality, plants also bring a wealth of health benefits.
Some of these benefits include improved air quality, humidity, and tranquility. This is a tested and proven way of decorating kitchen shelving because plants add beauty and freshness to indoor spaces.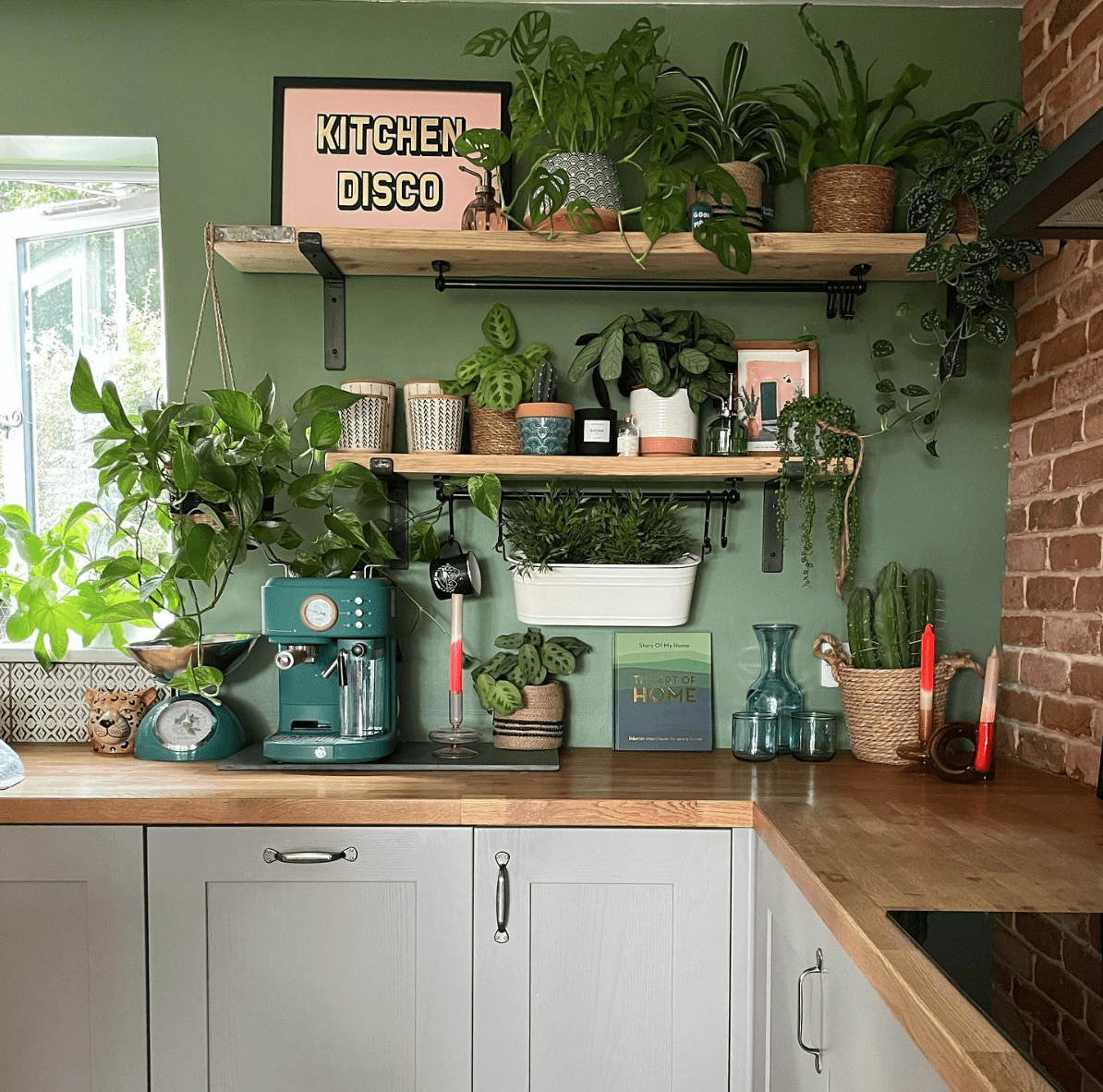 (Image credit: IG @stayinstudio)
3. Mix-Match Items
The most common technique in decorating kitchen shelves is mix-matching materials. This is the strategic placement of different elements such as ceramic dishware, spices, cookbooks, dried goods, artwork, sculpted vases, and plants.
Think about functionality well when choosing which items to place on your open kitchen shelving. This is a quick-access and easy-reach storage area.
So, display items that need to be easily accessible and used frequently and some to add visual interest to the space. Mixing both practical and decorative items help create the right balance between practicality and style.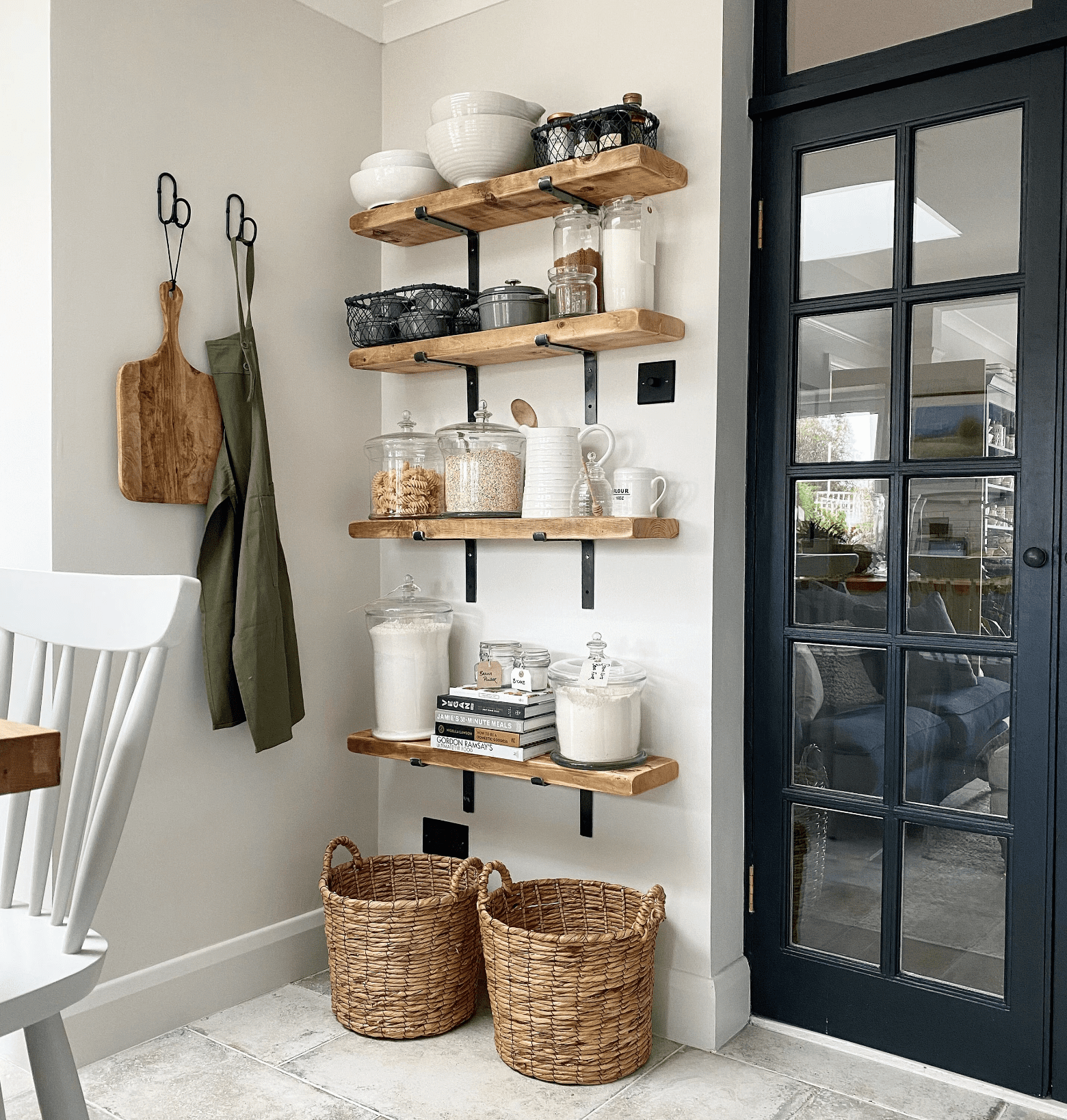 (Image source: Etsy)
4. Use Contrasting Textures And Tones
Using contrasting textures and tones can make a huge difference in the space. Textures give visual weight that elevates the look and feel of your kitchen shelve.
Rough textures like a clay pot, chopping boards, and wooden bowls can give the space an intimate, rustic, and grounded feel.
While smooth textures like glass, metallic objects, and ceramic add a chic and contemporary feel to the space. Creating contrast using color creates a strong impact and visual intrigue.
(Image source: IG @sophia.at.home)
5. Use Artwork to Maximise Interest
Artworks are a great way to inject color and personality into your kitchen. Add a stylish flair by displaying interesting artwork when decorating kitchen shelves. Artwork is known to have a profound influence on a space.
Designers use artwork to create a focal point, tell a story, or add life to a kitchen. It is one most transformative design tricks that embellish the beauty of any space. Artwork not only injects color but also adds dimension and texture to a space.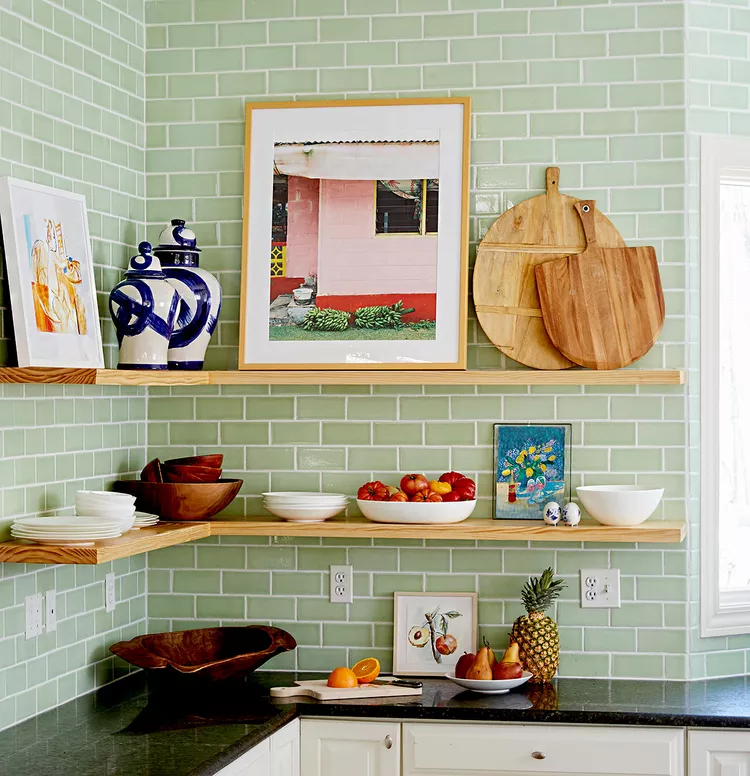 (Image credit: Adam Albright)
6. Use Contrasting Shapes And Sizes
Just like contrasting textures and tones, contrasting shapes and sizes can make a big impact on your kitchen shelve decor. Too much cohesiveness can negatively impact a space.
The purpose of contrast in interior design is that it helps draw attention and create visual intrigue in space, hence, contrasting shapes and sizes when decorating kitchen shelves help make the space more dynamic and aesthetically pleasing.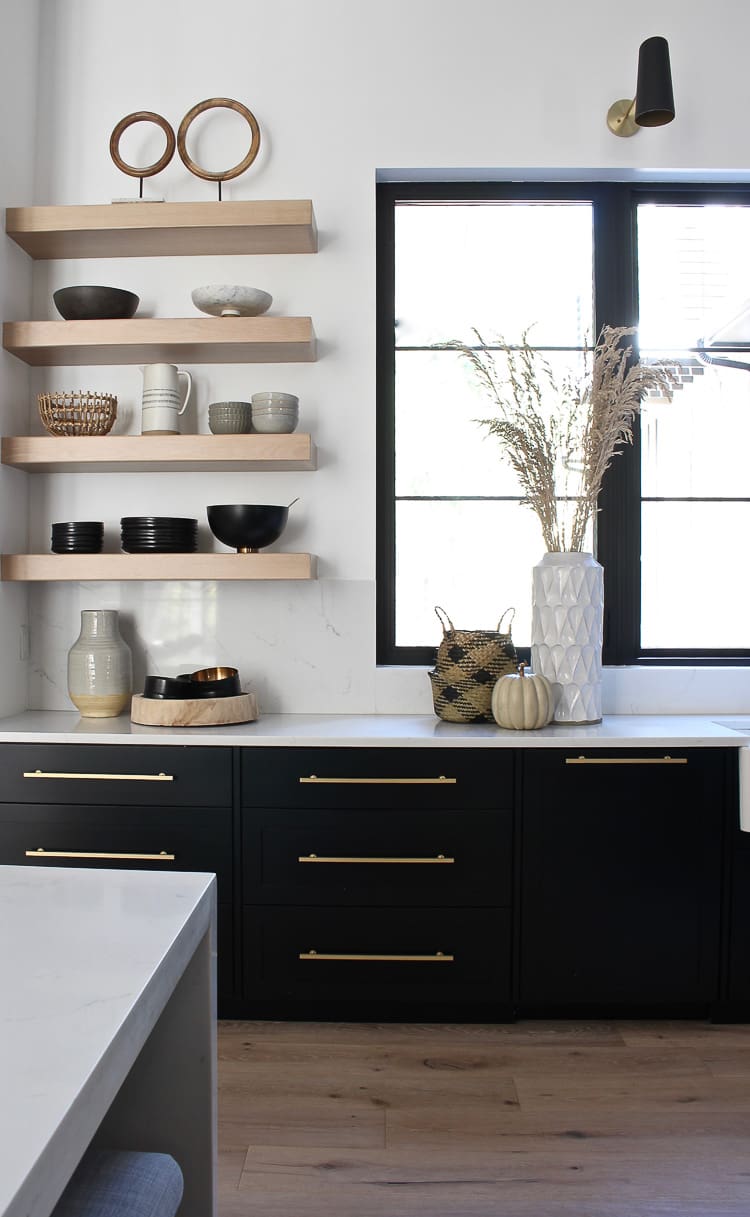 (Image credit: The House of Silvering)
7. Layer Up Items
Layering is an interior design technique that improves the stylistic features of a space. When decorating your kitchen shelves, layer up similar items like chopping boards, artwork, and others for a balanced look.
Use your smallest items as interval bigger ones to create a layered, collected effect. Keep in mind that layering is not about taking a symmetrical or matchy-matchy approach. The goal for your kitchen shelving decor is to create a lived-in aesthetic, as opposed to a calculated placement.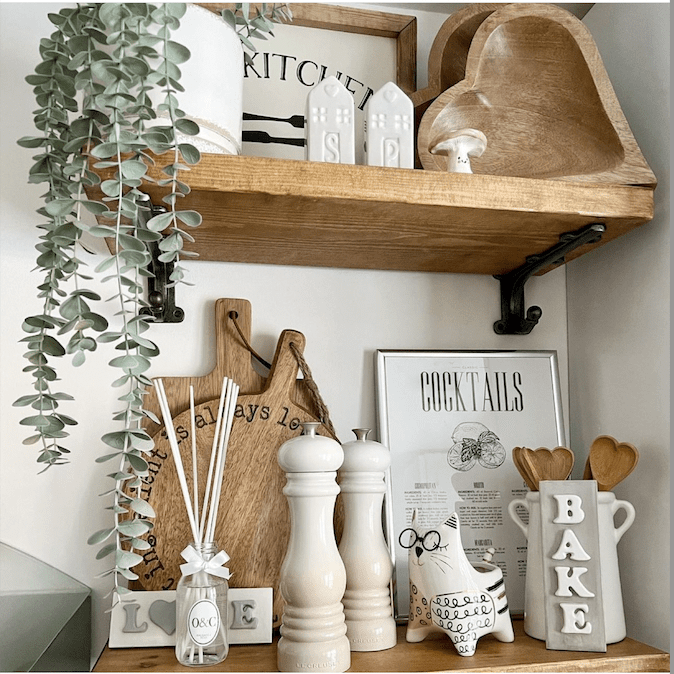 (Image credit: IG @house-to-home-no.17)
8. Display Dried Goods
Another great way to decorate your kitchen shelves is to neatly place clear and labeled containers of dried goods. This look can satisfy on multiple levels. Not only will it create a cohesive and inviting feel, but it is also a great way to keep your kitchen organized.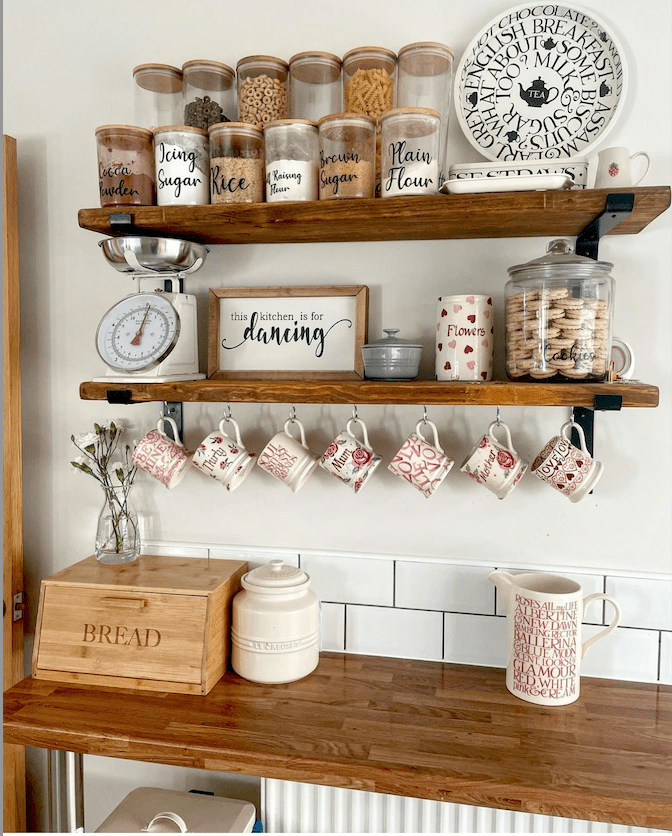 (Image credit: Effie's Home)
9. Display Bright Colored Dishware
Color is a core and influential aspect of the world of interior. Vibrant colors can instantly change a space. If you like a kitchen filled with color and personality, inject some when decorating kitchen shelves by displaying dishwares of vibrant colors.
Choose dishwares that match the existing color scheme of your home or kitchen. If you have a minimal kitchen, you can also use this technique to add a pop of color and character to it.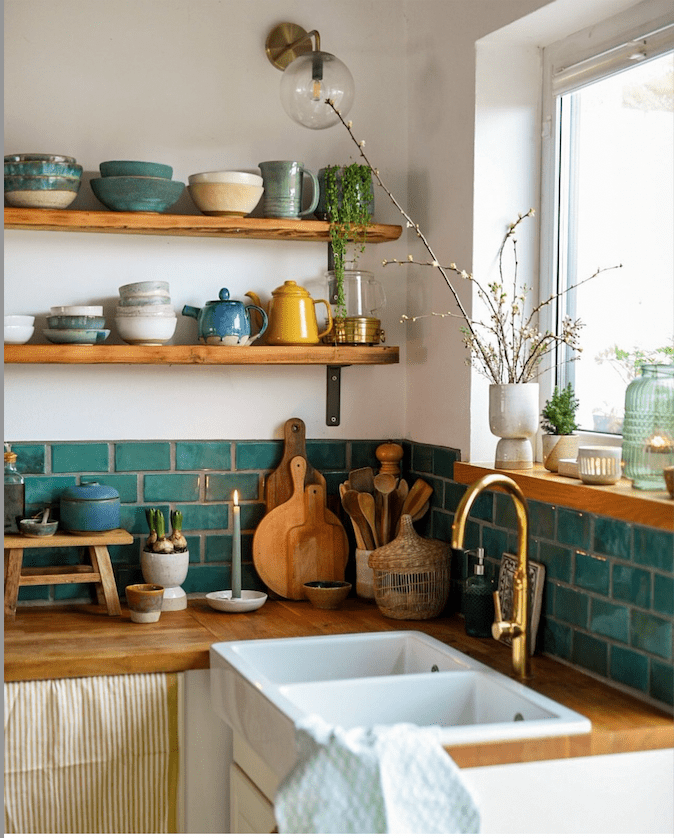 (Image credit: IG @Leelahloves)
10. Keep It Clean And Minimal
Minimalism focuses on simplicity and objectivity. It is more function-based than ornamentation. Why use a minimalistic approach when decorating kitchen shelves?
Minimalism is subtly chic. Kitchen shelves are prone to getting cluttered and unappealing. The best way to keep organized and clean at all times is to avoid putting too many items on it. This also involves sticking with a neutral palette and keeping the kitchen shelve uncluttered.
(Image credit: Halfway Wholeistic)
The Takeaway
Now that we've explored these 10 tips on decorating kitchen shelves, you should feel more confident to decorate one that resonates with your style. Remember that every kitchen is different.
Decide what is more suited for your kitchen style and also take your preference into consideration. All things considered, these ideas can help you create an effortlessly chic, and stylish kitchen shelve.