Home Improvement Tips: 8 DIY Projects to Get You Started
Home Improvement is a broad term, but the thrill of gaining new experiences and completing projects from start to finish makes it an exciting venture. There are always new ways to improve your home, usually for much less than you would expect. The following are some simple home maintenance tips and DIY projects that will help you stay on top of things and save money while doing so.
Repaint your Walls: Take a little color from your heart and bring it to your walls. A fresh coat of paint can be just what your room needs. From accent colors to neutral tones, there is something for every style. If you are unsure of painting on your own and not sure where to begin, consider consulting a professional.
Install crown molding
Crown molding is one of the easiest and most affordable ways to dramatically change the look and feel of your room. You can easily add this elegant finishing touch to your kitchen, living room, or bedroom with a little carpentry know-how. It's easy to install, but you'll need to measure properly so the molding is level and fits tightly against the wall.
Repair leaky pipes
Solution:
1. Clean out any dirt around your pipe with a towel and pull it away from the wall.
2. Tape any small holes with a piece of duct tape. You can then apply a bead of CPVC cement around the crack to help seal them.
3. Wrap the pipe in plastic wrap and use a blow dryer to melt it against the surface carefully.
Build a deck
Building a deck can be done by almost any homeowner with some patience and the right tools. Costs can vary widely depending on the deck's size, materials, and complexity, but a normal range is $500 to $2,500.To start any deck, you'll want to draw a layout plan, ensuring it meets local building regulations and adheres to local codes for things like stairway and railing placement.
If you're using pressure-treated wood for the deck or stairs, you may also need to check for soil drainage issues and obtain a permit from your local building department. You'll also want to locate any underground gas lines or electrical wires that could be affected by your work. Get a professional deck builder to do the work for you if you aren't sure how to do it.
Use mosaic tile to create a new design for your bathroom floor
Using mosaic tile to create a new design for your bathroom floor is one of the most recommended bathroom floors remodel ideas. With the right tiles, adhesive and grout, you can open up your bathroom so that it looks larger and more appealing. Choosing durable tiles can prevent cracking and movement that could occur over time.
● To add an interesting twist to your tile floor, add contrasting border tiles in contrasting colours or shapes around the perimeter edge of your floor.
● Additionally, you can add a basketweave pattern with contrasting tiles in straight lines. Lay the larger tiles on top of the smaller ones as you continue the straight lines from corner to corner. If you have extra space in your room, try creating an interesting pattern like this off-centre and in a corner for a pop of colour and interest.
Create custom shelves for your kitchen or living room
This DIY project involves creating a custom corner shelf for your living room or kitchen. There are a few different ways to go about this, but you're guaranteed to have a great outcome once you've completed the finished product. The DIY Corner Shelf is the perfect way to spruce up the decor of any room in your home and help relieve the stress of not having a place to display your items.
This shelf can be created with basic tools and hardware that can all be found at your local hardware store. In addition, several different plans can all be used from dollhouse shelves or even a step stool. Once you find the look that works best for you, you're sure to find yourself having plenty of potential in using this DIY Corner Shelf.
If you want to decorate your living room or kitchen but don't want to spend a ton of money or time on it, this DIY corner shelf is the perfect item for you. You can create the shelf with minimal cost and use higher quality materials that will help ensure your shelf isn't going anywhere.
This shelf is also a great way to make money if you have items in your home that have sentimental value as it gives you a chance to sell them but still have them displayed as part of the shelf while they're in your home.
Start from scratch and build your own patio garden
If you are a homeowner and have a tinge of carpentry skills, you can easily build a patio garden by yourself. The materials needed are patio blocks and some recycled wood pieces, which will be used to create the table and chairs.
● Carve a large hole at the center of the block to plant the basil plant in it. All you need to do is place it in front of the sunlight window and make sure that the water does not collect in the plant or soil. Once you are done with this project, you will feel rejuvenated and ready for more projects like these.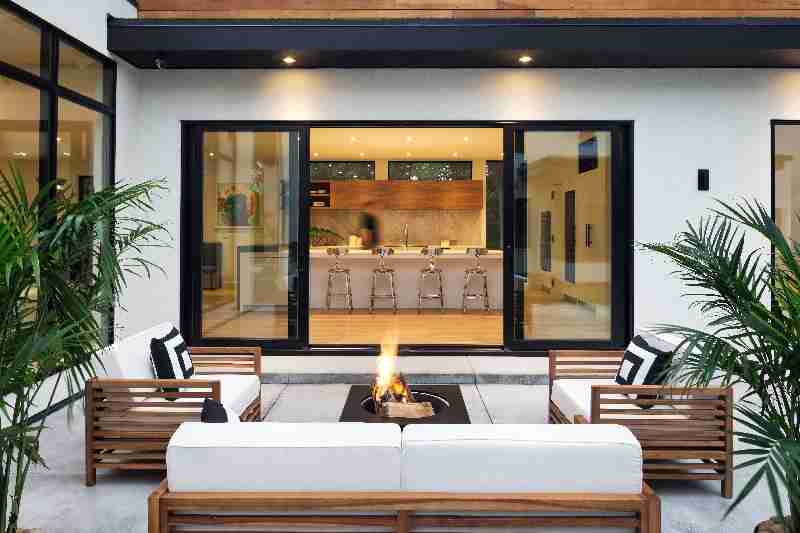 Build duffel bags and travel totes out of scraps of canvas and leather
If you've got a few scraps of canvas or leather collecting dust in your closet (or a few hours to kill and some basic stitching skills), create a duffel bag that can be used for travel, hauling around the gym, or just carrying your gear around town. This DIY bag project is great for beginners and can be completed in just a few hours.
Whether you are interested in creating a new design or starting from scratch, each of these 8 DIY projects will help you feel inspired to make your home the place you want it to be. If you need any help along the way, don't hesitate to consult with a professional contractor or designer.