Home Improvements That Make Your House Chique From the Outside
There's no doubt about it – a well-maintained and beautiful home can add immeasurable value to your quality of life. Not only that, but when it comes time to sell, a stunning house will almost always garner a higher price than one that's just "okay." However, when planning your home renovation, it's important to focus not just on the inside, but also on the outside.
After all, your house exterior is the first thing anyone will notice, and you want to make sure it makes a good impression on anyone who passes by. Therefore, here are some simple home improvements that will make your house chique – even from the outside:
Improve Your Roofing
There are many ways to improve the look of your home from the outside, but one of the most important – and often overlooked – is roofing. A good roofing job can make your whole house look nicer, and it's an improvement that doesn't require a lot of time or money.
A new roof can completely change the look of your home, and it will also make your house more weather-resistant and energy-efficient. According to the expert roofing team at lenoxroof.com, if you're not interested in installing a new roof, there are other options available as well.
You can replace old or damaged shingles, for example, or add some decorative elements to your roof to make it stand out. No matter what type of roofing improvements you choose to make, they'll help improve the overall look of your home.
Add Some Interesting Lighting
Outdoor lighting can add a touch of elegance and sophistication to your home, and it can also make it more secure by providing visibility at night. There are many different types of outdoor lighting to choose from, so you can find one that will perfectly match the style of your home.
A well-placed spotlight, for example, can make your home stand out, and it can also be used to highlight any decorative elements you may have added. You can also consider investing in solar-powered lights, which are a great option for those who want to reduce their energy consumption. Just make sure you choose a style and color that matches the rest of your home so that it doesn't look out of place.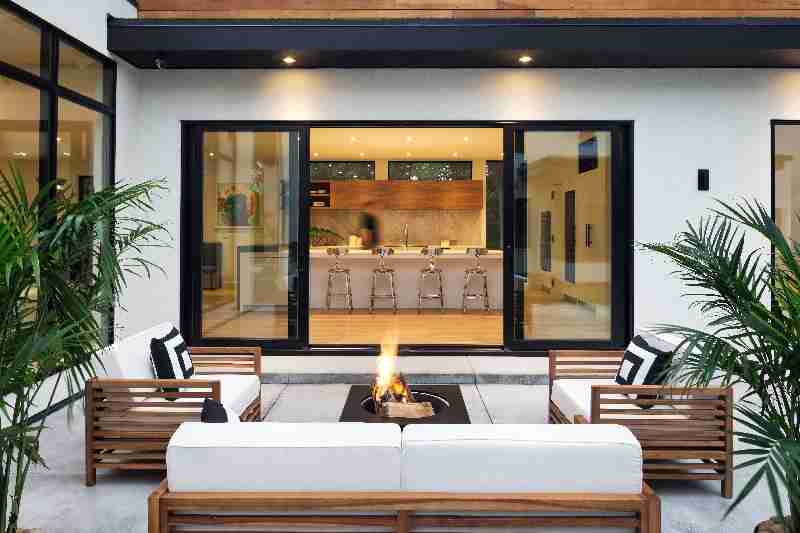 Paint Your House in a Bold Color
Paint is one of the simplest and most affordable ways to improve your home's appearance from the outside. A fresh coat of paint in a bold color can add visual interest and make your house look chique, even from a distance. If you're not sure what color to choose, consider consulting with a professional painter who can help you select the perfect shade for your home.
You may also want to consider using different colors for the trim and roof of your house to make it stand out. Regardless of the color and style you choose, it will be good to experiment with various colors on a small area of your home before painting the entire exterior, so that you can be sure you are happy with the results.
Install New Shutters
Installing new shutters is another easy way to improve your home's appearance from the outside. Shutters can add character and style to your home, and can also help protect your windows from the weather. If your current shutters are outdated or damaged, consider replacing them with a new set in a stylish design.
You can choose from a variety of materials, including wood, vinyl, and metal, so there is sure to be a style that suits your home. The best part is that shutters can be installed relatively quickly and easily, so you will be able to enjoy the new look of your home in no time. Just make sure you hire the right contractor to do the job for you if you're not comfortable doing it yourself.
Add a Garden
One of the best ways to improve the appearance of your home from the outside is to add a garden. A well-maintained garden can add color and life to your house, and it can also help increase your home's value. If you don't have a lot of space available, you can still create a beautiful garden by using container plants.
There are many different types of plants that can be used in a container garden, so you can find one that will fit with the style of your home. You can also add accessories such as benches, birdbaths, and sculptures to make your garden stand out. By adding a garden to your home, you will not only improve its appearance but you will also get the added benefit of having a beautiful outdoor space to relax in.
As you can see, enhancing your curb appeal doesn't have to be expensive or time-consuming. By using one or more of these tips, you can give your home a fresh new look that will be sure to impress. So whether you're thinking of selling your home shortly or you just want to give it a facelift, be sure to consider some of these ideas and see how they can improve the look of your house.
Alex Grigoryan is a Professional Home Improvement and Lifestyle Writer. He has been in the industry for over 6 years and has been writing for Chique Home Living since 2019. His work has been featured in prestigious blogs such as Spruce Home, Better Homes & Garden, and more.