How to Design a Patio: A Step by Step Guide
Outdoor spaces are one of the most appealing parts of a home, and patios are one of the most sought-after features. For that reason, it's no surprise that 60% of new homes in the US have patios.
Well, if yours doesn't, then you're in luck. You have the perfect opportunity to design the patio of your dreams, and it's easier than you think! Let's talk about how to design a patio that fits your needs so you can get the most out of your outdoor space all year round!
What You'll Need
Before we talk about the actual design process, let's first go over what you need. Obviously, you need an outdoor space big enough for your needs, and then here's how to lay the groundwork for your design!
You need to know exactly how much room you have to work with so you can plan out furniture, spacing from the house, and more. Don't just go off your blueprints. Grab a tape measure and measure out the distance in your yard where the patio will be.
This will let you know if you need to make any sizing adjustments. If the patio design is too small, it may feel cramped later on. Measure and put some stakes or markers around the boundaries to help you visualize the size of the space.
Of course, a custom patio design should fit your needs and preferences. Once you know the size of your space, you can start thinking of ideas of where everything will go.
As a general rule of thumb, any patio furniture should have at least 16 inches of legroom for couches and other seating if there is low furniture in front of it. For a tall table with leg room underneath, this isn't a concern. However, firepits, coffee tables, and more can make you feel overcrowded if there isn't enough room.
Also, what type of atmosphere do you want to set? Outdoor tiki bar, natural garden feel, or a modern and luxurious outdoor space? Even if it's something completely different and unique, start planning ahead for it.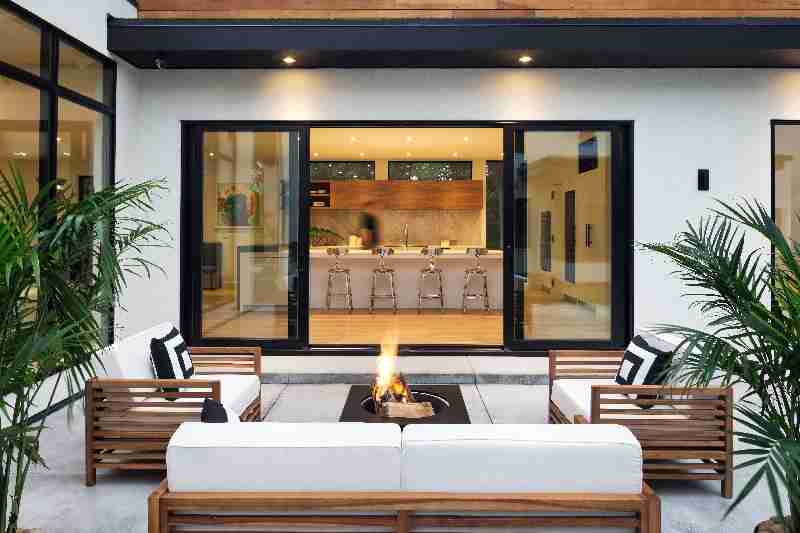 Patios can range in price dramatically, but on average, you should expect to pay between $850 and $3000 for a new one. With all things considered, that's a reasonable price.
Once you start generating ideas, you can start looking into the materials you need. This will include the right lighting, centerpieces, furniture, and more. Plan a budget for these fixtures along with the patio installation itself.
When it comes to outdoor furniture, you get what you pay for. Furniture that stays outside for most of the year doesn't always last as long as your indoor furniture, but if you do some research, it can!
Of course, some stores will have high markups with low-quality materials, but we live in a world with instant access to customer reviews online. In many cases, spending a little extra upfront will save you in the long run.
Before starting, you'll need the materials. Stones, bricks, cement, and everything else you'll need. Assuming you're hiring professional help, all you'll need are the materials.
However, for a DIY project, you will also need the necessary tools. This will include a cement mixer, trowels, a mixing bucket, and possibly a tile saw, but that's a different tutorial!
How to Design a Patio
Now that we've laid the groundwork and have a general idea of the overall project, we can start the designing process. Here are some important patio design tips to follow before starting the project!
Is this a grilling station, entertainment hub, or a family dining room for the summer? If your patio is next to a pool, it likely has a completely different purpose from one in a cramped backyard in an urban area. This will help you determine the location (if you haven't already done so), as well as the furniture arrangement, and more.
For most patios, right outside the backdoor is the perfect spot, but that's not the case for everyone. Some yards are different and you may have a different need for your patio.
You may want a patio in a secluded spot in your backyard for bonfires, one by the pool, or somewhere down a walkway. The location is entirely up to you, so find the perfect spot and be diligent with the measurements!
While measuring, think about the size of your typical guests. If you plan to have a central fire pit and enough seating for eight people, then you will need to account for those measurements. If the location you've had in mind does not meet these size requirements, consider continuing your search for the right location!
If you run into a problem with the location, especially for size, feel free to get creative. This could include changing the shape of your patio.
Maybe you were planning on a perfect circle, but an oval or kidney shape would work perfectly for the location in the trees! If you run into an issue like that, see if you can work around your original parameters for a solution before giving up.
Also, if the site is uneven, grab a shovel and move some dirt around until you have the flat surface you need. You don't always have to work around the existing yard. Sometimes, you have to make it work for you.
Try to Match Existing Aesthetics
You have to work with what's already there. For that reason, "matching" may not always be in your best interest, but always try to make sure that things at least complement one another. For example, if you live in Vermont and have an Old Colonial house built before the country's founding, a modern patio may look out of place.
This is especially important for patios that are right next to the house or ones that are visible from the road. They need to complement or work with the aesthetic of the existing structures surrounding it. Try to find an aesthetic that works.
If you're worried it will look wrong once it's installed, grab your laptop or phone and go outside into that space. Look at your house and compare the different aesthetics you want from online pictures and see if they conflict with the surroundings.
Start Your Landscaping Design
If any part of this process will be the most fun, it's the landscaping design. If you have a green thumb or you just love outdoor plants, then this is perfect for you.
Do you want raised garden beds surrounding the patio with flowers coming out every spring? How about a row of bushes surrounding your new area? Some people simply want nature to take over!
Whatever you want, plan ahead for it and make it happen. You can certainly hire professionals for this, but it's definitely a part of this project you can do yourself if you want to save some money. Grab a hoe, shovel, some seeds, and make it happen!
Of course, there's also the house itself. The patio is typically in a space closest to the house for easy access, so there will be a giant exterior wall in your way. Take the time to make improvements to this, as it will act as part of your patio space.
For easy access and a more modern look to your new outdoor area, find the right doors by searching "patio doors near me." This is a great way to get the most out of your new space!
However, your design comes out, and write down your specifications and needs, especially if you're hiring help. It's difficult to communicate exactly what you want if you don't write it down, and it may be easy for your crew to forget certain details.
If you're handy with a sketchbook, drawing out your idea visually will certainly help portray the message. They don't have to be professional blueprints but it will still be a lot easier to turn your dreams into reality!
Build Your Dream
Now that you know how to design a patio, get outside and get to work! Spring is upon us, so grab your measuring tape, a pencil, and some paper, and design the perfect patio for your needs. If you do it soon enough, you might just get to enjoy your new patio as soon as this summer!
Get started today and stay up to date with our latest tips for homeowners like you!
Alex Grigoryan is a Professional Home Improvement and Lifestyle Writer. He has been in the industry for over 6 years and has been writing for Chique Home Living since 2019. His work has been featured in prestigious blogs such as Spruce Home, Better Homes & Garden, and more.