How To Light Your Kitchen Like A Pro
Having a kitchen that's well lit is a must, as it's a place where you'll have many social gatherings, cook a family meal, or enjoy a cup of coffee on a weekend morning. While having the right lighting can make your space much more visible and inviting, it also helps make your kitchen more efficient. You'll be able to find items much quicker, cook with safety, and your kitchen will even appear to be bigger with good lighting.
Type Of Lighting To Consider For My Home
If you're trying to light a kitchen, there are different types of light to consider that make your space more inviting and efficient.
Ambient light – This kind of light fills the entire space with a gentle light. It's perfect for those times when you want to relax in your kitchen or have a conversation with someone.
Task Lighting – Using task lighting is good for specific kitchen chores, like cooking or cleaning. It's usually brighter than ambient light and is focused on one area.
Accent lighting – Well-placed accent lighting can add depth and dimension to your kitchen. It's a great way to highlight certain features, like artwork or architecture.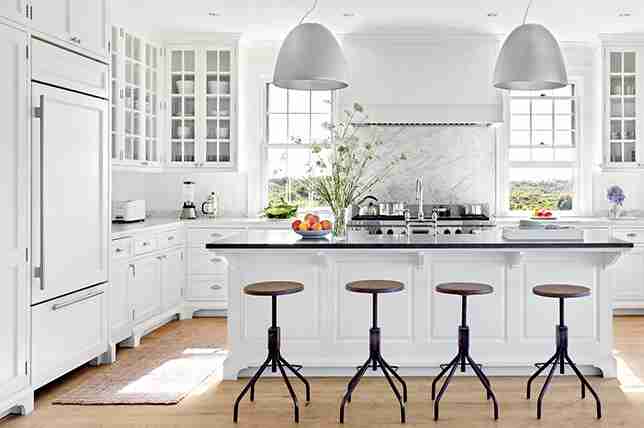 Lighting Fixtures To Consider For Your Kitchen
Now that you know a little more about the types of lights, picking the right fixture can make all the difference. These fixtures are perfect for any kitchen. One popular kitchen light fixture is a pendant, which hangs from the ceiling. Pendants come in a variety of styles, such as farmhouse lighting, which is perfect for a rustic kitchen.
Another option is a chandelier, which can give your kitchen an elegant look and is the centerpiece of the room. Some people also enjoy using recessed lighting because it's a more subtle way to add light to your kitchen.
How To Make Your Lighting Functional And Effective
Not only is it important to have the right type of light in your kitchen, but also make sure that the light is placed in the correct spot. It should be easy to reach and placed in an area where you'll need it the most. For example, your main light fixture should be placed over your kitchen table or island.
If you have a range hood, placing a light fixture above it can be very beneficial. Not only will it help you see what you're cooking, but it also adds to the overall look of your kitchen.
How about your cabinet lights? First, make sure that the light bulbs you're using are not too bright or too dim. You'll want a light that's just right, so it's easy to see what's inside your cabinets but not so bright that it's bothersome.
Second, think about the placement of your cabinet lights. They should be placed in a way that makes it easy for you to see what's inside, without having to move things around to get a better view.
The Right Light In Your Kitchen Sets The Tone
In conclusion, lighting is an important part of any kitchen. It sets the tone for the space and can really make a difference in how your kitchen looks and feels. When choosing light fixtures, think about the style of your kitchen and what kind of mood you want to set.
Alex Grogoyan is a Professional Home Improvement and Lifestyle Writer. He has been in the industry for over 6 years and has been writing for Chique Home Living since 2019. His work has been featured in popular platforms such as Spruce Home, Better Homes & Garden, and more.