How To Redesign Your Outdoor Living Area
Redesigning your indoor living space can only do so much. As such, you have to add a personalized touch to your outdoor living area. Otherwise, the space will always feel disjointed and bland. Improving an outdoor space can prove challenging for most homeowners. Luckily, you can achieve great results if you approach the project the same way you would approach any room in the house. 
With that said, here are some tips to help you create the perfect outdoor living space.
1. Beautify Your Outdoor Walls
Decorating your outdoor walls is a great way to brighten your outdoor living space. You can incorporate a couple of outdoor wall decor ideas to bring color and character to your garden. 
You just need a couple of ideas to turn the wall into a colorful focal point feature. The following ideas should help you beautify an outdoor wall:
Cover the wall with a trellis

Make a garden gallery wall

Make an outdoor shelf display

Create a colorful wall mural

Add a captivating wall art 

Create a mini wall display of greenery
2. Add A Fire Pit
A fire pit helps set the tone for your outdoor living area. And as you know, homeowners are more attracted to patios and backyards with a nice fire pit. By adding an outdoor fire pit, you'll be adding an extra source of lighting and warmth to your yard. 
The good thing about fire pits is that you can purchase one or design yours. What's more, fire pits can serve more than one purpose. So, apart from providing heat and light, you can use it as the centerpiece of a coffee table. You can also add a nice grilling surface to the pit and use it as an outdoor cooking appliance.
The bottom line is fire pits can add a rustic element to your outdoor living space or even serve as a lovely focal point for your yard.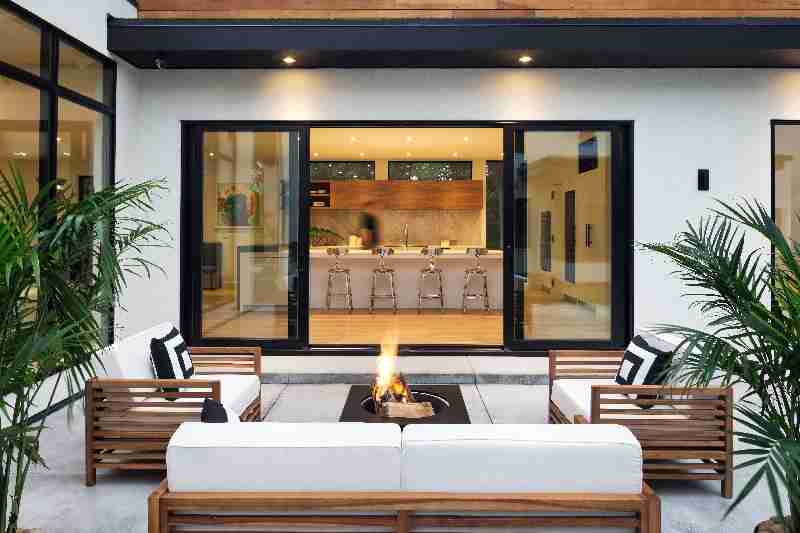 3. Add Plenty Of Flowers
Having a variety of plants and flowers in your outdoor space gives your outdoor area a springtime feel. So, if you own a home in San Antonio, Texas, you might be in luck, as planting a smattering of flowers can help transform your yard.
If you decide to plant flowers, spice things up by incorporating a couple of pretty flower bed ideas. Don't make a dull or predictable flower bed, as it will make your backyard look and feel bland. Here is a list of some gorgeous floral layouts and unique planters you can use:
Turn a tree stump into a flower bed

Make a flower bed shaped like a flower

Turn a rustic log into a hollow flower bed

Make a deck with built-in planters

Design a raised block flower bed

Make a plant bed on your gravel yard
4. Add A Water Feature
Nothing beats the sound and sight of trickling water in an outdoor space. It connects you to nature, giving you a relaxing feeling. With that said, you might consider upgrading your backyard by adding a lovely water feature. You can choose to have an elaborate waterfall or fountain if your budget allows you. 
Some homeowners will go for ponds or other simple water features. However, if your outdoor space is near a natural water source, consider taking advantage of it.
5. Make A Walking Path
Walkways are a great addition to both small and large yards. You can always change the type of pathway you have when redesigning your outdoor living area. As most landscapers say, walking paths can help define your garden and add focal points.
Instead of creating them along the garden beds, you can have your garden paths going in circles. Alternatively, you can have your paths intersect at various points. You can as well install pathways where grass doesn't grow on your lawn.
When making pathways, landscapers will advise you to use flagstone, gravel, bricks, wood, composite wood, stepping stones, mulch, grass, or any other material you deem fit.
6. Light Your Patio
Lighting your patio with unique lights or changing whatever you have can help improve your outdoor space. While at it, you need to be careful about the lights you choose. Whatever you install should create soft and atmospheric lighting.
If you are working with a covered patio, landscapers recommend using ceiling lights and outdoor table lamps. Alternatively, you can install string lights along the railings. You might want to use candles or hurricane lanterns if you prefer soft lighting.
The good thing with lighting a space is that you can be extra creative. Some will choose to hang a chandelier over the patio table, install paper lanterns, make fire pits, or illuminate structures and trees.
7. Add An Outdoor Area Rug
An area rug can function pretty well both indoors and outdoors. While you may not buy the idea of installing one on your patio, deck, or balcony, it is an excellent way to add texture and color. Just imagine not having an outdoor rug in your open-air lounge. Would it not look dull? 
Although you might want to store the rug away when not in use, most outdoor rugs are water-resistant and stain-resistant. As such, you won't have to worry about your rug getting molds and mildew.
8. Stylish Seating
For your outdoor space to look more inviting, you need to upgrade your furniture. Surprisingly, there is no harm in incorporating interior furniture trends into your outdoor living area. So, if you feel that you want curvy furniture or trendy textures on your porch or patio, you can go ahead. Adding a few outdoor lounges and egg chairs should do the trick without breaking the bank. Also, don't forget to include a couple of throw pillows and blankets on your sofas.
In Closing
Redesigning your outdoor space isn't as complicated and expensive as most homeowners perceive. You just need to identify the areas that require upgrades to get ideas. And as you can see, incorporating the above ideas shouldn't be difficult. You can execute them on your own or hire a designer to assist.
Alex Grigoryan is a Professional Home Improvement and Lifestyle Writer. He has been in the industry for over 6 years and has been writing for Chique Home Living since 2019. His work has been featured in prestigious blogs such as Spruce Home, Better Homes & Garden, and more.