How to Save Space in a Small Bedroom
If you're living the dream in Manhattan, you can expect to pay $652 per square foot in Washington Heights. Upgrade to Morningside Heights and rent rises to $800 per square foot!
Even if you're not in Manhattan, are you struggling to fit everything you'd like into a small bedroom? You're not alone – prices rise and cash might not go as far in terms of size. That's even more pertinent in the big cities but it affects everyone.
It's time to think smarter and make the most of the space you do have. Small doesn't have to mean uncomfortable. Indeed, a smaller room can be everything you want it to be and more. These tips serve as an excellent starting point to demonstrate that size isn't everything when it comes to bedrooms!
A small bedroom certainly doesn't have to cause any sleepless nights, especially when you know how to make the most of what you have.
We've pulled together some of the best ways to make any bedroom feel bigger. Read on to discover how to make the most of the sleep space you have available.
1. Make Your Choice of Bed Count
When you face space constraints, it's always a great idea to focus on the largest object. In most cases, that'll be the bed.
If you follow accepted medical guidelines, you'll spend between seven and nine hours in bed, so it's vital to focus on comfort and, where possible, not compromise on size.
Sure, you could make the bed smaller, but don't do so at the expense of comfort. Instead, put the bed to work. Empty space under you is pointless, so always go with built-in storage.
If you need the space for more than sleeping, consider a Murphy bed, which you can store away when not in use.
2. Every Small Bedroom Needs Multipurpose Furniture
It's not just the bed that can do more than one job. If saving space is a priority, ensure that your small bedroom décor performs multiple functions.
For example, you don't want to put your bedroom TV on a table. Use a TV lift cabinet like the ones available at https://www.wildwoodtvliftfurniture.com/tv-lift-cabinets/ to combine great viewing angles with desirable storage space.
3. Walls Are Space Too
Most decorating tips focus on colors and the latest wallpaper trends. However, when space is at a premium, it's essential to consider vertical opportunities too.
Shelves, wall-mounted units, and more can vastly increase floor space and available storage room. A single floating shelf can add several square feet of space, without getting in the way of anything else.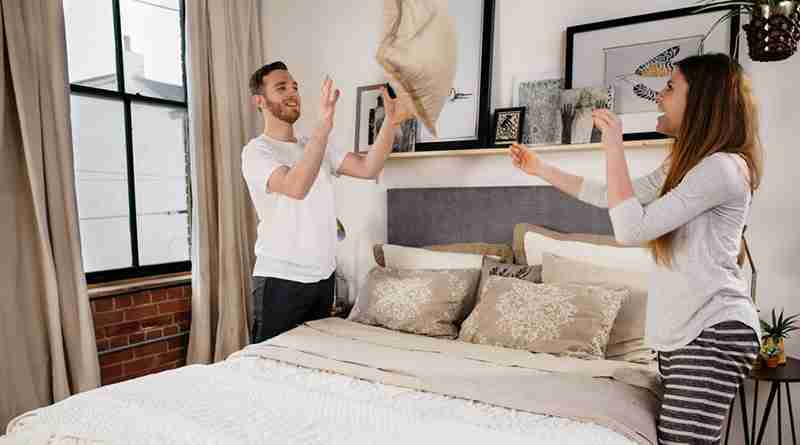 4. Focus On Practicality and Organization
Remember, the key to small bedroom ideas is thinking smart. You're maximizing the potential of something you have little of.
You could move a shelf in the closet to accommodate a chest of drawers. If you've got clothes that are out of season, but you have nowhere else to store them, vacuum pack them so you're not wasting valuable real estate on air!
Look at every available space and consider how to do a lot with a little.
5. Think About What Could Live Elsewhere
No matter the size, the bedroom is your space. If you're limited in what you can do, don't worry about convention. Could a clothes rail live in another room? Do you really need a bedside table if you only use it to charge your phone?
Always remember that the bedroom is for sleeping. Everything else is secondary, so don't worry about keeping clothes in the dining room or going without the bedroom TV if it helps you make better use of available space.
Discover Even More Great Contemporary Living Tips
Home is where the heart is and it's always worth your time to make your living space as enjoyable as possible. As we've seen above, a small bedroom doesn't need to be a limiting factor in comfort and practicality, but there's no need to stop there.
Take a look at even more fantastic tips for every room and create the home of your dreams with hundreds of fantastic articles across our blog!
Alex Grigoryan is a Professional Home Improvement and Lifestyle Writer. He has been in the industry for over 6 years and has been writing for Chique Home Living since 2019. His work has been featured in prestigious blogs such as Spruce Home, Better Homes & Garden, and more.