Relaxing Bedroom Ideas That'll Make You Want To Stay In Bed All Day
Do you ever just want to crawl into bed and stay there all day? If so, you're not alone because many people sometimes feel that way. If your bedroom isn't a relaxing place, however, you may be keen to avoid it as much as possible. The fact is, a comfortable and calming bedroom can make all the difference in the world. In this article, we'll discuss some favorite bedroom ideas that will make you want to get into bed and remain there!
Buy A New Bed Frame
A bed frame can really change the look of your room and make it feel more like a sanctuary. If you're looking for something that's going to be aesthetically pleasing, consider choosing one with a wooden finish. Besides being stylish, wood has natural calming properties that can help you relax and get a good night's sleep.
There may be many reasons why you need an adjustable bed frame. It could allow you to customize the height and angle of your bed so that you can find the perfect position for sleeping, reading or watching TV. Adjustable bed frames can be especially beneficial if you suffer from back pain or other health issues.
Upgrade Your Mattress
It may be that you're not getting a good night's sleep, you wake up feeling sore or stiff – or your mattress is over eight years old. If any of these reasons resonate with you, it might be time to upgrade your mattress. There are several different types on the market, including innerspring, memory foam, and latex.
Fortunately, the internet can help you select the most appropriate mattress for your needs. People who look for a puffy vs purple mattress review confirm folks' hunger for specialist comparisons, and discussions about sleeping positions, body contouring, edge support and motion transfer. People also want to check things like warranties, trial periods, shipping, prices, firmness, materials and durability before they buy.
Buy Some Soft Bedding
This can include anything from a soft quilt or blanket to comfortable sheets and pillowcases. Choose items that will make you feel cozy when you crawl into bed at night. Most people opt for materials like wool, cotton or linen, as they can be gentle on the skin and help you relax. Wool blankets are ideal for keeping you warm in winter and can also help to regulate your body temperature. They are soft and comfortable, making them a great choice for snuggling up in bed.
Soft pillows can be a great way to keep your head resting comfortably without waking up with stiff neck or shoulder pain. In summer, you can choose some silk blankets, and silk fabric, which will make the skin feel more comfortable, and filled with silk will also make the quilt extra soft. If you want a more personal touch in your bedroom then why not check out these t-shirt quilt makers near me.
Install A Ceiling Fan
Ceiling fans are a great way to keep cool during the warmer months. They are not only useful but they're beautiful too, because these fixtures usually have intricate details like decorative woodwork and ornamental metalwork. This can give an elegant touch to any interior design scheme.
For maximum comfort and convenience, try installing a ceiling fan with a remote control so that it can be switched on or off from anywhere with just one push of a button. Fans sometimes have a timer function that allows the appliance to turn itself off after a certain period of time, which helps reduce electricity bills.
Get A Quality Bedside Table
When you're bed-bound or relaxing, your bedside table can be an indispensable item in your bedroom. It's where you place all the things you need throughout the day, whether it's a book, medicine or a cup of tea. It's always advisable to buy one that's made from high-quality materials, such as oak. In addition to being sturdy and durable, this wood has vibrant patterns in low lights – which give bedside tables a unique look and feel.
If possible, get a bedside table that matches the décor of your room. You may also want to consider getting one with drawers as this will help you organize your things better.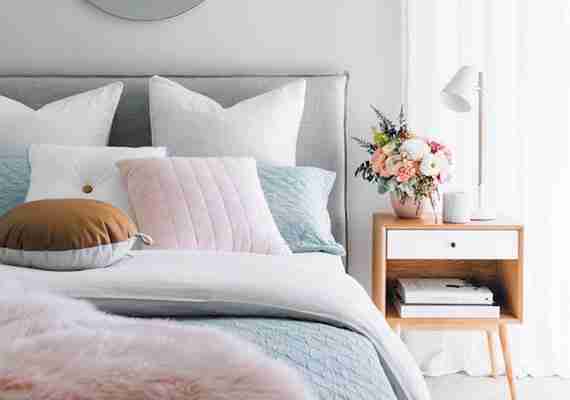 Play Calming Music In The Bedroom
Music can provide a relaxing effect for the mind and body, which is why it's such an effective tool in the bedroom. It has been proven to help lower blood pressure and heart rates as well as to reduce stress levels. There are many different genres of music that you can listen to, so find something that suits your personal taste.
If you have trouble sleeping, try listening to chilled-out instrumental, ambient or classical music. You may also want to consider investing in a noise machine that plays calming nature sounds like rain or ocean waves. These machines can be very helpful for those who have trouble sleeping due to noise pollution or other distractions.
Separate Your Workspace
Because of the global pandemic, more people than ever found themselves needing to work from home. This meant finding a space in the house to work, wherever it could be found. Having an office or desk in your bedroom can make it difficult to wind down at night.
If you really need to have a designated workspace there, try using dividers or screen panels so that the separation is clear. This way you'll have one area for sleeping and another for working. This will help create an environment where each activity has its own designated place. In turn, it will make it easier for your brain to transition from work mode to sleep mode.
Create A Screen-Free Zone
This means keeping all technology out of the space, including TVs, laptops, and phones. Studies have shown that blue light from screens can interfere with our sleep cycles, so it's best to avoid them for at least an hour before bedtime. Instead, try reading a book or magazine – or taking a relaxing bath.
Hopefully, these tips have provided you with some much-needed inspiration for your bedroom. You may additionally wish to think about adding dimmer switches and soft lighting. Once you've made some purchases and got everything in place, your bedroom will become your go-to location every evening. If you need a chilled-out day, begin with breakfast in bed and enjoy the changes that you've made.
Alex Grigoryan is a Professional Home Improvement and Lifestyle Writer. He has been in the industry for over 6 years and has been writing for Chique Home Living since 2019. His work has been featured in prestigious blogs such as Spruce Home, Better Homes & Garden, and more.