See What Are The Hottest New Trends In European Kitchen Design
The kitchen is the heart of the home. It's where we cook and eat, where we gather with family and friends, where we celebrate life's milestones. So it's no wonder that kitchen design has become so important in recent years. Homeowners are looking for kitchens that are not only beautiful but also functional and efficient.
If you're thinking of renovating your kitchen, or if you just want to stay up-to-date on the latest trends, read on. In this article, we will explore some of the hottest new trends in European kitchen design. We will look at both traditional and modern designs, so you can find the style that best suits your needs and personality.
Open-Plan Kitchen Design
Open-plan kitchens have been growing in popularity for several years now. They offer a more modern, spacious feel to the kitchen, and they can also help to increase the flow of traffic between the kitchen and other parts of the home.
If you're considering an open-plan kitchen, there are a few things to keep in mind. First, make sure that the layout of your kitchen is right for your needs. If you like to cook, you may want a layout that includes a separate cooking area and dining area. If you prefer to eat out, then an open-plan kitchen with a large island or peninsula may be a better option.
Second, think about the materials and finishes you want to use. Open-plan kitchens can be tricky to style, so it's important to choose colors and materials that will create a sense of harmony and unity. You may want to stick to light colors and natural materials such as wood or stone, or you could experiment with different textures and finishes to create a more unique look.
Industrial-Style Kitchen Design
Industrial-style kitchens are perfect for homeowners who want a stylish and functional kitchen that stands out from the crowd. Industrial-style kitchens usually feature exposed brickwork, metal framing, and concrete floors.
They also tend to have a minimalist aesthetic, with few decorative features. This type of kitchen is perfect for busy homeowners who need a kitchen that is both functional and stylish. 
If you're thinking of using an industrial-style kitchen, make sure you have enough space. As explained by the professionals from Massimo Cucine, these kitchens can be quite large, so you'll need to make sure you have enough room to work. You may also want to consider using open shelving and storage containers to keep the space organized and clutter-free.
Many people choose to use concrete, metal, or wood in industrial-style kitchens, but you can also experiment with different colors and textures to create a unique look.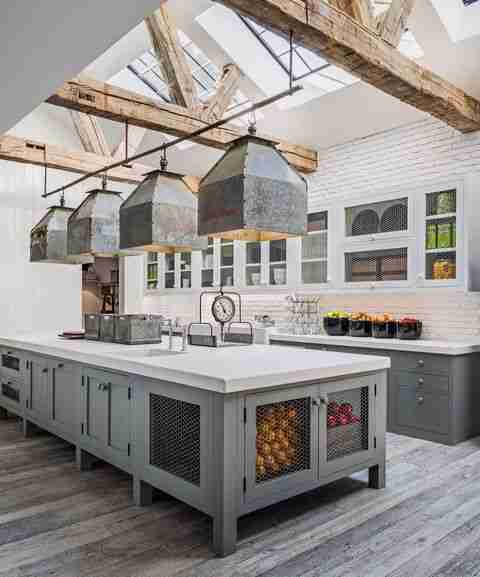 Scandinavian Kitchen Design
Scandinavian kitchen design has become famous thanks to its minimalist aesthetic and functional layout. Scandi-style kitchens usually feature light woods, pastel colors, and simple geometric shapes. They are designed to be both beautiful and practical, with plenty of storage space and workspace.
The best thing about Scandinavian kitchen design is that it can be adapted to any home, no matter what your style or budget. If you're looking for a sleek and modern kitchen, Scandi-style is the way to go. You can also add your personal touch by incorporating unique accessories and furniture into the design. This type of kitchen will always be in style, so you can be sure that you'll never grow tired of it.
Another benefit of Scandinavian kitchen design is that it's very easy to maintain. The simple lines and lack of decorative features mean that there is very little that can go wrong. All you need to do is keep the surfaces clean and free of clutter, and you're good to go. They are also quite affordable to install, so they're perfect for homeowners on a budget.
Traditional Kitchen Design
Traditional kitchen design is still popular with homeowners who want a timeless and elegant kitchen that will stand the test of time. These kitchens usually feature wooden cabinets, carved details, and ornate tiles. If you want a classic look that will never go out of style,  traditional kitchen design is the way to go.
Most traditional kitchen designs include an island or peninsula, which can be used as a breakfast bar or dining area. You can also use traditional appliances and fixtures to create a truly classic look. If you have a large kitchen, this is the perfect way to add some extra space and functionality. Traditional kitchen design may not be as trendy as some of the other options on this list, but it will always be in style.
Additionally, keep in mind that installing these kitchens can be expensive, so you'll need to have a healthy budget if you want this type of kitchen. However, it's definitely worth the investment, as you'll be able to enjoy your traditional kitchen for many years to come. Traditional kitchens often increase the value of your home, so you can be sure that you'll get your money back when it comes time to sell.
Contemporary Kitchen Design
Contemporary kitchen design is perfect for homeowners who want a sleek and stylish kitchen that doesn't sacrifice functionality. These kitchens usually feature minimalist kitchen designs, with clean lines and simple shapes. They are perfect for homeowners who want a modern look that will never go out of style.
One of the best things about contemporary kitchen design is that it can be tailored to any budget. You don't need to spend a fortune to get a contemporary kitchen, as there are many affordable options available. You can also choose to install the kitchen yourself, which can save you even more money.
Contemporary kitchens are perfect for busy homeowners who need a functional and stylish kitchen. The minimalist aesthetic means that there is plenty of space to work, and the sleek design is perfect for showing off your culinary skills. If you're looking for a modern kitchen that will last for years, contemporary kitchen design is the way to go.
Alex Grigoryan is a Professional Home Improvement and Lifestyle Writer. He has been in the industry for over 6 years and has been writing for Chique Home Living since 2019. His work has been featured in prestigious blogs such as Spruce Home, Better Homes & Garden, and more.