6 Best Small Bathroom Ideas To Create A Luxurious Home
In the capital city, space is often at a premium, and understandably bedrooms, kitchens, and living rooms tend to take priority over your bathroom. However, working with a compact space doesn't mean you can't achieve a luxurious, practical, and stylish spot to relax and unwind.
As well as transforming your lifestyle, renovating your bathroom, or adding an en-suite shower room could add value to your property. To help you establish a fantastic luxury bathroom design, we've put together our 6 top tips for maximizing your space and creating a sumptuous interior to enjoy spending time in.
Opt For A Sleek & Stylish Wet Room
A brilliant way to streamline your space is to create a sleek and sophisticated wet room. Doing away with your tub will open up your interior, giving you plenty of room for a luxurious and spacious shower area. Likewise, opting for a sleek, seamless floor surface rather than a separate shower enclosure will create a clean, stylish and uncluttered look.
A simple glass screen can protect the rest of your space from splashes, ensuring your new wet room is wonderfully practical to use and enjoy. However, it's worth bearing in mind that many young families and homebuyers will want a bathtub, and so a luxurious wet room design may be best reserved for a second bathroom or en-suite.
Establish A Sense Of Drama
A fantastic way to maximize a small space is to opt for a bold and striking design that creates a real sense of drama. A dark color scheme, daring wallpaper feature wall, or luxurious tiled surface will create a real wow factor, distracting from the dimensions of your room and making a showstopping statement.
From a quirky Victorian-inspired cloakroom to a moody and minimalist modern interior, there's no limit to the variety of styles at your fingertips. Though a bright and neutral color scheme can establish the illusion of more space, it can leave your design lacking character and look somewhat forgettable, opting for a dramatic design in a small space is a great way to make a lasting impact.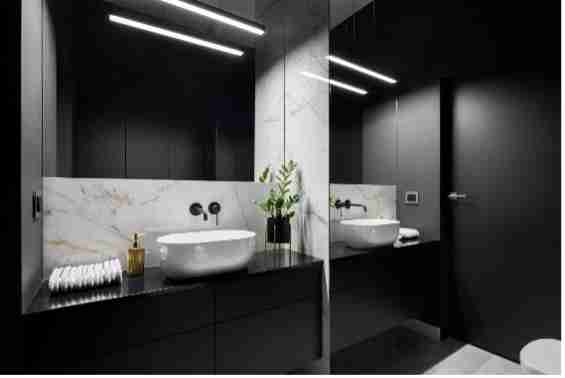 Don't Compromise On Luxury
Just because your bathroom is on the slightly smaller side doesn't mean you have to stick to choosing bland and sensible utilitarian fixtures. Both modern and traditional freestanding bathtubs come in a range of sizes, including those suitable for more compact interiors.
Furthermore, opting for a freestanding bath rather than a built-in design can actually leave your bathroom looking more spacious and open since the area around the tub won't be enclosed. When choosing your bathroom fixtures, don't be afraid to invest in the products you love, as they will look just as stunning in a compact bathroom.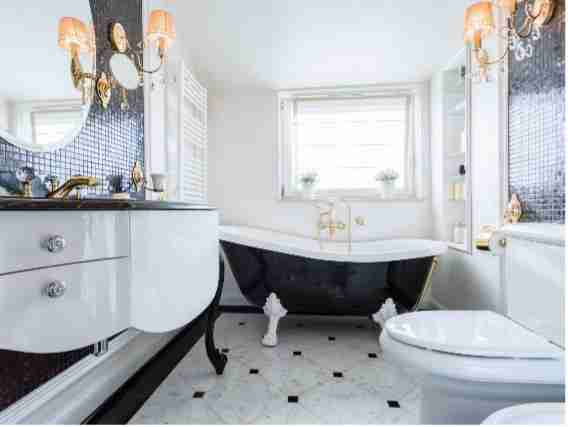 Create An Optical Illusion
There are plenty of ingenious visual tricks that you can employ to make a beautiful small bathroom feel spacious and luxurious. One clever option is to use the same finish across your walls and floor. This will blur the edges of your space, creating an optical illusion that makes the room appear larger.
Similarly, the more visible floor space you can achieve, the bigger your bathroom will look. Wall-hung vanities and toilets are ideal for opening up your floor area and creating an uninterrupted finish.
Lighting is also key to ensuring your compact bathroom feels bright and spacious. A dark and dingy bathroom can feel claustrophobic. Including plenty of lighting will immediately make your space feel bright, airy, and inviting.
Last but not least, the oldest trick in the book is to introduce mirrors. Of course, mirrors are a bathroom essential, but ramping up the size of your mirror or including more than one will effortlessly create the illusion of space as well as enhancing your bathroom lighting.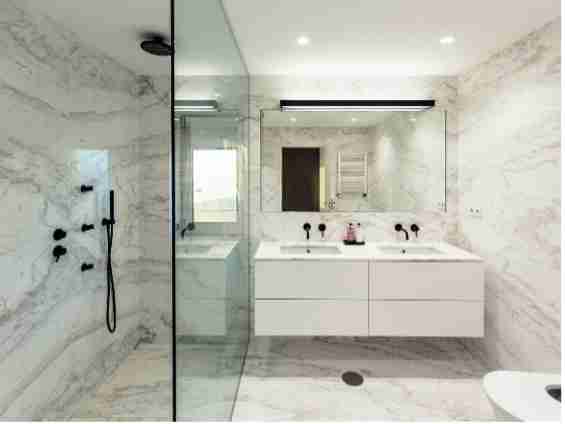 Include Intelligent Storage
Keeping your bathroom clutter-free isn't just about making sure your interior looks great, it's also essential to create a practical bathroom that's easy to use, enjoyable to relax in, and quick to clean. Including enough storage in a small bathroom can be a challenge, but we've got some excellent tips to ensure your new bathroom functions as brilliantly as it looks.
Combining your basin with a sleek storage vanity is a fantastic way to maximize your use of space. Under-sink drawers are convenient to access and easy to organize, making them an ideal bathroom storage solution.
Slimline mirrored wall-mounted cabinets or medicine cabinets are also ideal for discreetly hiding smaller items out of sight. Stylish baskets and elegant vanity trays make a sophisticated finishing touch whilst doubling up as additional storage.
Add A Built-In Niche
One of our favorite ways to elevate a bathroom of any size is to include a gorgeous built-in shower niche. Complete with beautiful integrated lighting, a sleek built-in alcove is an ideal place to position your favorite toiletries or ornaments to create a luxurious, attractive display. Shower niches are both practical and stylish and make a wonderful addition to any bathroom.
A compact bathroom provides a fantastic opportunity to create a truly show-stopping and memorable design, and can undeniably look as stunning, if not more so than a spacious interior. The top tips recommended by our experienced, professional bathroom designers should help you achieve a luxurious and practical design.
However, if you'd like more advice, please don't hesitate to get in touch with your local bathroom design specialists. The London Bath Co. are London's leading bathroom design, supply, and installation experts. They would be delighted to share their knowledge free of charge when you visit any one of their beautiful boutique London showrooms.