Smart Ways to Keep Your Outdoor Patio Warm
Adding a patio to your home is a great way to expand your property's utility. The one challenge you might come across if you want people to spend time on the patio is heating. As the temperature falls during winter, you might find that the patio remains unused for months. Fortunately, there are several options available that will not only provide the needed temperature boost, but will help increase your property's value, create a focal point, and provide a myriad of other benefits. Here are a few of them.
Custom Fireplace
Most people think that a fireplace can only be used in a home's interior. That is not true as they can be installed outdoors too. Outdoor fireplaces can be an eye-catching focal point. If you place a few seats and a table around the fireplace, you could create a great outdoor living space.
The three main options you have are buying a customer fireplace, building one yourself, or buying a prefabricated fireplace. Whatever you decide, take the time to do your research to ensure you end up Smart Ways to Keep Your Outdoor Patio Warm with a customer fireplace with some permanence.
The choice of materials ranges from stone and brick to concrete and metal, depending on the look you are going for. You also get to choose between wood and gas for the fuel.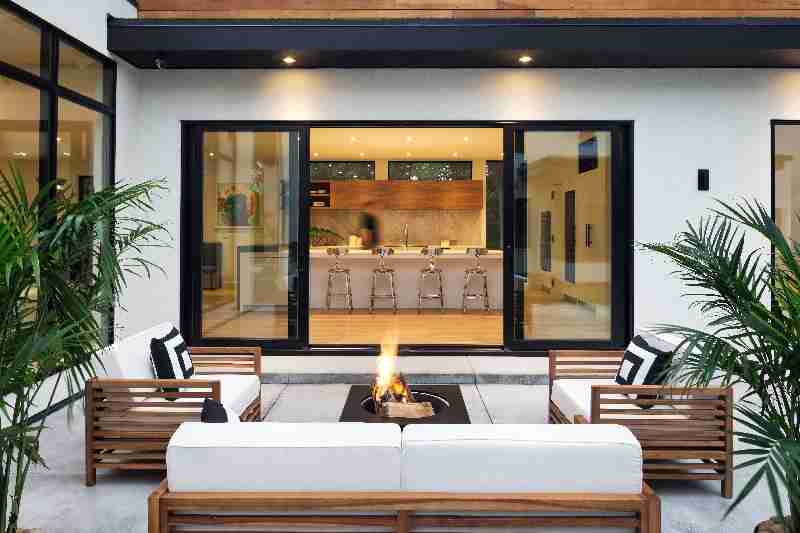 Portable Fireplace
A prefab or portable fireplace is a great option if you have a smaller outdoor space. They are also great if you want to take the fireplace with you. These fireplaces come with eye-catching flues that can either be blended with the rest of the home's look or be made to stand out. They can also be made to mimic the look of a permanent fireplace but without the permanence associated with the latter.
Fire Pit
Fire pits have become a trending outdoor heating option because they are easy to use, portable and cost effective. Fire pits can use either gas or wood. Because they are meant to be low to the ground, fire pits are a great option for homeowners looking for a central feature to their outdoor seating arrangements.
Fire pits are also available in a range of shapes, sizes, and materials, meaning they can be incorporated into any home design and aesthetic. Fire pits are also a great way to add some style to your outdoor space.
This can be achieved through selecting the right materials for the fire pit as well as for the area surrounding it. To help you choose the right materials, you can get in touch with companies that provide hardscaping design services.
Landscaping and hardscaping companies like R & L Irrigation can help design your outdoor space, help you choose the right materials, and complete your outdoor project to perfection. They also provide landscape management services, outdoor lighting, and a variety of other services to ensure your property looks and functions at its best.
Heated Floors
Many people do not consider the utility of heated floors to extend to the outdoors, but it does. Heated floors work well for wooden decks or patios. These heating options are gaining popularity for outdoor use and work by having radiant heating installed underneath the deck or patio.
Heated floors also provide the added benefit of melting ice and snow off your deck or patio. The most important thing to remember is to have them installed by a professional. This way, you can be sure they are installed correctly and do not become a problem down the road.

While an outdoor kitchen is not strictly a way to heat an outdoor space, it still does the work. The appliances you use in an outdoor kitchen will produce a lot of heat and this can provide warmth in the area around the kitchen.
Having a grill, pizza oven, or other outdoor kitchen appliances installed will not only warm the space up but will also provide aromas that make people want to hang out on the patio for longer.
Heat Lamps
Heat lamps have traditionally been used in outdoor restaurant settings, but they are making their way into residential settings. These heaters are taller than they are wide and so they do not take up too much space.
They are also fueled using propane and are very portable. This makes it easier to take them inside when not in use and in warmer months. One such heat pump can heat an area of about 25 square feet, and so you might only need one or two for your patio.
Heating your patio is not an easy feat, especially considering that most of the heat will be lost to the atmosphere. However, several creative ways can help you keep the patio toasty while remaining cost-effective and without being too much of a hassle
Alex Grogoyan is a Professional Home Improvement and Lifestyle Writer. He has been in the industry for over 6 years and has been writing for Chique Home Living since 2019. His work has been featured in popular platforms such as Spruce Home, Better Homes & Garden, and more.