Top 8 Tips to Think About When You're Planning to Renovate Your Home
Renovating your home can be a daunting experience, so we've put together this guide explaining the top things to think about when looking to renovate your home. As you look to create your dream home you're likely thinking, what parts of it you can do yourself? Or do you need to hire specialists such as an FF&E interior designer or a project manager. Our top tips below should give you a good idea of what to consider before you take the plunge and make it as successful an experience as possible! Can't wait to see how your space turns out…
1. Research is the basis for success
Without a doubt, this is the most important thing for you to take away. It's not the most exciting, for sure, but it's a way for you to spend less, encounter fewer issues, and generate a realistic schedule. More importantly, it's vital to the successful continuation of the project and to you ending up with a beautiful space that takes into account your needs, your lifestyle, and your dreams.
2. Budget comes first
It's not as fun as dreaming in color, but it's the fundamentals that underpin the success of the whole project. Make sure that you're honest with your money, and that your costs and projections accurately reflect reality to avoid finding yourself in hot water later down the line.
Finally, let's be honest, there are going to challenge you can't plan for, so it's a sensible idea not to start until you have a good cushion to mitigate unforeseen circumstances.
3. Lighting up your life
Lighting can make or break any design, so consider it carefully! Check on your natural light, when it hits the room and to what extent, then think about how to support and elevate that within room design. You should also make sure to look at how the artificial lighting works with your use of the space and make sure to use the fittings and light fixtures to elevate your design, too.
4. Don't be floored by flooring
Consider what you have and what you want. First of all, make sure the change you envision works with the style and reality of the space in terms of material and color. Secondly, don't forget about the practicalities behind choosing the material – the look is so important, but it's not all about aesthetics.
Consider how you're going to use the space, i.e., how much wear the floor is going to get, as well as how much dirt it's going to pick up and how it will need cleaning.
5. A practical bathroom haven
There are aesthetic and practical concerns when it comes to the bathroom especially. Make sure you've considered the airflow and how the condensation will interact in the space, where you'll store your toiletries, and where you'll warm and dry your towels.
What's your lifestyle like: would a separate toilet and shower benefit your family? On top of that, this is the place you care for your body and yourself, and you deserve to be doing that in a beautiful, calming, and aesthetic environment.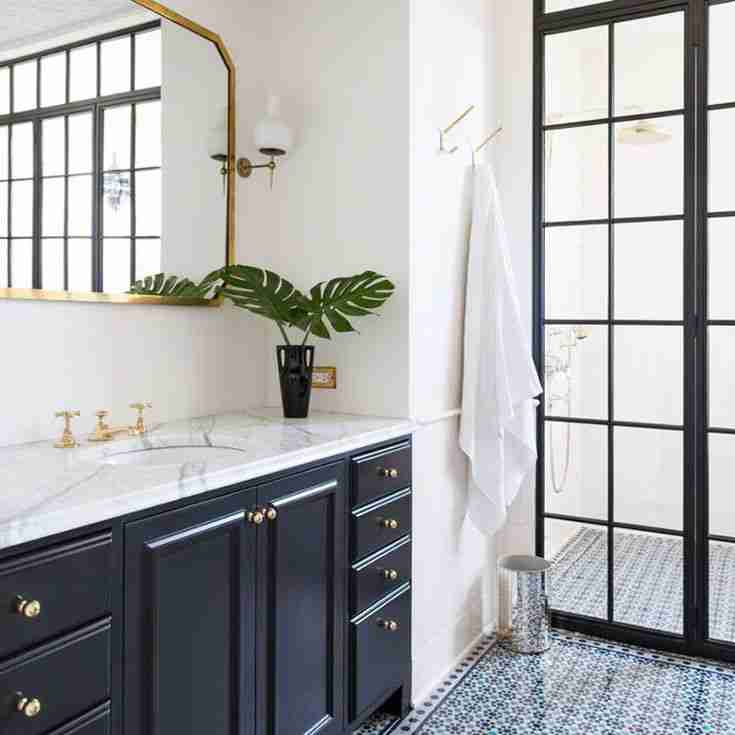 6. The kitchen is the heart of the home
You can't get away from the fact that three meals a day, and plenty more time besides, need you to spend time in the kitchen. Maybe you love to cook or bake, or maybe it's more of a burden; either way, you have the opportunity to make this space work for you, laid out and set up to make your life as easy as possible in the way you need it.
Whether it's a full overhaul down to the appliances, or whether it's more of a facelift and a rearrange, take the opportunity to consider how to improve your use of the space as well as the aesthetic. Plus, according to the Royal Institute of Chartered Surveyors, a kitchen renovation can add upwards of 5% to the resale value of your home. Well worth considering.
7. Walls: Putting them up or tearing them down?
You should consider your walls carefully – there are more options than you think. If your space is small, have you entertained the possibility of taking out walls and opening up the space to more light and movement through an open plan environment?
Or maybe the open-plan environment you have right now isn't providing enough separation and structure to your home? Consider adding walls, or even better, dividing up the space with furniture, art or screens can make it flexible, unique and customizable to any situation.
8. Storage solutions are sexy
Considering the items you have, what you want to keep, and what you might get in the future is important, because now, where will those things live? You'll be living in your new home, but so will all your possessions and it's important to consider how your space will hold your things.
There's very little point in custom building the perfect environment to have it covered in mess with items scattered everywhere! Work innovative and interesting storage solutions into your design to keep a calm aesthetic throughout your new space.
Alex Grigoryan is a Professional Home Improvement and Lifestyle Writer. He has been in the industry for over 6 years and has been writing for Chique Home Living since 2019. His work has been featured in prestigious blogs such as Spruce Home, Better Homes & Garden, and more.