Which Type of Roofing Is Best for Your Home?
Replacing a roof could cost up to $12,000, depending on what type of material and type of roofing you choose.
However, there are some materials that can save you money because they're cheaper than others.
But if you want to ensure your roof will last a long time, you need to do your research on roof materials. Keep reading to discover what types of roofing materials would be best for your home.
Asphalt Roll Roofing
One of the most common home roofing types is asphalt roll roofing. This is made up of large rolls of material that are used for asphalt shingles.
These are used if you have flat pitches, like an angled shed roof. You can also find out more here about the pitch.
You can install them by laying the strips across the roof and overlapping them. It's one of the easiest materials to install, and you can do it yourself if you want. It's better for porch roofs, garages, and sheds, but it may not be perfect for your home roof.
The asphalt roll can last anywhere between five to ten years. If you want it to last the full ten years, you'll need to quickly patch it if there is any damage and also ensure that it's clear of debris.
Metal
Metal roofing is made from steel, copper, aluminum, or a mix of metals. These shingles are great if you have a flat or a steep roofline.
Steel roofing installation can last for a long time, up to fifty years. They're also energy-efficient and can resist fire, wind, rotting, and rain.
However, if you live in an area that has hail, it could cause dents on your roof. And during a bad rainstorm, it'll be very noisy in your house.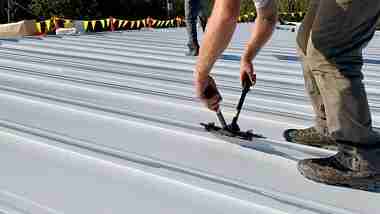 Clay Tiles
Clay tiles are great for homeowners because they'll last a long time, and they're durable. They are also resistant to fire and can help keep your home temperature regulated.
These are a little bit more expensive than other roofing materials, but they also do last longer.
However, these can be heavy, so it might not be a great option if you have a low-pitch roof.
Slate
Slate is natural, visually appealing, and durable. These roofs can last for over a hundred years if you properly take care of them. It's not susceptible to pests, fire, or rotting either.
It's also a low-maintenance material, so you won't have to worry about sealants or chemical treatments.
Discover More About Which Type of Roofing is Good for Your Home
These are only a few things to know about which type of roofing is good for your home, but there are many more materials that might be a good option.
We know that taking care of your home can be stressful and overwhelming at times, but we're here to educate you on all you need to know.
If you're interested in learning more about being a homeowner, check out our website for more articles.
Alex Grigoryan is a Professional Home Improvement and Lifestyle Writer. He has been in the industry for over 6 years and has been writing for Chique Home Living since 2019. His work has been featured in prestigious blogs such as Spruce Home, Better Homes & Garden, and more.