15 Low Budget Beauty Salon Interior Design Ideas
Looking for the best low budget beauty salon interior design ideas that can maximize interest? You're in the right place!
Beauty salons are usually one of the chicest and most visually intriguing places. The beauty industry is one of the most competitive industries in recent times. There are so many beauty salons today, which makes it much more challenging to stand out from the crowd.
It is crucial for a beauty salon to look aesthetically pleasing and inviting. In order to sell beauty services, your salon needs to look the part. Instagrammable salons do so much better in sales and customer retention than basic-looking salons.
However, the cost of designing your dream salon can be financially crushing most times. But don't fret! They are plenty of low budget beauty salon interior design ideas that will help make the most of your space without breaking the bank.
A chic Instagram-worthy beauty salon can do a lot of self-promotion and help you gain more visibility for your business. In this article, we've put together 15 incredible low budget beauty salon interior design ideas to impress. So, whether you are planning to start up a beauty salon or revamp your existing beauty salon, these ideas can make your space stand out without looking cheesy and help you get your clients' foot in the door.
So let's get started!
1. Choose An Eye-Catchy Color Scheme
Start by choosing a color scheme for the beauty salon. In interior design, the color scheme is the most crucial element that sets the tone for the rest of the design. If the color scheme is not right, then the beauty salon is likely going to be uninteresting no matter how much effort is given to other areas.
There are several approaches to choosing a color scheme. Firstly, determine if you want a two-tone, three-toner, four-tone, or monochromatic color scheme. For a contemporary feel, stick to a palette of two or three. Some popular colors for beauty salons are blush, ivory, sand, beige, and pastel green.
(Image credit: AntDisplay)
2. Opt For Reclaimed Wood
Investing in reclaimed wood is a low budget beauty salon interior decision that will save you a lot of money in the long run. Reclaimed wood or lumber is wood with a past. This type of wood was mostly used in the 18th to the early 20th century for buildings and structures and is recycled and repurposed.
Reclaimed wood is budget-friendly, durable, and can withstand a lot of pressure. It is sure to add rustic charm and style to your beauty salon.
(Image credit: The Beauty Barn Mobberley, Cheshire)
3. Mirrors, Mirrors Mirrors
This may seem like a no-brainer. Mirrors are a must-have beauty salon essentials. Their primary function is to reflect customers' image so they can see themselves during and after the process. For the longest time, mirrors have been used as a trick to reflect light and create an illusion of space.
They are an important interior design element that does not cost a fortune to acquire. Functionality asides, the style of the mirror should be chic and complement the rest of the beauty salon design style. The placement of the mirrors is also important. Kept it symmetrical and at least 3-5 inches apart.
(Image credit: One Love Lane, Cambridge)
4. Make A Statement With Light Fixtures
Lighting is a crucial interior element when it comes to beauty salons. Don't just consider the functionality aspect of things but also the decorative side. This is a low budget beauty salon design trick that can give your space a stylish touch.
Rather than investing in boring light fixtures, create interest and visual intrigue with statement lighting throughout the space. Lighten up the dark corners of the beauty salon. Also, consider shelf lights, POP ceiling lights, or other decorative lights that can elevate the beauty of the space. Take advantage of natural light where you can. Let the natural light in for an airy and bright space.
(Image credit: Instagram​​​​​​/Kirashv)
5. Create A Zen-Like Environment
A low budget beauty salon interior design element that can elevate the space is a plant. Plants are knowns to help purify the air are create a tranquil environment. They also create a great aesthetic appeal and a welcoming atmosphere. Incorporating plant in your beauty salon interior is also a great way to add a pop of color and greenery to the space.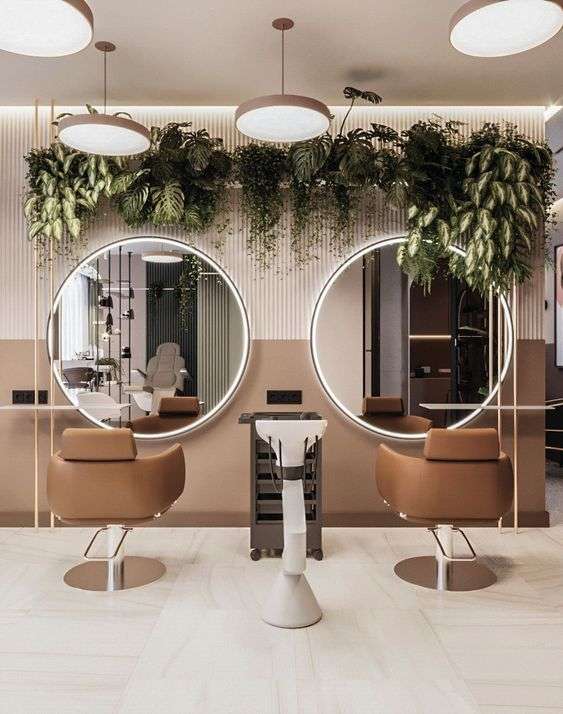 (Image credit: The Beauty Bar, Tyumen)
6. Create An Accent Wall
An accent wall is an interior design technique that can add a decorative touch to a beauty salon. This involves creating a create a focal point by painting or styling a wall differently. Black accent wall has been quite popular for the last couple of years. There are many ways to incorporate an accent in a beauty salon. You can achieve this with paint, wallpaper, floral wall wood panels, mural, and many more.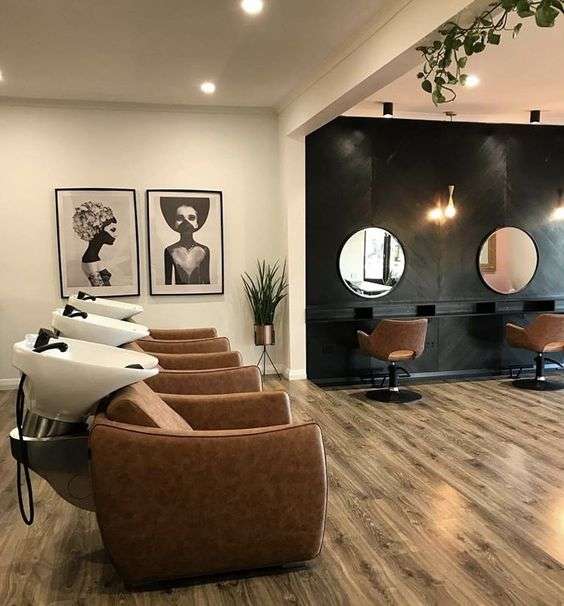 7. Add A Neon Signage
Neon signage is taking the beauty world by storm. This is a cost-effective way of adding character and charm to a space. Besides, we've seen how gen-Zs love to take pictures with these quirky note signage and post them on their social media.
It evokes character, fun, and a welcoming ambiance. There are so many neon shades to choose from to complement the interior and you can get them custom-made for a reasonable price.
(Image credit: Neon Creations)
8. Create A Welcoming Atmosphere In The Waiting Area
Prioritize customer experience by making the waiting area welcoming but also interesting to look at. The essentials you'll need here are stylish and comfortable seating, a coffee table, and some magazines on the coffee table.
Take attention to the overall look of this space. Make sure it's not boring to look at and not overly overwhelming with decorations. Keep it simple and classy!
(Image credit: The Beauty Bar, Tyumen)
9. Create a Photo Corner
Let the beauty of your space intrigue your guests. The beauty business is more competitive than ever before. Beauty salons today have been embracing the creation of stunning and unique photo corners to capture the attention of clients and potential clients. This is a low-cost and creative way to spark interest and create a buzz for your business.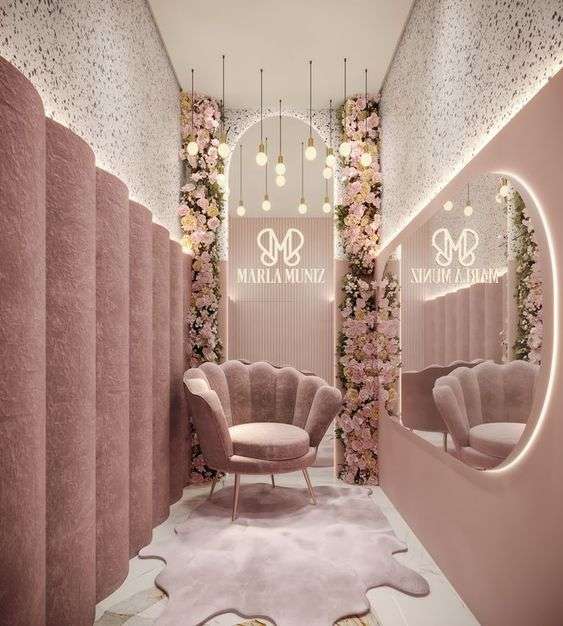 (Image credit: Michelle Rigopoulos)
10. Invest In Affordable Flooring
Flooring decisions are one of the toughest to make. It requires proper research and consideration. There are several affordable flooring that is ideal for a beauty salon without compromising quality and longevity.
Polished concrete flooring, carpet tile, laminate, epoxy, and luxury vinyl tile are some flooring options that are durable, inexpensive, and easy to maintain.
(Image credit: Del & May Hair Studio, Victoria)
11. Embrace Modern Minimalism
Most times, the best way to stay classy on a budget is to keep things simple. Don't overcomplicate things! If you prefer a clean and minimal look for your beauty salon, then stick with it. Use neutral or muted colors for a chic and modern look. Also, pick out stylish and functional furniture to elevate the aesthetics of the space.
(Image credit: Del & May Hair Studio, Victoria)
12. Keep The Powder Room Interesting
Maintain the color scheme throughout the space, this includes the powder room. Keep it minimal but stylish. Gold fixtures tend to make a chic and contemporary statement in powder rooms.
Most importantly, make sure it stays clean and clutter-free at all times. If you have a small bathroom, consider adding more mirrors to make the space feel spacious.
(Image credit: Richards and Spence/ designed for Calile Hotel in Brisbane)
13. Make It Glamourous
Give the space a grand gesture by making it glamorous. Glam is an interior design style that is chic, ornate, and a perfect blend of opulence and functionality. And YES, you can achieve this on a budget! Pay attention to colors and textures. Embrace the use of gold tones and fixtures, marble floors or walls, and glittery wallpaper.
(Image credit: Wally Beauty)
14. Add A Rustic Charm
A rustic appeal is a great way to evoke character and charm in your space. For a country-inspired decor scheme, use neutral tones, natural textures light wood finishes. Then add a sense of drama with tree-stump footstools and coffee tables.
(Image credit: Pinterest/bertzgmbh.de)
15. Create A Focal Point
To draw the attention of the clients, create an interesting focal point. This can be done with a tree, an oversized artwork, or a chandelier. The focal point should be attention-grabbing as this can make you stand out from the competition.
(Image credit: Elizabeth Ermenkov)
Conclusion
The design of a beauty salon plays a crucial role in its success. There are creative design solutions for every budget. With these 15 low budget beauty salon interior design ideas, you can create a space that works for your budget but is also aesthetically pleasing.
We hope these ideas have inspired you. If you're still unsure about how your budget will meet your expectation, discuss your ideas with your interior designer and they will provide you with a cost estimate for the project.