Roomba 976: The Best IRobot for Cleaning
The Roomba 976 is one of the latest iRobot 900 series robot vacuums that have stood out for their versatility and performance.
In this roomba 976 review, you'll discover its interesting capabilities and we will tell you what the first impressions have been.
We are in front of a robot vacuum cleaner capable of providing high-performance thanks to the increase in its suction power and the precision of its navigation technology.
In addition, it allows full control of its functions through the mobile phone for complete customization of each work round.
It has a 3-stage cleaning system that allows it to descale, lift and vacuum dirt in the most efficient way. It has support for voice control, so comfort is guaranteed.
Here we tell you what else the Roomba 976 robot has to offer. Find out if it is the most ideal for you.
Navigation system
One of the best features of this robot is its improved iAdapt 2.0 navigation system, which allows the device to move and locate itself without problems, thanks to its visual location.
Thanks to its high-tech sensors, the robot detects obstacles, dodges them, and saves track of routes, so it automatically knows which areas to avoid if there are objects in between.
Besides, it can easily pass under a piece of furniture, a chair, or a table, without colliding with any of its parts.
Roomba 976 with sVLAM technology
It is an optical sensor with which it captures more than 230,000 data points per second of where the robot vacuum cleaner is.
The irobot maps the house and with that draws a map of your entire house that you can see in your App.
On top of that, it navigates in an orderly manner and thus increases your efficiency as a robot. It will vacuum your entire house, without leaving any corner.
Connecting the Roomba 976 to the Braava jet for comprehensive cleaning
You can link the Roomba 976 to the iRobot Braava jet mop. You can start mopping as soon as the Roomba 976 finishes vacuuming. They go one after the other and thus get comprehensive floor cleaning without giving up the solvency of iRobot robot vacuum cleaners.
You will be able to link it from the iRobot Home App and you do not have to be aware of activating it.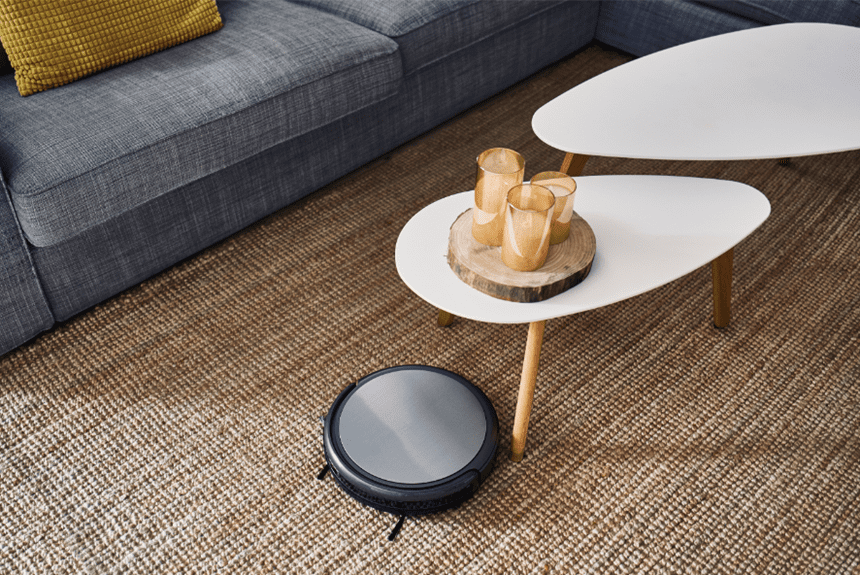 Cleaning system
In this sense, thanks to its waste extractors, the AeroForce 3-phase cleaning system of this device is very effective, and compared to other models, it is 50% more effective, eliminating any type of dust, dirt, and all hairs.
It is also valid for cleaning all types of surfaces, including carpets and all kinds of hard floors. This is how the Roomba 976 moves around home.
The power level
Unlike previous versions, the irobot roomba 976 is powered by a 5 times higher motor (2nd generation motor). Compared to the 600 series, this model can sweep the edges of the walls, so it offers greater efficiency when vacuuming and removing dirt on the different surfaces of your home.
High-efficiency filters
This robot has a high-efficiency AeroForce filter that captures small particles that are almost invisible to our eyes. It picks up particles 10 microns in size. This device, however, is not capable of trapping allergens but it can trap dust mites.
irobot roomba 976 not only keeps your home clean but also helps take care of your health and that of your loved ones.
Pros
It is a robot with an advanced navigation system that maps the house and suggests how to keep it clean better.
The suction results are good.
You can get a comprehensive cleaning because you can connect it to the Braava jet to scrub the house.
The sensors make it easy to clean under furniture and chairs.
You can start it manually by pressing the CLEAN button on the base of the robot.
Cons
The price of the Roomba 976 is similar to that of the Roomba 981 but with fewer features.
It does not have a remote control.
You cannot delimit zones or close doors or it will clean the whole house
If you have pets at home, one or even two, the tank is quite large (0.6 liters) and the opinions of consumers who have pets are good.
Keep in mind that there are many Roombas that have a silicone brush to collect pet hair. You have more options and you can check other robots for pets if there is one that suits you more.
If the reason for buying the Roomba 976 is that you have pets at home, the Roomba e5 is better (cheaper, more autonomous, and powerful). But if you want a complete cleaning you will have to buy the 976 necessarily (if you are looking for an iRobot).