14 Unique Anniversary Gifts For Your Wife
If you're looking for the perfect anniversary gifts for your wife that goes beyond flowers, pieces of jewelry, and perfumes, then this article is for you!
A wedding anniversary is a day to reminisce and appreciate the most important day of one's life. A study by PLoS One found that women are better at selecting gifts than men and tend to place more emphasis on gifting because of the interpersonal interest they have in others. So why not step up your game and show her that men got it too?
Finding the right anniversary gift for your wife can be a bit nerve-racking because there are so many over-saturated, boring gift ideas out there, making it harder to find something completely unique.
That's where we come in. We've filtered through the conventional anniversary gift ideas to help you gift her something out of the box. These specially curated gifts will give her the impression that you've put a lot of thought and love into making her feel special.
Read on to find out the 14 unique anniversary gifts for your wife.
1. Personalized Song Plaque With Your Wedding Photo
There are some gifts your wife will not expect from you and one is a customized song plaque with a photo from your big day. This is a heartfelt and thoughtful gift idea that will make her heart melt.
Choose her favorite photo from your big day and song from your first dance. Get this personalized in a song plague and watch how special this makes her feel.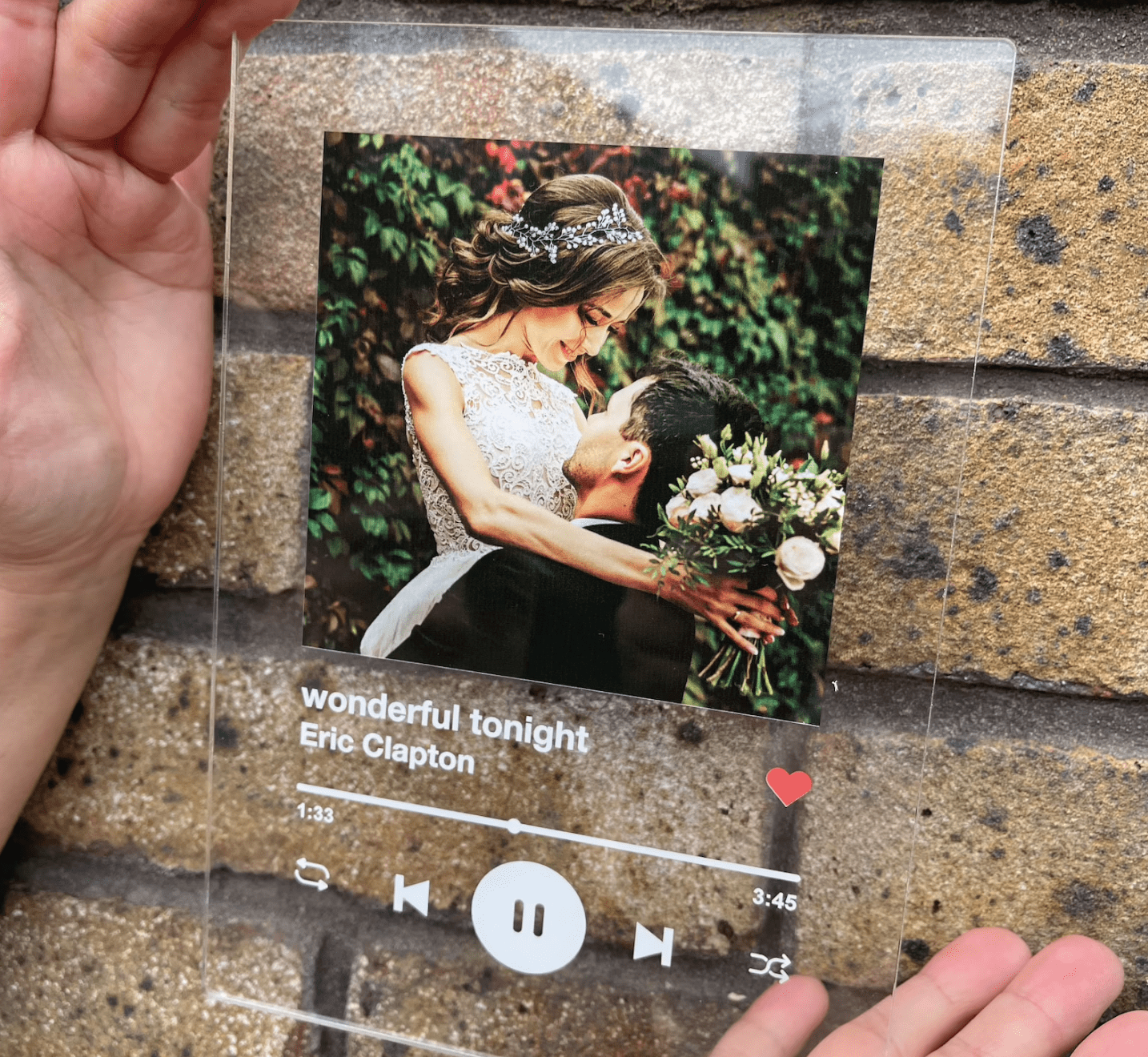 Courtesy: Etsy
2. Wooden Event or Travel Ticket
One of the most memorable gifts you can give to your wife on your anniversary is an experience. What is her dream holiday destination? If your budget allows, help her tick off that bucket list.
Think about her favorite opera show, concert, or event. Surprise her with a ticket for two but make it interesting by getting it customized as a wooden ticket. This is one of the best anniversary gifts for your wife because not only will she enjoy the experience but also have a little souvenir to remember it by.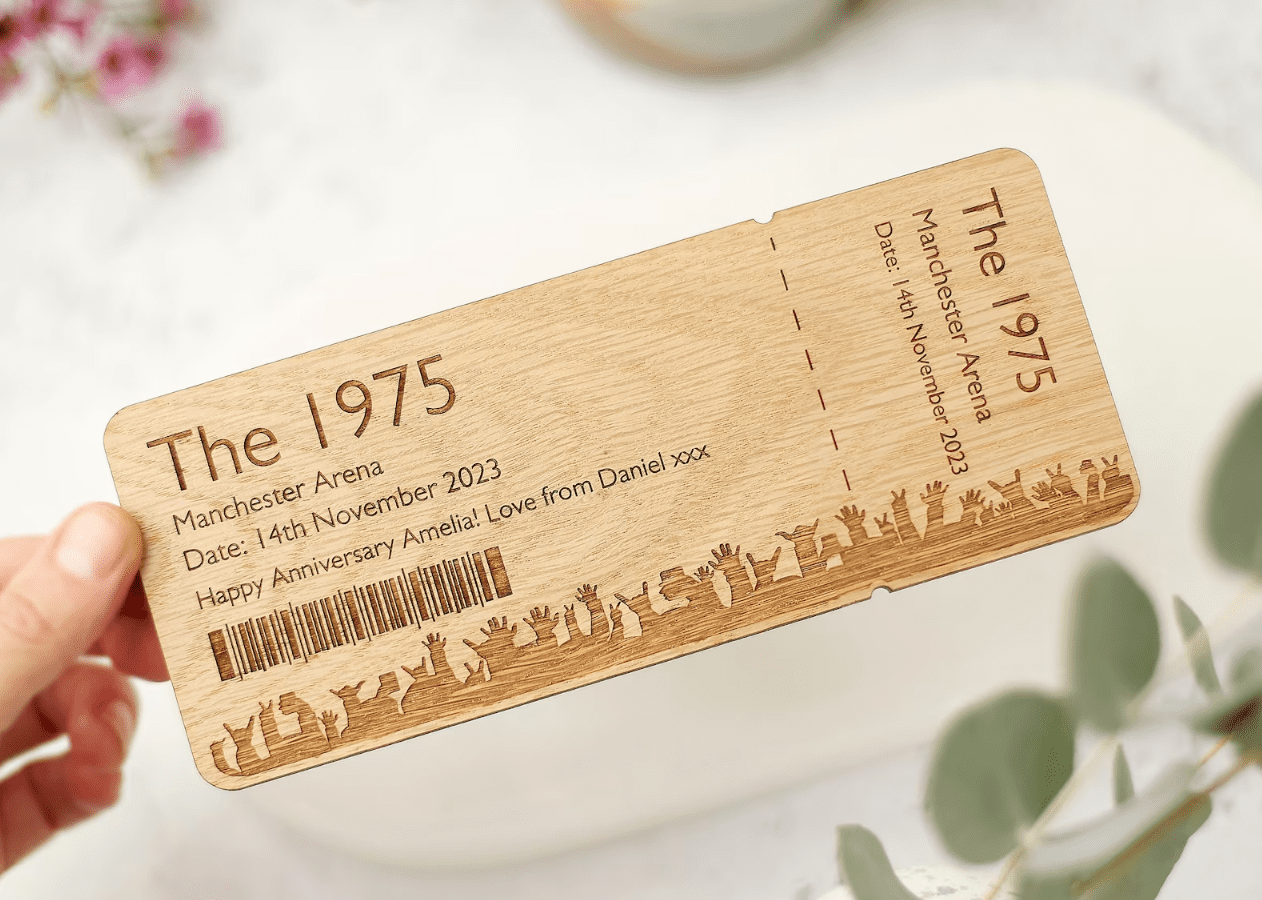 Courtesy: Etsy
3. Personalized Blanket
Express your love for your wife with this cozy and unique anniversary gift idea. A handwritten letter is cute but a handwritten letter that can literally keep her warm is a genius gift that she will cherish. What are the things you want to say to her on your anniversary? Make her grin from ear to ear with those words on her new blanket.
Courtesy: Amazon
4. Personalized Photo Memory Book
Surprise your wife with something heartfelt on your anniversary like a memory book comprising your best memories together. This is like a little love storybook your kids and grandkids would also love to read. Looking through these pages and reading the little notes will give her an instant rush of nostalgia for the amazing times you've both had together.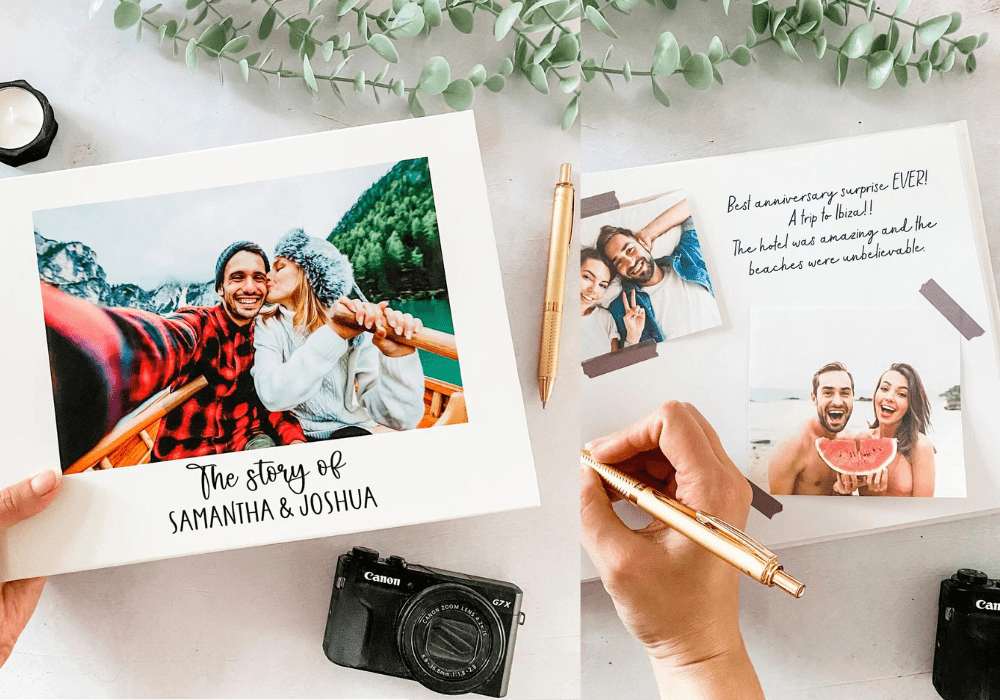 Courtesy: Etsy
5. Personalized Scented Candle
If your wife is like most women, she will appreciate a personalized scented candle. Scented candles are a great stress reliever. A personalized candle is a unique and meaningful gift idea that encourages relaxation. This will help her feel calm and relaxed when lit. Other than creating a soothing ambiance, they also add a fragrance the home for many hours and help eliminate unpleasant smells.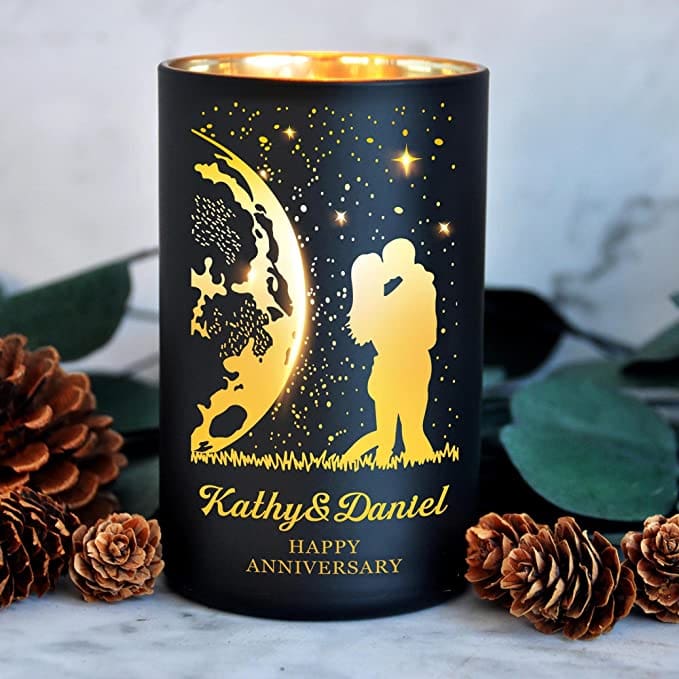 Courtesy: Amazon
6. Personalised Leather Journal
Consider gifting your wife something heartfelt that she can use every day like a leather journal. You can personalize the words on the cover as a special note for her. Isn't it romantic that she will get to read this every time she uses her journal? This is a one-of-a-kind gift that is sure to please.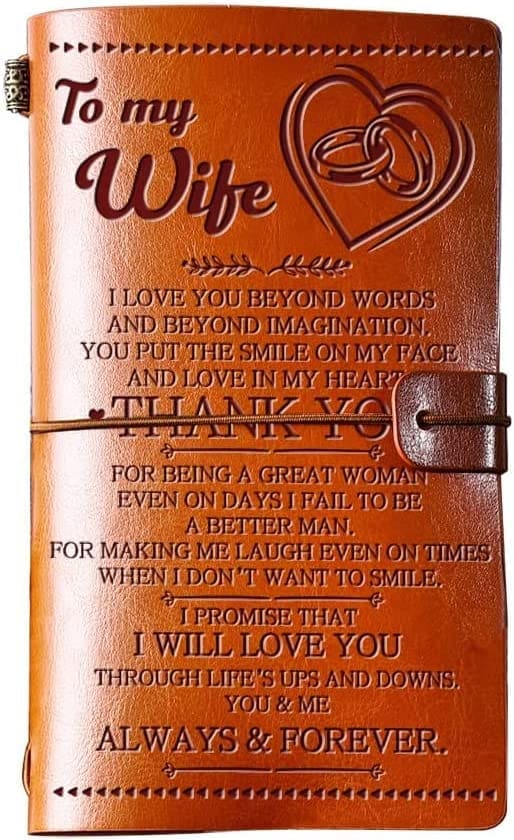 Courtesy: Etsy
7.
Personalized Initial Canvas Beach Bag
It doesn't matter what her fashion style is. This personalized monochrome beach bag with her initial is a thoughtful gift most women would love. This beach bag can also serve as a causal fashion bag that can hold all her accessories. So, if you're stuck on what to get her for your anniversary customize this gift to make her heart melt.
Courtesy: Amazon
8.
Popcorn Maker Machine
With her own popcorn machine maker, she can enjoy movie nights effortlessly. Using hot air technology, a portable popcorn maker is convenient, easy to use, and will get the popcorn ready in just a few minutes. This is also a great way to encourage healthy snacking.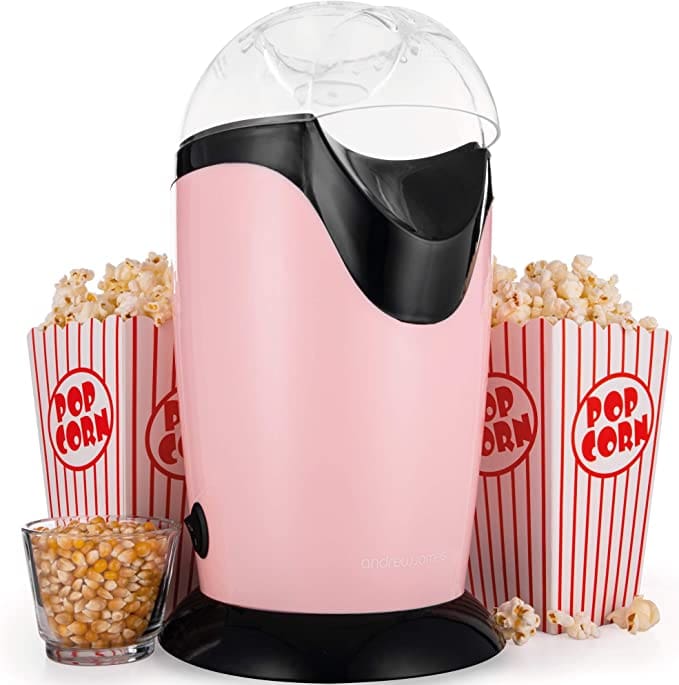 Courtesy: Amazon
9. 3-in-1 Wireless Charger
A charger is an unusual gift idea but a 3-in-1 wireless charger is thoughtful and practical. She can say goodbye to charging with a cable, With this charging station, she can conveniently charge all compatible devices in one stand.

Courtesy: Amazon
10.

Massage Office Chair with Footrest
Suppose your wife works or studies from. Consider treating her with a massage office chair with a footrest. A message chair is a thoughtful and practical gift idea that will help relieve her back from a day's work. This can help ease any back pain or muscle pressure.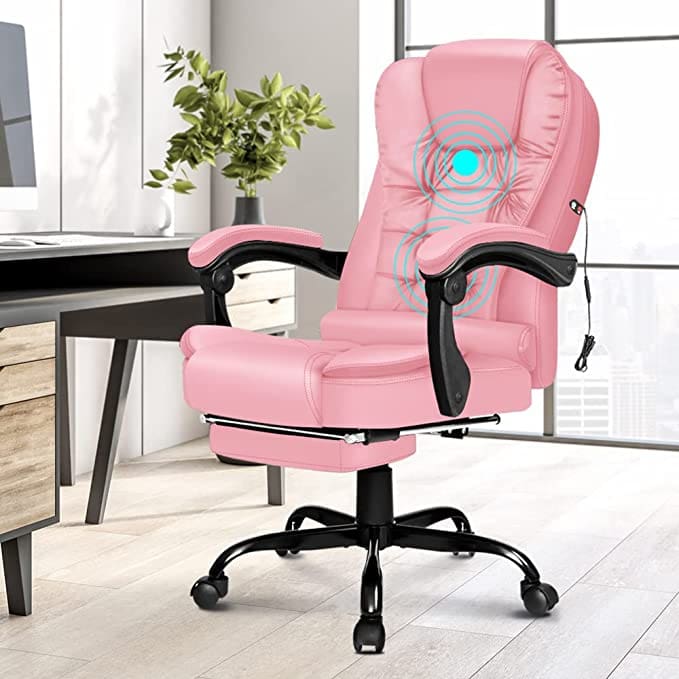 Courtesy: Amazon
11.
Personalised Heart Shaped Matte Photo Rock Slate 
A picture, they say, paints a thousand words. Show her your romantic side by gifting her a personalized heart-shaped rock slate with her photo from your wedding. This is a simple yet unique gift that she will make her heart warm.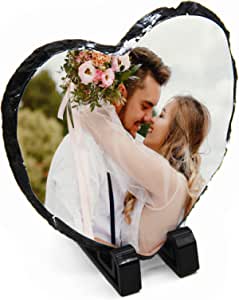 Courtesy: Amazon
12. Chained + Able Pearl T-Bar Necklace
Pearls are a fashion accessory that you can find in most women's jewelry boxes. A woman can never have too many pearls. Pearls are not just a piece of jewelry. In fashion, they signify wealth, elegance, and style. A freshwater pearl necklace is an anniversary gift that your wife would truly appreciate.
Courtesy: Valentino
13. Polaniod Camara
A polaroid is an instant camera that she can use to capture special moments. This is one of the most thoughtful anniversary gifts for your wife because, with a polaroid camera, she will be able to print out hard copies of photos instantly and add them to the family album. Polaroid cameras are also very easy to use.
Courtesy: Amazon
14. Personalised Chopping Board
Whether she likes or cook or not, a chopping board is a practical anniversary gift your wife would love to display on her kitchen countertop to elevate the aesthetic. Consider getting it laser-engraved with your wedding date, her initial, or special words to her.