14 Types of Kitchen Cabinets
The kitchen is the area in the home where we perform most of our activities, like having dinner, cooking, and entertaining guests. Cabinets and countertops play a pivotal role in any type of kitchen. Kitchen cabinets are the essential element in every kitchen décor.
However, beauty and style are not the only factors to consider when choosing a kitchen cabinet, functionality is also very important. Ultimately, they must be made of a top-quality material to last longer. Kitchen cabinets are crucial for organizing the kitchen and maximizing storage.
Kitchens are designed to fulfill the requirements of the family and guests, and each cabinet usually serves a purpose. For this reason, it is so important to learn about the types of kitchen cabinets that exist on the market. Although there are many types of kitchen cabinets, not all are appropriate. Below is a list of 11 types of kitchen cabinets that will leave you in awe.
1. Beaded Kitchen Cabinet
Beaded kitchen cabinets feature beaded inset doors of diverse colors, such as blue, beige, brown, and melon. Two words that best describe this type of kitchen cabinet are elegant and classic. It is arguably an option for cottage kitchens and is also known as the shaker style.
These cabinets come with inset doors that normally have a ¼ inch bead around them. They also have front drawers and a classic panel. These cabinet doors act as frames within frames and if you want to add more beads, you might require finesse in each case.
2. Flat Panel Kitchen Cabinet
Flat panel door style is also called slab cabinet doors, which are great for displaying eye-catching hardware. This design doesn't require ornaments or bevels and is similar to glass and louvered doors. The cabinet frame and the center panel form dimensional faces. Because of the way they look, they are a choice for homeowners looking for modern types of kitchen cabinets to upgrade their homes. Flat panel kitchen cabinets are durable, sturdy, and resistant to wear.
3. Tall-Standing Kitchen Cabinet
Tall-standing kitchen cabinets are arguably the most popular type of kitchen cabinet. They allow you to store cutlery and other stuff up to the ceiling. These cabinets also make the kitchen stand out and look cleaner.
Not only do they have storage space for forks, dishes, and microwaves, but they also create a vertical look and add space for brooms and small vacuum cleaners. Additionally, they are not the types of kitchen cabinets that stick to one or a reduced number of styles, as you can customize them to suit your preference.
4. Fiber Kitchen Cabinet
Medium-density fiberboard is used to create these types of kitchen cabinets. The cabinet manufacturing process includes baking the material while it is wrapped in a special plastic-like coating for appearance and effect. These types of kitchen cabinets are available in faux wood and solid colors at a low cost.
These cabinets may change color over time if exposed to heat on a regular basis, but they are resistant to moisture and require little maintenance. Their price is competitive, but they are not easy to repair if something occurs. Plus, they are an environmentally friendly option. Another benefit of fiber kitchen cabinets is their extreme durability.
5. Built-in Kitchen Cabinet
Built-in cabinets are named after their main feature, which includes the door that sits within the cabinet frame. It's an expensive cabinet, but it's known to last for generations while still achieving a classic look.
Cabinet measurements are accurate to ensure doors function properly. The look features visible hinges that do not remain concealed like in other types of kitchen cabinets. The hinges alone can be expensive. While a classic design is common, this type of cabinet can be customized to create the look you want with beaded or non-beaded inserts.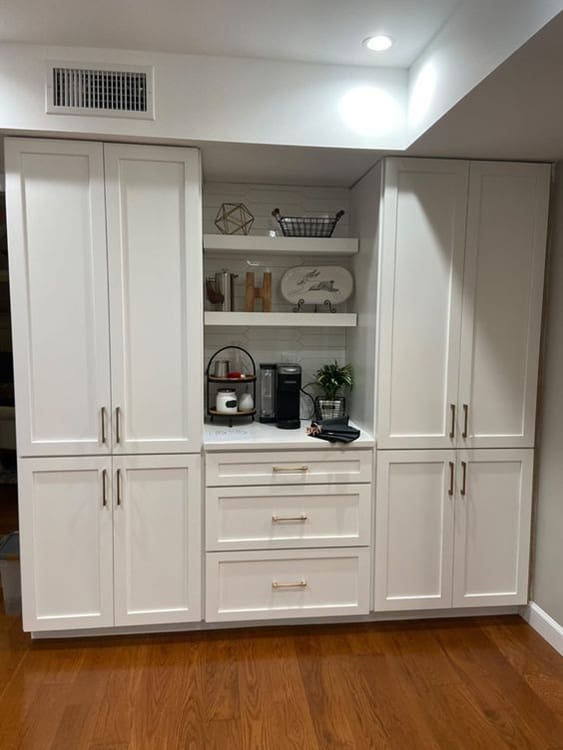 6. Louvered Kitchen Cabinet
Louvered cabinets stand out in any kitchen due to their horizontal slatted design. The slats have a small opening between them that allows ventilation while they add great detail to kitchen cabinets. The only drawback is they are expensive due to the material and design. For compensation, they are available in different colors and add a useful touch to areas of the kitchen that require ventilation, such as the laundry area, radiator, or pantry.
7. Lacquer-Finish Kitchen Cabinet
Lacquered cabinets gain a lot of ground in kitchen decoration with their colors and minimalist aesthetics. You can choose between doors with matt or gloss lacquer to achieve a uniform and very sophisticated finish.
8. Wooden Kitchen Cabinet
We generally find these types of kitchen cabinets very classic and rustic. There are cabinets made from wood that are more resistant to humidity and heat, so you should consider this before purchasing.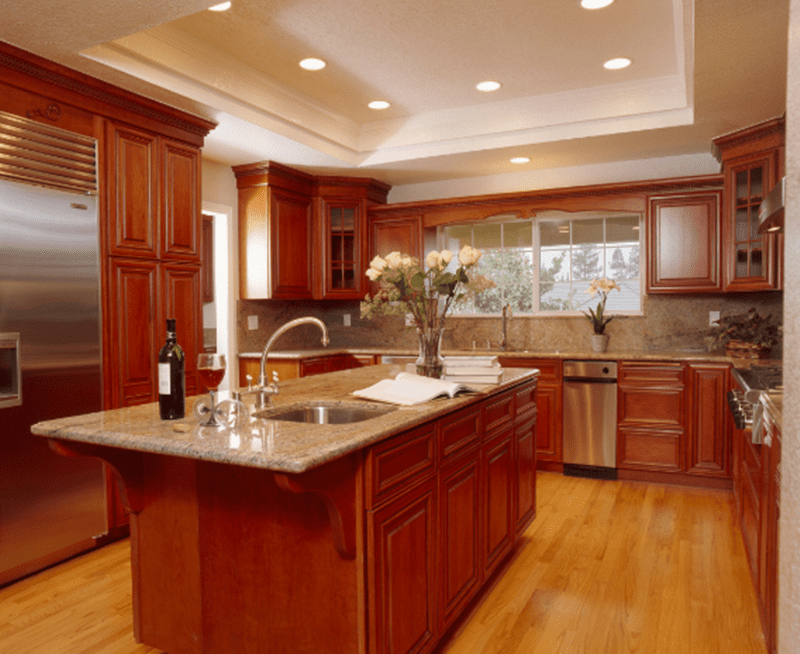 9. Kitchen Cabinet with PVC Finish
PVC laminate is a high-strength plastic that is slow to wear and rarely damages due to humidity because of its vinyl composition. The PVC laminate covers the edges and has the capacity to adapt to different shapes and reliefs.
10. American Kitchen Cabinet
Known by the name of Face Frame, they are mainly built with a wooden frame of at least 40mm wide and 20mm thick for the four solid faces of the cabinet. Wood or plywood is used for the manufacture of these types of kitchen cabinets. Wood and plywood are mainly used for reinforcing the front faces of these cabinets.
These types of kitchen cabinets are mainly used for classic, rustic, or maximalist kitchen styles where more emphasized designs are needed on the cabinet doors.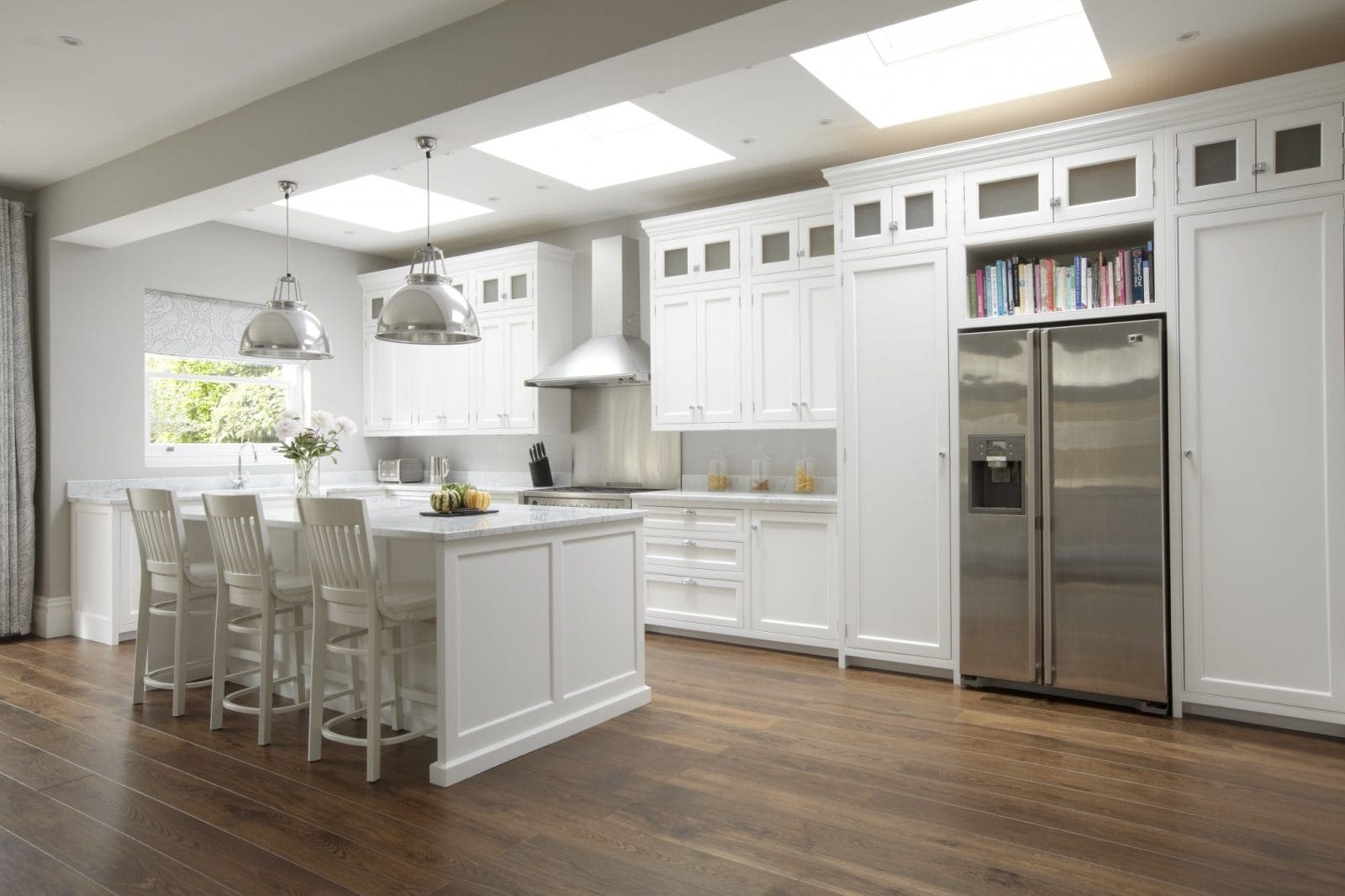 11. European Kitchen Cabinet
European cabinets do not have a frame and are made from melamine and materials alike. In these types of kitchen cabinets, the front doors cover the modules when they are closed. They give a cleaner and neater appearance, and the market is chock-full of European cabinets to pick from.
European cabinets are used for styles like Nordic, Japandi, or contemporary, where cabinet doors lack decorative details. However, any European cabinet décor can transform your kitchen fully.
12. Cathedral-Style
Although not seen as often in modern kitchens, cathedral-style cabinets are still appealing due to their unique shape. An arched frame at the top surrounds a recessed panel. The arch can either create an austere or friendly appearance depending on the cabinet color you choose.
This arched style can also make your cabinets appear taller, which may be beneficial if your kitchen is on the small side.
13. Glass Cabinet Doors
Lastly, keep in mind that you can pair almost any style of cabinet door with a glass panel. With all of your cabinet doors featuring glass panels, you'll create a modern and airy appearance. However, this puts more pressure on you to keep your crockery organized at all times.
With one or two glass-panel cabinets, you can feature some of your favorite tableware or decorate your kitchen with unique items.
14. Shaker-Style
Shaker-style cabinets are the most common cabinet type because of their clean lines and versatility with a variety of interior styles. They consist of five panels. Four panels create the frame while the fifth panel is slightly recessed in the middle.
Summary
These are options to consider among the diverse types of kitchen cabinets that are on the market today. Choose wisely according to your budget, preference, and kitchen design style. It is important to set a budget when selecting your kitchen cabinetry. No matter what your thoughts or concerns are, natural wood or cottage-style cabinets continue to win the hearts of many because they are compatible with most kitchens.