9 Best Kitchen Slab Designs To Spruce Up your Kitchen
Wondering what kitchen slab designs would be perfect for your home? If you are looking to improve the look of your kitchen, be careful when choosing your kitchen countertop. They are quite expensive to maintain so make sure you get it right the first time
The use of slabs has been present in kitchen styles for decades. Many people find it daunting to choose kitchen slab designs that are aesthetically pleasing but also functional when renovating their kitchen. In this article, we have compiled 9 kitchen slab designs that will transform your kitchen. These kitchen countertops allow you to put your espresso machine and a big stove without having to deal with space and other kitchen appliances.
Likewise, you have the option to use colors to brighten up the area. Just try to strike a balance between visually interesting and practical.
So, read on to find out these 9 best kitchen slab designs and start incorporating them in your kitchen! 
1. Granite Kitchen Slab Design
Why not use granite in a well-lit kitchen? If your kitchen has white walls and is lacking interest, black can help a lot. Plus, black slab countertops and cabinets do not show dirt and dust when they stain or get dirty, so you will not have to clean them on a daily basis.
This design works better when combined with light-wooden furniture and white kitchen cabinets. Black or dark granite is a classic look that will always stand out and will let the rest of the room pop out effortlessly.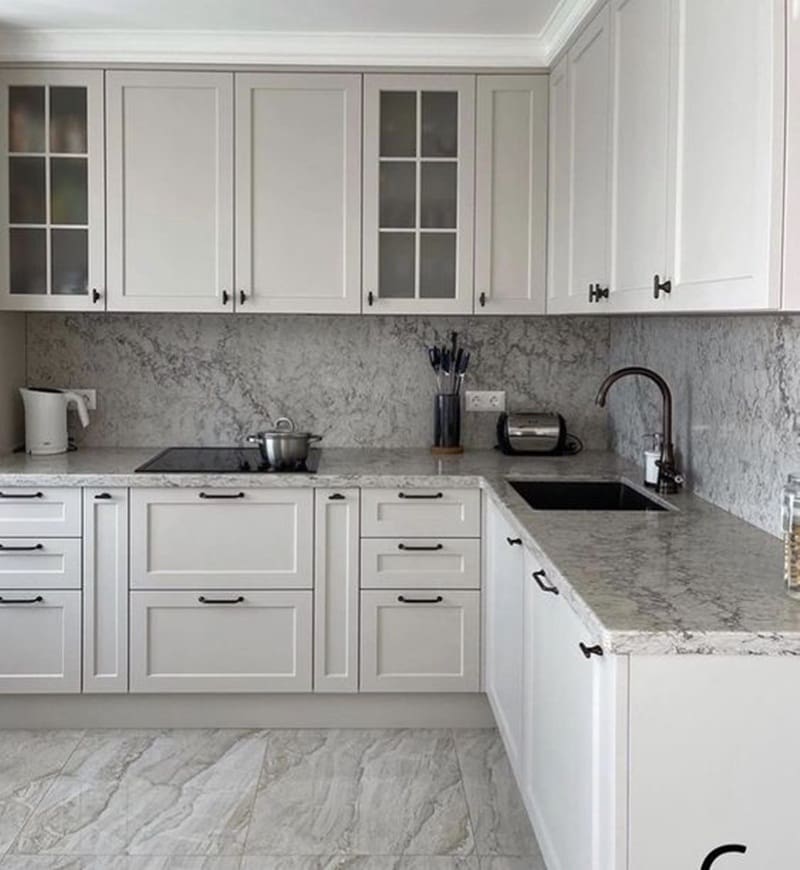 2. Wood Laminate Kitchen Slab Design 
Wood laminate kitchen slabs can be combined with white walls and most cabinets to provide an elegant and eye-catchy look. This is the alternative for homeowners who do not like to have natural stone slabs.
Wood is very popular in kitchen slab designs as they offer certain benefits you can't overlook. They are less expensive than marble and granite. Other than that, there's a wealth of wood laminate kitchen slabs of different colors and textures, which enables you to combine them all to create innovative designs.
As a bonus, these pieces are low-maintenance and easy to clean. Just wipe them with a cloth and a disinfectant spray that does not corrode wood.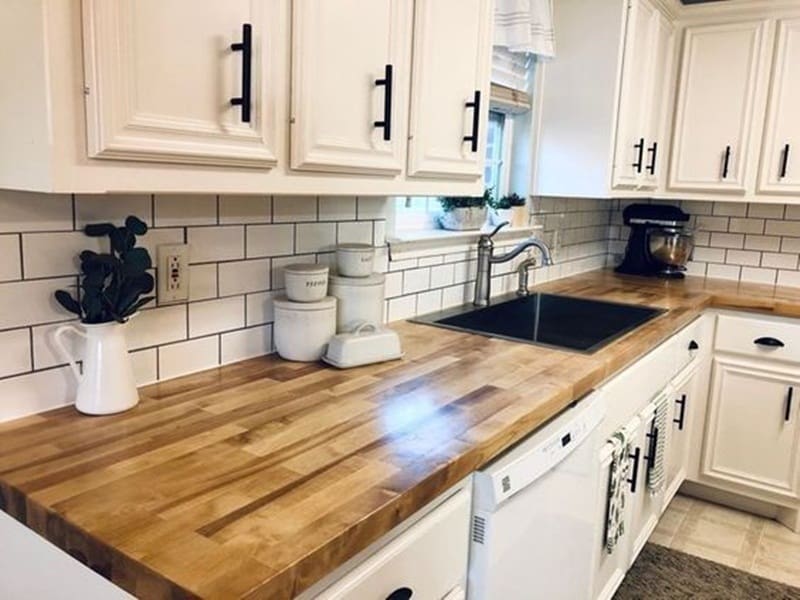 3. Porcelain Kitchen Slab Design
Traditional porcelain and ceramic tiles have very little porosity and are easy to clean. They are basic, cheap, and come in a wide and varied range of colors, textures, and sizes, although the current trend is larger tiles. If you are seeking to liven up your kitchen, these slabs will undoubtedly help. They will always be a safe and easy option to integrate into a small kitchen.
4. Rectified Tiles Kitchen Slab Design
Rectified tiles are usually porcelain tiles but cut differently than traditional tiles. They are more expensive since they are more aesthetic and have a more elegant finish.
5. Gresite or Venetian Kitchen Slab Design
These slabs are perfect to give a different touch to kitchen slab designs and can be used for bathrooms, as well. Although, one drawback is that tiling this very small material implies a large number of joints, which also entails a possible accumulation of dirt and grease and might require more dedicated cleaning.
6. Stoneware Tiles Kitchen Slab Design
Porcelain stoneware tiles are suitable for tiling walls and paving floors but are also great for kitchen countertops. Their main advantage is the variety of natural colors and textures that add a distinctive and exclusive touch to kitchen slab designs.
7. Quartz Kitchen Slab Design
Quartz is one of the materials that people use the most for countertops because of its durability and resistance to scratches and any type of damage. On top of that, these kitchen slab cabinets do not accumulate bacteria, which helps to keep the cabinets in a neater condition. If you are allergic or are too prone to viruses, these kitchen slab cabinets are the best choice for you. The only drawback is the high cost.
Quartz kitchen slab cabinets come at a steeper cost than other countertop materials because they are not natural stones, in the full sense of the word. This material is a mixture of crushed quartz and resin filler. Quartz is often preferred over granite because it adds a better luxury touch.

8. Marble Kitchen Slab Design
If you are seeking to construct a high-end kitchen that looks modern and minimalistic, then marble is the way to go.
These kitchen slab cabinets have the benefit of keeping a cool temperature on the surface, which is why many bakers opt for them. Unlike quartz, they are made of natural stone that does not need any complementary element or filler to brighten it up. These kitchen slab cabinets are mostly available in three colors: grey, white, and green, however, they can be found in various greens and greys also.
Marble is not an affordable material, so prepare yourself to spend a bunch of money on these kitchen slab designs. They are, on the other side, less resistant to scratches, so you need to be careful when cutting meat on them.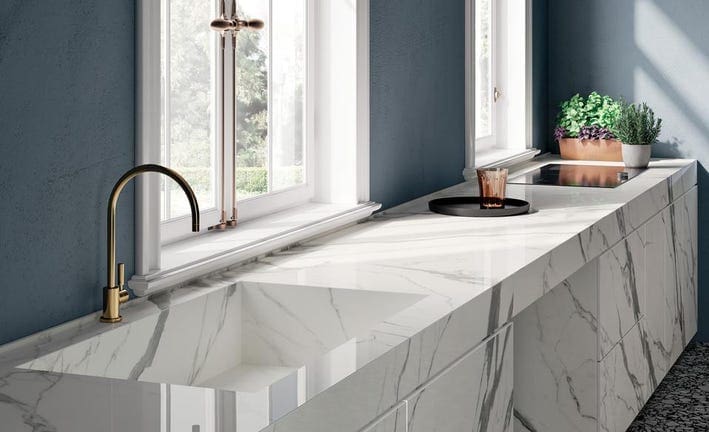 9. Ceramic Tiles Kitchen Slab Design
Ceramics not only works for walls and floors but also for kitchen slab designs. Although, they should be laid by experts in the field only. Ceramic tiles are great options for kitchen countertops.
The advantage of laying ceramic or porcelain tiles for countertops is that you will get extra protection and resistance against heat. Besides, the material for these kitchen slab designs can be found everywhere at a low cost. Ceramic kitchen slabs are easy to customize; it is just a matter of imagination and hiring the best professionals to do the job.
The drawback of using this material for your kitchen slab design is that it will possibly crack before any other material listed here.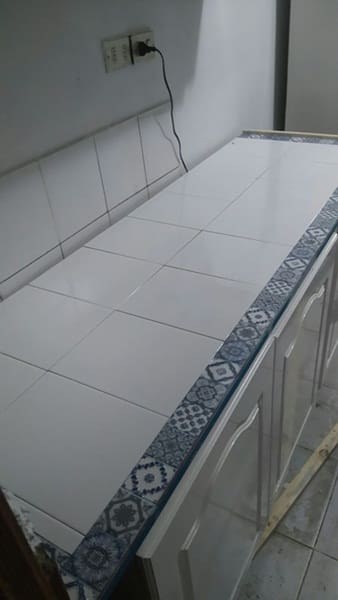 In a Nutshell,
There you have it! These are the 9 best kitchen slab designs to will spruce up your kitchen. To achieve a quality finish and guarantee durability, make sure the tiles are laid properly, otherwise, they will fall or break easily. When it comes to installing kitchen slabs, the choice of material is just as important as the preparation of the surface where the slab will be laid. Without a good installation, slabs will easily crack over time or have a poor-quality appearance.