8 Bathroom Door Ideas To Revamp Any Bathroom
Bathroom doors shouldn't only be functional as they can add elevate the visual appeal of your bathroom and bump up the value of your home. Are you remodeling your bathroom and designing a new one? Whatever the case may be, deciding on a bathroom interior door is a great place to start as it sets the tone for the rest of the project.
Bathroom doors come in a wide variety and shapes, styles, and materials, hence, finding the right one for your home requires careful consideration. But not to worry, with the right knowledge and inspo under your belt, you should be able to channel your inner interior designer and make an informed decision. Factors such as home interior style, door size, privacy requirements, and budget may influence your final decision.
In this article, we've curated 8 incredible bathroom door ideas that are sure to inspire your bathroom to remodel. We will also discuss the pros of cons of these doors. Whether you have a contemporary or traditional bathroom, you will find ideas here for any bathroom type.
Ready to add charm and character to your home? Let's get started!
1. Flush Doors
Flush doors are one of the popular and classic bathroom door options. This type of door is more affordable than most door types and offers a simplistic design which makes them the most popular option. Flush doors have plain and flat surfaces with no ornamentation or panels. They also may come in a stave, cellular, solid, or hallow core.
They are durable and attractive in appearance. Flush doors also come in differing types of finishes, usually painted or stained wood. They do not require periodic refinishing as they do not rot, split, or peel. The disadvantage of flush doors is that they are usually factory-made in standard door sizes hence any alteration will be challenging.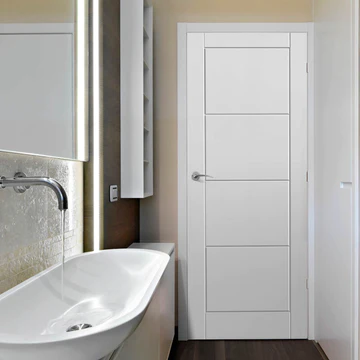 2. Sliding Door
Sliding door is a popular bathroom door option known for their aesthetics and functionality. A sliding door can evoke character and charm in a space. In addition to their visual appeal, they do not take up much space like traditional swinging doors. They are therefore an ideal option for small bathrooms.
Most sliding doors are also energy-efficient and improve the flow of natural light. They also allow better ventilation. The most off-putting disadvantage of sliding doors is that they get stained pretty quickly and require a lot of cleaning.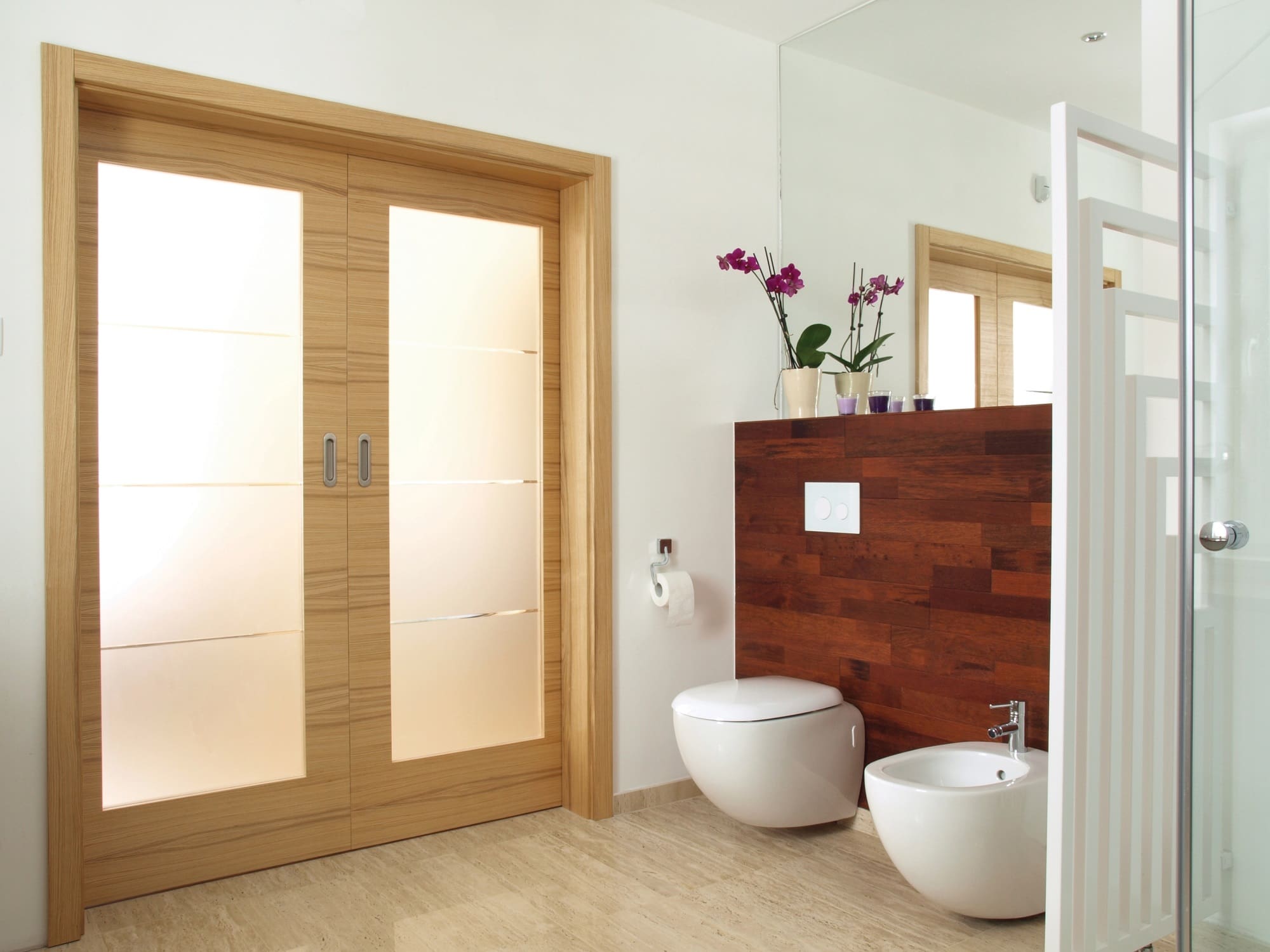 3. French Doors
A French door is an elegant and dynamic bathroom door option and a benchmark of contemporary interior style. The door was named a "french door" because it gained popularity in France, among the aristocracy. This stylish door has at least two door panels that are hinged together. They meet in the middle and open outwards depending on the room design.
French doors are commonly used interchangeably with double doors. While most french doors are double, not all double doors can be regarded as french doors.  A french door allows for plenty of natural light to filter through your bathroom. The French door is a cheaper alternative to bi-fold doors and they are also easier to install. A drawback of this type of door is that they are not energy efficient and they don't complement every home type.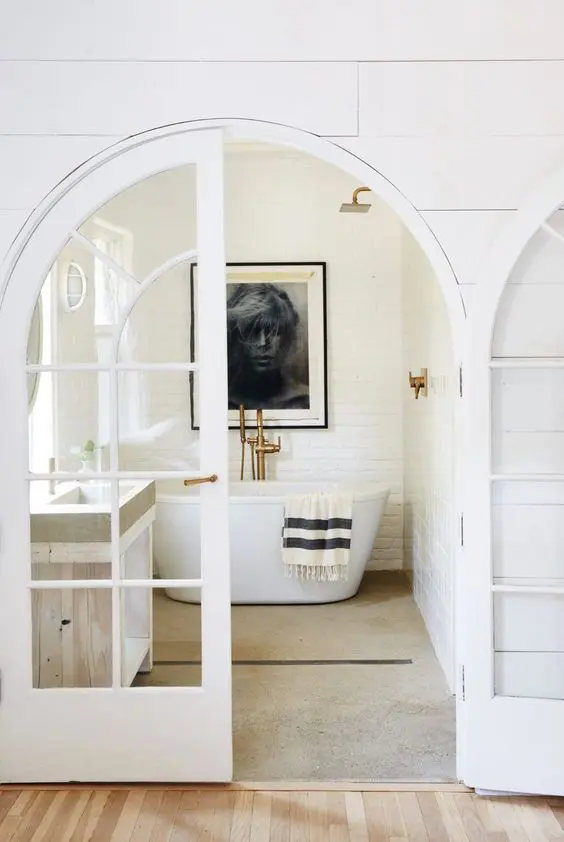 4. Barn Doors
A barn door is one of the bathroom door ideas that can elevate the look of your bathroom- giving it a shabby-chic look. These are usually seen in the farmhouse and countryside homes. Unlike traditional doors that swing open and take up valuable space, a barn door does the contrary and takes up only a fraction of space- making it ideal for small spaces.
Privacy is an important factor to consider when purchasing a bathroom door. The barn door is advantageous in this regard as offers good privacy. Barn doors are usually made of wood but there are endless customization options and you can choose to incorporate frosted glass if it suits your needs.
The aesthetic quality and rustic charm of barn doors is the reason why it's so popular. However, the disadvantage of barn doors is that they can be loud when opened or closed and it's quite complex to latch.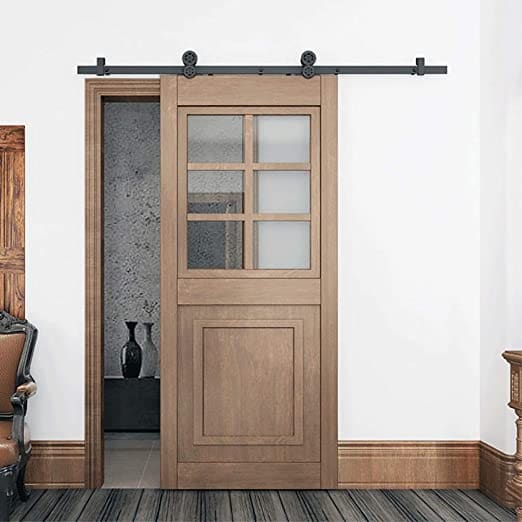 5. Bi-Fold DoorS
Bi-fold doors are can add an understated elegance and chicness to a bathroom. These doors are often mistaken to be the same as french doors. However, there is a fundamental difference between these two. Unlike French or standard hinged doors, bi-fold doors operate on a concertina principle, hinged together in the center, and slide to one side to open.
This is a space-saving bathroom door type that is ideal for small bathrooms. Bi-fold doors come in a range of styles, materials, and finishes. The disadvantage of bi-fold doors is that they tend to be more expensive compared to french doors and sliding doors. Plus, multiple sets may be bulky and have less visual appeal.
6. Double Doors
Double doors can add a touch of style to your bathroom and leave a grandeur outlook on it. While double doors are ideal for larger openings, there are also narrow door options for small spaces. Double doors can be sliding or hinged.  This door type will make your bathroom feel more open and allow natural light to flow in.
They come in versatile design options and a large range of materials to choose from. The drawback of double doors is that they are more expensive to purchase and install compared to a single door.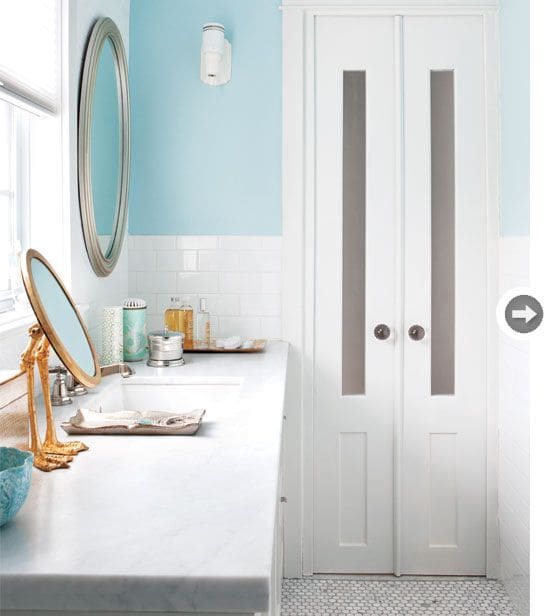 7. Clear Glass Doors
Clear glass doors are aesthetically pleasing and ideal for contemporary bathrooms. This type of door is usually combined with metal or wood frame material. Clear glass doors allow for sufficient natural light to come in which is great for bathrooms that feel spaces feel enclosed and dark. The flow of light instantly makes them feel the space feel spacious and open.
However, privacy is important when it comes to bathrooms. A drawback of the clear glass bathroom door is that it doesn't give much room for privacy hence this is well suited for ensuite bathrooms in residential spaces. Although glass doors, as seen in many contemporary bathrooms, can be frosted to offer more privacy. This is a popular but not compulsory alternative area like a bathroom you want to keep private.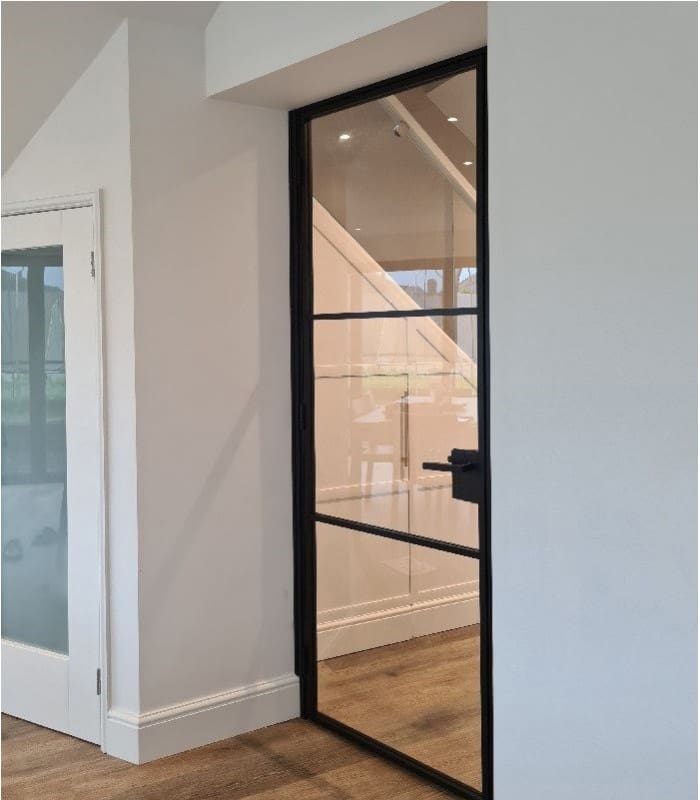 8. Frosted Glass Doors
A frosted glass door is an ideal bathroom door option as it prioritizes privacy but also delivers elegance and style. It is also energy efficient and helps maintain the right indoor temperature. It also allows a flow of natural light with comprising privacy. This is a perfect option for small bathrooms as it makes the space feel more open and bright.
Frosted glass doors are timeless and well-suited for contemporary homes. There are a wide variety of design options to choose from, such as rain glass, sandblasted glass, acid-etched glass, ceramic frit silkscreened glass, and many more. The disadvantage of frosted glass doors is that it is quite expensive and the etched side collects specks of dirt and mildew that are difficult to get rid of.
Wrap Up
Choosing the preferred bathroom door can be challenging. Beyond functionality, a stylish bathroom door can enliven the home's design and give it an aesthetically pleasing appearance. We hope these bathroom door ideas have provided you with enough insight into the different types of doors used for the bathroom.
Before choosing the door for your bathroom, keep in mind the durability, style, cost, and longevity. We suggest you choose a timeless design rather than what is trendy. You can also incorporate more than one of these ideas into your bathroom door.
Did you find these 8 bathroom door ideas helpful? Here are some other useful resources that will inspire other aspects of your bathroom remodel:
Top 5 Bathroom Accent Wall Ideas for Any Home
How Much Will It Really Cost to Remodel a Bathroom?
3 Real-Life Lessons About Bathroom Remodeling