Inside Kylie Jenner's Luxurious Hidden Hills Home
Forbes's lastest, youngest self-made billionaire and Keeping up with Kardashian reality TV star 'Kylie Jenner' kept us on the edge on hour toes with her tremendous growth over the last couple of years. She became a mom to cute little Stormi. Grew into a business mogul with her cosmetics empire worth roughly $1 billion ($855 million last year). She also invests heavily in real estate. Jenner is the ultimate influencer!
She is one of the most followed celebrities on Instagram with over 170 million followers. Rapidly becoming more popular on social media than her sister 'Kim Kardashian' who has 165 million Instagram followers. Everyone is now talking about Kylie Jenner's new home.
The features
Jenner's incredible mansion in hidden hills sprawls out 13,200 square feet seats on 1.4 acres. It is situated at 24155 Hidden edge street. This luxury mansion is rumored to be worth over $12 million. According to The Insider, this is the fourth home she has bought over the space of two years.
The mansion features 8 bedrooms and 11 bathrooms, a wine room encased in glass, a 2-story foyer, and a gourmet kitchen with two islands. It also has a home theatre, a game room with a bar, a gym, a 6-car garage, a massage room, and much more. The outdoor space hosts a patio, balcony, outdoor kitchen, BBQ area, and a fire pit. Jenner's home also has a swimming pool with an attached spa.
The design
The eight-bedroom Cape Cod-style home was designed by celebrity interior designer Martyn Lawrence Bullard. Lawrence has previously worked for Jenner's half-sisters, Khloe and Kourtney Kardashian. The Los Angeles designer has been named one of the top 100 interior designers in the world by Architectural Digest.
He has been featured in Elle Decor's A-List and named one of the top 25 interior designers by The Hollywood Reporter. The mansion features colorful artwork from acclaimed artists Damien Hirst, Tracey Emin, and Andy Warhol on display.
Kylie Jenner just opened her humble abode to Architectural Digest, and we have to say, it's pretty stunning!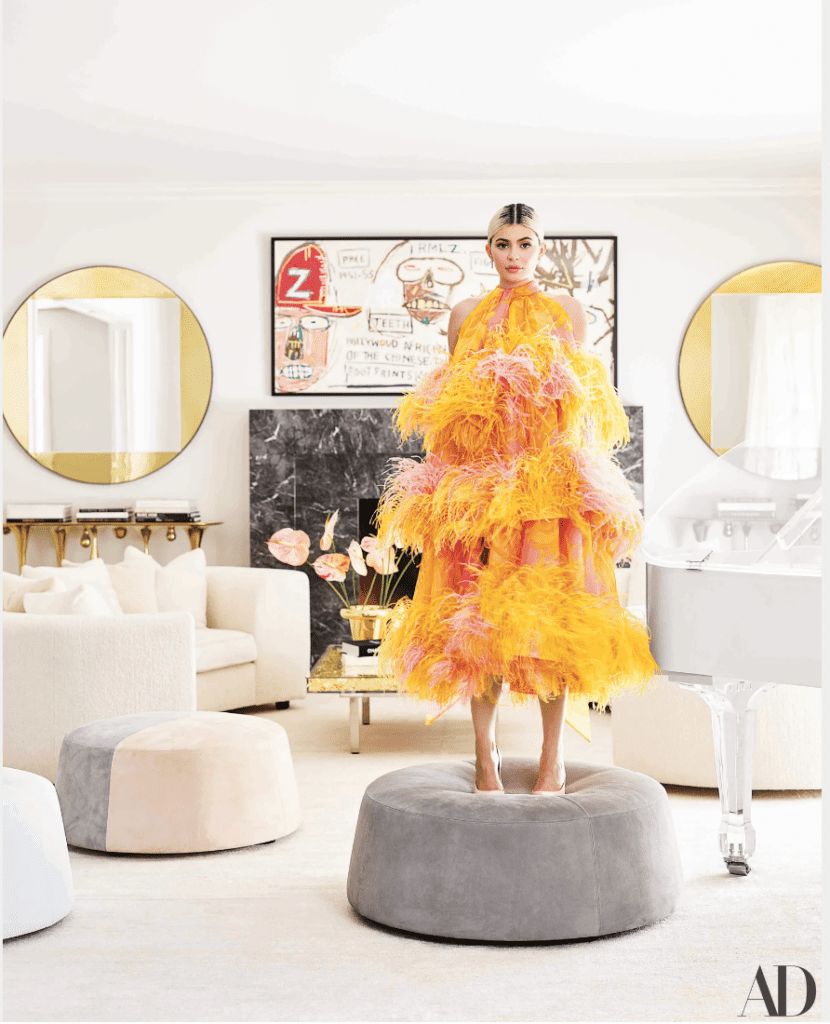 Previously opening up about the idea for her stunning home, Jenner revealed to Architectural Digest "I told Martyn I wanted a fresh, fun vibe to match the way I was feeling. Color was essential! I love pink, and I wanted a lot of it".
The most intriguing parts of Kylie Jenner's home are the reflective wall coverings galore, the gold-leafed ceiling in the dining room, the white lacquer, and the acrylic grand piano in her monochromatic room and, the old/new Hollywood theme living room.
She expressed further that functionality was also a requirement. "My closets and glam room are very personal to me, even down to the size of each drawer, so they fit my specific products and clothes. I spend a lot of time in those rooms, so we had to make sure they were perfect."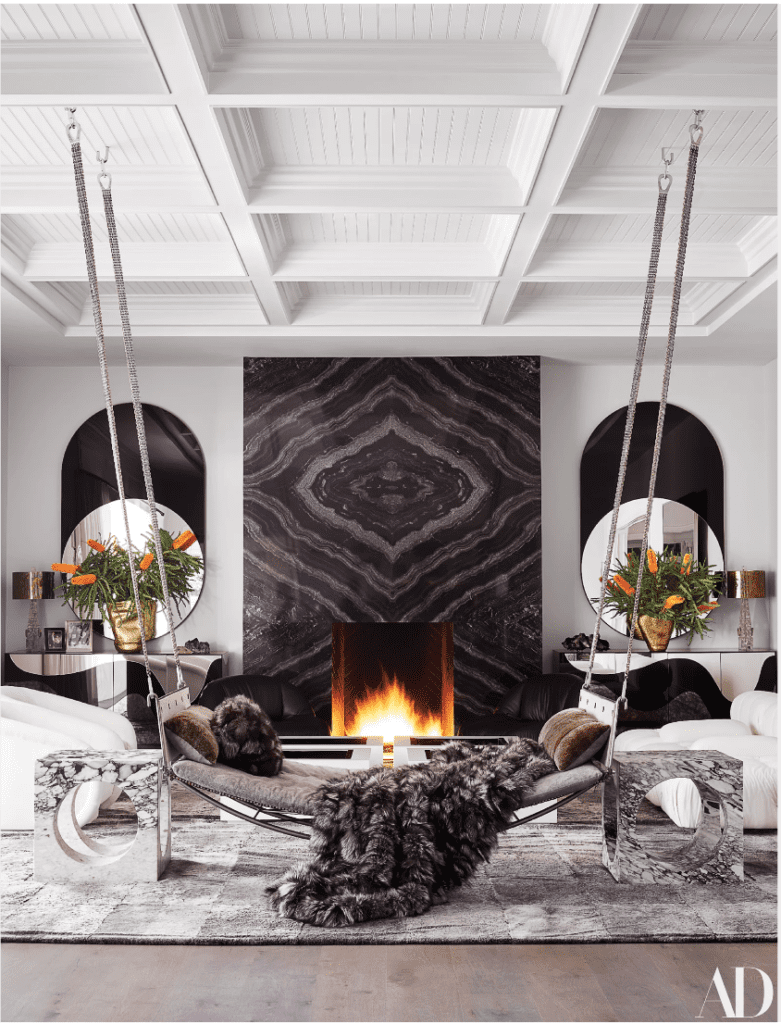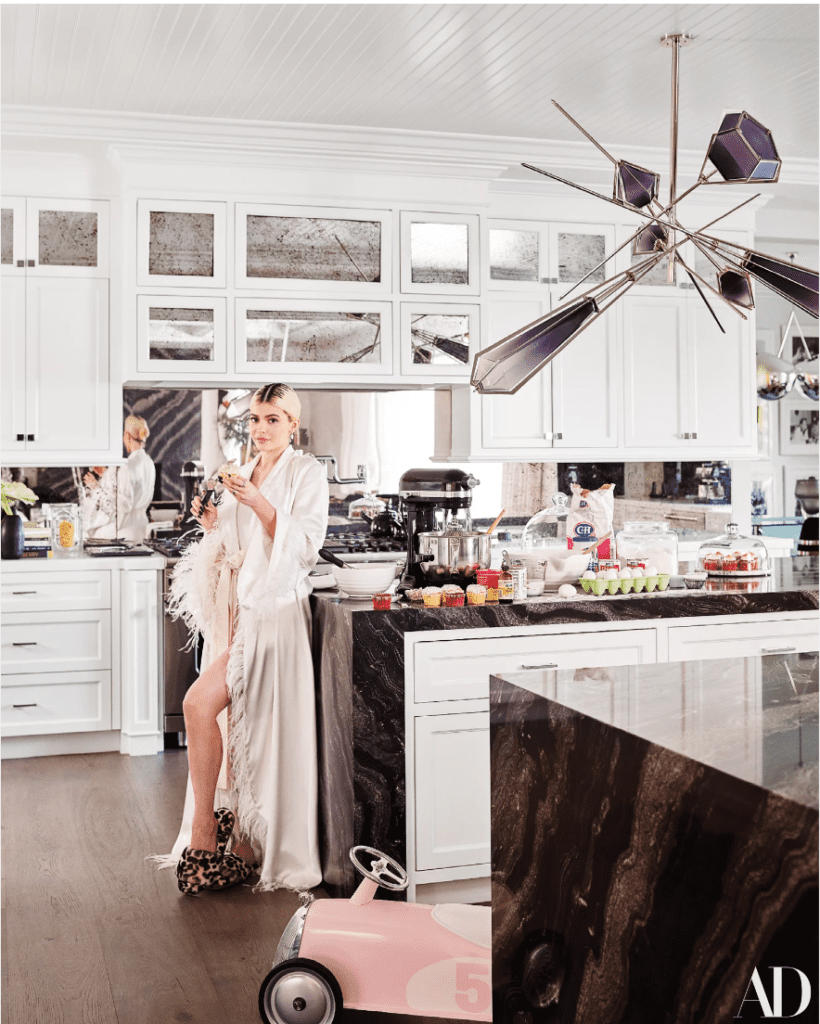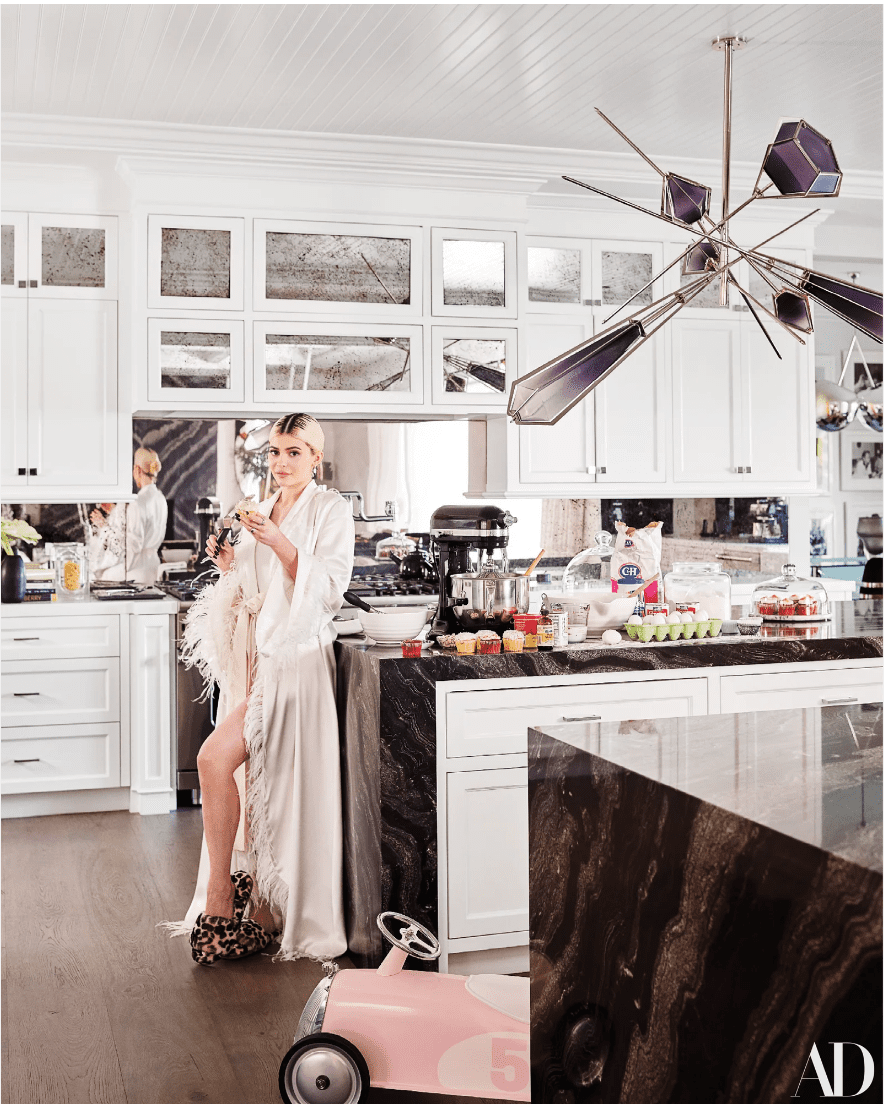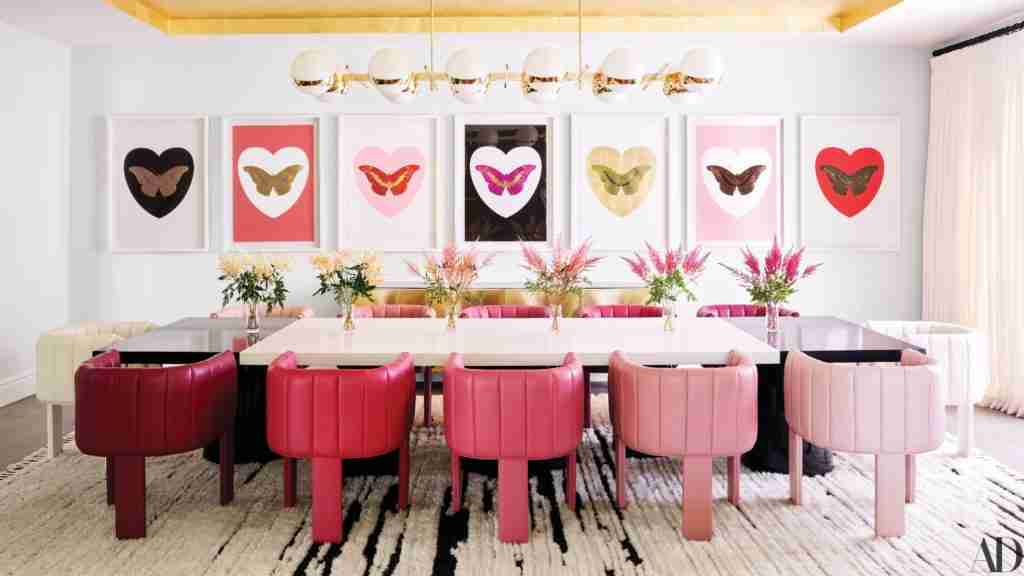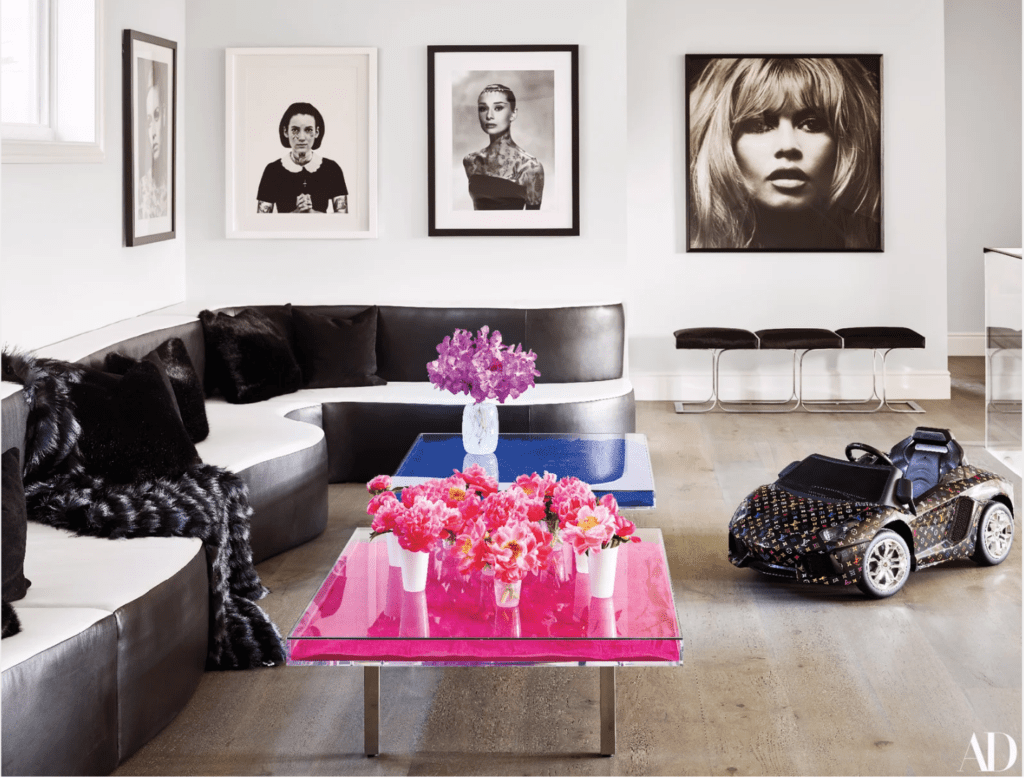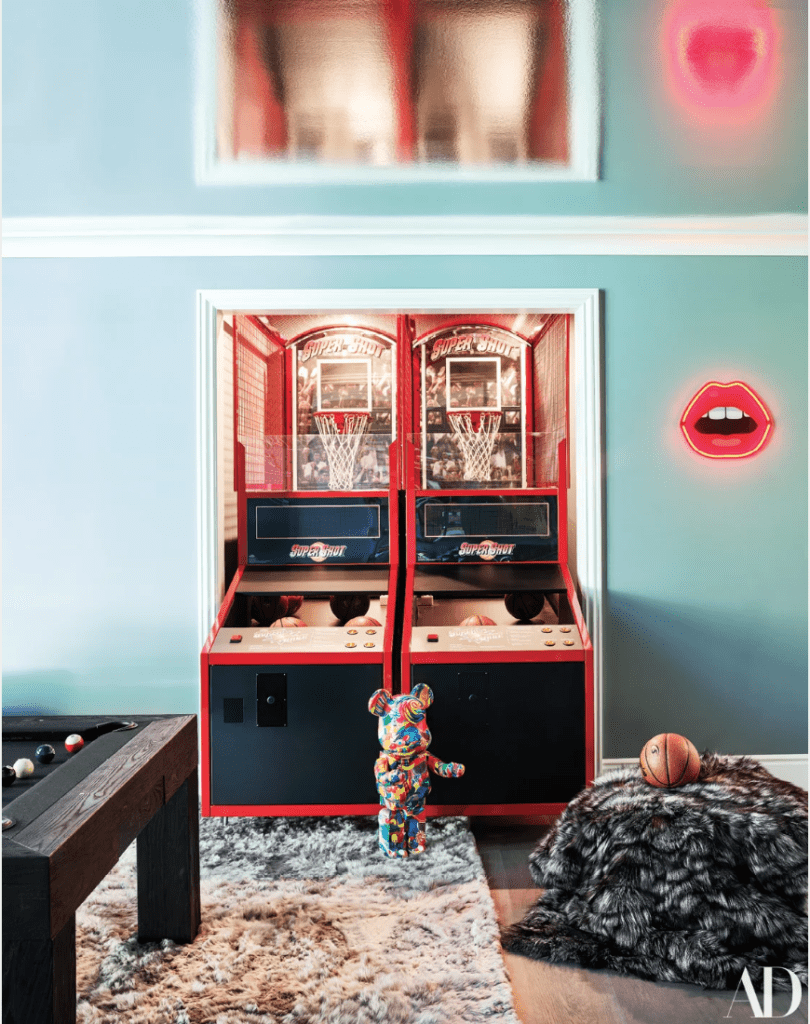 Images – Architectural Digest 
Read Also
Inside Victoria and David Beckham Luxury Miami Apartment by Zara Hadid