4 Types of Indian Sandstone For Paving and More
Unlike other sandstones, which tend to have a porous and soft surface, Indian sandstone is particularly hard and tough. This makes it easy to use for beautiful decking requirements and comes in a variety of designs. Just like the Obernkirchen sandstone, it is particularly resistant to wear and frost. It is also very easy to maintain and clean.
Indian sandstone is also an ideal choice for paving garden paths and driveways. As with all natural stones in South Asia, prices depend largely on the economic situation of those countries. However, compared to German sandstones, the Indian one is less expensive.
Indian sandstone is mainly mined in the central Indian federal state of Madhya Pradesh. Due to its particularly high density, Indian sandstone is generally frost resistant and extremely durable. The colors of this natural stone vary from yellow to red and gray. Yellow Mint sandstone is, for example, a yellow sandstone while Modak is reddish.
Applications
Due to its hardness, durability, resistance to abrasion and weathering, resistance to acids and alkalis, and availability, Indian sandstone has become the favorite material for sandstone paving. It has a variety of applications in ceilings, floors, pavements, panels, columns, door and window frames, etc. It is very suitable for sculpting. It is also suitable for use in chemical factories.
Whether you use it for the floor of your terrace, stair steps, or the edge of a pond, the sandstone from India is a real asset for your garden. In the sun, the stone becomes even more attractive. It captures the sunlight and does not dazzle.
4 Indian sandstones
It is a black sandstone rarely available outside of India. Its physical and chemical properties put it in the first position. It is used for garden furniture.
Sagar Black has a high compression level and very little porosity. It also features low water absorption and is resistant to the weather. This stone is very suitable for industrial and residential construction and is available in various finishes, such as hand cut, machine-cut, one or two-sided honing, mirror polished, calibrated, etc. These Indian sandstone slabs are available in different sizes and thicknesses. The material is also available in the form of boards, pavers, steps, curbs, and edges.
This material contains fossil forms caused by mineral deposits, which give it a unique appearance. It is available in different sizes and thicknesses of 10-20 mm and 25-40 mm. It also supports various finishes: manual cut, machine-cut, honed on one or two sides, mirror polished, calibrated, etc.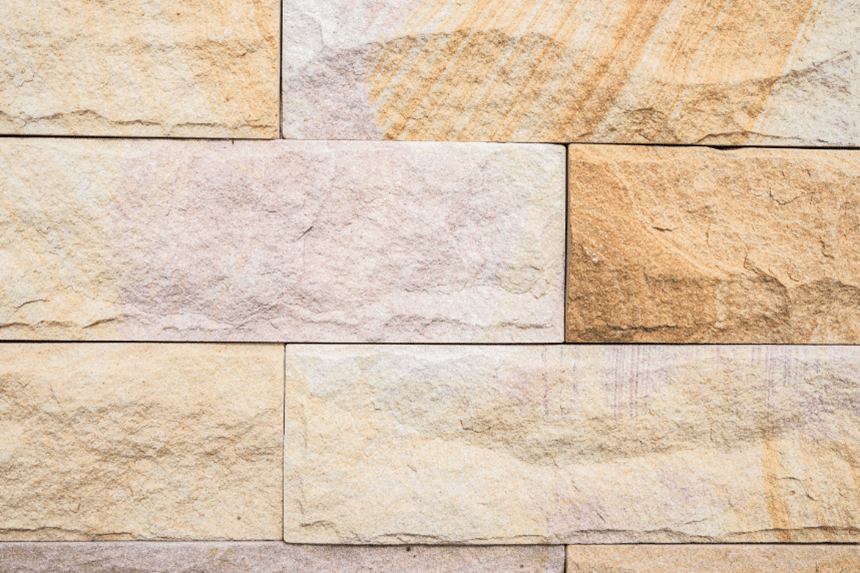 It is greenish-white and has small tonal variations. It is suitable for covering floors and facades due to its physical and chemical properties. It has a very smooth natural surface and is suitable for sculpture and crafts.
Gwalior Mint sandstone is available in cut-to-size, plank, and tile, and in finishes, such as natural sawn, honed, polished, flamed, etc. The superior finish does not require much maintenance. It comes in different sizes and thicknesses of 10-20 mm and 25-40 mm as natural sawn tiles.
It is extracted in Lalitpur, Uttar Pradesh. It is especially suitable for external cladding in buildings located in coastal areas due to its acid and thermal properties. The effect of salt winds is barely noticeable in this sandstone. Its golden yellow color has made it very popular with architects and builders.
It is available in blocks, boards, tiles, and pavers in different finishes and in sizes ranging from 15-50mm to 18-22mm.
Finishes
Indian sandstones are available in finishes such as natural sawn, flamed, polished, honed, bush-hammered, sawn, acid-washed, and sandblasted. The finish and smoothness of these sandstone tiles and boards depend on the profile, which can be machine cut, sawn, hand-chiseled, natural textured and chamfered, and leveled. The profiles play an important role in the final result.
Sandstone care
Although the Indian sandstone is a very durable material that requires little care to extend its life of use while it will also maintain its beauty and natural charm for years.
This sandstone can be effectively and safely cleaned with warm water or an untreated dry mop. No powders or creams should be used.
Final thoughts
The great advantage of light sandstone is the high level of light absorption, which prevents sunlight reflection. Due to these advantages, the popularity of natural stone in Europe is constantly increasing and competes with local quartzite sandstones. The Indian sandstone has created the basis of numerous ideas for atmospheric designs in outdoor areas.
In the past, softer types of sandstone were used to carve ornaments in Indian temple complexes. Centuries later, the Indian sandstone gave birth to Indian sandstone paving.