How to Paint a Room: 5 Steps to Painting Like a Pro
Painting your walls is a great way to give your interior a new makeover. A coat of fresh paint can brighten up a small room or bring warmth to a large space. While painting a room may often seem like a job best left to professionals, it is really not as hard as it seems. It is an inexpensive and fun project you can take on yourself. Are your walls at home in desperate need of a new color palette? Whether you are taking on an extensive remodeling project or you just want to change things up. This handy guide will help you get the job done.
1. Choose your color & texture
The first step is to decide on the color palette and the overall look you want to achieve. Most people find this very overwhelming. When it comes to choosing a paint color for your interior, you have many options available to you. Do you want it neutral (e.g grey, white, off-white, beige) or bold  (e.g blue, green, yellow), bright, or muted?. Look for color inspiration online or in magazines. The texture and finish should also be put into consideration. Interior paint is meant to have a smooth finish that's easy to clean.
Source- House & Garden
There are three options you can choose from that is suited for different purposes:
The flat matt finish is suited for ceilings and low-traffic areas as it provides a dull, no-gloss finish and is harder to clean. Although it is very versatile in such a way that you can use it almost anywhere. It's also low in the chemicals that create harsh fumes and quick-drying. They are perfect for the bedroom and living room.
Satin and eggshell finish is great for a room with higher humidity, like a kitchen or bathroom since they are easy to clean and offer light-reflective qualities that are desirable in most rooms. It has strong fumes, but it has a rich, glossy finish and is very durable.
A semi-gloss finish is ideal for detailed woodwork and wainscoting (wall panels that typically end at a chair rail, or at eye-level height). The gleam it produces creates a pleasing contrast against your matte or satin finish walls.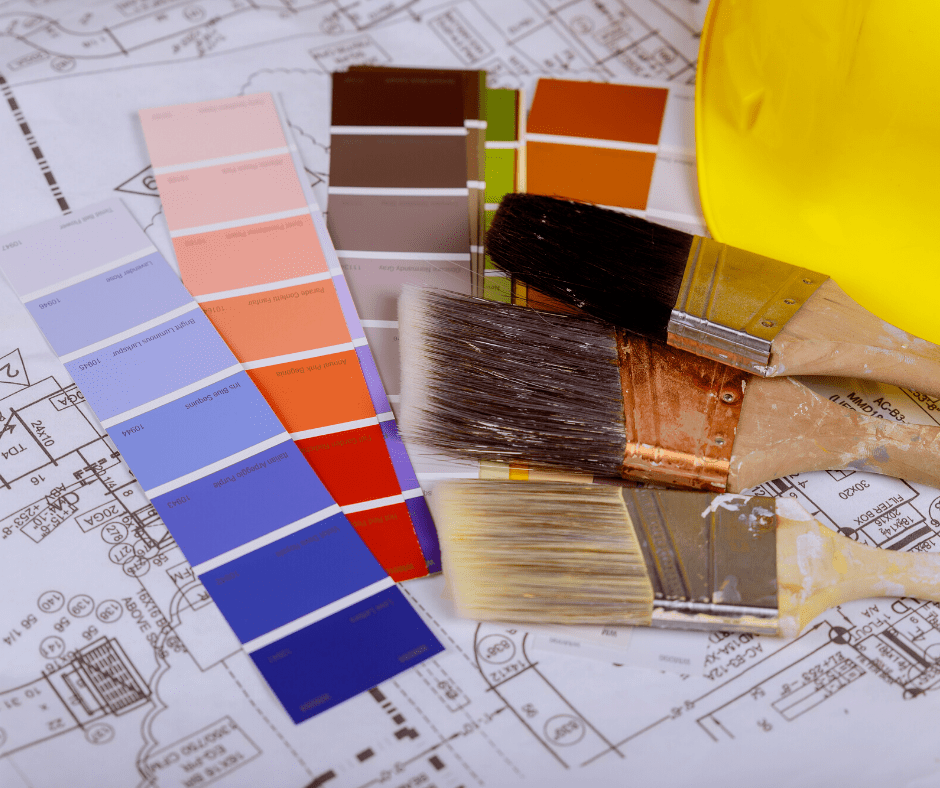 After choosing a color and texture, remember to test the paint color on your wall. Sometimes a color may appear different on the wall or in a photograph than how it appears on your wall. This can be as a result of the lighting in the room. Lighting- natural or artificial, can play a huge part in how paint color look.
Most paint stores give out test patches, take three different shade test patches, the color you want, one darker and one lighter, and test them in a couple of places with different lighting. One near the window, in the middle on the wall, and a dark corner. This is a great way to determine the shade that works best in the room.
2. Make a shopping list
Now you've got the right color and texture in mind. Make a list of supplies you will need for the project. There is nothing more frustrating than running out of paint halfway through the project. So stock up enough paint to be able to finish the project without running out. In order to know the right amount of paint you'll need, you need to measure the square footage of your room.
For every 400 sq ft (37 m2) room, you will need at least 1 gallon (3.8 L) of paint.
Here is a list of supplies you will need to paint a room:
Painter's tape or masking tape
Your chosen emulsion color
Primer
Paint roller and drip tray
Extension pole
Paint bucket
Drop cloths
Ladder- to reach the highest points on the wall
Angled paintbrush
3 inches flat paintbrush
3. Prep your wall
It's very important to prep your work area before painting. Empty out the room you intend to paint, remove all accessories from the wall, make sure you clear out furniture, appliances, and other belongings until you've wrapped up your project.
If you do not have enough space or an empty room to keep them in, you can also simply scoot these items away from the wall you'll be painting. But be sure to cover any remaining furniture with a drop cloth or sheet to protect them from paint drips and splatters.
It is impossible to get paint out of upholstered fabric, so make sure you protect your furniture. Unplug all electronics and relocate them somewhere where they won't be damaged. Lay down a drop cloth plastic or tarp that will help catch spills and splatters once you begin working.
Dirt on the walls can prevent paint from adhering, so use a damp cloth or sponge to clean the surface of the wall gently from top to bottom and allow them to dry, to clear away dust and other debris that can interfere with the paint's ability to set up properly. Apply strips of painter's tape around any trim, outlets, or casings.
Priming is a crucial part of the preparation process. Primer seals the walls providing you with a base for the paint to adhere to. The primer will prevent flashing or a shiny spot on the wall, which occurs when the paint is placed directly on spackling.
Although priming does not make cleaning the wall less important, it is important you don't skip the cleaning stage. There are two types of primer – white and tinted. Consider going with the tinted option because it does a better job of covering up previous paint, blemishes, and repairs in the wall generally.
4. Painting the wall
Remember to choose the right painting cloth. Consider wearing something you won't mind getting paint on, like an old t-shirt and a pair of jeans. Mix up the paint in a large bucket or bin using a handheld stirrer to blend the paint to an even consistency or electric paint mixer or handheld stirrer to blend the paint to an even consistency.
Do this ever even if it was mixed when you purchased it. If your space requires more than one tin, mix the two together in a paint kettle to ensure a perfectly even color. Stir your paint thoroughly!
5. Wrap up and clean
Now you're done painting your room, leave your window open so your wall can dry quickly. Take out your painter's tape right before or right after the paint dries completely. If left on too long, the small pieces of the tape may tear and get left behind when being removed. Tightly seal remaining paint in cans, thoroughly clean paintbrushes and rollers with warm soapy water, and dispose of used painter's tape.