32 Modern Simple POP Design Ideas
Do you want a POP ceiling that is simple but makes a major statement in your home's aesthetic? If so, check out these alluring modern simple POP design ideas! 
POP (Plasters of Paris) is a dehydrated form of Gypsum used as a building material. A POP ceiling is a false, dropped, or suspended ceiling made from Plaster of Paris powder. When this dry powder is mixed with water, it forms a paste that is moldable and can be used to create an endless array of ceiling designs.
In recent times, false ceilings have become a crucial component of contemporary interior design. POP is a widely used false ceiling material for a plethora of reasons. It provides a strong sense of style to interior spaces and can be used to conceal cable wiring and light fixtures.
POP ceilings designs have evolved tremendously over time to suit individual tastes and preferences. If you're looking for the best POP ceiling ideas for your modern home, you will find the right inspiration in this article.
Here are 32 modern simple POP Design ideas to elevate the aesthetics of your home.
1. Modern Dining Room POP Ceiling
The dining room is a multi-functional space in a home. It is where we spend quality family time, dine, entertain, and even work, for some people. Yet, today we see more and more uninspiring and bland dining room designs. This simple and stylish modern POP ceiling can transform even the most boring dining room.

2.  Opulence Gold POP Ceiling
If you're looking for a focal point with a bit of drama and opulence, consider incorporating some gold in your modern POP ceiling. Gold finishes are known to give interior spaces a touch of luxury and glamour. The reflective surface will allow natural light to flow in better and make the space brighter.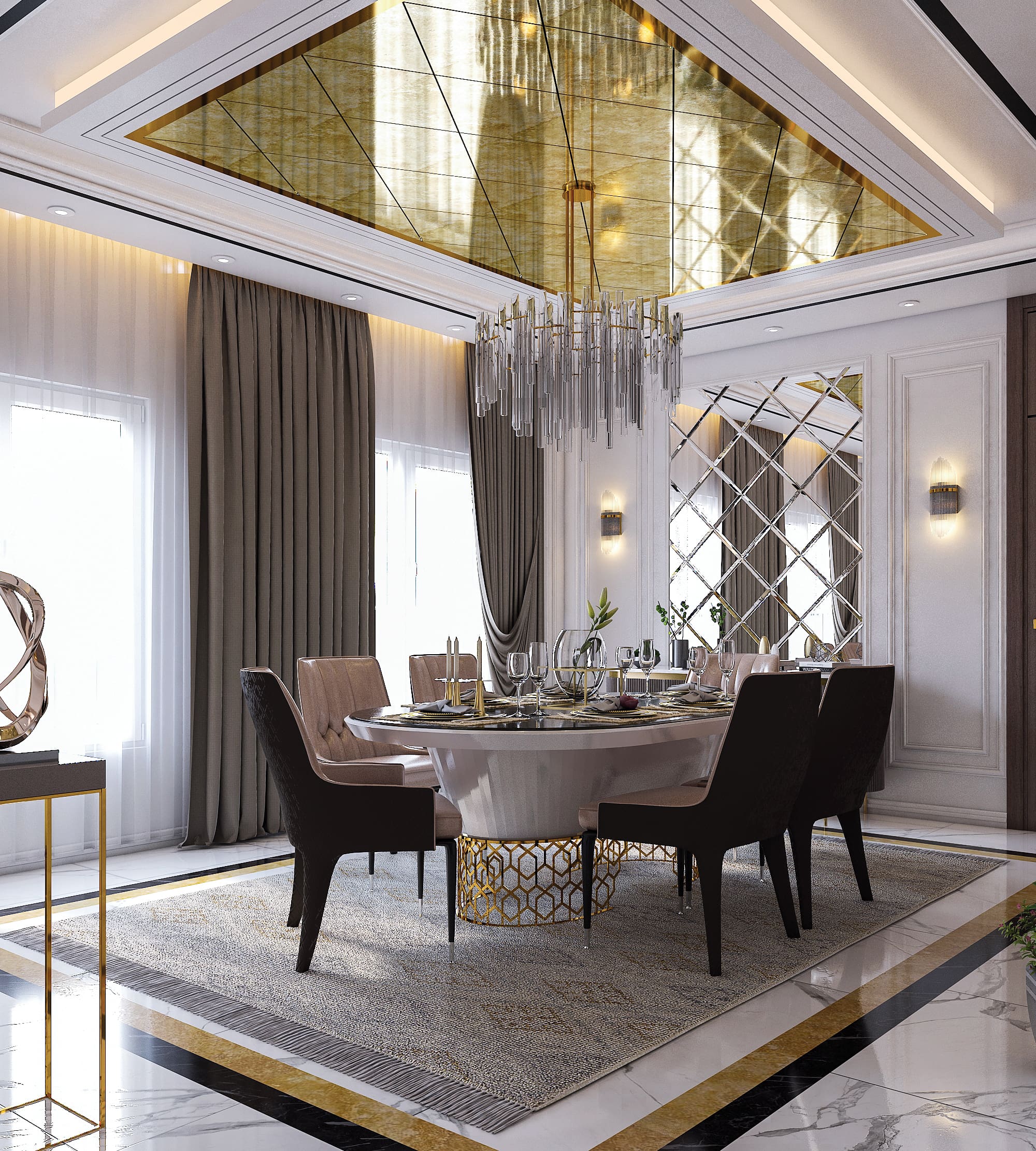 3. Simple Triangular POP Ceiling
Triangle is an iconic and transformative shape in interior design. Many would agree that this is an interesting focal point that can work brilliantly in any room in the home. This is a modern simple POP ceiling design idea that makes a big impact.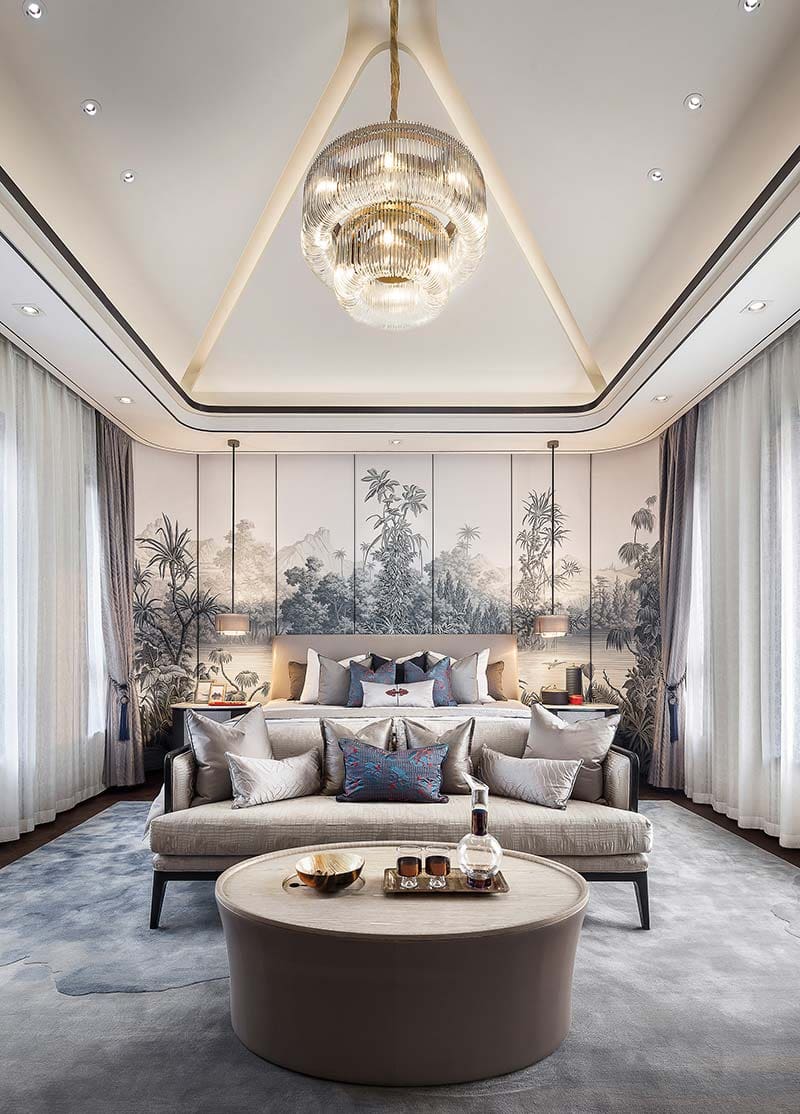 4. Simple Circular POP Ceiling
Rounded false ceilings are a tried and true technique to create an illusion of space. A simple circle POP ceiling shape can serve as a perfect backdrop for ceiling fans, light fixtures, and decorative hanging. It is a minimalist way to maximize interest in space.

5. Stylish Tray POP Ceiling
Tray ceilings are popular in interior spaces for a number of reasons. They are minimal, stylish, and can add a perceived sense of height to any room. Tray ceilings can bump up your home value due to the amount of work that goes into installing one.
6. Unique Shape Modern POP Ceiling
A uniquely shaped POP ceiling can bring a dynamic design to any room. It creates a comfortably modern feel while serving as a focal point. If you're looking for a POP design idea that makes your interior visually interesting, look no further than this!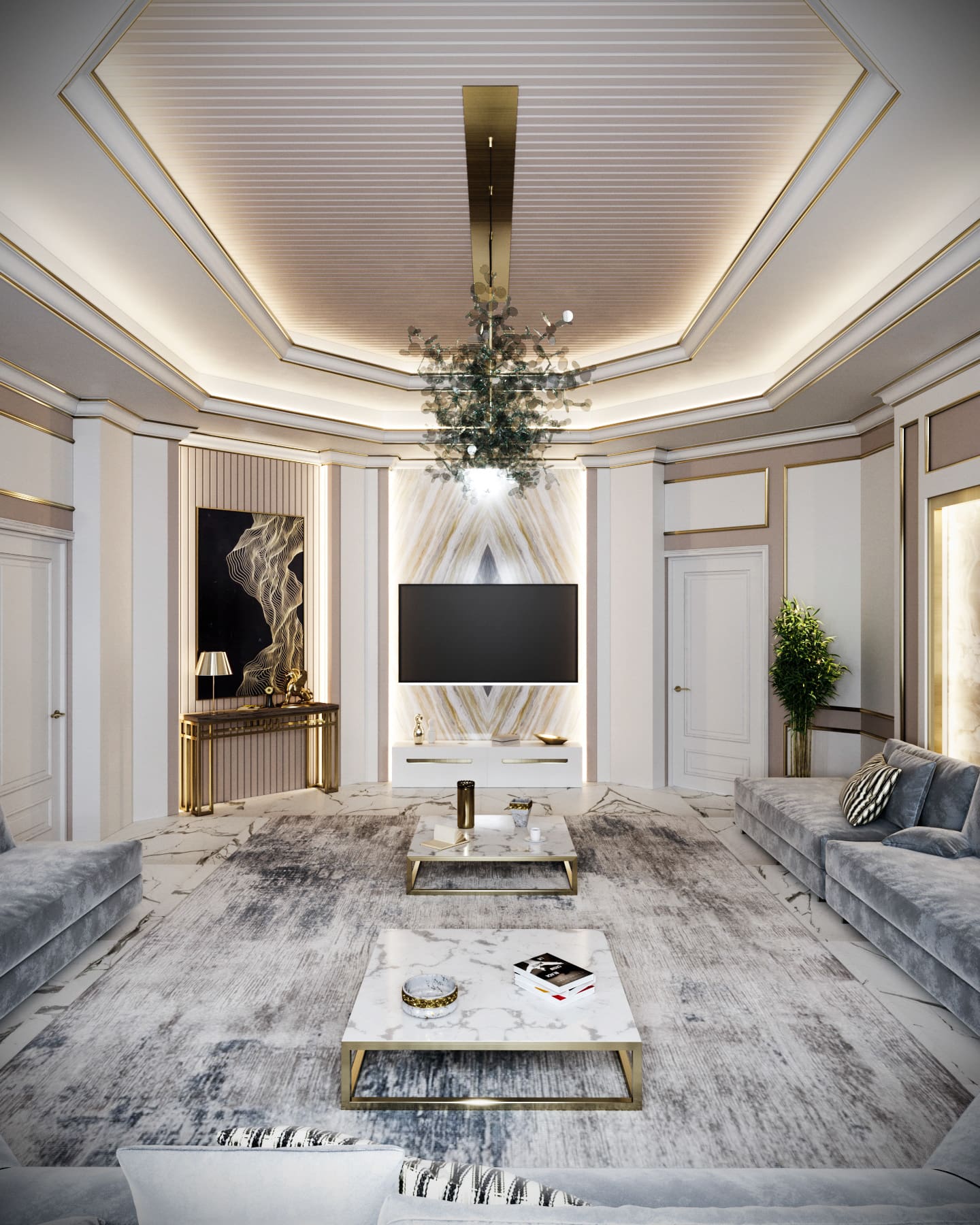 7. Simple Flat POP Ceiling
Despite the fact that the idea of minimalism will be perceived differently by different people, the benefits remain the same. Choosing a simple flat POP ceiling design creates relaxed and modern aesthetics. It is impactful yet non-invasive.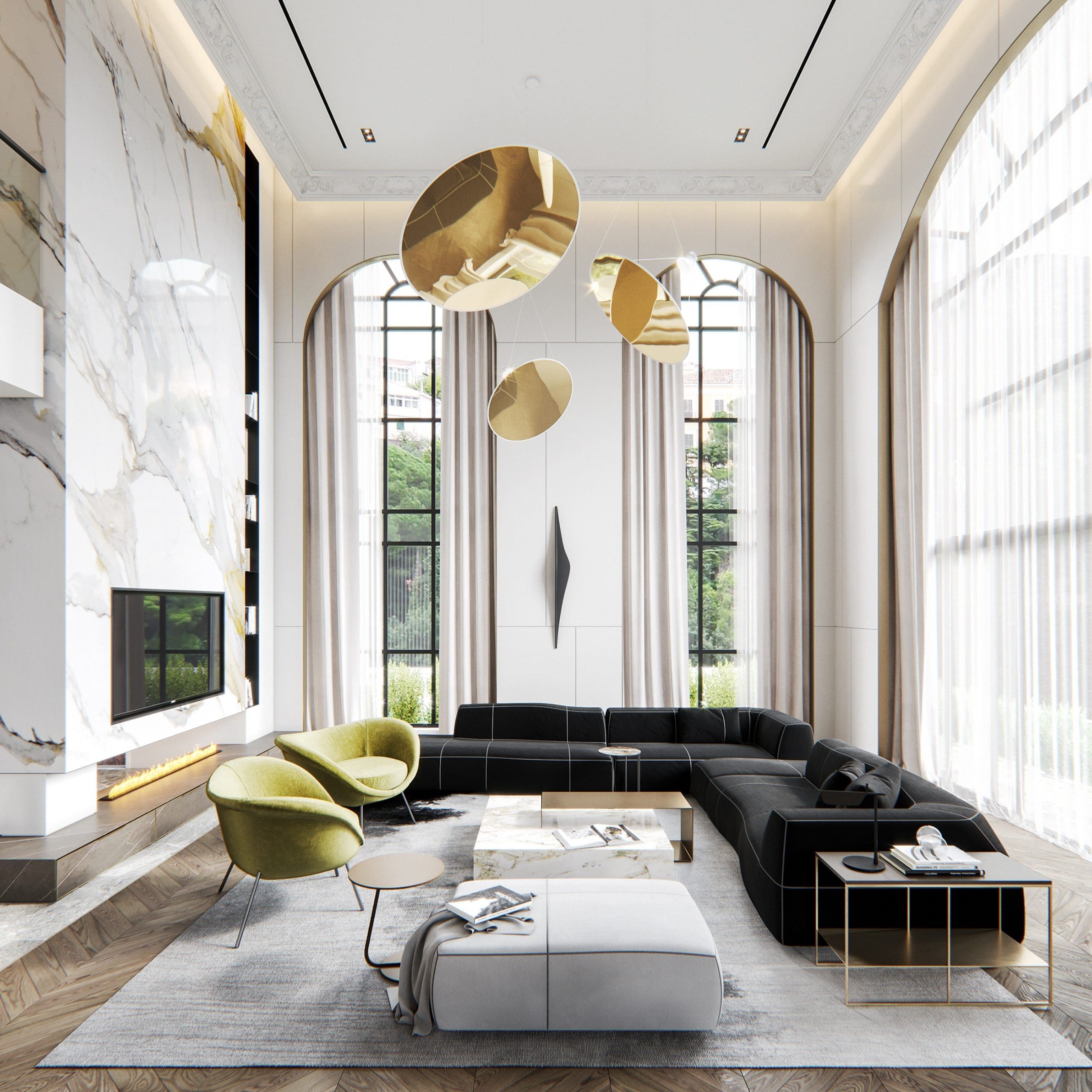 8. Elegant POP Ceiling with Gold Trim
Glamorous, sleek, and classic, gold is the ideal accent shade for modern interior design. Gold trims, finishes, and accents add a warm accent, sophistication, and a luxurious feel to a room, This modern simple POP design radiates a subtle shine that can make any space visually appealing.
9. Double Layer POP Ceiling
Modern false ceiling designs do not have to be complex. Creating a layered POP ceiling is not a new technique. It is used to heighten and add a dynamic element to a space. This modern simple POP design idea makes a room look, chic, rich, and sophisticated.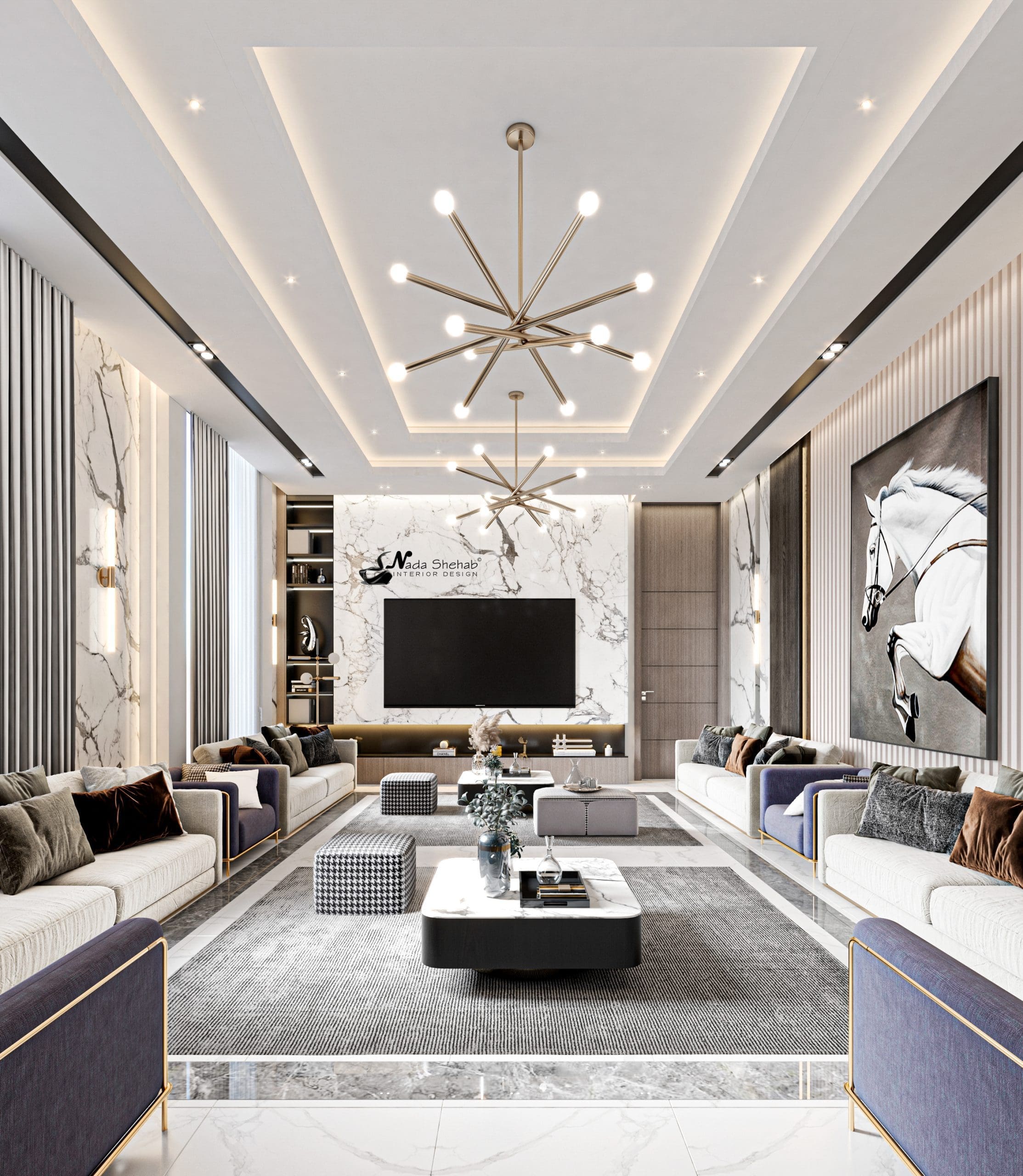 10. Triple Layer POP Ceiling
If you are looking to create a sense of height for a living room, a triple-layer POP ceiling is the way to go. Not only does it make a room seem taller than it actually is but it also adds visual intrigue to the space.
11. Luxury Modern POP Ceiling with Glass
When it comes to contemporary laid-back luxe, glass should be on your radar. In interior design, using glass extensively is a great way to let light flow into a home– making it feel more open and spacious. Combining POP with glass creates an unmatchable aesthetics that can modernize any home.
12. Coffered POP Ceiling
Coffered ceilings have a long history, dating back to the seventh-century BC. It is a type of suspended ceiling with a sunken panel used to add architectural interest to the space. A coffered ceiling can be made with Plasters of Paris, as well as other false ceiling materials such as rigid PVC, wood, or high-density foam.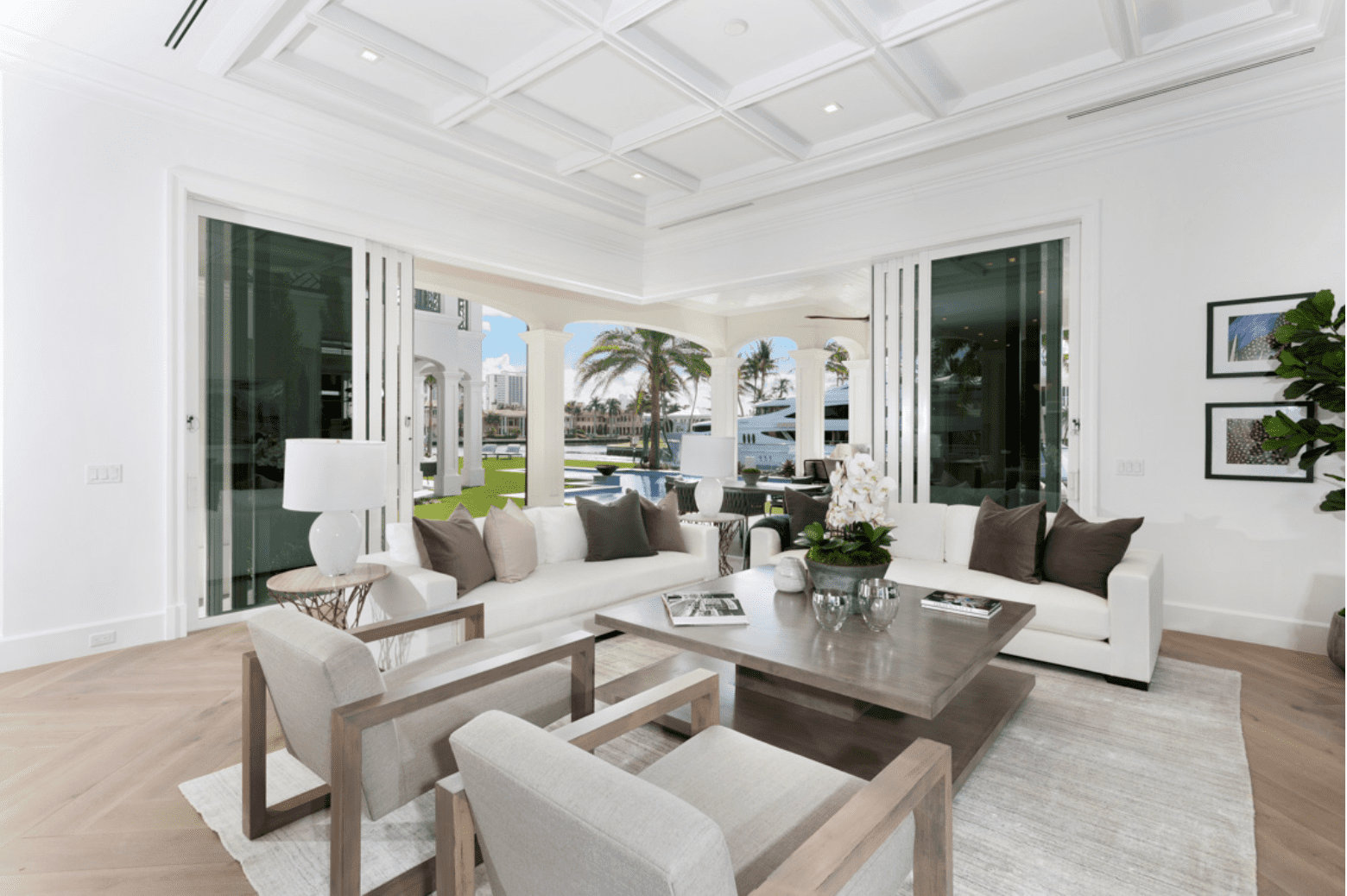 13. Modern Boxed False Ceiling
The boxed-style ceiling is minimal and impactful. It is a stylish POP design idea for the living room. Instead of leaving your ceiling bare and inspiring, create a layered boxed POP design to add character to it.

14. Tray POP Ceiling with Glossy Trim
Why opt for a plan POP design when you can add visual appeal with a glossy trim? Simple and sophisticated, are just two words to describe style. This suspended ceiling design is the perfect blend of modernity and minimalism.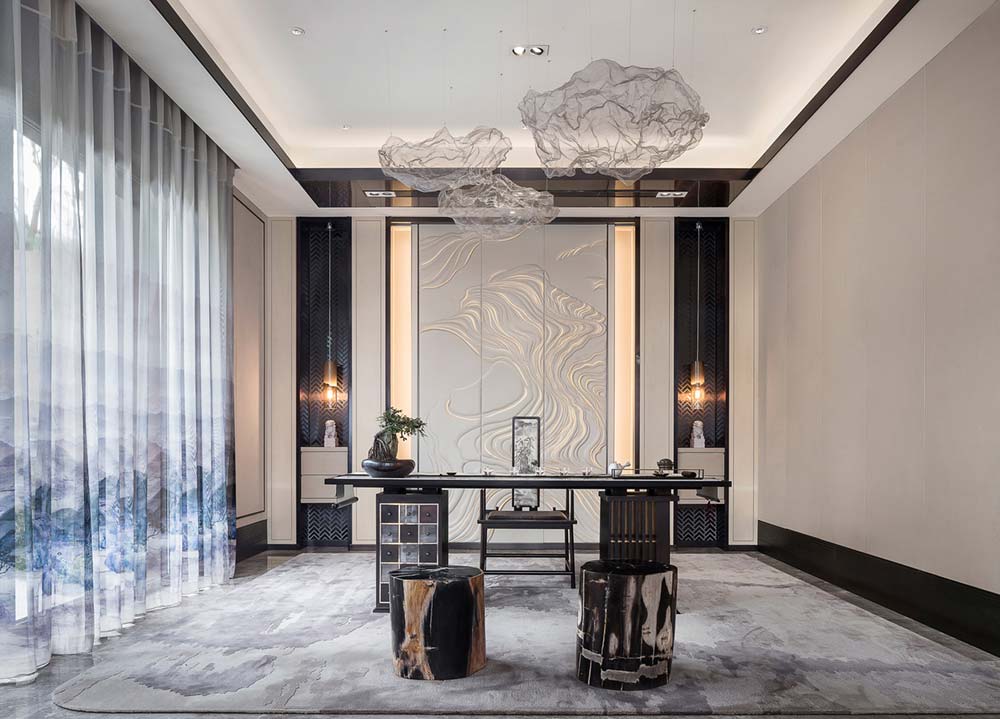 15. Mirrored POP Ceiling
Mirrors add a spectacular element to interior spaces. In fact, it's unlikely to find any home with mirrors. Placing mirrors in your home is one of the oldest tricks in the book to make a small space look bigger. This is because they reflect natural light and light up poorly-lit corners in a room. A mirrored POP ceiling will create an illusion of space and add zing to any modern home.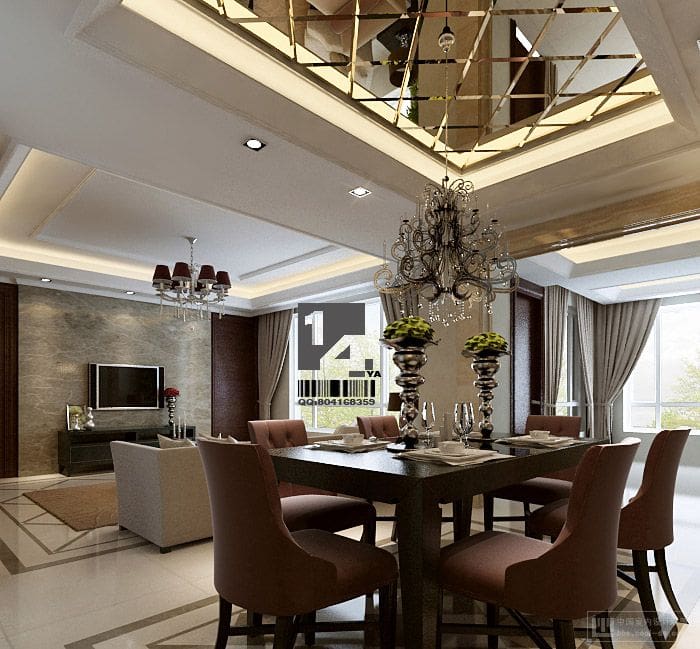 16. Simple X-Shaped POP Ceiling
An inviting focal point can be created with an X-shaped ceiling design. It is simple, elegant, and impactful. This POP design idea adds a contemporary touch and chicness to a room.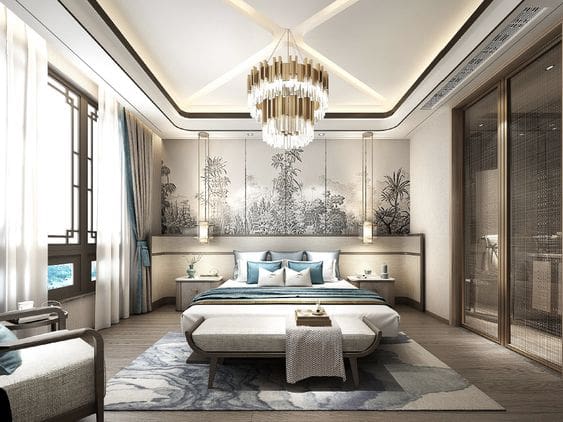 17. POP and Wood Panels
Wood adds a rustic touch, warmth, and a touch of nature to a room. Wood panels are a great material to pair with POP for maximum interest. When used as a dropped ceiling, wood adds natural texture and beautiful contrast, enhancing the ambiance of the space.

18. Square-Shape POP Ceiling
A square-shaped POP ceiling is a simple and elegant design idea that will transform any space from drab to fab. It can add extra interest and character to a room without overwhelming the space. This is a popular POP design idea that never tires. To take it up a notch, create a layered effect.
19. Ceiling to Wall Modern POP Design
To add extra pizzazz to your interior, consider a modern simple POP design that extends from the ceiling to the wall. The extended method adds striking beauty to the space, creating real impact. Although this technique is common in bedrooms, drawing interest to the bed, it can work great in the living room tv wall as well. This essentially acts as an accent wall.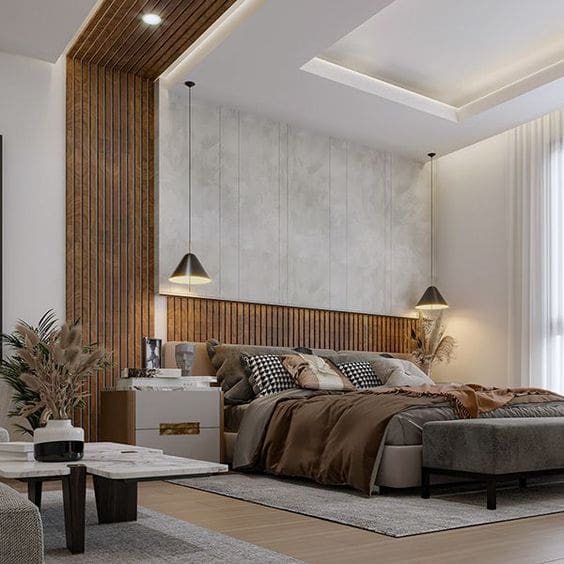 20. Wood Accent POP Design
Wood accents have warm tones that can instantly bring a dull bland space to life. It makes a room feel more aesthetically pleasing and intuned with nature. In a maximalist room, wood brings in a touch of neutrality while in a minimalist space, it adds warmth and rustic character.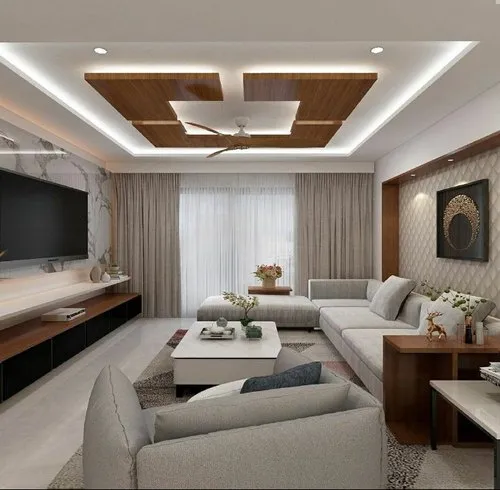 21. Simple Rectangular POP Ceiling
Modern POP ceilings don't get any simpler than a rectangular design. Many living rooms have a rectangular layout so it makes sense to embrace this POP shape if this is the case. It is laid-back yet alluring at the same time. It is also an excellent POP design idea for a hallway.
22. Tray POP Ceiling with Metallic Trim
Metal may enhance the aesthetics of an interior by bringing elegance, strength, austerity, firmness, and sophistication. A metallic trim addition to a POP ceiling will add an understated beauty and contemporary feel to the space.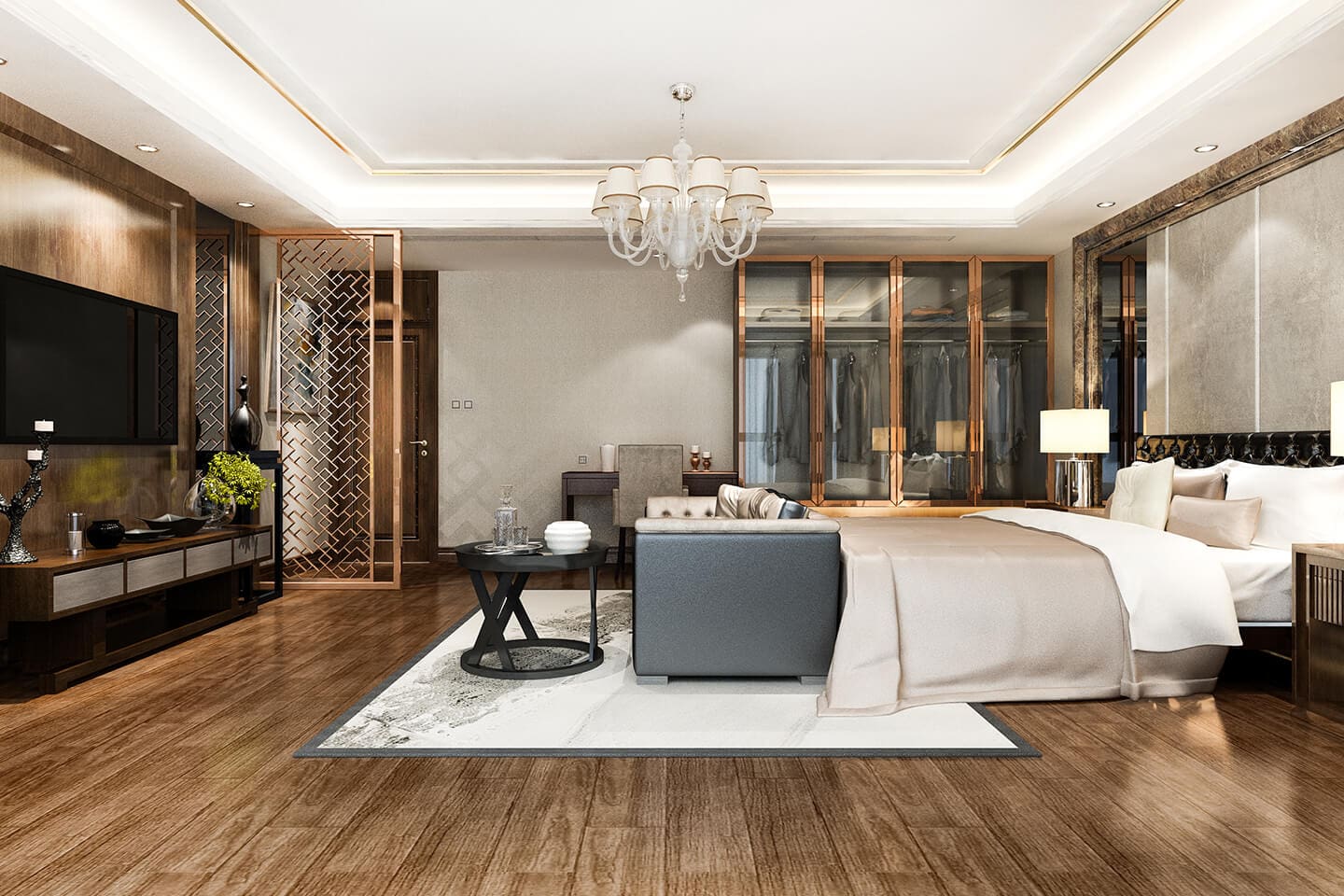 23. Tray POP Ceiling with Black Trim
A black trim on a tray POP ceiling will add some aesthetic flair and character to the space. Black trim works brilliantly to frame a ceiling, adding a sophisticated touch to the space and making it look sharper.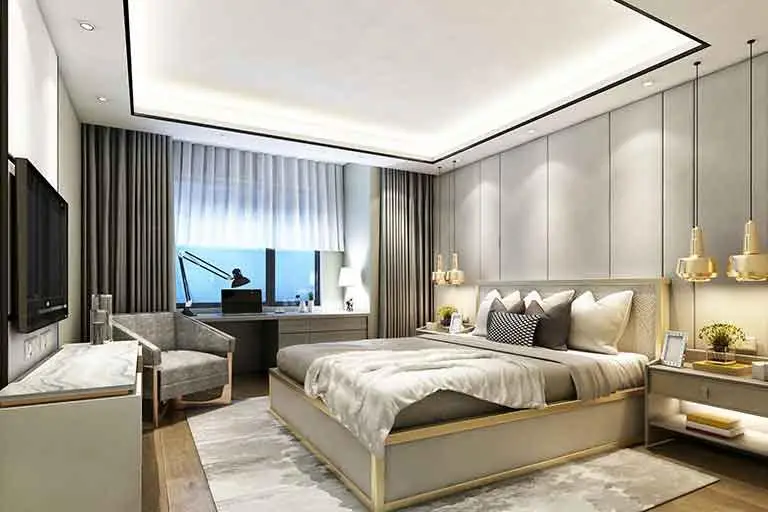 24. Multiple Squares POP Ceiling for Hallway
A single rectangle tends to be the most common POP Ceiling for Halls, but there are modern and clever POP design ideas for this space. Multiple squares will create more visual intrigue than a single rectangular tray ceiling. It gives the space a grand gesture and an instant hit of satisfaction.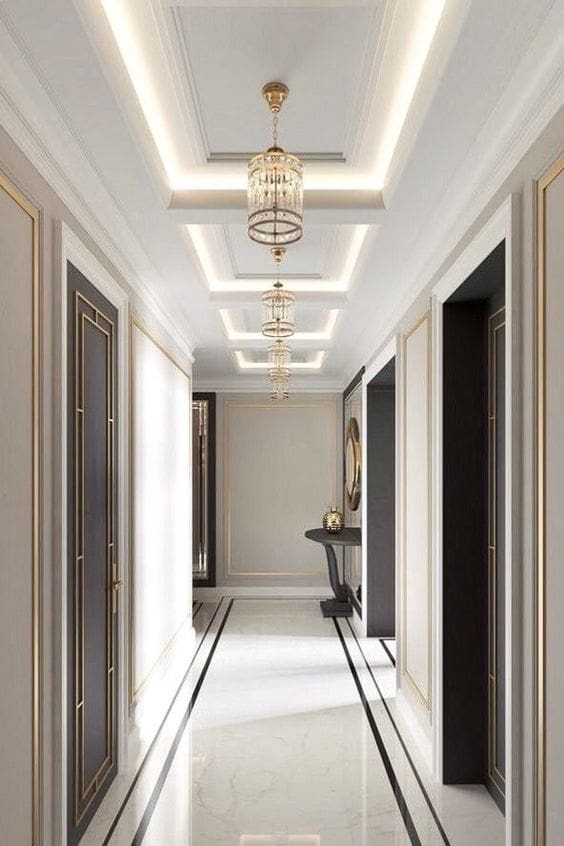 25. Cornered POP Ceiling
A POP ceiling does not have to be installed throughout a room. If you have a budget constraint or simply want something to draw interest to a particular area in the room, then consider installing a POP ceiling in that corner.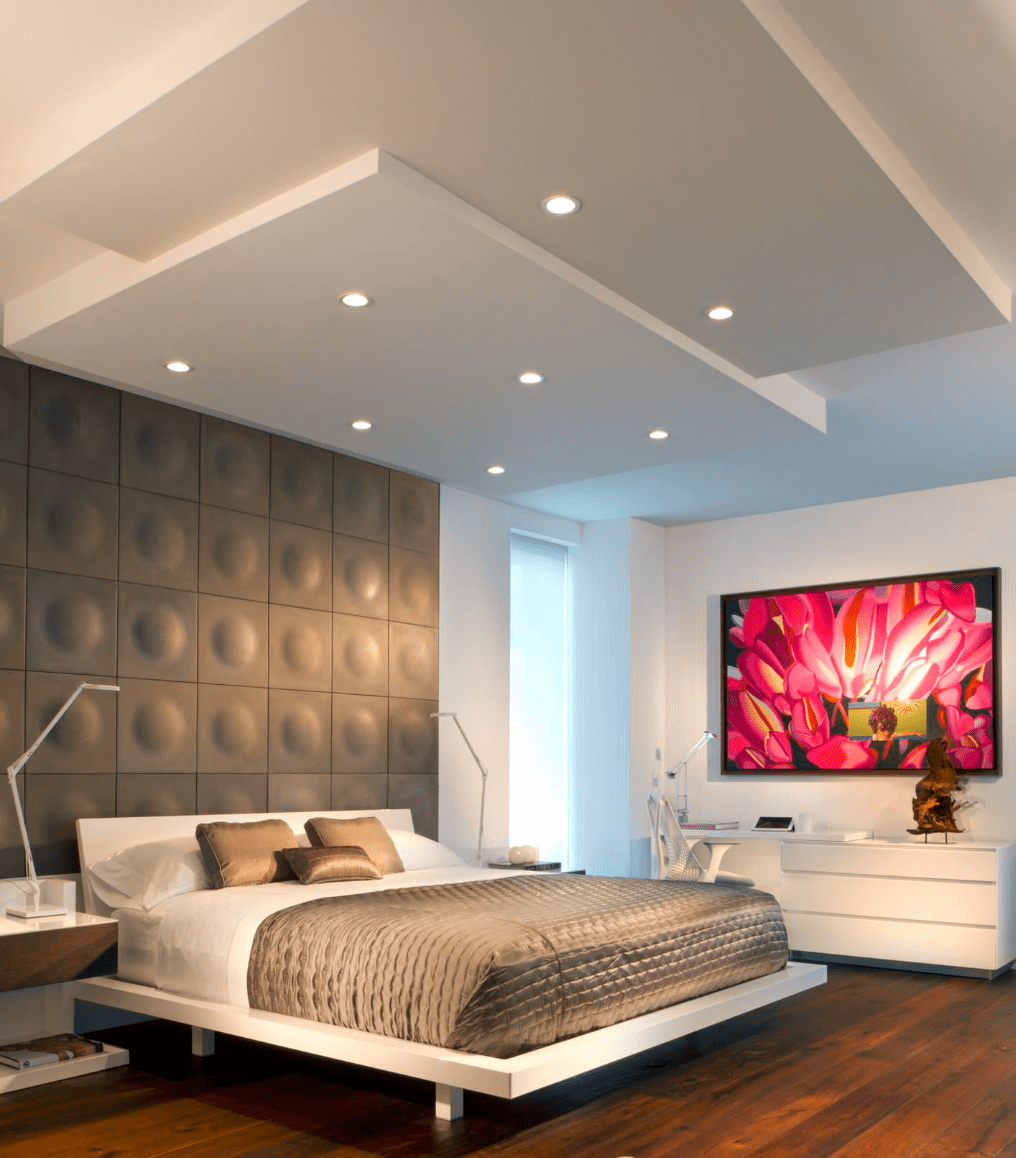 26. Crescent POP Ceiling
The moon's different phases, which are called crescents, are most frequently represented by a crescent shape. It is a dreamy modern simple POP design that is perfect for the bedroom. You can also install ceiling led lights to make it look like the stars in the sky. This will make bedtime a lot more exciting and relaxing.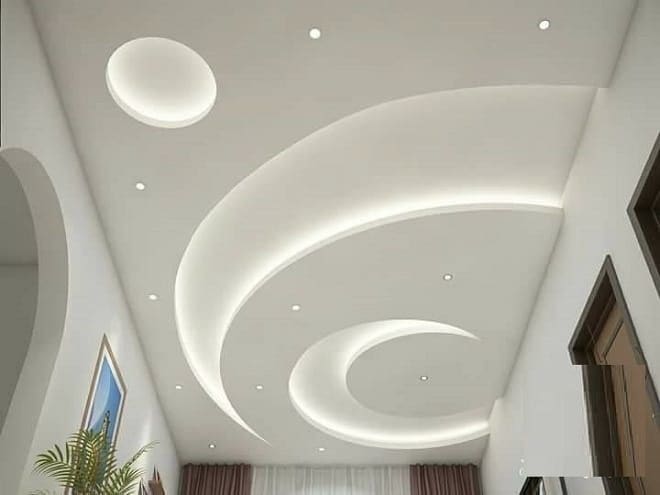 27. Wooden Tray POP Ceiling Detail
Wood is beautiful because it is a natural material with subtle texture variations and neutral tones. Currently, woods with a rustic appearance are in trend, and coarser textures and grains are a terrific way to give your space a lived-in feel.

28. Simple Tray POP Ceiling
A tray ceiling's primary function is to create a shift in height and break up a typically flat ceiling line to create architectural interest. It is the most simplistic and widely used false ceiling idea.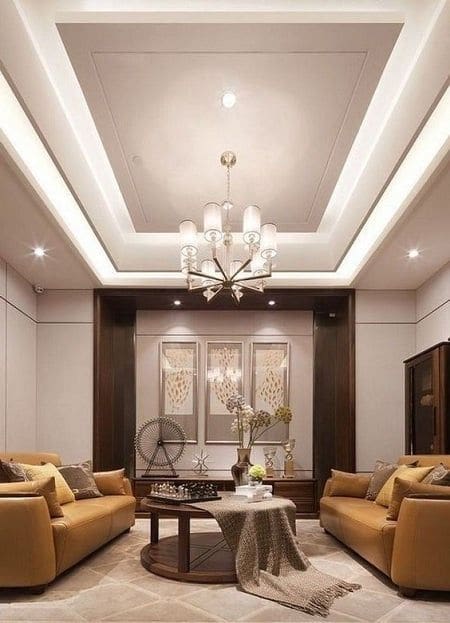 29. Ceiling Fan POP Ceiling
A ceiling fan-shaped POP ceiling not only serves as a perfect backdrop for your fan but also adds a major statement to the space. It is a modern simple POP design technique that packs a big punch.
30. Modern Geometric POP Ceiling
The use of geometric shapes in contemporary interior design is a clever and visually appealing way to add personality to any room and is surefire to spark conversation. A geometric POP ceiling can give a room a crowd-pleasing decorative flair.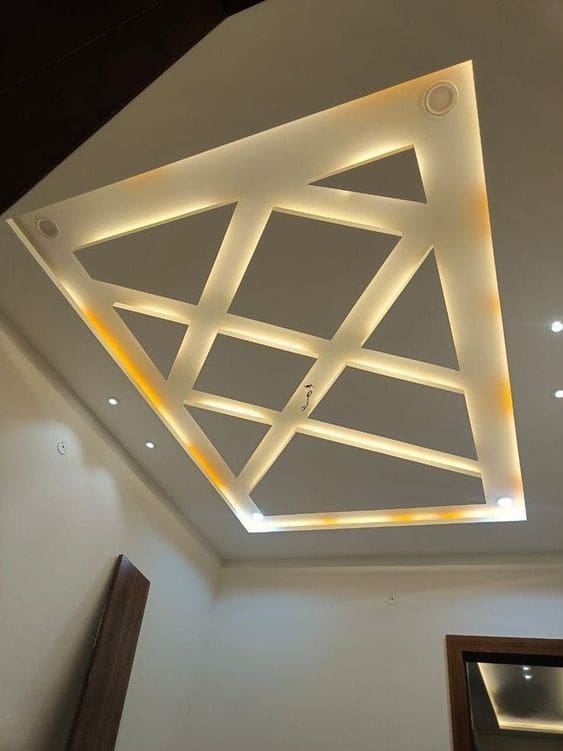 31. Modern Simple POP Design for Kitchen
There are an endless array of kitchen false ceiling design ideas that can instantly elevate a humdrum kitchen. A magnificent modern simple POP design idea is the combination of wood and POP material. This gives your kitchen the perfect contrast and organic touch.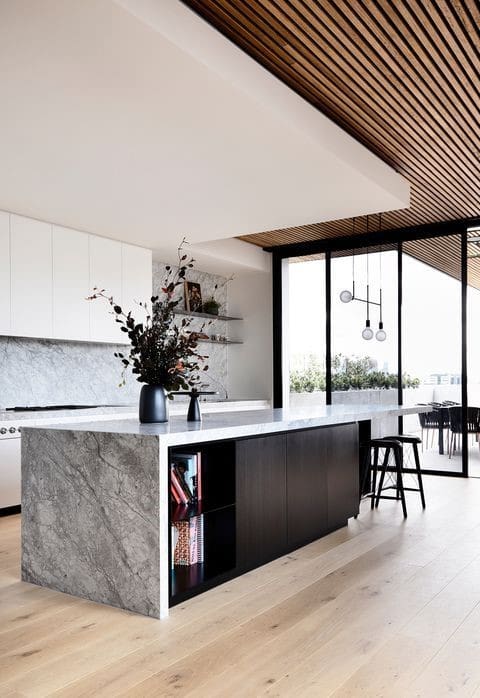 32. Partition-Effect POP Ceiling
Use several square-shaped POP ceilings to create an illusion of division in an open-plan space. This helps to individualize and harmonize the space. A modern simple POP design like this can instantly uplift your home's décor quotient.