45 Best Coffee Table Centerpiece Ideas
No living room design is complete without a coffee table. The coffee table is an integral element in the living room and other chill-out zones in the home. They serve both practical and aesthetic functions.
Some coffee tables are often accompanied by storage drawers underneath used to store things like magazines, remote controls, and drink coasters. While other types of coffee tables have just flat surfaces and no storage drawers.
Other than its practicality, a coffee table is a great way for you to express your aesthetic.
They come in a variety of shapes, styles, and sizes. No matter the type of coffee table you have, there is a myriad of accessories that can make it visually appealing.
Here are 45 best coffee table centerpiece ideas that will give your living space an impactful edge.
1. Add Style with Table Books
Coffee table books are the perfect way to add elevating finishing touches to your coffee table.
These types of books are typically oversized, stylish hard-covered books with the purpose of being displayed on the coffee table to boost aesthetics and entertain guests.
Read this article for the best designer books to display on your coffee table!  
2. Evoke Character with Dried Bulrushes
Bulrush, also referred to as typha or cattail, is a dried ornamental grass that complements any dried arrangement and makes a great table centerpiece.
3. Place a Board Game for Entertainment
For most people, the living room is the ultimate entertainment zone, so it is A-okay to have your favorite game on your coffee table if you have the space for it. This creates a relaxed atmosphere where fun memories with friends and family can be made.
4. Place Decorative Ornaments on Display Books
Coffee table books, which are often insightful and inspirational, are designed to be entertaining but also visually appealing.
A simple yet impactful decorative touch to add to your coffee table books is decorative ornaments. This simple technique creates a strong sense of style and detail that elevates the room.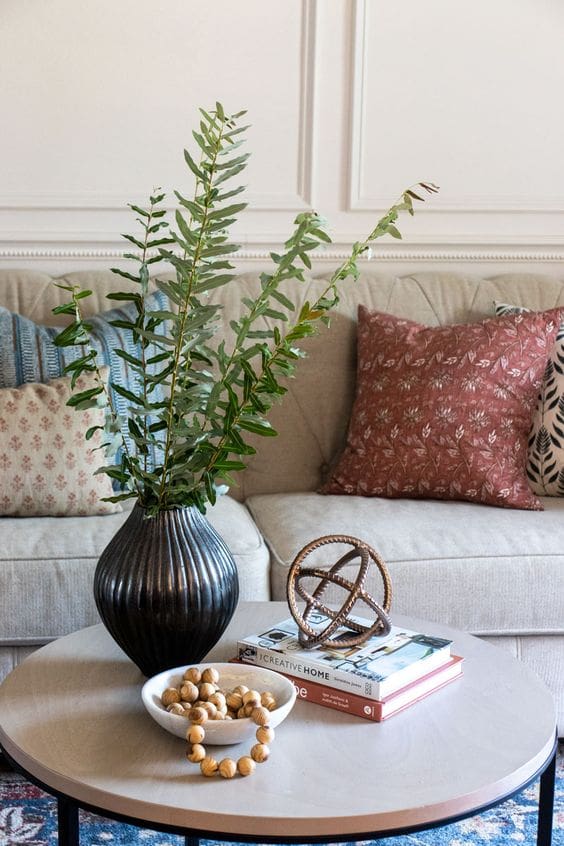 5. Use a Rattan Tray
This is one of the common table centerpiece ideas for eco-friendly homes. Rattan furnishings can add visual interest and warmth to the coffee table.
In spaces with a lot of white, wood, and other neutral colors, the woven material provides textural contrast.
6. Liven it Up with Fresh Plants
Plants can be found in almost every home. They are the ultimate table centerpiece.
The coffee table will feel more calming and alive with plants. They are aesthetically pleasing, have a wealth of health benefits, and offer a sense of nature indoors.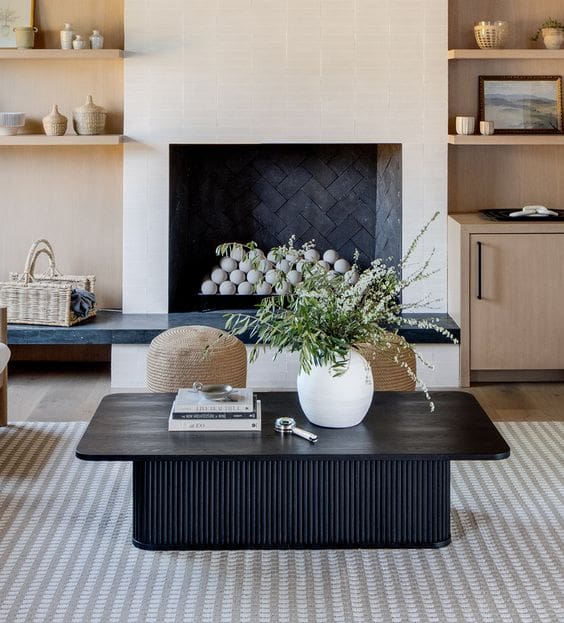 7. Add a Subtle Sheen with a Black Glossy Vase
Glossy surfaces help in reflecting light throughout the space. The reflective sheen-like finish enlarges and brightens small, dim-lit areas.
A black glossy vase adds character and charm to the living room when used as a table centerpiece.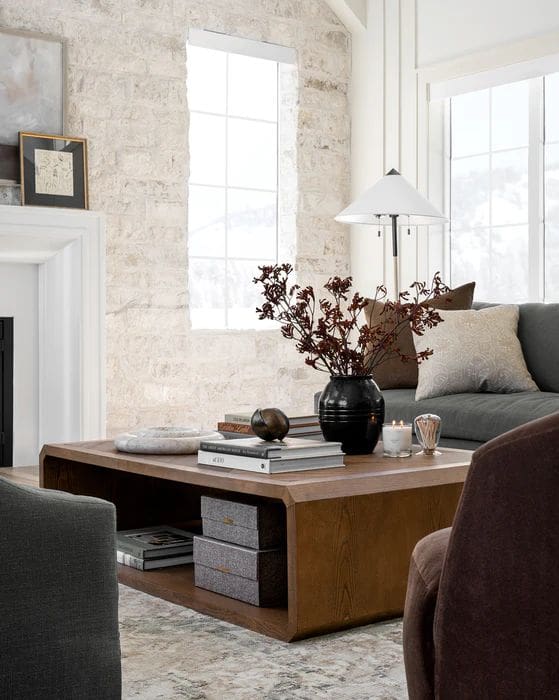 8. Layer the Accessories
Layering your decor accessories makes your collections more defined and gives your coffee table décor a more curated appearance.
For seamless layering, place two similar (but not exactly the same) items of varying heights. The smaller object should be placed in front of or on top of the bigger object.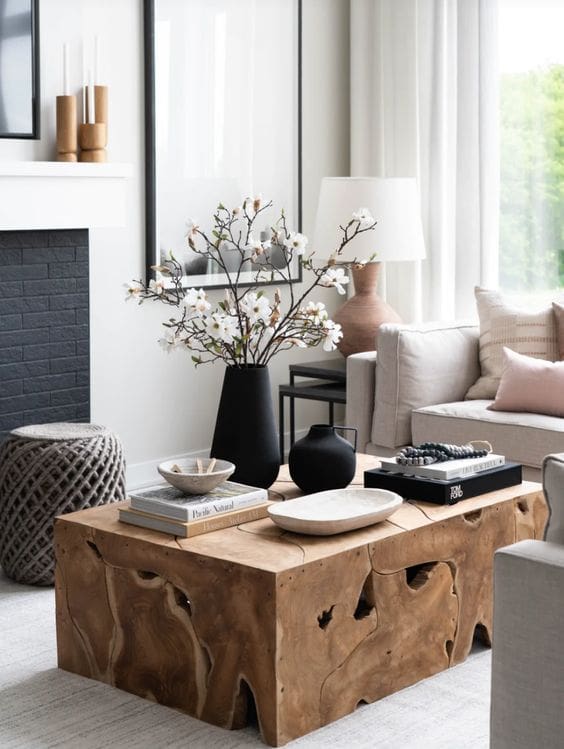 9. Add Character with a Brown Stained Ceramic Vase
The ability to obtain extremely consistent color is one of the main benefits of using stains for ceramics. Although using a coloring oxide can occasionally result in less dependable results.
Brown-stained vases are a classic addition to a coffee table arrangement.  It enhances the aesthetics of a space by adding richness, style, and sophistication.
10. Use a Symmetrical Placement
Symmetry essentially means mirroring similar objects facing each other or around an axis. It infuses a space with a feeling of warmth and rhythm, which is essential when decorating a coffee table.
Balance is provided by symmetry, which frequently begins from the focal point of a space.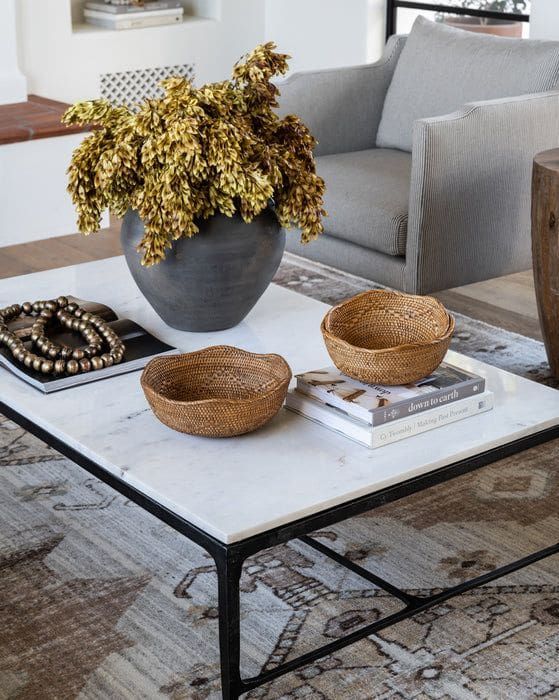 11. Display an Oversized Vase
If you want to display only one centerpiece for your table, an oversized vase might be just what you need. It creates a stylish effortless feel in a space.
Place an oversized vase that is already ornamental on your coffee table so it can take center stage without the table needs to be filled.

12. Add Glamour with a Mirrored Tray
For a touch of glamour, look no further than a mirrored tray. This tray reflects lights and brightens up a space.
A mirrored tray is an elegant and stylish decorative element. It is also practical for neatly displaying small-sized table decor ornaments.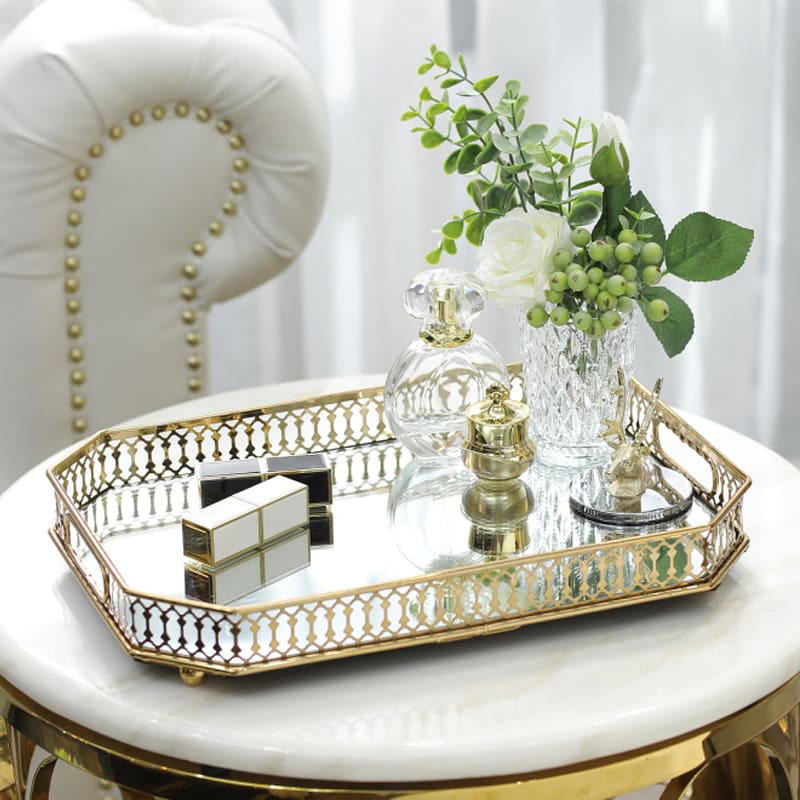 13. Decorative Wooden Link Chain Ornament
This decorative hand-carved link chain is a table centerpiece that has grown increasingly in popularity over the past years. It is usually placed on books and adds a perfect warm accent to a space.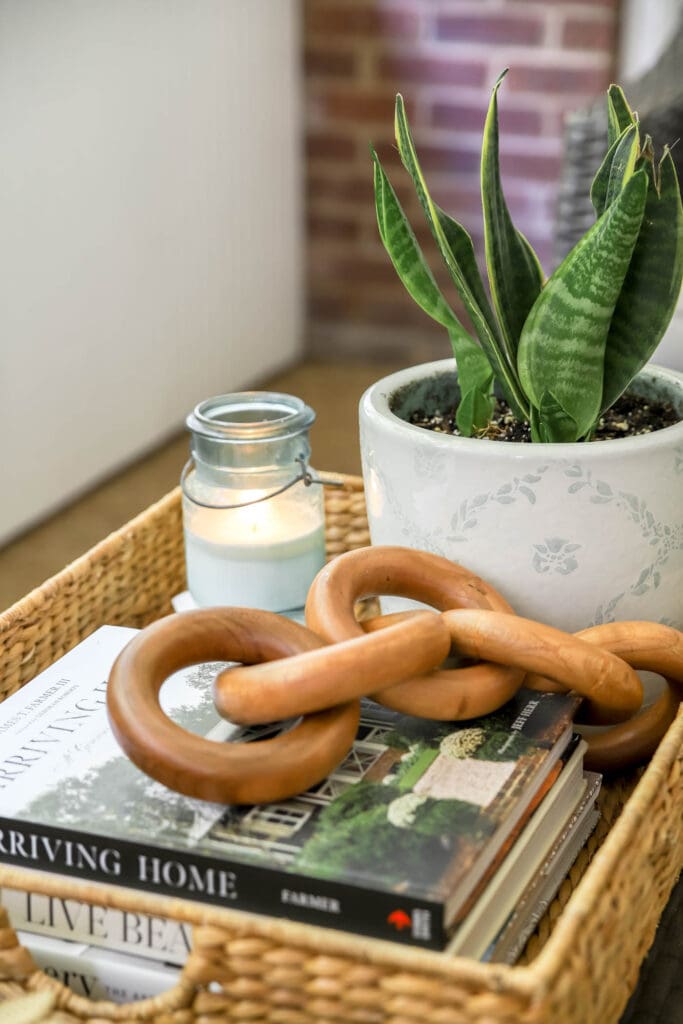 14. Pair Black Vases with White Books
Strategic placement of an integral part of home decor. Contrast creates completion. Use black vases to add character and charm and white books to balance out the space.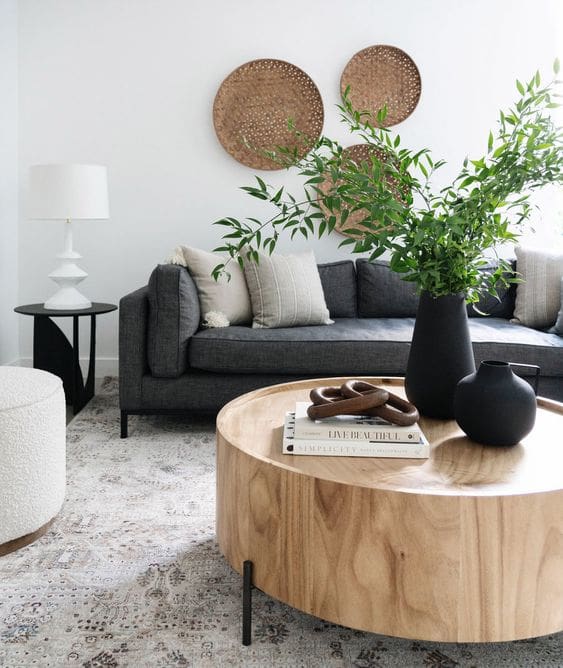 15. Create a Welcoming Space with a Fruit Bowl
Displaying a bowl of fruits on your coffee table conveys a warm sense of homeliness and a welcoming atmosphere for your guests.
It is one of the most versatile table centerpiece ideas (although less common for the coffee table). Some people may prefer to display a fruit bowl on their dining table or kitchen island.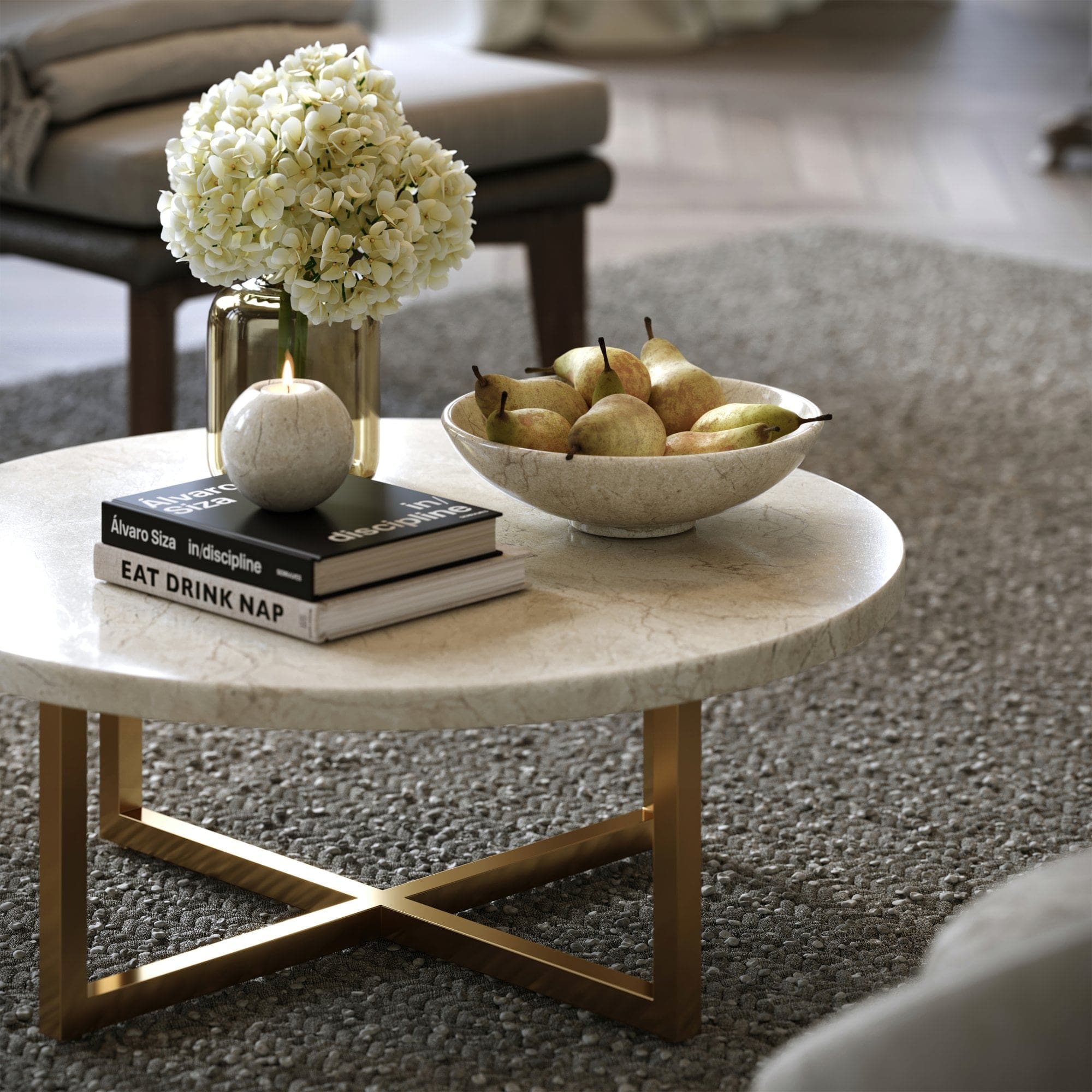 16. Throw in a Decorative Moss Bowl
A moss bowl adds visual intrigue and color without taking center stage. It also complements almost any home style.
Adding a moss bowl is a great way to add a pop of color and life to the overall space without having it overwhelm the space as larger plants might.
17. Showcase Your Passion
To create a space that reflects your personality and feels uniquely yours, go against the norms of what should be a table centerpiece.
If you love gardening, photography, or baking, let it show through each item you choose as a centerpiece.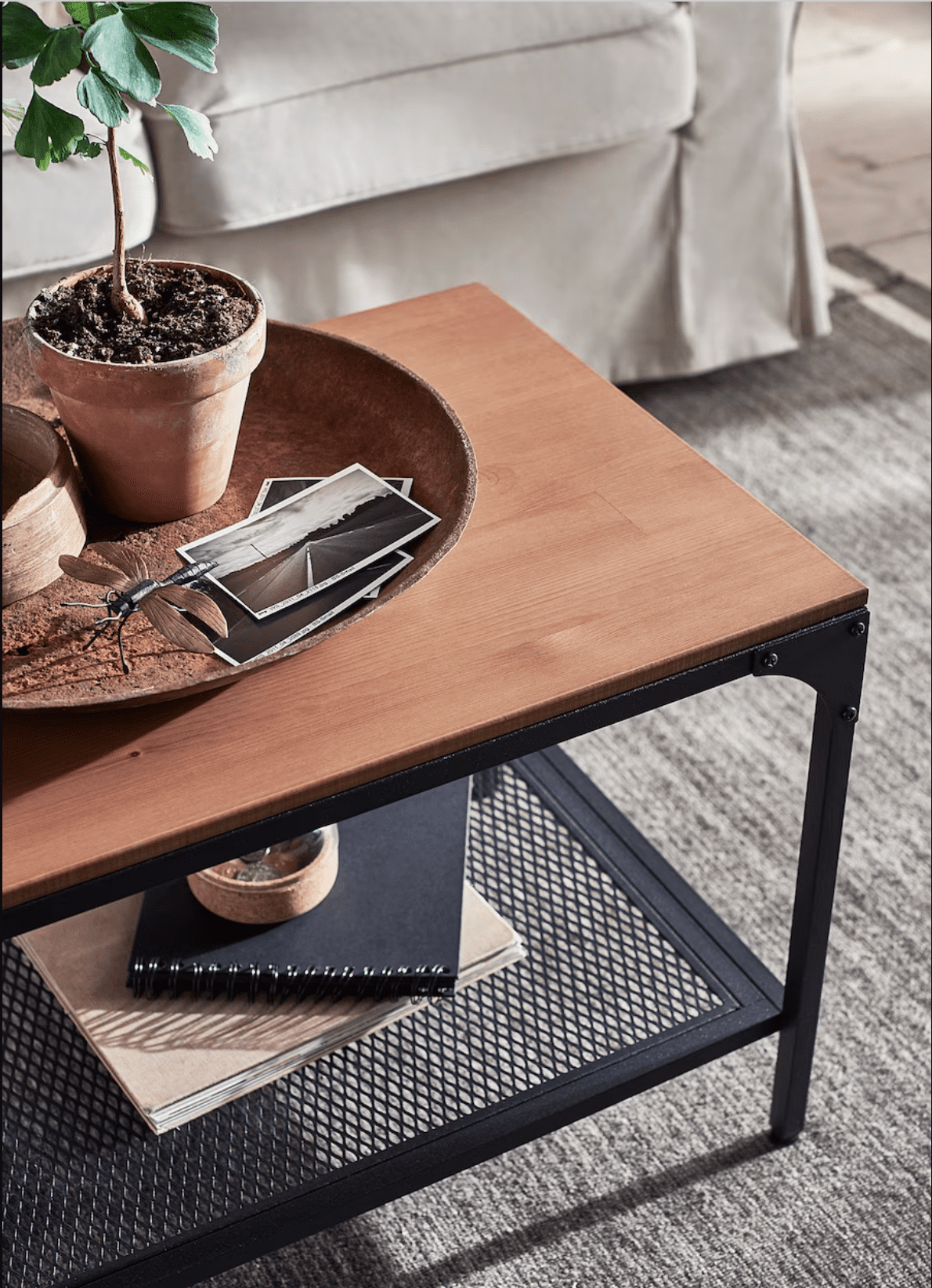 18. Use an Aloe Vera Plant
Other than Aloe Vera's many health benefits, this plant also provides natural beauty, charm, and a decorative touch to a space. Aloe Vera plants are also very versatile and low-maintenance.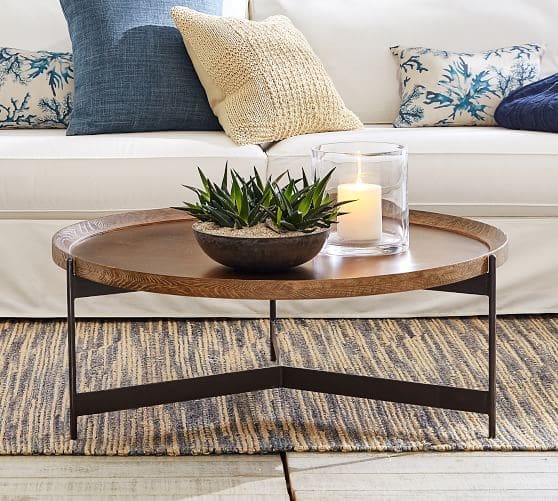 19. Add Elegance with Brass Vases
Brass is praised for its durable elegance. Brass can emit a variety of hues, from red to gold, depending on the composition of zinc and copper alloys. Because of its eye-catchy appearance, it makes a perfect vase material for living spaces.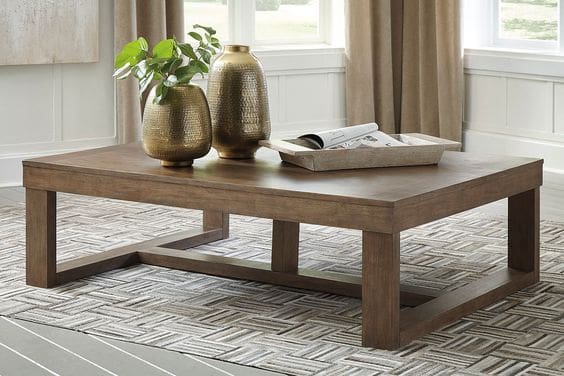 20. Embrace a Monochromatic Theme
A monochromatic color scheme is the use of different tones of the same color. It is the most common color scheme in interior design. It essentially creates a harmonious and visually cohesive look in interior spaces.
The monochromatic scheme is one of the best table decor ideas because it draws just the perfect amount of attention to the table in other to lets the rest of the room shine.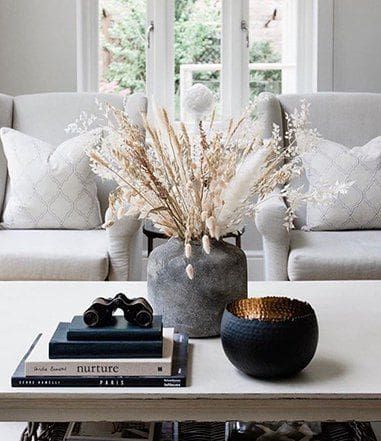 21. Display a Lantern
Asides from providing great illumination and warmth, lanterns are a timeless way to inject style and ambiance into your home.
22. Add Charm with a Rustic Accessory
Ruggedness and allowing natural beauty to shine are what rustic decor elements are praised for.
By emphasizing the use of wood, stone, leaves, and other organic materials, the goal of rustic accessories is to add warmth to a space and promote relaxation.
Rustic style decor lets each piece's unique character shine through rather than stressing over clean lines.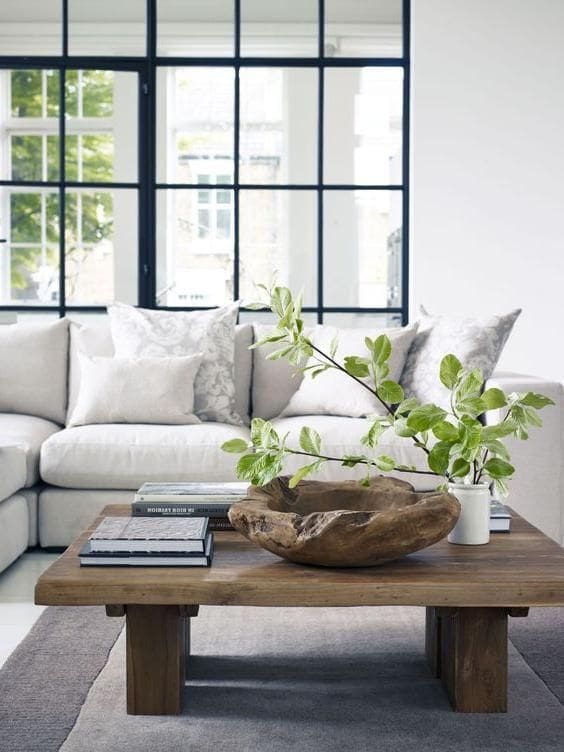 23. Mix-Match Accessories
Matching every item on your coffee table is overkill. Mix varying materials such as glass, paper, metal, clay, and ceramic to helps to break consistency, maximize interest, and subsequently tieing the room together.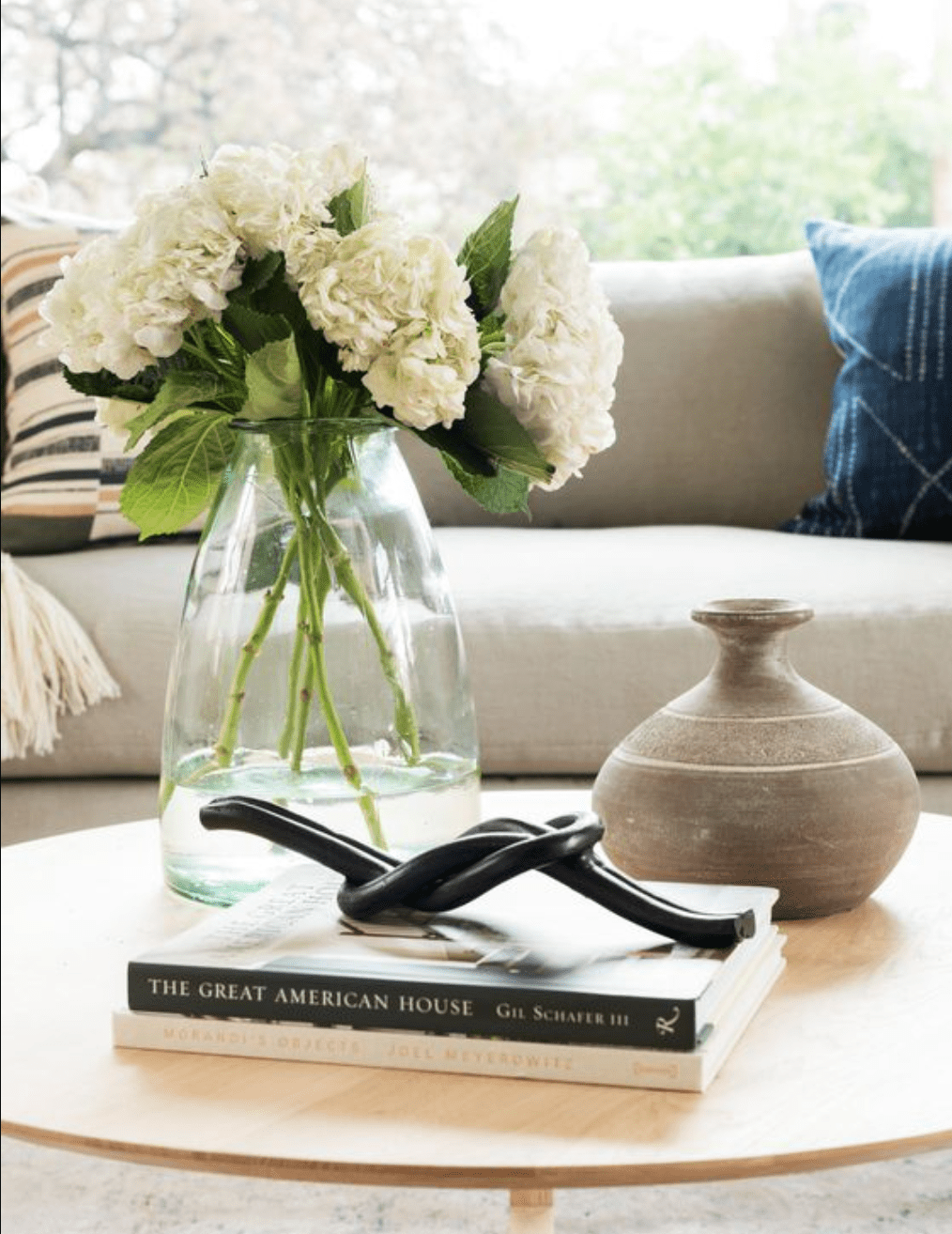 24. Display Some Antiques
Antique pieces and figurines are a chic addition to living spaces.
Whether you have a modern, traditional, or country-style home, they make for timeless and elegant coffee table centerpieces.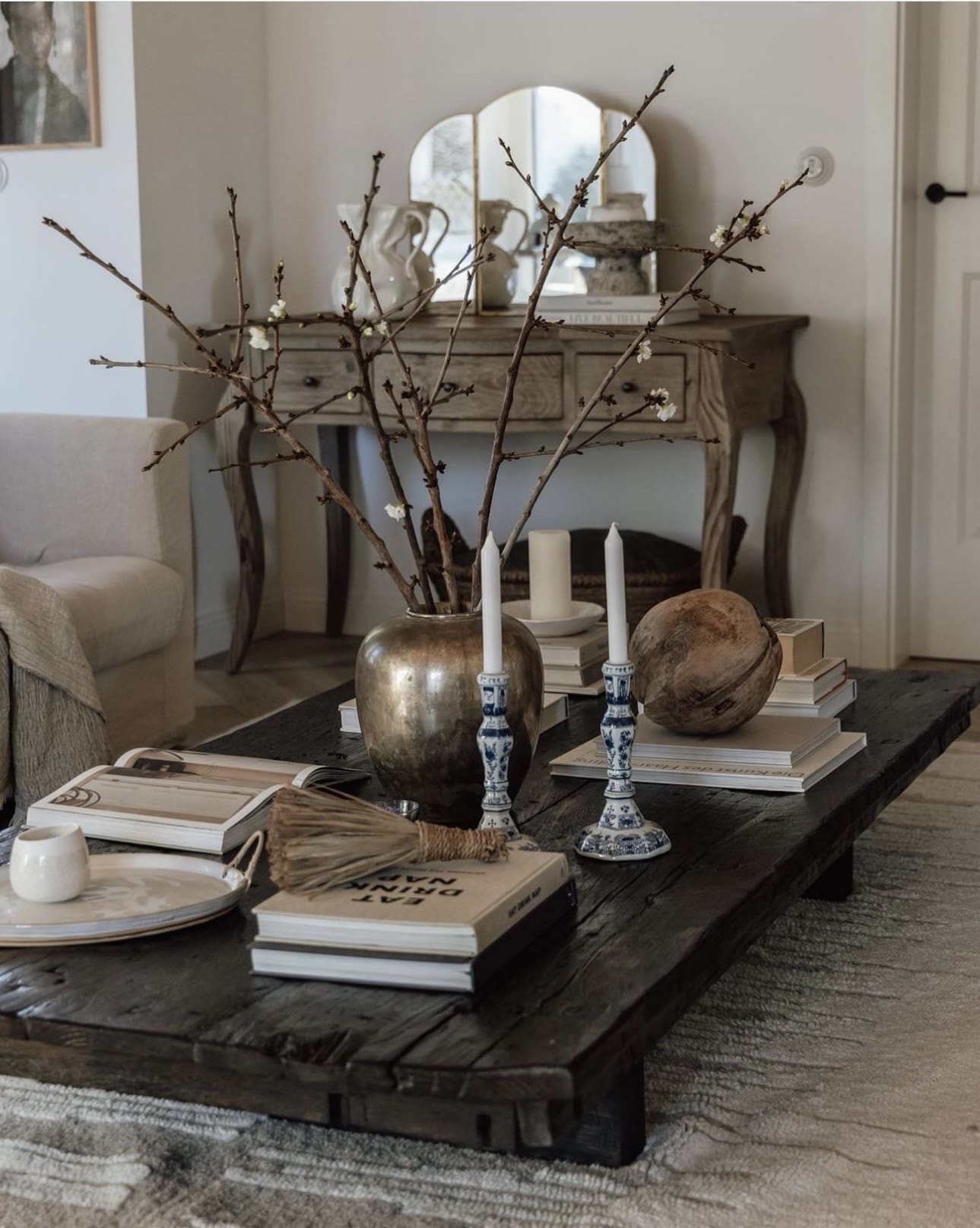 25. Glitz and Glamour
The glamorous interior design style is extravagant, sophisticated, and ornate. It creates the right balance between harmony between luxury and practicality. The concept of glam is to create a space that looks dramatic and expensive.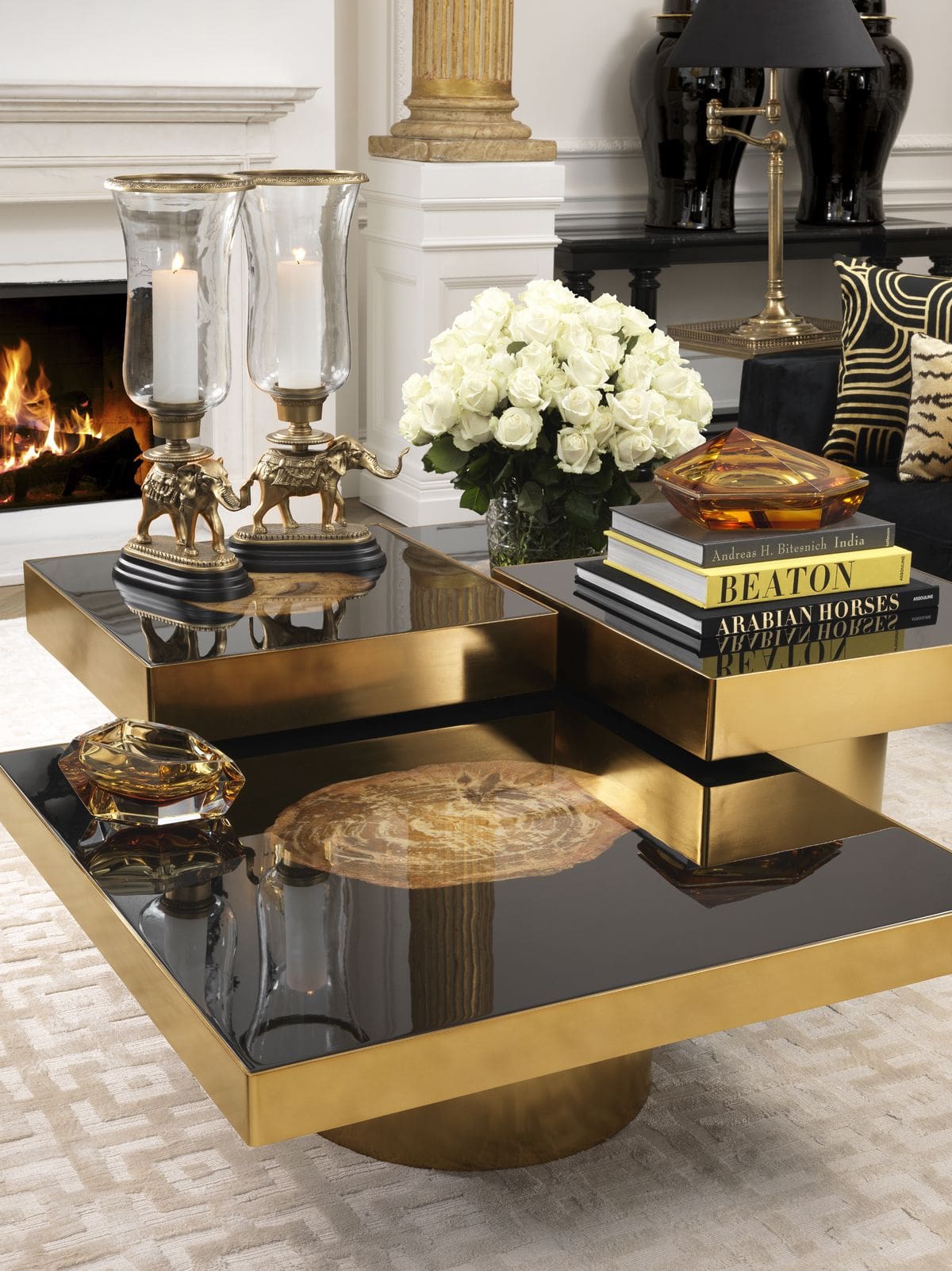 26. Corylus Hazel Stem Branches in Ceramic Vase
These stunning minimalist branches in a ceramic vase will look elevate the look of any contemporary, Scandinavian, and Japandi-style home.
Since the stems are dried, they require no maintenance and will last for many years.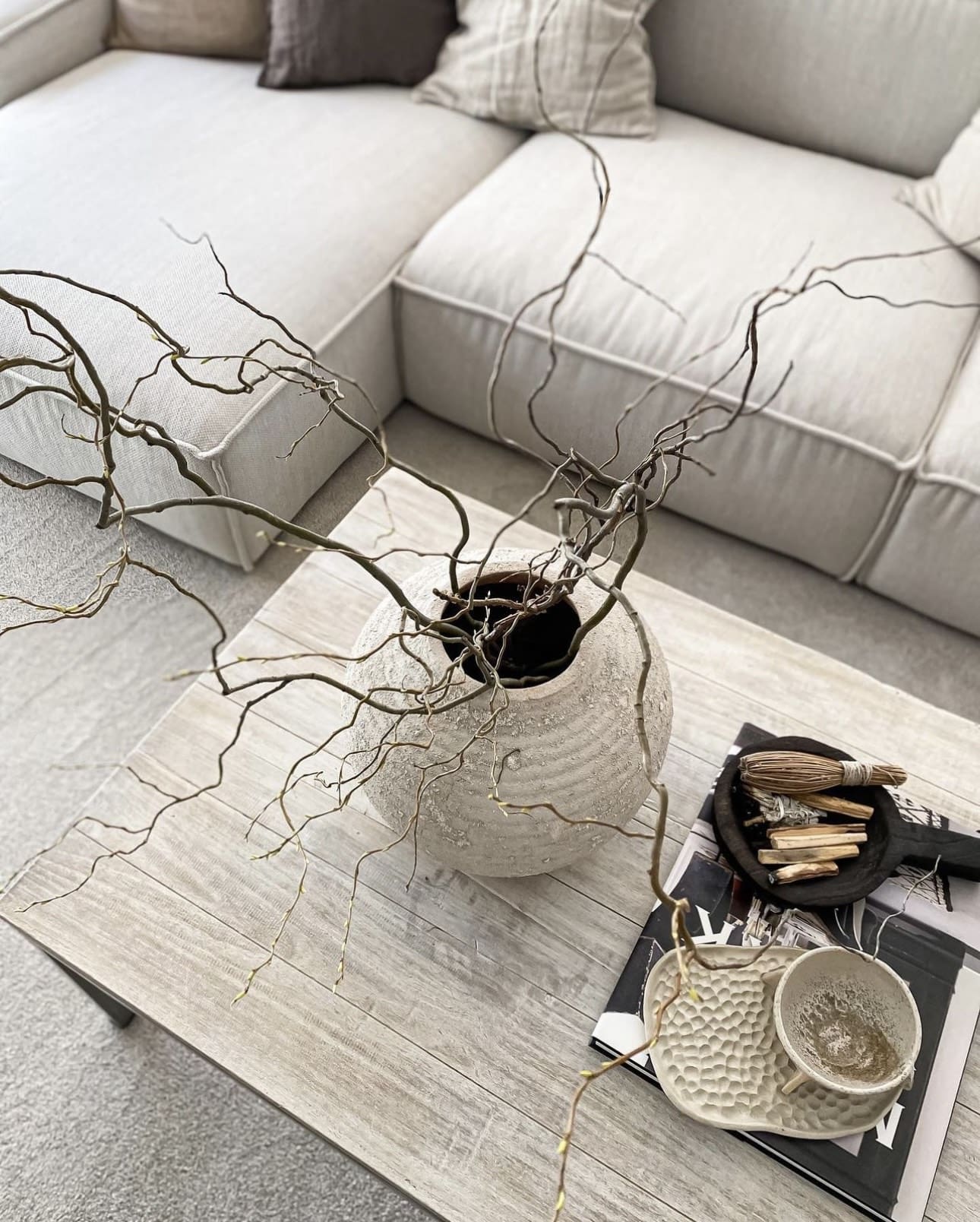 27. Use an Elegant Glass Vase
For a chic and contemporary feel, use a glass vase that makes a statement. This alone will leave your coffee table stylish and minimal without looking cheesy.
28. Use a Large Decorative Shell for Texture
To give interior spaces what is called "visual weight," interior experts use contrasting textures. Using opposing textures for your table centerpiece can help some elements stand out more than others, even when they are of the same color.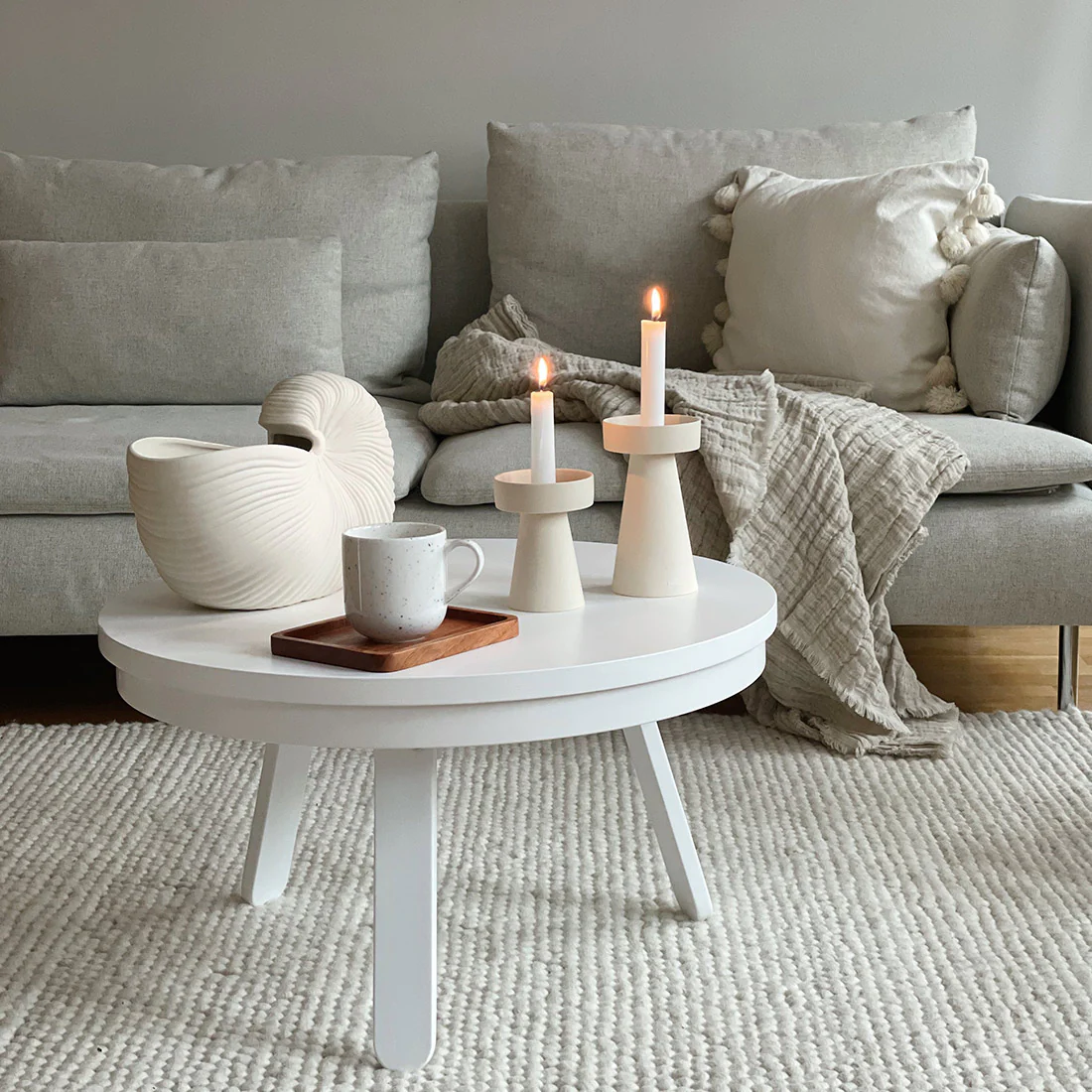 29. Wooden Beads Garland with Tassels 
If you want to give your living room the cozy Hygge touch, this is the perfect ornamental item. The addition of wooden beads garland to your coffee table arrangement can add charm and brighten up your home, especially if it has a chic farmhouse theme.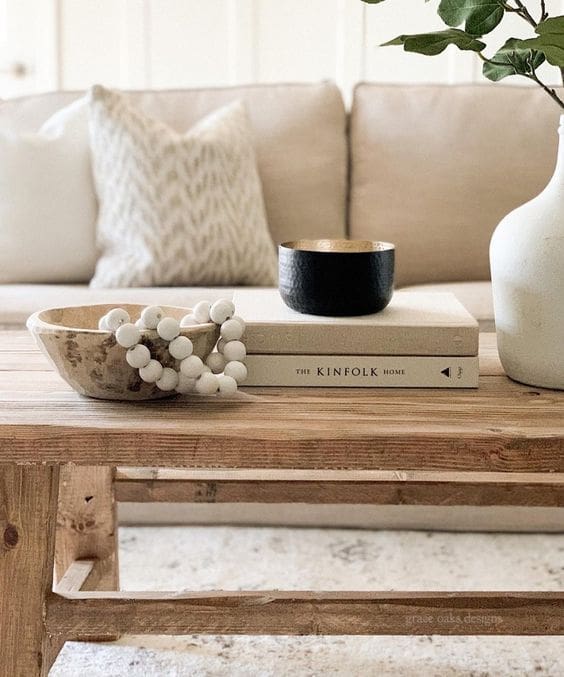 30. Matchy-Matchy Table Accessories
Matching items creates a sense of harmony and cohesion. Repetition in fabric patterns and accent colors is easy to incorporate as are sporadic matching pieces like vases, books, and other decorative elements.
31. Embrace Minimalism
The coffee table can be easily cluttered. Keep things simple by displaying only one or two table centerpieces. Because there is less mess, clutter, and internal simplification, the minimalist space exudes a sense of clarity and richness rather than emptiness.
32. Use a Clay Vase
Clay vases are chic, versatile, and artistic. They make a great table centerpiece. Clay vases are the perfect vase for floral or plant arrangement because usually handcrafted beautifully by artisans with tough clay. They are perfect for modern or traditional spaces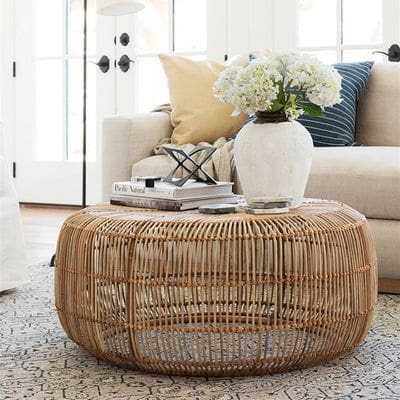 33. Pair Glass and Wood Accessories
Glass can make any space appear bigger due to its "openness. When combined with wood accessories, glass, even without the reflective quality of the mirror, can create a feeling of depth and style.
34. Elevate the Space with an Orchid
Orchids are a common flower option for table centerpieces because they are believed in Feng Shui to bring success and fortune in relationships. They also have an ornamental beauty that instantly elevates a space.
35. Hollow White Ceramic Vases
These lovely hollow design white ceramic vases are perfect for modern spaces and are sure to catch your eye. If you are sick of those plain and boring designs, this may ideal for you. Because of their clean, contemporary design, white porcelain vases make the ideal table centerpiece.
36. Add a Stylish Touch with White Hydrangea
White hydrangeas are elegant and easy on the eyes. White hydrangea flowers can brighten up dark and dull spaces, instill a feeling of calm in the area, serve as a color-neutral contrast to other hues, and complement any home style.
37. Use a Textured White Ceramic Vase
Because of how elegant they are by nature, ceramic vases are typically more attractive than those made of other materials. Textured white ceramic vas has a visual appeal and charm that don't go unnoticed. Using this vase for your coffee table centerpiece will create a unique and striking impression.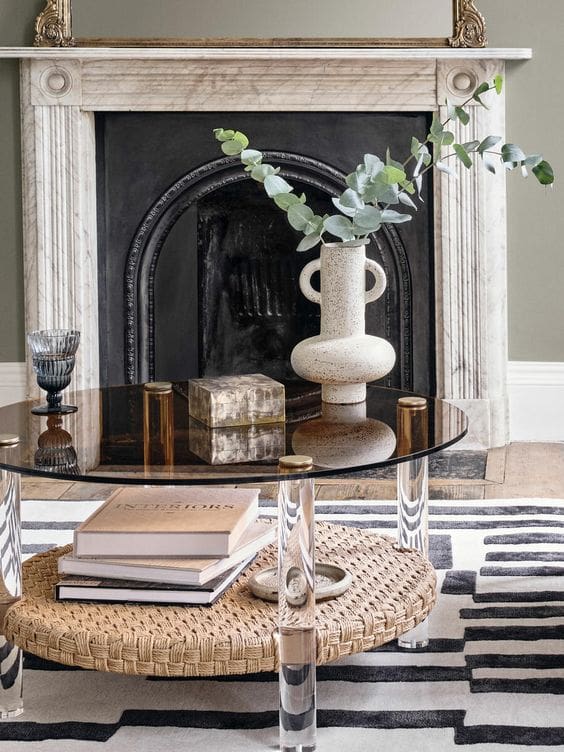 38. Round Metal Tray for a Bold Statement
A round metal tray has a reflective surface with the capacity to refract light back into a space and add a hint of glitz and opulence. This is a statement-making centerpiece.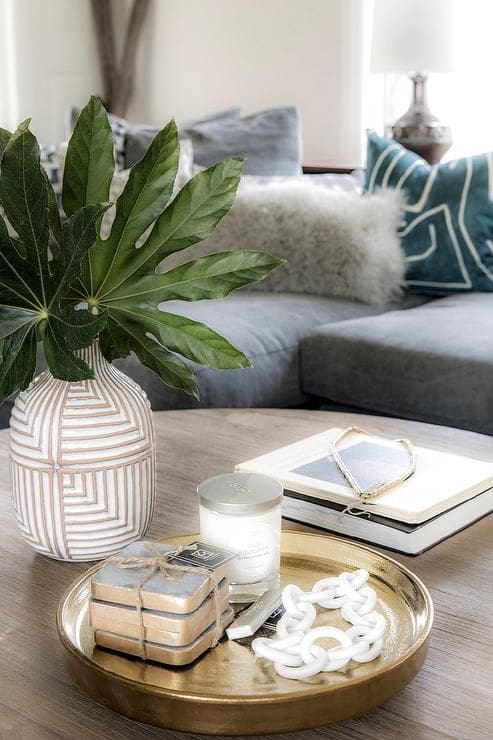 39. Add a Stylish Flair with Pampas Grass
Pampas grass can be used in a variety of interior styles, from minimalist to Scandinavian, thanks to its feathery texture and neutral color. Due to its capacity to give any room a natural, organic feel, pampas grass decor has become a trend that is here to stay for the foreseeable future.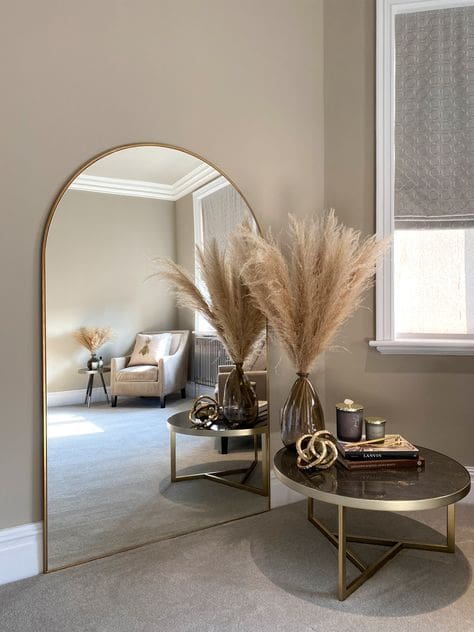 40. Improve Relaxation with Diffusers
Simply put, a diffuser is used to introduce helpful essential oil molecules into the air of a space, resulting in a calming, aromatic atmosphere. Diffusers come in a wide variety of scents and styles.
Other than its aromatherapeutic benefits, it can also be used to create mood, impact, and visual appeal.
41. Use Clear Glass Objects
Clear glass accessories can have a profound effect on the coffee table.
The best thing about decorating your coffee table with clear glass objects is that they are minimalistic, and neutral, and will go with any color or decor scheme.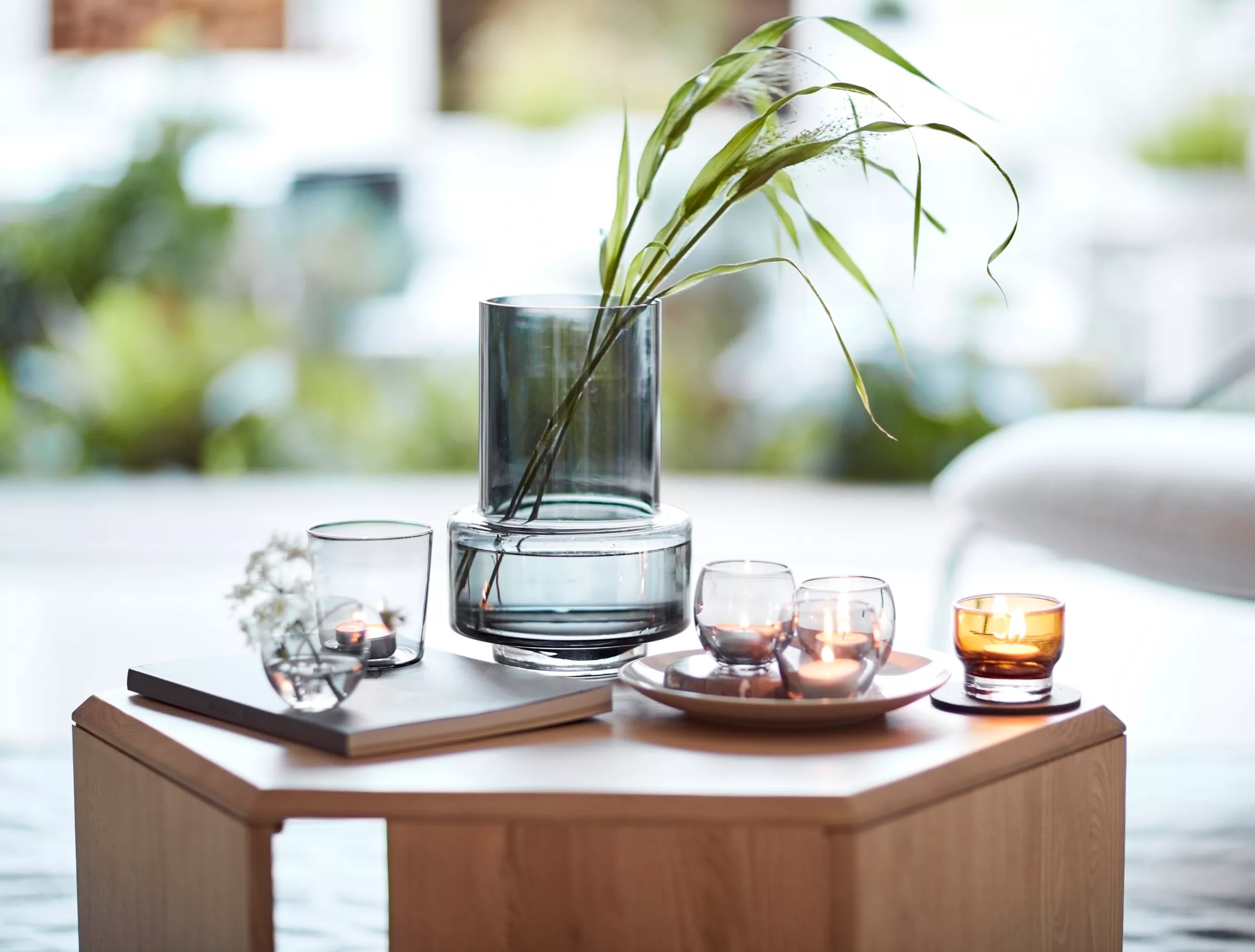 42. Add Freshness with Scented Candles
Coffee tables and scented candles work hand in hand to create the perfect cozy and relaxed atmosphere. Evening relaxation can be easily elevated by scented candles on the coffee table.
Using the correct aromatic candles that have fruity or herbal scents can definitely lift your spirits and make you feel revitalized.
43. A Christmas Table Decor Theme
By including miniature Christmas trees, metallic balls, and stockings on your coffee table decor, you can get in the holiday spirit. A coffee table redecoration not only gives you the holiday feels but also makes your home visually appealing.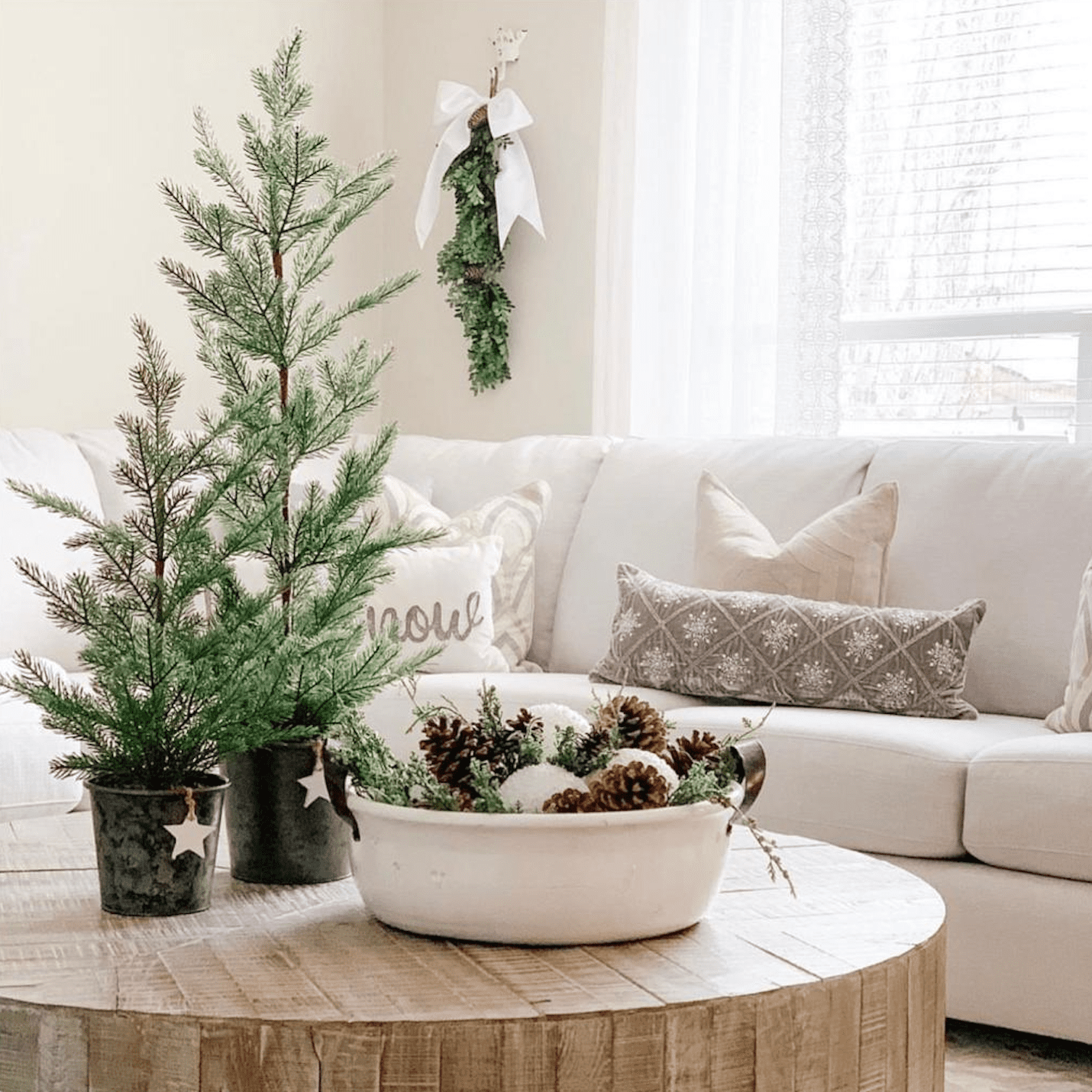 44. Mix-Match Ceramic Vases
In interior design, mix-matching patterns and textures help to add eye-catching contrasts and depth to a space.
Ceramic vases make a great addition to the coffee table centerpiece because they are naturally elegant and do not damage easily.
45. Add a Decorative Sculpture
Decorative sculptures are a great way to enhance the aesthetics of your home, especially when placed as a coffee table centerpiece. It is a surefire way to add depth and dimension to interior spaces.