34 Dreamy Sage Green Kitchen Design Ideas
When choosing the color scheme for your kitchen, it is crucial to choose one that rises above fickle trends. Sage green is the new neutral color that design experts can't get enough of. Get Inspired by these incredible sage green kitchen ideas! 
The kitchen is a multi-purpose room that goes beyond cooking and storing food. It is also a hub for living, and entertaining. Kitchen design trends are constantly evolving but some kitchen designs tend to stand the test of time. An essential element in any kitchen interior design is the color scheme.
Choosing the right color palette that you'll cherish for decades to come has never been more crucial. There are so many kitchen color schemes that can add character and chicness to your home. For a good reason, the sage green kitchen design style has been in vogue over the past decades.
Firstly, the term sage green refers to an earthly green-gray color that looks like a dried sage leaf.  Sage green is a fresh and subtle shade that can elevate a kitchen giving it a soothing and spring-like vibe. It also complements all shades of wood- making it an ideal color scheme for kitchens and bathrooms.
In this article, we've gathered our 34 favorite sage green kitchen ideas to inspire your next kitchen remodel. Whether you have a traditional, mid-century, or contemporary home, you will find stunning sage-green kitchen ideas that will inspire your current or next kitchen remodeling.
1. Dramatic Sage Green Kitchen
Sage green is a subtle and calming color, hence, you can maximize interest by adding intriguing fixtures. A dramatic kitchen island pendant light is a great way to add visual intrigue and style to your sage kitchen. Fixtures are a tried-and-tested way to add understated elegance to a neutral kitchen in a less intrusive way.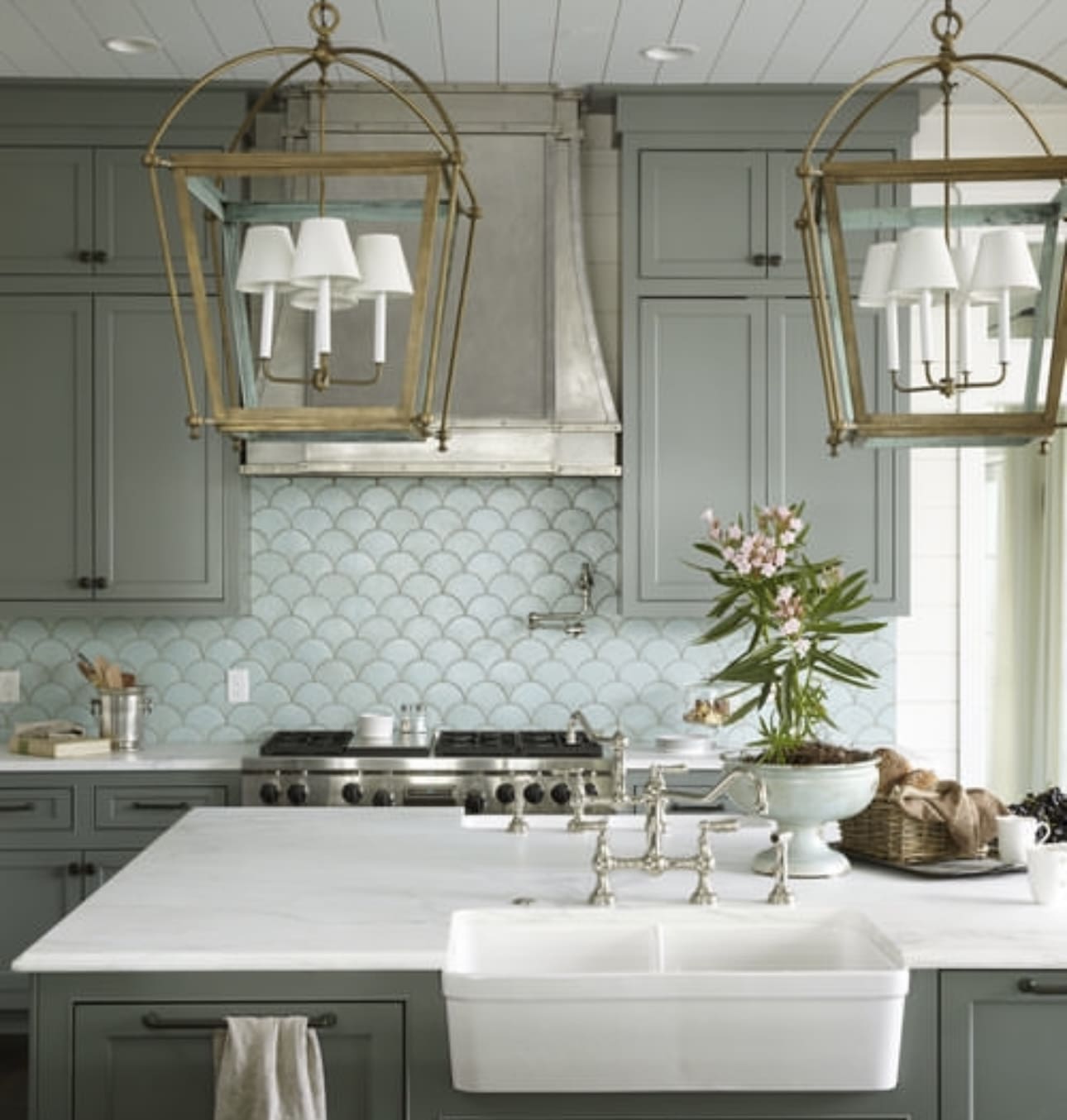 (Image credit: Urban Grace Interiors)
2. Farmhouse-Style Sage Green Kitchen
A farmhouse kitchen design conveys, minimalism, functionality, and a rustic charm. The sage green color scheme is ideal for a farmhouse-style kitchen because it complements all the natural components essential for this interior style. The aesthetics of the kitchen can be elevated using wood, stone, and brass fixtures.
(Image credit: Rebeka Moore Murphy)
3. Modern Minimalism Sage Green Kitchen
Modern minimalism is far from boring when implemented right! A lighter shade of sage green kitchen is adaptable and versatile. This tone is timeless and will add an Irresistible charm to a modern kitchen. Plus, you can add a pop of color with gold fixtures to maximize interest.
(Image credit: Neo Interior Design)
4. Bright and Airy Sage Green Kitchen
To create an illusion of space in a small kitchen, consider white wall paint and take advantage of natural light. Although great for maximizing storage, closed-wall cabinets tend to take up space in a small kitchen. To create an open and airy vibe for your small kitchen, opt out of wall cabinets- instead, consider open-sleeving or glass wall cabinets.
(Image credit: Instagram/VanitybyDesign)
5. Black and Sage Green Kitchen
If you are skeptical about how to incorporate black into your kitchen interior, here is how to do so successfully. Start with a chalk white wall. Then, utilize a sage green kitchen cabinet with black fixtures. Finally add a black kitchen slab, hood, and splashback to tie the room together.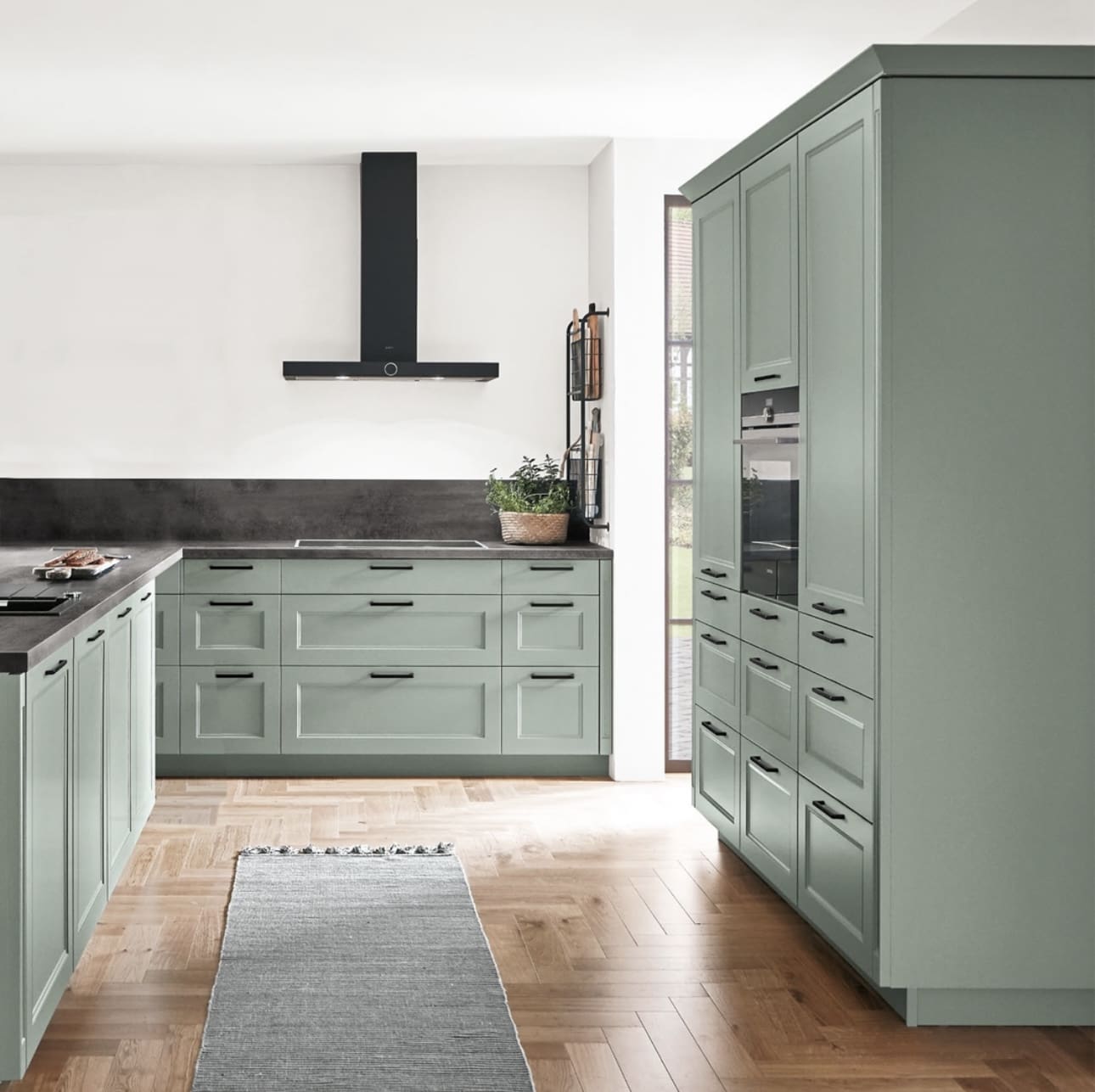 (Image credit: Instagram/Kitchx.official)
6. White and Sage Green Kitchen Cabinet
Combining both white and sage green cabinets adds subtle interest and visual appeal to a contemporary kitchen. Opt for a sage green cabinet paired white wall cabinet. This kitchen design idea is perfect for a modern family home because a sage cabinet at reachable height will hide stains a lot better than the white cabinet at the top.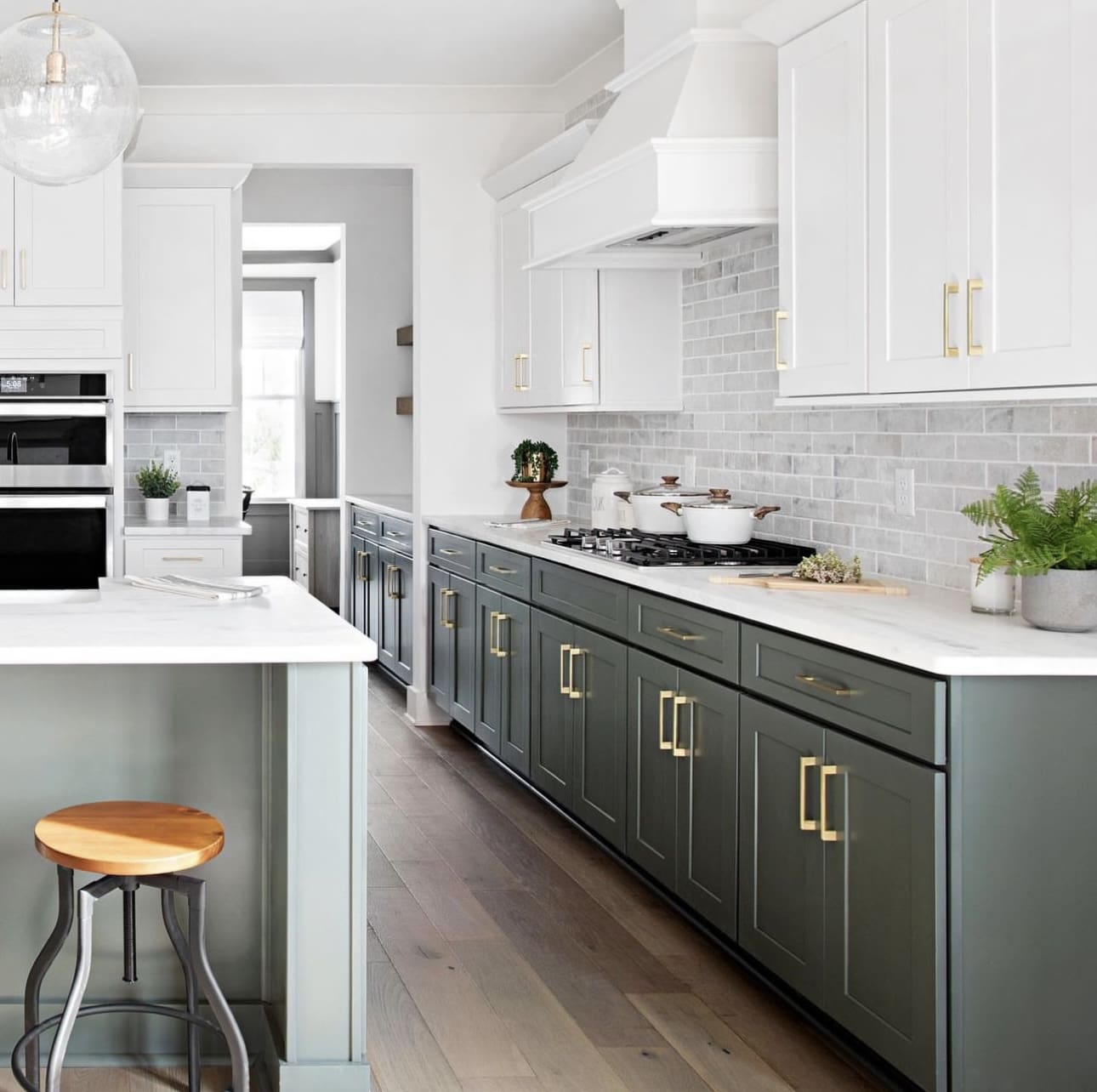 (Image credit: Instagram/Jlv_creative)
7. High Gloss Sage Green Kitchen Cabinet
It's a no-brainer why many people opt for glossy kitchen cabinets in their contemporary kitchens. Not only are they visually appealing, but they are also very easy to clean and will show less dirt and grime compared to other types of kitchen cabinets.
(Image credit: Instagram/Anggun.micasa)
8. Wood Tone and Sage Green Kitchen Cabinet
Earthy tones never go out of style and they sit well against sage green color. This crowd-pleasing palette balances the sage green hue just right and does not overwhelm the space.
(Image credit: Instagram/Underratedxstudio)
9. Rustic Charm Sage Green Kitchen
Minimalism isn't for everyone. Inject an irresistible charm by incorporating a reclaimed wood kitchen island. Also, add warmer tones, plants, and ornate details to create a rustic charm to the kitchen.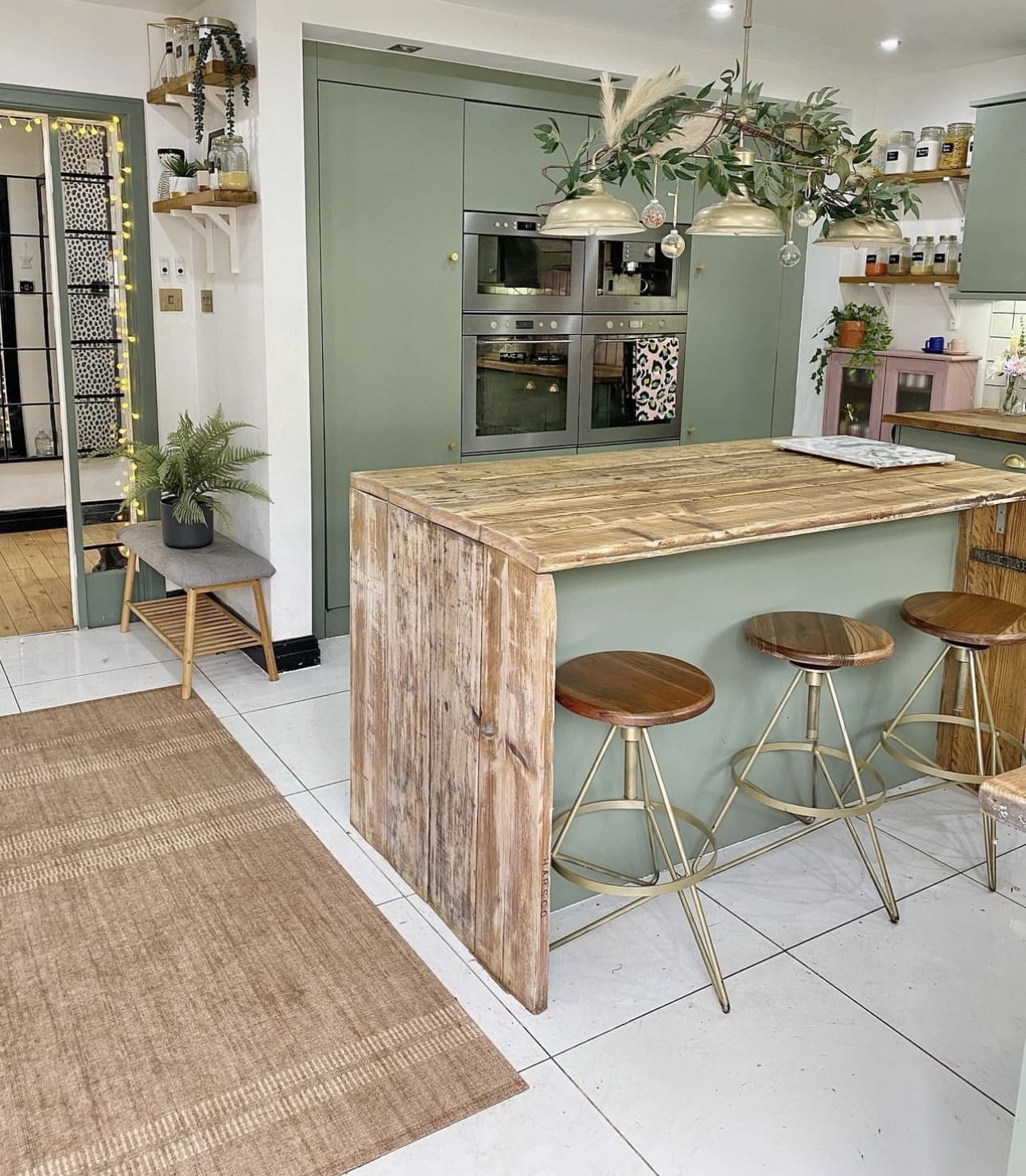 (Image credit: Instagram/loves_leeds_homes)
10. Shaker-Style Sage Green Kitchen Cabinet
Shaker-style kitchen cabinets can be seen in many homes today. They add elegance and style to any home. The shaker-style kitchen design originated from the 18th-century Shakers and has remained timeless ever since. Praised for its simplicity, when adorned with sage green, it creates a stylish and effortless feel.
(Image credit: Karrbick Design)
11. Glass Sage Green Kitchen Island
Evoke character in your kitchen by making your kitchen island stand out. One tasteful way to do this is by incorporating glass cabinets in your kitchen island. To make it more interesting, add lighting inside to illuminate the space. Here, you can display your favorite elegant dishware neatly and stylishly.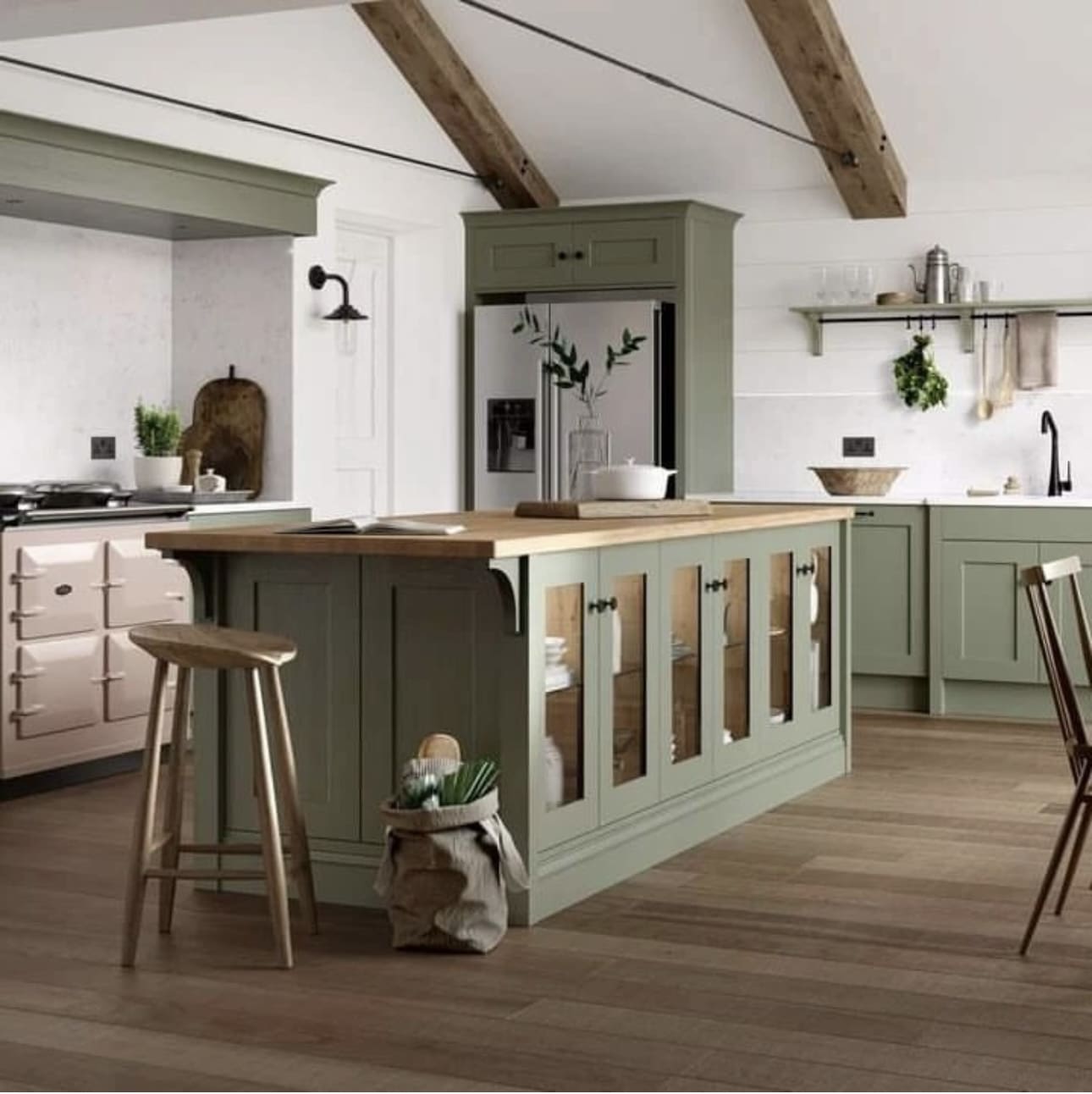 (Image credit: Parker Kitchens)
12.  Carrara Marble and Sage Green Kitchen
Marble is an aesthetically pleasing material that is used in most kitchens and bathrooms. Not only is marble visually appealing, but it is also resilient material that will add a timeless and decorative touch to any kitchen. Incorporating marble countertops and benchtop is sure to elevate your kitchen.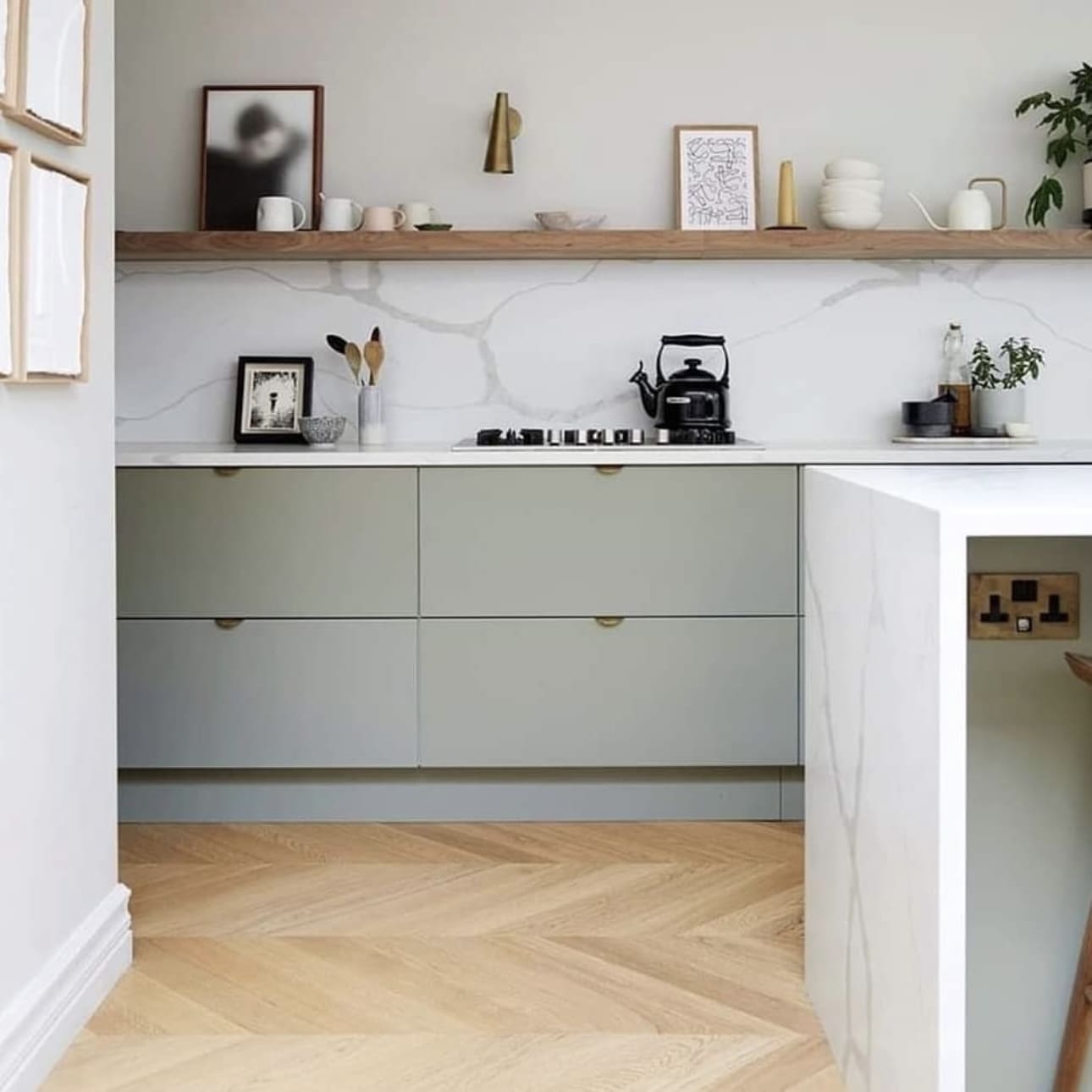 (Image credit: Dezine Interiors)
13. Japandi-Style Sage Green Kitchen
Japandi-style in interior design is minimal yet inviting. It borders on smooth modern lines and a Scandinavian-style design. To. create an effortless Japandi-style kitchen, pair grooved wooden cabinet with sage green cabinet.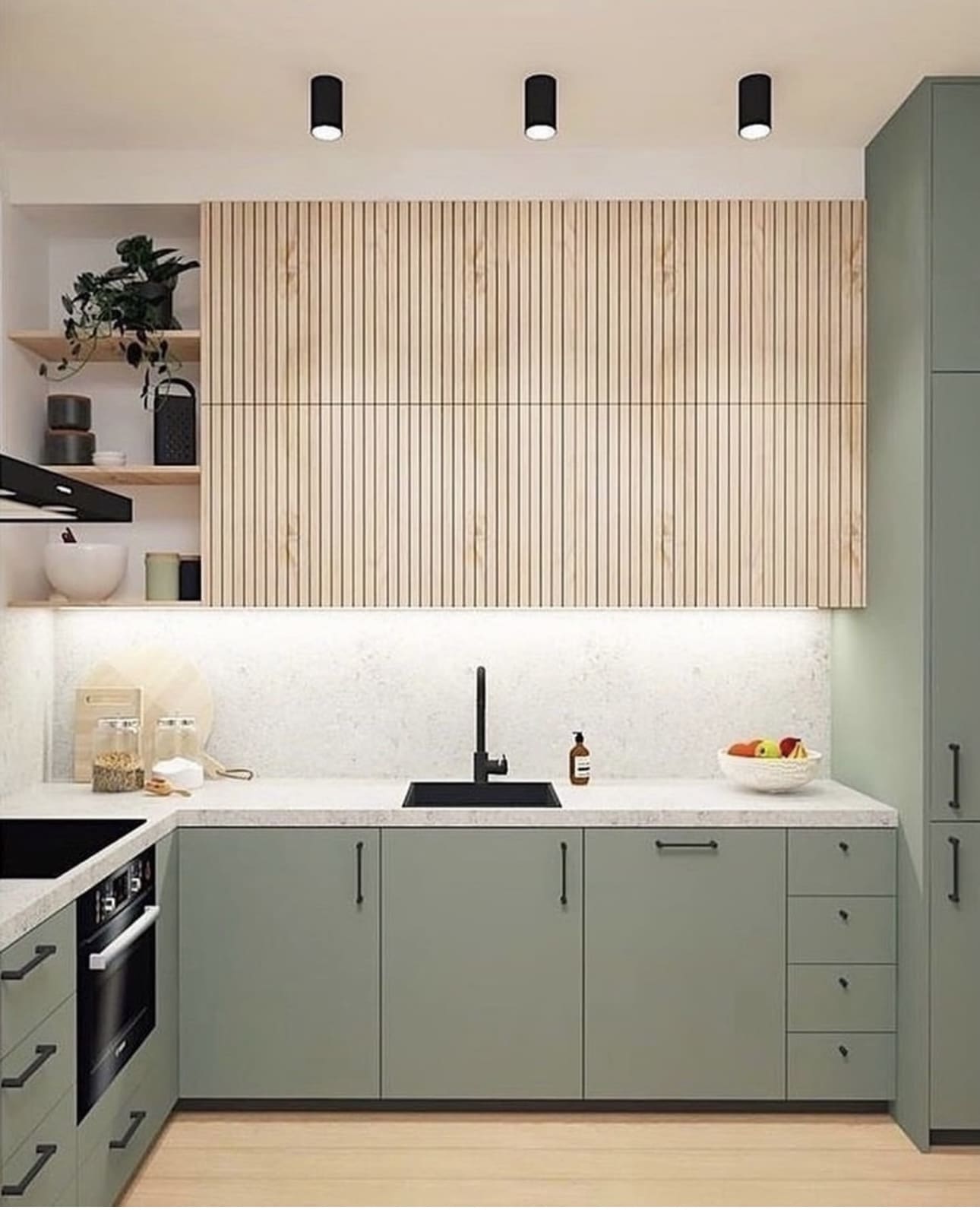 (Image credit: Ciel Shop Interiors)
14. White Kitchen Island and Sage Green Kitchen Cabinet
A stylish minimalist approach is a sage kitchen cabinet paired with a white kitchen island. White is a superb choice to add subtleness and create an illusion is space. This is a color scheme that is sure to create a contemporary spin in even the most traditional home.
(Image credit: Caitlin Flemming)
15. Sage Green Kitchen Island
The kitchen island is the focal point of the kitchen. Instead of opting for sage green cabinetry, you can incorporate this timeless color in just your kitchen island. This will add depth and interest to your kitchen without having to change your cabinets. This works great if your kitchen cabinet is of a neutral and subtle shade.
(Image credit: Instagram/Battys_Bay_Build)
16. Glass Fronted Sage Green Kitchen Cabinet
Glazed glass kitchen cabinet has become even more popular in modern and traditional kitchen designs. They are most often a preferred way to display and illuminate kitchenware in a versatile manner. Glass-fronted kitchen cabinet also helps elevate the kitchen and break the monotony of repetitive solid-fronted cabinet.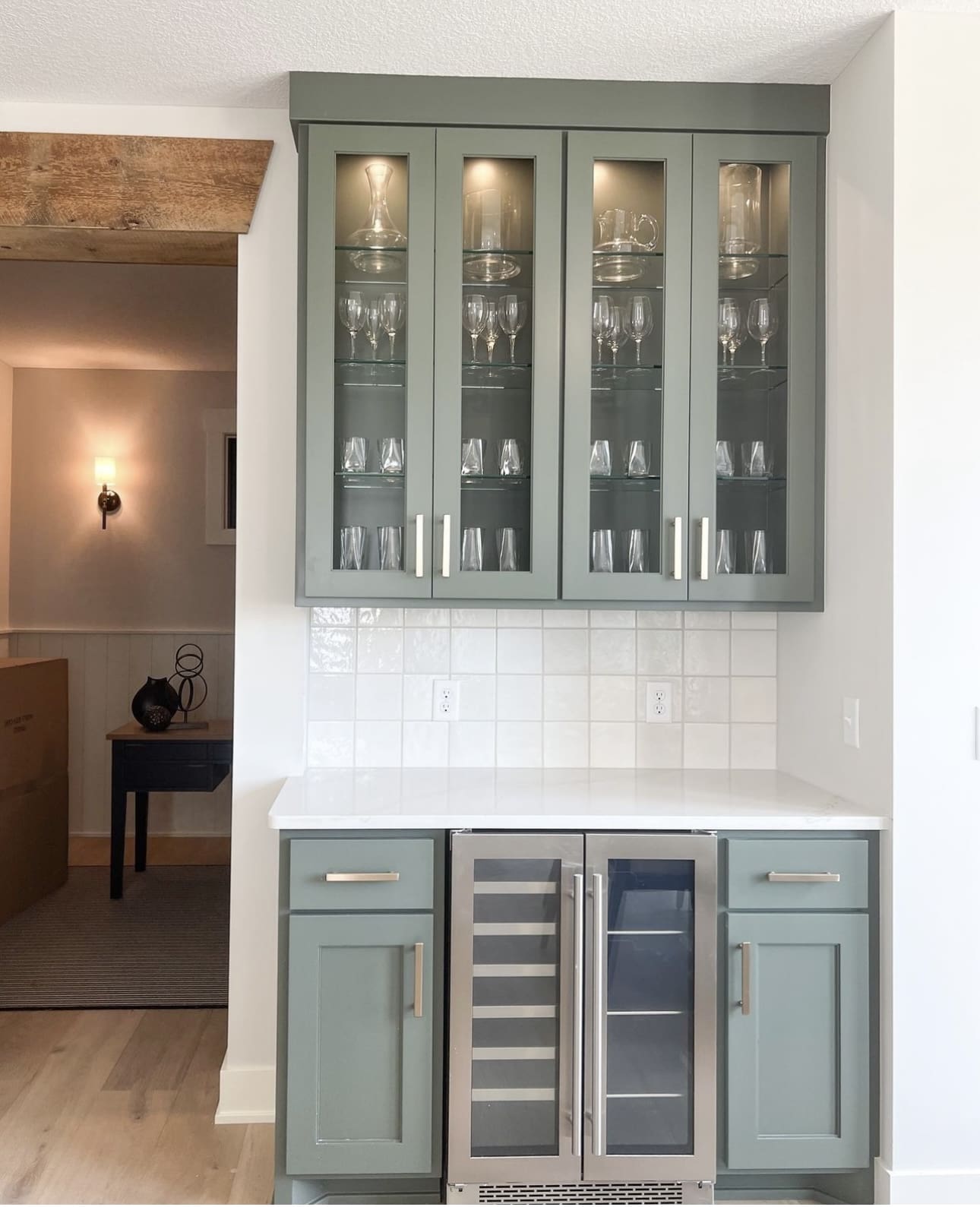 (Image credit: Shelby Mcqueeny)
17. Matching Artwork Sage Green Kitchen
Framed artwork displayed in the kitchen creates an inviting focal point and adds charm to the space. To make your sage green kitchen more inviting, opt for an artwork that features some shade of green.
(Image credit: Shelby Mcqueeny)
18. Matching Wall Sage Green Kitchen
Matchy cabinet and wall is an unusual take on kitchen interior design but it does work with sage green. Since sage green is a muted color, matching the wall with the cabinet adds a chic layer of interest and depth. This idea is particularly suited for a kitchen it plenty of natural light.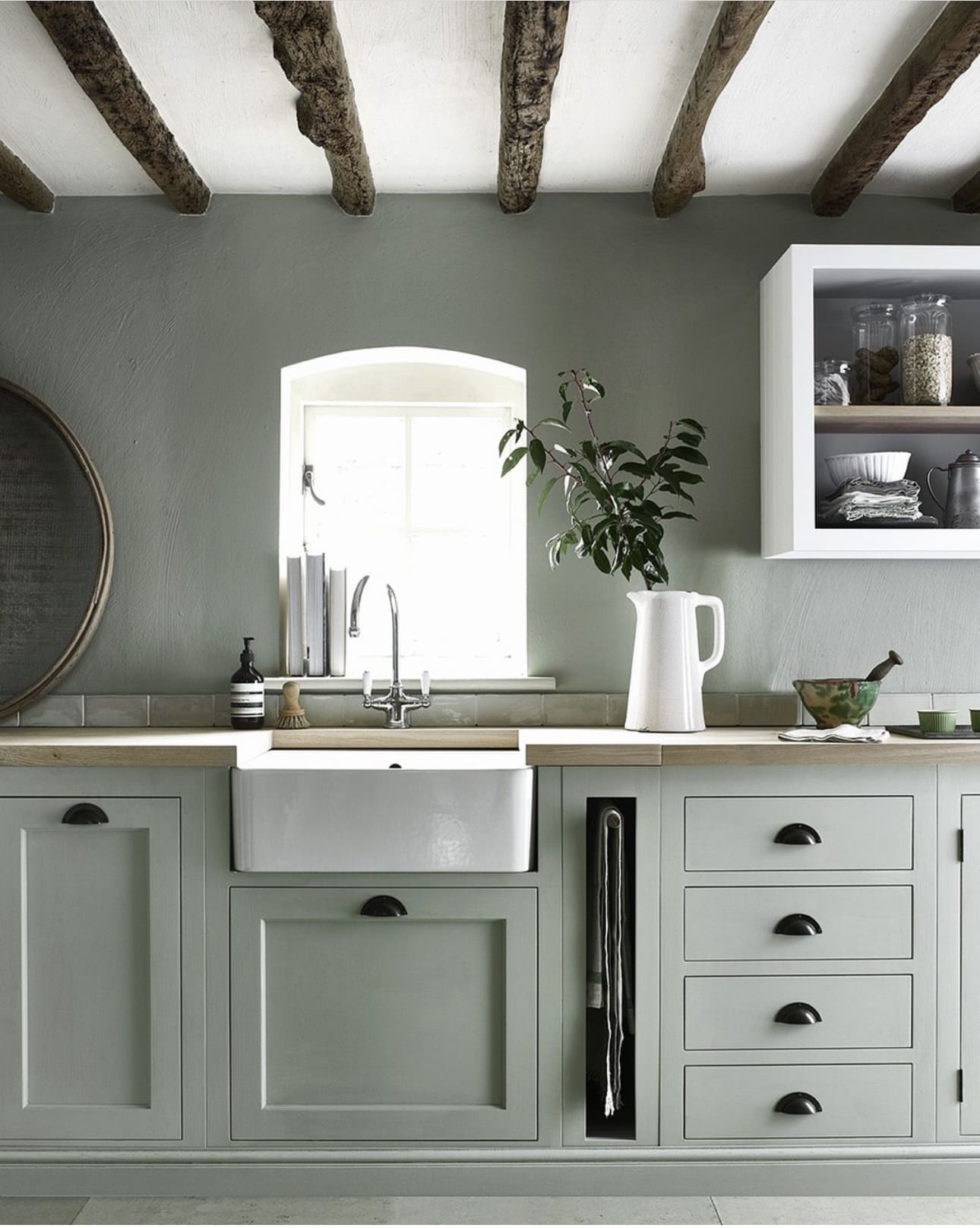 (Image credit: Brick Renovation)
19. A Pop Of Sage Green Kitchen
For minimalism personified in every way, use sage green as an accent color for your kitchen. Most people want to their kitchen be neutral and cohesive, and that is A-Okay!  You can add a sage green pop of color to your kitchen splashback and kitchen appliance.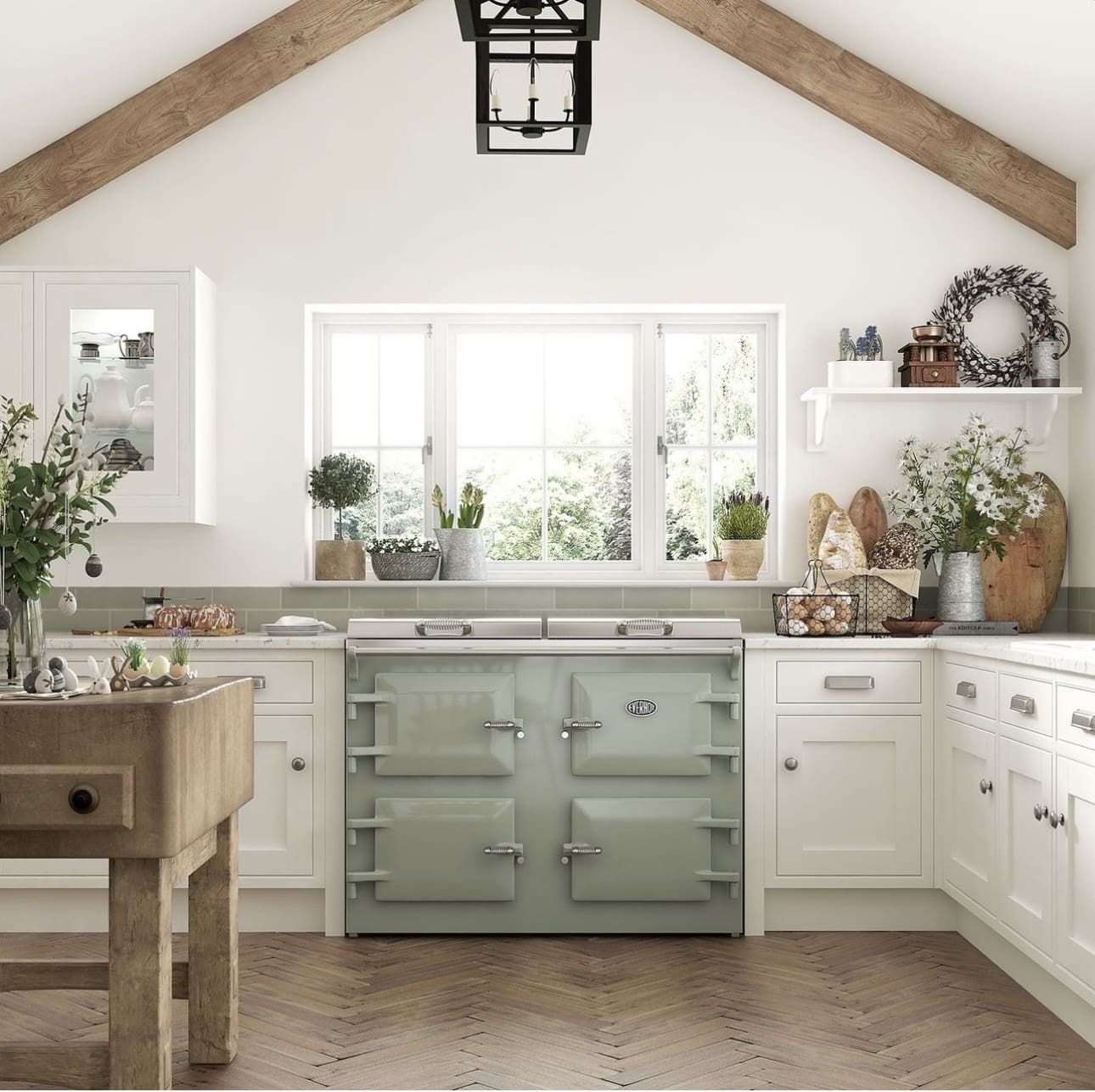 (Image credit: Instagram/Everhot Cookers)
20. Two-Tone Sage Green Kitchen
Another approach to incorporating sage green in your kitchen is to use another shade of green to accentuate the space. This could also be another color. Some colors that work well against sage green are nature-inspired hues such as cream, brown, light gray, and taupe.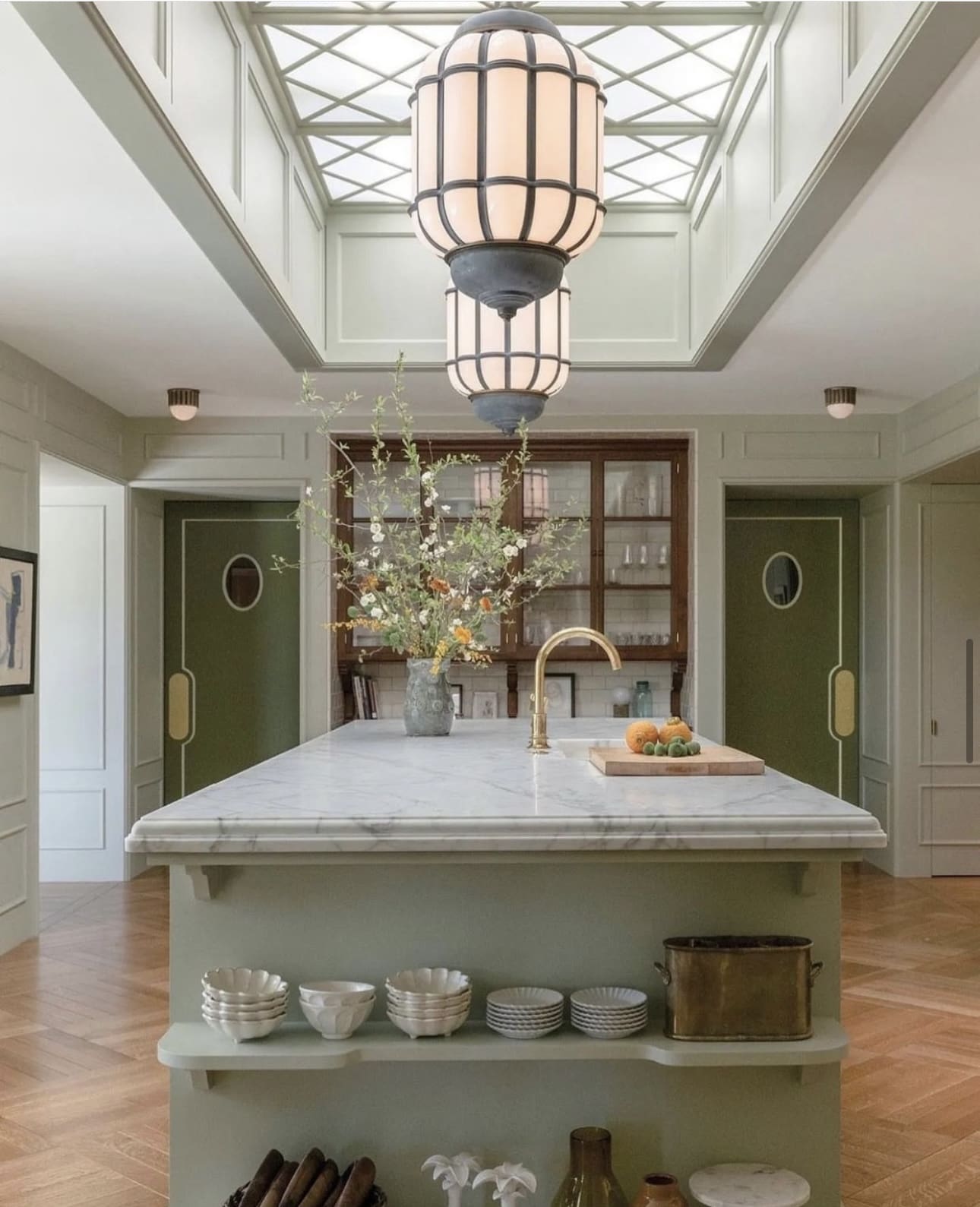 (Image credit: Alison Abney Interiors & Daniel Beck Architecture)
21. Country-Home Sage Green Kitchen
Country homes often have a spacious and airy kitchens. The stylish sage green can also be incorporated into rural life. So, Jazz up your country kitchen with this crowd-pleasing color. You can use this for your kitchen island, countertop, or both!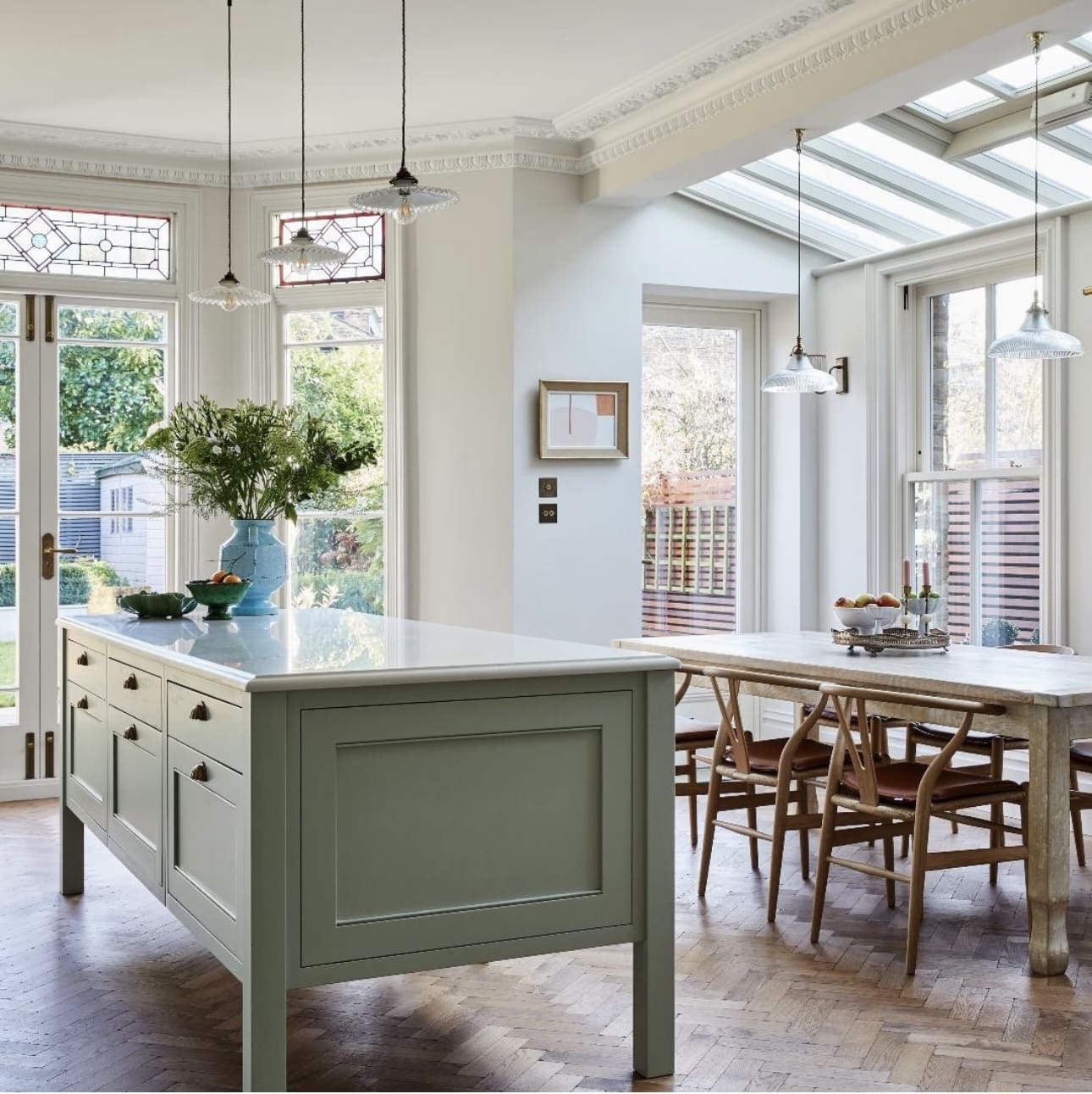 (Image credit: Laura Stephen)
22. Contemporary Sage Green Kitchen
Carefully choosing what color scheme to integral to your kitchen decor is crucial to the overall design. Regardless of the size of your contemporary kitchen, sage green can help elevate the aesthetics in a subtle and chic way.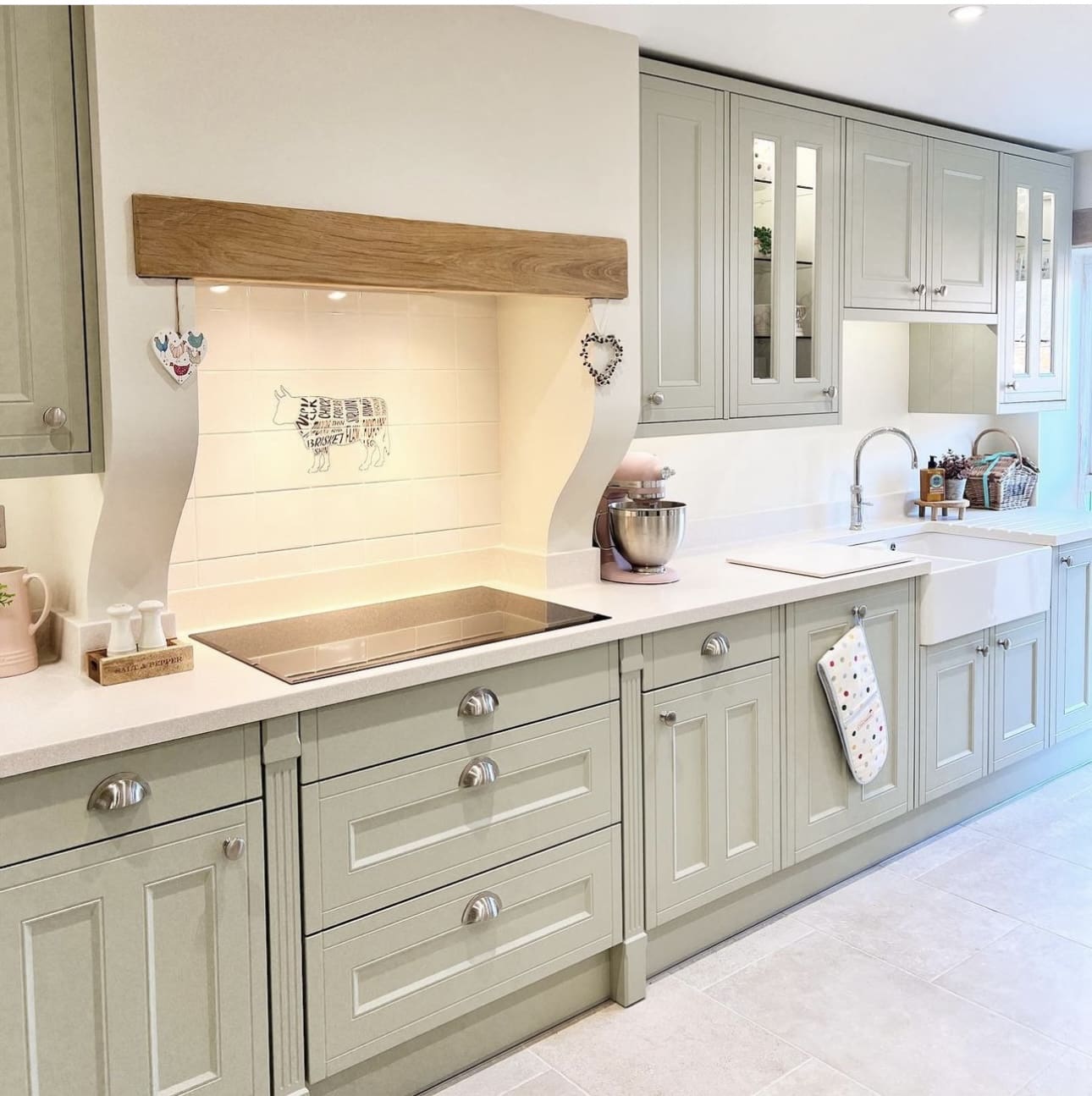 (Image credit: Instagram/Shipponbarn)
23. Matching Floor Sage Green Kitchen
As mentioned earlier, sage green is a muted color that will not overwhelm your space. What that being said, you can add more of this sophisticated color by using a kitchen runner, rug, or carpet of the same color. This is a great way to define and separate your dining area and kitchen if you have them in the same room.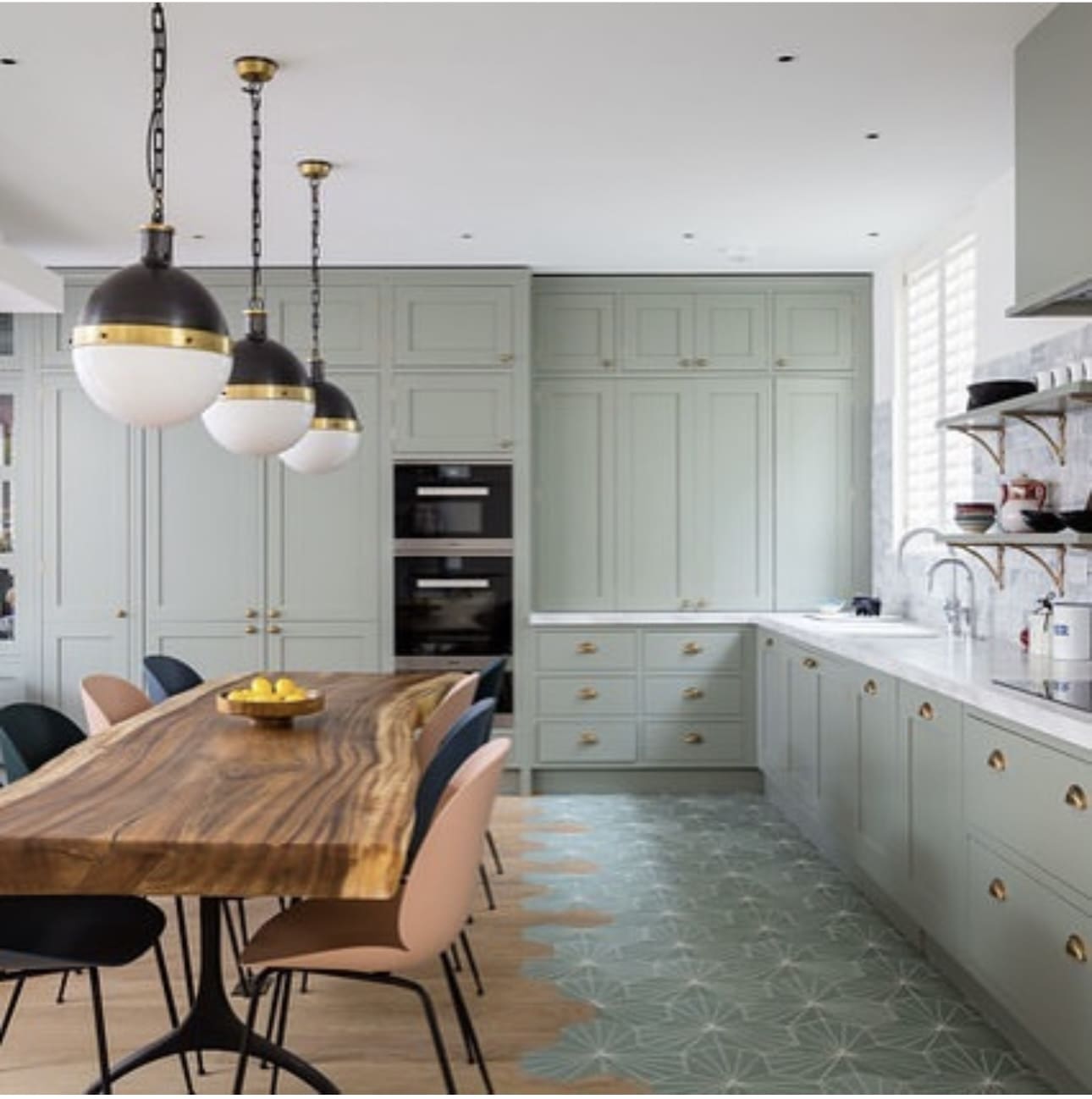 (Image credit: Instagram/Aspire_Interiord_Horbury)
24. Matching Splashback Sage Green Kitchen
A kitchen splashback is an essential element in the kitchen. It is important to think about functionality and style when investing in one. A sage green splashback tile against a sage green cabinet can help tie the room together to create a visually appealing kitchen.
25. Scandinavian-Style Sage Green Kitchen
The Scandinavian-style interior prioritizes minimalism by utilizing a mix of soft hues, clean lines, and texture to create a chic and modern look without sacrificing functionality. You can inject sage green into your Scandinavian-style kitchen by blending it with wood-tone colors.
(Image credit: Armac Martain)
26. Sage Green Kitchen Range Hood
Another way to incorporate sage green in your kitchen alongside your cabinets is to use a sage-green kitchen hood to tie the room together. This helps create a cohesive look by adding visual interest to the space.
(Image credit: Chadess Linger Design)
27. Sage Green Family Kitchen
A functional and visually pleasing kitchen design is important for families because bonding and quality time often take place here. The kitchen island is a vital part of the kitchen. Sage green can add elegance and style to this space- making it more enjoyable to spend family time in.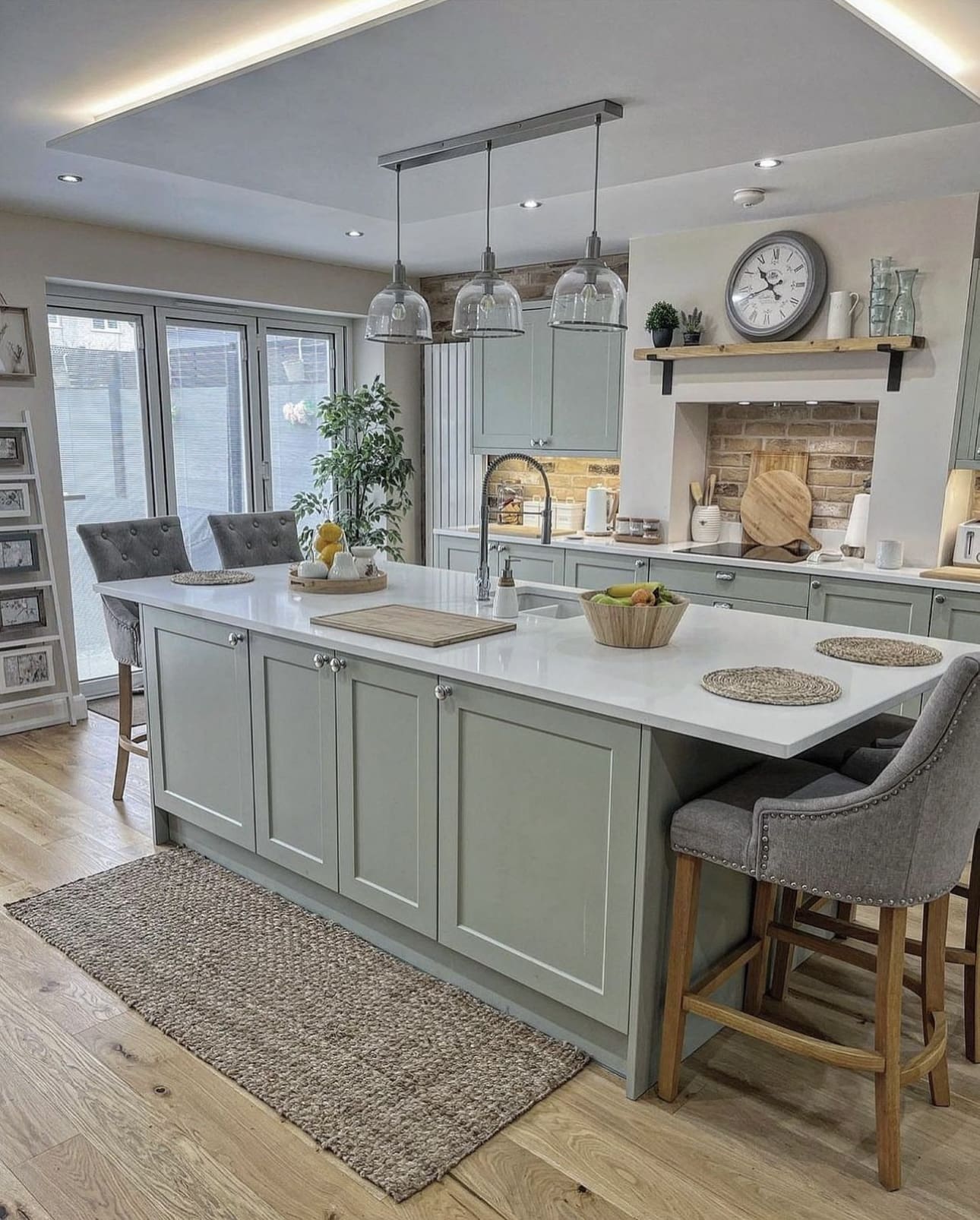 (Image credit: Instagram/home_sweet_morris_home)
28. Sage Green Kitchen Cabinet Against Black Slabs
Black slabs against sage green kitchen cabinets add a sense of drama. This is an elegant kitchen design style to consider if you want a kitchen filled with personality and visual intrigue.
(Image credit: Heidi Caillier Design)
29. Sublime Matt Sage Green Kitchen
For a cohesive and inviting look, stick to matt sage green cabinets, white walls, and a sleek marble countertop. This is a less complicated approach but it can add easy elegance to your home.
(Image credit: Instagram/Howdenshoinery)
30. Sage Green Kitchen Cabinet Against Green Walls
Other shades of green also compliment sage green. Opt for green color with a different hue for the wall paint to add some flare and inject personality into your kitchen. This gives it an impactful edge, particularly against white wall cabinets and splashback.
(Image credit: Instagram/littleterracedhouseonthehill)
31. Cottage-Style Sage Green Kitchen
Cottage kitchens are loved for their original and rustic features such as high ceilings, ceiling beams, stone flagstone floors, and weathered inglenooks. This makes sage green a great choice for this kitchen style.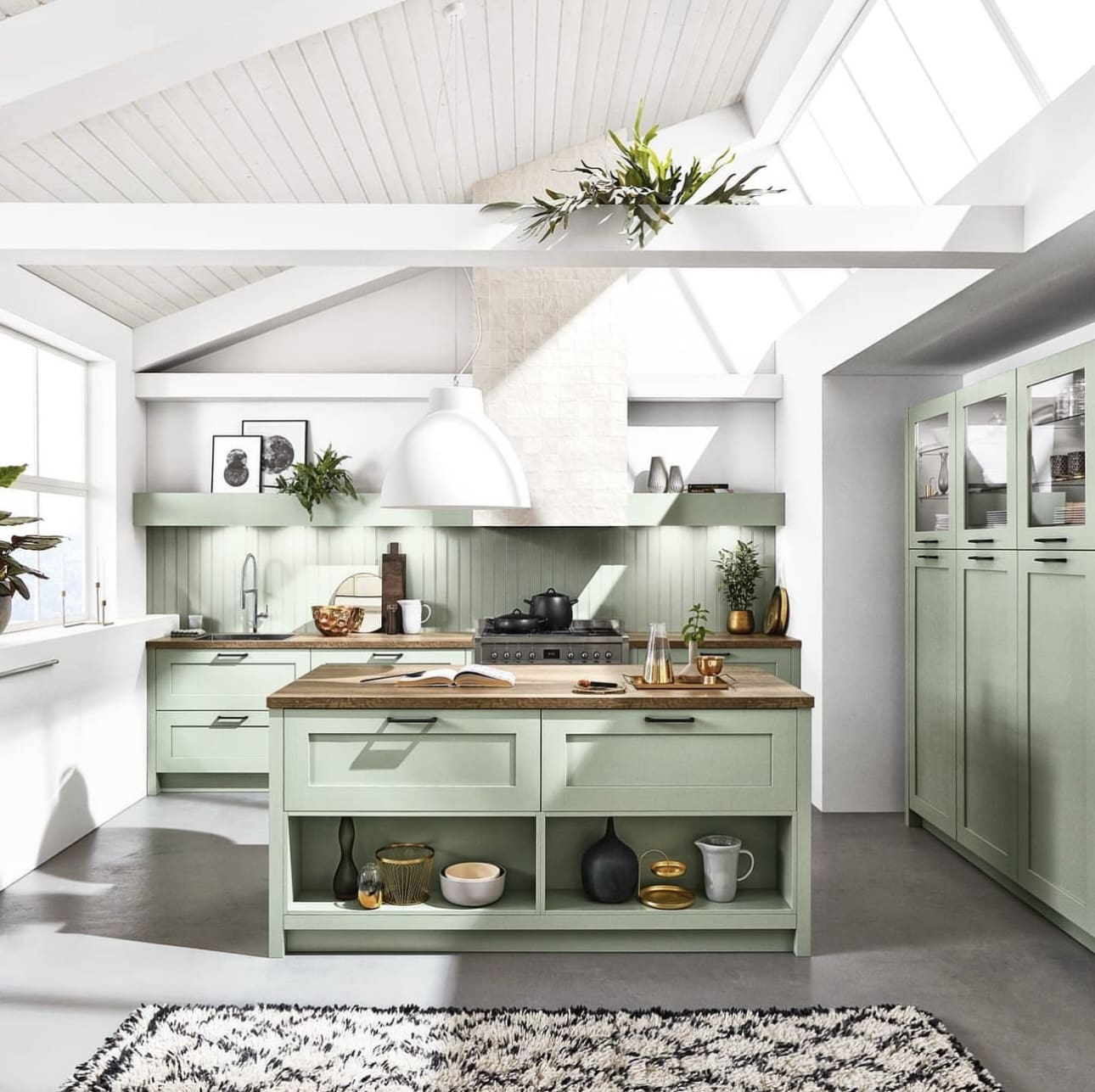 (Image credit: Instagram/Hack_kitchens_northamerica)
32. In-Built Sage Green Kitchen Cabinets
A kitchen with an abundance of space is most people's dream. Storage is essential in any kitchen design. Sage green is sure to add interesting visual effects and irresistible charm to your in-built kitchen cabinet.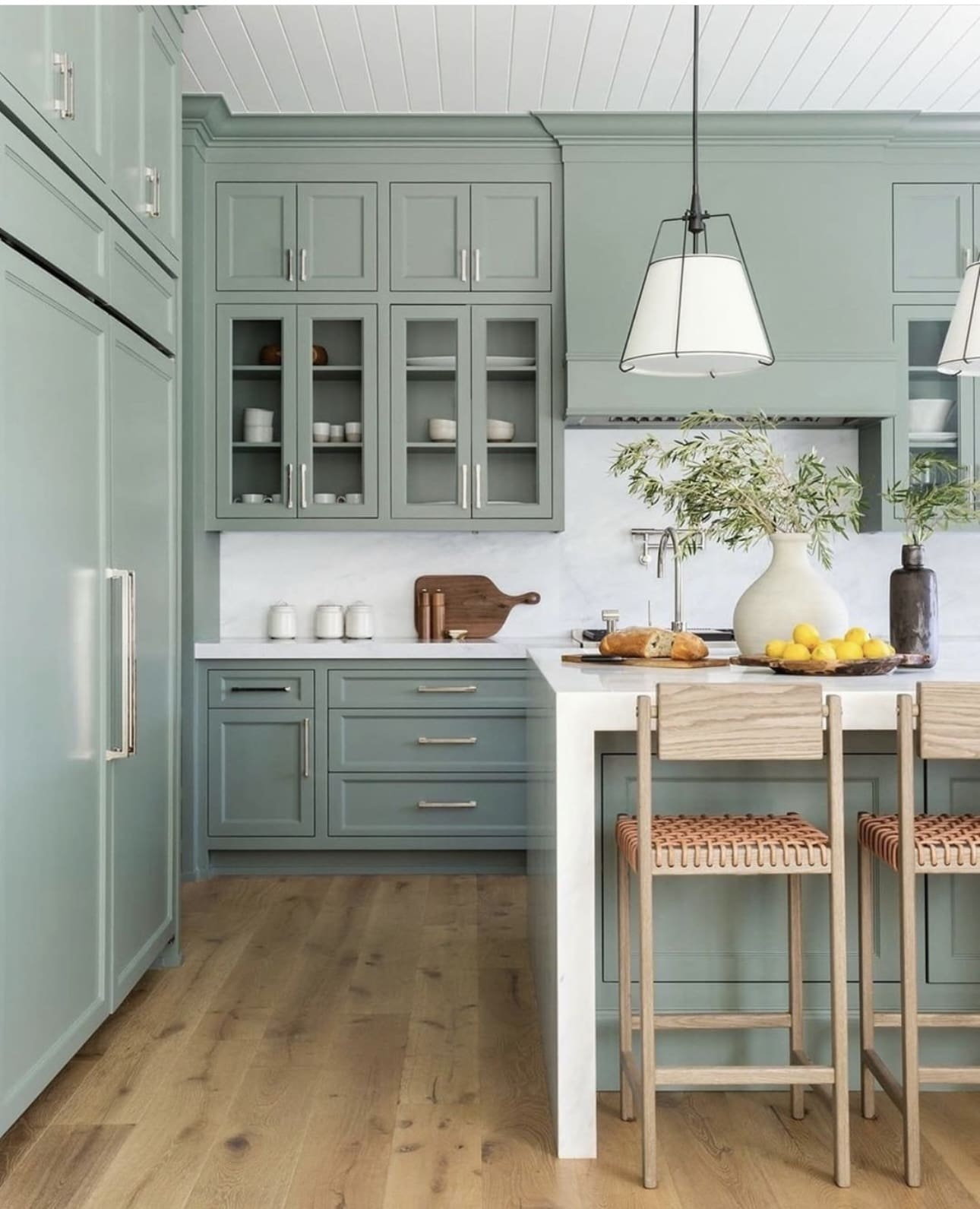 (Image credit: Instagram/Aspire_Interiord_Horbury)
33. Open Sage Green Kitchen Island
Open kitchen islands are great when incorporated right. This will be open for everyone to see, hence, you should store only items that are functional but also decorative such as cookbooks and chic kitchenware. This kitchen island style is especially ideal for small kitchens.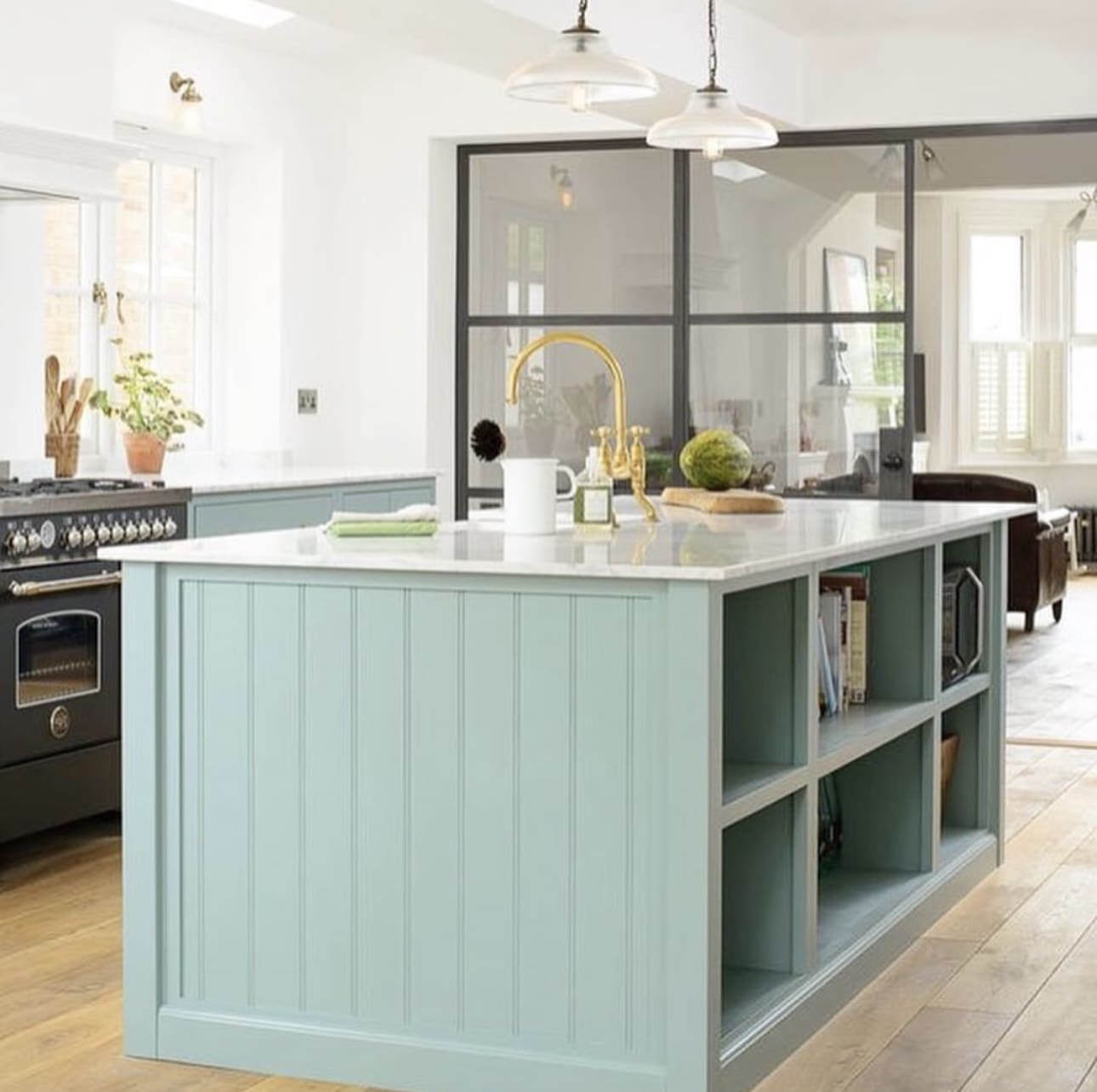 (Image credit: Instagram/Aspire_Interiord_Horbury)
34. Sage Green Kitchen With High Cabinetry
Sage green is ideal for high cabinets because it is a muted color that overwhelms a space. Sage green gives a spring-like and inviting vibe. You can also incorporate glass-fronted cabinets to maximize interest and tie the room together.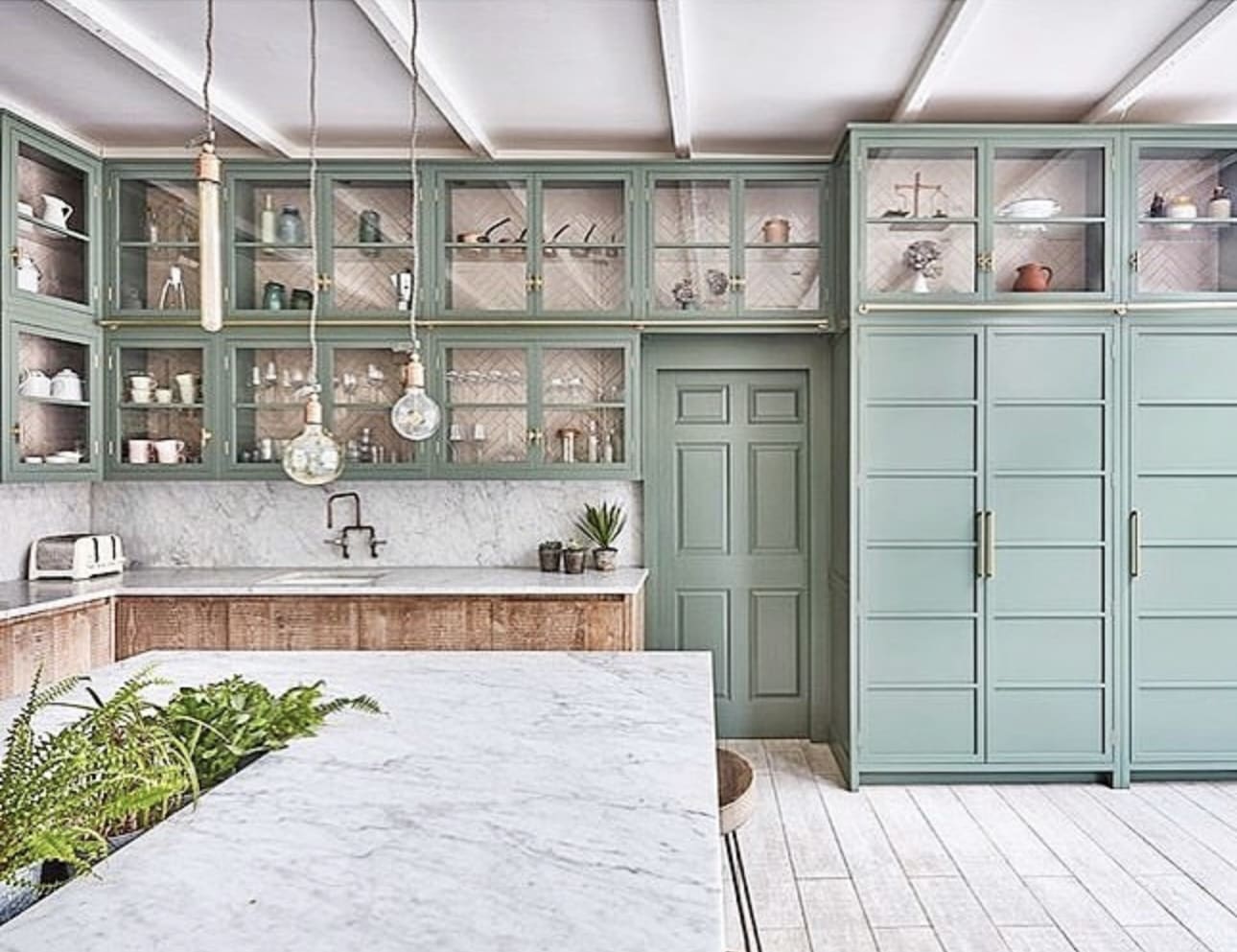 (Image credit: Instagram/Aspire_Interiord_Horbury)