20 Best White and Blue Christmas Tree Ideas
Yaay…It's almost time for the most exciting holiday. If you want a subtle yet invigorating Christmas tree this year, check out these alluring white and blue Christmas tree ideas.
Christmas is often a joyous time for everyone, except the Grinch of course. There are so many exciting things about this holiday but Christmas trees are like the cherry on the cake. No Christmas is complete without a tree!  What could get anyone in the Christmas spirit quite like decorating the Christmas tree with ornaments, baubles, and lights?
Decorating a Christmas tree also allows people to showcase their individual style and creativity. The most common types of Christmas trees are green, white, and frosted. Real Christmas trees have a green hue, but the artificial white and frosted Christmas tree gives the space a wintery and snowy feel. In addition, these Christmas trees make the baubles and ornaments pop.
There are special skills needed for decorating an aesthetically pleasing Christmas tree. The good news is that the tree doesn't have to match your existing interior design scheme. The first step is to determine the color scheme you would like for your Christmas tree. You can gather inspiration from this blog post, Pinterest, Facebook, Instagram, etc.
Once you have decided on the style of Christmas tree you'd like, the next step is the go shopping for the items. Once you have everything you need, it's time to get on with assembling the tree and placing the ornaments on it.
To help inspire a wintery or coastal Christmas tree theme, we have curated 20 white and blue Christmas trees that we think you would like.
Read on to get inspired!
1. Frosted/Flucked White and Blue Christmas Tree
The best way to make your home feel like a winter retreat during Christmas is to invest in a high-quality frosted or flocked Christmas tree. These types of Christmas trees are easy to decorate as the snow effect adds some aesthetic flair to them. Keep quality in mind when purchasing this type of tree as some may look unrealistic and tacky.
The difference between a frosted and a flocked Christmas tree is that a Frosted tree has a soft dusting of snow (lightly coated) and a Flocked tree looks like it has been caught in a snowstorm (heavily coated).
Image Source:
Cuckoo 4 Design
2. Beaded Christmas Tree
Beads are ornaments that can add an air of elegance to your white and blue Christmas tree and garland. Adding silvery beads to your Christmas decor evokes a grand sort of opulence.
Image Source: Nissalynn Interiors
3. Turquoise Blue and White Christmas Tree
If you want to create a beachy vibe to match your coastal chic home, consider a turquoise blue accent on a flocked tree. This color scheme is eye-catching and it is sure to stand out. Instead of using snowflake ornaments, consider placing starfish ornaments on the tree.
Image Source:
Breezy Designs
4. Subtle Gold Accents on Blue and White Tree
A hint of gold accents can really help to make your Christmas tree pop. This Christmas tree design idea has a streamlined or minimalist feel. It strikes the perfect balance between serene and stimulating.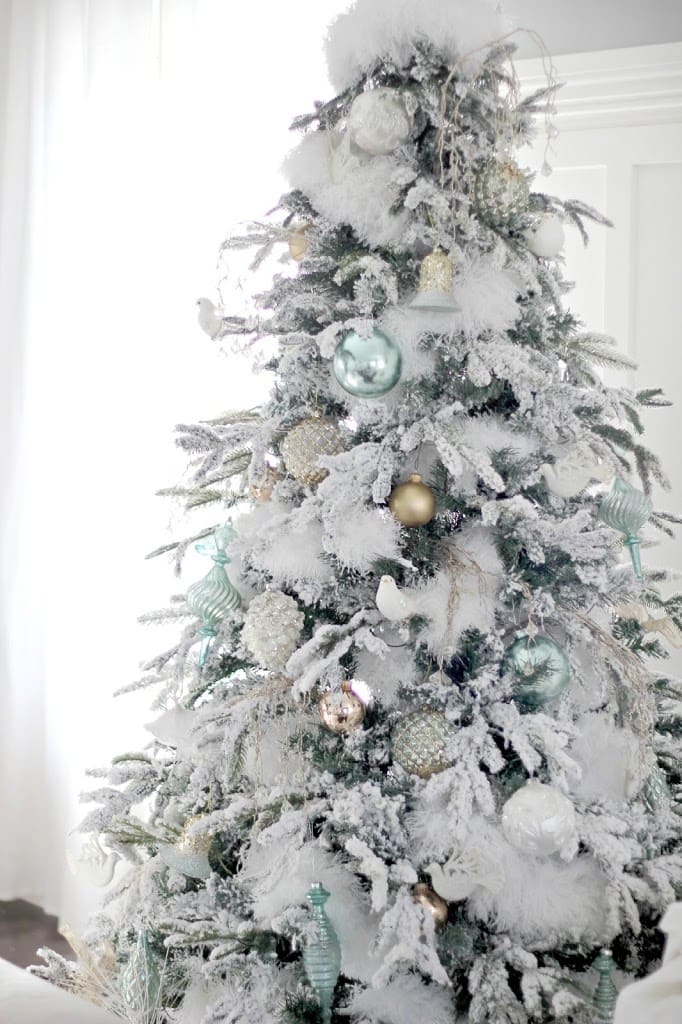 Image Source: Craftberrybush
5. Elegant White and Pale Blue Christmas Tree
Add glamour and elegance to your Christmas tree by embracing a white and pale blue scheme with lots of ornaments. Use gold and pale blue ribbons to give the room real zest and energy.
Image Source: Citrine Living
6. Spa Blue and White Royal Style Tree
Spa blue is a medium blue that resembles turquoise. When paired with a flocked tree, it can create a bold, rich, yet simple statement. Gold accents and warm lights can lend a touch of vibrancy to this scheme.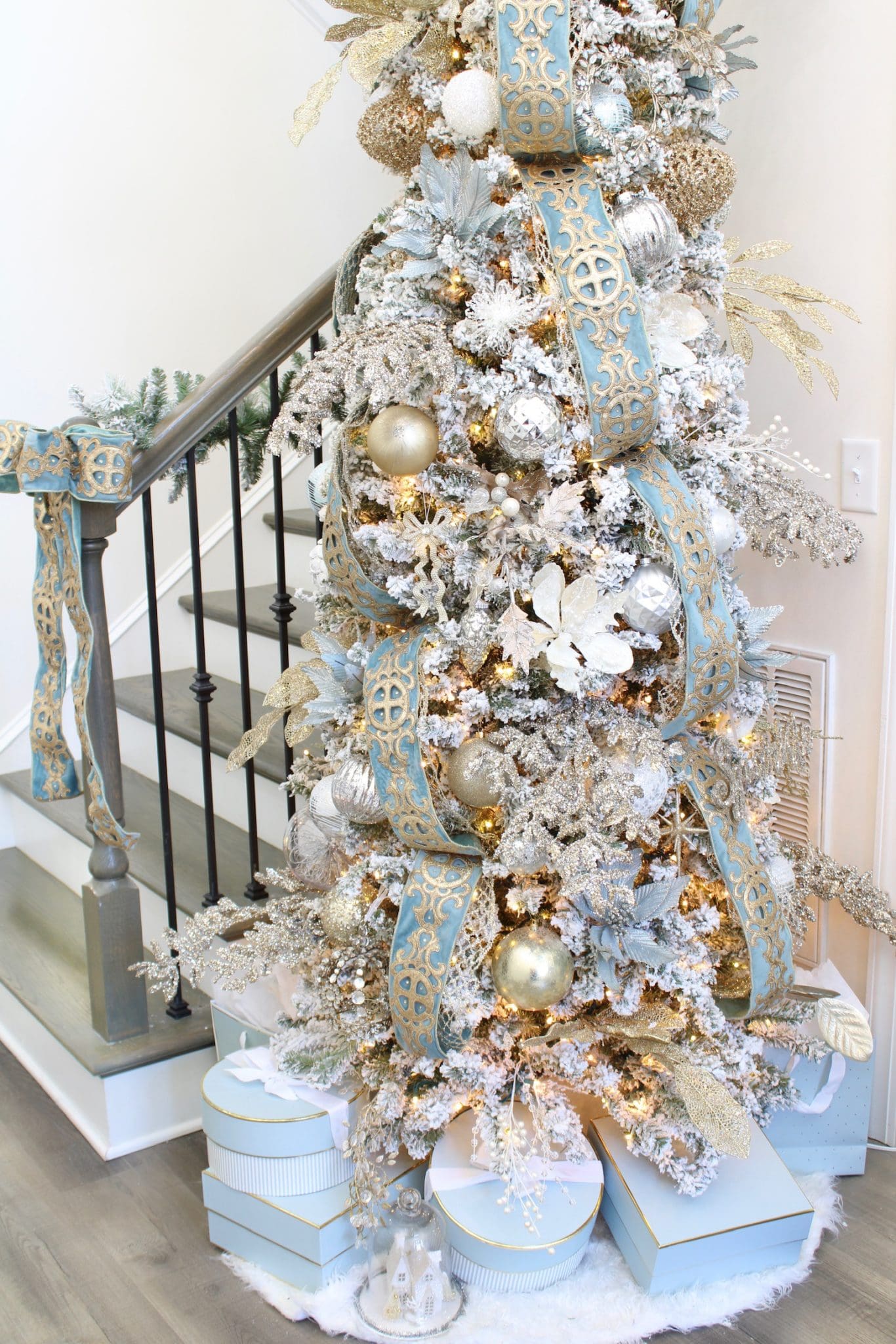 Image Source:
Summer Adams
7. Rustic Style White and Blue Christmas Tree
Christmas trees are temporary additions to the home and do not have to complement an existing scheme. However, when they complement a home's design style, they can make a big impact. For instance, the rustic interior style conjures up feelings of being in nature, hence a rustic-style Christmas tree would incorporate a variety of dried botanicals and other elements found in nature.
Image Source: Cuter Tudor
8. Minimalist White and Blue Tree
Sometimes, it is best to keep things simple, especially if you have space or budget constraints. As mentioned earlier, flocked trees do not necessarily need much decorating. A few white, silvery, and blue baubles are sufficient for a small size tree.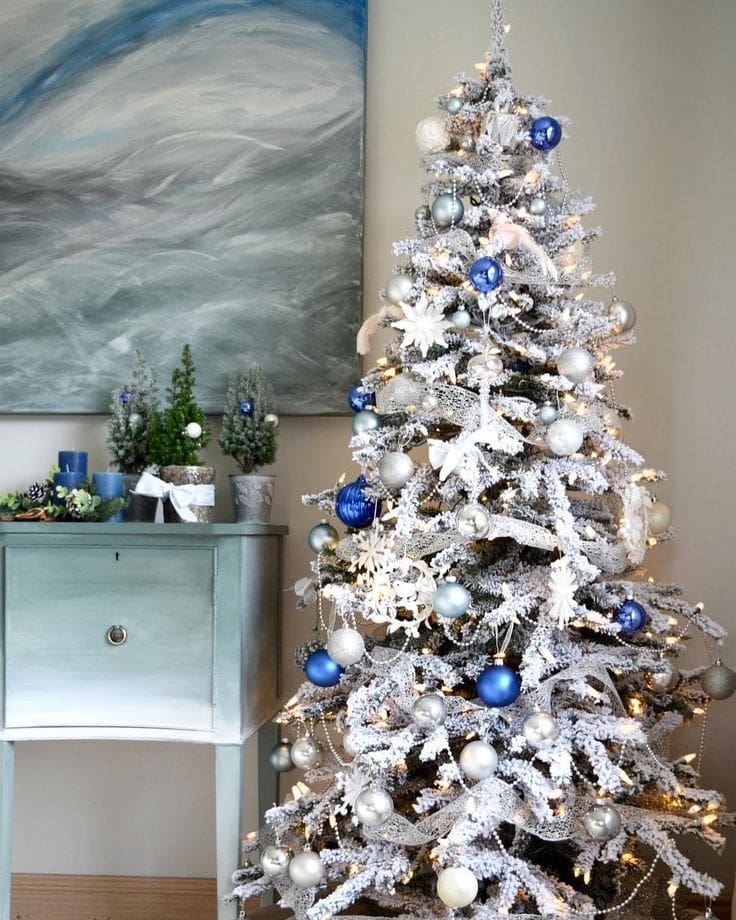 Image Source: From Evija with Love
9. Navy Blue and White Christmas Tree
Navy blue is a sophisticated dark blue shade that is easy to work with. When paired with a flocked Christmas tree and gold accents, it can create an elegant and refined Christmas tree decoration.
Image Source:
Cuter Tudor
10. White and Blue Christmas Tree with Warm Lights
Most people then go for warm lights because the yellowish hue and golden tinge make a room feel soothing and cozy. Warm lights will make your white and blue Christmas tree pop better compared to cool light with a bluish shade.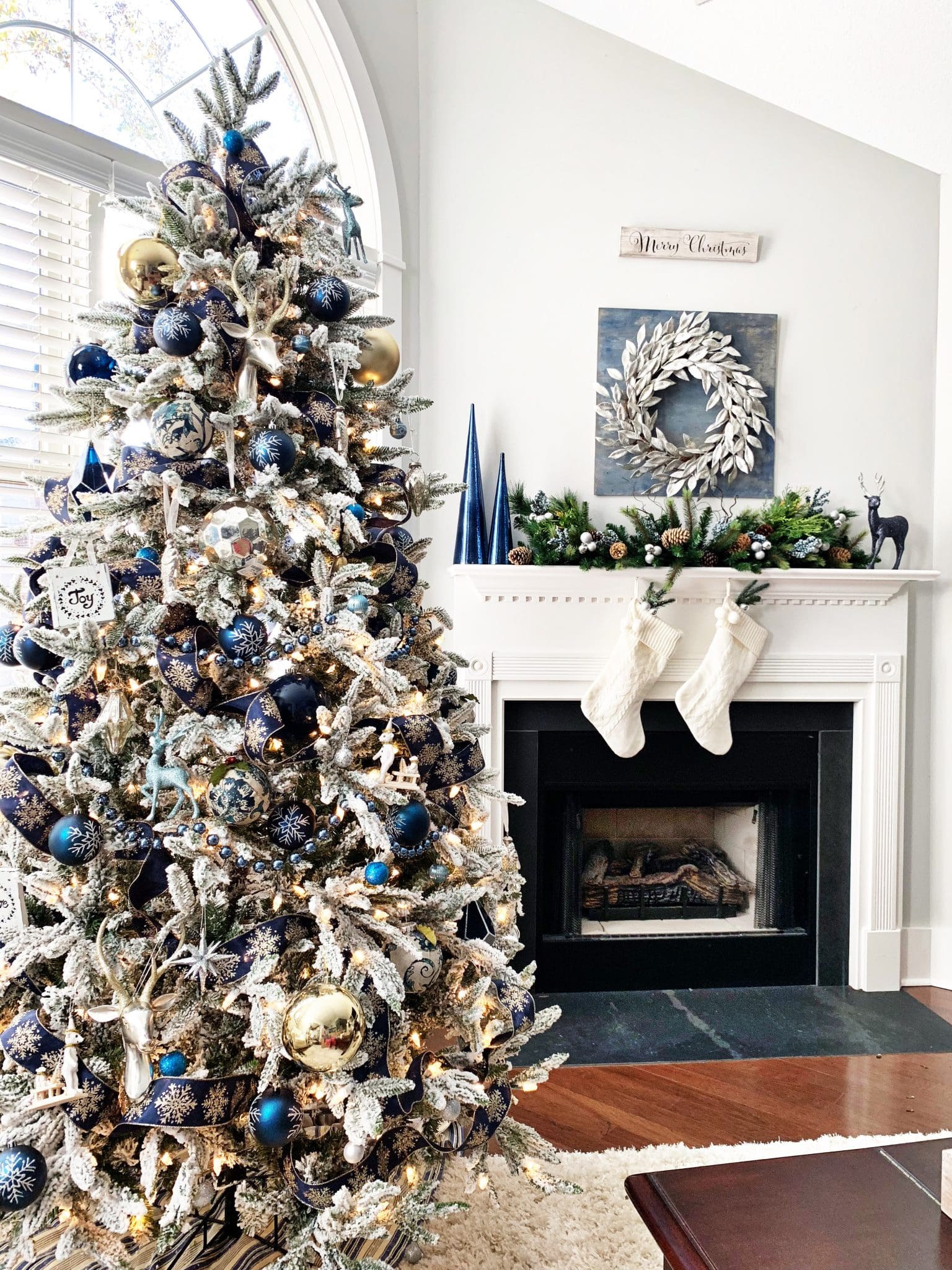 Image Source: 2 Bees in a Pod
11. White and Blue Christmas Tree with Matching Gift Box
Christmas trees often look incomplete until there are gift boxes displayed underneath them. If you don't have real gift boxes to display, consider creating one for aesthetic purposes. Get empty boxes, wrap them up with wrapping paper and ribbon that matches your Christmas tree color scheme, and place them underneath the tree.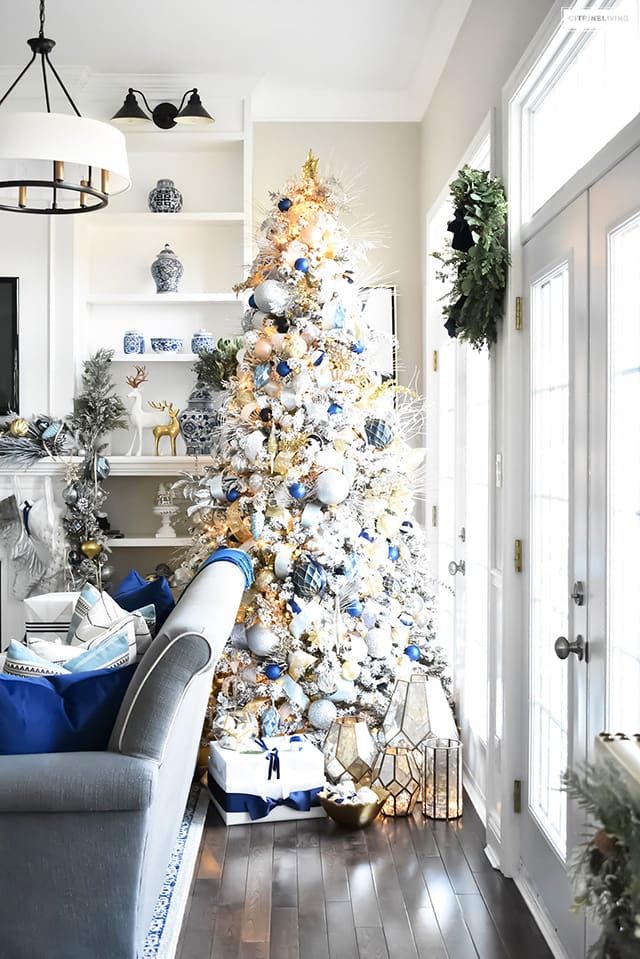 Image Source: Citrine Living
12. Blue and White Christmas Ribbons
Ribbons are commonly used for Christmas tree decorations because they are inexpensive and add an extra layer of interest to the tree. They also lend a polished and refined look to a Christmas tree. Opt for ribbon colors that match your baubles and consider a wide Tartan or Tulle ribbon. Ribbons that are between 2 and 4 inches are the best size to use on Christmas trees.
Image Source:
Tibbids and Twine
13. Pastel Blue and White Christmas Tree With Gold Ribbons
Pastel blue is a perennially sophisticated shade that is calming to the eyes. When paired with a frosted Christmas tree and gold ribbons, it embodies richness, tranquility, and aesthetic appeal. Instead of plain ribbons, consider using Jewel-style Ribbons for a refined sense of style.
Image Source: Blue Gray Gal
14. White and Blue Christmas Tree with Black Accent
What colors go with a white and blue Christmas tree? Black is a great color to add to this scheme. Use black baubles sparingly across the Christmas tree. This will infuse a new character and add a hint of drama to the tree without overwhelming it.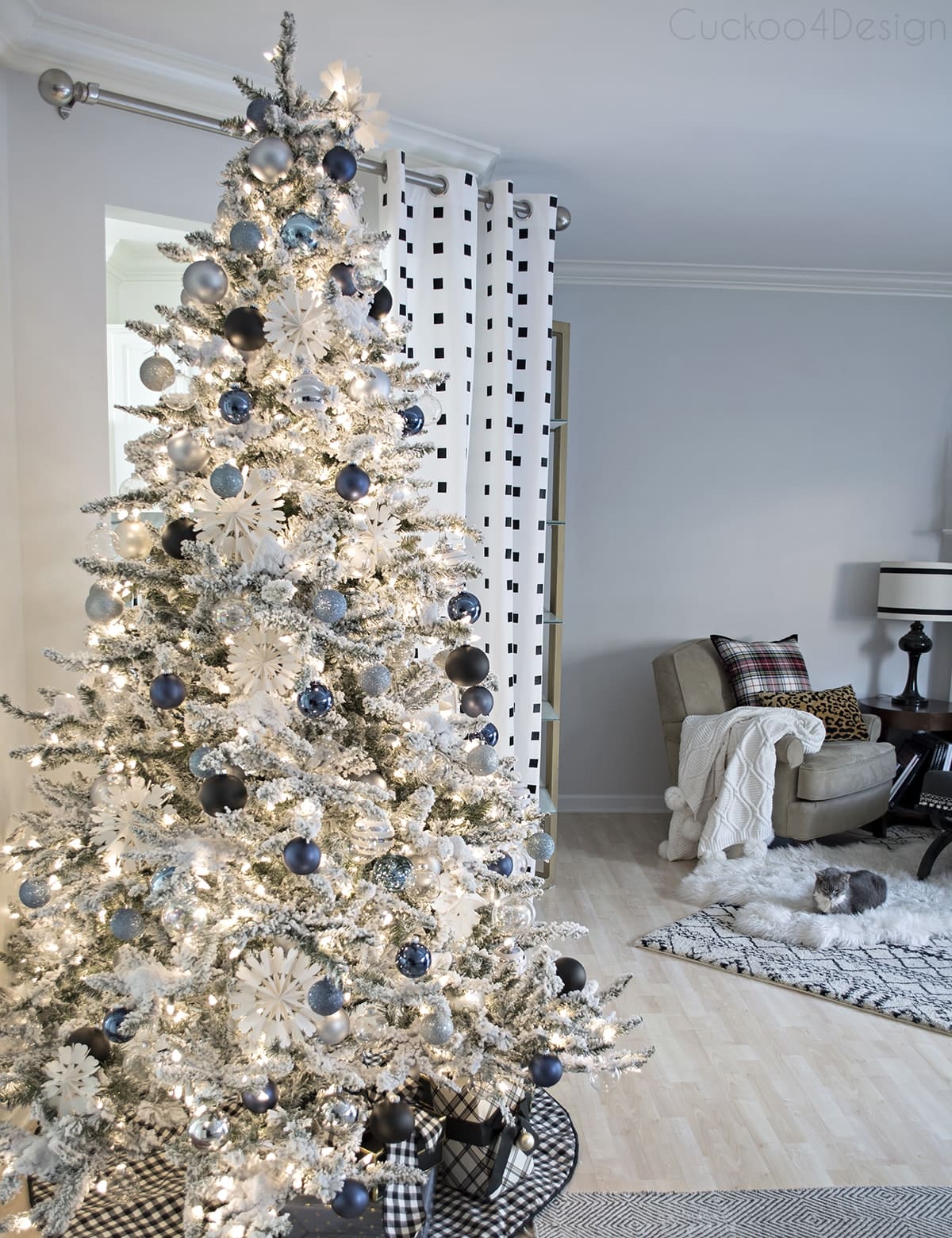 Image Source: Cuckoo 4 Design
15. Flocked Christmas Tree with a Hint of Blue
For a minimalistic approach, consider using just a few dark blue baubles. This white and blue Christmas tree style lends a clean, streamlined look to a space. If minimalism is your style when it comes to Christmas tree decorations, then this idea may the perfect for you.
Image Source:
Tag and Tibby
16. Muted Blue and White Tree
If you don't want the blue to be pronounced, consider using a muted shade of blue ribbons instead of baubles. Keep things interesting with gold-toned accents. This Christmas tree decoration idea strikes the balance between minimalism and modernity.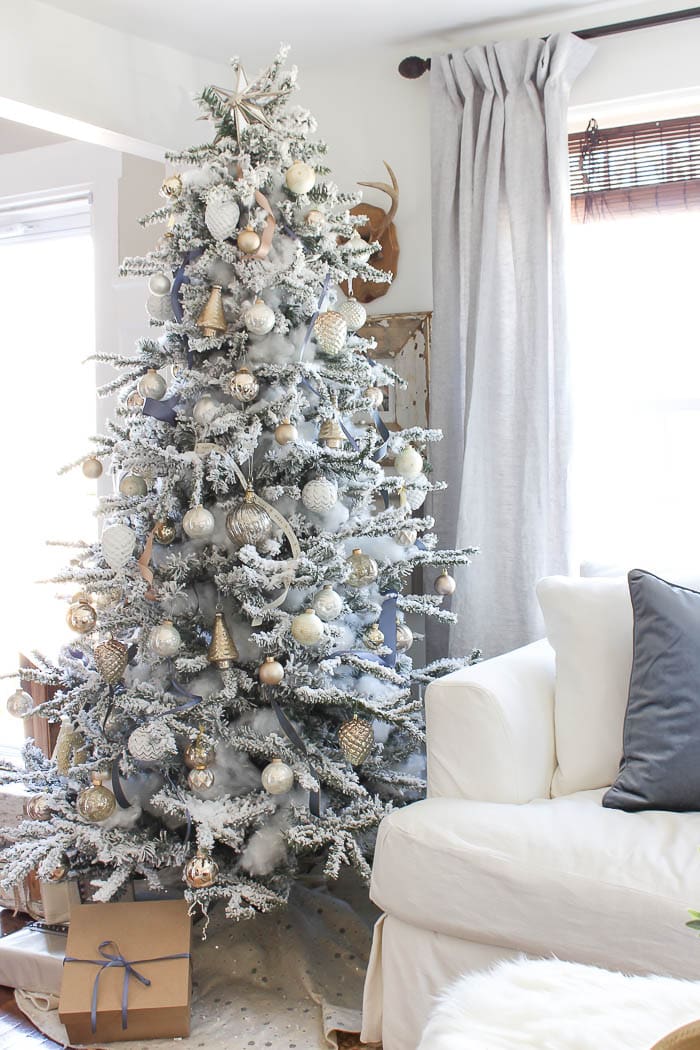 Image Source: Room for Rent Blog
17. Blue Satin Ribbon Christmas Tree
Sabin ribbons are an easy way to lend a sophisticated sheen and luxurious feel to your white and blue Christmas tree decoration.
Image Source: 11 Magnolia Lane
18. White and Blue Christmas Tree with Copper Accents
Just like gold, copper baubles can also add charm and liveliness to a blue-white Christmas tree. Copper radiates elegance and sophistication and will fit in most Christmas tree color schemes.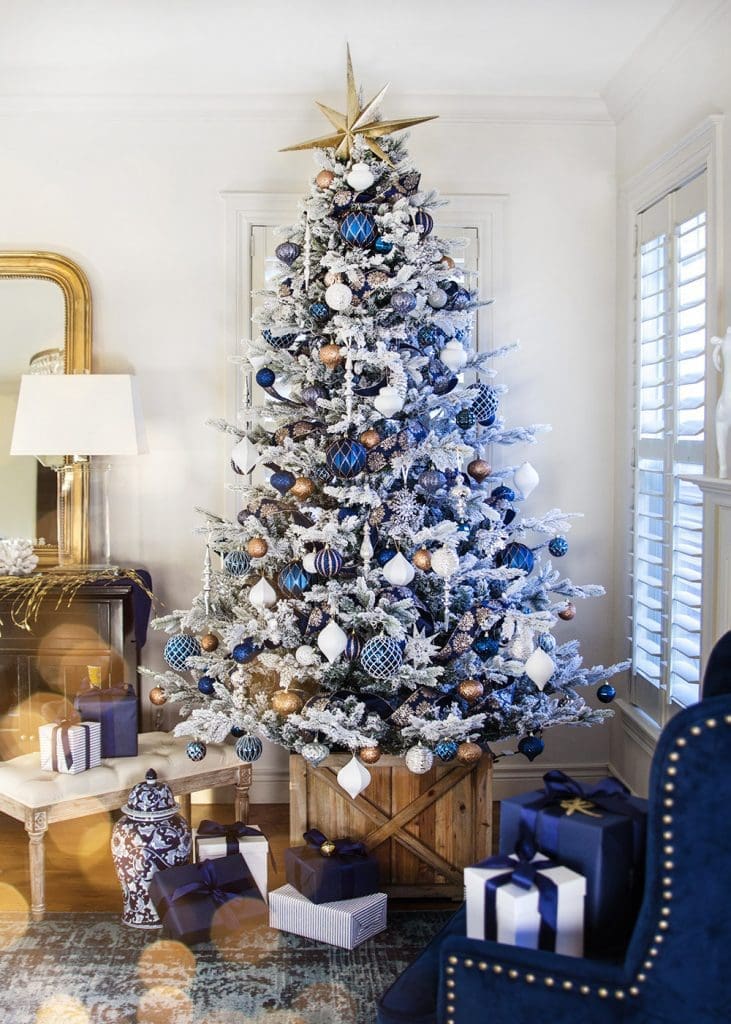 Image Source: Jonathan Stiers
19. White and Blue Christmas Tree with Cool Lights
Cool lights can give a magical wintery feel to a Christmas tree. Since it has a bluish hue, it is perfect for an icy, snowy theme Christmas tree decoration. This light is sure to add a sparkle to your space.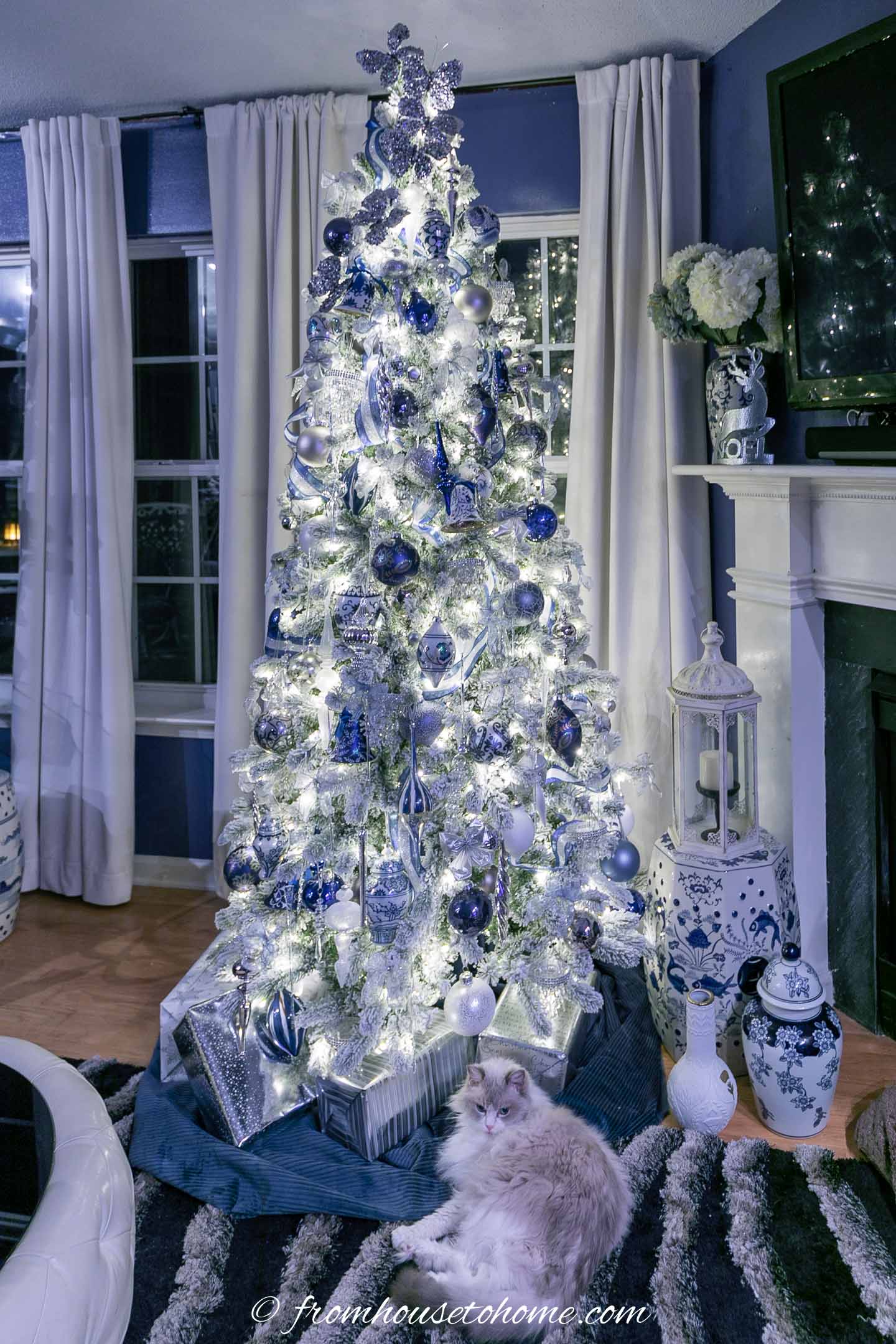 Image source: From House to Home
20. Heavily Decorated Christmas Tree
If you have a decent budget to splurge on baubles and ornaments, then go for it. Your Christmas tree decoration should reflect your individual style and aesthetic predilections.
Image Source:
Randi Garrett Design
The Takeaway
There you have it! These white and blue Christmas tree ideas can help you create a clean cozy, and calming environment. Let us know in the comments which are these trees appeals to you the most.
You may also enjoy our article on: What To Look For When Buying Artificial Christmas Trees
Pin to Save for Later!