40 Sage Green Bathroom Ideas
Sage green is the on-trend neutral taking the interior world by storm in recent times. Get Inspired with these sage green bathroom ideas!
Bathroom design trends are constantly changing. This is why it is crucial to choose a design that flies above fickle trends. The color scheme is an integral part of any design— it can make or break the overall aesthetic of the space.
There's no denying that some colors just don't work for the bathroom. The best colors for bathrooms are those that convey a sense of calm and relaxation.
Sage green is a mid-tone green with a grey undertone. It resembles the hue of dried sage leaves. The earthy and muted quality of sage green is why it is so popular for interior spaces. Sage green is now considered a modern classic.
This crowd-pleasing neutral is an easy choice for the bathroom. In this article, we have curated 40 sage-green bathroom ideas that are sure to give your bathroom an impactful edge.
Without further ado, let's get into it!
1. Pale Sage Green Bathroom
Although sage green, by its very nature, is easy on the eyes, some people may prefer an even paler shade for their bathrooms. A pale sage green is subtlety striking and can make a space feel more open are spacious. The hint of sage green adds a sense of tranquility and style to an otherwise minimalist scheme.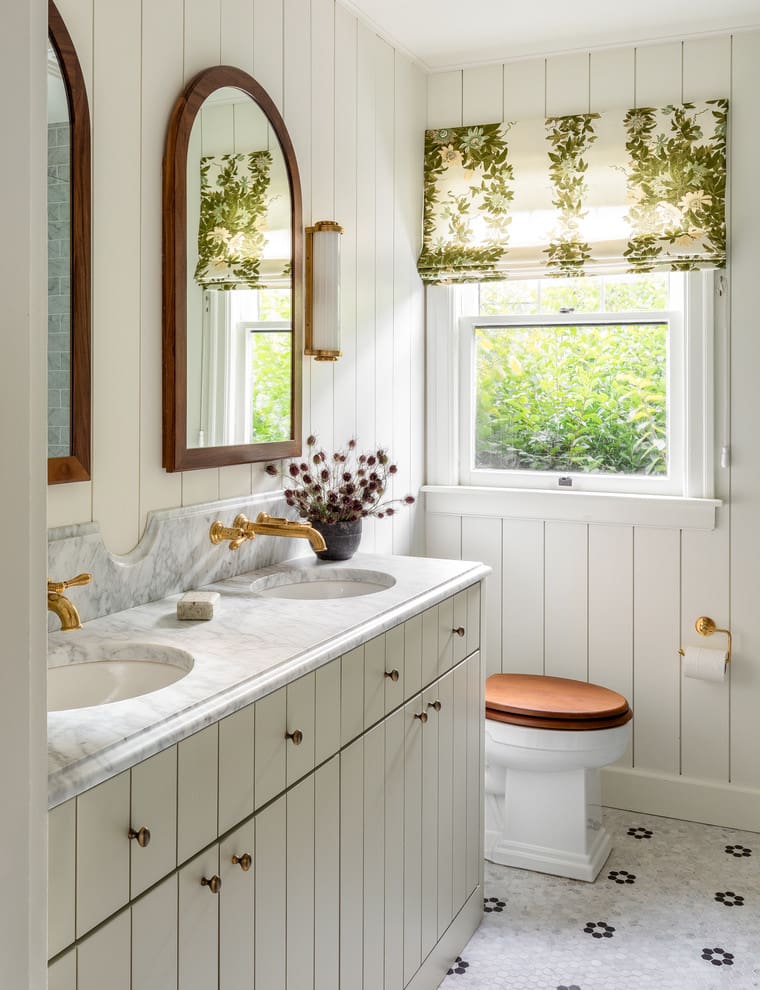 PHOTO: HEIDI CAILLIER DESIGN
2. Traditional Sage Green Bathroom
A traditional bathroom has the elements found in 18th- and 19th-century European home styles. Some of these elements are vintage furniture, floral wallpapers, brass or copper fixtures, and highly durable hardwood.
PHOTO: JEAN STOFFER DESIGN
3. Sage Green Bathroom Door
An easy way to ravish your bathroom with this earthy tone is to paint the bathroom door as well. Matching the door and a wall gives the space a cohesive and streamlined aesthetic.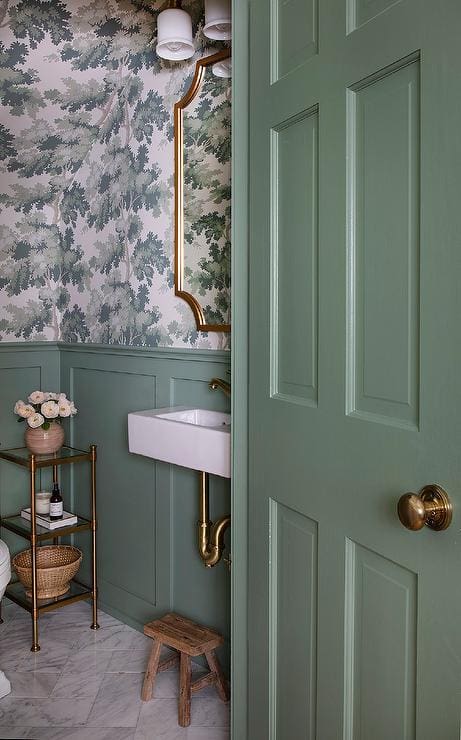 PHOTO: DECORPAD.COM
4. Sage Green Bathroom with Brass Fixtures
Brass is a widely used and sophisticated bathroom fixture material. Solid brass fixtures have a reputation for lasting for many years since they are resistant to rust, corrosion, scratches, and cracking. Using Brass is a great way to add instant warmth and elegance to a minimal bathroom.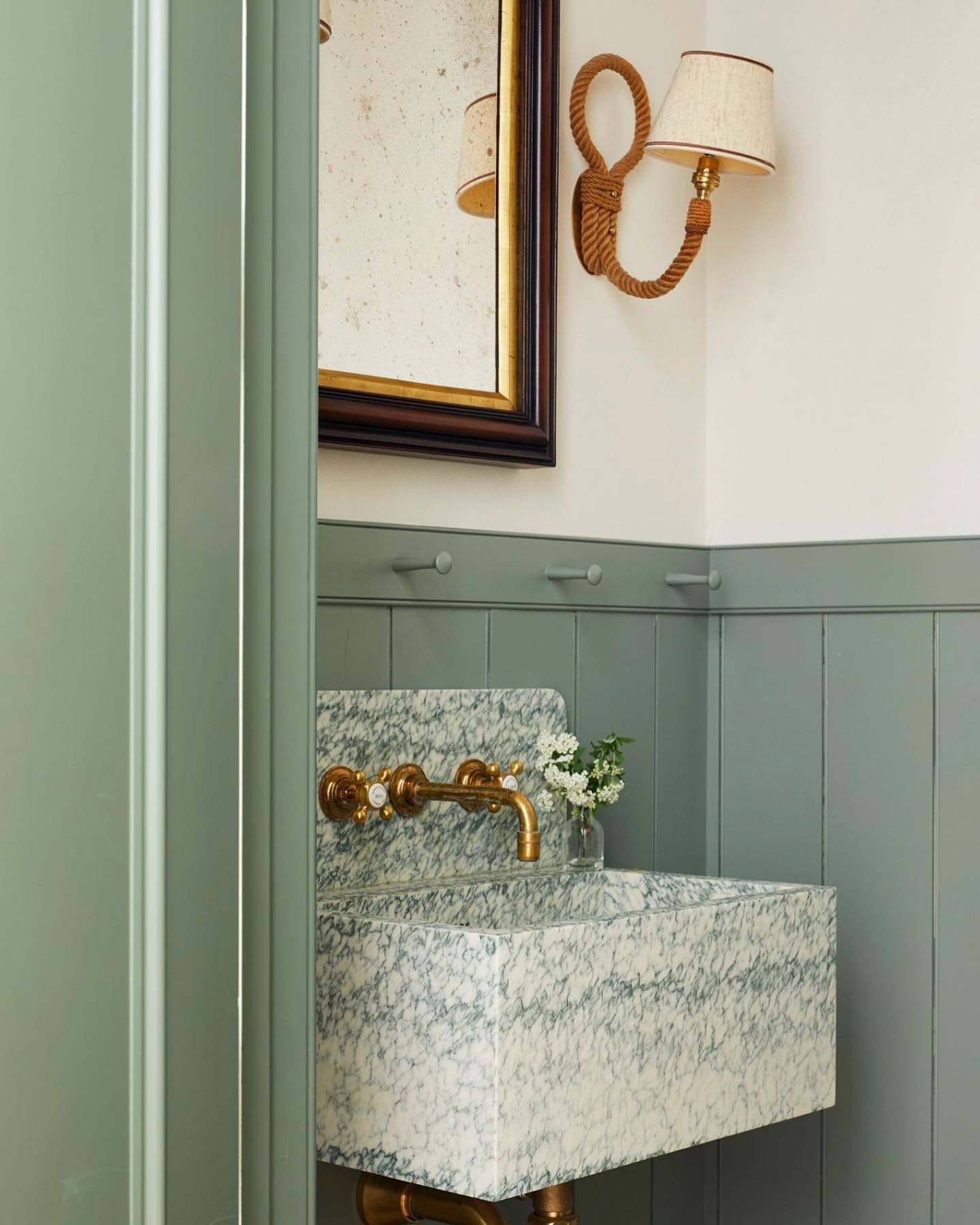 PHOTO: VIRGINIA TUPKER
5. Arched Sage Green Bathroom Wall
To add architectural interest and visual depth to your bathroom, consider an arched wall. This spectacular element adds a grand gesture and an interesting focal point to the bathroom.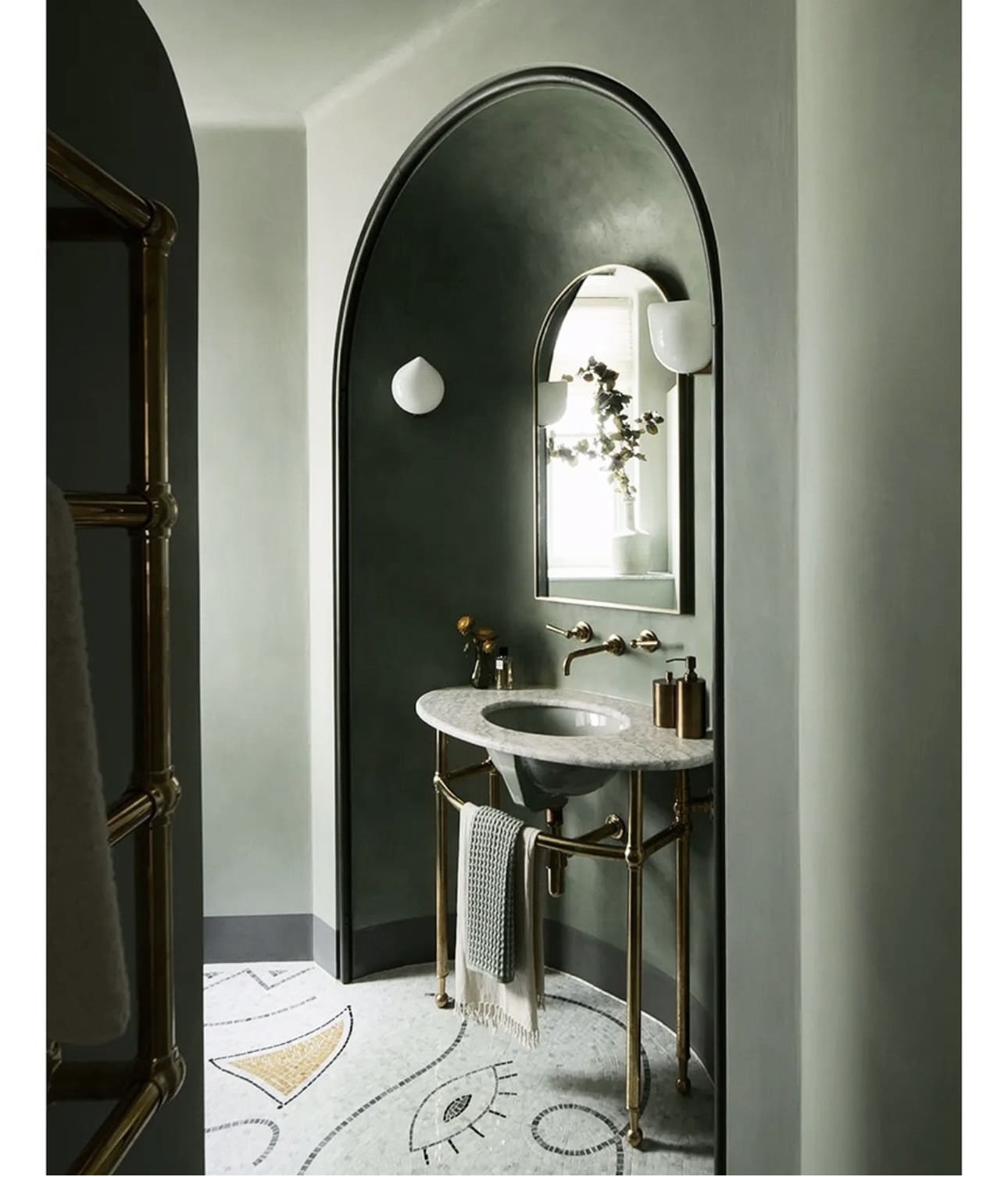 PHOTO: MICHAEL SINCLAIR FOR HOUSE & GARDEN UK
6. Bright and Airy Sage Green Bathroom
A neutral color such as sage green and an abundant flow of natural light can open up your space like never before. This is especially ideal for small cramped bathrooms to prevent a boxed-in feel.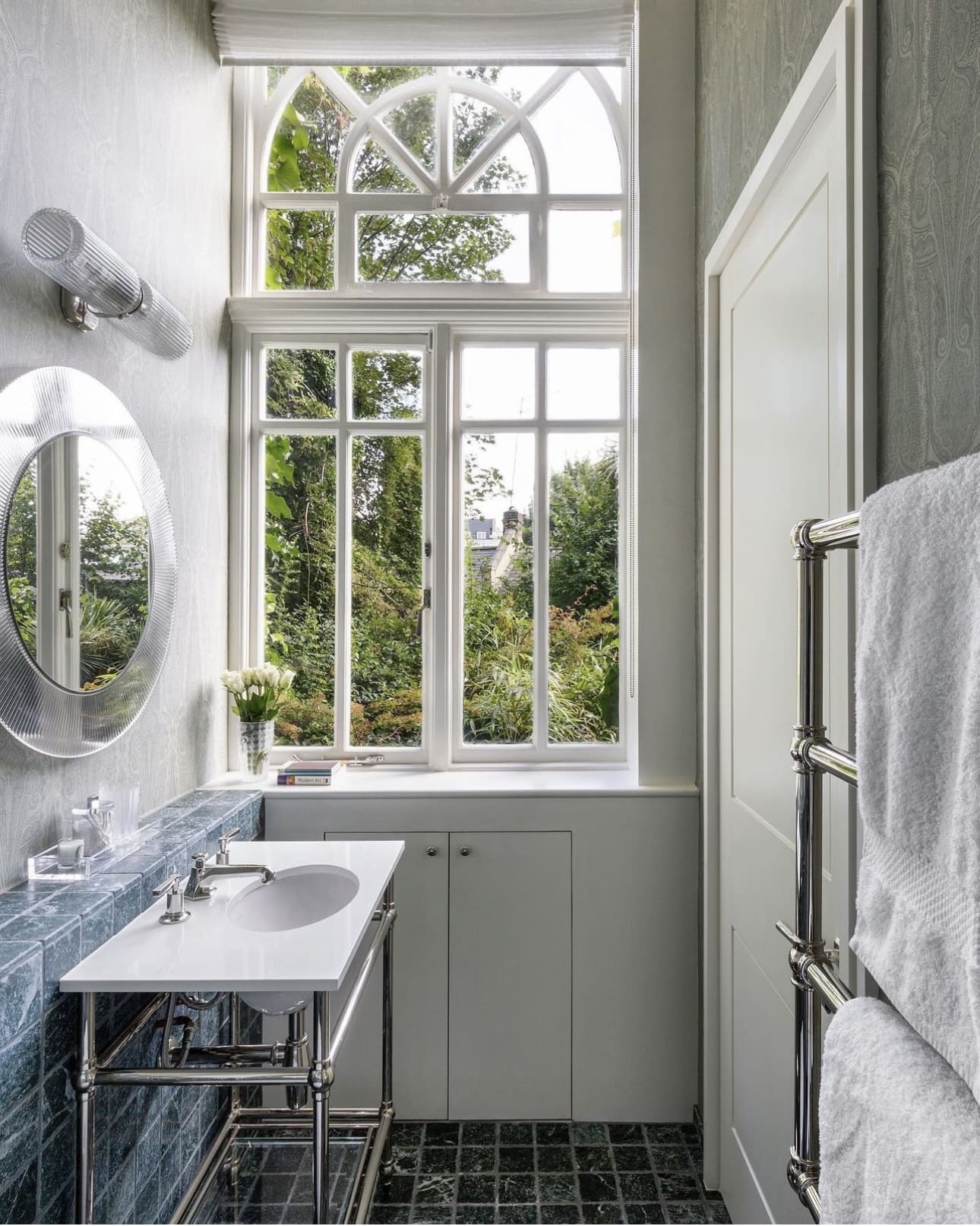 PHOTO: ELNAZ NAMAKI STUDIO
7. Vintage Sage Green Bathroom
Designing a vintage bathroom entails using furnishings, fixtures, and color palettes from the past. These elements combined with sage green gives the space an old-fashioned and elegant vibe. Some of these items can be easily found in vintage stores and auction sales.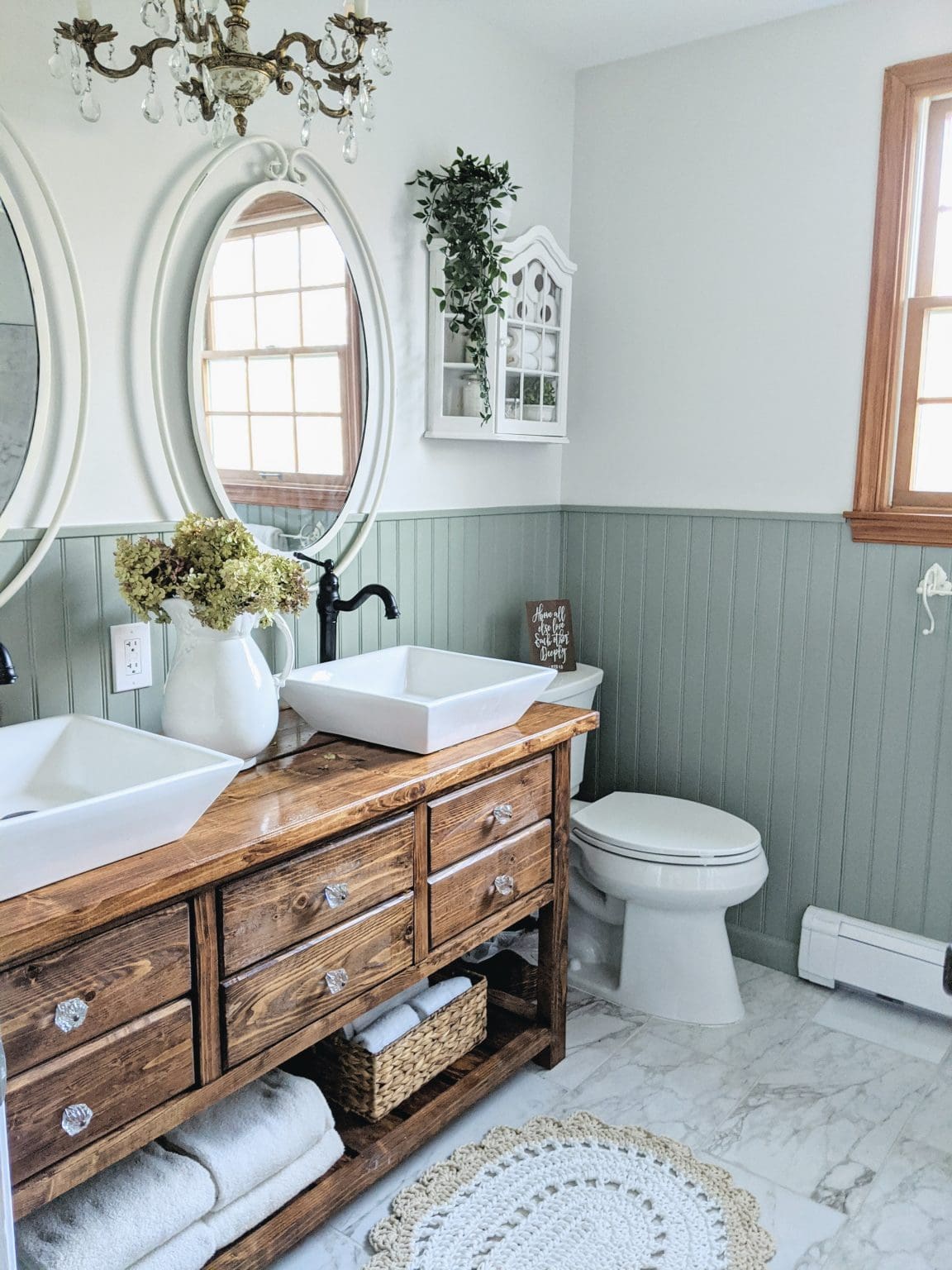 PHOTO: JOYFULLYTREASURED.COM
 8. Sage Green Half Wall Paneling
If you're a little color shy, consider painting half portion of the wall crips white and the other half sage green. This is a common painting style in bathrooms. This technique adds a perceived sense of height to the bathroom wall.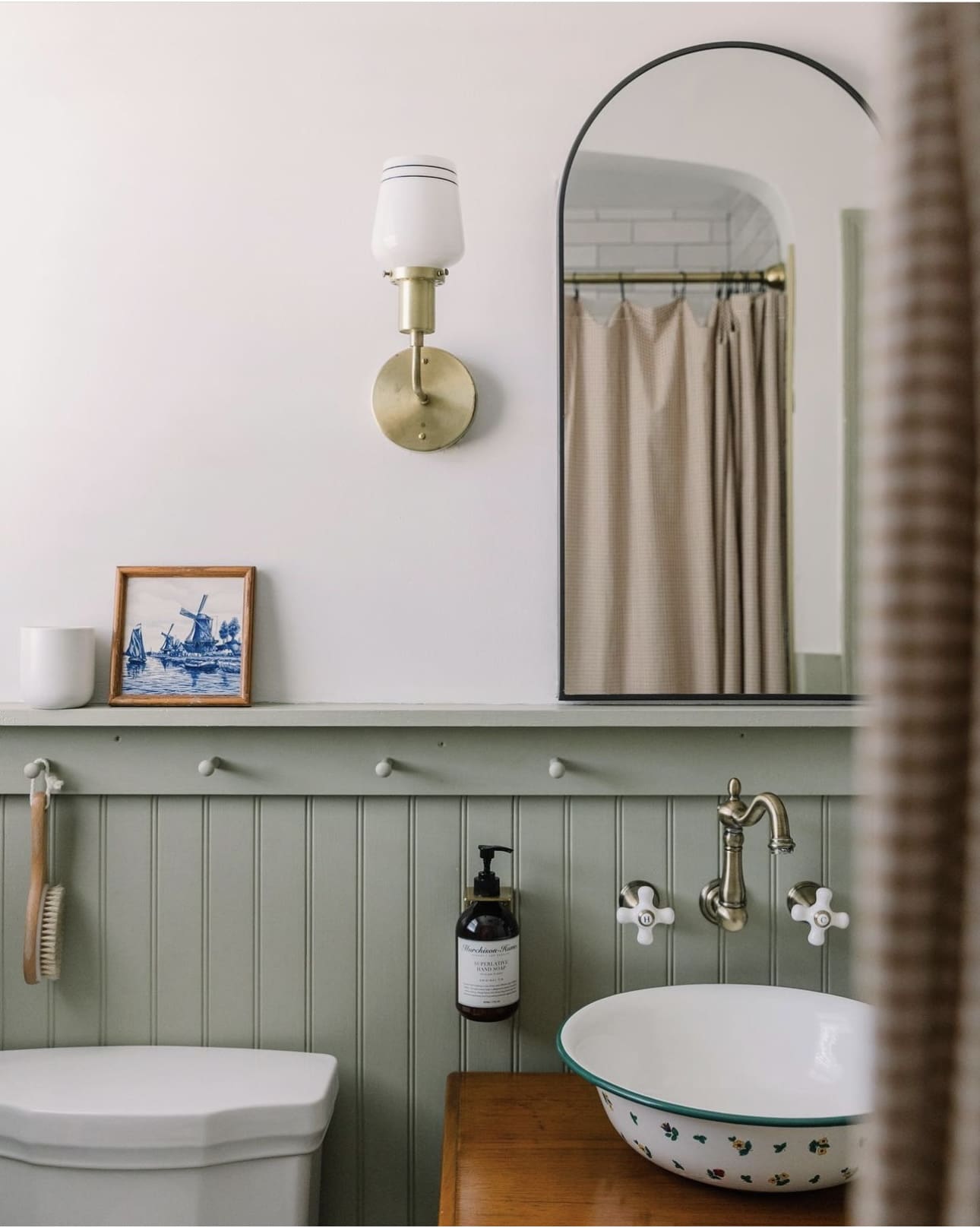 PHOTO: DANI COLDING
9. Sage Green Terrazo Backsplash
One of the less-intrusive sage green bathroom ideas is a backslash. The primary purpose of a bathroom backsplash is to protect the wall behind the sink against water damage but it can also be used to inject color and add style to the bathroom aesthetic.
PHOTO: RUTH MATTHEWS
10. Sage Green Bathroom Gallery Wall
A gallery wall is a carefully organized collection of images hung on a wall in stylish ways utilizing picture frames, prints, or posters. This simple decorating technique can lend style and character to a bland bathroom wall.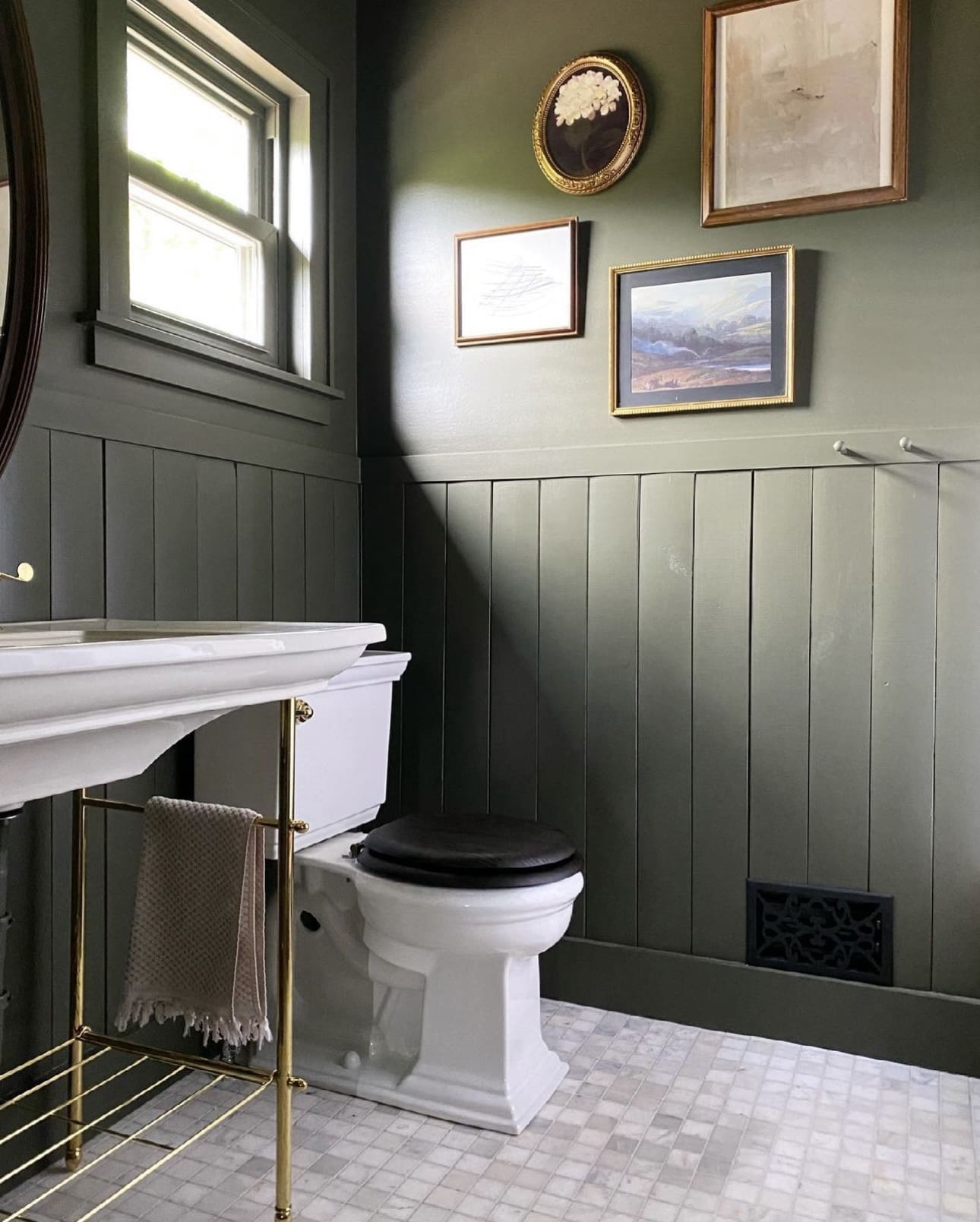 PHOTO: INSTAGRAM @HALF.FINSIHED.HOME
11. Matching Wall and Bathtub
Matching your sage green wall with a bathtub of the same hue can make a bold and daring statement. It is a masterful way to create drama, impact, and visual intrigue in the bathroom. Since sage green is a muted color, this matchy-matchy approach will not overwhelm the space.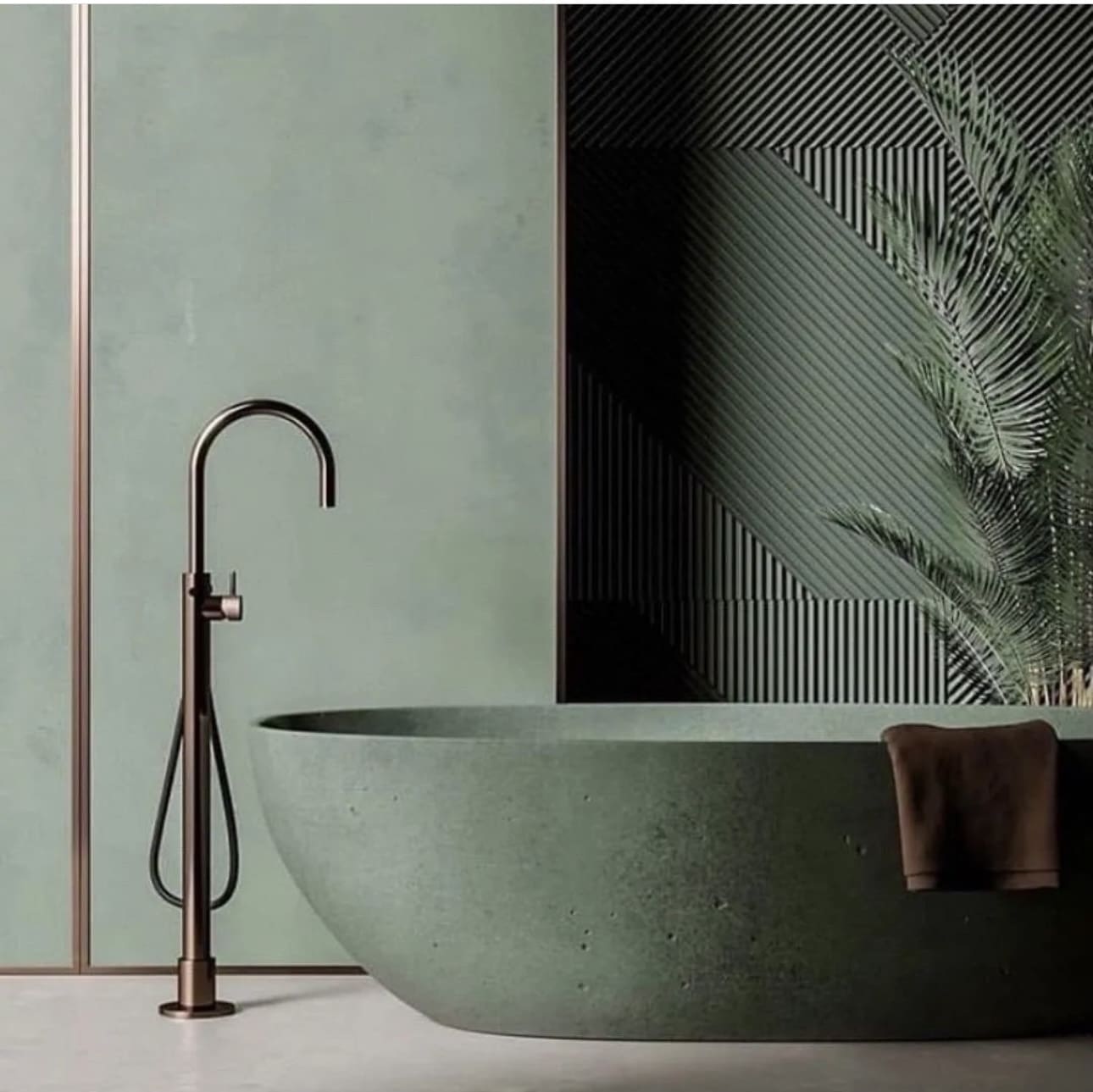 PHOTO: THE GOOD PAINTER
12. Textured Concrete Wall
Applying a textured finish to a wall is clever trick designers use to add depth, dimension, and an old-world look to an interior scheme. A greenish-textured wall can instantly create a perception of the space while adding rusticity, vitality, and style to the bathroom.
PHOTO: KAREN FERGUSSON INTERIORS
13. Sage Green Bathtub
You don't have to paint your bathroom wall or vanity to incorporate sage green into the space. A sage green bathtub can add a punch to your bathroom scheme and serve as a focal point for the space.
PHOTO: DRUMMONDS BATHROOMS
14. Bare Concrete Sage Green Bathroom
Concrete walls are making a comeback in modern interior design and we love to see it! Bare concrete walls give a space that effortless natural beauty as well as texture and depth. Concrete walls are common but not limited to industrial-style interiors.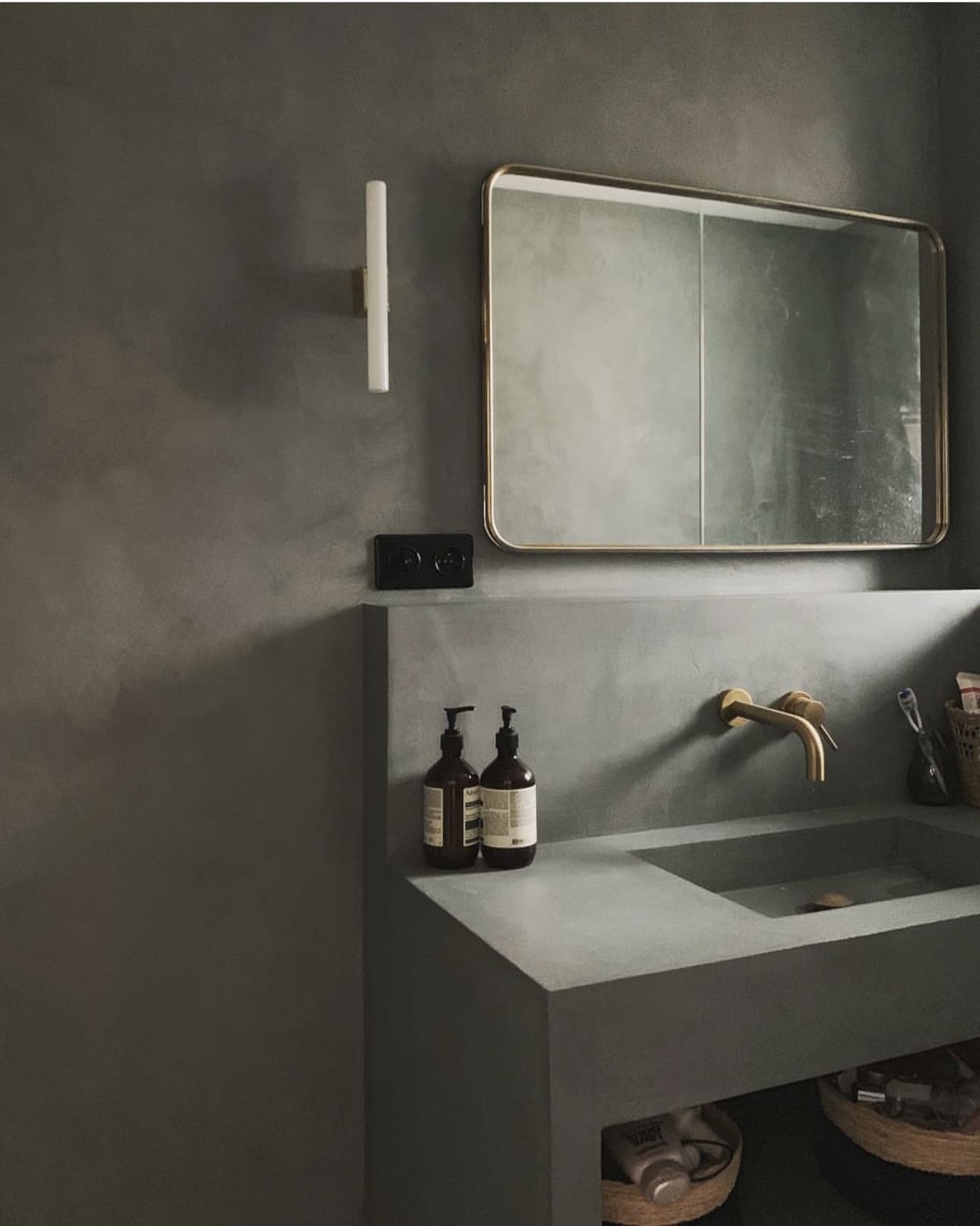 PHOTO: ATELIER LOUVET
15. Rich Stained Marble in Sage Green Wall
A rich stained marble can instantly improve your bathroom's aesthetics and atmosphere thanks to its distinctive and timeless appeal. When paired with a sage green wall, it makes one of the most sophisticated and striking sage green bathroom ideas.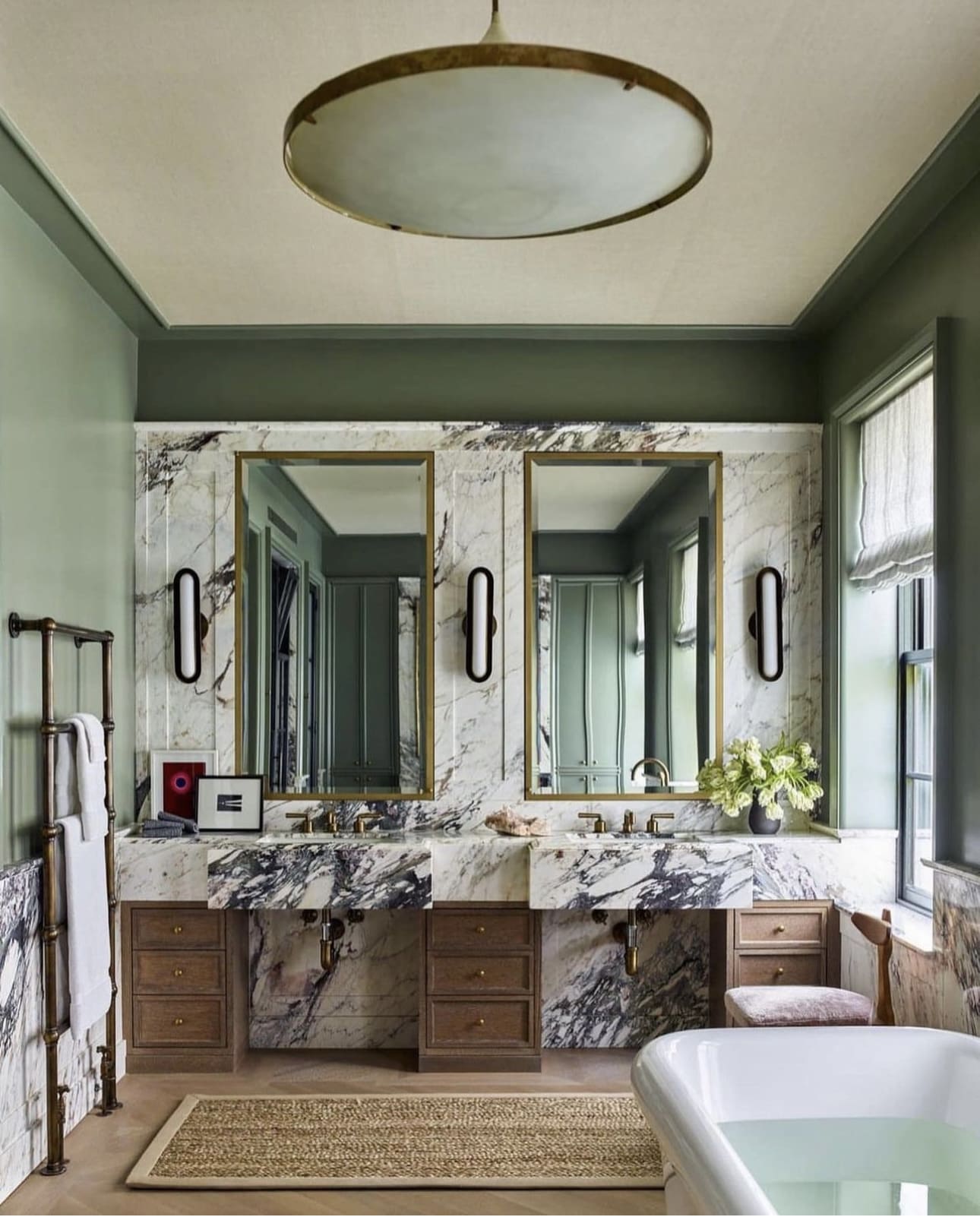 PHOTO: PAMELA HOPE
16. Brown and Sage Green Color Scheme
One of the reasons why sage green is so popular is its versatility. Sage green can be paired with an array of colors, particularly brown. Just like Yin and Yang, brown is also earthy neutral that complements sage green perfectly.
PHOTO: HERO DESIGN GROUP
17. Custom Built Bathroom Vanity
A bespoke vanity ensures no space will be wasted. This type of vanity is customized to fit your space perfectly. Custom build bathroom vanity maximize functionality for everything from the vanities to the wall-mounted cabinets and even the medicine cabinet. If you have an existing one that has worn out, consider giving it a new facelift with sage green paint.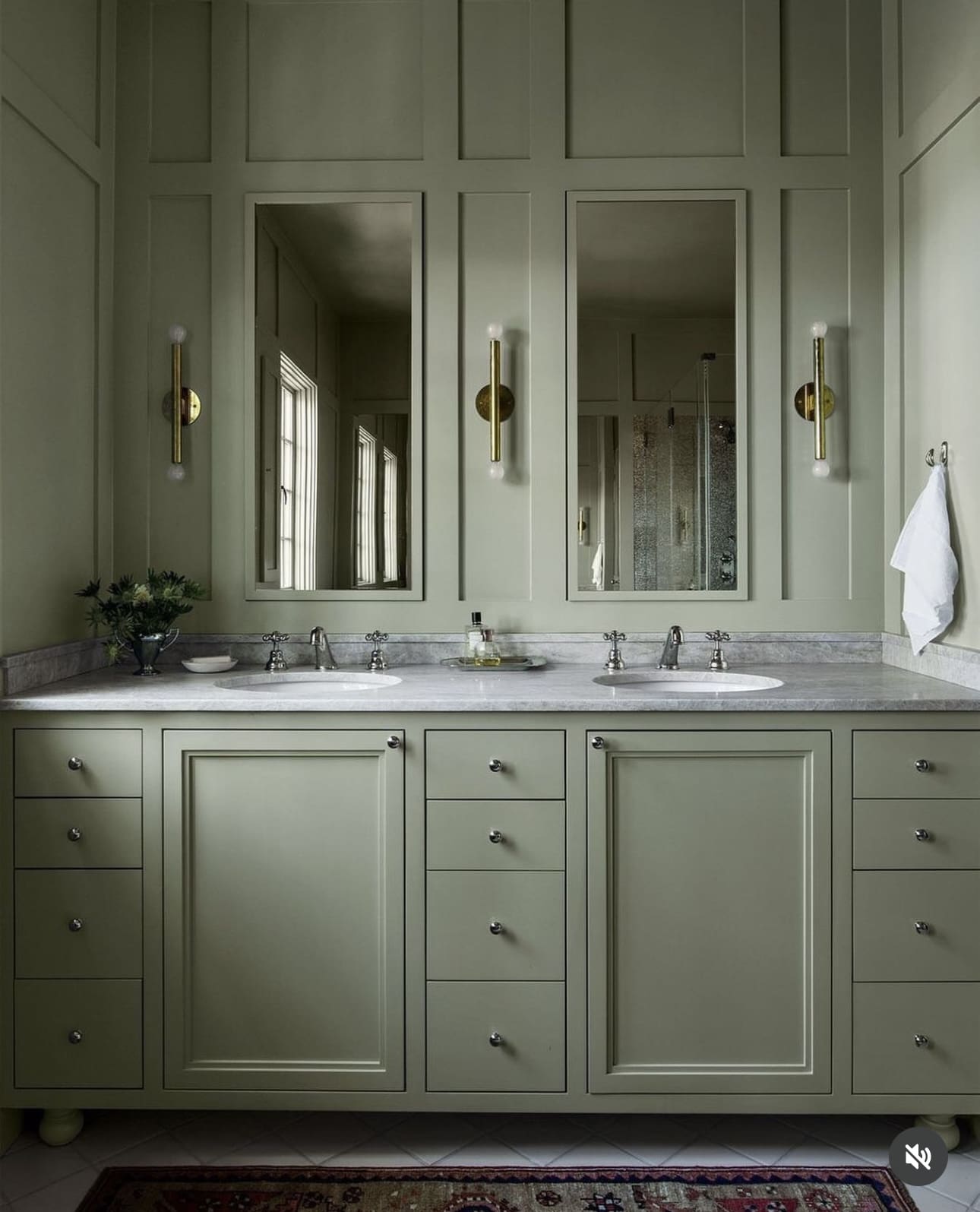 PHOTO: FRANCES MERILL OF REATH DESIGN
18. Moody Sage Green Bathroom
A moody design style is the perfect way to add a bit of drama and elegance to your bathroom. A moody bathroom can make a major aesthetic statement. Whether you have an ultramodern to a traditional bathroom, it can work with any size and style bathroom.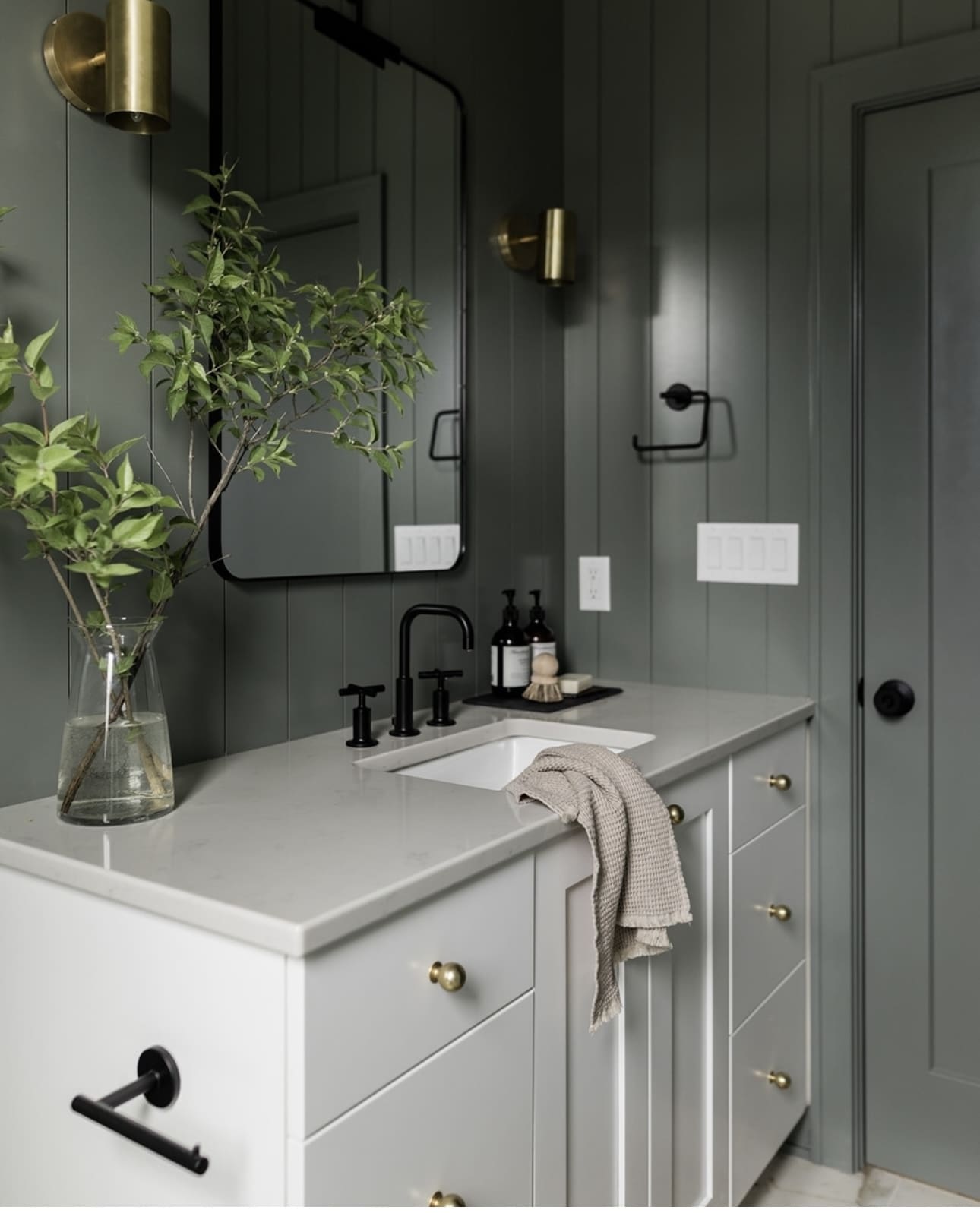 PHOTO: LAUREN KONRAD
19. Sage Green, White, and Brown Bathroom
Combining neutral or earthy tones is an easy way to make your space look more stylish and feel intuned with nature. These hues add can refreshingly contemporary twist to any home.
PHOTO: OBRYS DESIGN, MARINA GRINCHUK, & MIROSLAW MAKSYMIUK
20. Sage Green Wallpaper
Painting your wall may seem like an easier option, but wallpaper allows you to choose elaborate designs that offer a degree of depth and style to the overall appearance of the bathroom. It is a more characterful and statement-making addition than paint and tiles.
PHOTO: BLUE SKY BUILDING DESIGN
21. Nature-Inspired Sage Green Bathroom
A nature-inspired interior theme can create an immersive space with a modern edge. Want to create a zen oasis that exudes nature and life? A nature-inspired bathroom is the way to go. To achieve this, use a nature-themed wallpaper, plenty of greenery, natural stone, and wooden elements.
PHOTO: MOIE STUDIO
22. Sage Green Scallop Tiles
Scallop tiles, also known as mermaid tiles or scale tiles, have a statement-making design that brings a touch of sophistication and femininity to bathrooms and kitchens. There is a pretty delicacy about its soft looping curves.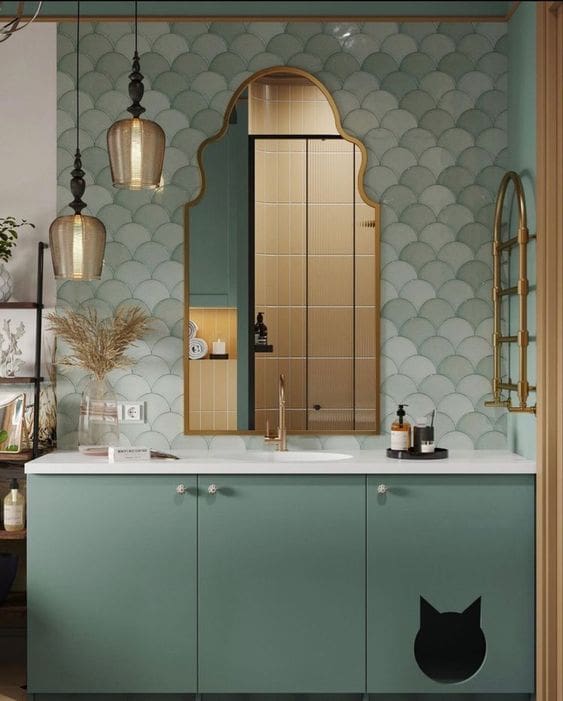 PHOTO: DEE DECO
23. Luxurious Sage Green Bathroom
Designing a luxury bathroom essentially means that you can feel like you're in a 5-star hotel every day— isn't that just dreamy? Common elements found in luxurious bathrooms are statement lighting and wallpaper, elegant vanity, brass fixtures and trims, and neutral colors such as sage green, tan, beige, and white.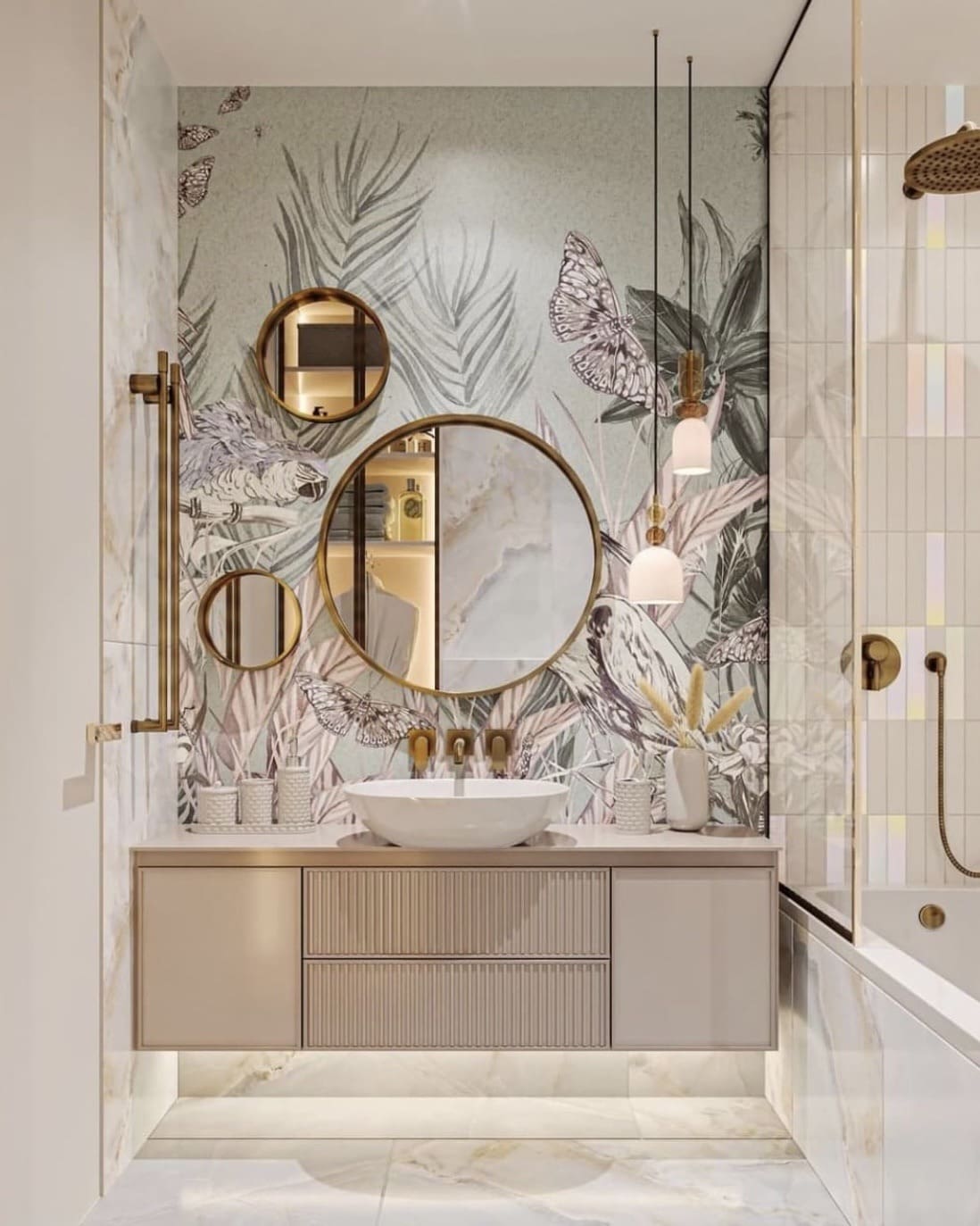 PHOTO: BERG.INTERIORS
24. Alcove Shower Glass Door with Sage Green Frame
Most glass doors for alcove showers have white or black frames but the frame is a useful way to inject your accent color into the space. This addition makes a real style statement.
DESIGN BY NICOLE FULLER | PHOTOGRAPHY BY MICHAEL SINCLAIR
25. Sage Green Accent Wall
An accent wall, also known as a feature wall, is a quick and easy way to uplift your bathroom's décor quotient. A feature wall can also bring a strong sense of style and enliven an otherwise neutral space. Sage green is an excellent accent wall idea for the bathroom.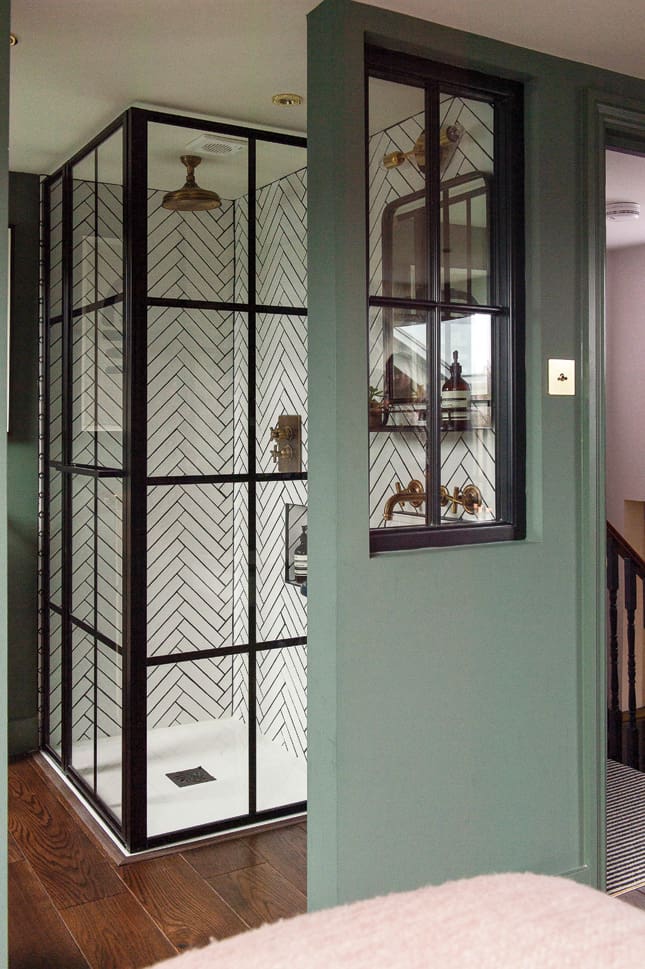 PHOTO: CAROL MAXWELL
26. Sage Green Bathroom Vanity
An accent bathroom vanity is one of the most common sage green bathroom ideas. This way, you can crisp white wall or even a bold-colored wall.  There is a wide array of sage green bathroom vanity available today to suit any bathroom type.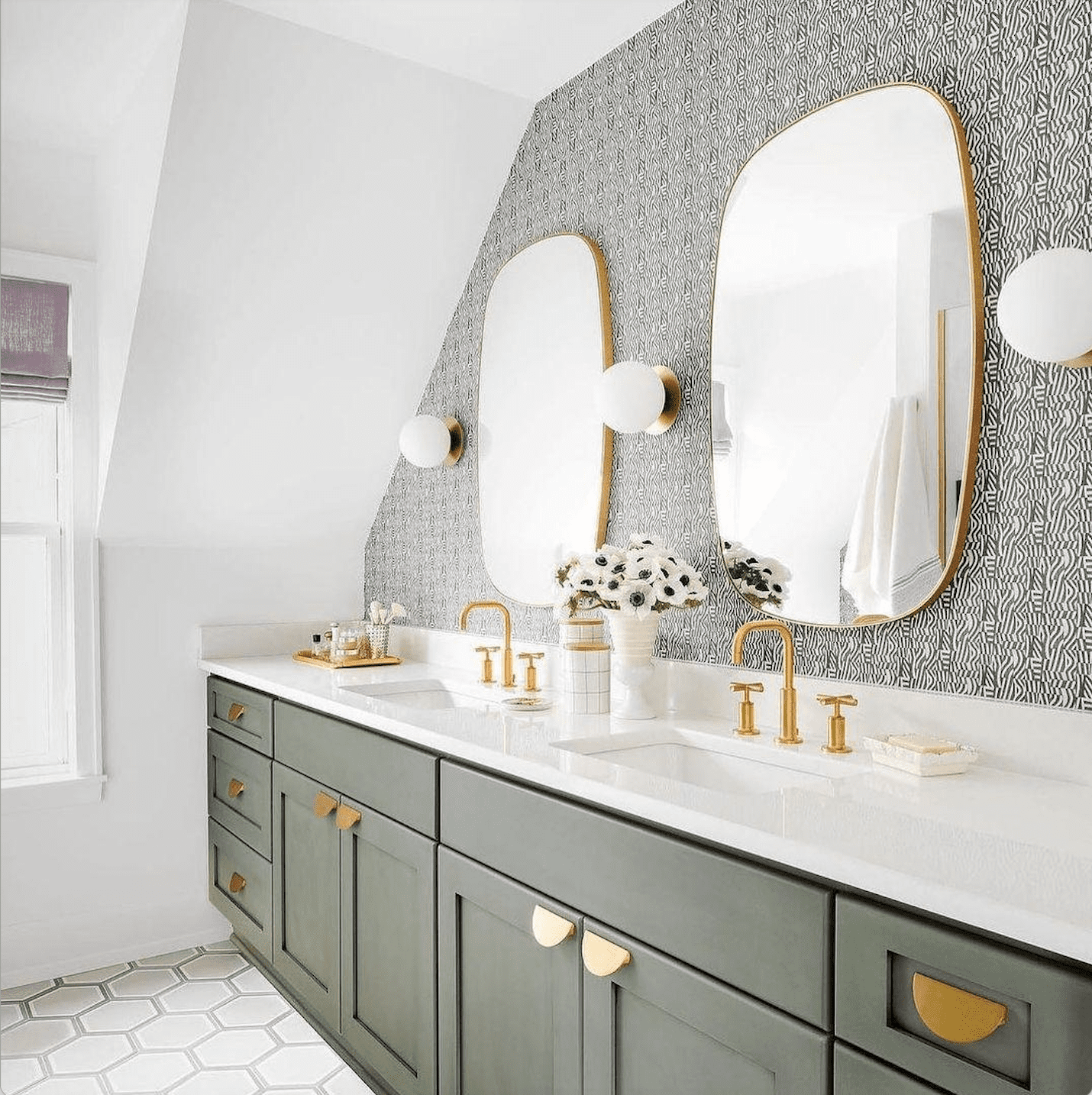 PHOTO: HOMEBNC
27. Sage Green Finger Tiles and Marble
Finger tiles, also known as Kit Kat tiles or finger mosaic tiles, are small vertical linear-style tiles that are frequently used to create feature walls in bathrooms and kitchen splashbacks. When used alongside marble, it is a fusion of elegance and modernity, as seen in this curbless shower below.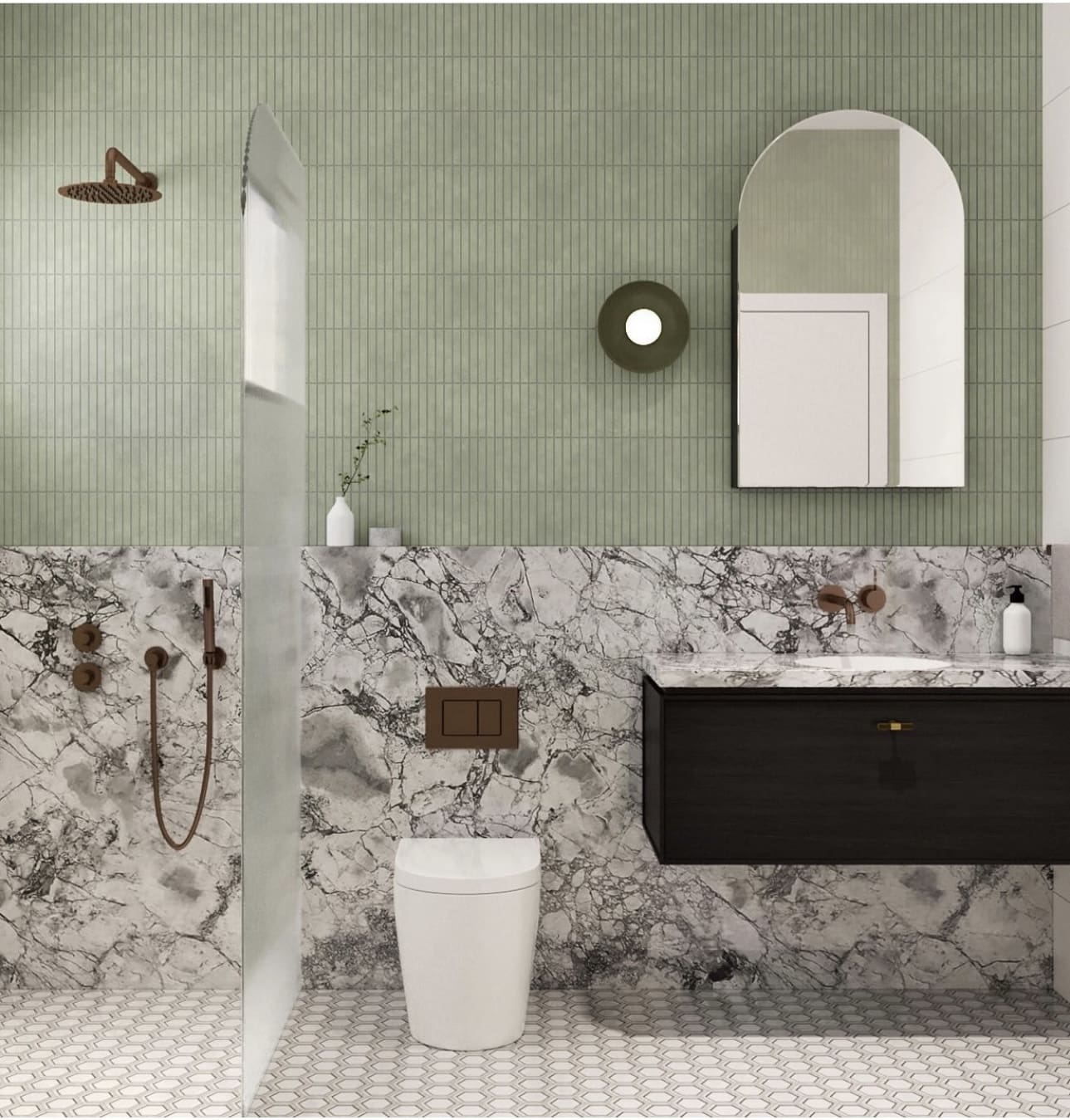 PHOTO: ERIN KESTENBAUM
28. Monochrome Green Bathroom
A monochromatic scheme is a popular scheme used by designers when it comes to designing homes. Monochrome refers to the use of different shades in a single color. It simplifies the design process by eliminating the need to blend multiple colors, and it curates a statement-making scheme.
PHOTO: DRUMMONDS BATHROOM
29. Sage Green Shower Niche
One of the most minimalist sage green bathroom ideas is using a shower niche to add a hint of accent color to make the space pop in a laid-back way. The square and rectangular shower niches tend to be more popular but the arch shower niche creates architectural interest and adds extra pizzazz to the space like no other.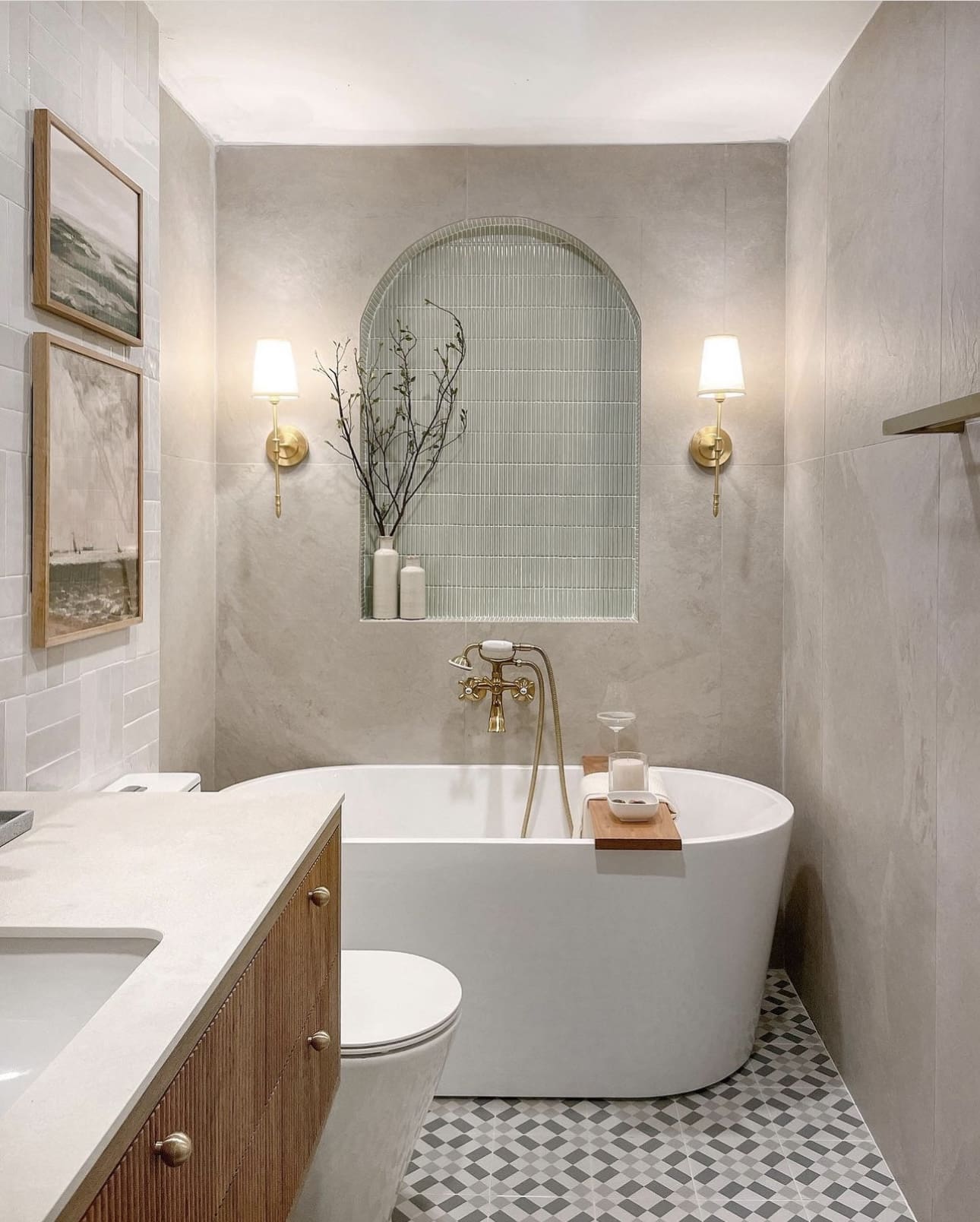 PHOTO: HOUSE OF CHAIS
30. All Round Sage Green
Choosing a single paint color throughout the space is definitely faster than selecting several colors and harmonizing them all. It takes someone with impeccable design skills to pull off this daring look. This design can be easily pulled off with a neutral such as sage green since it is muted.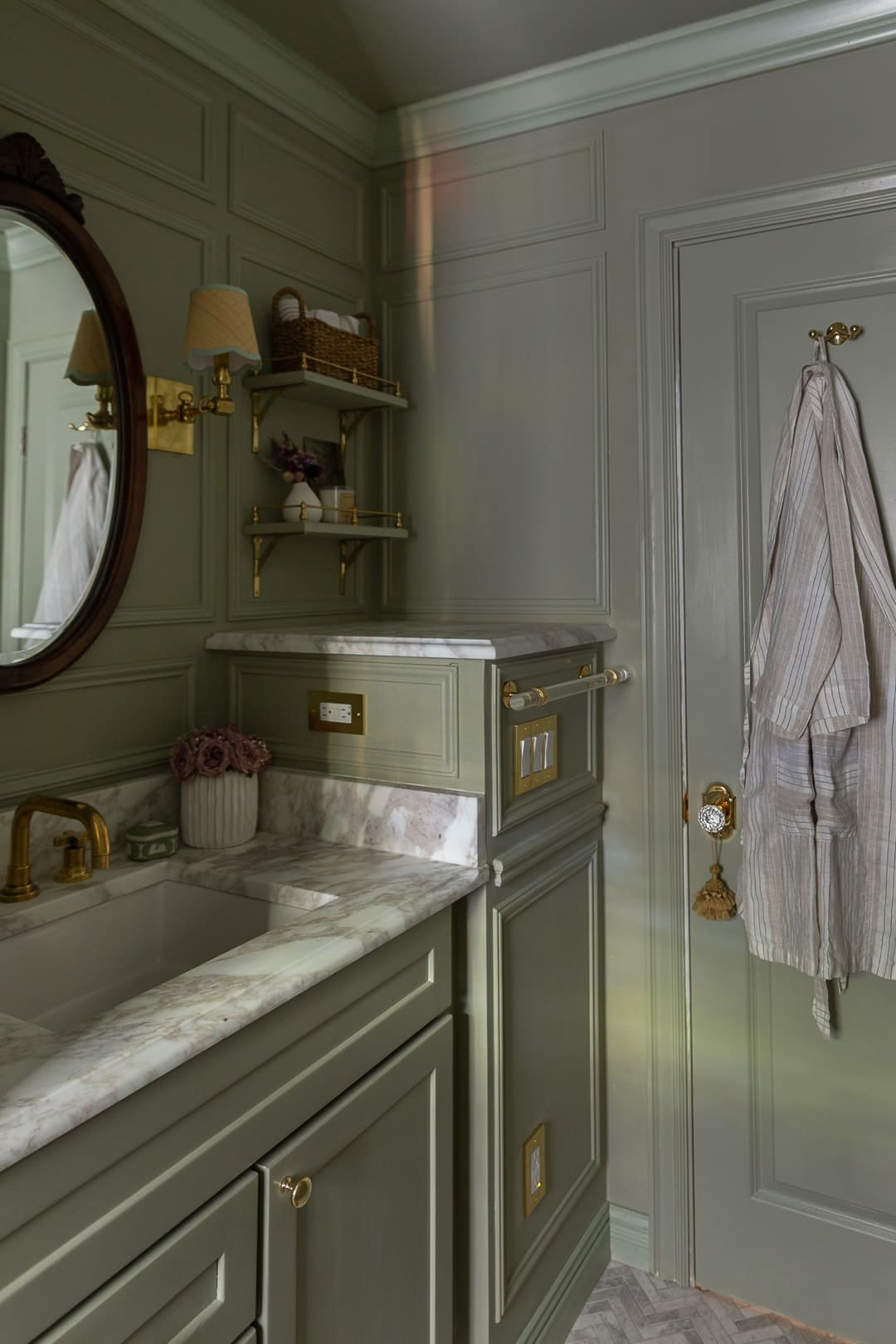 PHOTO: AGLASSOFBOVINO.COM
31. Sage Green Bathroom Island
Should you be fortunate enough to have the space in your bathroom for an island, totally get one installed. The primary reasons why people choose these islands in the bathroom are that they add more storage and create a practical focal point in an otherwise empty space.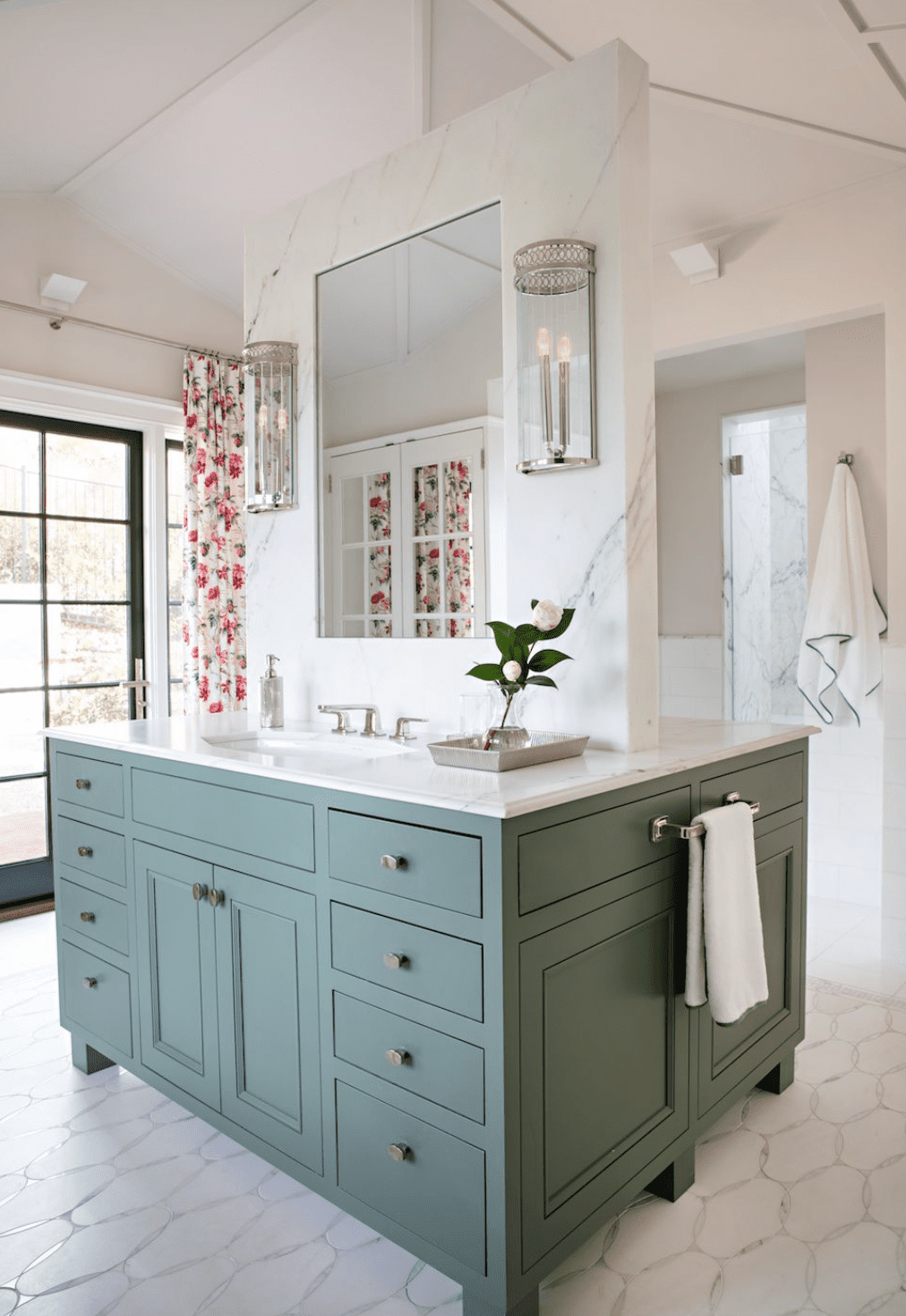 PHOTO: ANDREA MAY INTERIORS
32. Sage Green Board And Batten Wall
A board and batten wall is one that is lined with a particular type of decorative paneling. It is typically used as an accent wall and is commonly seen in bedrooms and bathrooms. This is a clever and stylish sage green bathroom ideas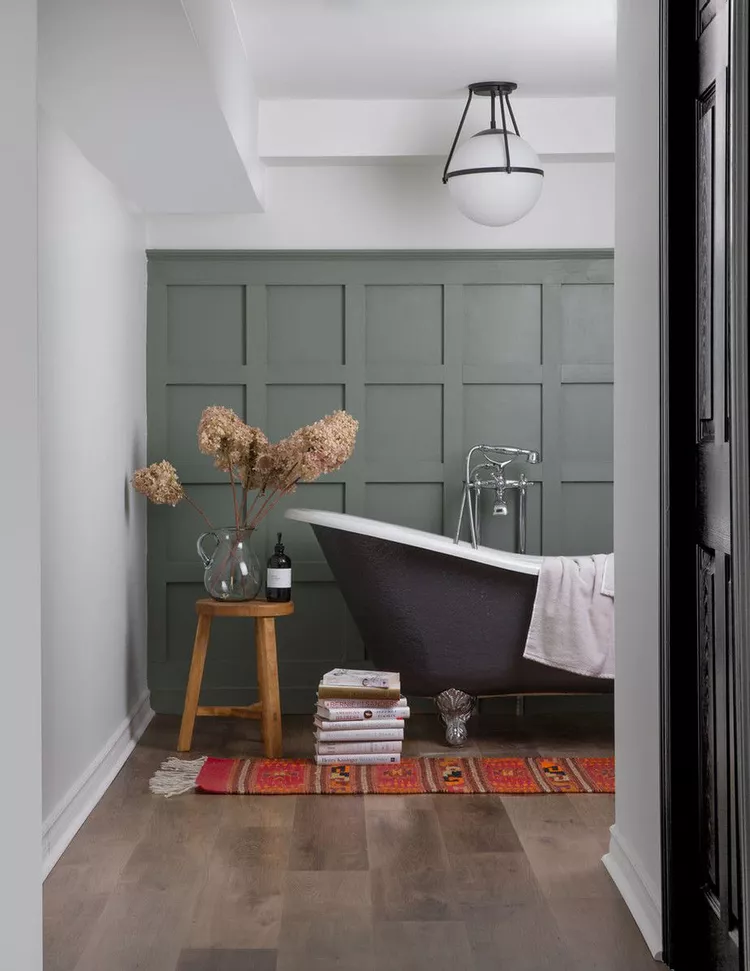 PHOTO: ASHLEY MONTGOMERY DESIGN  
33. Sage Green Herringbone Tiles
This common fishbone pattern has been around for centuries. The herringbone backsplash tile is sure to add style and visual intrigue when used as a sage green kitchen or bathroom.
PHOTO: THE ENGLISH HOME
34. Sage Green and Pink Color Combination
Green and pink is one of the strongest color combination in interior design. Using pale pink and soft sage is an undeniably pretty combination. It holds a lot of visual appeal which makes it one of the best sage green bathroom ideas. It's a color scheme reminiscent of blossoming trees or peonies.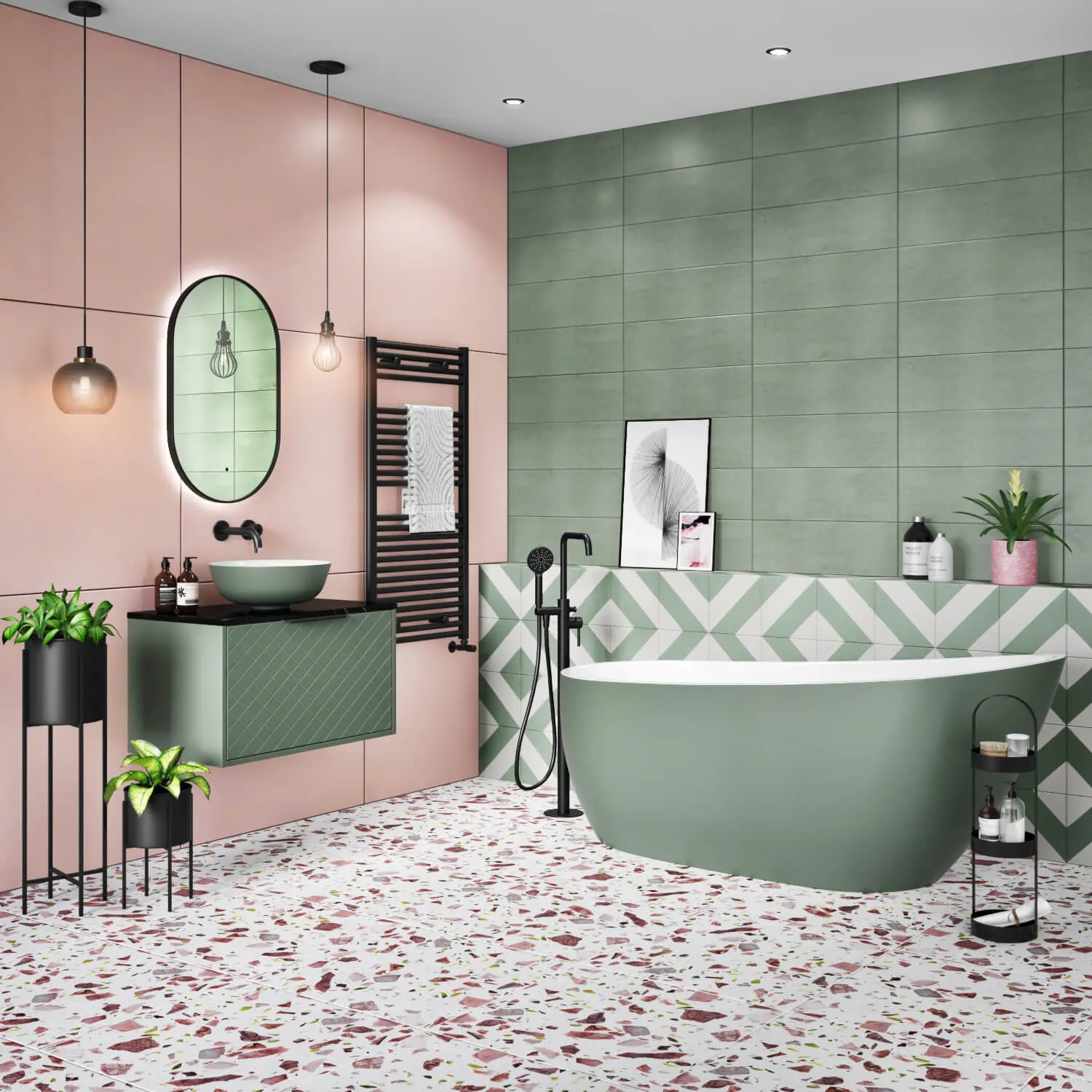 PHOTO: MYLIFEBATHROOMS.COM
35. Sage Green and Coral Color Combination
Coral is a pink-orange color that takes its name from marine creatures that decorate the seafloor. It is a great bathroom color combination for sage green. It is no news that green and orange can clash when used together but the key to nailing this style is using the same tone both ways.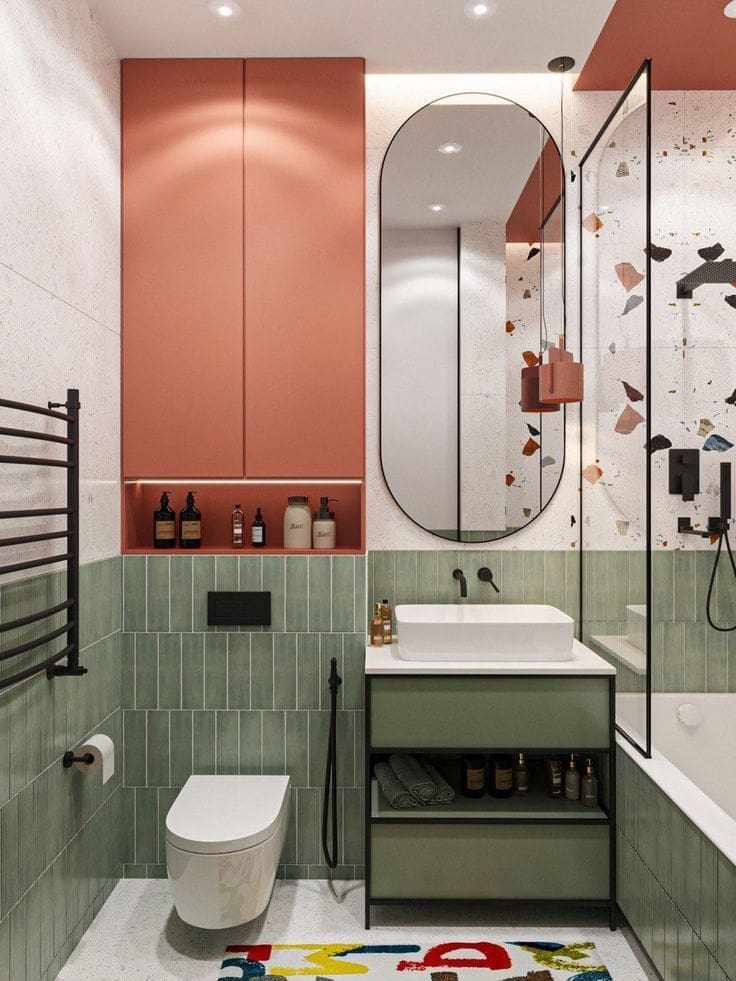 PHOTO: LIANAL DESIGN
36. Sage Green Bathroom Floor Tiles
For floor-to-ceiling aesthetics, consider using sage green for bathroom floor tiles. This ensures your bathroom stays cohesive. Colored floor tiles can add a major statement to your bathroom aesthetic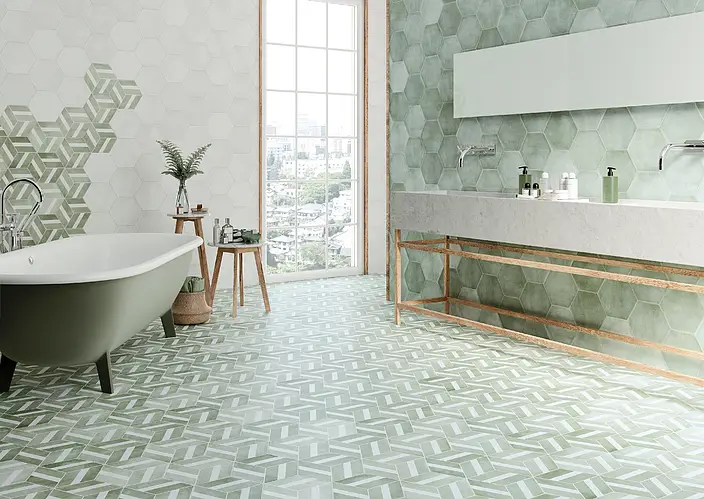 PHOTO: IKEA
37. Build-In Storage
Built-in bathroom storage adds a practical storage solution as well as a lovely, customized design to your bathroom. Built-in wall cabinets in the bathroom will free up floor space, giving you more room to move around and making your bathroom look organized.
PHOTO: HOMEBNC
38. Sage Green Marble Tiles
Unsurprisingly, marble is one of the oldest and most popular bathroom materials. A rich stained sage green marble can give your bathroom an alluring and sophisticated old-world accent. Without question, marble tiles in bathrooms are decadently beautiful, whether they are used on the walls, the floor, the shower, or the sink.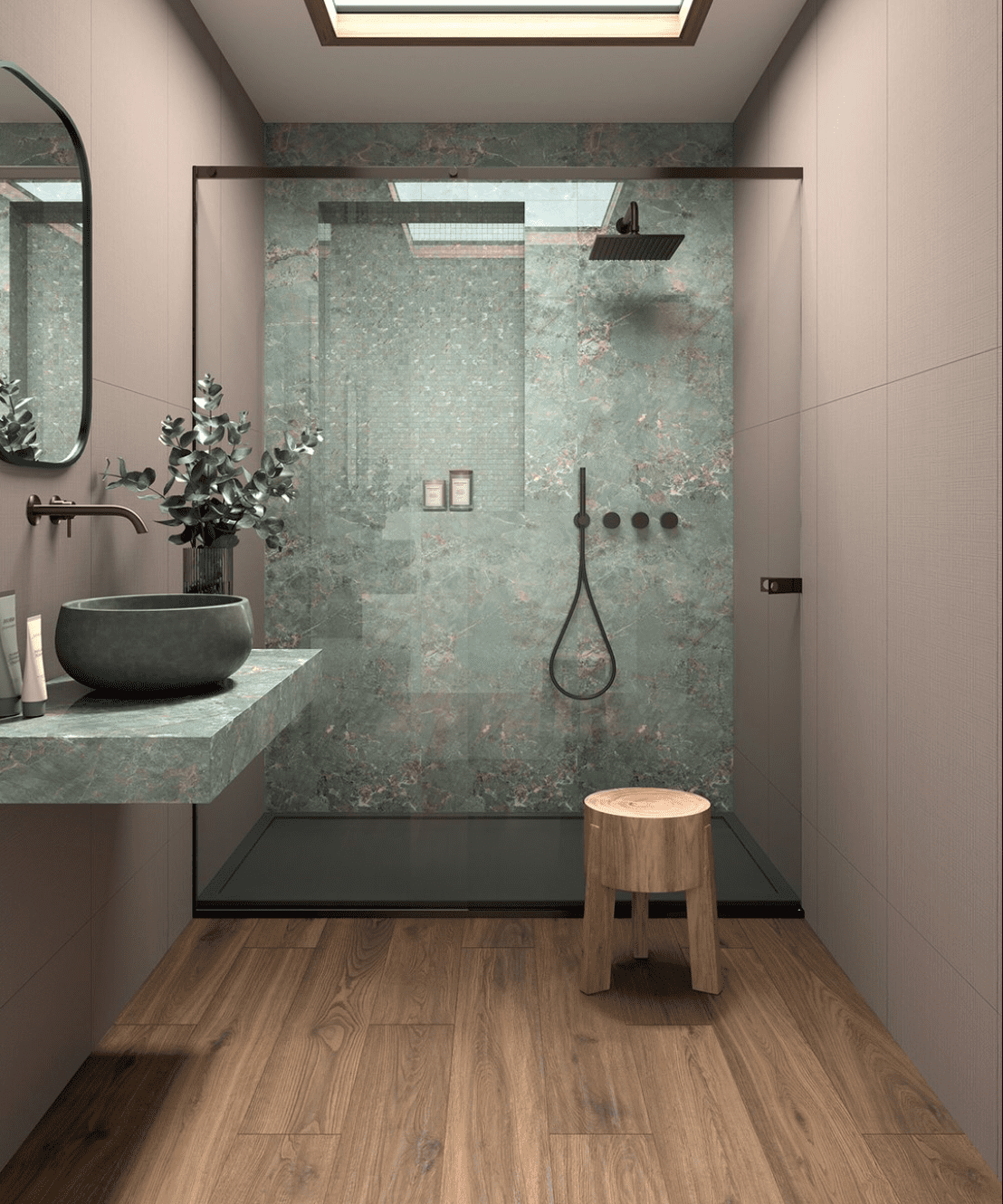 PHOTO: MARCA CORONA
39. Matching Rug
Rugs not only add beauty and style to the bathroom but they are a practical addition as well. For hardwood floors, rugs help to protect them from getting long-term water damage. For tile floors, which can feel frequently cold, a rug helps to instantly make it cozy, and welcoming and give the space a lived-in feel.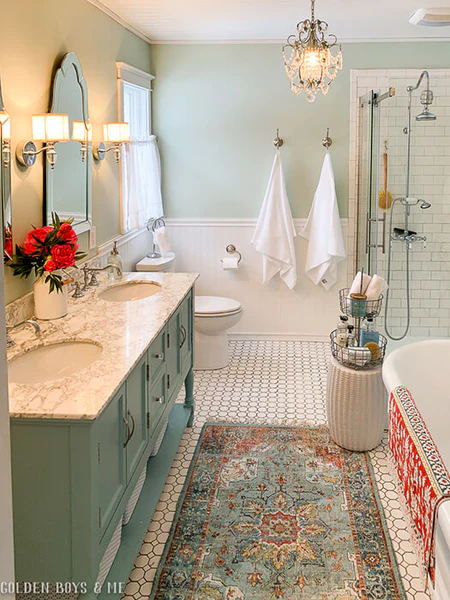 PHOTO: GOLDEN BOYS & ME
40. Sage Green Bathroom Ceiling
There are several ways to inject style and eye-catchy beauty into your ceiling. A great bathroom ceiling idea that can give the space an impactful edge is painting it. Matching the wall paint with the ceiling helps to draw the eye upward, creating the illusion of a higher ceiling. This is one of the most uncommon sage green bathroom ideas but if executed right, it can give a bathroom a stylish flair.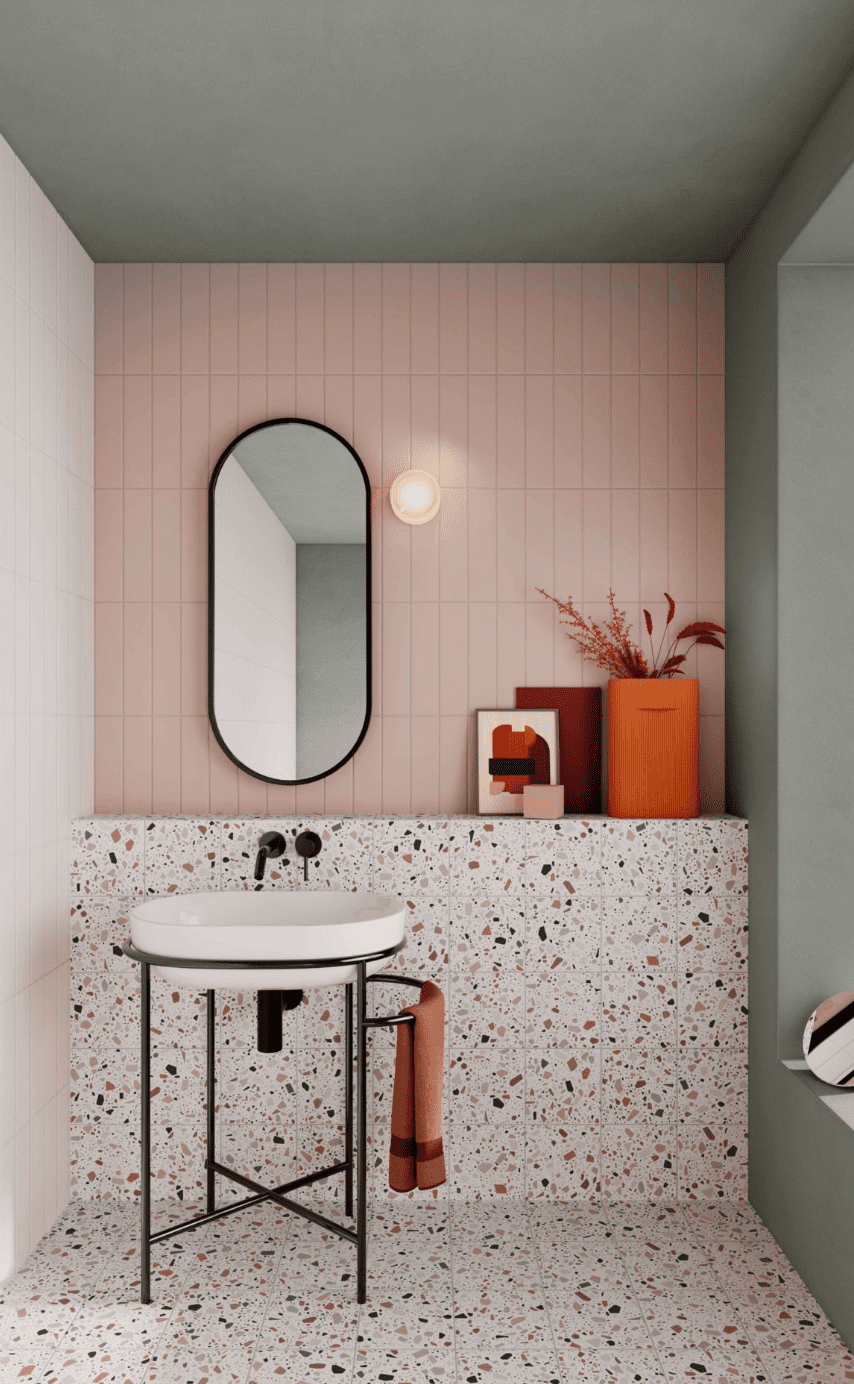 PHOTO: QUINTESSENZA CERAMICHE