12 Best Garage Door Paint Color Ideas
In recent times, there have been increasingly appealing garage door paint color ideas that embellish the beauty of a home. Repainting your garage door is a low-cost and easy way to instantly transform the aesthetics of your home's exterior and curb appeal. Most garage doors only need a repaint after every 5-10 years.
Homeowners are now making the smart decision to add a fresh coat of paint when their garage door is looking worn out or updated rather than replacing it. Other than the aesthetic benefits, a fresh coat of paint also protects the door from weather damage.
Generally, the most common garage door paint ideas tend to be minimalistic and timeless. People have the option to paint their garage door with either vibrant or dull hues but this depends on individual preferences and the home's exterior color scheme.
Are you looking for the best garage door color options to spruce up your home's exterior? You'll find the right inspiration here!
Here, we've curated the 12 best garage door paint color ideas to inspire a repaint.
1. White Garage Door Paint
White has always been one of the most popular garage door paint color ideas. The major reason why white garage doors are so popular as it that can complement any home exterior wall or style. White adds an effortless sophistication and a contemporary feel to any home.
It is classic and adds minimalism to the garage and the home exterior décor as such. Many see it as a crisp color but it may require regular maintenance to stay clean. Instead of stark white, you can also opt for bright neutral like creams and ivories which are warmer and can help conceal stains.
2. Black Garage Door Paint
Black is an elegant and timeless hue, and just like white, it can complement any home exterior wall color scheme. It helps accentuate the luxurious feel of a home. Black also conceals stains way better than other colors.
 Black is the new neutral! For a durable garage paint color that will stand the test of time without fading, look no further than black. In addition to this, a white garage door will absorb around 20- 30% of the sun's heat, whereas a black or dark garage door has the ability to absorb up to 85% of heat from the sun.
3. Brown Garage Door Paint
Just like most black garage door ideas, brown or chocolate brown is elegant and sophisticated. We can easily include it in the sophisticated color spectrum; let's call it rich and stylish. Compatible with white, melon, blue, green, and cream exterior walls, brown instill a traditional sense of style and modernity.
There are varying shades of brown to choose from. You can opt for wood-like paint like royal mahogany or Indian rosewood.  If you're leaning towards earthy tones for your garage door but also want a dark hue, consider colors such as deep walnut brown or oak brown.
4. Sage Green Garage Door Paint
Sage green, also known as Chartwell green is simply understated and timeless. While white and black are historically some of the most popular garage door paint color ideas, sage green is the trendiest chic color that adds to the overall sophisticated look of interior and exterior spaces.
Sage green is neutral and has a hint of gray and light blue. Due to its strong ties with nature and greenery, sage green adds an organic vibe to the home exterior when featured as a garage door.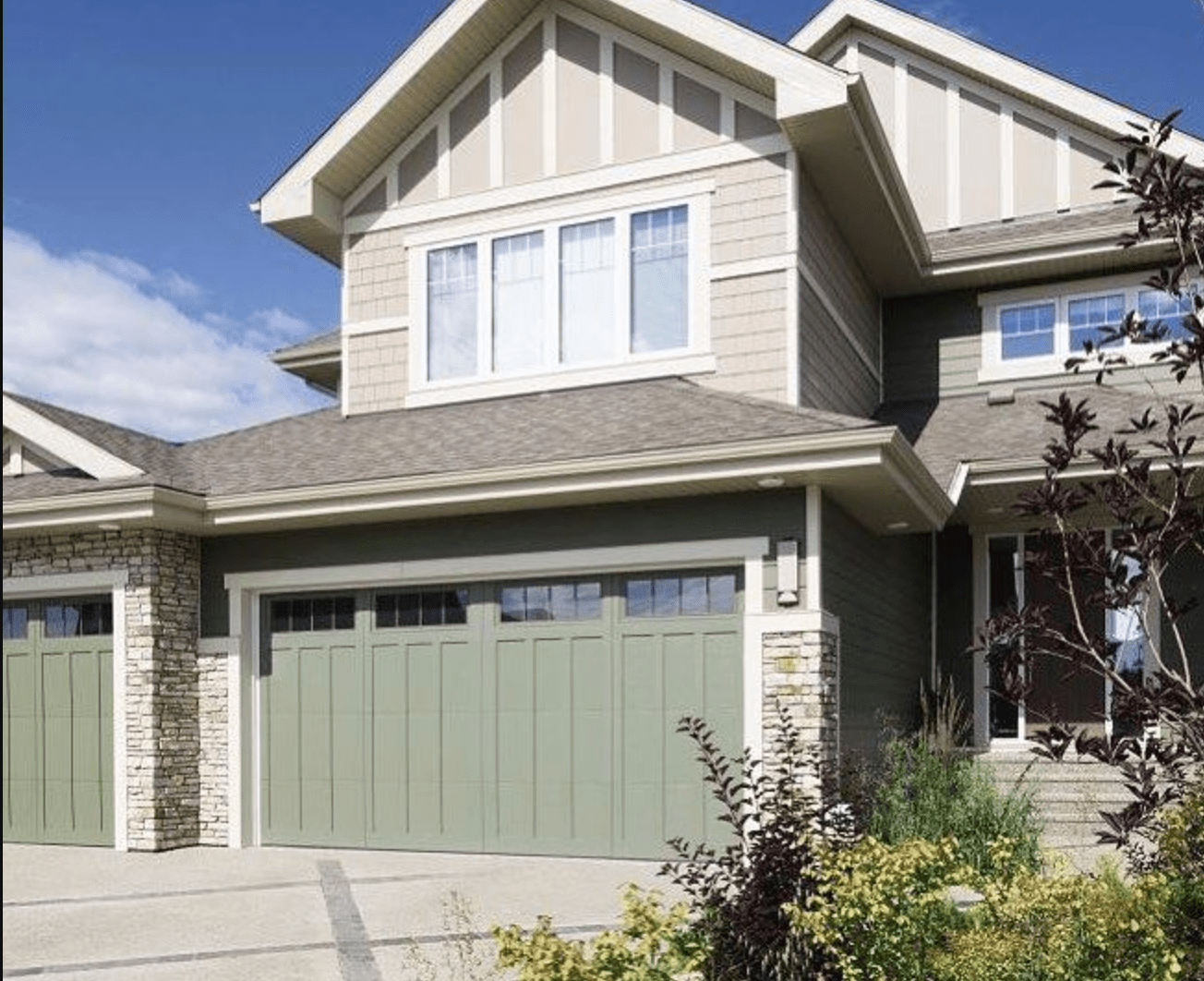 5. Light Grey Garage Door Paint
Light grey is the second most common garage door paint idea after white. This neutral color is easier to clean and maintain in comparison a white. It gives the same classic and contemporary feel that white does.
Light grey can instantly elevate the visual appeal of your home's exterior. It is not a dominating color but rather combines elegance, style, and sleekness.
6. Blue Garage Door Paint
Blue conveys tranquility, relaxation, and calmness. It is a mood-boosting hue that is used as a dominant in exterior design. Blue is tried and tested garage door paint color that has always stayed in trend. There is a wide range of hues to choose from, and each of these has several shades.
Dark blue will create an environment that is more reserved and natural. Light blue hues add softness to an environment and create a bubblier and more serene space.
7. Tan Garage Door Paint
Tan is a great color choice for garage doors. It is a warm neutral color that is classic and visually appealing.
Tan is anything but boring! It's neutral enough to let the beauty of the wood, steel, or other garage door materials shine. It also complements most exterior wall colors. Garage doors painted with tan have a calming warmth to them.

8. Red Garage Door Paint
Drama meets impact! Red distinguishes itself from other colors because it visually adds energy and is more daring. Note that red will not complement every exterior color scheme like neutrals but it is eye-catchy and makes a dramatic impact.
It serves as a great accent color for home exteriors. Want your home to stand out from other houses in the street? A red garage can create a cutting-edge look.
9. Yellow Garage Door Paint
While red is associated with energy and boldness, yellow conveys a sense of joy and happiness. Yellow comes in a wide variety of shades, so you have plenty of options to explore.
It doesn't attract attention as much as red but it is a fun and lively color. When you paint your garage door yellow, you give it a happy backdrop that significantly increases its curb appeal.
10. Green Garage Door Paint
The hue green has a strong impact on its own since it represents growth, nature, and peace. Design experts often advise homeowners who find it difficult to sell their homes to paint their garage door green it improve the curb appeal.
This versatile hue also works great on both modern and traditional-style home garage doors. Using green paint for your garage door is a way of connecting the outdoor environment to the building.
11. Dark Grey Garage Door Paint
Dark grey is one of the best contemporary garage door paint ideas. This timeless hue is ideal for modern house designs because it's regarded as a relaxing neutral and has a wealth of different tones to choose from. Grey is the perfect shade for those who value sophistication in style.
12. Biege Garage Door Paint
Beige is making a comeback after once being considered boring. A beige garage door paint can make a garage door blend seamlessly into the front of your home.
This garage door color works best with brick and stone exterior walls. This crowd-pleasing neutral has the same effect as grey. Neutral beige paint creates a visually intriguing and warm environment.