21 Best POP Design For Living Rooms
The ceiling is an element that has a profound influence on a space. There are myriad ways to make your living room ceiling more appealing.
As interior design trends are evolving, ceilings have also evolved to reflect your unique style, personality, and more. The days of uninteresting bland ceilings are behind us.
A POP ceiling is a false ceiling that can add more depth and visual interest to a space. Nowadays, POP ceilings can be seen in most contemporary homes and commercial spaces.
Time to let go of that uninspiring and boring ceiling!
Are you looking for stunning POP design ideas to create a cutting-edge look for your living rooms? We've got you covered!
In this article, we've curated 21 incredible POP ideas that are sure to add a stylish flair and understated elegance to your home.
We will also give an insight into the concept of POP ceilings and the pros and cons to help you decide if this is the right false ceiling for your home.
What is a POP Ceiling?
POP stands for Plaster of Paris. It is also known as a dropped ceiling. POP is a lightweight, heat-resistant material composed of semi-dehydrated gypsum.
This false ceiling comes in form of dry powder that when mixed with water, created a paste that can be molded to form the shape of the ceiling. A POP ceiling can be made in a plethora of shapes: round, curved, square, straight, curved, and many more.
It is not considered a real ceiling but rather a layer that is formed beneath the actual ceiling for functional and decorative purposes. In today's interior design scheme, they have become a standard element.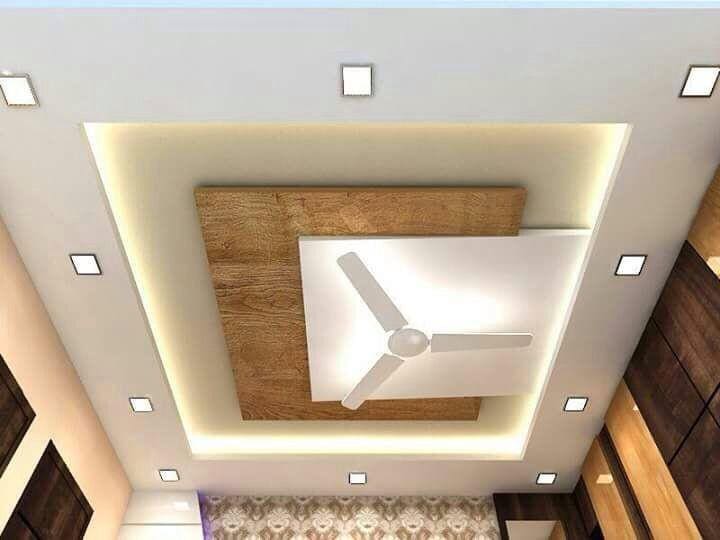 Pros of POP Ceiling
● It enhanced the visual appeal of a room.
● POP is a highly durable material.
● It is quite easy to maintain.
●  POP Improves the acoustics in a room.
● It conceals cables and light fixtures.
● POP ceilings are great heat and cold insulators.
● It is very versatile as it can be created in unique structures to suit any home.
Cons of POP Ceiling
● A POP ceiling reduces the height of a room.
● For humid environments, POP ceilings might not be appropriate.
●  It is not as long-lasting as conventional ceilings.
● Compared to cement or cement lime plaster, it is much more pricey.
●  It could detach easily during an earthquake.
● There is a possibility of fixtures dropping off.
Check out these 21  best POP designs for living rooms. 
1.  Simple Tray POP Design for Living Room
Tray ceilings are a popular choice for homeowners. It is a surefire way to add architectural interest to your living room.
Not only do they add a stylish modern feel to a space, but they also add depth and interest.
According to interior designer Kendall Wilkinson, tray ceilings can introduce a less intricate dynamic design to any room.
The perceived sense of height they give is also what makes them perfect for the living room.
Tray POP ceilings create a luscious feeling when viewed from below.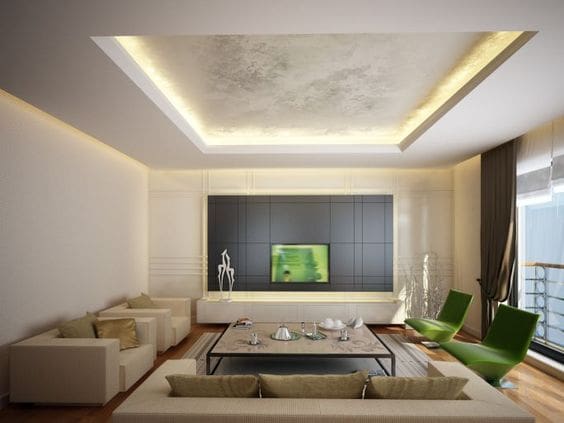 2. Wood Combo POP Design for Living Room
Wood also appeals to interior designers and homeowners alike because of its wealth of benefits.
Wood is a great natural material that adds warmth, color, texture, and beauty to interior spaces.
Wood combined with a white POP false ceiling created a striking duo-chromatic look that adds an understated elegance to a living room ceiling.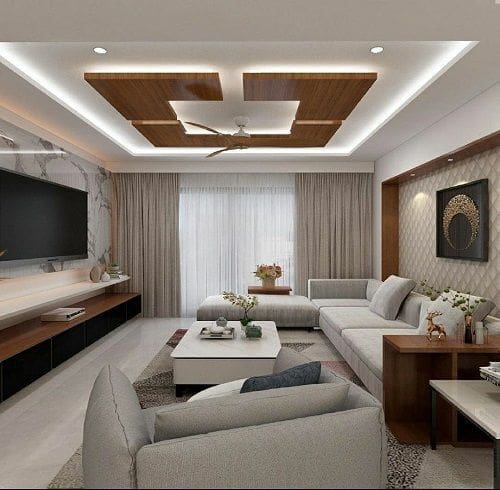 3. Intrincate POP Design for Living Room
This is a very detailed and sophisticated POP design.
It refers to the use of rich tones, textures, and the combination of varying materials to create a stunning chic haven.
It is essentially reminiscent of eclecticism. This is an ideal option for a dramatic and characterful design.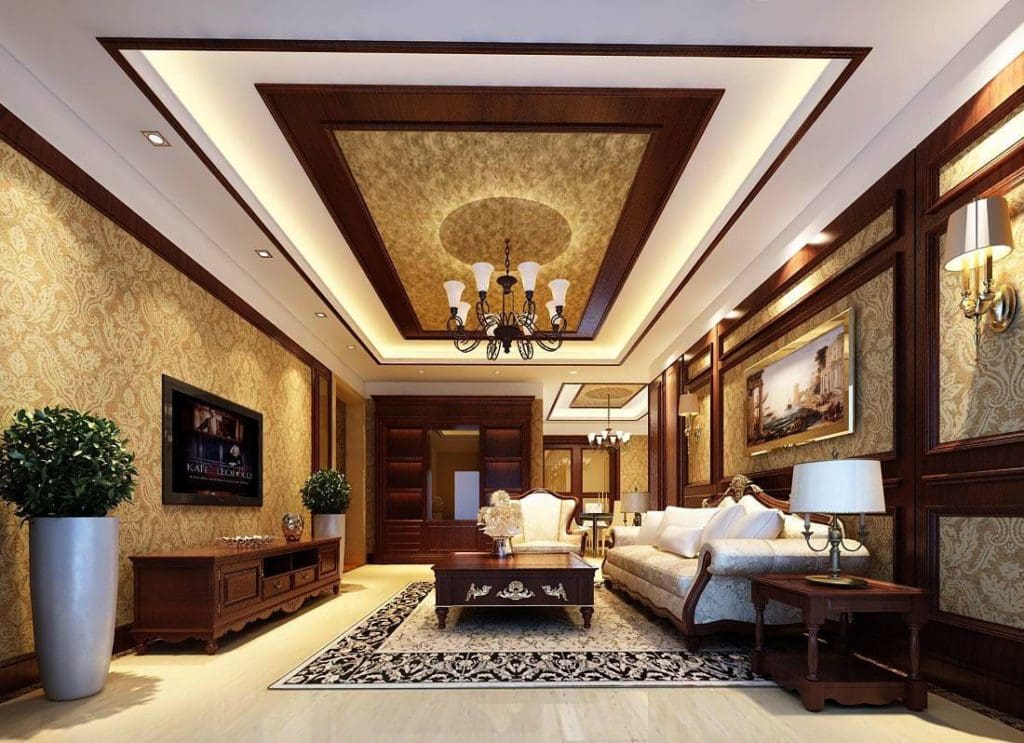 4. Layered POP Design for Living Room
Adding layers to your POP design is a great way to give your living room a dynamic shape.
Layered POP false ceilings also enhance the visual height of the room and create an illusion of space.
You can also use varying colors or materials for each layer to make it more intriguing.
5. Pop of Color POP Design for Living Room
A pop design is also a great way to inject space into your living room. This can create a focal point for neutral living.
The POP color can also complement your already existing living room color scheme.
Design experts have claimed that matching the color of your walls and ceiling can make your space look bigger.
6. Multi-Colored POP Design for Living Room
The color scheme is a highly influential aspect of interior design. Not only does it impact people's feelings but it also has a profound influence on interior spaces and can transform a space quickly and utterly.
If you love using colors and textures to showcase your artistic side, consider a multi-colored POP design in your living room.
Use a clever bold color scheme to inject some personality into your living room and to create a unique aesthetic that is visually impressive.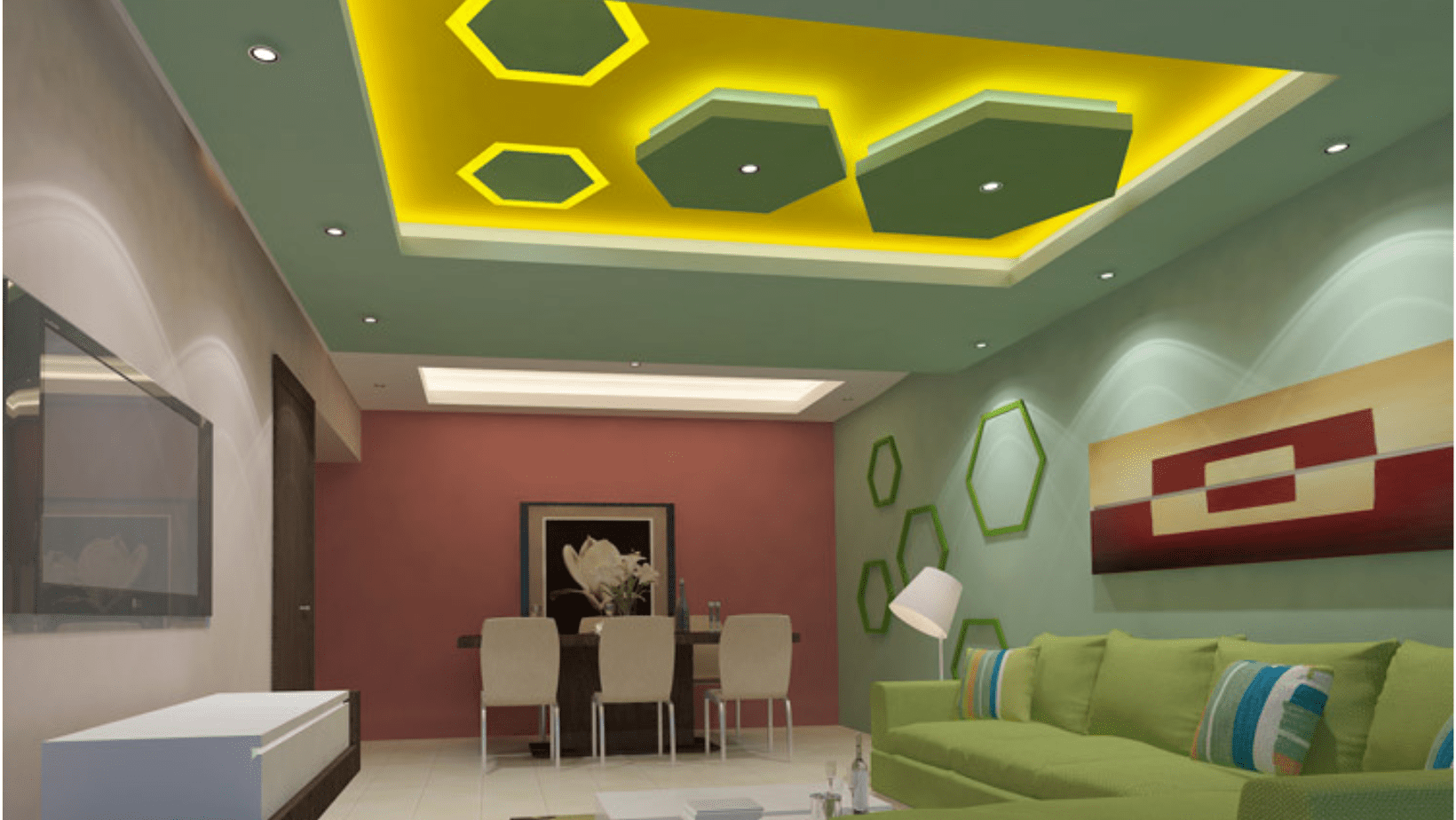 7. Multi-Colored POP LED Lighting
A creative lighting technique is crucial when designing a highly functional and visually interesting space. To make your POP design a central showstopper, consider using LED lights or varying hues. This helps create mood, impact, and drama in your living room.
8. Rectangular POP Design for Living Room
In order to make a space appear larger, POP ceilings are typically built in rectangular shapes. Small halogen spots can be added to this POP ceiling construction that has been hollowed out.

9. Neutral Tones POP Design for Living Room
Neutral colors are soothing, adaptable, and easy on the eyes. Unlike bright bold colors, they are more timeless and you can always remodel your home around it year after year.
Neutral colors such are beige are white are popular choices for POP ceilings. More and more contemporary homeowners are embracing minimalism in regard to color choices.
10. Floor-to-Ceiling POP Design for Living Room
Creating a false ceiling with POP satisfies both visual and functional needs to no end. For a chic and modern look, use a floor-to-ceiling POP design plan. This makes the POP design more apparent and intriguing in your living room.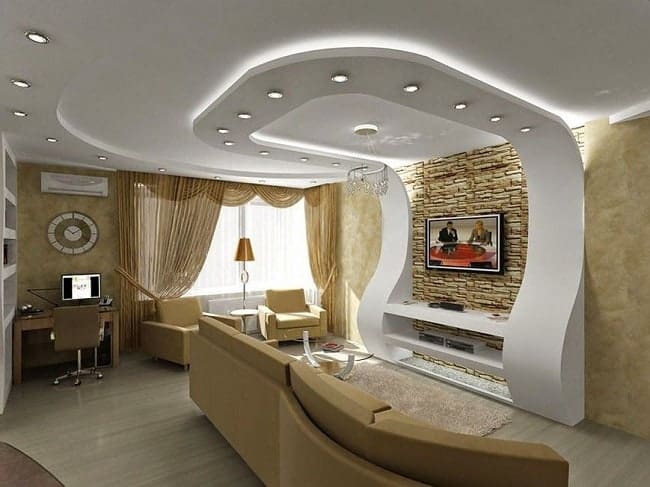 11. Gold Trim POP Design for Living Room
Gold trims and fixtures are used to add a touch of pizzazz and elegance to the interior spaces. This will give your POP a reflective surface to redirect light back into the living room.
Gold trims have the ability to add a touch of sparkle, glamour, and opulence to interior spaces. It conjures up an elegant and sophisticated impression.
12. Double Rectangular POP Design for Living Room
The rectangle POP is one of the most common POP shapes because most living rooms are either rectangular or square-shaped. This shape also gives the living room a feeling of being more spacious.
A double triangle creates an even more illusion is space. It is also great for creating a sense of partition in shared open-plan spaces.

13. Monochromatic POP Design for Living Room
A monochromatic color scheme ensures that the palette is easy on the eye and will help to balance out a space. For a laid-back approach, stick to one color, or a monochromatic hue.
By opting for a monochromatic POP color scheme for your living room, you have your unifying element right away.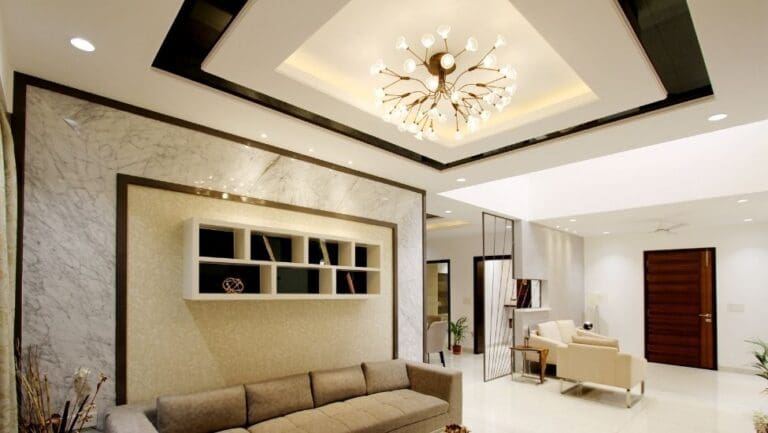 14. Unique POP Design for Living Room
When it comes to POP design shapes and patterns for the living room, there are an array of options to explore. This is why POP false ceilings are so versatile. You don't have to adhere to any design rules.
Let your creative juice flow! Mix-match shapes or create one that is unconventional. In doing so, you can create a space that is uniquely yours.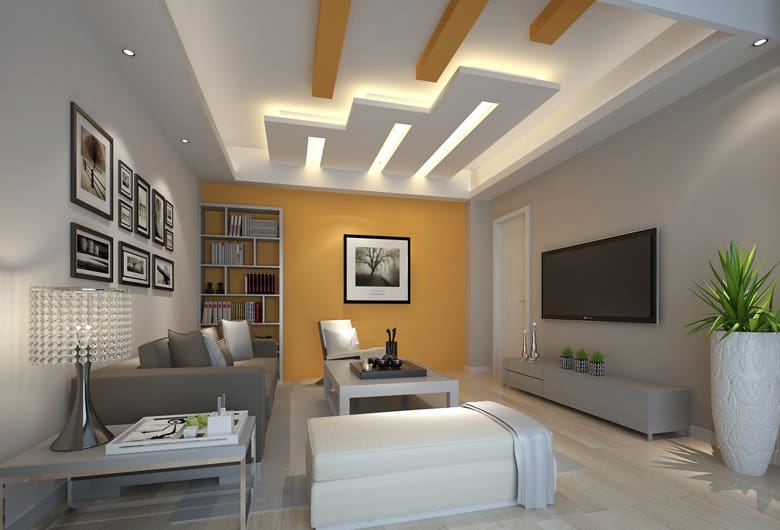 15. 3D POP Design for Living Room
A 3D POP ceiling design will be a fantastic option if you like 3D and realistic art. There is a cornucopia of visually intriguing design options to choose from in regard to the 3D POP false ceiling.
A room's height can be accentuated by using 3D POP ceiling patterns. Thus, the 3D POP ceiling design makes an appealing transition from plain, flat ceilings and gives the impression that the space is bigger.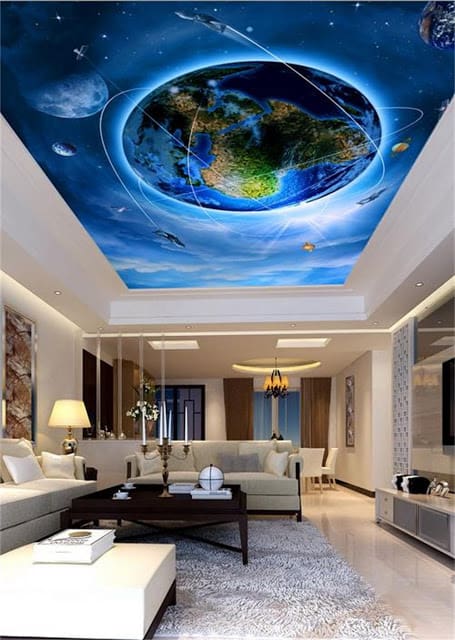 16. Contemporary POP Design for Living Room
A contemporary POP embraces minimalism, style, and functionality. It features a simplistic design, neutral colors, and warm LED light. It is sleek and stylish but does not detract from anything else.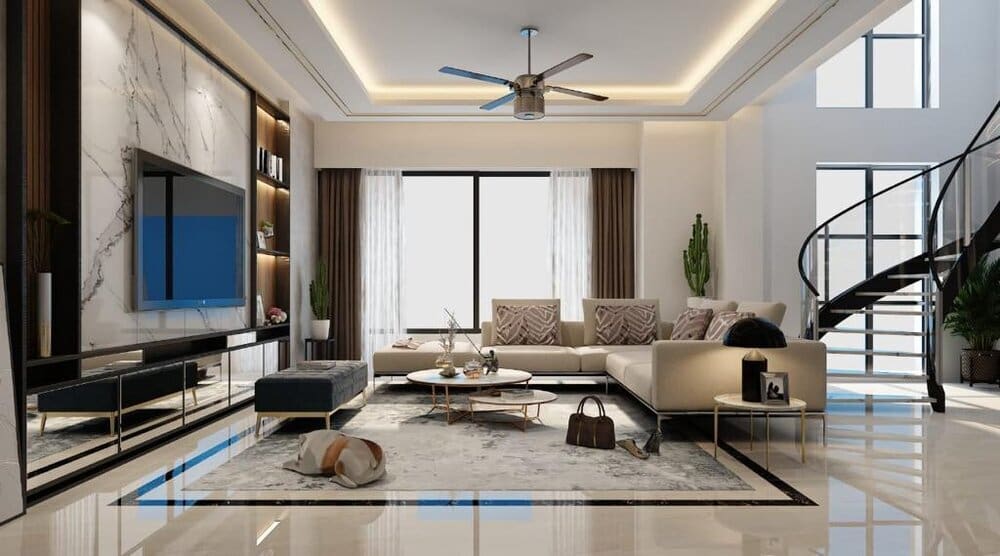 17. Grande Circle POP Design for Living Room
A circle-shaped POP is also great for creating an illusion of space. It enhances the stylistic features of a space. A grand circle POP in the middle of your living room helps create a harmonious and stylish space.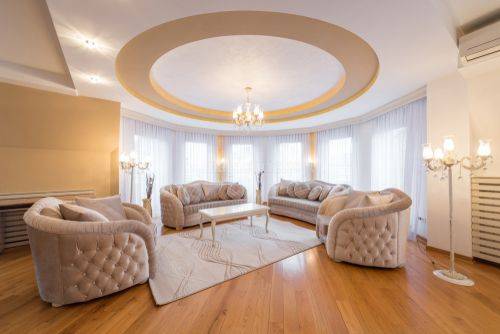 18. Geometric POP Design for Living Room
A geometric pattern POP design can put a contemporary spin on your living room interior. Unless you want to go completely conventional, they are an ideal option for transitional and contemporary spaces. 
In addition, geometric shapes instantly boost your living room's visual appeal without using frills or excessive embellishments.
Choose a pattern that works with the living room size. If it's too big, it will overwhelm the size of the space, and if it's too small, it will be barely noticeable.

19. Wood Trim POP Design for Living Room
Recurring wood tones give your living room structure and consistency, making it effortlessly balanced. Wood trims add a stylish flair and warmth to bland POP ceilings. The secret to nailing this style is to use the same wood on your furniture for a more cohesive look.
20. Spiral POP Design for Living Room
With a simple yet elegant design, the Spiral POP design offers a sophisticated and showstopper false ceiling option. Spirals mimic the effects of a circle. But, the spiral shape conveys a stronger sense of style.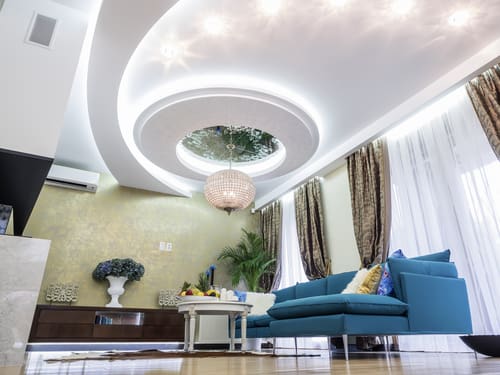 21. Partition POP Design for Living Room
Partitions help to create private spaces but an open-plan layout has many advantages. A great way to define space and create a sense of partition without cutting off one room from the next is to create several POP blocks to make each space feel separated. This also improves the visual aesthetics and feel of the space.