10 Kitchen False Ceiling Design Ideas
The kitchen is a multifunctional space that is probably the most used space in many homes. Kitchen remodeling and design tend to be the trickiest compared to other rooms. This is because the kitchen features more semi-permanent elements that are quite difficult and expensive to alter.
Hence, making the right kitchen design decision is crucial. Installing a false ceiling is a great way to add character and style to your kitchen. Traditional flat ceilings have fallen wayside. False ceilings add visual appeal to your kitchen while also adding value to your home.
What are False Ceilings?
False ceilings, also known as suspended ceilings or dropped ceilings are secondary ceilings installed beneath the main ceiling with the aid of struts or suspension cords.
These types of ceilings are made with various materials such as POP (plaster of Paris), PVC (polyvinyl chloride), glass, asbestos sheets, wood, aluminum panel, particle board, and particle board.
What are the Benefits of False Ceilings?
The most obvious advantage of installing a false ceiling is the aesthetic appeal it gives to a room. It also improves the proportion of interior spaces. This type of ceiling acts as an anti-microbial element and heat insulator.
In addition to these, false ceilings also conceal ducting and other structural elements that can make a room less interesting to look at. The installation process of quite easy and it is flexible in design.
10 Kitchen False Ceiling Design Ideas
Looking for irresistible kitchen false ceiling ideas to make a statement in your home? You're in the right place!
What makes false ceilings so popular is that they are a plethora of design ideas to choose from. However, finding the right false ceiling for your kitchen can be a bit of a hassle – but don't fret! We've got you covered!
In this article, we have curated 10 incredible kitchen false ceiling ideas that will instantly elevate the aesthetic of your kitchen.
Enjoy the read!
 1. Pop of Color Kitchen False Ceiling
According to interior design experts, color can make or break a space. A pop of color is a great way to give your kitchen an impactful edge. A great way to embellish the beauty of your kitchen using a bright color false ceiling that complements your kitchen's interior. Like an accent wall, this creates an inviting focal point that sparks interest.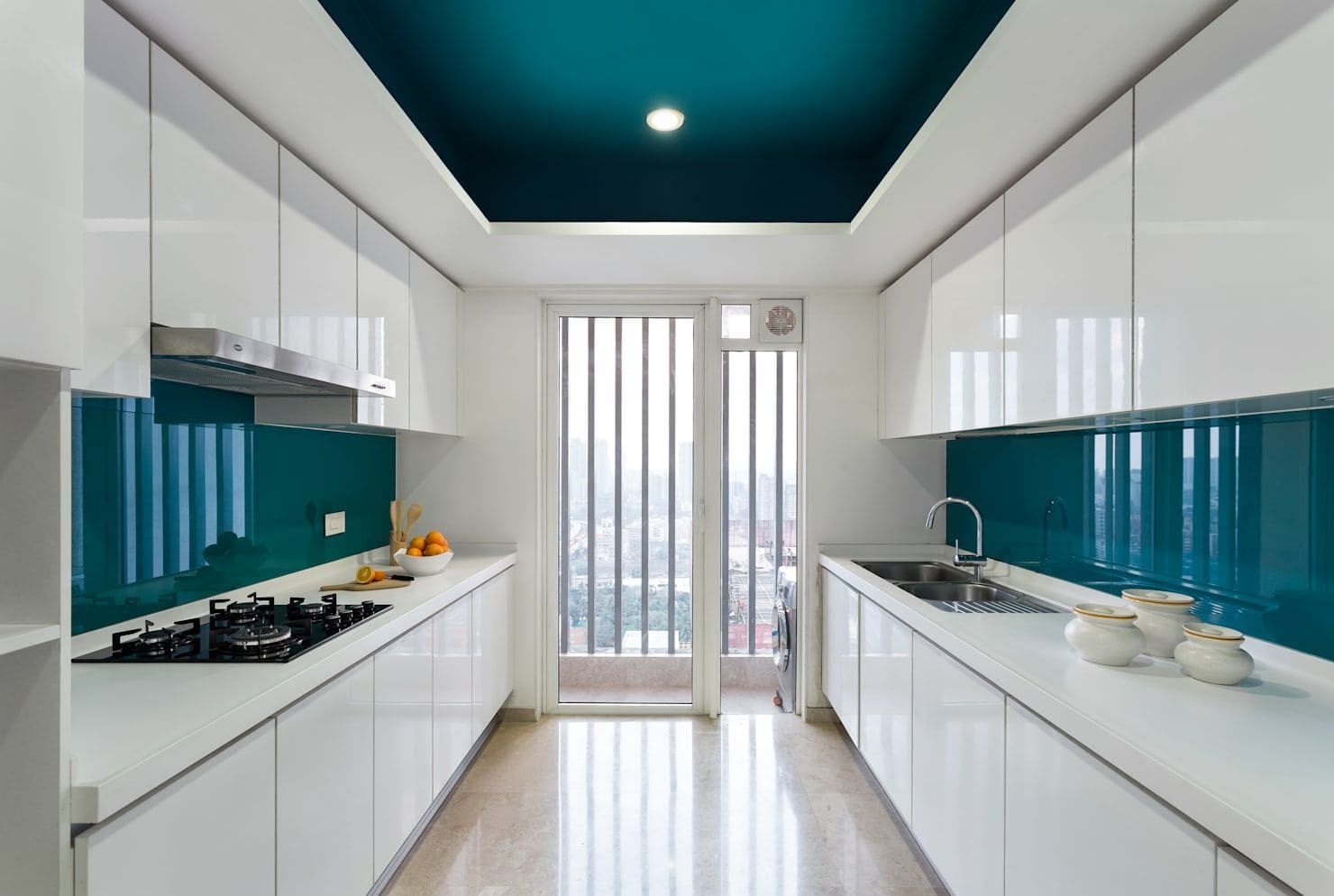 (Image source: Homify)
2. Minimal Kitchen POP Ceiling Design
A minimal kitchen POP ceiling design creates a less intrusive look. This is ideal for adding a chic layer of depth and style to a modern kitchen. A minimal approach features neutral colors and a simplistic design. To illuminate and give it a contemporary touch, install recessed lighting. This type of lighting is designed to give a sleek and polished finish while also creating a warm and inviting ambiance.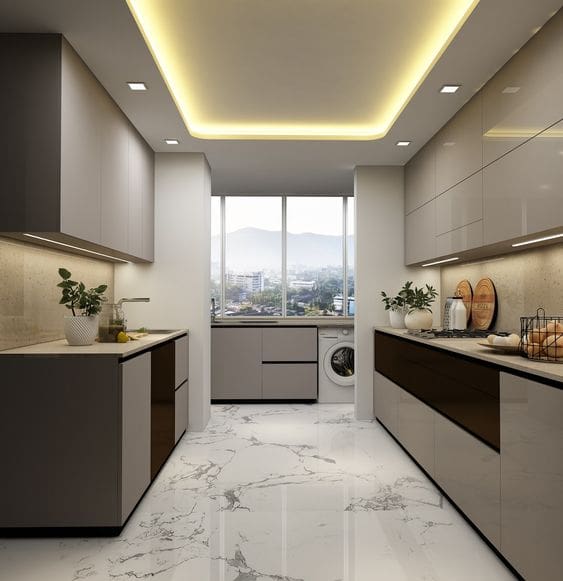 (Image source: Homify)
3. Wooden Kitchen False Ceiling Design
Wood is a material that can be found in most homes. This natural material is known for giving a rustic charm and beauty to a space. Wood is used mostly in flooring, furniture, cabinets, and other decorative elements. Do you know that wood can also maximize interest when used as kitchen false ceilings?
This approach not only adds beauty to your kitchen but is also great for sound absorption and provides good insulation. The wooden false ceiling also comes in a variety of finishes such as natural varnished wood, laminates CPL, lacquers, and many more.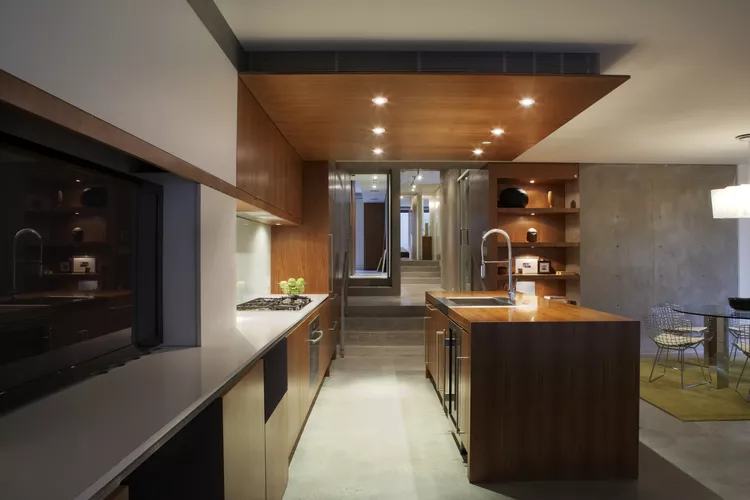 (Image source: Getty image/Ivan Hunter)
4.
Coffered Kitchen Ceiling Design
A coffered ceiling is a classic architectural detail that features a pattern of square or rectangular indentations or recessed panels on an overhead surface. A coffered ceiling gives a space an old work appeal. It gained traction in the Renaissance and then again in the 20th century.
This style of false ceiling can be seen mostly in traditional and mid-century homes, however, we've seen them elevate the look of modern kitchens as they are very flexible in terms of style and can be customized to work in any style of kitchen.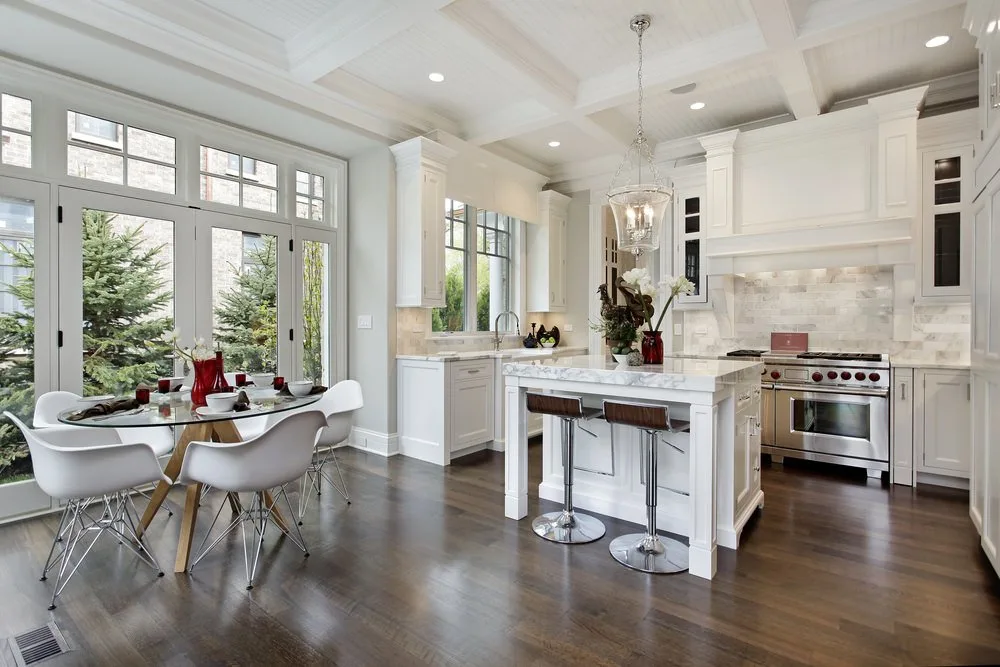 (Image source: Pinterest)
5. Spiral
Kitchen POP Ceiling Design
A spiral-shaped POP design is a great way to add grandeur and understated elegance to your kitchen. This is particularly ideal for kitchens lacking a focal point and it adds a sense of drama and stylish touch to a kitchen. This shape also creates an illusion of space so it also works great to make a small kitchen feel open and full of character.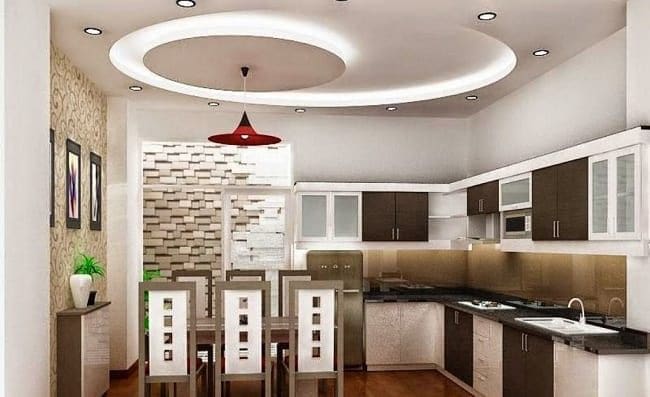 (Image source: Pinterest

)
6.
Tray Kitchen False Ceilings Design 
The tray false ceiling is similar to the coffered ceiling, except it's just one grand coffer. This is a simple false ceiling design idea that can be used in any kitchen. The tray false ceiling design is ideal for the kitchen because it creates an effortlessly stylish feel and provides for the concealment of indirect lighting fixtures along the perimeter portion.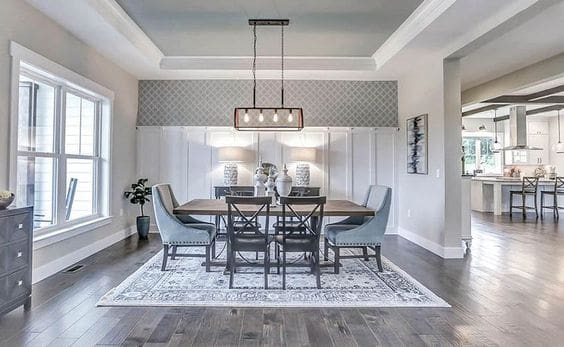 (Image source: Pinterest)
7. Wood and POP
Kitchen False Ceilings Design 
Incorporating more than one material is a common approach in suspended ceiling designs. This approach adds a chic and unique layer to your kitchen. Wood comes in various tones ranging from yellowish-brown, heartwood, pale cream, sapwood, and many more. To tie the look of the kitchen together, consider matching the false ceiling wood to your wooden floor, cabinet, or countertop.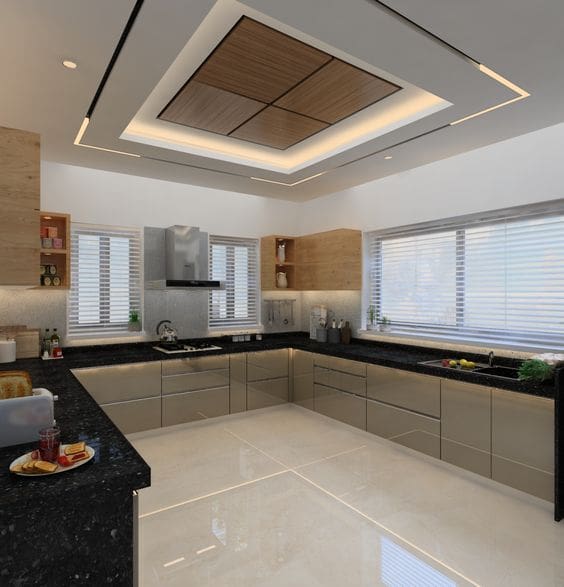 (Image source: Pinterest)
8. Black
Kitchen False Ceilings Design 
Black is an unconventional color choice for a false kitchen ceiling. However, it can instantly give your kitchen an impactful edge. Most shy away from black when it comes to false ceilings but if you want to evoke character, spirit, and personality, this may be ideal for you.
Black accent wall has been trendy in interior design in recent years. They are great for setting a dramatic tone in a room. This false ceiling design is better suited for a bigger or open-plan kitchen. This may not be the best option for small kitchens as black has a reputation for being claustrophobic and gloomy.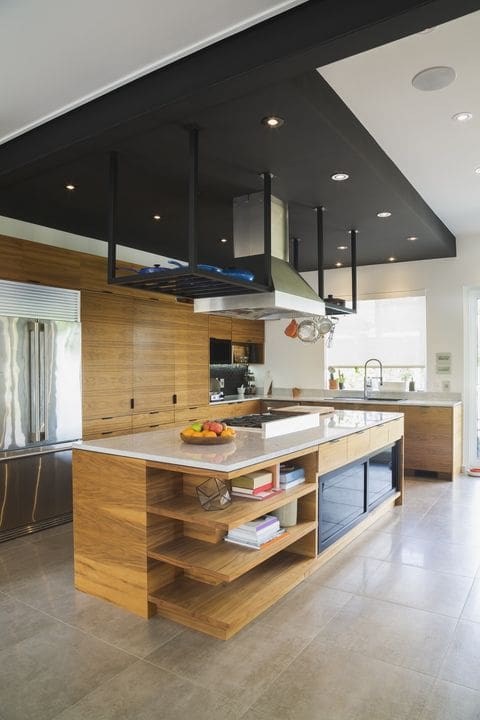 (Image source: Pinterest

)
9. Wood Paneling
Kitchen False Ceiling Design 
Put a contemporary spin on your kitchen ceiling by installing slat paneling with parallel strips of wood. The use of wood paneling in interior design provides elegance and warmth to a room. It was even predicted to be one of 2023's most irresistible design trends. Natural wood is also timeless but other than the aesthetic benefits, it also provides great insulation.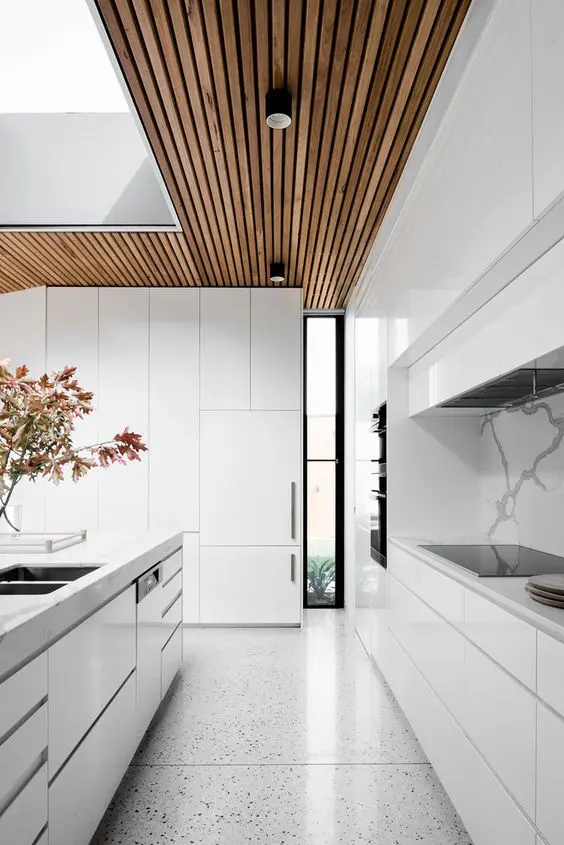 10. Intricate Craving
Kitchen False Ceiling Design 
The depth and detail in an intricate craving will elevate the look of your kitchen without a doubt. This style is an ancient technique used to create interesting visual effects in design and architecture. This ceiling design can also be carved into the kitchen's original ceiling design. It is an attention-grabbing kitchen false ceiling design idea that also adds a stylish flair to your home.