45 Modern Black Front Door Ideas (With Photos)
Black can make a simple yet bold statement. Black front doors have become a symbol of modernity and sophistication for contemporary homes today. Get inspired by these modern black front door ideas! 
First impressions matter! Replacing or repainting your front door can instantly boost your curb appeal. Choosing a front door color for your home can be a tough decision— especially if you want your home to stand out from your neighbors yet remain elegant and refined.
It is important to choose a color and design that can stand the test of time instead of following fickle trends. They are only a few timeless front door colors that can add sophistication and a strong sense of style to your exterior. Black is arguably the best front door color for modern homes. In fact, it is the most popular front door color around the world.
There are good reasons why many homeowners prefer this color. Black is one of the most versatile hues and pairs beautifully with any color under the sun. It is favored for its timelessness and elegant appeal.
If your exterior walls need a new paint job in the future, a black door will not need changing or painting as it will complement your new exterior. Plus, this crowd-pleasing front door color can make your home exterior feel modern and fresh rather than kitschy.
The style of your home will determine the most suitable front door design for it. Color-wise, a black front door will work for any home type. You'll feel great coming home to visually impressive curb appeal.
In this article, we've curated 45 incredible modern black door ideas to inspire you and important things to consider when buying a front door.
Whether you prefer a wooden or wrought iron material, small or big front door,  you will find ideas to fulfill your preferences and predilections.
1. Modern Black Glass Door
Glass doors and windows are a fusion of elegance and modernity. It can add sleekness and a luxury appeal to your home exterior. Black framed glass doors are more popular than other colors because of their versatility and ability to conceal stains that may build up over time.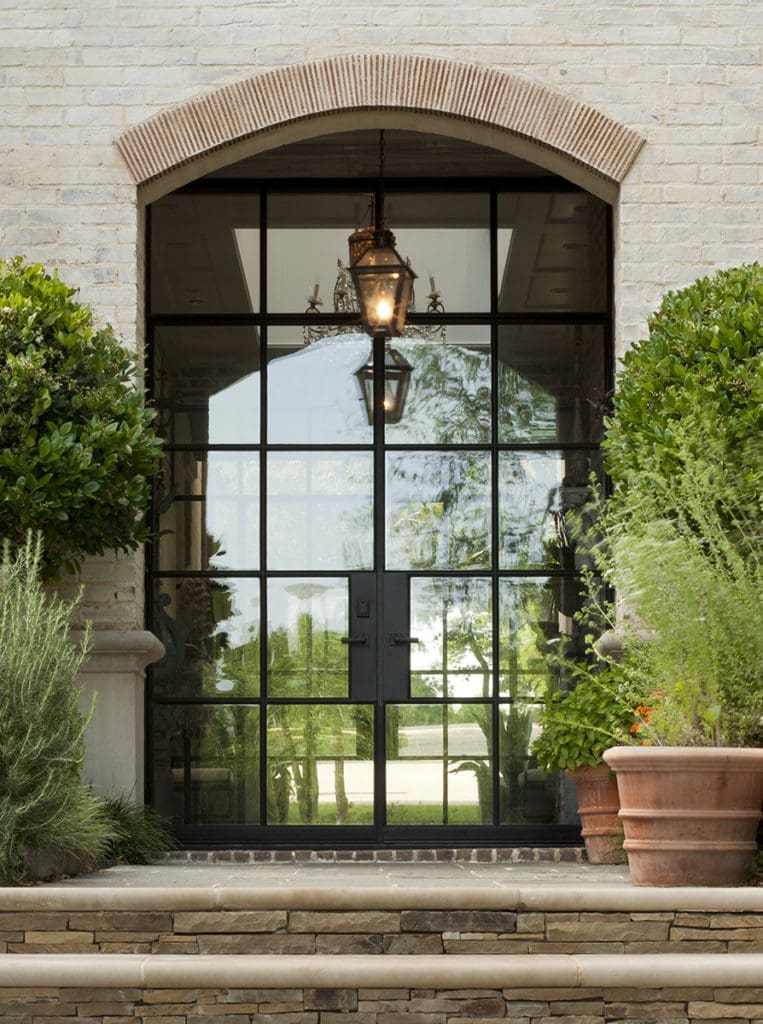 PHOTO: DECOIST
2. Grande Arch Framed Glass Door
If you're blessed with a big home and want to make a bold statement, consider a grande and elegant door style like the arch glass door. Black frame glass doors tend to be ideal for contemporary homes.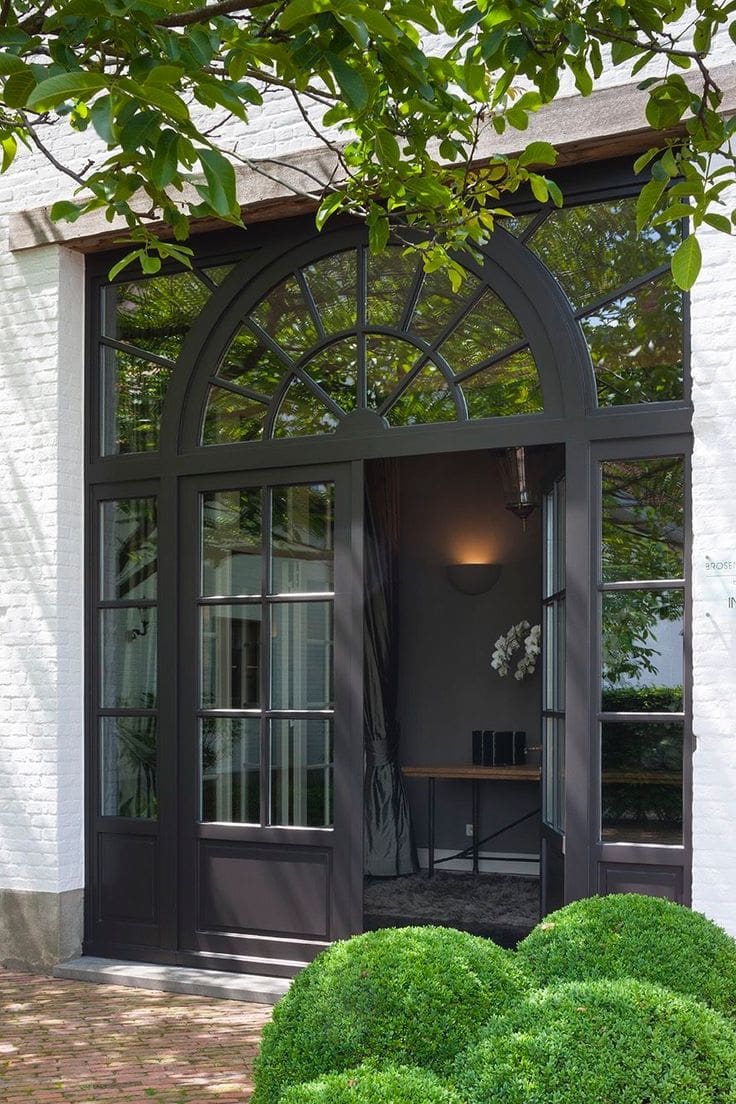 PHOTO: ARIANNE BELLIZAIRE INTERIORS
3. Minimalist Arch Glass Door
A simple but elegant arch-glass door will instantly modernize the look of your home. A minimalist design is sure to stand the test of time rather than complex or dramatic ones.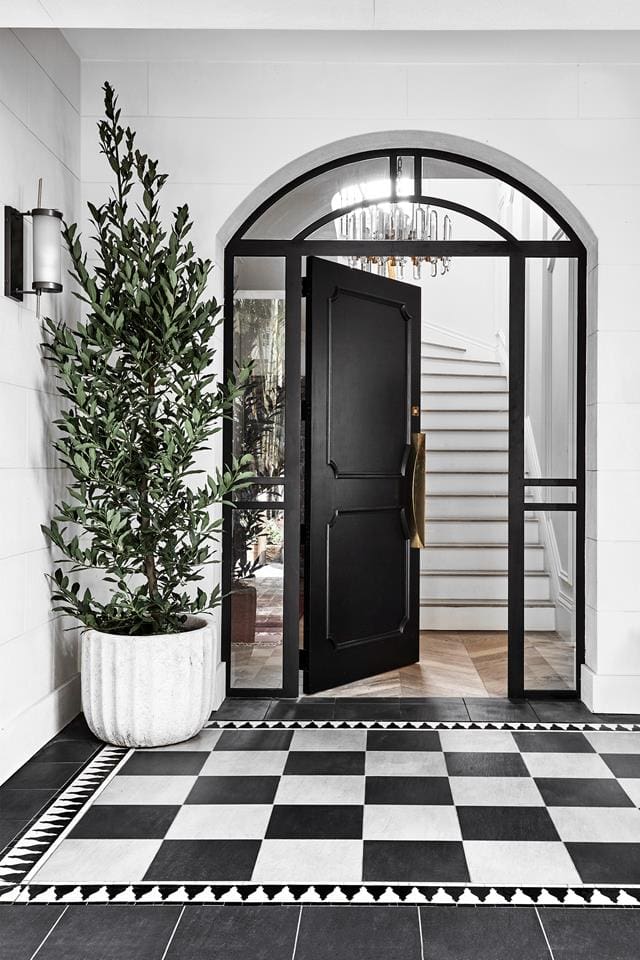 PHOTO: KATE NIXON
4. Wood Frame Glass Black Front Door
The most common door material for bother interior and exterior spaces is wood. The beautiful thing about wood as a door material is that is it incredibly strong and resistant to dents and scratches.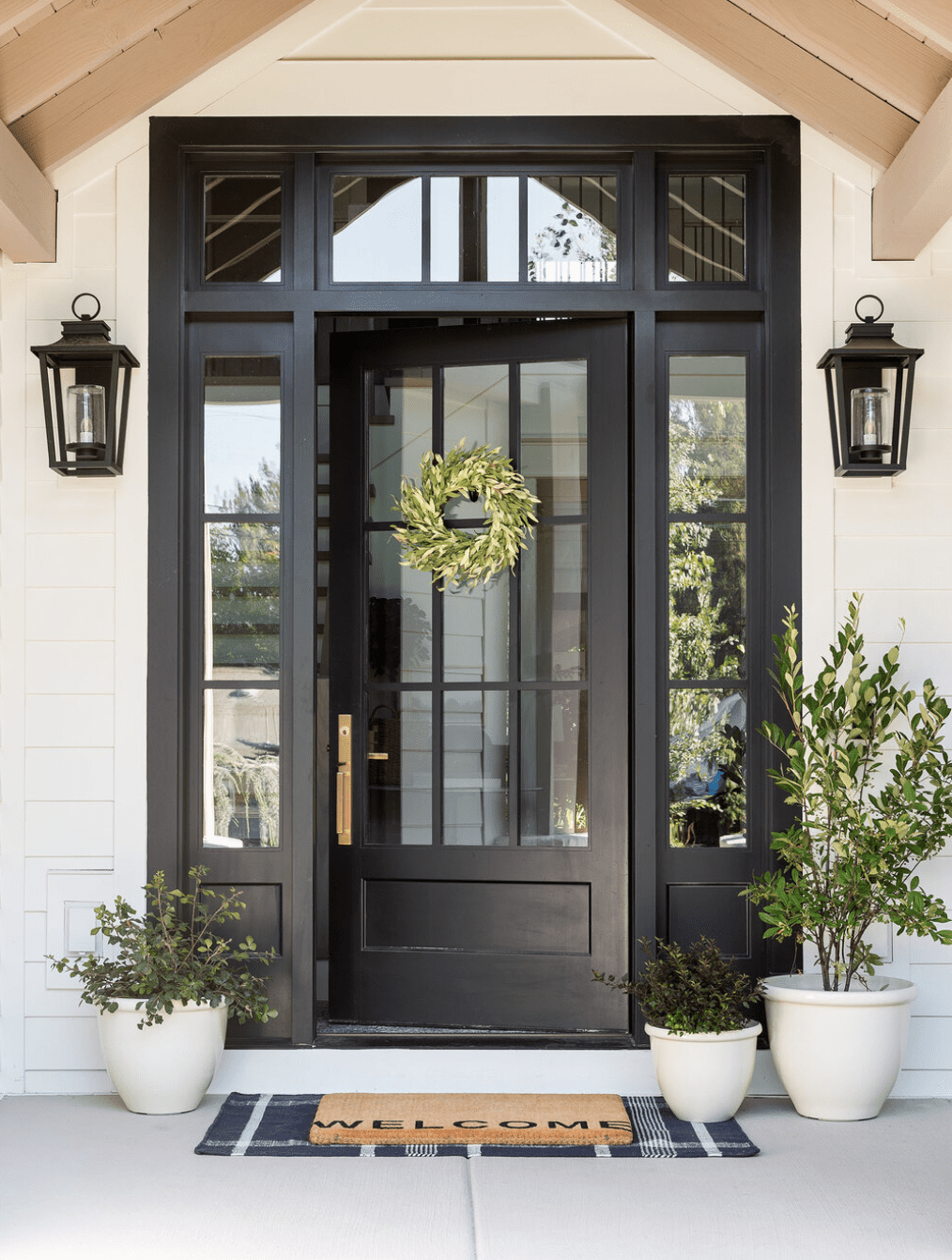 PHOTO: STUDIO MCGEE
5. Black Wooden Front Door With Sidelights
Sidelight is a term used to describe vertical pieces of window-like glass that are installed on the sides of a front door. A sidelight can add a contemporary feel and infuse your home's entryway with plenty of natural light.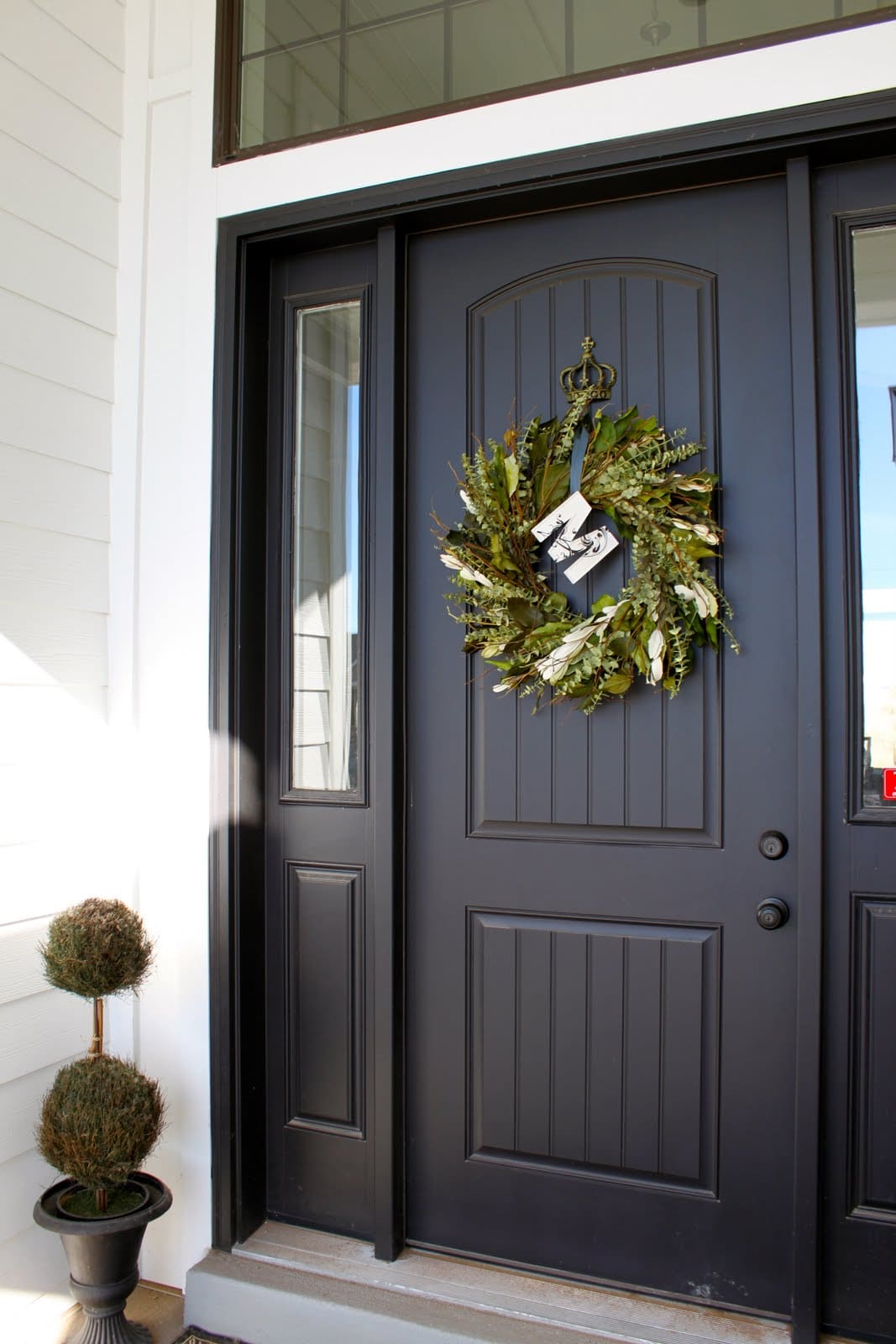 PHOTO: AMYS CASABLANCA
6. Black French Front Door
If you're looking for a front door that radiates elegance and sophistication, a black French door should be up your radar. A French door is a traditionally hinged double door. This type of door opens outwards on a hinge (or outwards depending on the design).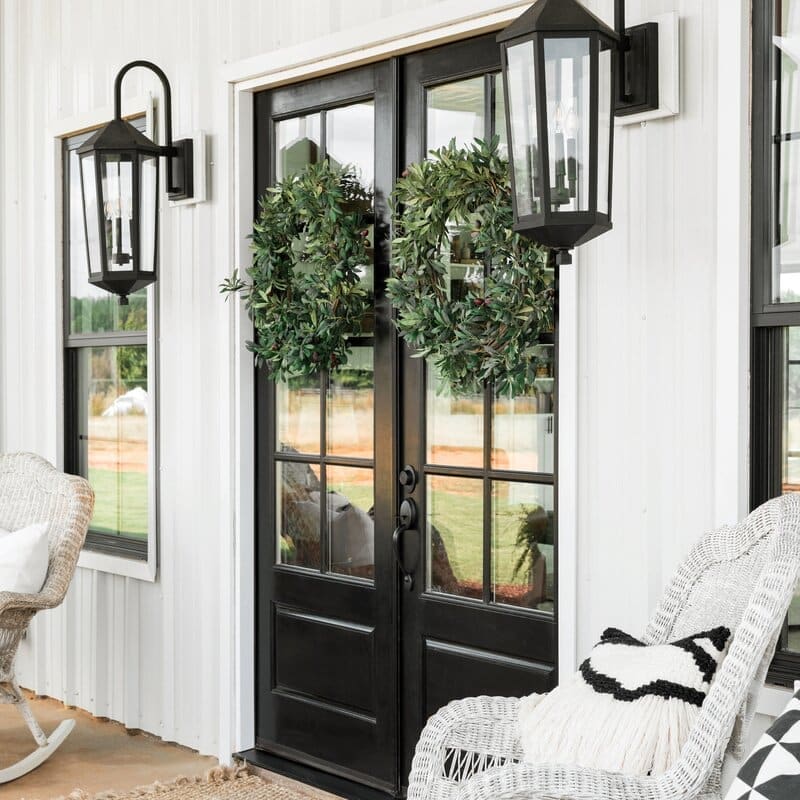 PHOTO: FASHIONABLE HOSTESS
7. Georgian-Style Black Front Door
The Georgian door style is one of the most popular front door choices for modern homes in England and even some parts of the world—despite being inspired by the style in the Georgian era which dates back to 1714 to 1837 in British history.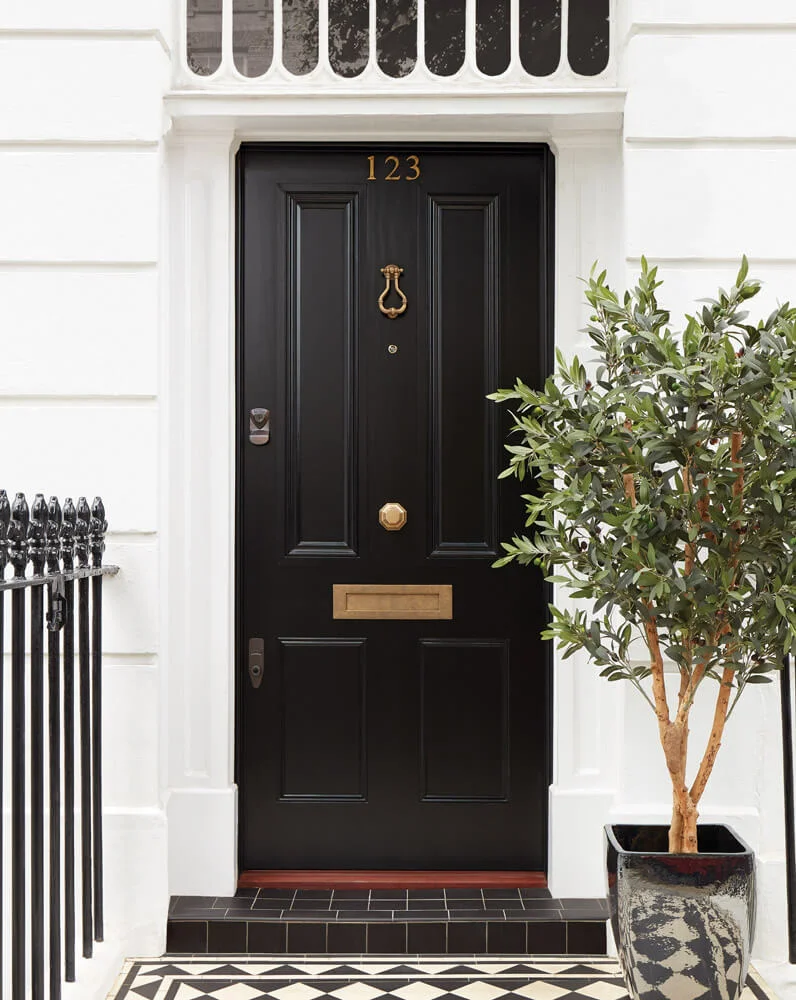 PHOTO: KINDRED VINTAGE
8. London-Style Black Front Door
If you picture the homes in the richest London boroughs like Kensington, Belgravia, and Nottinghill look like, you'll realize that there is a particular type of door prevalent in these neighborhoods. They are often beautiful, shiny, and attention-grabbing Victorian or Georgian-style doors.
PHOTO: ALADYINLONDON.COM
9. Gate-Style Steel Front Door
A gate-style door is often used in combination with an inner door and is mostly seen in some neighborhoods where they may be insecurity. The best way to add elegance and modernity to this type of door is to give it a fresh coat of black paint.
Read here for the best paint colors for gates.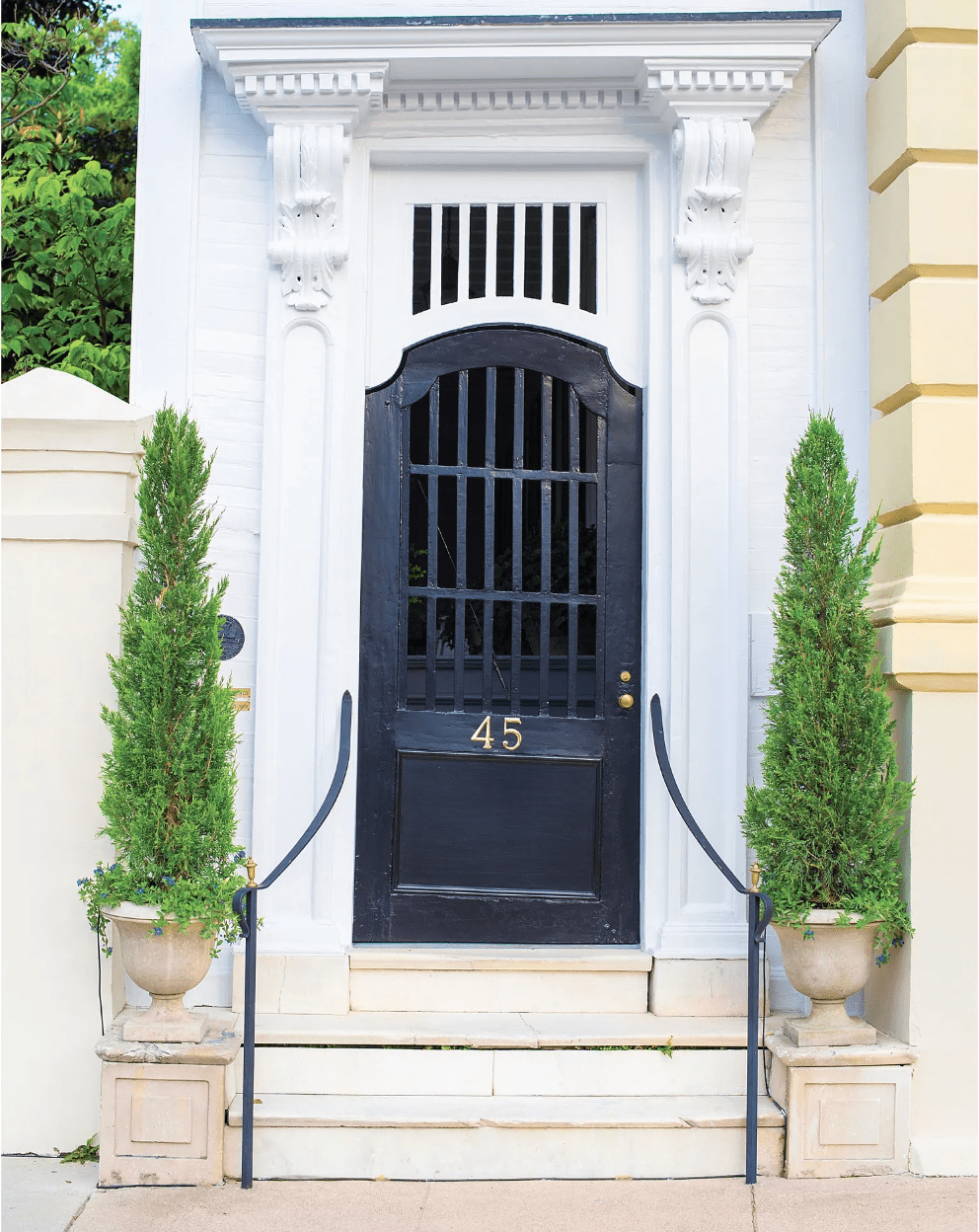 PHOTO: STUDIO MCGEE
10. Reflective Black Front Door
A surefire way to give your front door an ultra-modern feel is to install a reflective black front door. The reflective quality of this glass will make the space appear bigger and give it a sleek look. Plus, unlike clear glass, reflective glass will enhance your home's privacy.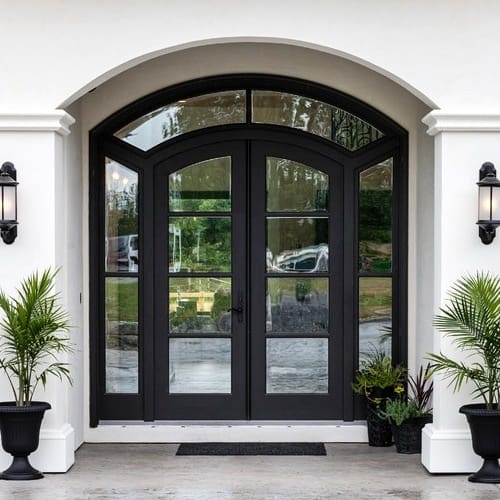 PHOTO: RHINO STEEL DOORS
11. Black Front Door with Letter Plate
Front doors with letter plates are tremendously popular in Europe, especially the UK and Ireland. While, in some parts of the world like the US, people have a dedicated letterbox for posts. Some homeowners use a stylish letter plate with beautiful metallic color to add more appeal to the front door.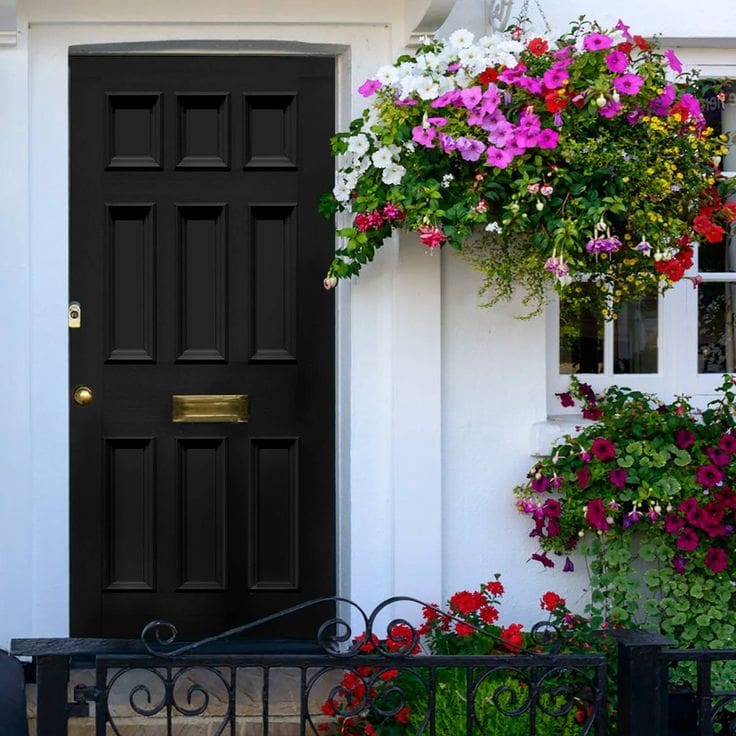 PHOTO: DIRECT DOORS
12. Front Door with Sidelight and Transom Window
A clever way to brighten up your entryway is to install sidelights and a transom window alongside your black front door. These types of windows do not open up like regular windows. Their main purpose is a let allow the flow of natural light and lend a contemporary and sophisticated feel to a space.
PHOTO: AGK DESIGN STUDIO
13. Half Glass Black Front Door With Two Vertical
Incorporating glass in your front door is the way to go if you want a refreshing contemporary aesthetics. The half-glass front door style is a popular style that is sure to flood your entryway with plenty of natural light.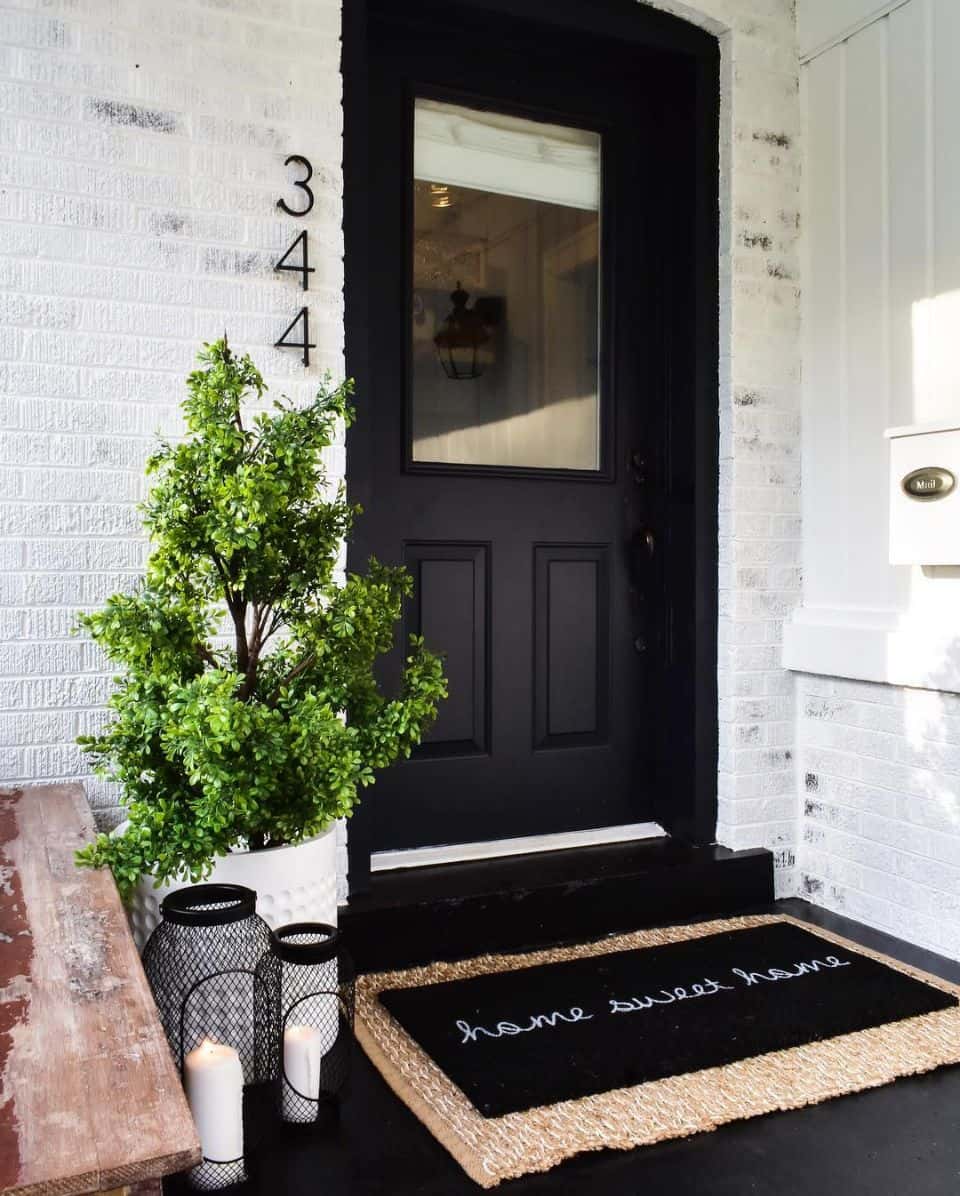 PHOTO: KINDRED VINTAGE
14. Wrought Iron Black Door
In comparison to wood, glass, and steel materials, wrought iron is tried and tested to be a far more durable option. A well-designed black wrought iron front door can create a statement-making aesthetic.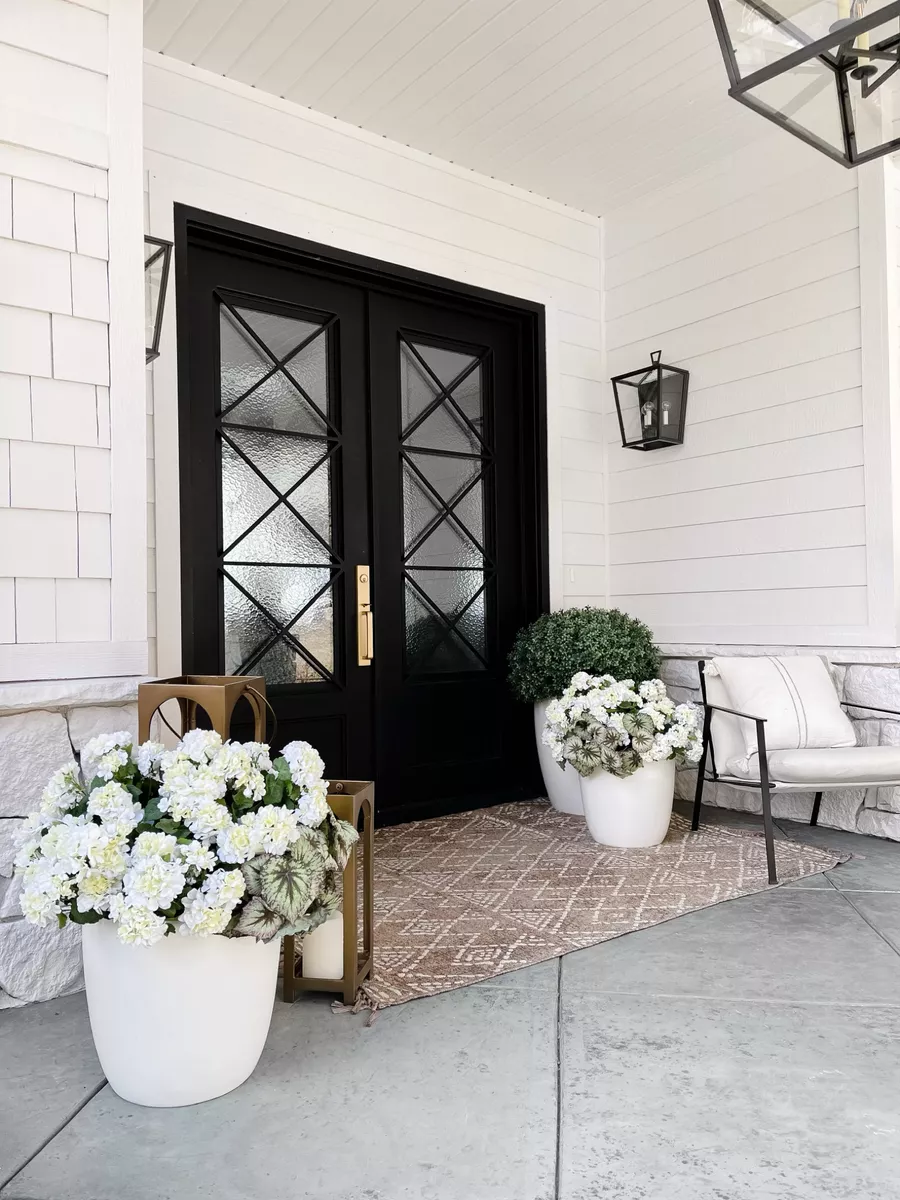 PHOTO: THE HILLARY STYLE
15. Modern Single Glass Front Door
At first glance, a single glass front door looks unrelealtic privacy-wise. Some homeowners who find this style of door appealing also install a second door behind it to keep the space private whenever needed.
PHOTO: NOTING GRACE
16. Black Modern Farmhouse Front Door
There is an authentic aesthetic and simplicity about the modern farmhouse front door. This style of door is the perfect combo of classic and contemporary.
PHOTO: ETSY
17. Black Dutch Front Door
A Dutch door, also known as a stable door, is a style of door that is horizontally divided in half. This means that one half can stay closed while the other is open. It can help to bring in some fresh air and natural light while also preventing small children and pets from walking out unnoticed.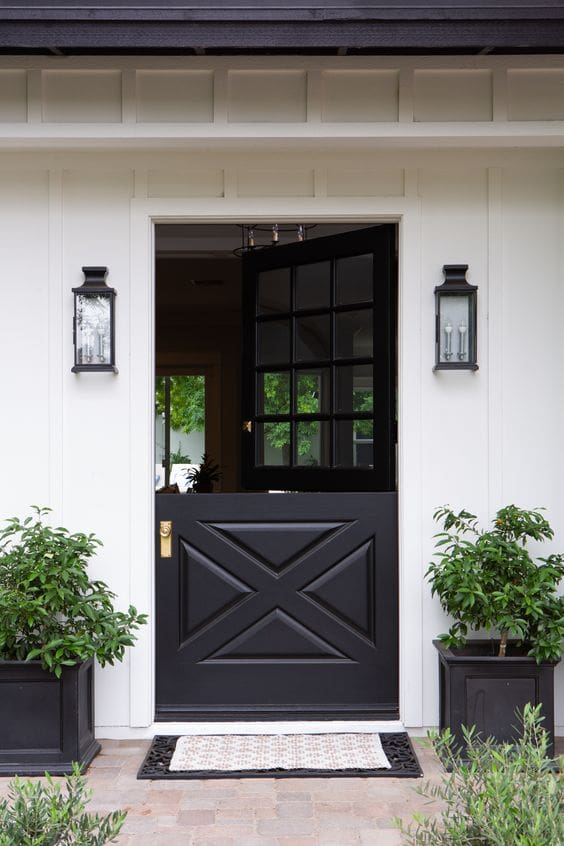 PHOTO: SHELTERNESS
18. Black Front Door with Matching Window
If you have windows in front of your home, it is best to consider the style of the window when choosing a front door style for your home. A matching or complementary front door and window will help to create a sense of cohesion in your home exterior.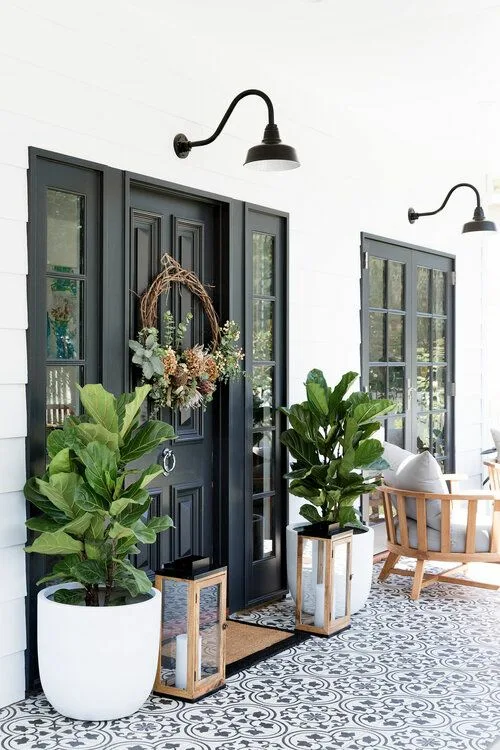 PHOTO: HOMME STUDIO
19. Matt Black Front Door
The finish of your front door is also an important factor to consider. Matt is the common front door finish amongst contemporary homes. A chic matt black door can lend a timeless elegance to your space.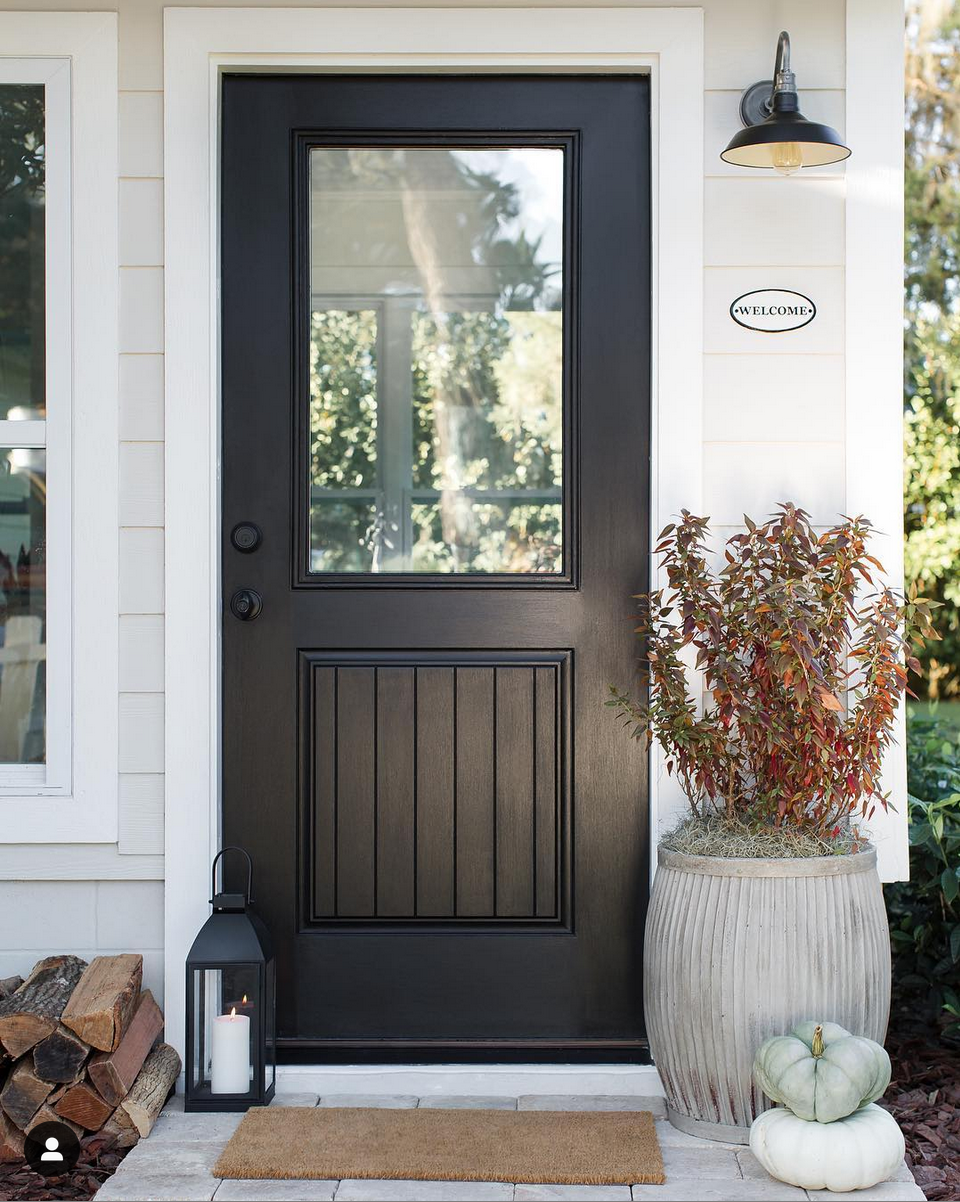 PHOTO: LAINE & LYNNE
20. Soft Black Front Door
Rather than choosing a deep black front door, consider a soft black shade to add elegance and a refined look to your space. Some of Benjamin Moore's soft black paint colors are Kendall charcoal, iron mountain, wrought iron, and many more.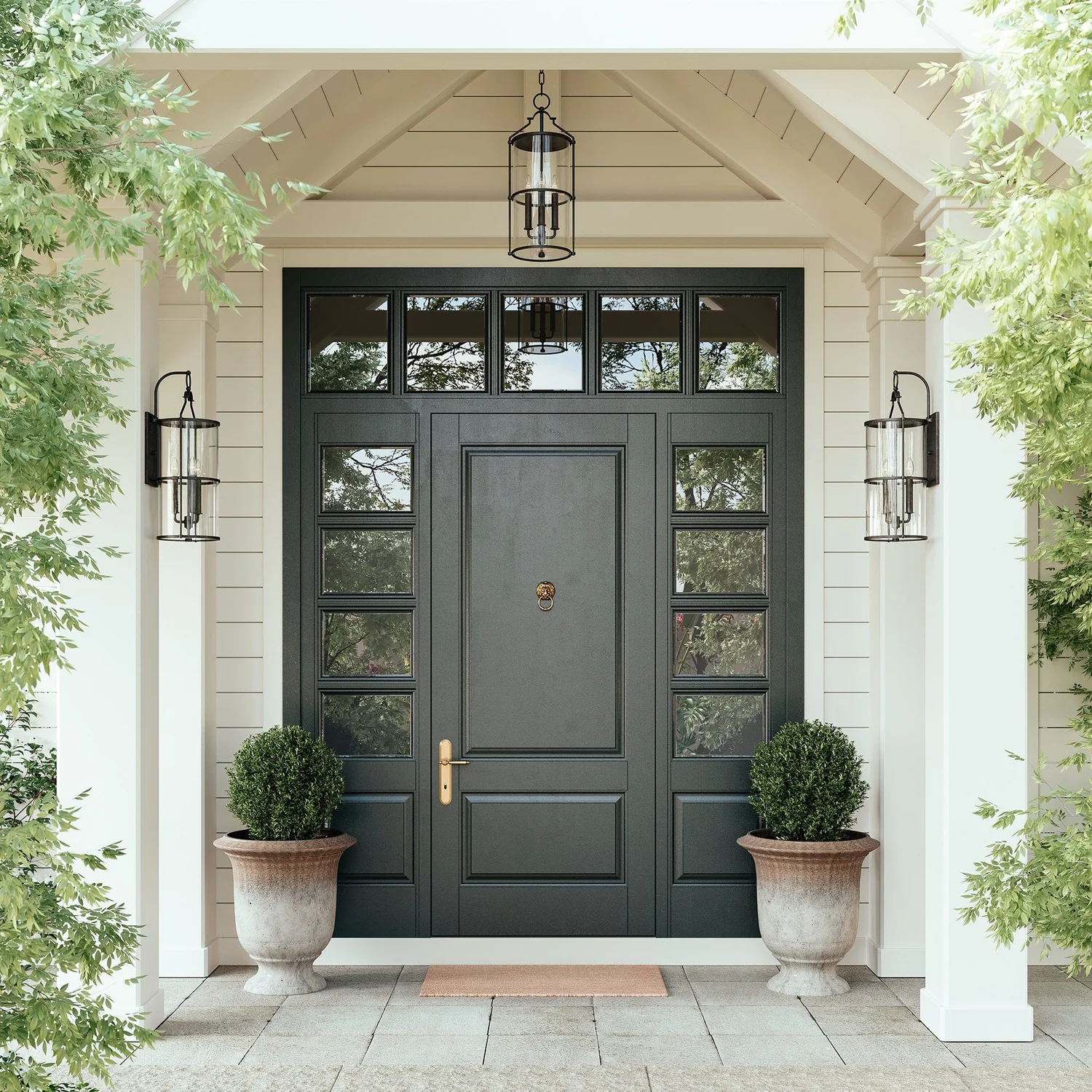 PHOTO: MEADOW BLU
21. High- Gloss Black Door
For some people, a matt black finish may appear dull. If it is for you, then consider a high gloss finish, which gives a very shiny and light-reflecting appearance.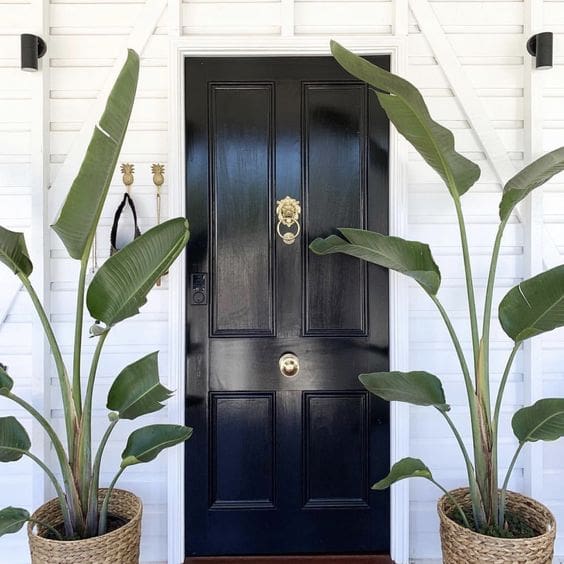 PHOTO: COLONIAL WAREHOUSE
22. Black Front Door With White PVC Cladding
A white cladding is the perfect backdrop to make your black front door stand out because it yields an easy contrast. Although black is a highly versatile color, no color brings out the beauty of black quite like white.
PHOTO: LAKE AND LUMBER
23. Black Framed Glass Door With White Framed Sidelights
To amplify your exterior's overall aesthetics, consider using white frame sidelights instead of a matching black one. The black and white front door aesthetics will give your home's entrance a modern edge.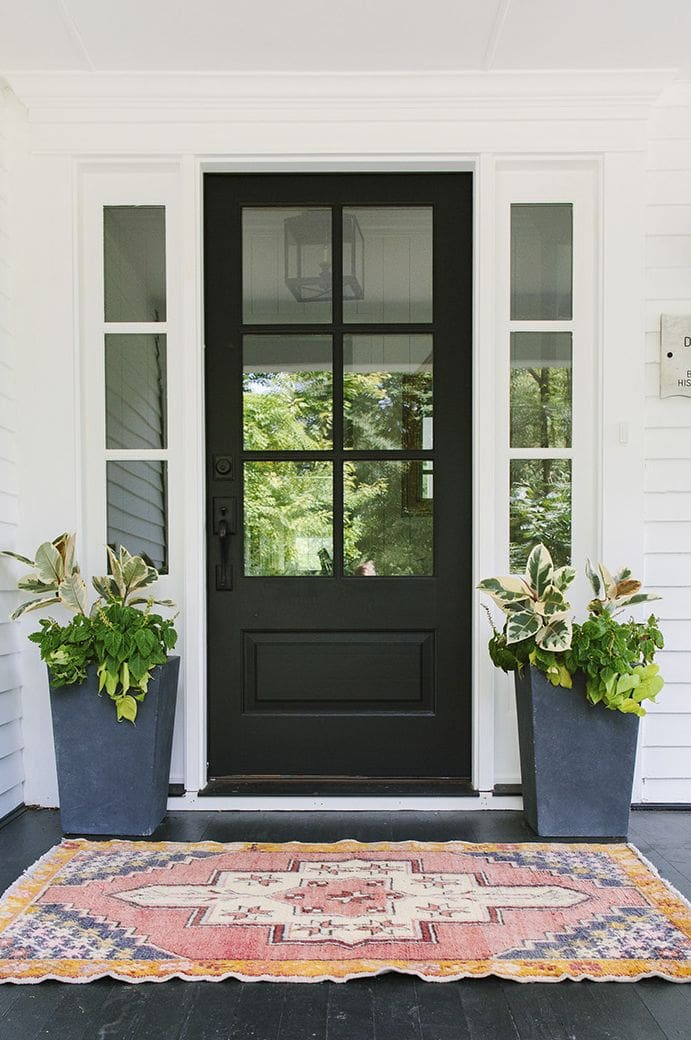 PHOTO: KATE MARKER INTERIOR
24. Diamond Lead Glass Front Door
 Leaded glass is a simple and unique type of glass design that enables the combination of different patterns and glass types in a remarkable way. The diamond lead glass front door is sure to demand attention.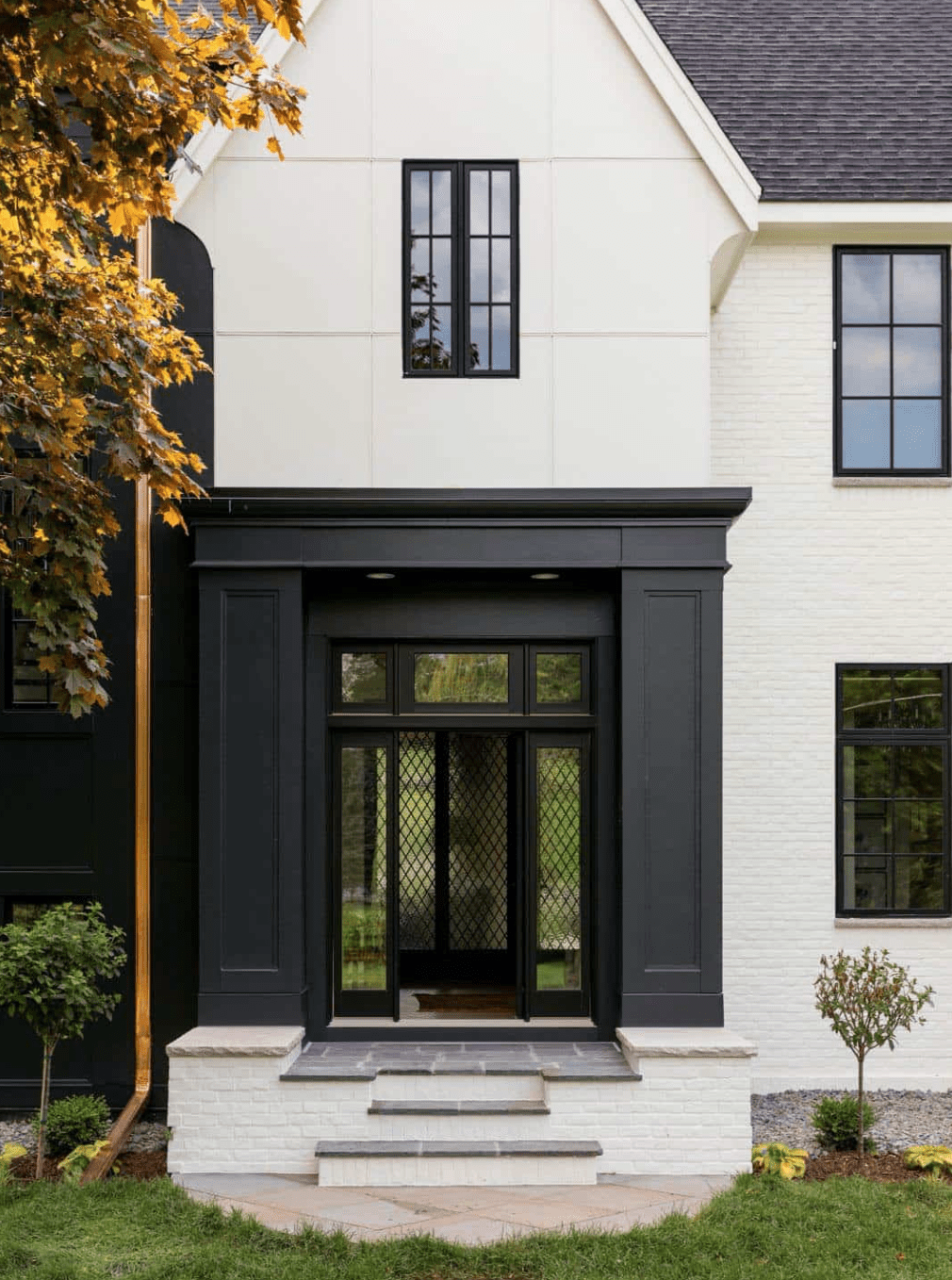 PHOTO: DAVID CHARLEZ
25. Luxury Black Double Front Door
No other type of door sets a tone of modernity and laid-back lux like a black double door. This is the most common way to add zing to any modern home.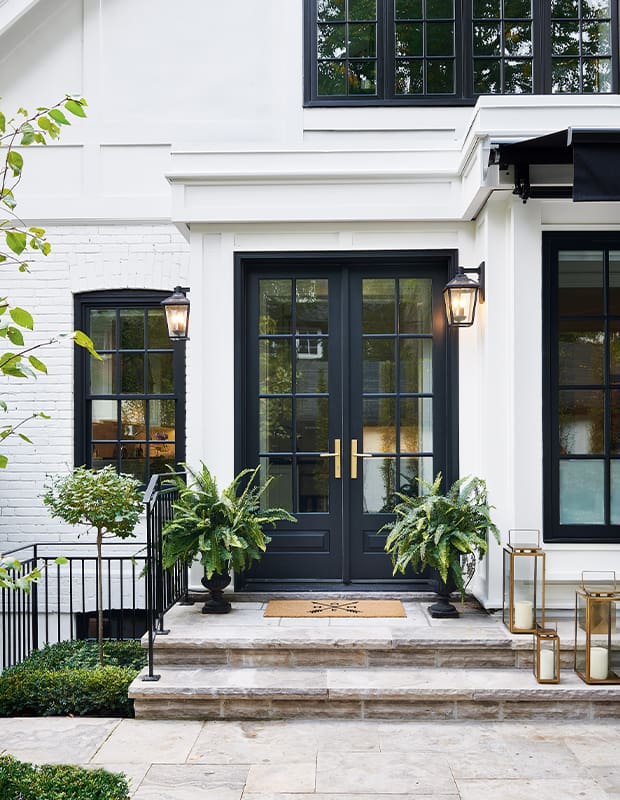 PHOTO: ALEX LUKEY
26. Mirrored Glass Front Door
The mirror effect in this type of front door creates a bold yet simple statement. It will not only enliven your home but it will also make it feel more fresh and modern.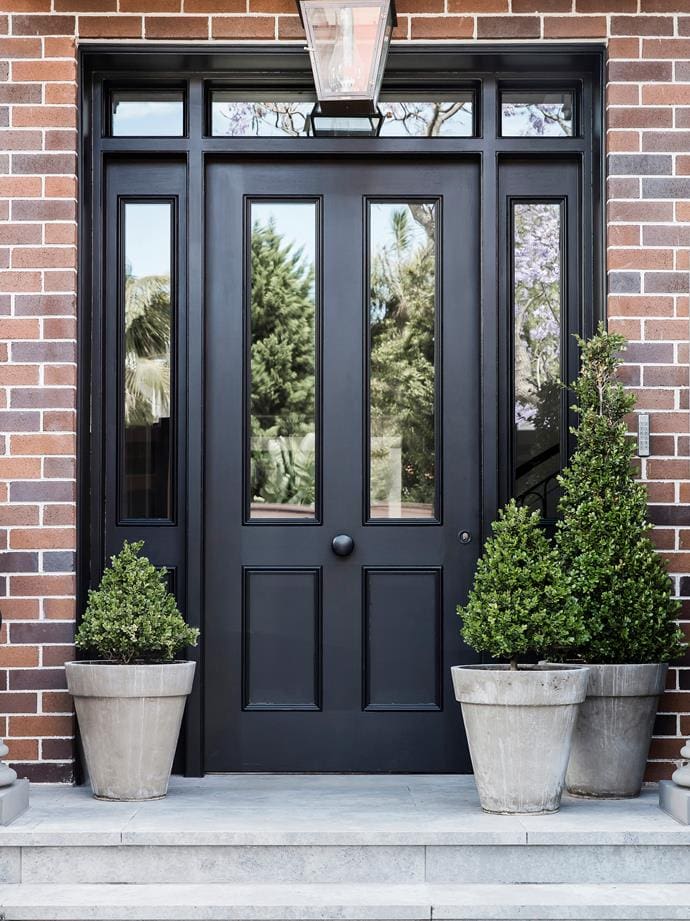 PHOTO: MARIE HOMER
27.  Black Front Door with a Fan Arch Transom Window
Striking a balance between classic and contemporary, a fan arch transform window will make your home entrance stand out like never before.
PHOTO: CHIP & JOANNA GAINES
28. Slim Arched Black Front Door
Arched front doors are a beautiful addition to both classic and modern homes. Also called radius or half-moon, this type of window and door has a semi-circular arch at the top and a rectangle bottom.
PHOTO: STUDIO MCGEE
29. Black Front Door with Brass Hardware
Brass or gold-toned hardware is known to add richness and a sophisticated feel to a space. To give your modern black door a polished aesthetic and beautiful contrast, consider using brass hardware.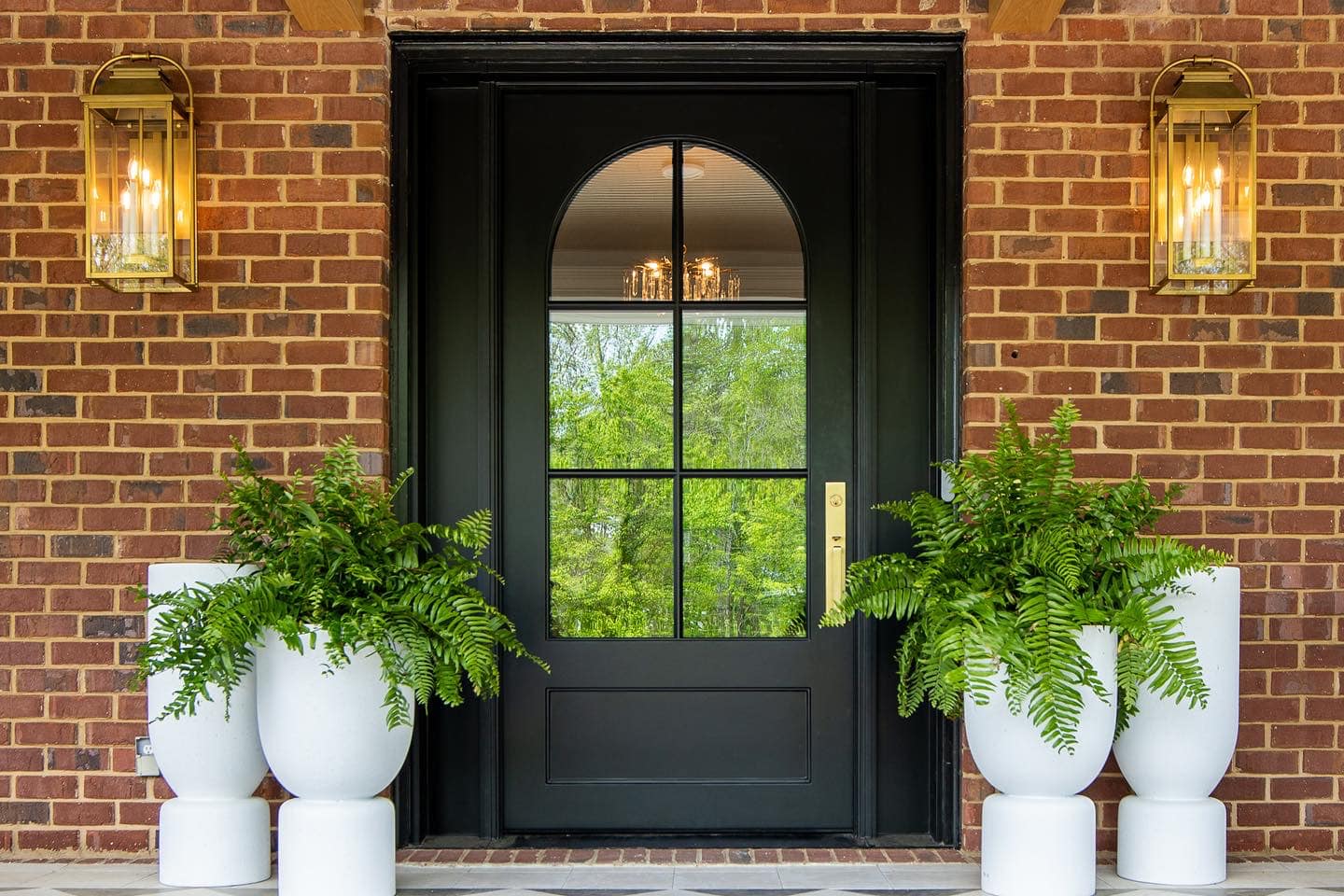 PHOTO: IRON LION
30. Arched Glass Front Door with Matching Trim
A front door trim or molding helps frame the door and boost its appearance. It also helps to cover the spacing for the siding. The white arch-style trim is incredibly sophisticated alongside a black arched door.
PHOTO: IRON LION
31. Four Panels Front Door with a Modern Appeal
Panels doors are perhaps the most common type of internal and external door. They are more durable than flush doors and hold more appeal. The four-panel door is simple, elegant, and timeless.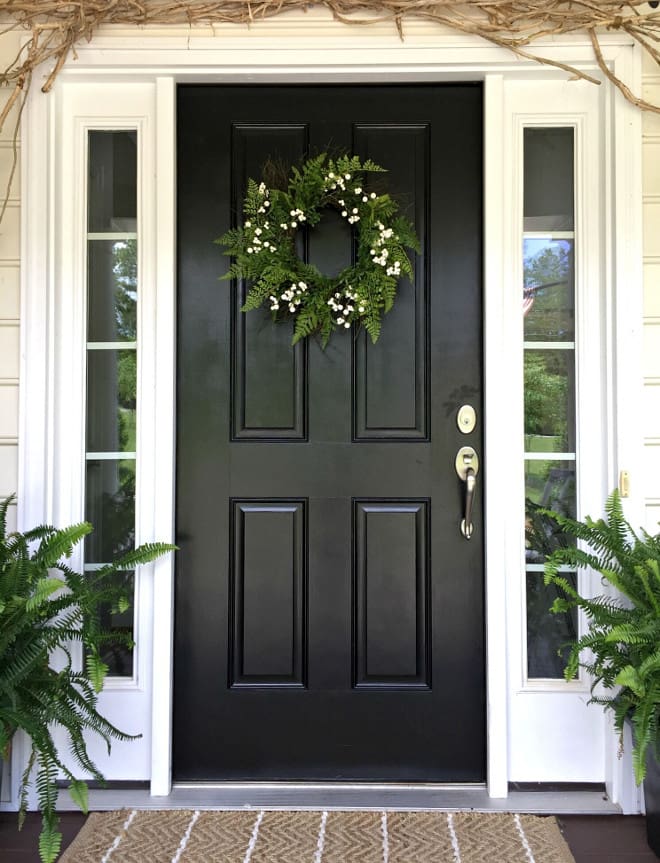 PHOTO: MIDDLE SISTER DESIGN
32. Twelve Panels Double Black Door
If you have a grande home entry, you may find the twelve panels double back door appealing. This front door style will add visual intrigue and an enduring appeal to your home.
PHOTO: AMSBERRY'S PAINTING
33. Modern Cottage Style Front Door
When it comes to modern black doors, the possibilities are endless. You can add a contemporary twist to a cottage-style door by incorporating a framed glass top.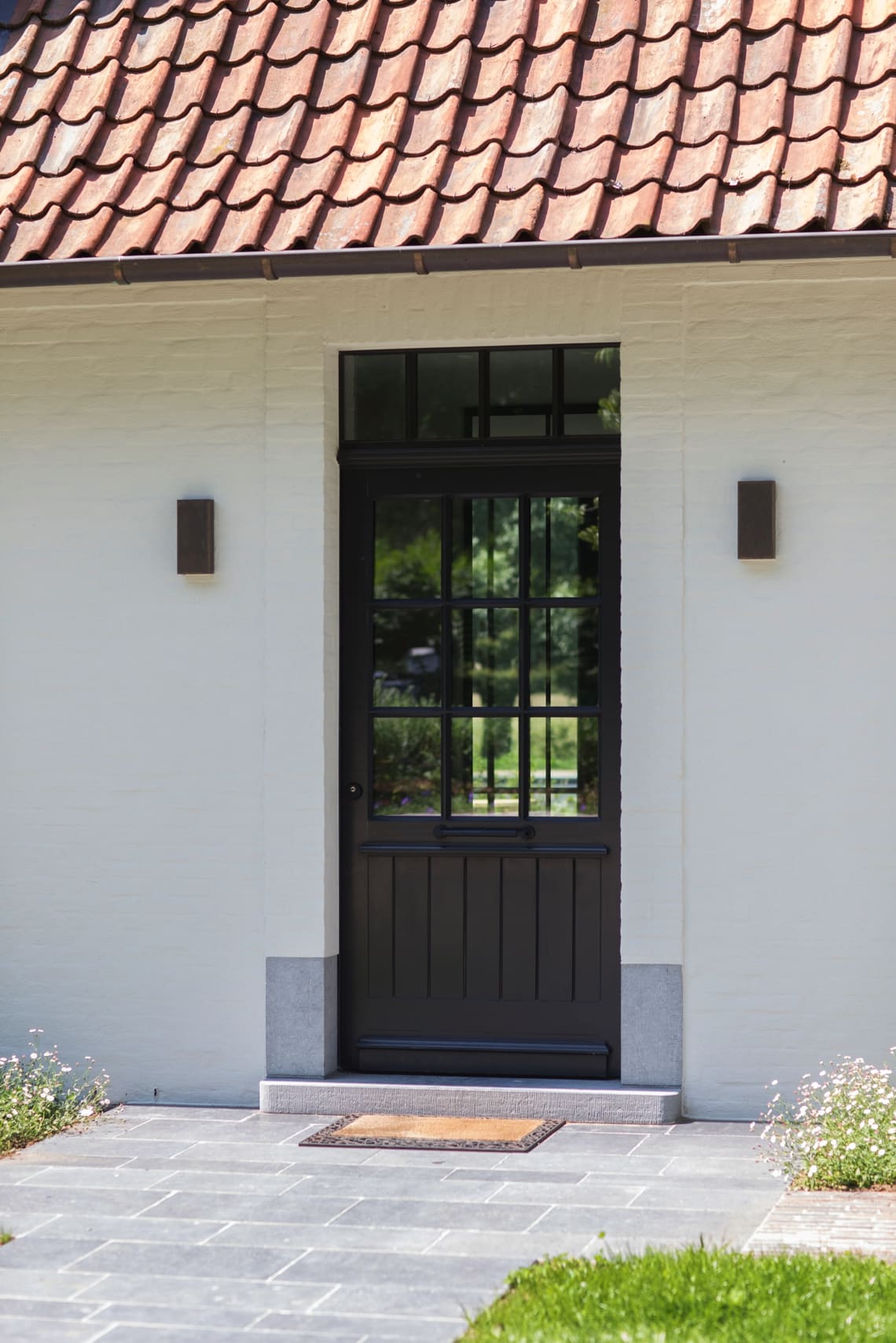 PHOTO: POULEYN
34.  Champagne Gold Colored Sightlight Window Film
To add a touch of stylish glamour and sophistication to your external door, consider using champagne gold window film. This can bring dynamic design to any modern home.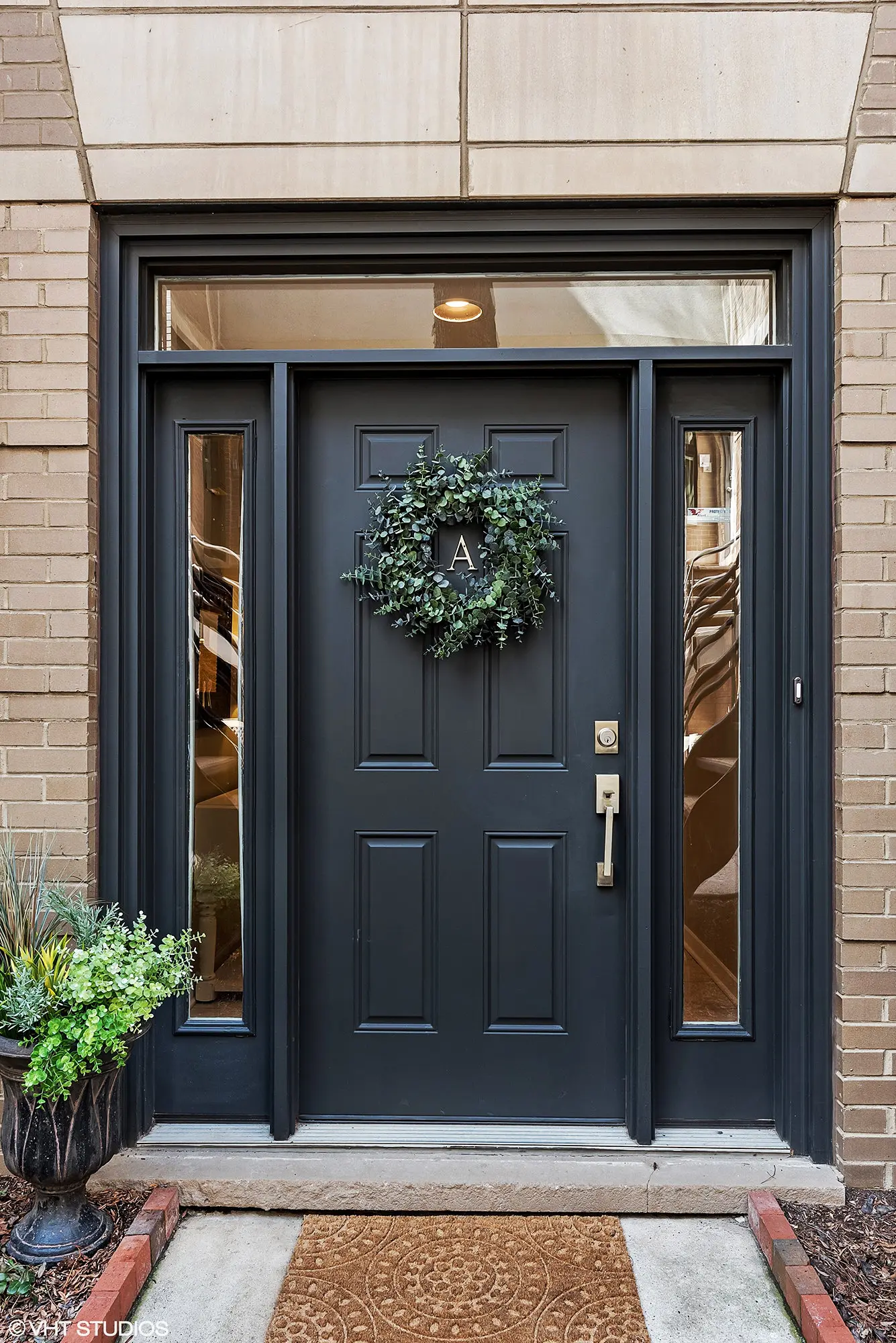 PHOTO: VHT STUDIO
35. Six Panel Black Front Door with Mirrored Sidelight Windows
This six-panel modern black door design will add lively sophistication to your curb appeal and make your home stand out from the others in your neighborhood.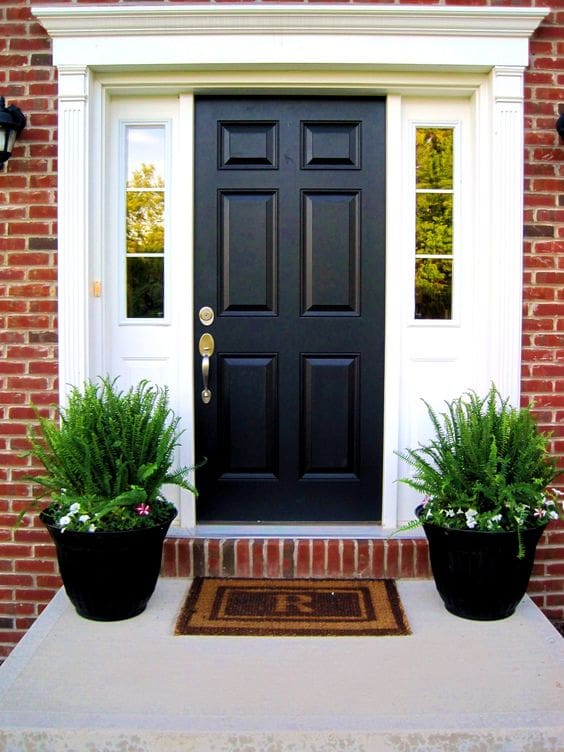 PHOTO: KASI SMITH
36. Two Panel Black Front Door with Sidelight Windows
A two-panel modern black front door communicates simplicity to the eyes. Sidelight windows can help to add a touch of modernity and style to this front door.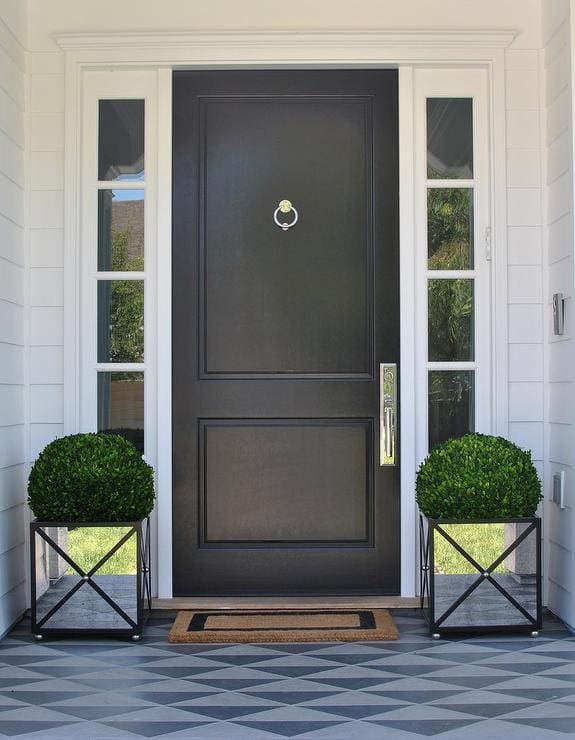 PHOTO: RYAN SAGHIAN
37. Polished Steel Black Front Door
Opt for a sleek and polished steel modern black door for a clean and aesthetically pleasing look. Consider using gold-colored hardware to liven it up.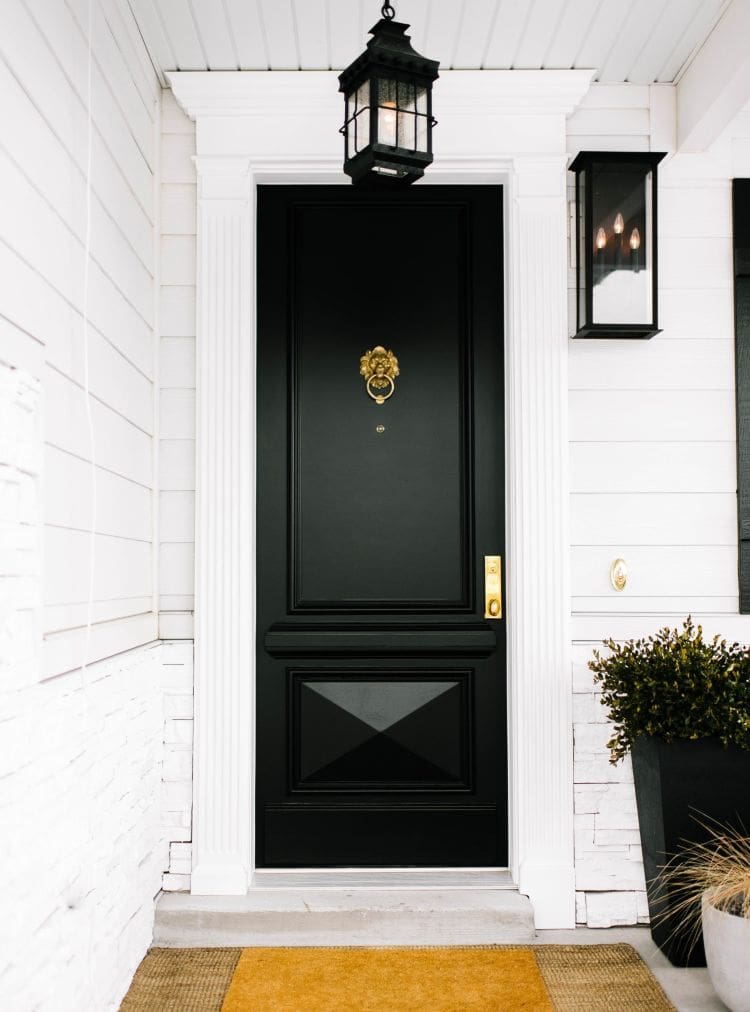 PHOTO: LIGHTOPIA
38. Round Arch Composite Black Front Door
Composite doors are growing increasingly popular in modern homes today because of their wealth of benefits. This door material does not crack, peel, rot, or rust. Plus, composite doors have been proven to be 10x more energy efficient than standard doors.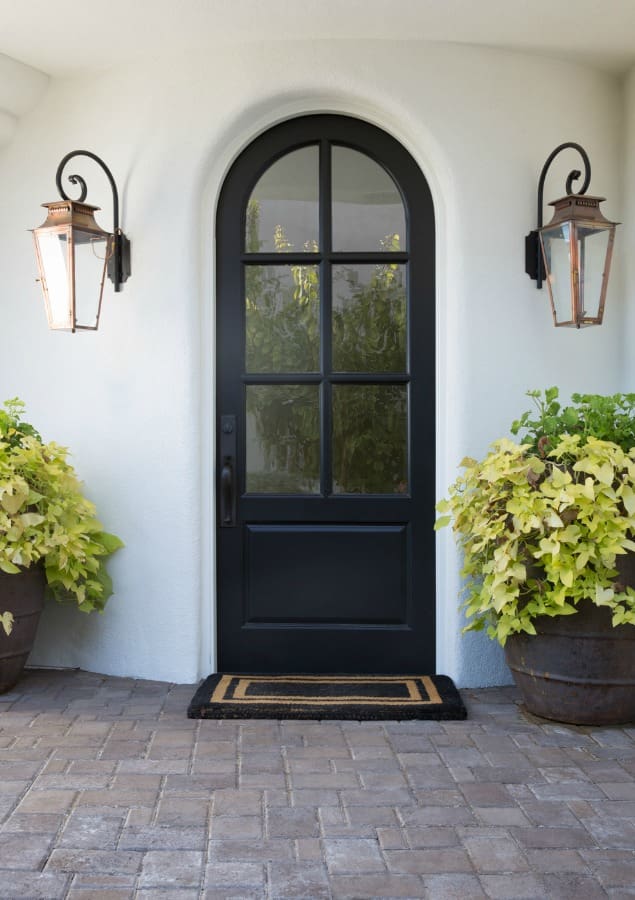 PHOTO: JAIMEE ROSE INTERIORS
39. Heavy Duty Steel Black Front Door
If your budget allows and if you want to invest in a modern black door that will last almost a lifetime, consider a high-quality steel door. This type of door can protect you from intruders and burglars and are far more durable than traditional wood or plastic doors.
PHOTO: APARTMENT THERAPY
40. Elegant Modern Black Front Door
Black, as laid-back as it may seem in exterior space, make the biggest interior statement. Opt for an elegantly stylish front door design that will make you feel great every time you come home.
PHOTO: THE MAKERISTA
41. Intricate Wrought Iron Front Door
Wrought iron doors are very popular for their alluring and intricate design options. It creates a unique and striking impression and evokes character, spirit, and personality.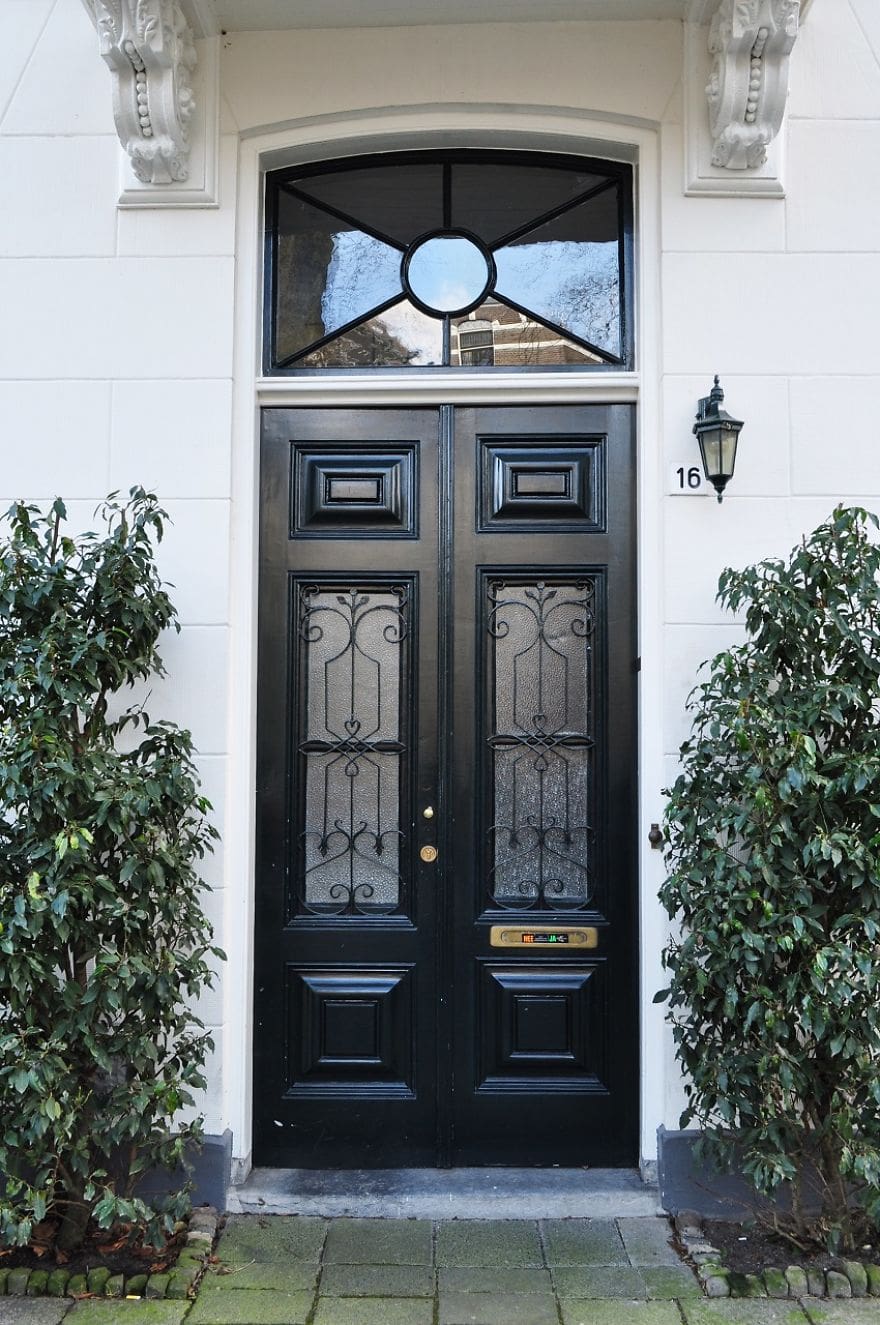 PHOTO: BORED PANDA
42. Black Front Door with Matching Stairs and Rails
To keep your curb appeal feeling coherent, match it with black-painted steps and rails. This will instantly add a touch of drama and a polished vibe to your property.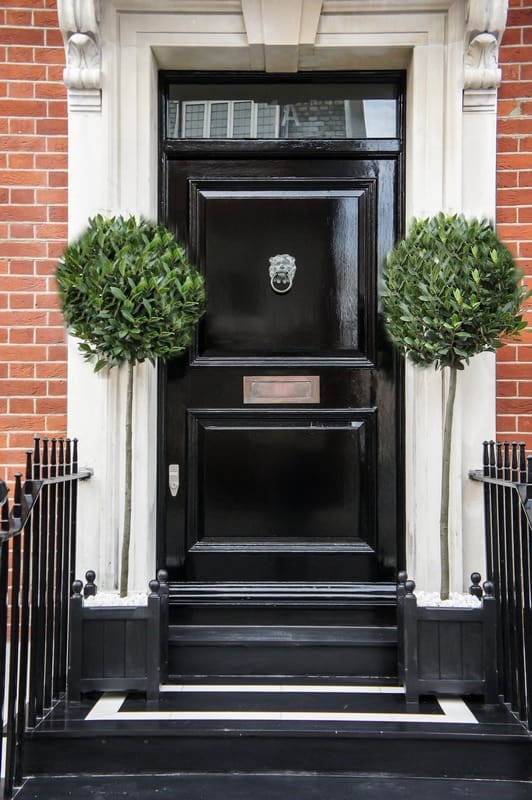 PHOTO: LONDON PLANTER
43. Blue-Black Front Door

If you have a somewhat blue exterior wall, instead of opting for a stark black front door, consider the blue-black alternative. This is an extremely dark blue that looks black or black with a tinge of blue.

PHOTO: DECOR PADS

44. Three Paneled Black Door with Sidelights

Do you want a modern black front door design that is simple but not boring?  A three-paneled door with sidelights may be perfect for it. This door style can infuse a high level of contemporary minimalism and elegance.

PHOTO: HONEY BEAR LANE

 

45. Black door with Mirrored and Frosted Glass

To keep things interesting, opt for a combination of two different types of glass rather than one. Frosted glass can help eliminate intrusions while mirrored glass can give the same effect while adding an ey-catchy appeal to your home.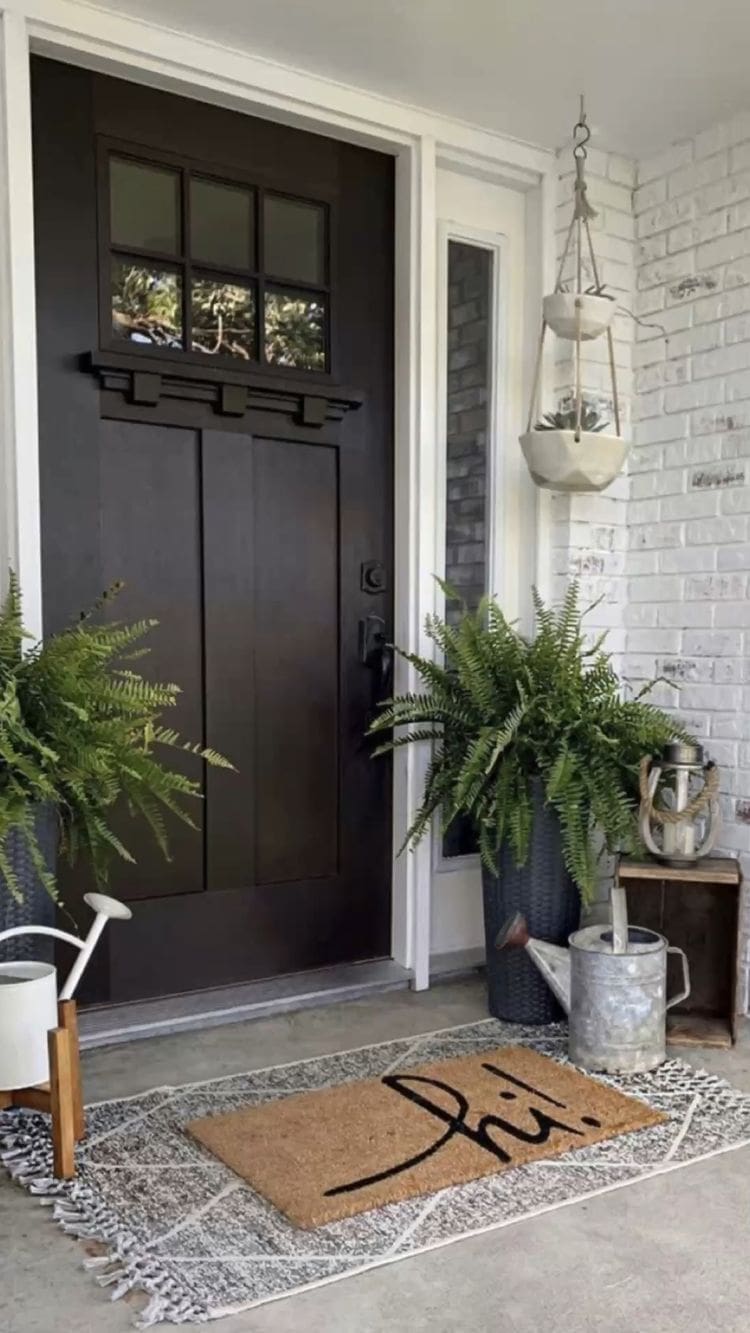 PHOTO: MARY WICK
Things to Consider When Buying a Front Door
●  Material
If you want a long-lasting front door, you should consider a durable material.  The most common materials used for front doors are steel, fiberglass, and wood but most modern doors use of combination of two of these materials. Wood is the most popular choice for homeowners across the world.
●  Security
The core purpose of a front door is to keep you and your property safe. Most front door materials provide adequate safety. The issues mostly lie within the locking mechanism. The UK government has a standard requirement for windows and doors to ensure safety. This is worth checking out here: https://www.gov.uk/government/publications/security-in-dwellings-approved-document-q
●  Design
Keep in mind that the design of your front door should complement the style of your property. There are a wide array of colors and design styles to choose from. Take your time and do not settle for the first one you see, till you have checked out a hand full at least. The most popular front door colors in recent times are black, red, sage green, navy blue, and grey.
●  Budget
Most times, the price reflects the quality of the product you will receive. Take your budget into consideration and avoid compromising quality for the low price. If the price seems too good to be true, it probably is! Remember to get installation quotes and set asides money for this before buying a front door.