45 Entryway Table Decor Ideas
Get ready to redefine and rejuvenate your entryway. These eye-catchy entryway table decor ideas will enliven and introduce a new character to your entryway.
Design-wise, one of the most important places in the home is the entryway. The design of your entryway will set the tone for the rest of your interior. This is the first place your guests will see and first impression matters! So, this is your opportunity to express your unique style and personality.
How you decorate your entry reflects who you are and the things you love. If you're wondering how to decorate you're entryway table, you're in the right place! 
Design experts recommend incorporating a mirror, things that matter to you, and a few decorative elements. It is important to take your existing interior style into consideration to form a cohesive look throughout your home.
A serene and neutral entryway aesthetics welcome a refreshing feel. A dramatic and statement-making entryway conveys a refined sense of style.
Whether you have a minimalist or maximalist interior style, you will find the perfect inspiration from these 45 entryway table decor ideas.
1. Try Dried Plants/Flowers
If you don't have the time to maintain and care for plants or fresh flowers, consider using the dried alternative or stems for decorating your entryway.
Fresh flowers only last for a week or two, while some dried flowers can last up to 10 years. Some of the most popular dried plants for decorating are pampas grass, starflowers, bunny tail grass, palm spear fans, and pastel gypsophila.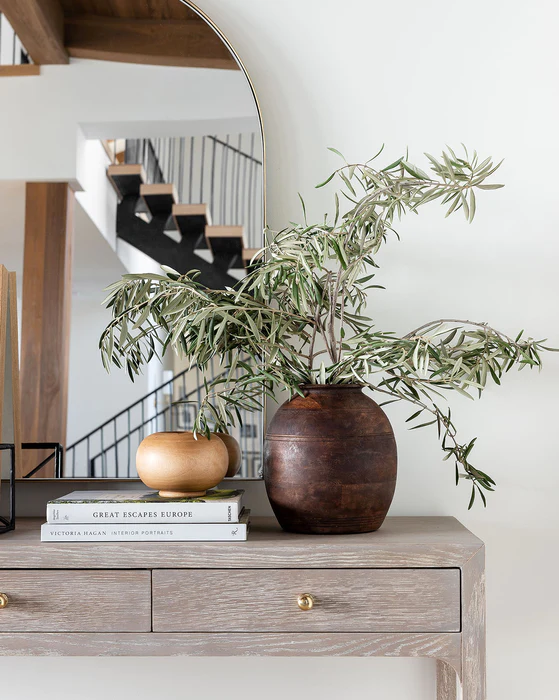 PHOTO: STUDIO MCGEE
2. Color Coordination is Crucial!
For a cohesive look, make sure your entryway is color-coordinated. Start by formulating a color scheme that is either neutral-based or complementary to your existing interior scheme. Each decor item you display should be within that color scheme. Sticking to a particular scheme fosters a more tranquil environment.
PHOTO: LTK @THE_BROADMOOR HOUSE
3. Opt for a Marble Top Table
Marble lends an understated elegance and style to your home interior. Plus, marble is favored for its scratch-resistant face, durability, and versatility. Marble is not meant for kitchens and bathrooms alone, using a marble top table for your entryway can boost its appeal.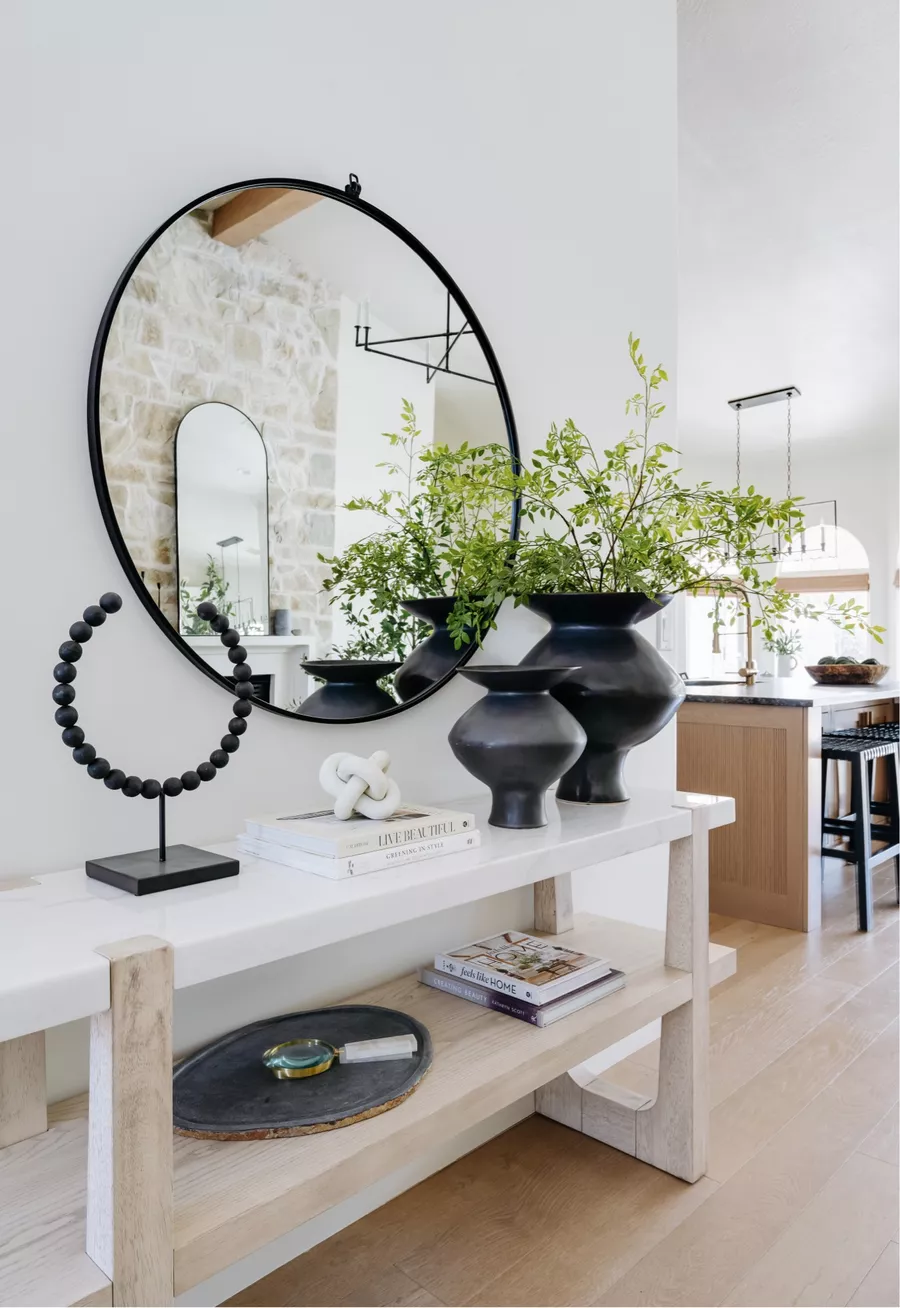 PHOTO: LTK @DESIGNLOVESDETAILS
4. Invest in a Stylish Console
Think about style when buying a console table for your entryway. The more visually appealing your furniture is, the less decorating you'll have to do. So, use a statement-making table to add zing to your entryway.
PHOTO: LTK @ERICA WARK
5. Don't Let the Size of Your Space Stop You!
Many homes do any entryway decor because of limited space. You can small your entryway work too! There is an endless array of small entryway decorating ideas that can lend style to the space. The key to nailing this is getting the appropriate size furniture and decor that will complement the space and not overwhelm it.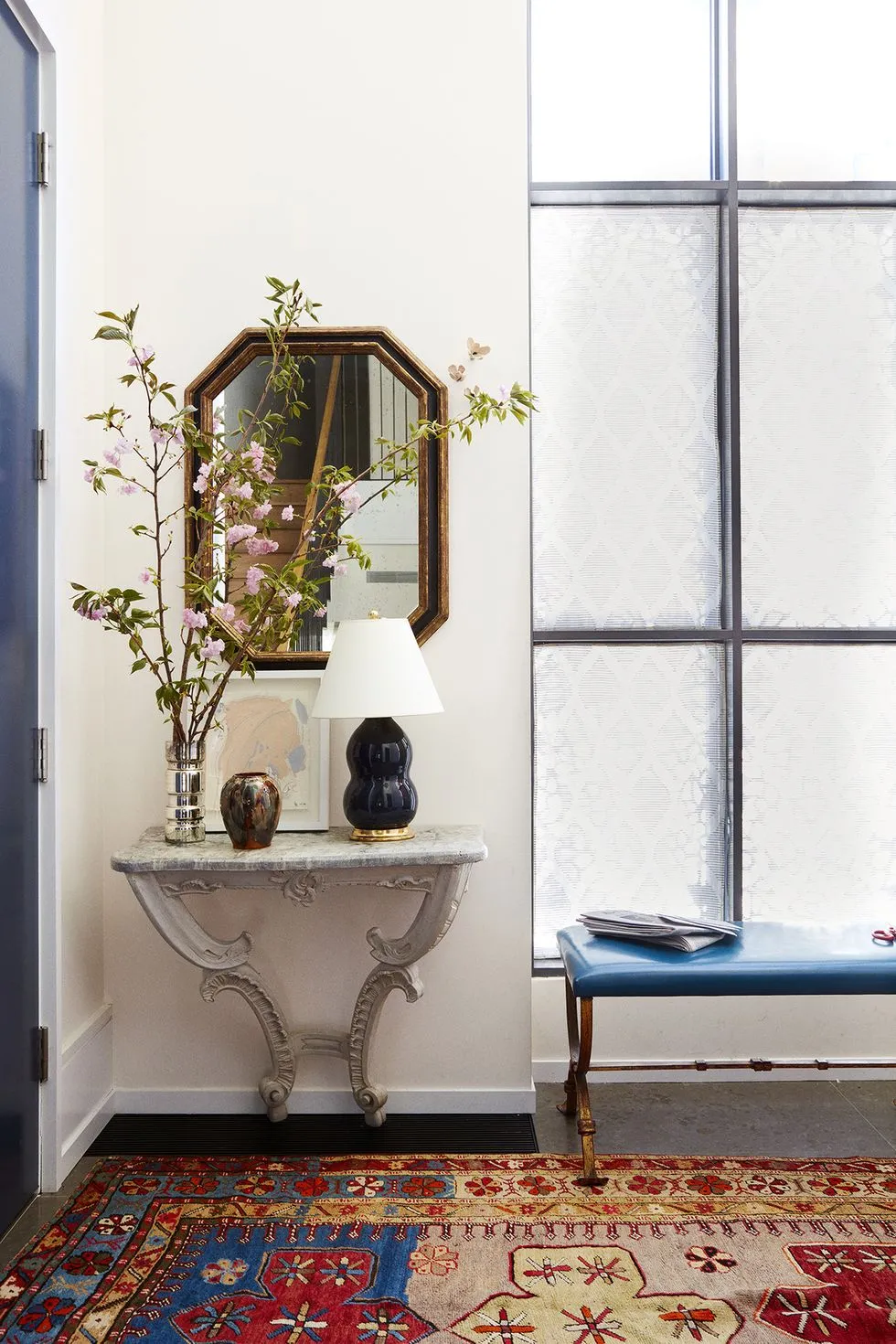 PHOTO: NICK OLSEN
6. Create an Illusion of Space with a Large Mirror
The use of mirrors is the oldest trick in the book to make a small space appear bigger. Mirrors have the ability to reflect light which then brightens up and gives the illusion of more space. This is a brilliant way to infuse more natural light in poorly-lit entryways.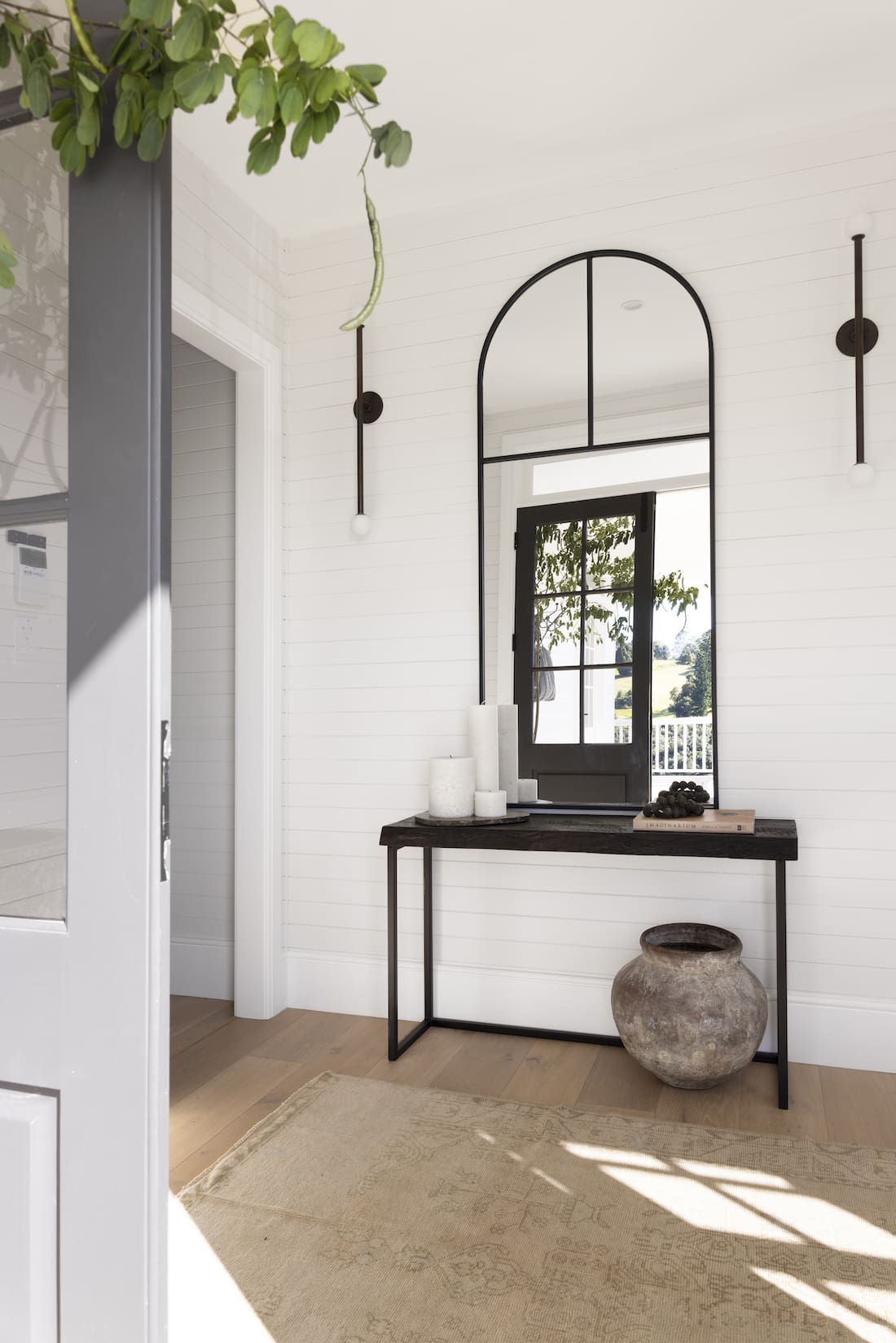 PHOTO: KY DRURY
7. Draw Attention with a Unique Mirror
In most entryways, a mirror is hung above the console table to reflect light, but also to add style to the space. A smart way to make this space pop is to use a statement-making mirror that draws the eyes up. This entryway table decor adds a wow factor to your space and will even spark conversations among your guests.
PHOTO: ALICE LANE
8. Brighten Up the Space with White
If the entryway is small or lacks natural light, use mostly white color throughout the space to make it seem more open and spacious. White is a classic and forgiving neutral that works every time. Plus, using white entryway table decor gives a serene and soothing vibe to the space.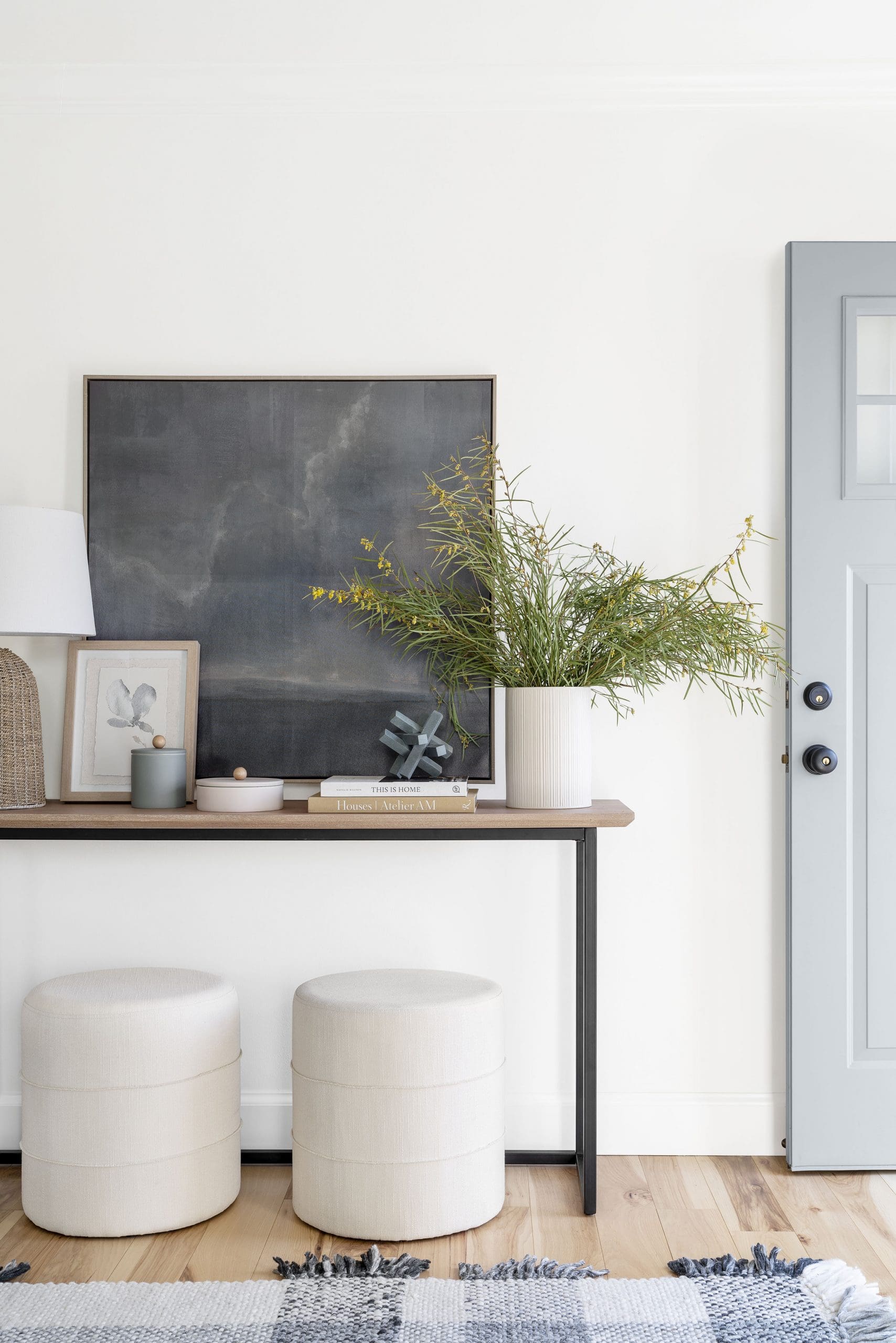 PHOTO: STUDIO MCGEE
9. Consider Faux Leaves
Faux plants and leaves may not be the real thing but there is no denying that they bring a touch of softness, greenery, texture, and aesthetic flair to a space. They also require little to no maintenance and have zero chances of dying like real ones. So, use faux leaves to elevate your entryway table decor.
PHOTO: ELEMENTS OF STYLE
10. Create Visual Balance with a Symmetrical Placement
Balance is a fundamental aspect of design. Symmetry is a concept in interior design that creates calm, harmony, and balance when used. In interior design, symmetry occurs when two sides of something mirror each other from a central point or axis. When placing your entryway table decor,  maintains similar weights on both sides to make it symmetrical.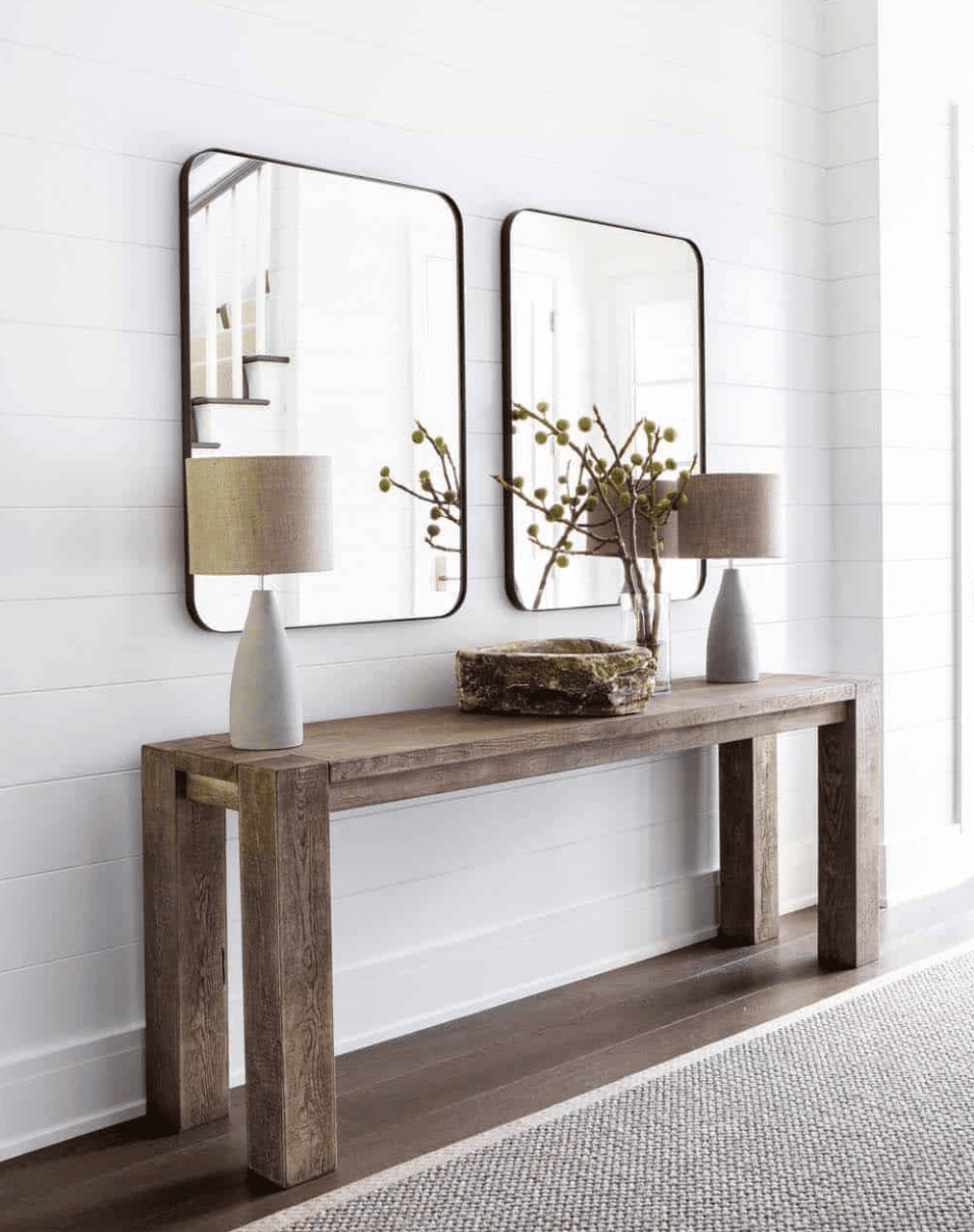 PHOTO: CHANGO & CO
11. Elevate the Space with Twin Wall Sconces
A wall sconce is a wall-mounted lighting fixture that not only illuminates but adds aesthetic appeal to a space. In the entryway, they are best installed on both sides of the artwork or mirror. A beautifully designed wall scone can help to add extra pizzazz to entryway table decor.
PHOTO: THE WORLD OF RH
12. Display Personal Photos
One of the most common features found in entryways is personal photographs. Since it's the first place your guests will see and where you see before leaving home and when entering, you want to showcase what cherish the most.
Whether a family portrait, wedding portrait, photo of your furry best friend, or best holiday memories — share your treasured moments here!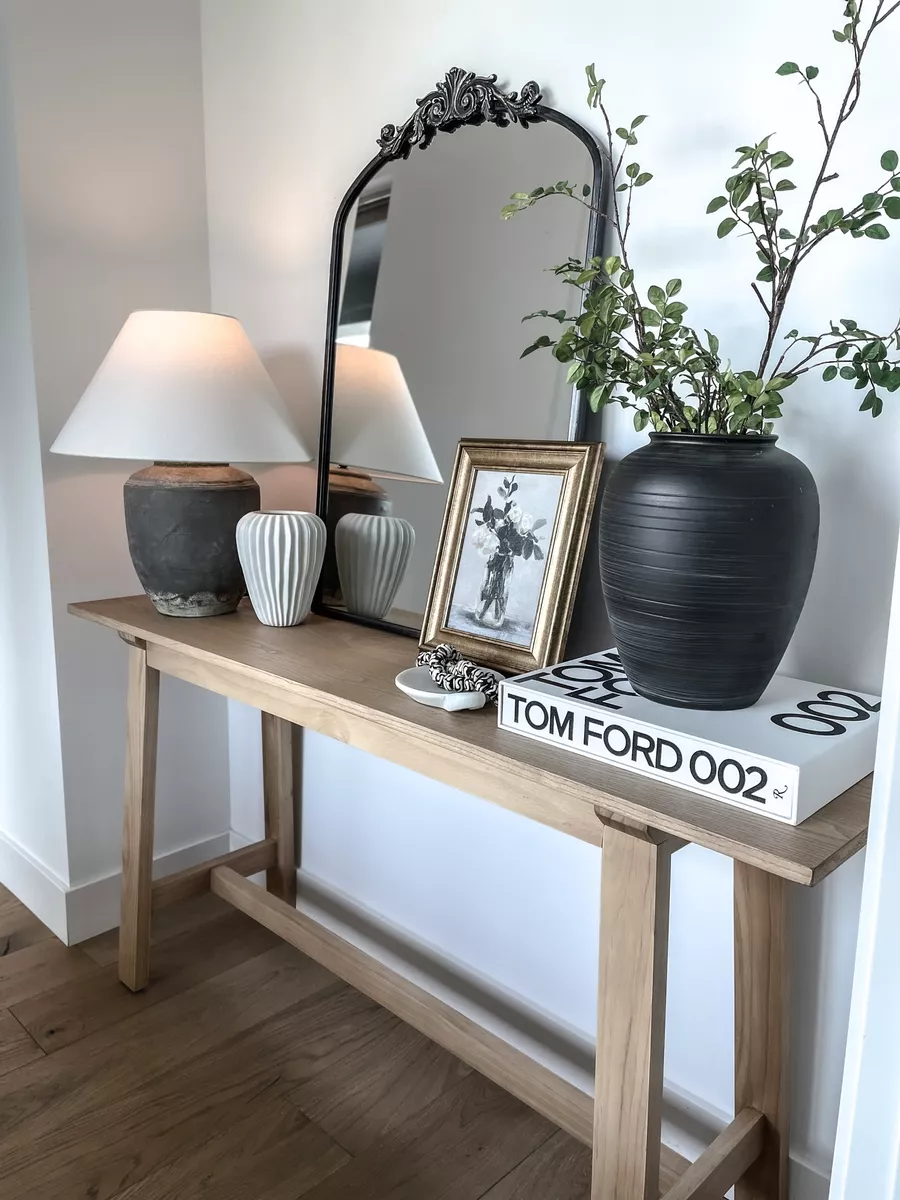 PHOTO: HOME WITH CHRISSYM
13. Combine Textures
There are a myriad of ways to decorate your entryway. Consider texture to be as important as color. Combining a variety of textures is clever trick designers use to add character and a dynamic feel to a room.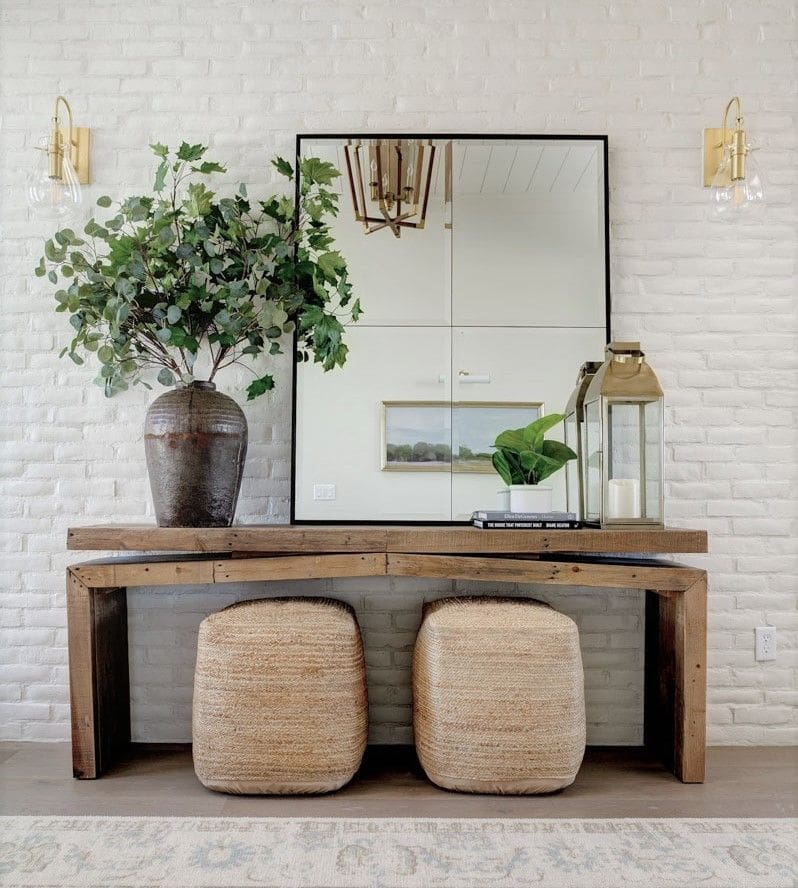 PHOTO: ELSA INTERIOR DESIGN
14. Embrace a Rustic Theme
Gives your entryway table decor a classic rustic vibe by incorporating natural materials such as wood, stone, wool, and burlap. A rustic theme adds character, charm, and an old-world and country-chic appeal to a space.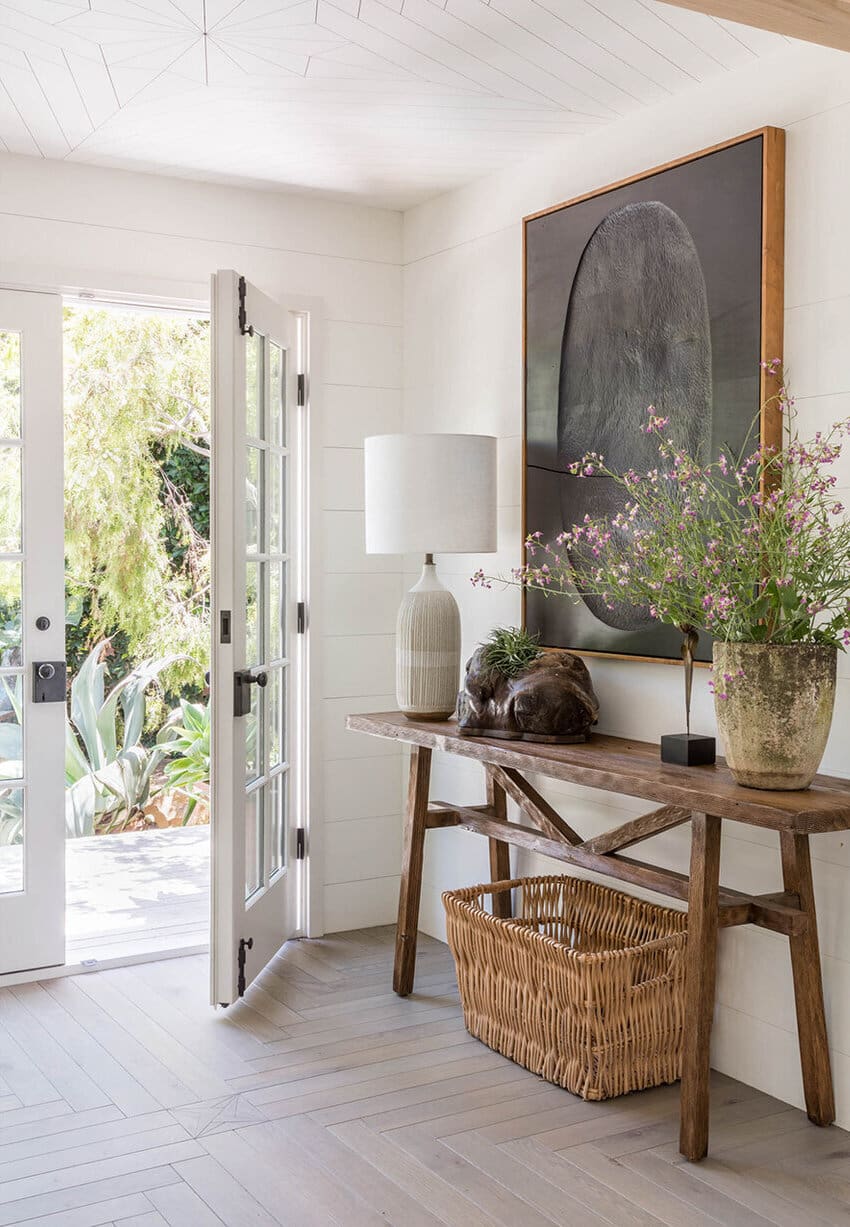 PHOTO: LISA ROMEREIN
15. Boost Aroma with Scented Candles
Aromatherapy candles will not only make your home smell good but they are also scientifically proven promoted relaxation, help you unwind, and feel revitalized. They are also great for enhancing your entryway table decor.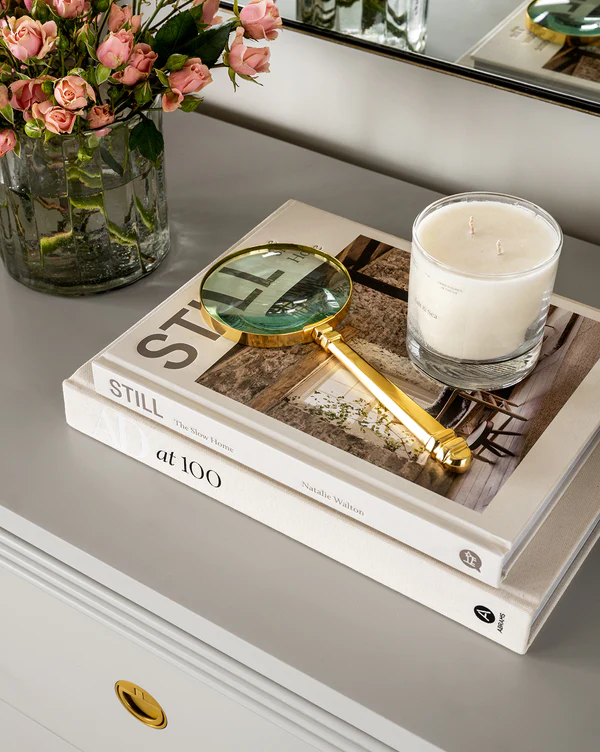 PHOTO: STUDIO MCGEE
16. Add Glamour with Brass Accents
A simple way to add a touch of glamour to your entryway table decor is by using brass-colored accents and metallic trims. This rich hue can instantly make your space look elegant and refined. Textiles associated with glamour and luxury are fur, silk, and velvet.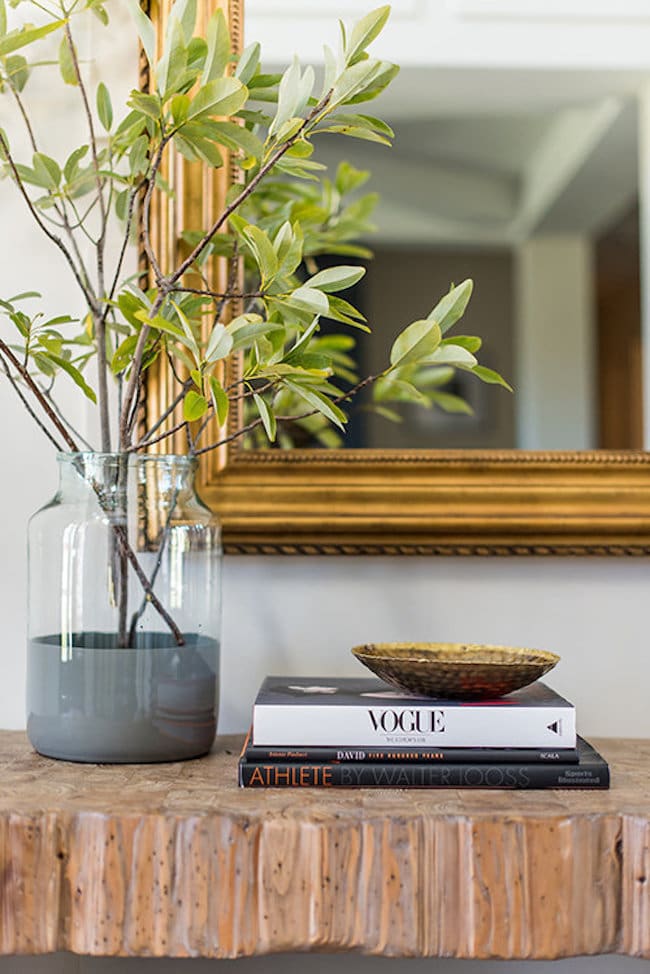 PHOTO: WHITNEY PARKINSON
17. Create a Gallery Wall
A gallery wall is a popular way to decorate bare walls in a home. A feature wall in an entryway way is a decorating idea that designers swear by. This can add style and sophistication to the otherwise lackluster entryway.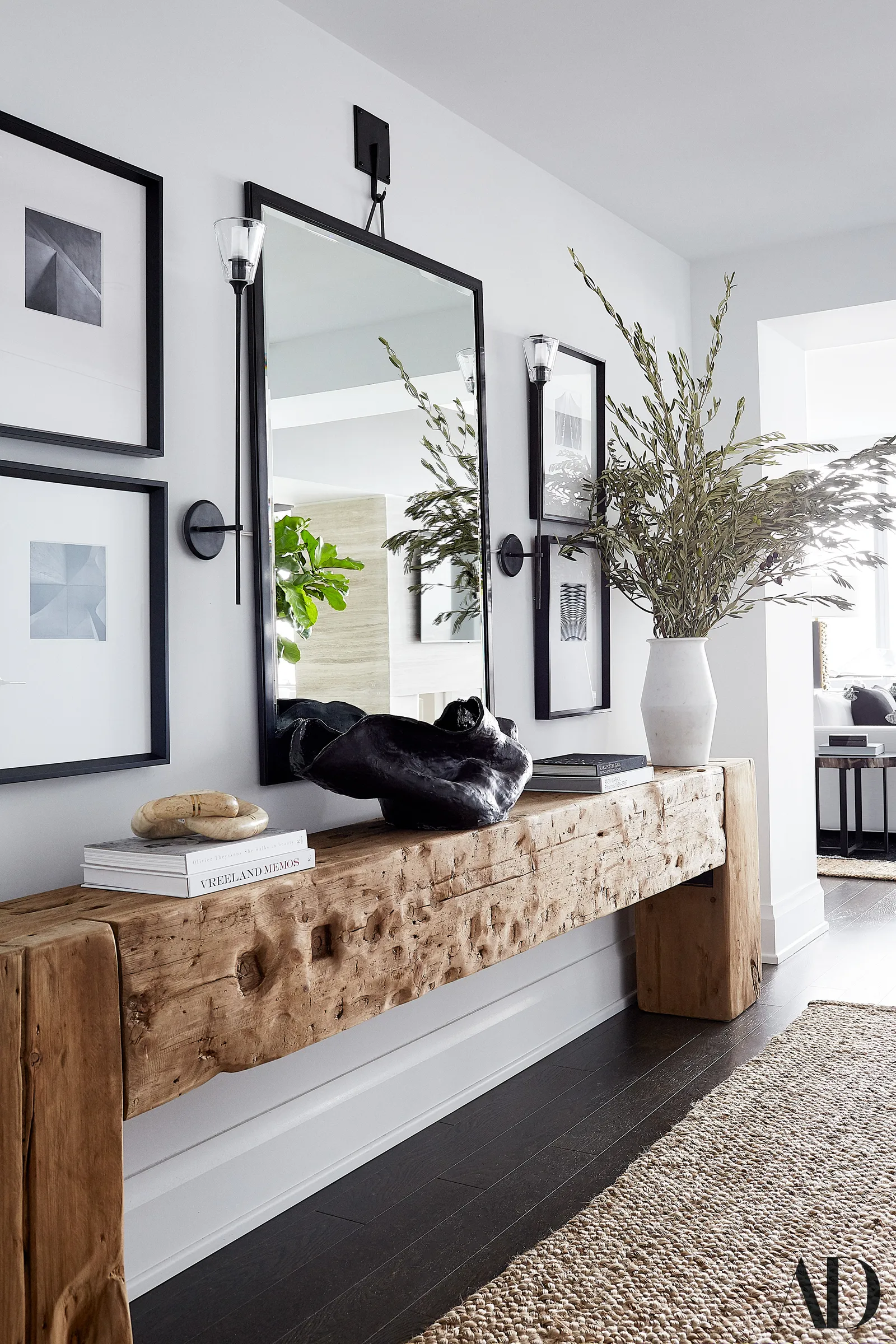 PHOTO: ARCHITECTURAL DIGEST
18. Place Short Stools Underneath
Stools are a practical addition to an entryway table decor as we can perch on them while wearing or taking off our shoes. They are often small in size and can fit underneath most entryway tables. The design of this furniture can also enhance your entryway table decor.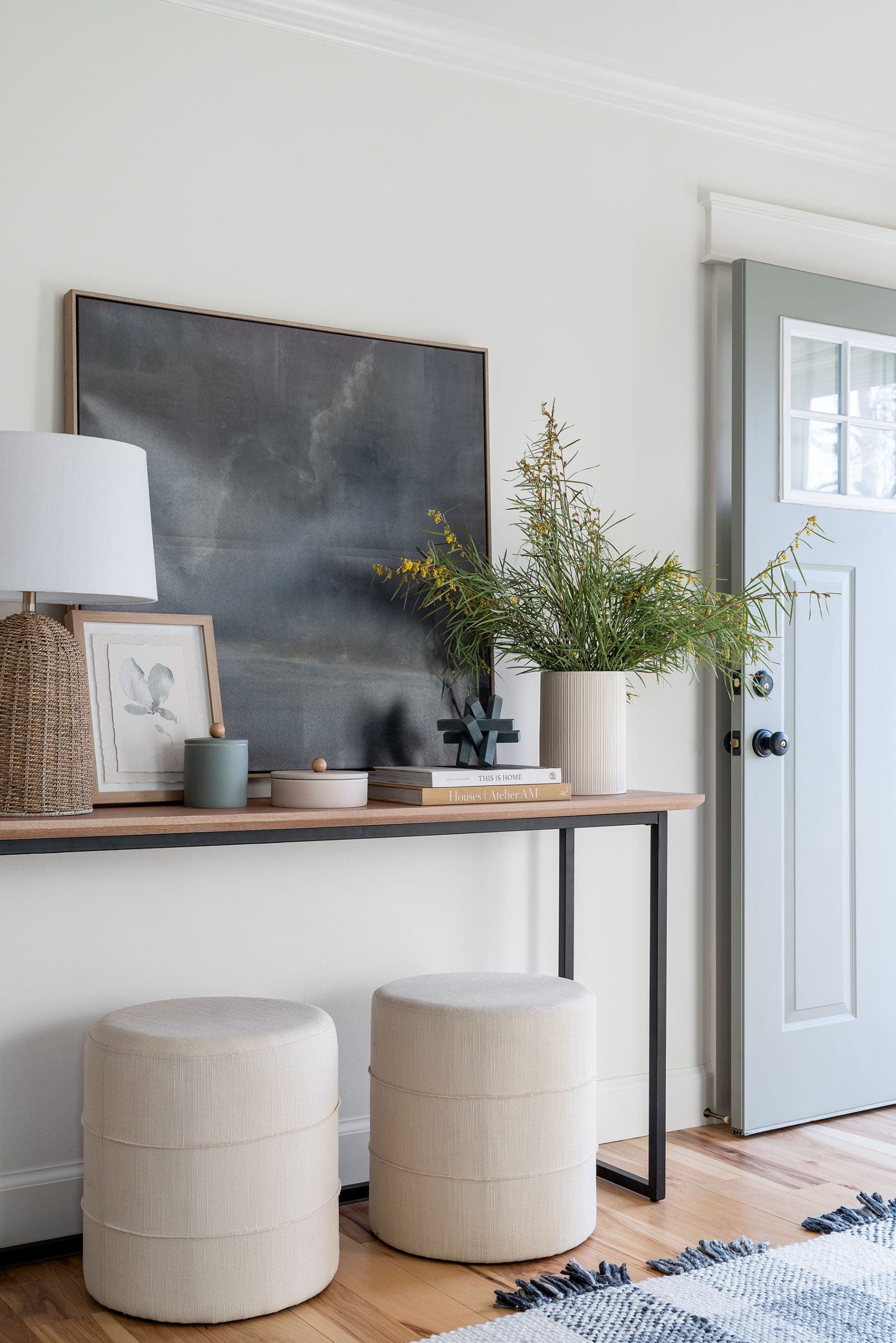 PHOTO: STUDIO MCGEE
19. Consider Earthly Neutral Colors
Stick to simple colors! You can't go wrong with neutral colors when it comes to decorating. They communicate simplicity to the eyes and help to curate a statement-making design when used cleverly.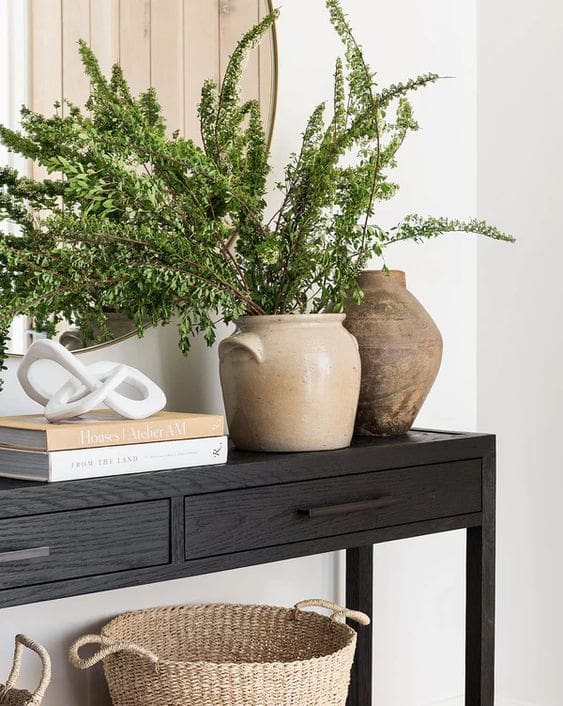 PHOTO: STUDIO MCGEE
20. The Layering Technique
The easiest way to create a cohesive entryway table decor is through the layering technique. Layering in interior design means strategically arranging your decor items in a way that makes them visually appealing but also organized. This technique creates a sense of cohesion and a seamless transition between each item.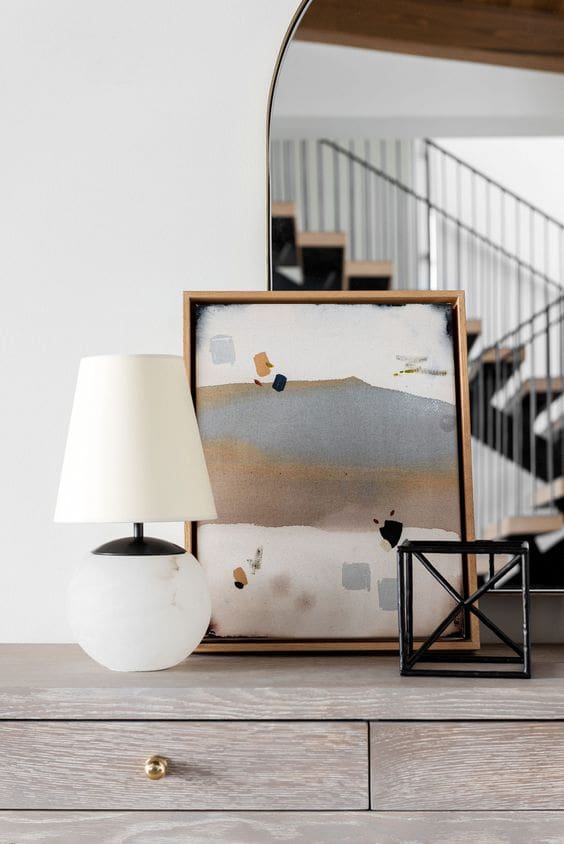 PHOTO: STUDIO MCGEE
21. Use Natural Materials
The use of natural materials in interior design adds rusticity and charm to an entryway table decor. Most importantly, it helps enhance the air quality and reduce our carbon footprint on the planet.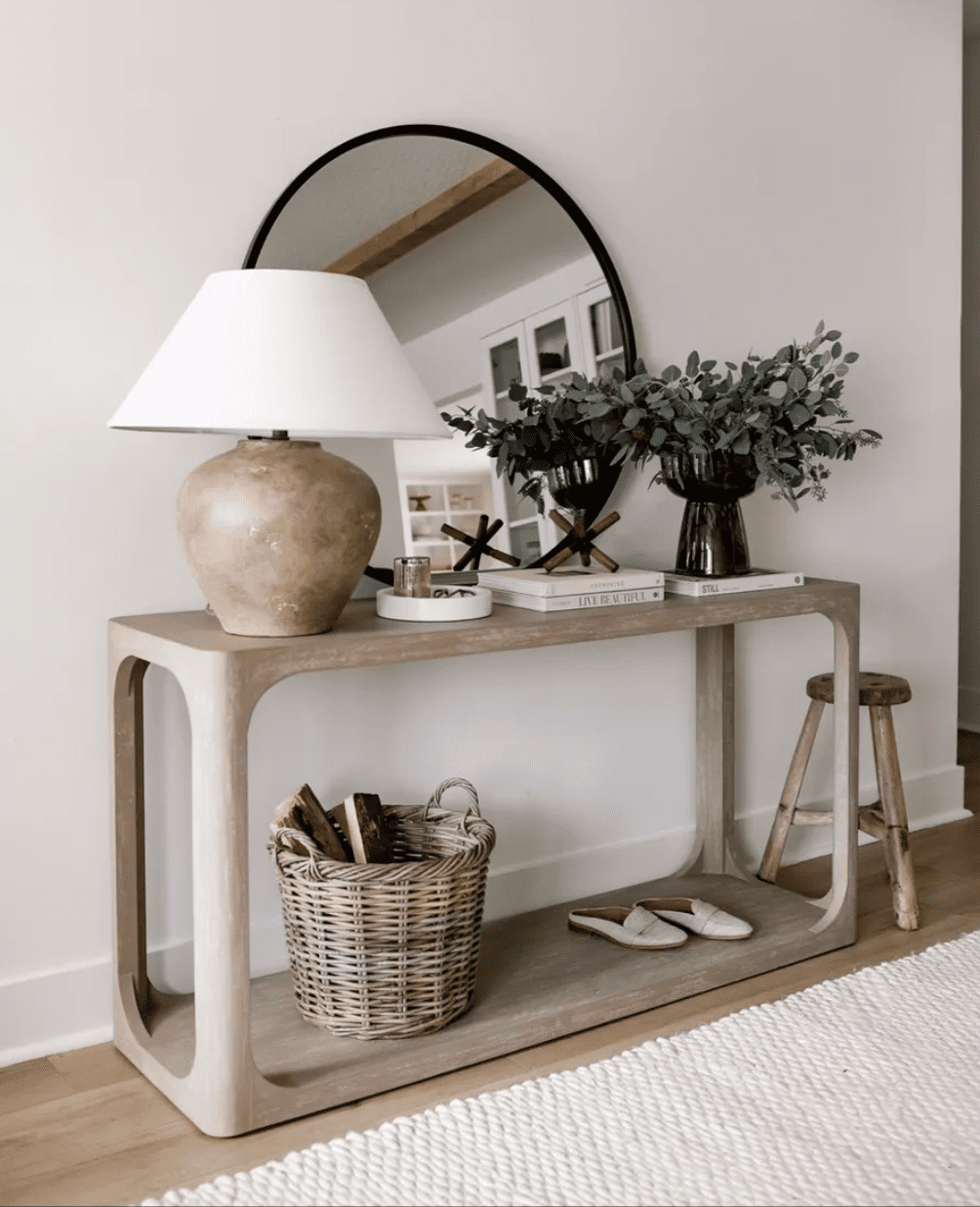 PHOTO: LTK @HALFWAY_WHOLEISTIC
22. Add Elegance with a Round Mirror
There is an alluring appeal about round mirrors which makes it enormously popular for entryway table decor. The round shape takes it from being functional to decorative. They have now become a go-to for contemporary spaces.
PHOTO: STUDIO MCGEE
23. Display Decor Books
An entryway table decor without books is incomplete. If you're design-savvy, then you know that books aren't only for reading alone. There are commonly used to add sophistication and style to a space— especially on coffee tables, console tables, and dressers.
Check out this article for the best designer books for decorating.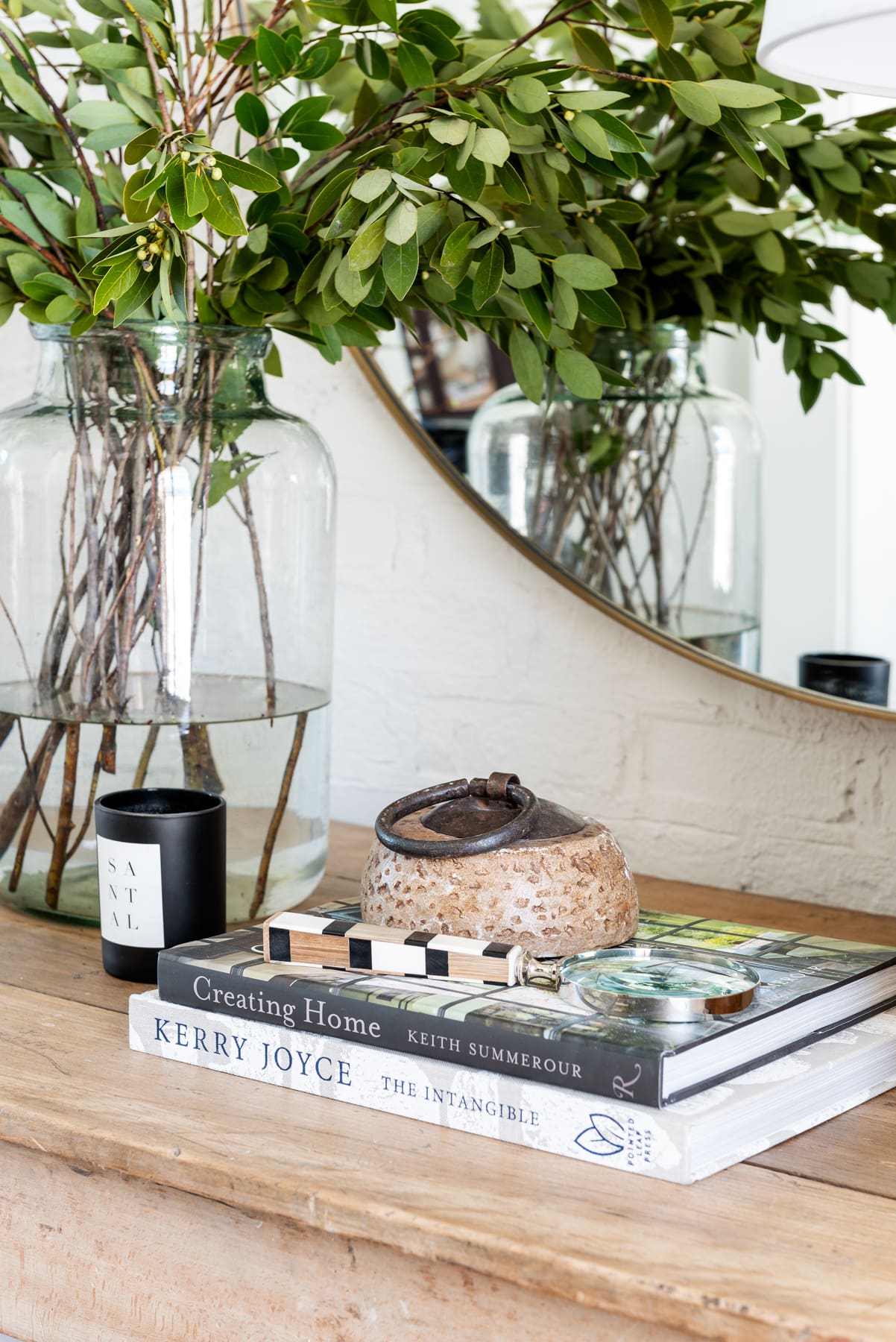 PHOTO: STUDIO MCGEE
24. Place Wooden Chain Links on Stacked Books
Decorative wooden chain links are growing increasingly in popularity. They help to add a rustic charm to interior tables. Wooden chain links are perfect for decorating your console table, shelves, and coffee table, and shelves. They are often placed on top of stacked books.
PHOTO: STUDIO MCGEE
25. Small Tables Matter Too!
If you have a small entryway, opt for a small table. They can be decorated too! The best small entryway table decor idea is to combine artwork, a couple of books, and a touch of greenery.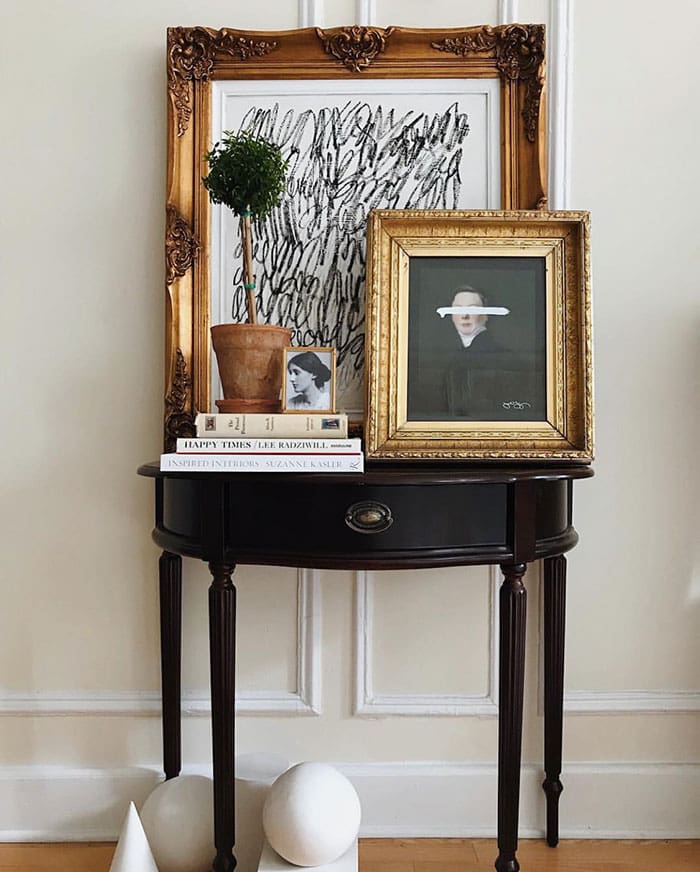 PHOTO: JOSH YOUNG
26. Bring a Sculpture In
Looking for the ultimate statement piece for your entryway table decor? A sculpture adds visual appeal and interest to an entryway like no other. Artistic features like sculpture are handcrafted and help to tell a story. Plus, they create a focal point and add an instant touch of drama to a space.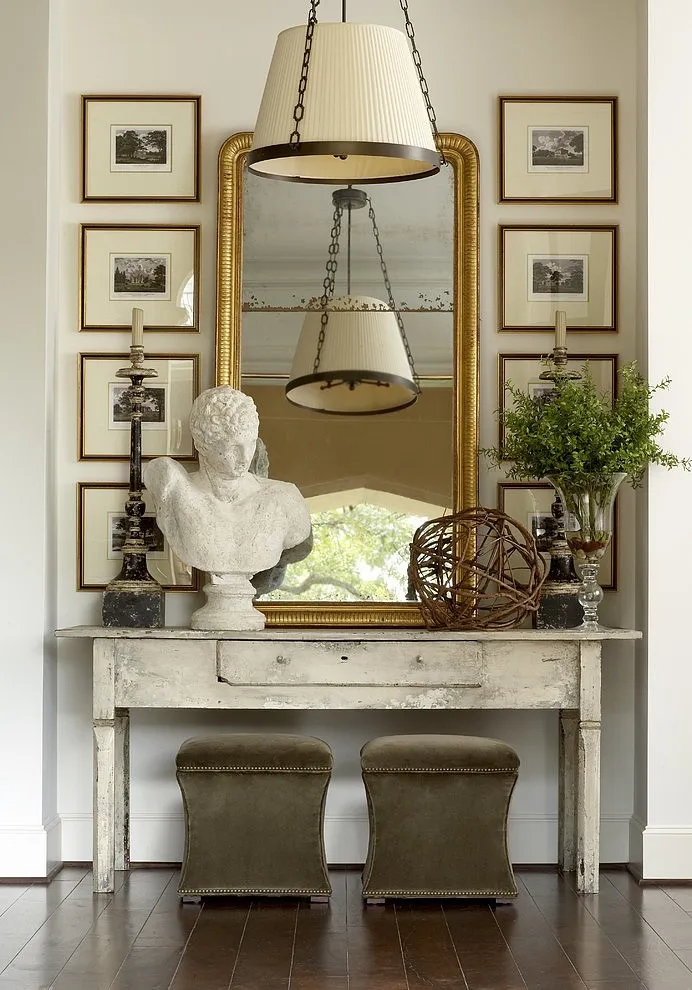 PHOTO: THOMSON CUSTOM HOMES
27. Place Wooden Tassel Beads on Stacked Books
Just like the wooden chain links, wooden tassel beads are a finishing feature used for interior table decoration. They are commonly used for entryway table decor because they lend charm and character to a space.
PHOTO: CAITLIN MARIE DESIGN
28. Inject Color with a Console Table
Furniture doesn't have to be wood-toned or of a neutral color. Inject some mood-boosting color to the otherwise minimalist scheme with a console table. This is a fabulous idea to add a pop of color to your entryway.
PHOTO: TAYLOR JACOB
29. Place a Large Table Lamp
It is both practical and aesthetically beneficial to incorporate a lamp in your entryway table decor. A table lamp can help to illuminate the space as the night but as give the space an impactful edge.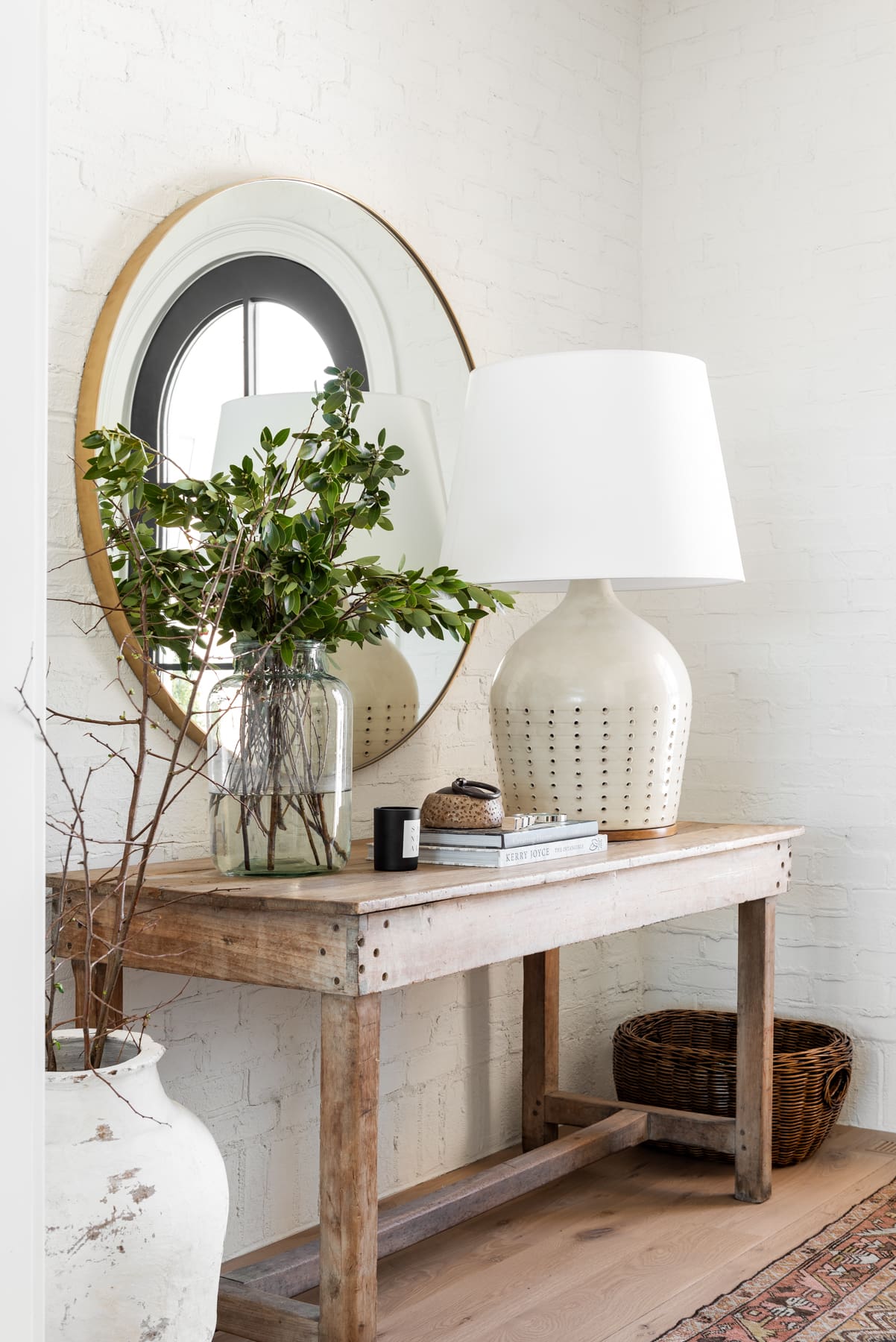 PHOTO: STUDIO MCGEE
30. Place Woven Baskets Underneath
Displaying woven baskets underneath the entryway table adds a stylistic feature to the space but it is also a clever organizational system. Entryway baskets are perfect for storing everything from shoes to fluffy throws.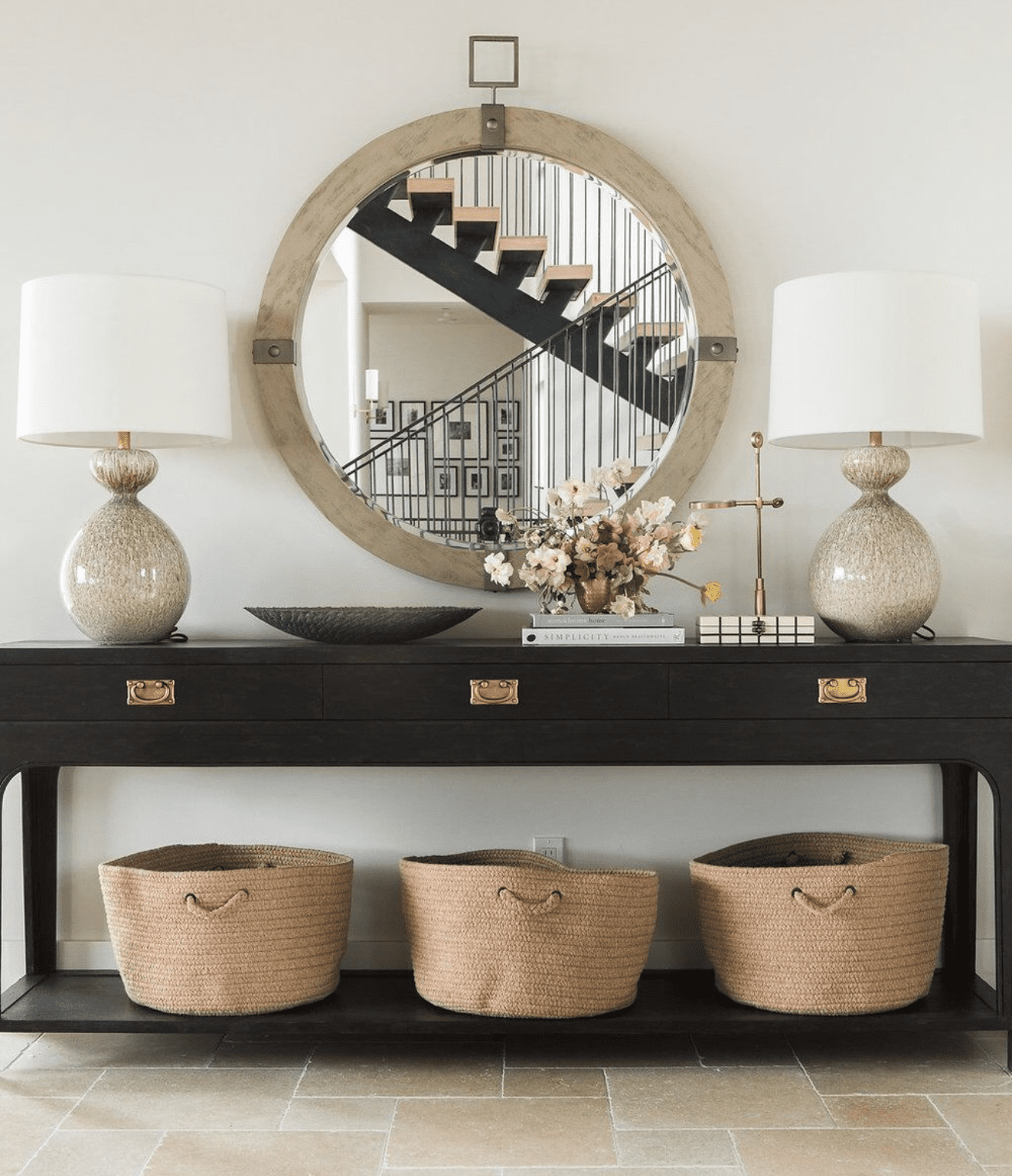 PHOTO: STUDIO MCGEE
31. Embrace Minimalism
When it comes to entryway table decor, the best principle to adhere to is "less is more". Interior tabletops, especially in the entryway,  can easily and quickly become cluttered. We are easily tempted to keep keys and small personal belongings on it but you should avoid doing this. Keep the decor clean and simple!
32. Add Twin Table Lamps
Instead of one large table lamp, opt for two lamps to create visual balance. Keep in mind that they have to be identical. Avoid using two different lamps are this will throw your design vision off.
PHOTO: THELIFESTYLEDCO
33. Use a Vase to Add a Pop of Color
Neutral colors are often best when decorating your entryway but stark white can be offputting. Use a vase with a vibrant and invigorating color to add visual intrigue to the space.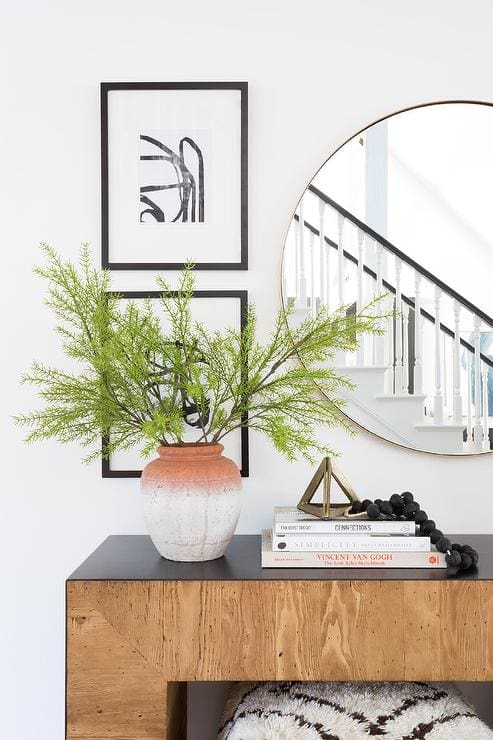 PHOTO: DECORPAD
34. Add Greenery with Plants
Plants can enliven a space and give it an impactful edge. There are a wide array of indoor plants to consider. Adding plants to your home also helps to purify the air, boost productivity and add serenity to the space.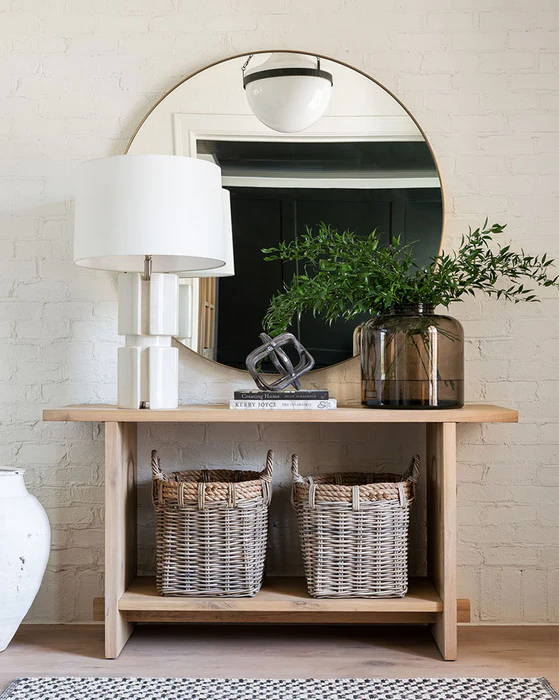 PHOTO: STUDIO MCGEE
35. Place a Chair Beside the Table
If your space allows, place a chair, or two chairs at each side of your entryway table. Whether bench, chair, or stool, there are many benefits of having a seat in your entryway. It makes your home feel inviting, serves as seating space for guest, and make taking off and wearing shoes easier.
PHOTO: MORRISON INTERIORS
36. Elegance is the Name of the Game!
If you rest of your interior has sophisticated and glamorous touch, lend some of it to the entryway as well. Elegance is a lifestyle and this type of interior has timeless appeal. Some of the colors used in these spaces are white, black, gold, and emerald green.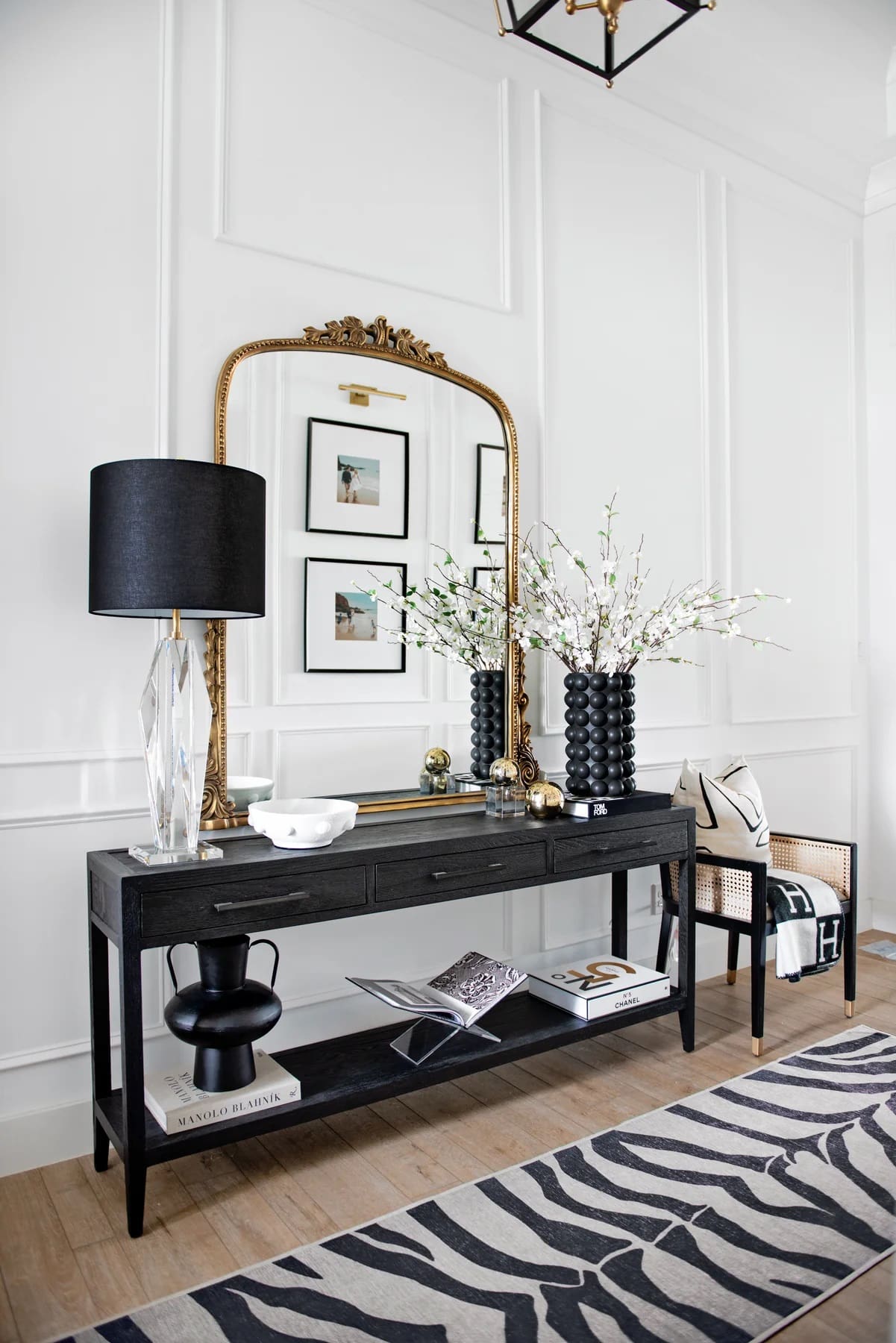 PHOTO: THE BROADMOOR HOUSE
37. Embrace the Chaos
Let's face it! Minimalism isn't for everyone. Maximalist interior design does not go out of style. If maximalism is your thing, let it reflect in every corner of your home. Embrace the curated chaos and let your design style shine through!
PHOTO: INSTAGRAM @DONNADELAINE_HOME 
38. Use a Dresser Drawer
If you're blessed with extra space in your entryway, you may benefit from using a dresser drawer instead of a console table. This gives you extra storage space. They come in so many styles and colors that can elevate the aesthetics of your entryway.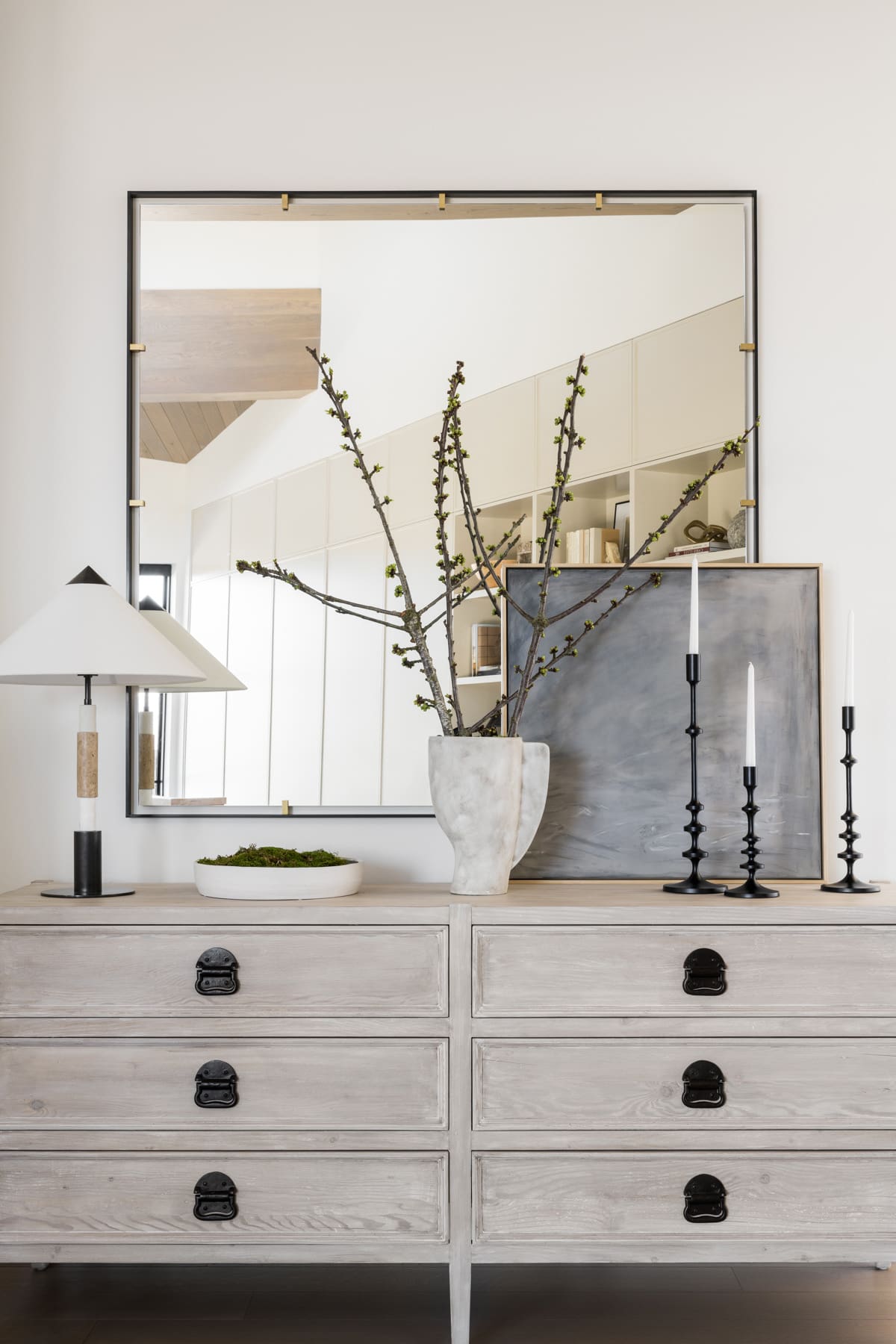 PHOTO: STUDIO MCGEE
39. Add Character with an Antique Table
Antiques are items that are at least 100 years old. How cool would be to have one in your home? Pretty awesome huh? If you like the appeal of antiques, use one as an entryway table or as an entryway table decor. Antique and vintage items have a look about them that will instantly elevate the overall aesthetic of your home.
PHOTO: TAMSIN JOHNSON
40. Use a Unique Table
One of the best ways to draw attention to your entryway is to use a statement-making table. It can introduce a new character and dramatic flair to your home.
PHOTO: ANTHROPOLOGIE
41. Consider Double Mirrors
The more mirrors you have in a room, the bigger it will appear. If your space can handle two, then go for it! A double mirror will give your entryway an airy and less overwhelming feel.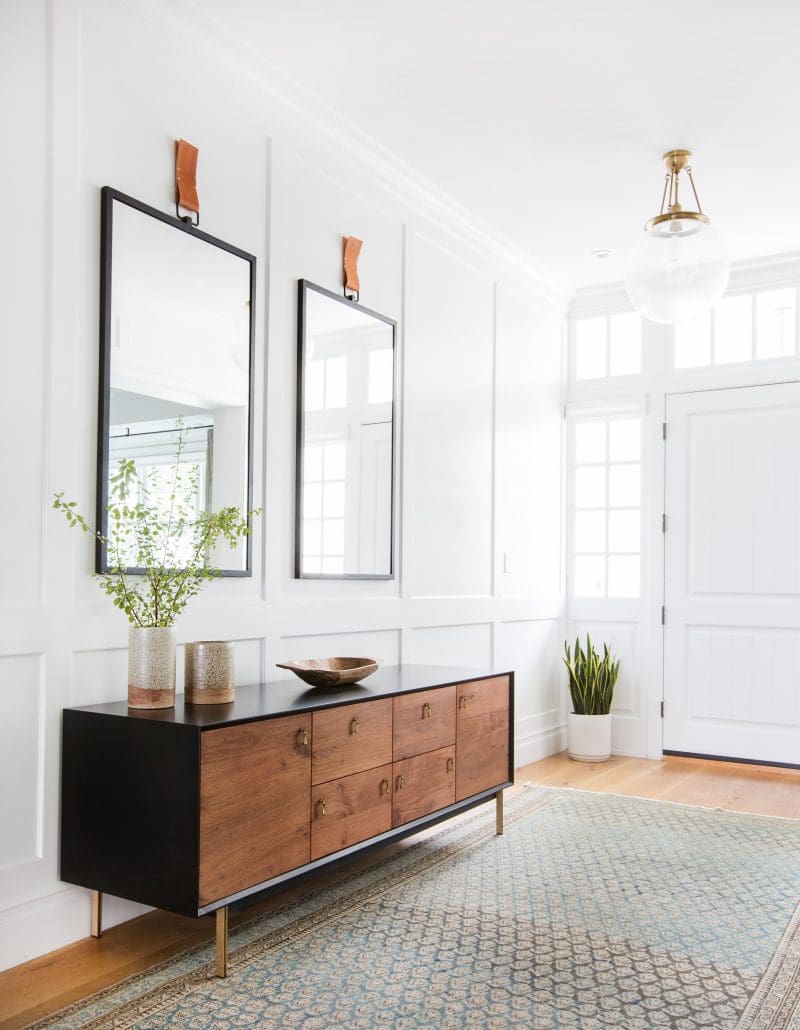 PHOTO: AMBER INTERIORS
42. Make It Uniquely Yours
It is also A-Okay to add your own style to your entryway. There is no right or wrong when decorating your own space. You can borrow some ideas and add your own unique twist to it.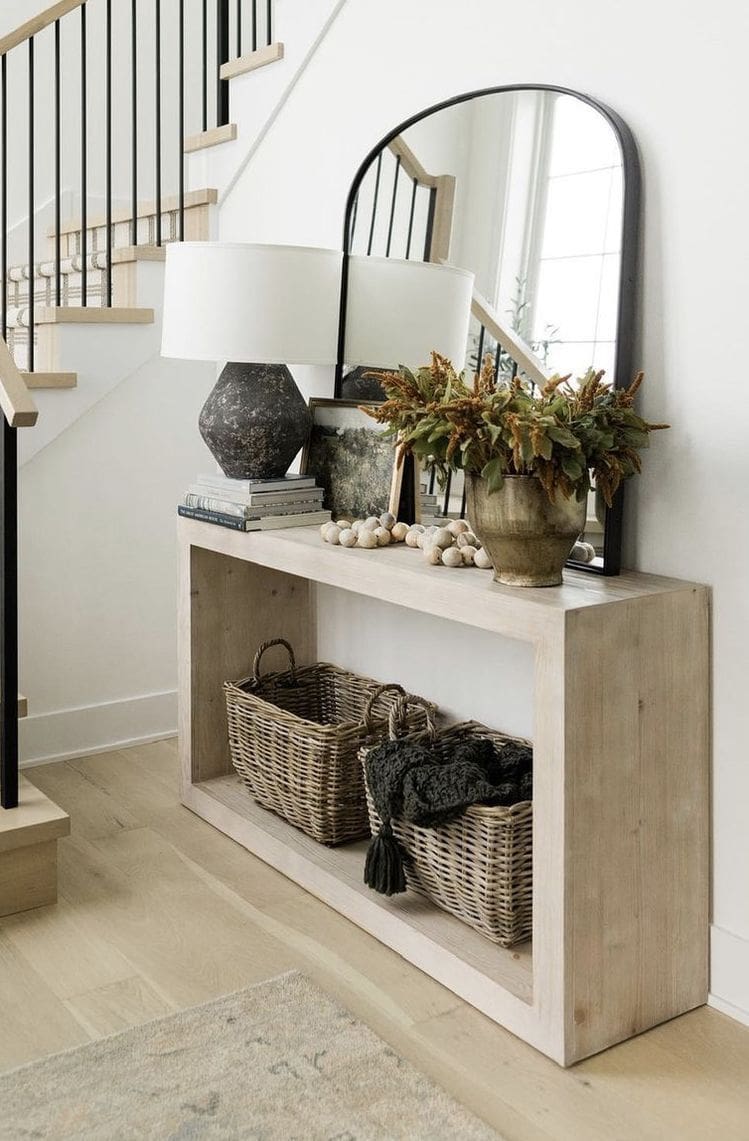 PHOTO: HOME BUNCH
43. Showcase Your Artistic Side
Are you an artist or an art lover? If so, flaunt your work or the work you appreciate on your entryway table. Artworks can inject color and a grand gesture into space. So, use your love for art to add a dynamic element to your home.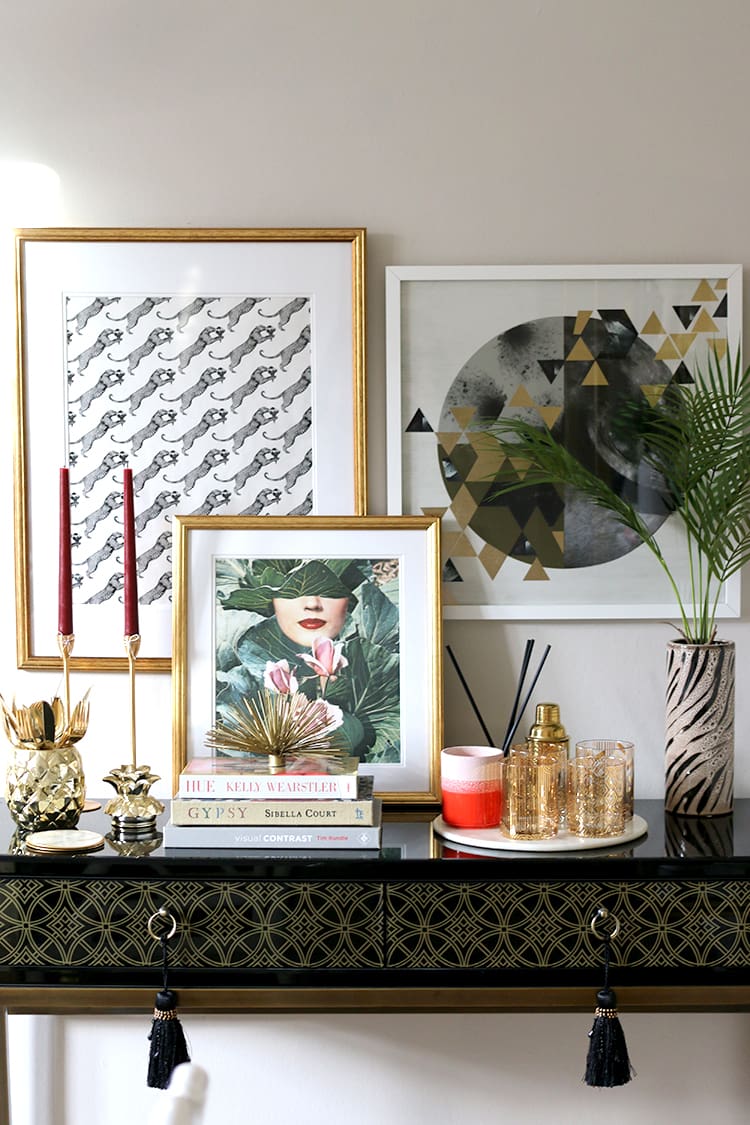 PHOTO: SWOONWORTHY
44. Optimise Space with a Floating Shelf
If you have a narrow entryway like most people, save up legroom by using a floating shelf instead of a table. You can decorate a floating shelf just like you would a console table. A floating shelf will also cost significantly less money than a table.
PHOTO: LAURA GREIG & SARA RICHARDS
45. Stick to a Bench
A bench is ideal for small entryways because it can serve as both a table and a seat. Add a plant to it but do not decorate the entirety so there will be some room left for sitting. Place some cushions and throws to give a cosy and welcoming vibe.
PHOTO: LORI PARANJAPE 
Pin for Later!