45 Elegant Sage Green Bedroom Ideas for a Soothing Ambiance
Sage green is perhaps the most stimulating bedroom color. This earthly hue satisfies on multiple levels. Check out these sage green bedroom ideas to elevate the aesthetics of your bedroom.
Sage green has been taking the interior design world by storm in recent times and it's no surprise why. Not only it is an aesthetically pleasing and versatile hue, but it also adds a touch of nature to interior spaces.
Sage green is a shade of green resembling dried sage leaves. It is a muted earthy color with a green and grey undertone. Sage green is a particularly appealing neutral suitable for any interior space.
This crowd-pleasing color pairs well with a range of colors including neutrals like brown, taupe, cream, and grey, and also vibrant hues like blush pink, yellow, and teal, burnt orange. It also complements all shades of wood.
The bedroom is a space for relaxation, rejuvenation, and comfort. It is crucial to formulate a color scheme that helps you unwind after a long day.
Sage green, whether in a bright or dark shade, is a soothing color that promotes relaxation and serenity. This makes it an ideal color for the bedroom.
Here are 45 sage green bedroom ideas that will enhance the aesthetics and natural feel of your bedroom.
1. Mid-Century Modern Sage Green Bedroom
The mid-century modern interior style is a classic that features clean lines, natural and manmade materials, muted tones, vibrant colors, and mid-20th-century furniture that dominated the era.
Sage green, paired with green, teal, and pink is a color scheme that adds a contemporary feel to a mid-century bedroom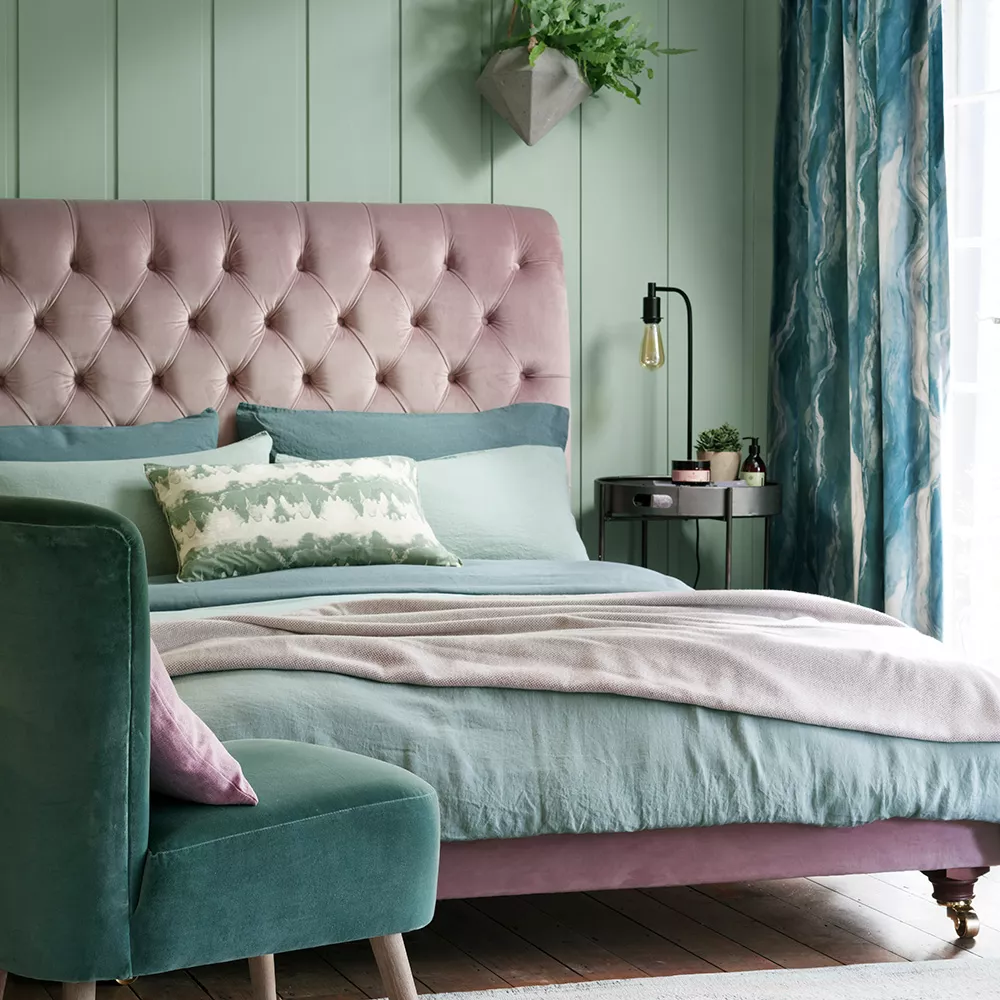 PHOTO: DOMINIC BLACKMORE
2. Soothing Sage Green Bedroom
The primary function of a bedroom is relaxation. Sage green is a soft hue that can create a tranquil environment.
Other elements that can boast calmness and serenity in the bedroom are minimalist artwork, scented candles, dried flowers, and fresh bedding.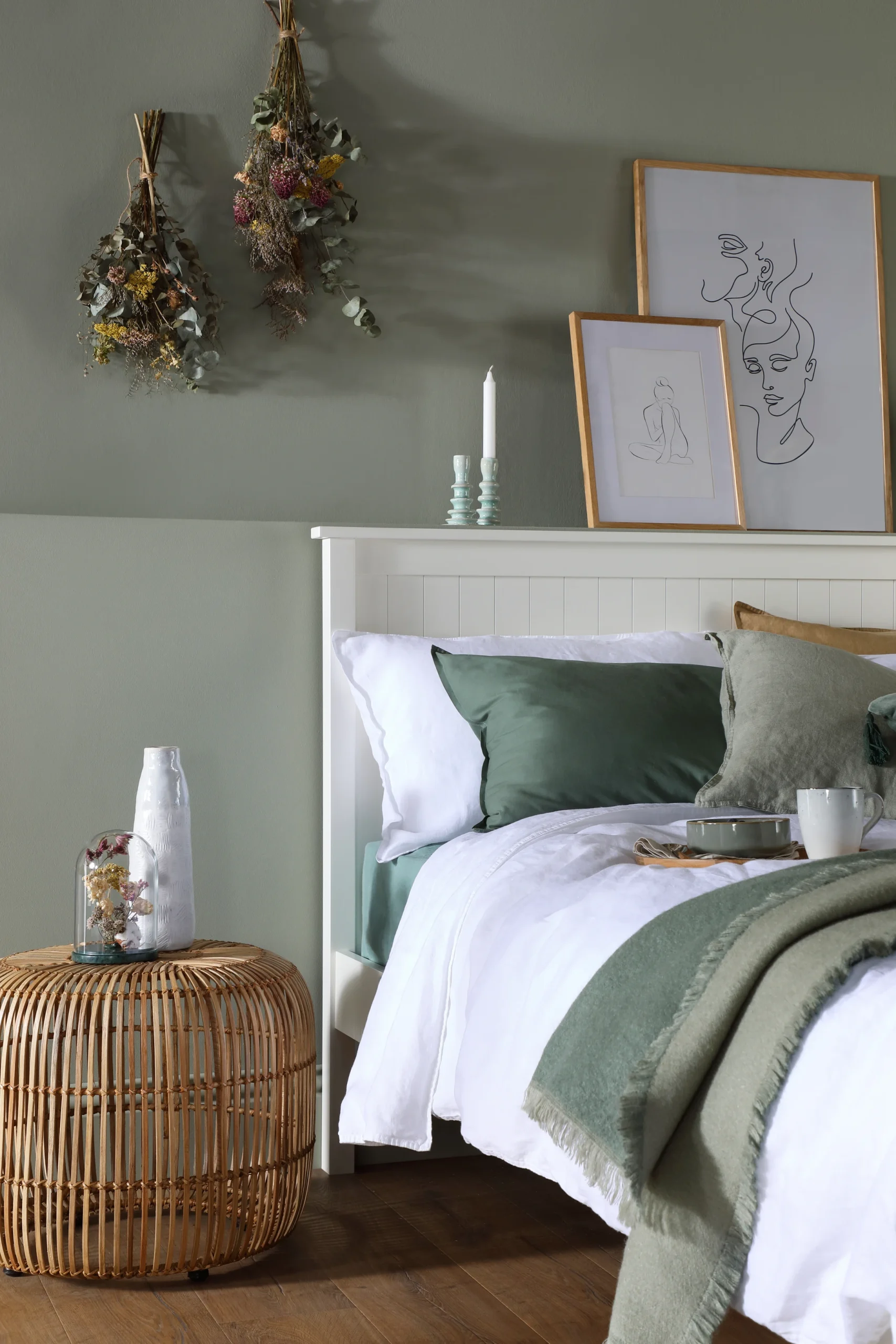 PHOTO: FURNITURE & CHOICE
3. Two-Tone Sage Green Bedroom Wall
A two-tone bedroom wall helps to add dimension to a room and tone down an accent color.
This design technique makes a space appear bigger when the top light is of a light shader and the bottom color is darker. It is a simplistic way to create visual interest in the bedroom.
PHOTO: MILLER GREY
4. Sage Green Accent Color
Accent colors are important when styling interior spaces. They help to enhance the color scheme and add an impactful edge to the overall interior.
The bedroom wall doesn't have to be painted when using featuring a sage green hue. There are an array of ways to incorporate accent colors in the bedroom. Some of these include using sage green drapes, bedding, wall art, or furnishing.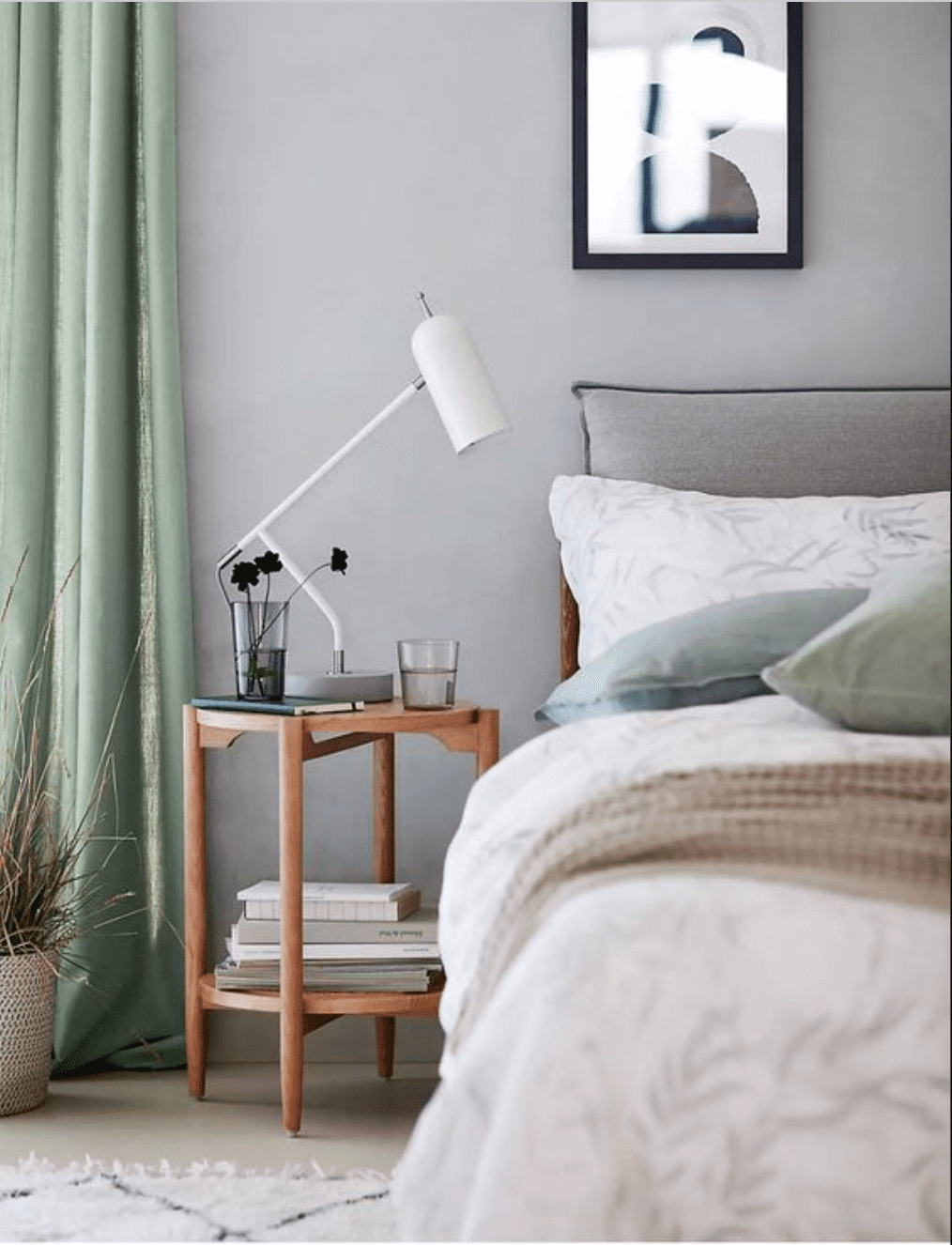 PHOTO: PINTEREST
5. Spring Awakening Sage Green Bedroom
Sage green is a tried-and-true color that can evoke spring-like freshness in the bedroom.
Some spring-inspired hues that can help achieve this look are pink, green, lavender, yellow, and blue.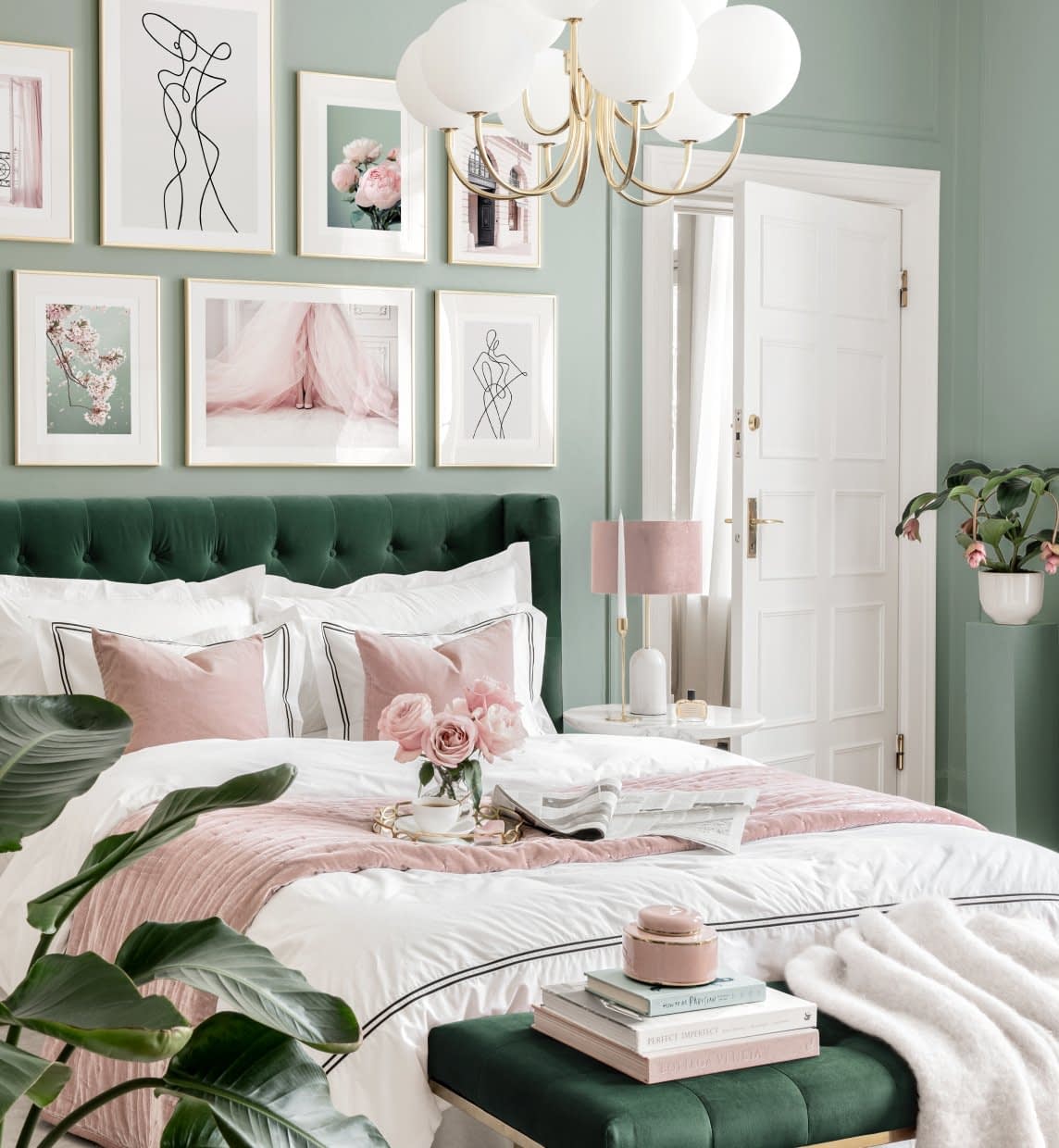 PHOTO: POSTER STORE
6. Muted Sage Green Bedroom
A muted color scheme is often a good idea because it is timeless and easy to redecorate around. Despite the fact that sage green is a neutral tone, subtle use of this hue can embellish the beauty of a bedroom.
For a minimalistic approach, pair a lighter shade of sage green with other neutrals such as cream, white brown, or grey.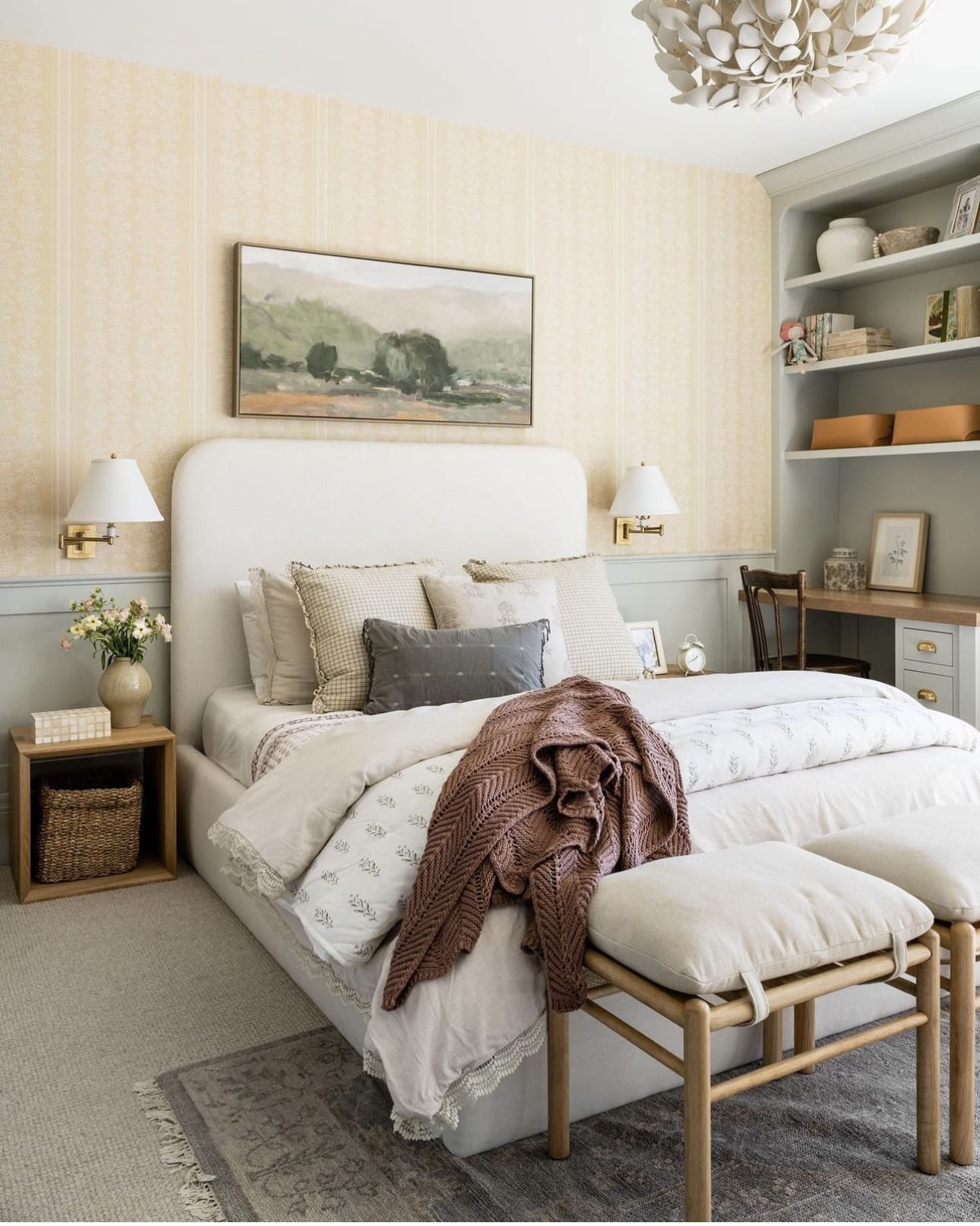 PHOTO: STUDIO MCGEE
7. Modern Minimal Sage Green Bedroom
Modern minimalism is defined by functionality, clean lines, a restrained palette, and simplicity, without sacrificing style or warmth.
It is easy on the eye and can be seen in many modern homes. Sage green is a great accent color for modern minimal bedrooms.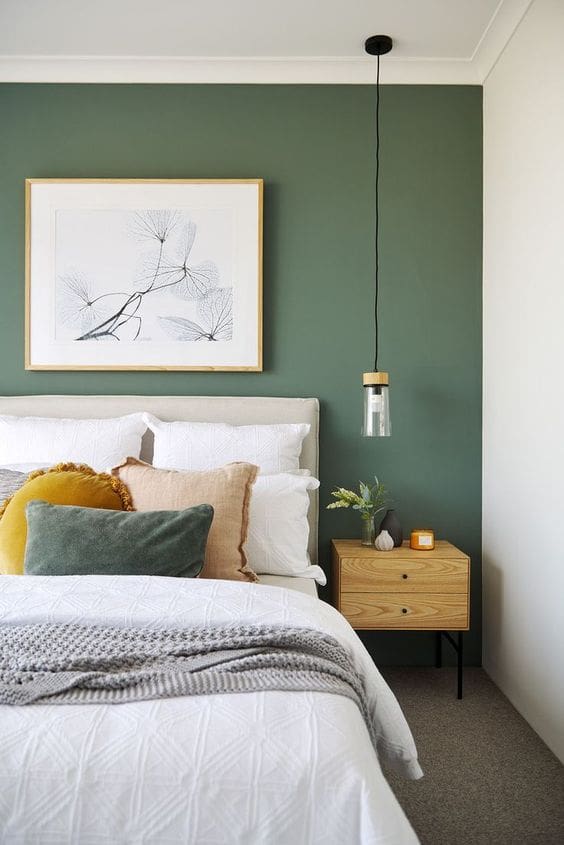 PHOTO: PINTEREST
8. Sage Green Mural Feature Wall
Murals can elevate dull bland bedrooms. It adds personality, charm, and a stylish flair to the bedroom.
A sage green mural can help liven up and harmonize your bedroom.
PHOTO: JANE ROCKETT
9. Sage Green Kids' Bedroom
This gender-neutral hue is ideal for kids' rooms. Sage green is peaceful and soothing to kids because it evokes the feeling of nature and calmness.
Recent studies have found that muted shades of green like sage green may help improve a child's reading speed and focus.
PHOTO: PRETTY IN PRINT
10. Modern Farmhouse Sage Green Bedroom
Unsurprisingly, farmhouse styles are evolving into a more refined look. Sage green works particularly well in modern farmhouse bedrooms. It adds a modern touch and earthly feel to this interior style.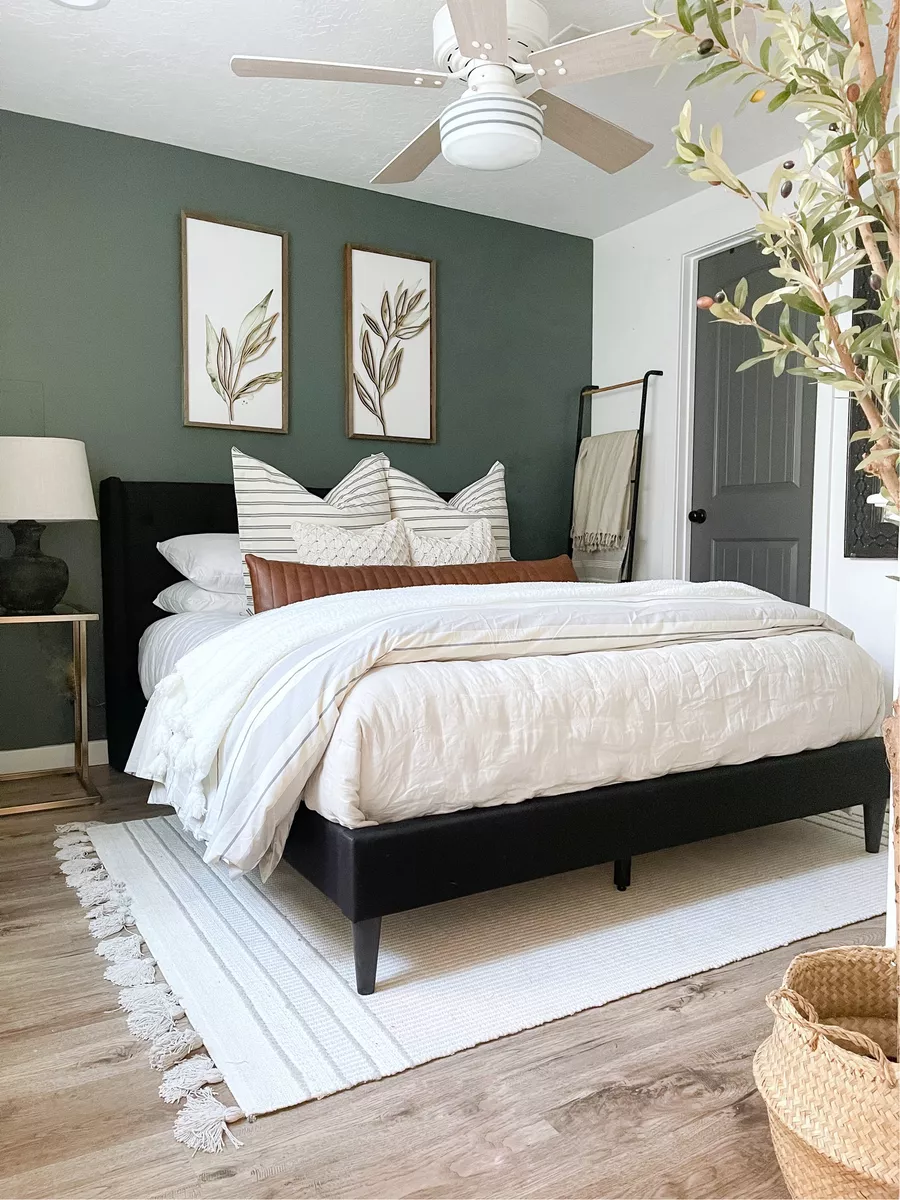 PHOTO: GREY BIRCH DESIGNS
11. Board and Batten Accent Wall
Board and batten is a classic type of wainscoting that was once primarily used to improve acoustics in a room, but is now used to add texture and style to interior spaces.
It is a popular feature wall in the bedroom, particularly on the wall behind the bed. This wooden wall adds a unique character and accent to a bedroom.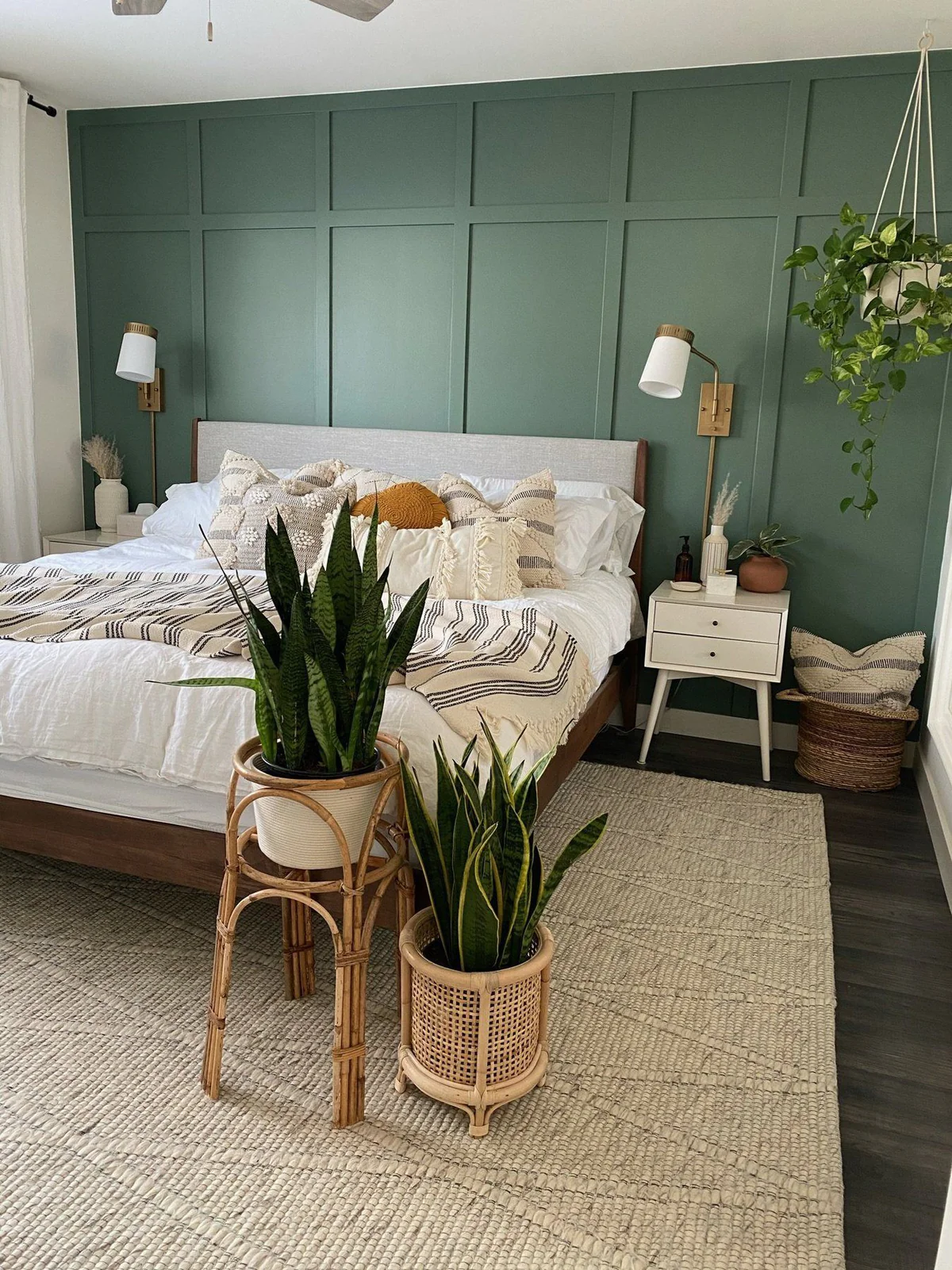 PHOTO: MADE TRADE
12. Geometric Board and Batten Feature Wall
Board and batten walls also come in a geometric form which adds more dimension and interest to a space.
Not only can sage green wall of this nature add a stylish flair to a bedroom but it also helps make the room look even bigger.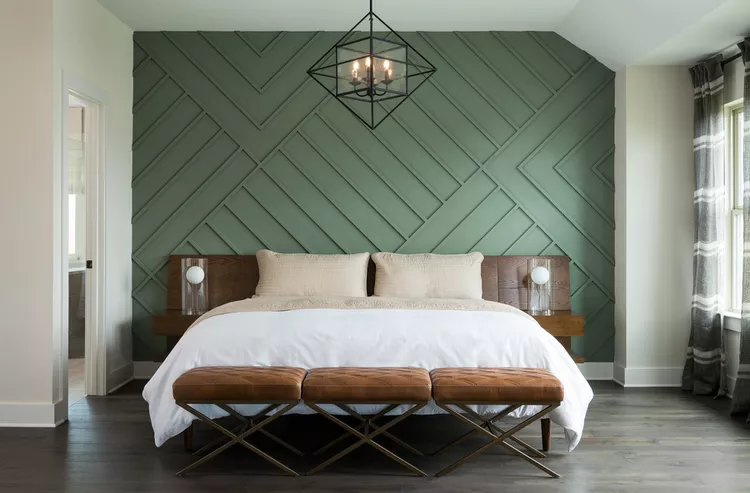 PHOTO: ASHTON WOODS
13. Sage Green and Brown Bedroom Color Scheme
Brown is one of the most complementary colors for sage green. These neutrals can effortlessly add warmth, cohesiveness, and visual interest to a bedroom.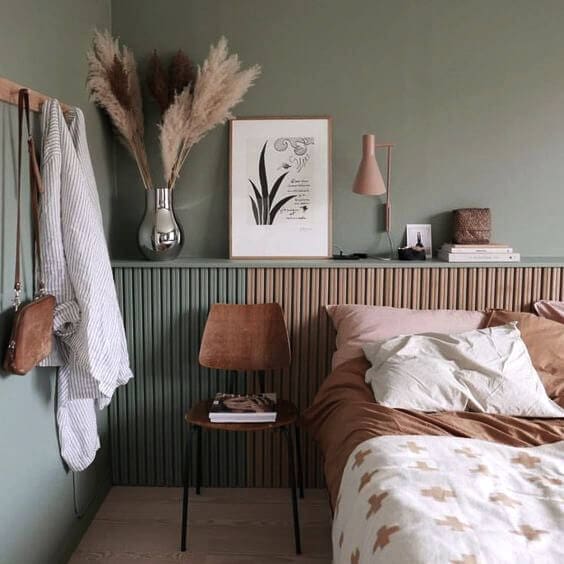 PHOTO: CEDAR AND SUEDE
14. Floating Shelf Above The Bed
A floating shelf is a great addition to a bedroom because it can be used to display decorative elements such as artwork, picture frames, plants, and books. Use the above bed floating shelf sparingly to avoid clutter.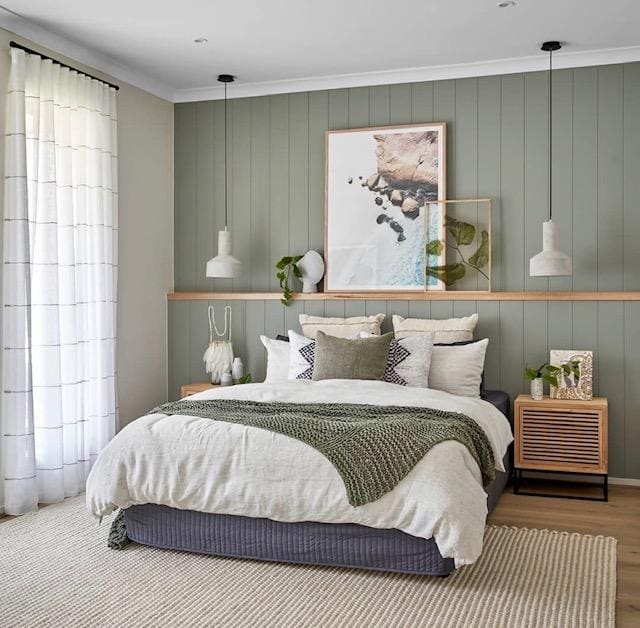 PHOTO: COLOR BOND
15. Chic Modern Sage Green Bedroom
This interior style is subtle and comfortably stylish. It is achieved by integrating a neutral palette, elegant accents, brass fixtures, clean lines, and abstract artwork into the roomy minimalism.
PHOTO: CEDAR AND SUEDE
16. Sage Green Bedroom Wallpaper
Some people prefer wallpaper to paint, and understandably so, as it is more durable and can last for many years- even up to a decade.
There is a plethora of sage green wallpapers that adds a captivating and unique accent to a bedroom.
PHOTO: ARTHOUSE
17. Simplistic Sage Green Bedroom Accent Wall
Sage green on its own is simplistic at best. Whether as an accent wall or a fully painted room, this hue can create a clean and effortless feel.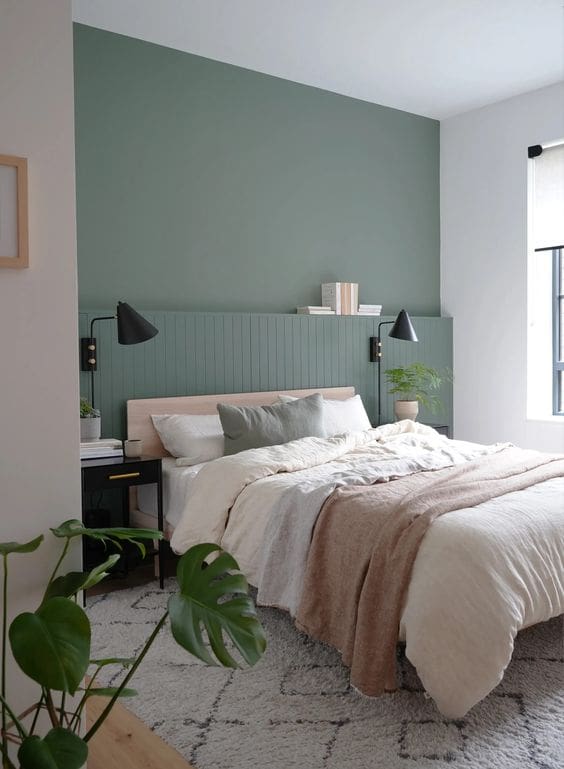 PHOTO: CATE ST HILL
18. Bohemian Sage Green Bedroom
The Boho interior style is defined by the lack of uniformity and structure. Instead, it embraces the carefree use of colors, patterns, and texture.
They are, however, some common practices when it comes to the bohemian style but no set-in-stone rules. Sage green adds a chic layer of interest and depth to a bohemian-style bedroom.
PHOTO: ANITA YOKATA
19. Wood Panel Wallpaper
Wood effect wallpapers are very popular right now. They work great in any home and look like the real deal.
This wood panel effect wall covering is an inexpensive and less time-consuming way to add warmth and style to your bedroom.
PHOTO: HOUZZ
You may also enjoy our article on: 34 Dreamy Sage Green Kitchen Design Ideas
20. Sage Green Bedroom Wall and Doors
Painting the bedroom doors the same hue as the walls is an unconventional approach but it does add a chic layer of depth and a unique twist to the interior. It creates a striking visual appeal and the illusion of space.
PHOTO: DULUX
21. Sage Green, Pink, and Blue Color Scheme
In the world of interior design, one of the initial components to visually and psychologically convey the design's message is the color palette.
One of the appealing three-tone color combinations for a bedroom is sage green, pink, and blue. These hues paired together bring richness to freshness to the interior.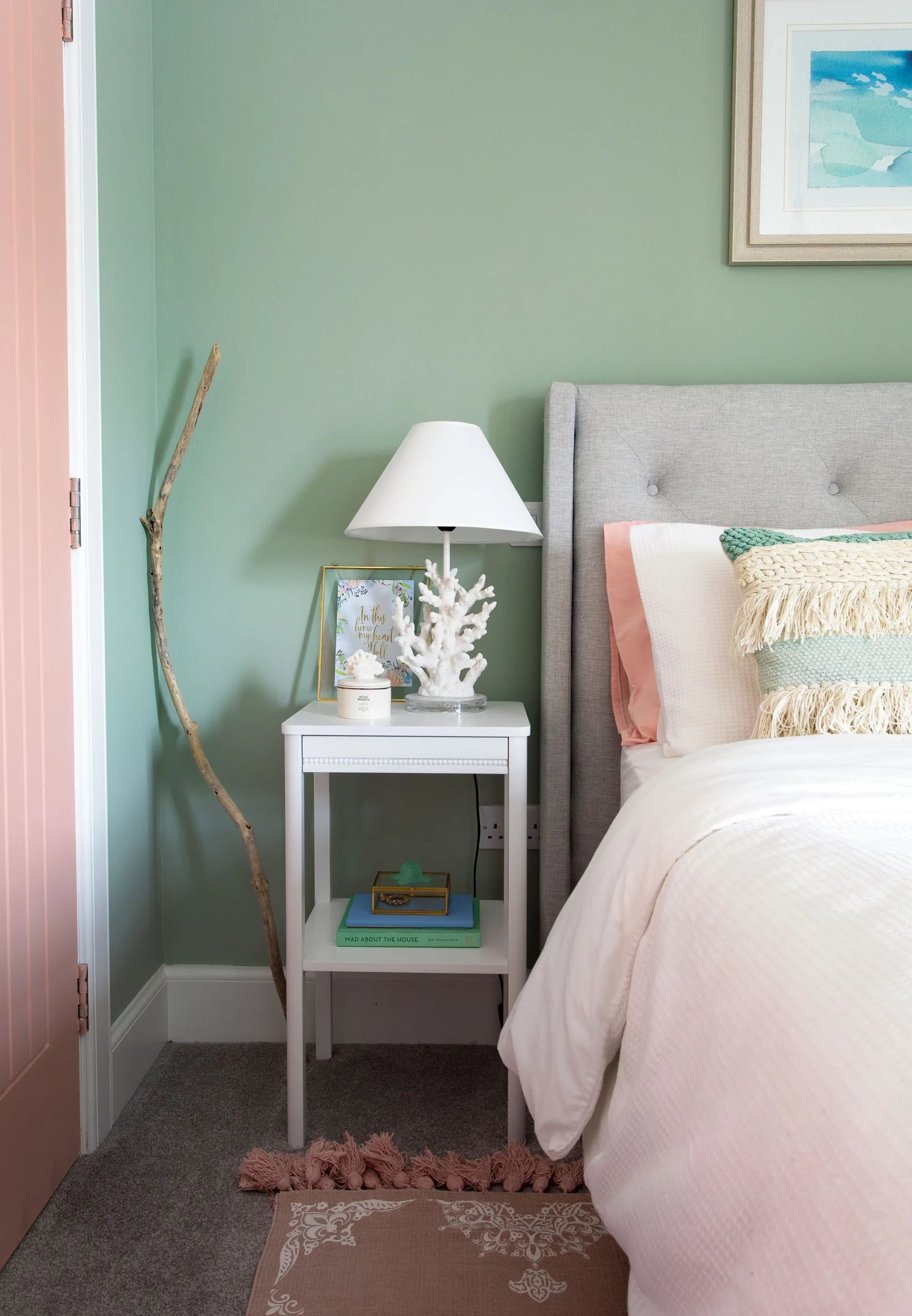 PHOTO: PINTEREST
22. Pale Sage Green Bedroom
Pale sage green is a warm mid-tone green with a little grey undertone that is ideal for creating a restful bedroom.
This shade is very versatile and radiates a subtle sleekness that doesn't overwhelm a space. Pale sage green is great for a small bedroom as it makes it feel open and spacious.
PHOTO: IMPERFECT INTREIORS
23. Small and Cosy Bedroom
Sage green is a soft, subdued green hue that can have either warm or cool undertones. Sage green with a warm undertone gives the room a mellow, soft feel, making it cozy and relaxing.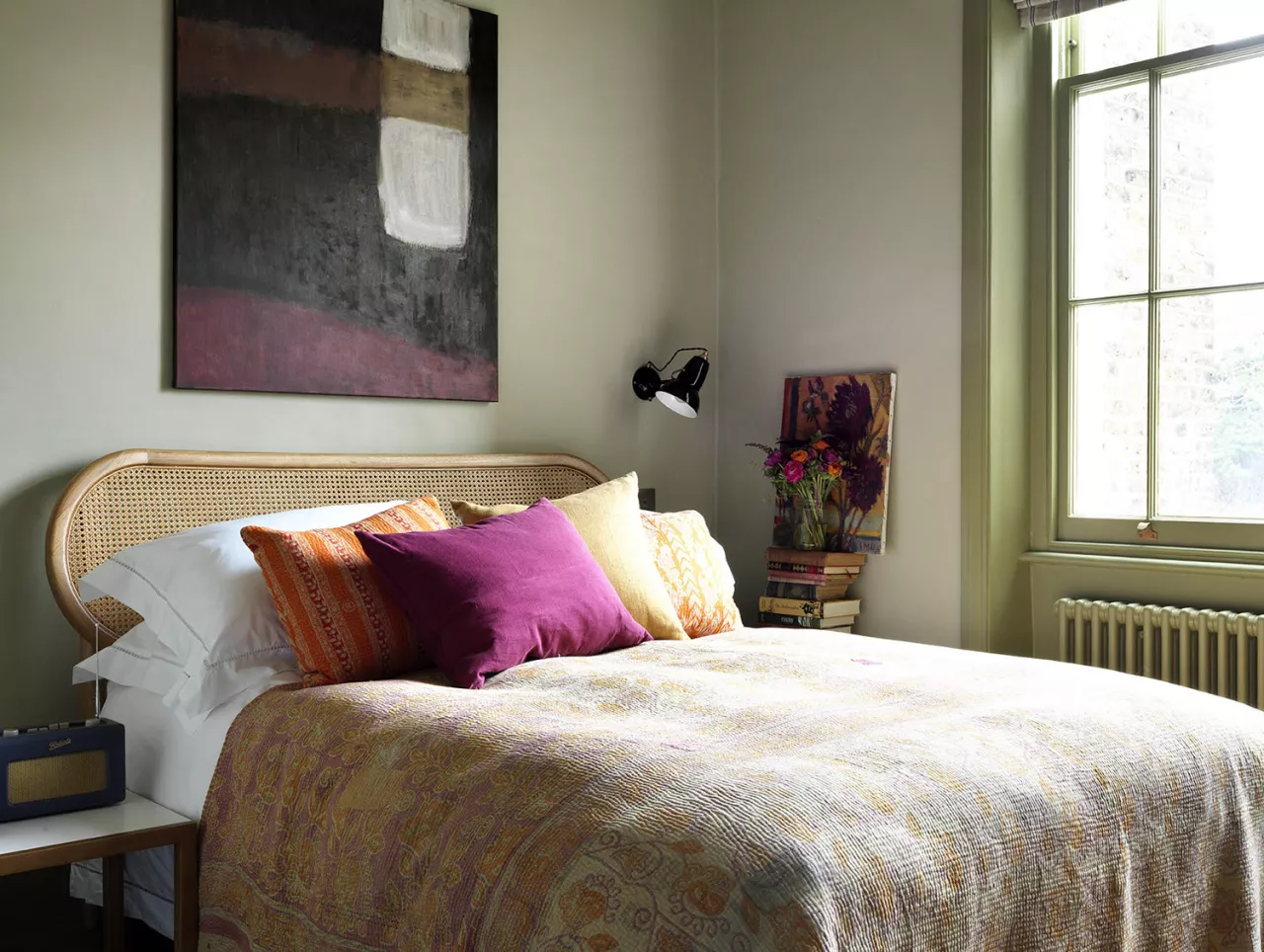 PHOTO: LONIKA CHANDE
24. Sage Green Bedroom with Soft Pink Accent
This earthly tone goes together with soft pink like tacos & Tuesdays. Soft pink hues convey moods such as calm, cheer, and fun. Sage green paired with soft pink creates a relaxing and cozy atmosphere.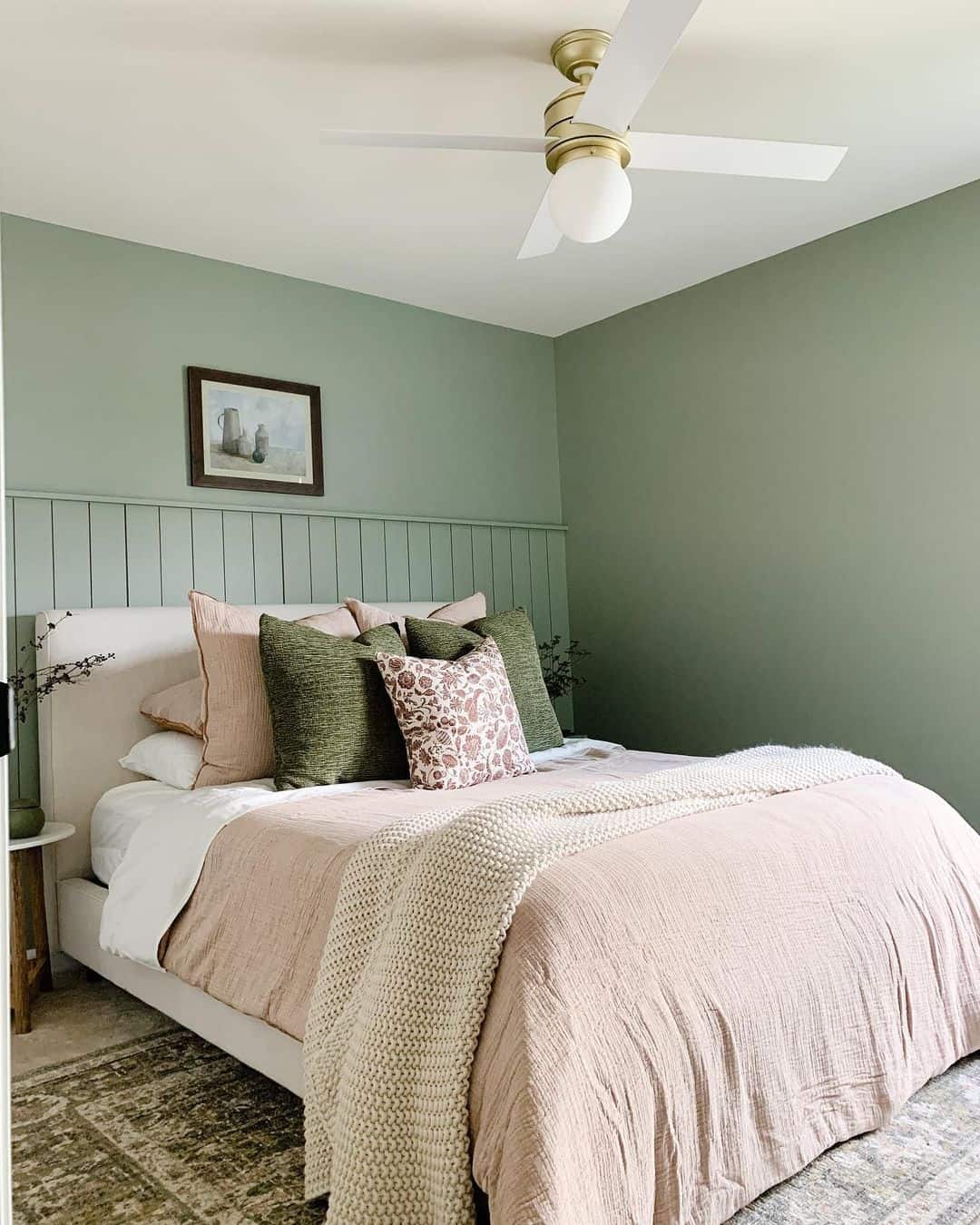 PHOTO: CHALOVESCAFE
25. Sage Green Bedroom Gallery Wall
An easy yet impactful way to style a sage green accent wall is by creating a gallery. This gives a bedroom interest, depth, and a stylish focal point.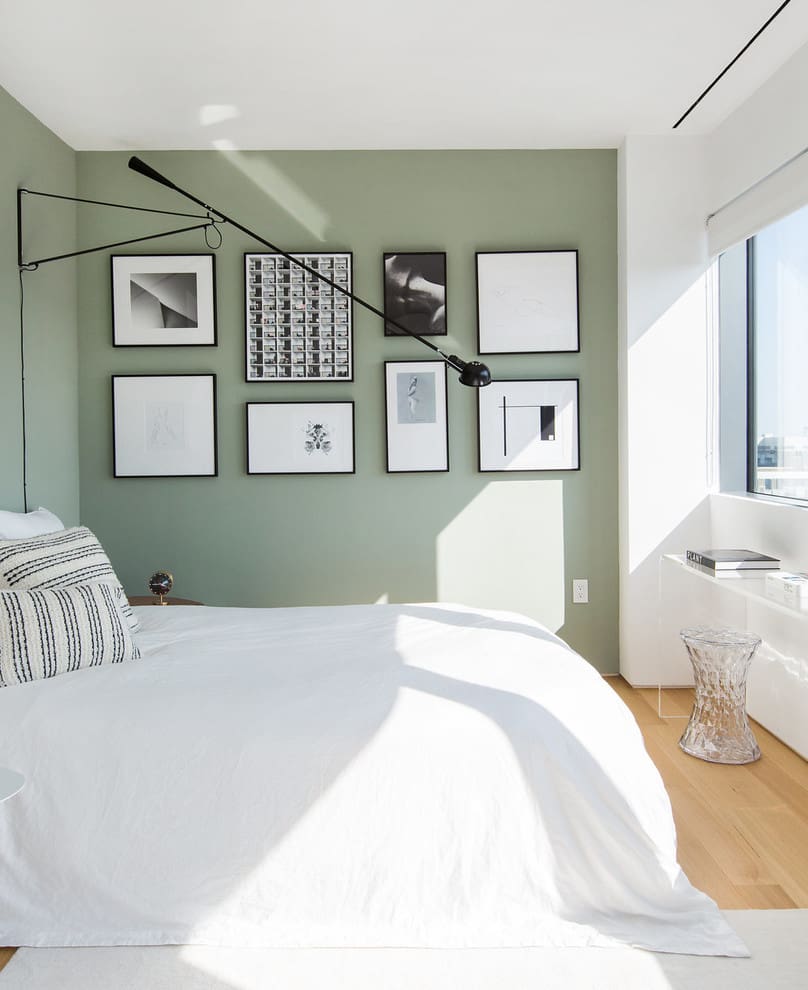 PHOTO: HOUZZ
26. Urban Jungle Sage Green Bedroom
Urban jungle interior style is defined by the abundant use of natural materials, greenery, and earthly colors.
Sage green is a great backdrop for this style. Look no further than style this if you like to be surrounded by nature.
PHOTO: FARROW & BELL
27. Layer Patterns and Textures
In a vibrant and lively interior space, texture, and pattern can have a relaxing effect while also adding visual interest to a neutral, understated space.

28. Bright And Airy Bedroom
A bright and airy bedroom does two things. First, it makes the room feel relaxing- second, it makes the room feel more open and spacious.
This type of bedroom uses an abundance of natural light to its advantage. It features clean neutral tones that are visually cohesive.
PHOTO: KRYSTAL SMIT
29. Sage Green and Plush Pink Bed Frame
When paired with plush pink, a rich sage green can appear airy and playful. A plush pink accent adds mood, impact, and drama to a bland sage-green bedroom.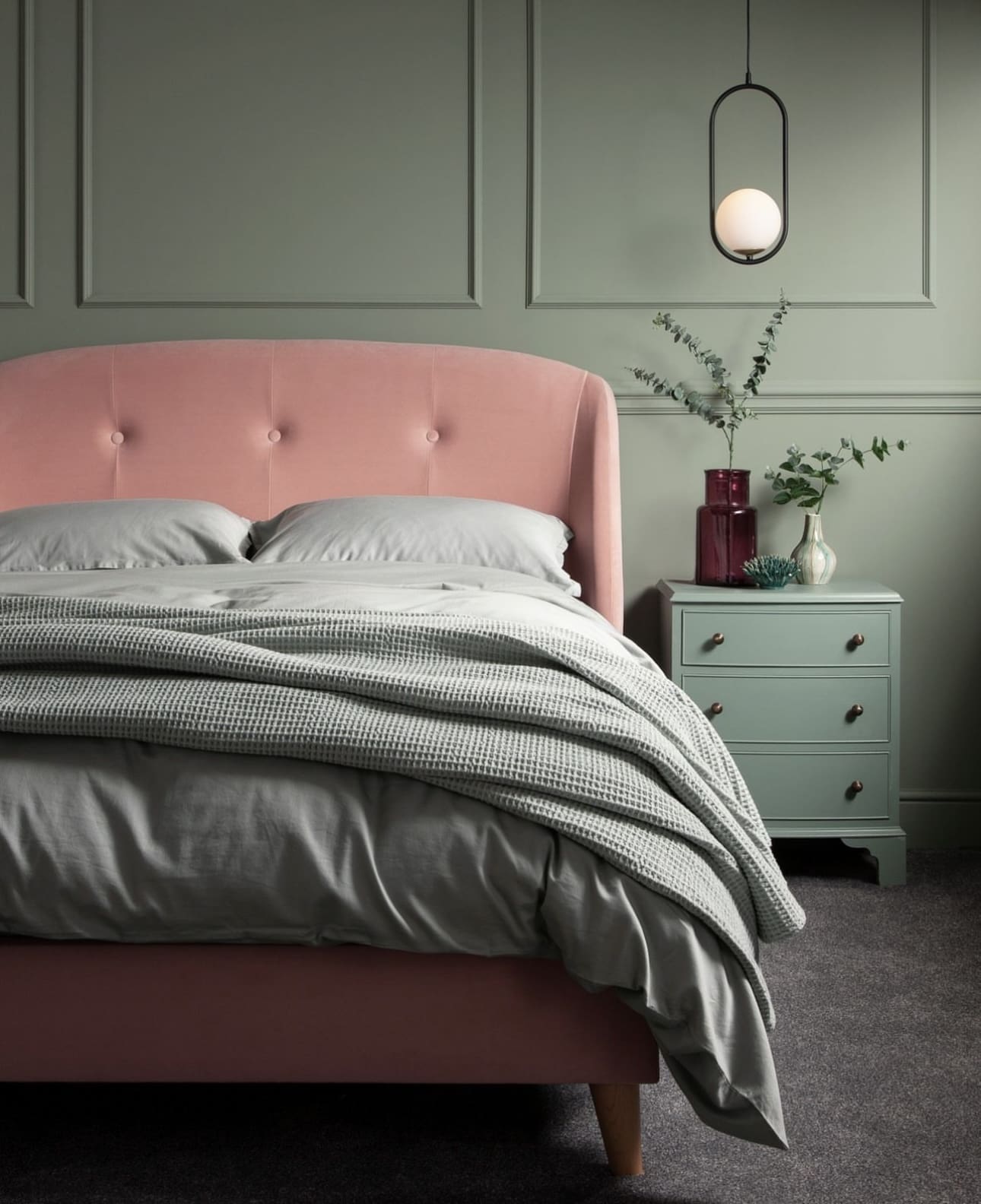 PHOTO: BUTTON & SPRUNG
30. Dark Ceiling Bedroom
A dark ceiling bedroom may be unconventional and daring but it is a dramatic and statement-making approach. It brings down the height- so it's more suited to high-ceiling spaces.
Dark ceilings add a cozy and dramatic feel while also making the room moodier and a lot more atmospheric.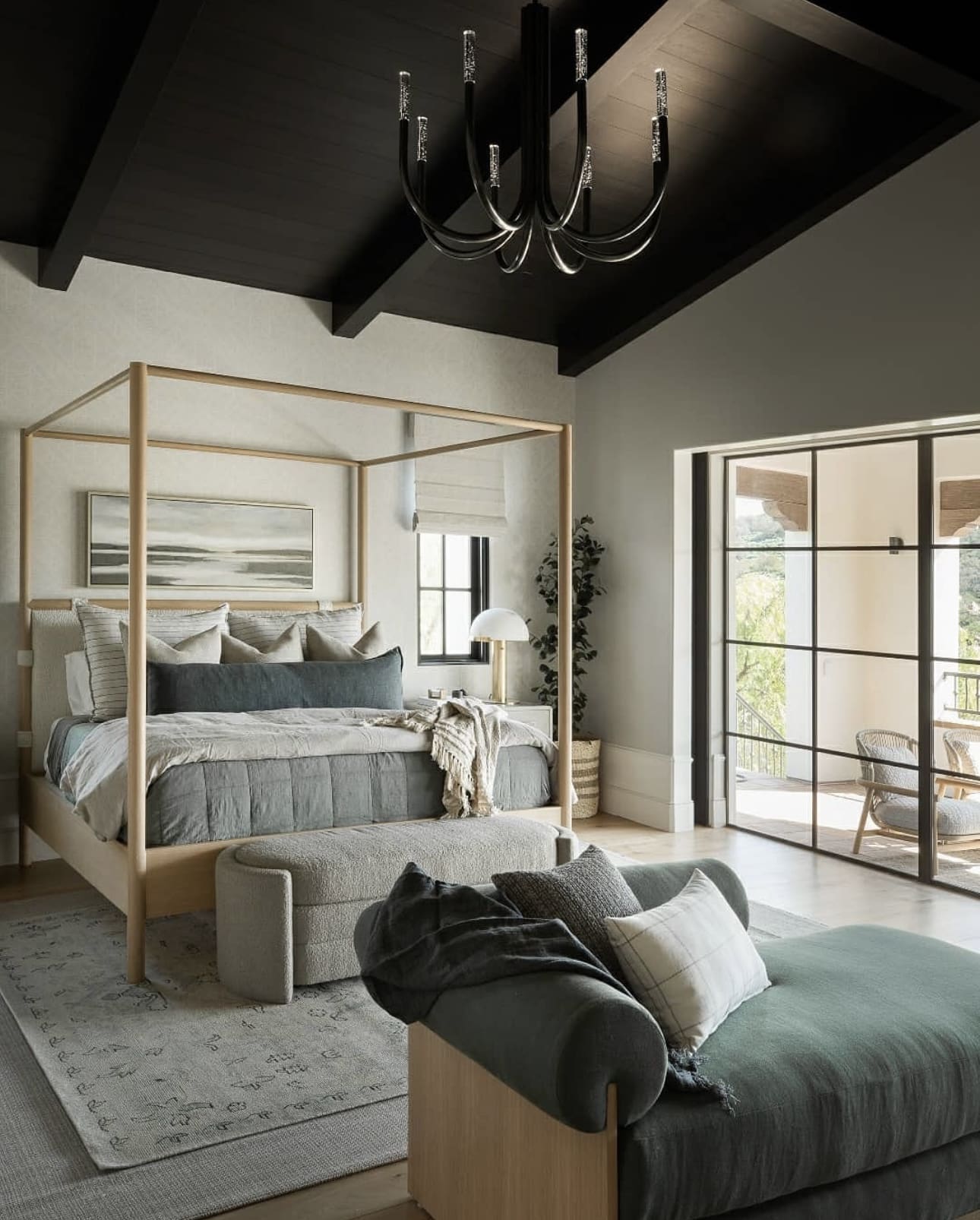 PHOTO: HOUSE LIFT DESIGN
31. Soft Sage Green Bedroom Feature Wall
Sage sage green has a faded hue that exudes serenity and earthiness. This shade makes a great accent wall– especially when the rest of the walls of painted white. It adds an understated elegance and charm to a contemporary bedroom.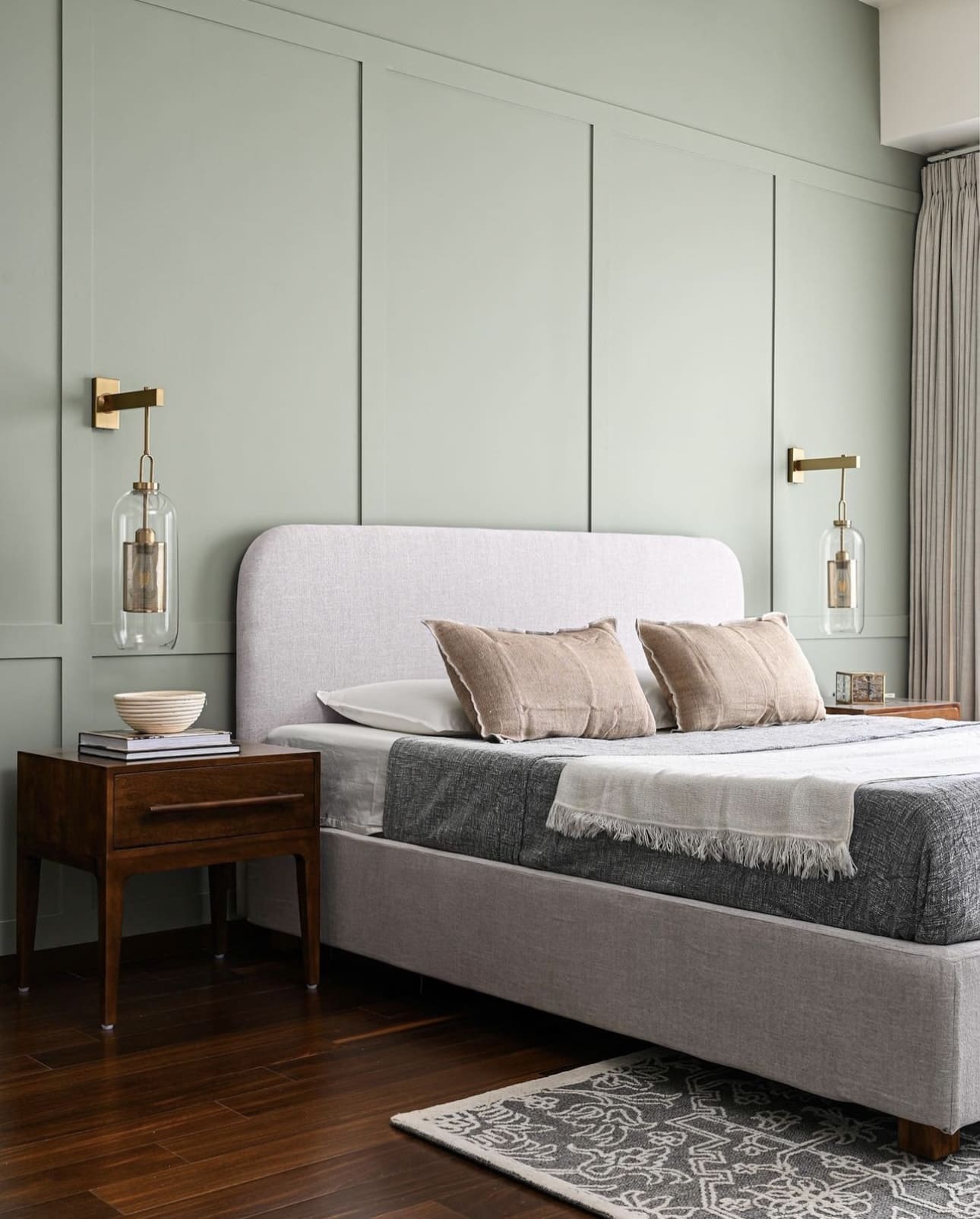 PHOTO: SUNITA YOGESH STUDIO
32. Sage Green Bedroom Wood Panels
Wood paneling not only gives a bedroom warmth, style, and texture but also helps to conceal uneven walls and acts as insulation.
Wall paneling is an easy and affordable option for giving your bedroom a modern twist or perhaps a touch of charm.
PHOTO: LINDSEY PEDEY
33. Minimal Sage Green Artwork
Wall arts are important element used to enhance the décor quotient and tie the room together. Another way to incorporate the irresistible sage green hue into your bedroom is through wall art.
If you're color shy and don't want to commit to sage green, then consider using it for non-permanent features like wall art, bedding, and rugs.
PHOTO: FARROW & BELL
34. Diagonal Half and Half Wall
Divide the bedroom wall in half diagonally. Painting each half sage green and a different color to create a beautiful wall paint pattern for your bedroom.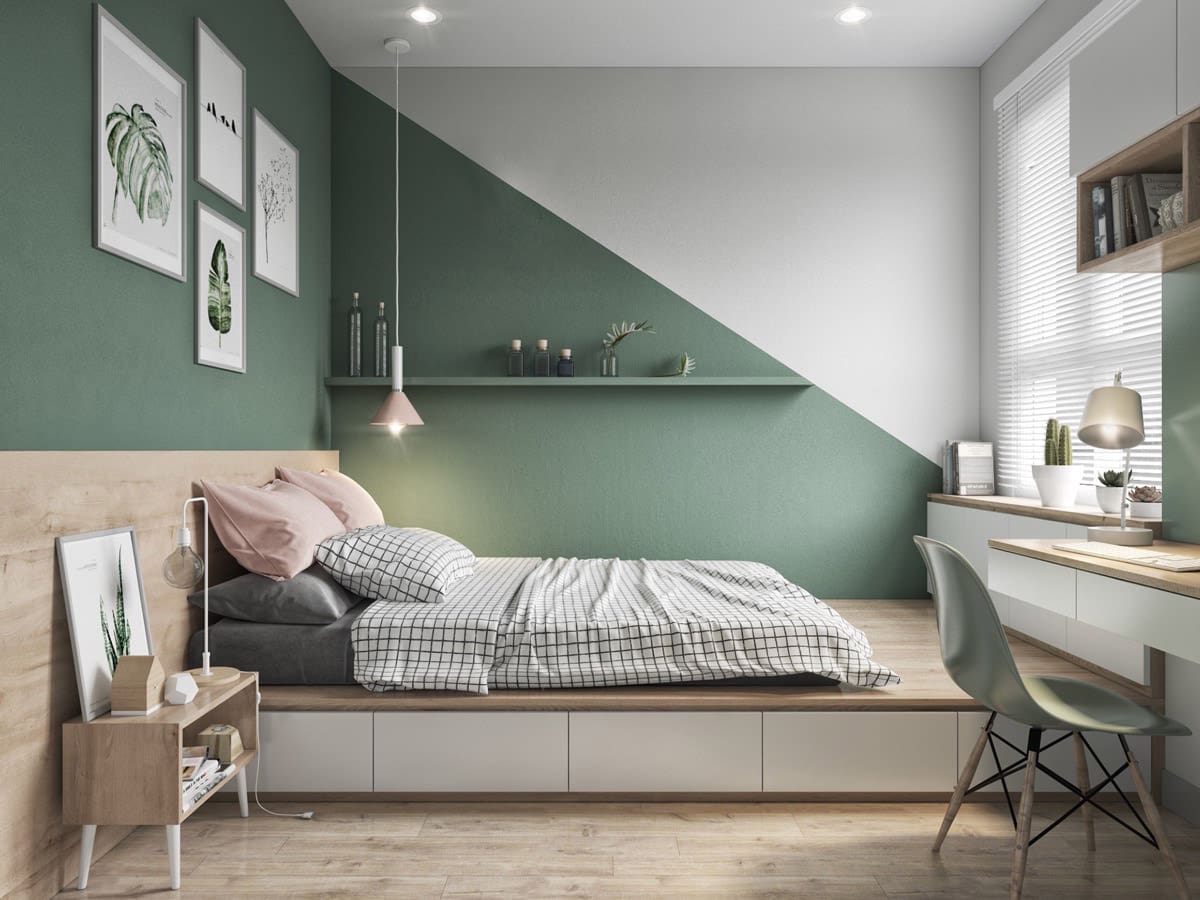 PHOTO: IMADE PASTEL
35. Matching Sage Drape
Whether you choose a light or darker shade of sage green, picking bedroom drapes or curtains that complement the sage wall can let both parts melt into one another and help to create a more tranquil and soothing environment with no visual distractions.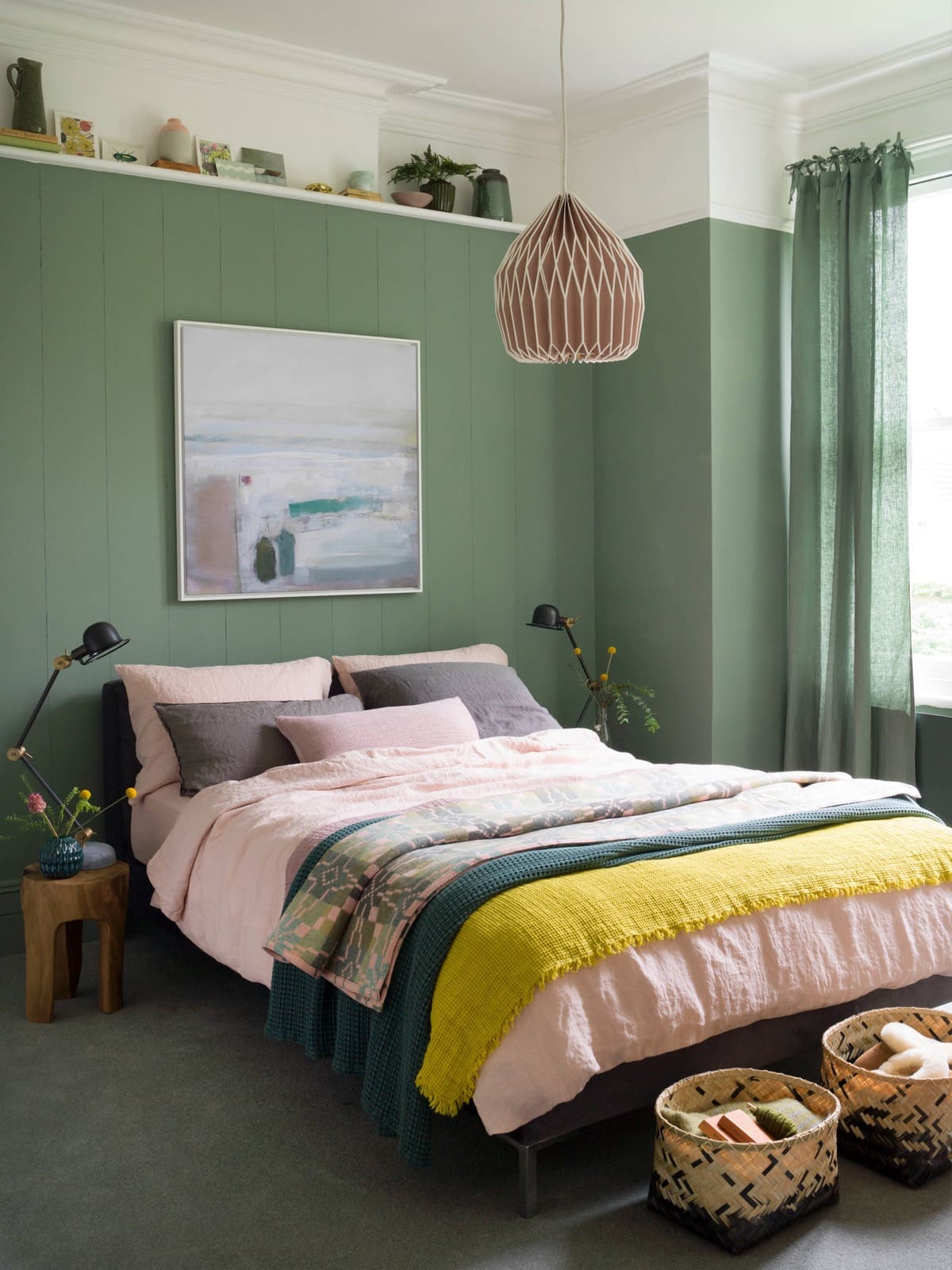 PHOTO: ALI ATTENBOROUGH
36. Sage Green Wall and Ceiling
Design experts have pointed out that painting your ceiling and wall the same color makes the space look bigger.
Your eyes will be drawn upward by the smooth transition from the walls to the ceiling, creating the impression that additional space exists.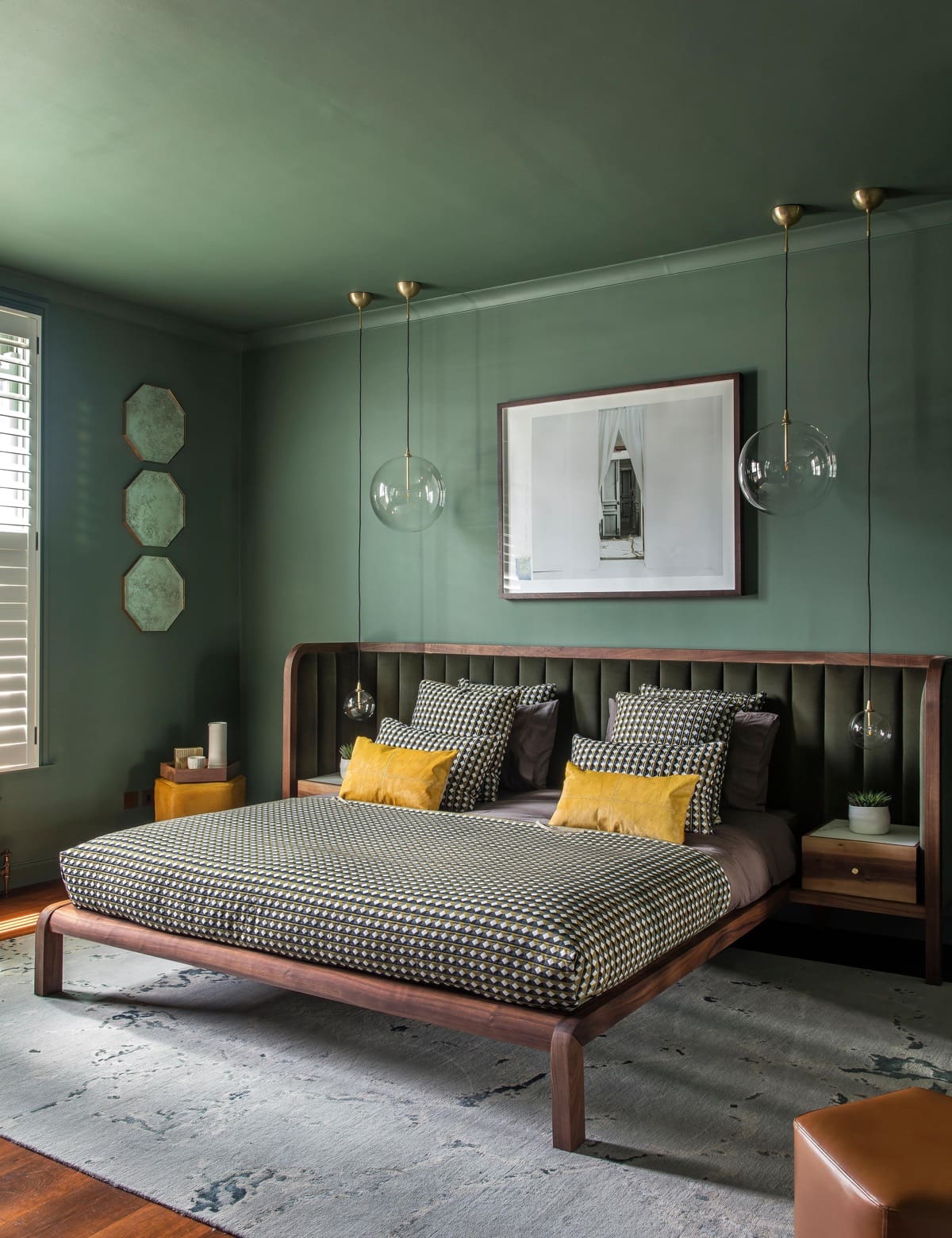 PHOTO: 1ST DIBS
37. Vertical Wood Paneling
Vertical wood paneling is one of the easiest ways to make your interior wall higher. Your walls will get dimension and visual interest thanks to this small feature.
Painting your paneling significantly elevates your bedroom aesthetics and gives it a more contemporary, clean vibe.
PHOTO: LUSOPHILE
38. Unique Sage Green and Brown Accent Wall
Accent walls are a fantastic way to make your bedroom's design feel unified, provide focus points for it, and even add visual depth. Step out of the conventional, and add your own unique twist to it.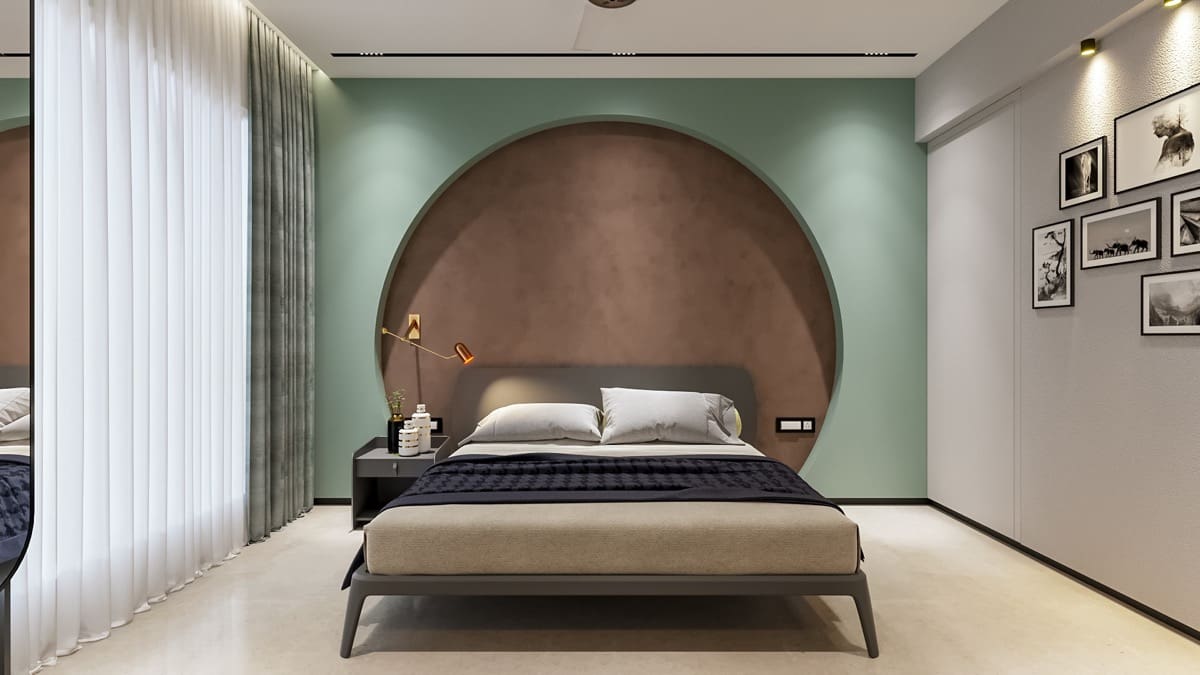 PHOTO: BEHANCE
39. Nature-Inspired Sage Green Bedroom
PHOTO: FARROW & BELL
40. Gallery Wall on Sage Green Bedroom
Along with family photos and other mementos, a gallery wall is an ideal place to showcase your collection of art. The sage green wall in the bedroom gains warmth, individuality, and character from a gallery wall.
PHOTO: ETSY
41. Arch Sage Green Bed
A sage green arch bed is the ideal statement-making bedroom piece. It usually has smooth curves and an extra cozy, tactile boucle upholstery.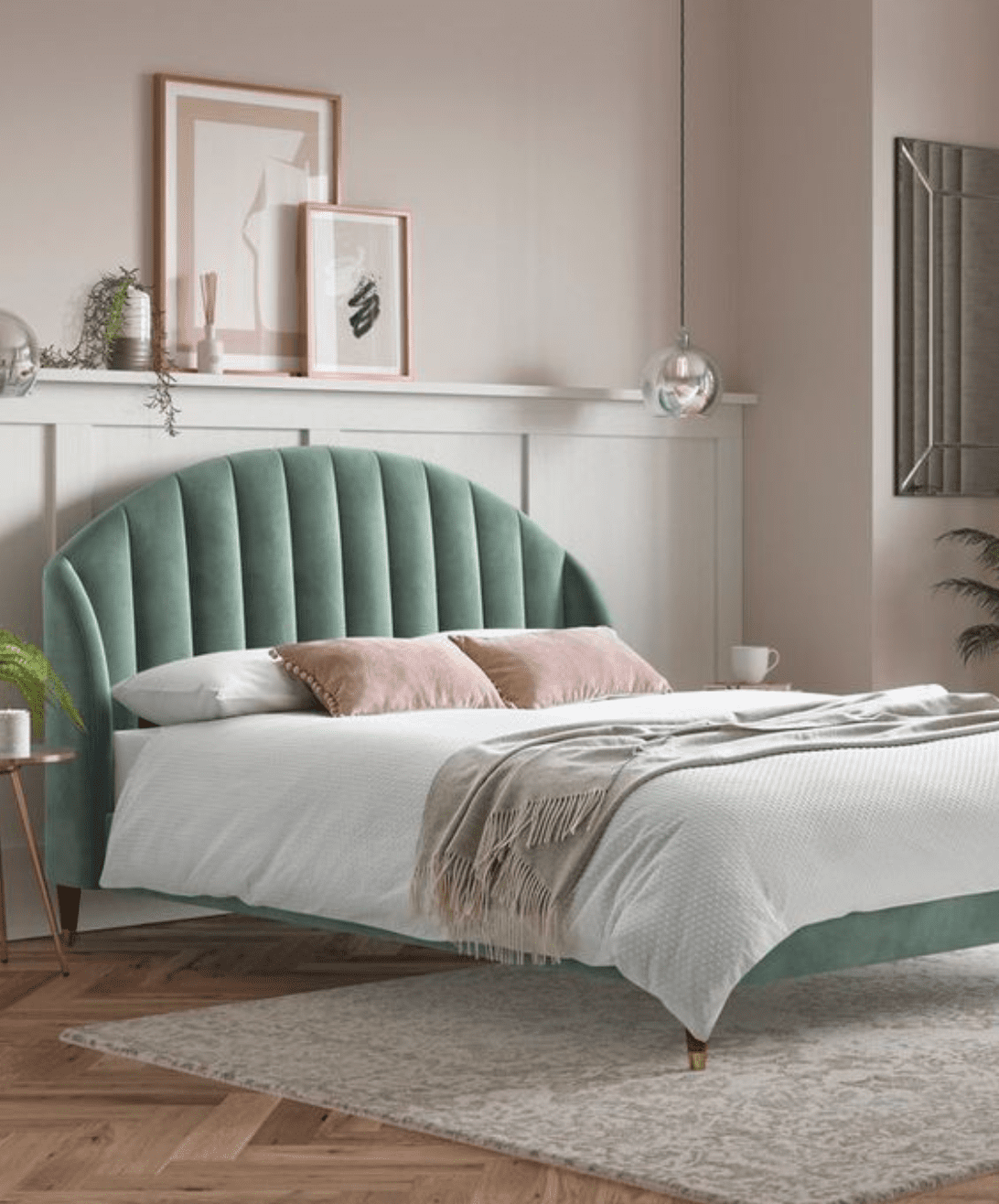 PHOTO: PINTEREST
42. Square Sage Green Bed
A traditional square-ish shape sage bed adds sleekness and a comfortably modern feel to the bedroom.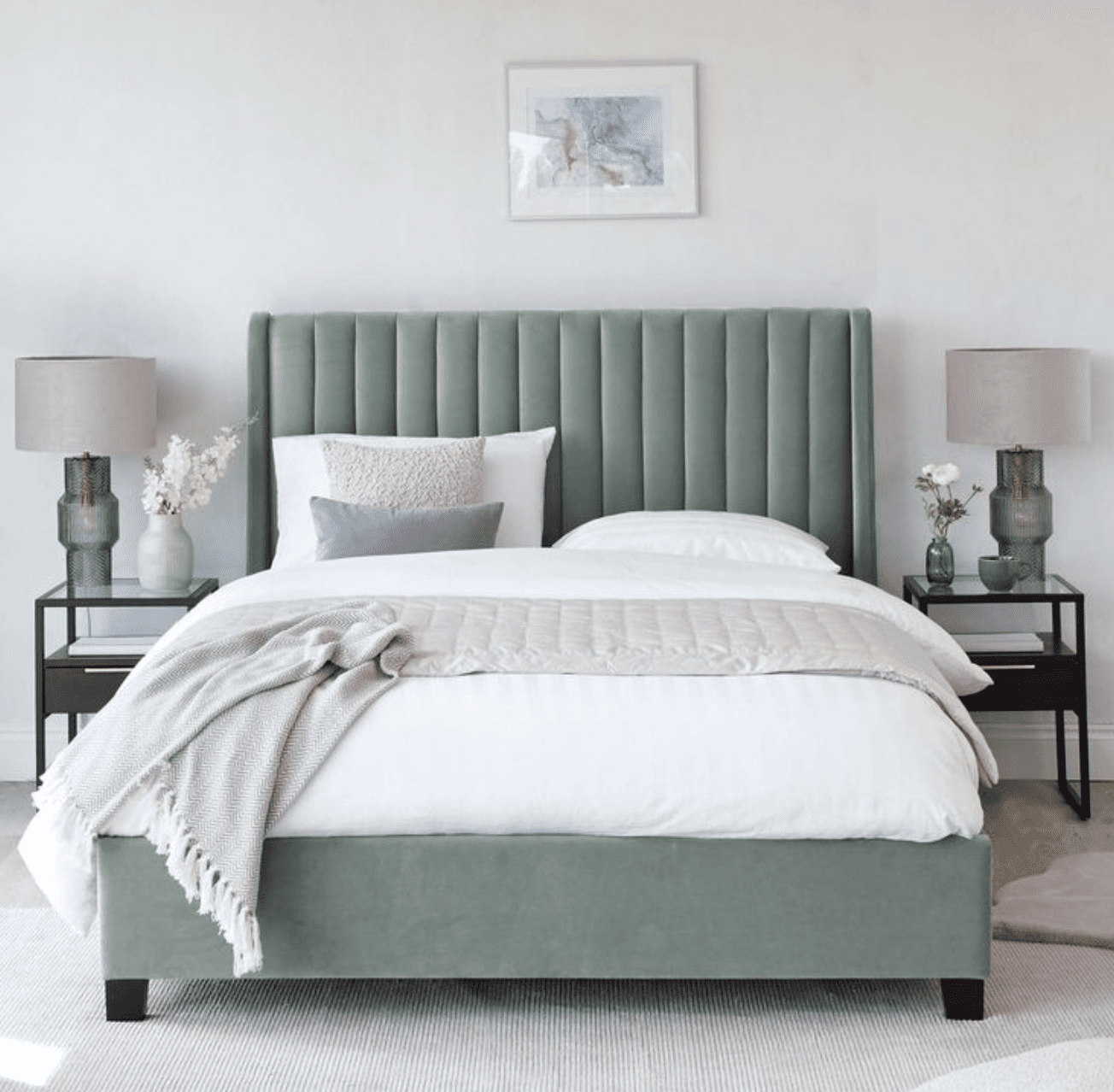 PHOTO: DANETTI
43. Rustic Sage Green Bedroom
The rustic interior design exemplifies a natural, worn-out, and informal design aesthetic. The broad category includes an array of variations on the design, such as modern rustic Tuscan, seaside, and seaside. It is often homey, cozy, and welcoming.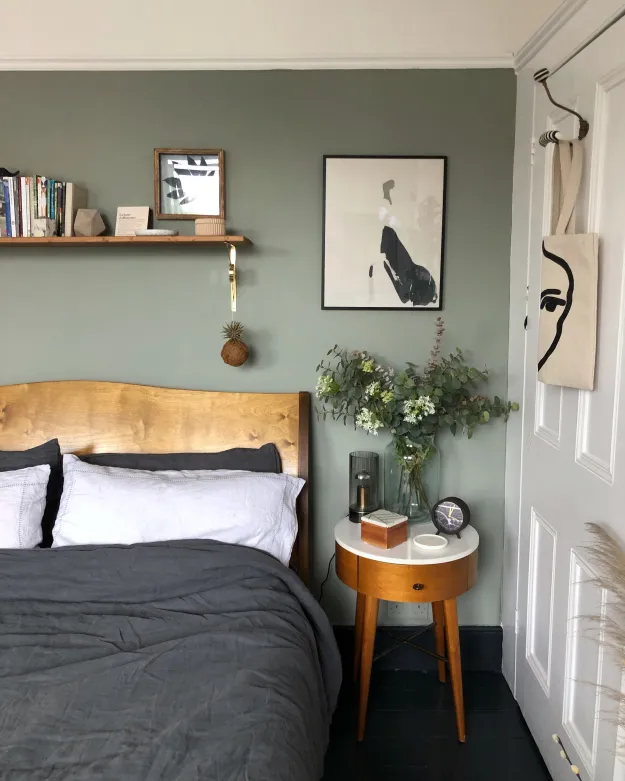 PHOTO: DESIGN SODA
44. Sage Green Arch Bedroom Accent Wall
The trend of arches and radial curves on interior walls, according to interior trend forecasters MC&Co, is here to stay for the foreseeable future and will continue to influence design.
A sage green arch accent wall brings a sense of whimsy and visual interest to your bedroom. It mimics an arch headboard, hence ideal for a bedroom with no headboard.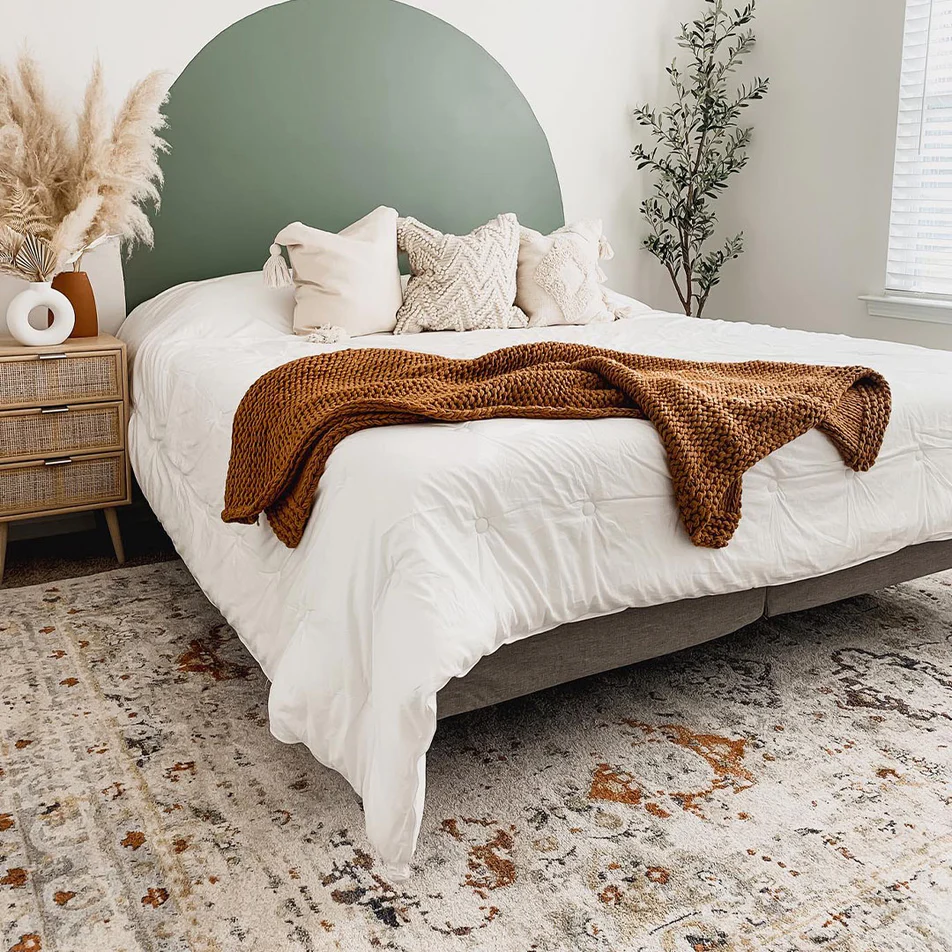 PHOTO: WELL WOVEN
45. Tropical Sage Green Bedroom
Comfort and relaxation are key components of a well-designed bedroom. As the name implies, the idea of a tropical bedroom is to bring the outside in.
Consider sage green accents, flamingo pink, and tropical patterns and fabrics. Warm lighting, wicker furniture, and a calming ambiance can help you create your own tropical oasis.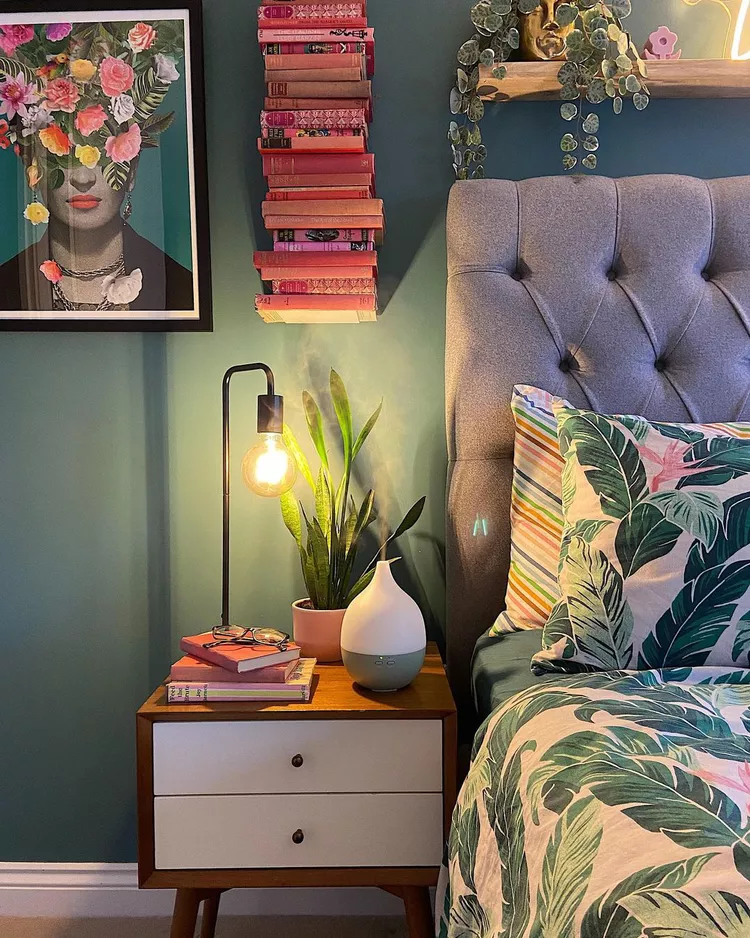 PHOTO: INSTAGRAM @MAKEMYNEWBUILDPRETTY
More Content You May Like
● 40 Best Sage Green Living Room Ideas
● 40 Sage Green Bathroom Ideas
● 34 Dreamy Sage Green Kitchen Design Ideas
● 25 Colors That Go with Sage Green
● Sage Green Color Codes and Paint Colors
● Best Dark Sage Green Paints (Plus Photos)
● 50+ Sage Green Aesthetic Wallpaper For Iphones (Free Download)