25 Colors That Go with Sage Green
Sage green is favored for its ability to lend tranquility and sophistication to a room. If you're looking for the best colors that go with sage green, you're in luck as you'll find a plethora of incredible sage green color combinations here! 
Sage green has been taking the interior world by storm in recent times. According to Pinterest, every year, there is at least a 105 percent increase in searches for 'sage green' interiors in the US and UK. It has also risen by 9,500% on Google searches worldwide over the last year. But, what's so special about sage green? Design experts believe that the shade's neutral tone is a key factor in its continuing appeal.
Firstly, sage green is an earthly grayish green that has the same hue as the sage herb. Soothing and nature-inspired shades such as sage green are scientifically proven to aid in relaxation and rejuvenation.
Whether you want to create a neutral interior that's not boring or add extra pizzazz to your existing color scheme, sage green should be up your radar. This hue can bring a hit of satisfaction and enhance the natural feel of any room in a home.
Sage green is such a versatile near-neutral color which makes it easy to formulate a color scheme around it— but there are some colors that work exceptionally well with sage green.
Here are the 25 invigorating colors that go with sage green.
1. Sage Green + Steel Blue + Light Tan
As unusual as it may seem, blue and green can create a strong sense of style when used in the right shade. Sage green and steel blue are two shades that work beautifully together to create an elegant and refined design.
Light tan is a calm and earthy neutral that can help to ground sage green and steel blue while infusing warmth and brightening up the space.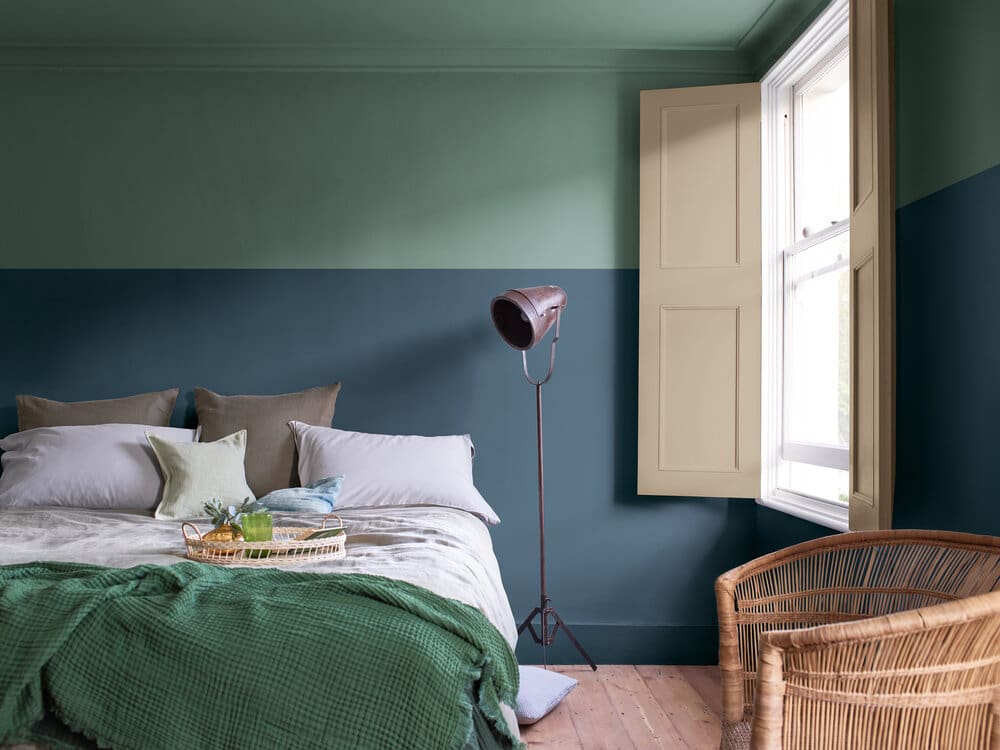 PHOTO: DULUX
2. Sage Green + Pastel Blue + Yellow
Another shade of blue that is visually impressive when paired with sage green is pastel blue. It's no surprise why they make a great pair. Just like sage green, pastel blue is a soothing and calming color.
They hold a gentle appearance that is sure to create a restful retreat in the bedroom. A hint of yellow adds a punch to this color scheme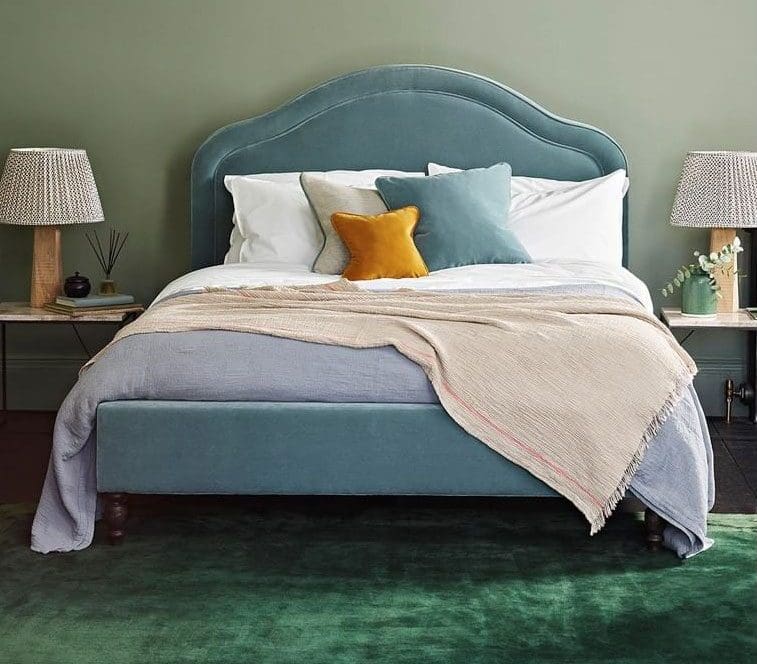 PHOTO: FAB MOOD
3. Sage Green + Blue + Red+ Yellow
High-energy color schemes make the biggest statement. Using the three primary colors together in a single room may not appealing to many but they can add a playful and unique element to the room.
The best way to go about this scheme is to combine these with calming neutral or subdued colors like sage green to soften the overall look.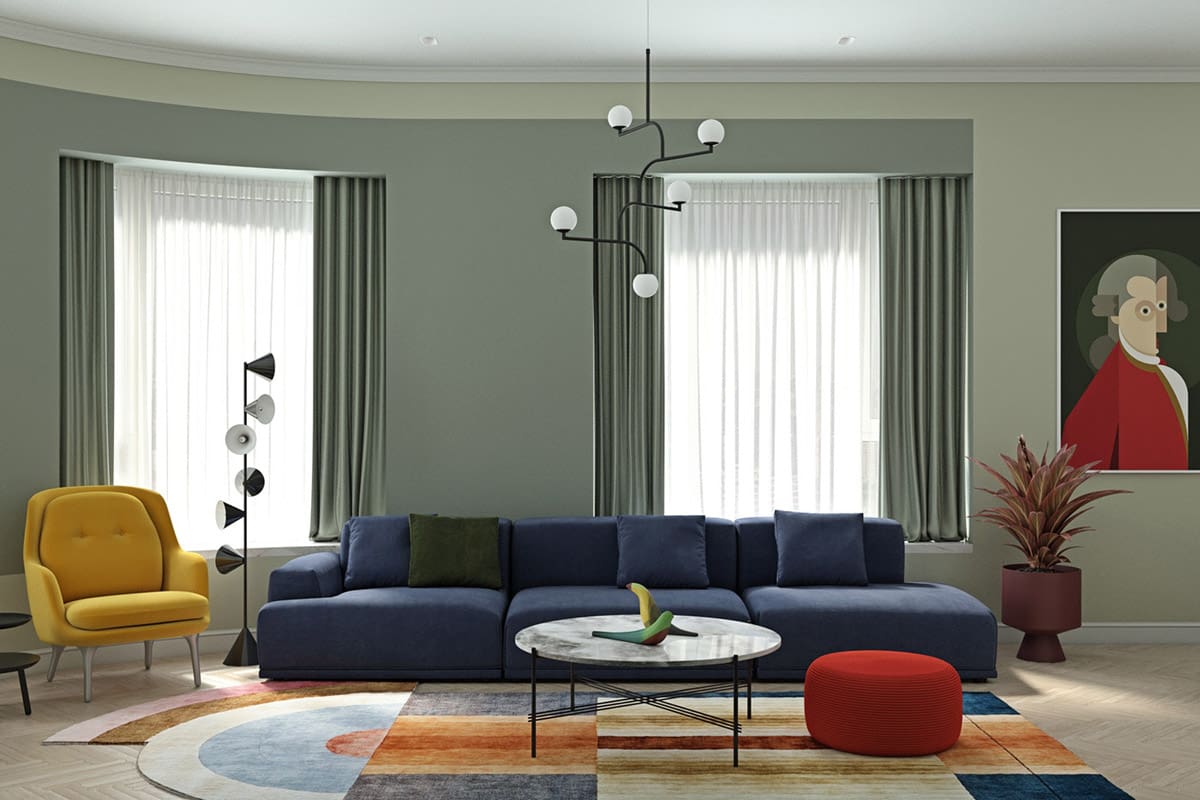 PHOTO: OLOVO
4. Sage Green + White + Light Grey
Sage green is enormously popular for minimalist interiors. It creates a sense of visual calm in just about any space in the home. When paired with white and light grey, it gives a room a calming clean aesthetic and sophisticated edge.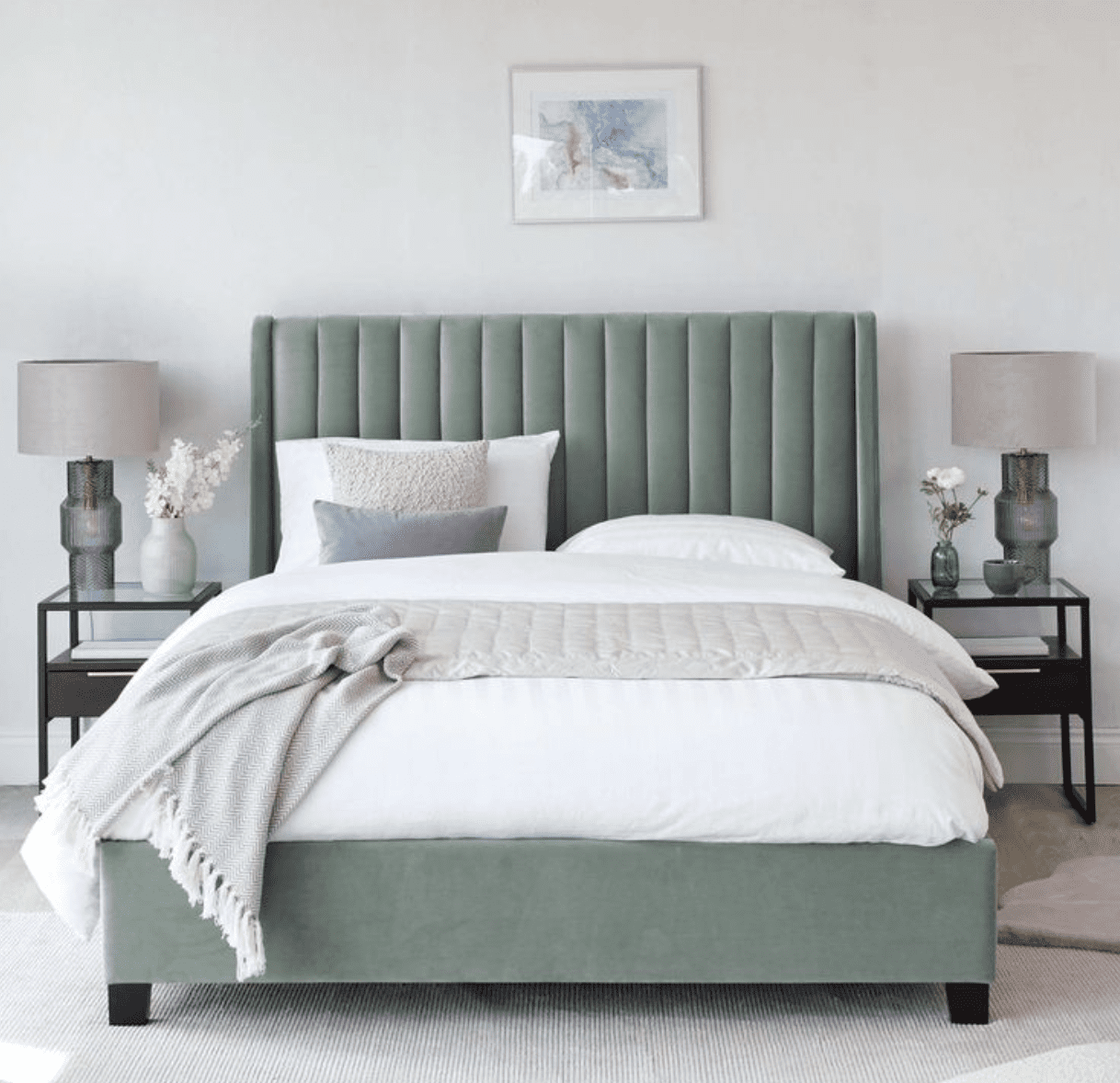 PHOTO: DANETTI
5. Sage Green + Pink + Yellow
Sage green is so versatile that you can throw it on any color scheme and it will create interior harmony. Pink, yellow, and sage green are an eye-catchy color combination for bedroom walls that never tires. This color scheme also conjures up the feeling of blooming springtime and breezy summer afternoons.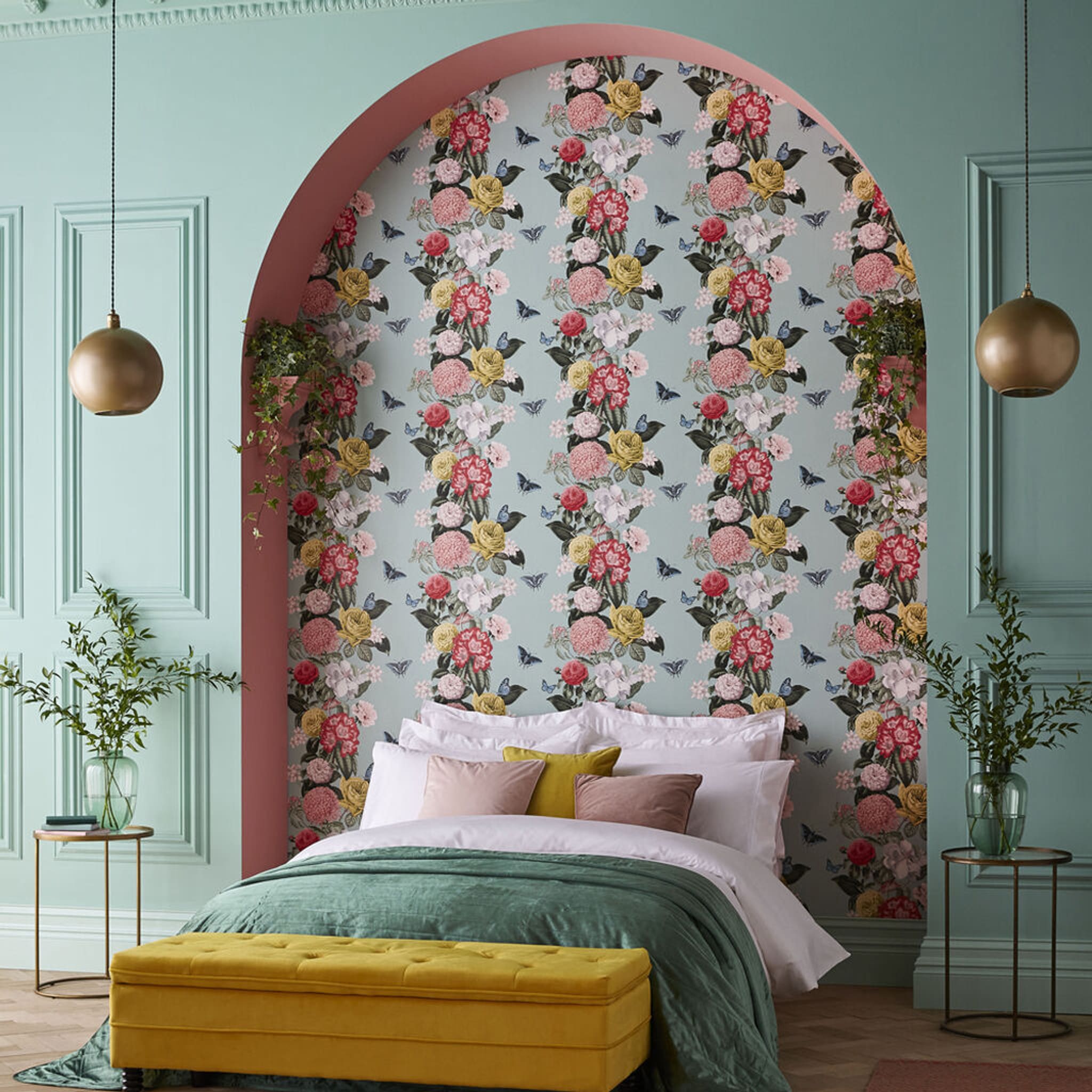 PHOTO: GRAHAM BROWN
6. Sage Green + Dusty Pink + Maroon
Design-wise, green and pink create a sense of balance. Dusty pink and pops of maroon can add warmth and an inviting ambiance to a sage-green bedroom or living room. Essentially, dusty pink warms up and soften the sage green tone, while maroon helps to add a hint of drama to the scheme.
PHOTO: LICK
7. Sage Green + Pale Lilac + Teal
Teal and lilac are perfect for creating a rich, jewel-toned aesthetic that is both lively and visually appealing. Creating a unique and striking impression with this color scheme is quite easy if you stick to the 60-30-10 rule.
This means 60% of the room should have the main color (sage green), 30% secondary color (lilac), and 10% accent color (teal).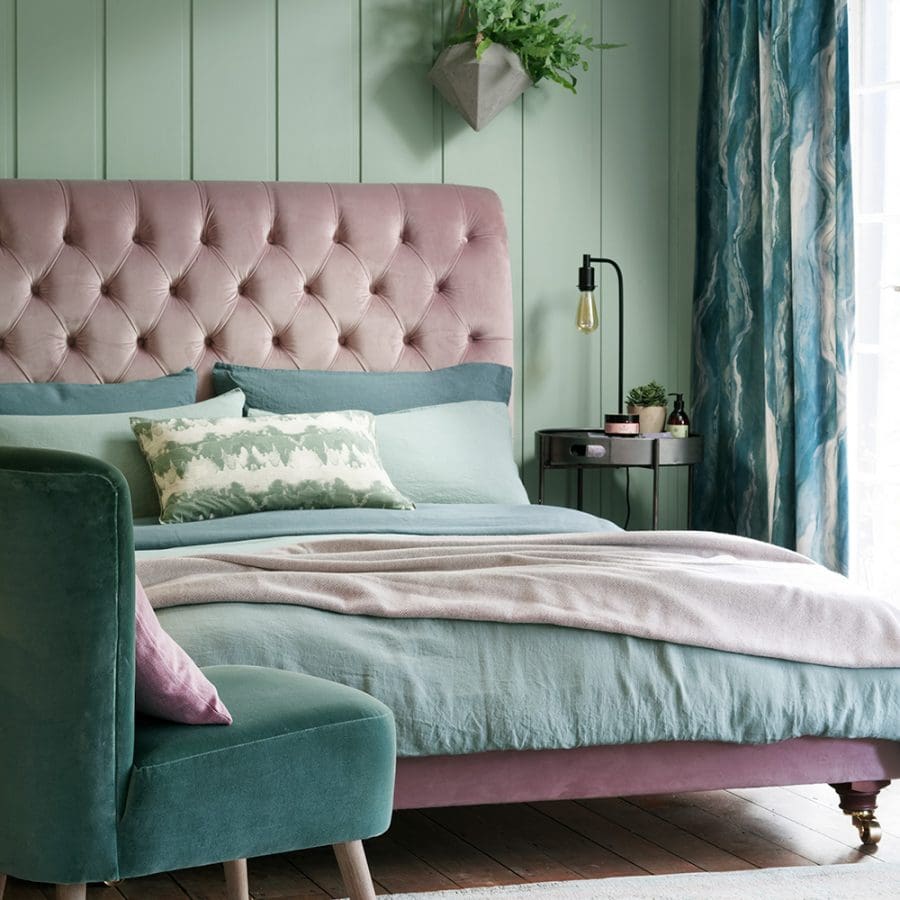 PHOTO: FUTURE PLC/ DOMINIC BLACKMORE
8. Sage Green + Peach + Olive Green
Darker shades of green like olive contrast perfectly with peach. Some mid-to-lighter shades such as mint and sage green can be added to make the scheme more interesting. Adding tropical wallpaper, bedding, or wall art and plants will create a tropical design theme. Neutrals like white, beige, and wood tones calm can help to ground the overall look.
PHOTO: INSTAGRAM @STYLE_THE_HAWTHORNS 
9. Sage Green + White + Orchid
There is no sage green color combination that screams freshness quite like white and orchid. Not only does it create a sense of visual calm but it is also easy to execute. Orchid is one of the colors that go with sage green but is unlikely to be the first choice for many until they find perfect inspiration that is. This soothing and harmonious color scheme is best suited for bedrooms.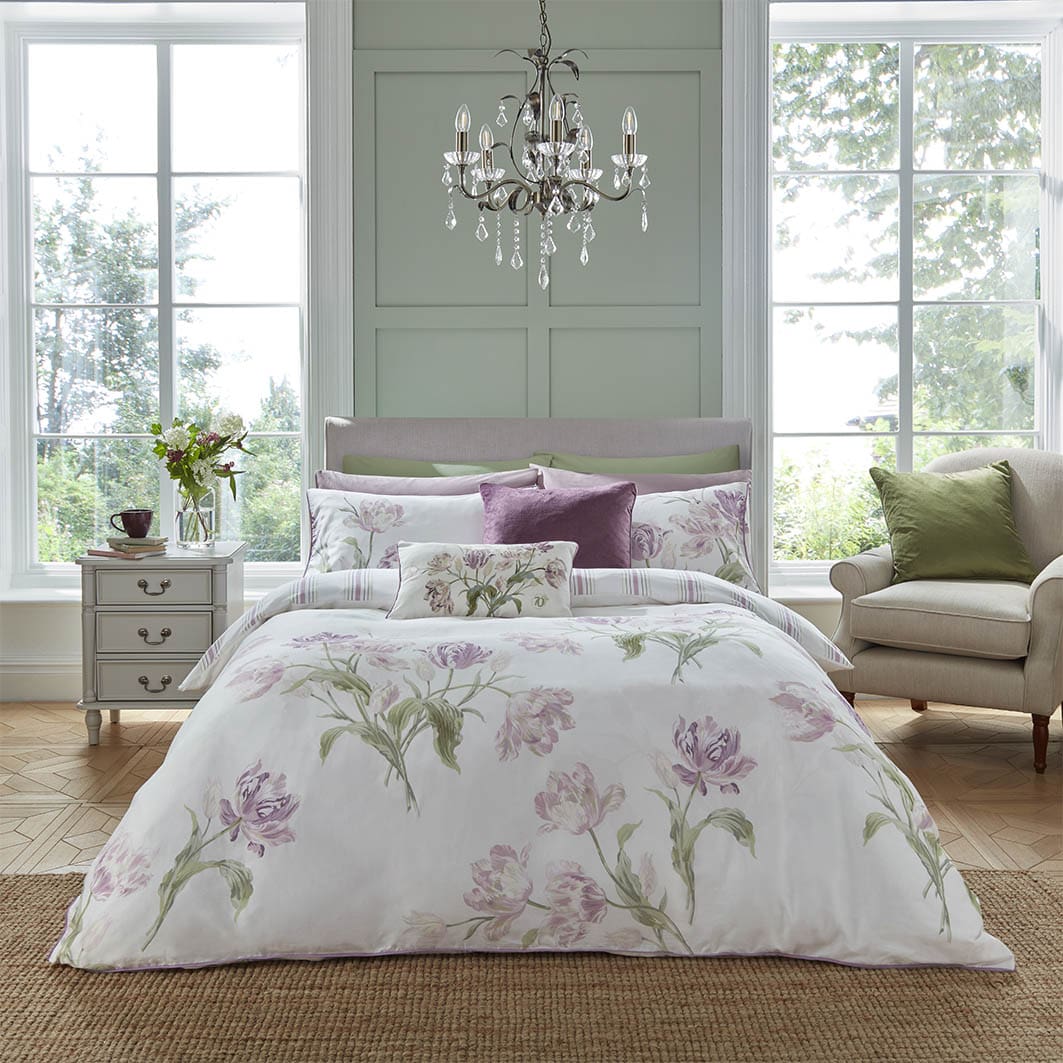 PHOTO: LAURA ASHLEY
10. Sage Green + Salmon+ Black
Black is a timeless neutral that can add character and elegance to a space. As far as accent colors go, are not many that will pop quite like salmon on a green backdrop. Salmon, black and sage green are an easy combination and will work brilliantly in any room.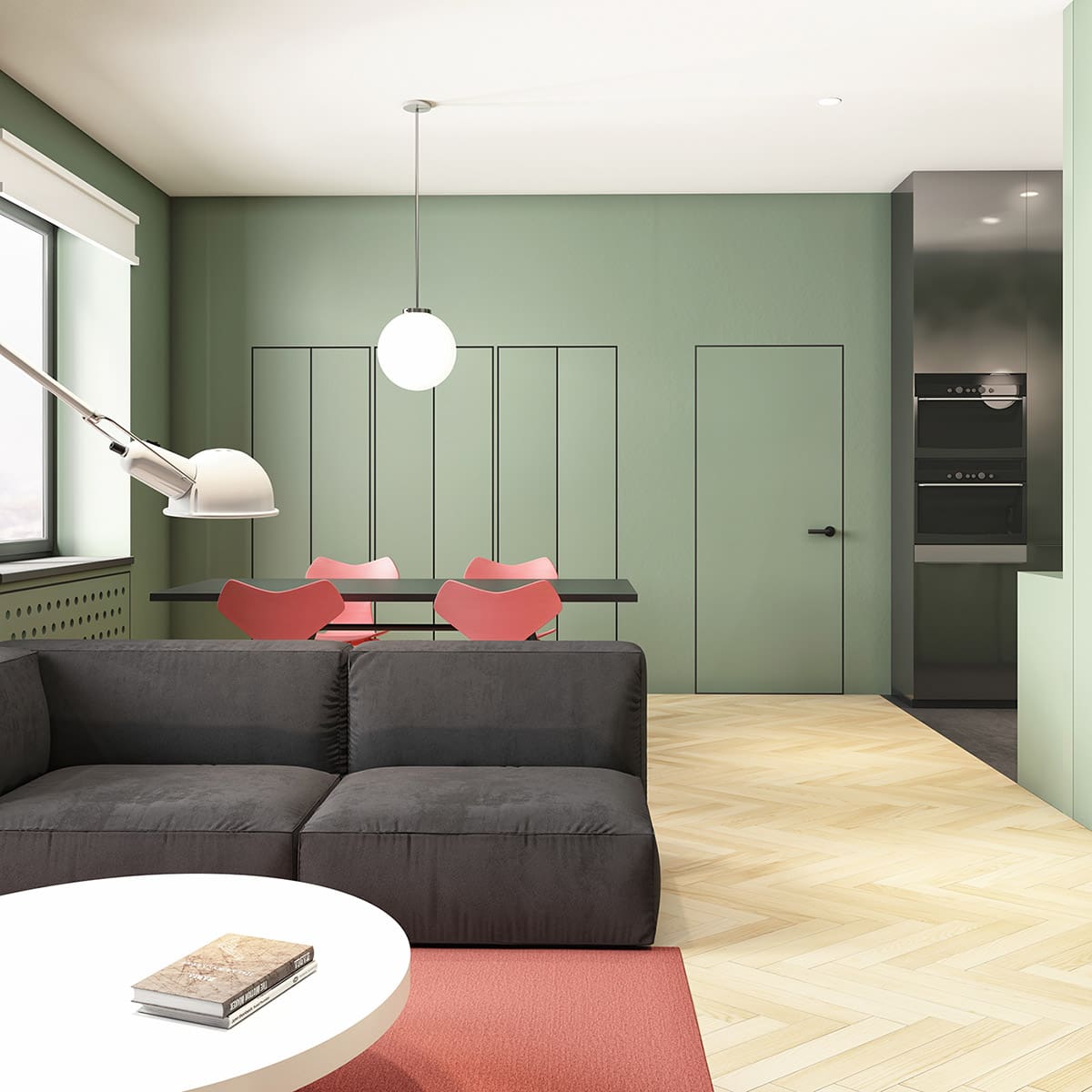 PHOTO: ARTEM TAFY
11. Sage Green + Purple + Teal
Purple is also one of the colors that go with sage green. They contrast harmoniously to help bring beauty to each other. Teal can be added to the scheme in moderation. Sage green, purple, and teal make an unusual combination but there is no denying that they create a lively and enticing space.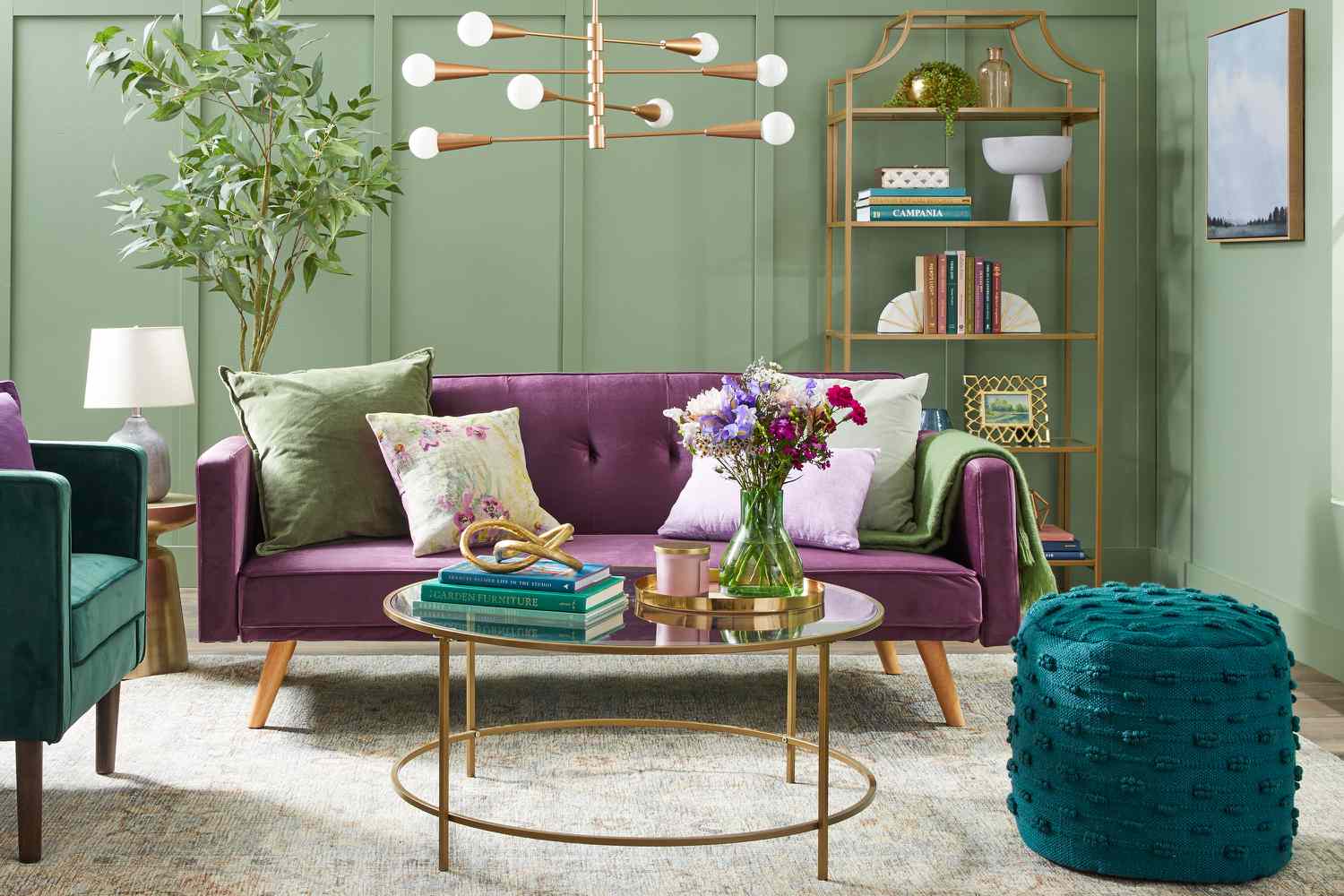 PHOTO: THE SPRUCE/ JACOB FOX
12. Sage Green + Terracotta + Burnt Orange
One of the best things about sage green is that it embraces the biophilic design trend. A sage green, terracotta, and burnt orange combination provide a sense of bringing the outdoors in.
There is a rustic and natural beauty about this scheme that makes it incredibly refreshing. To enhance the natural feel of the space, add more plants and use more natural materials throughout the space.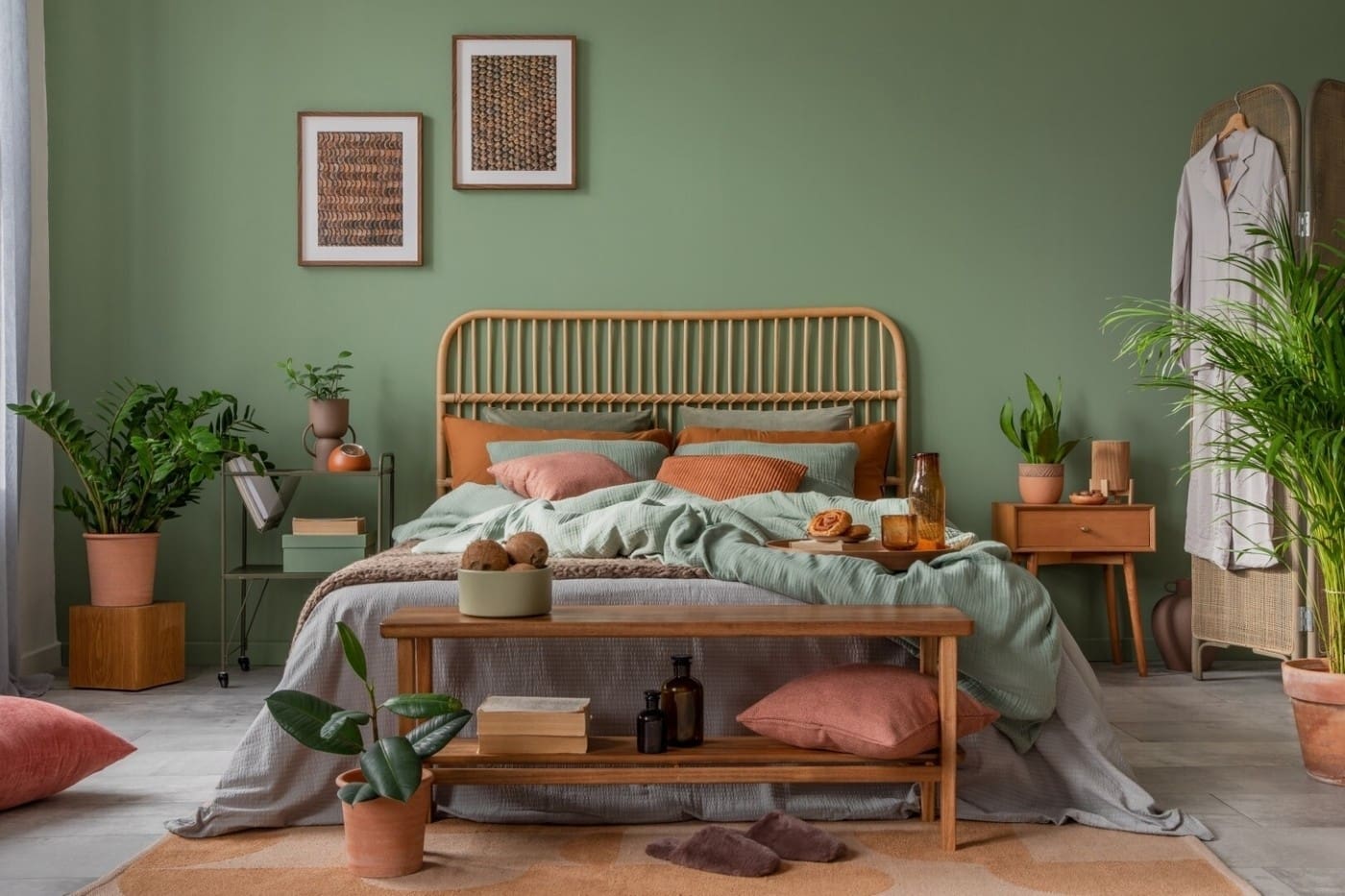 PHOTO: ISTOCK 
13. Sage Green + Mustard Yellow+ White
Sage green can also double up as an accent color to add a sense of greenery to a space. For instance, it can lend a beautiful contrast and grounds a yellow-and-white scheme. This design idea can help liven up the otherwise minimalist scheme.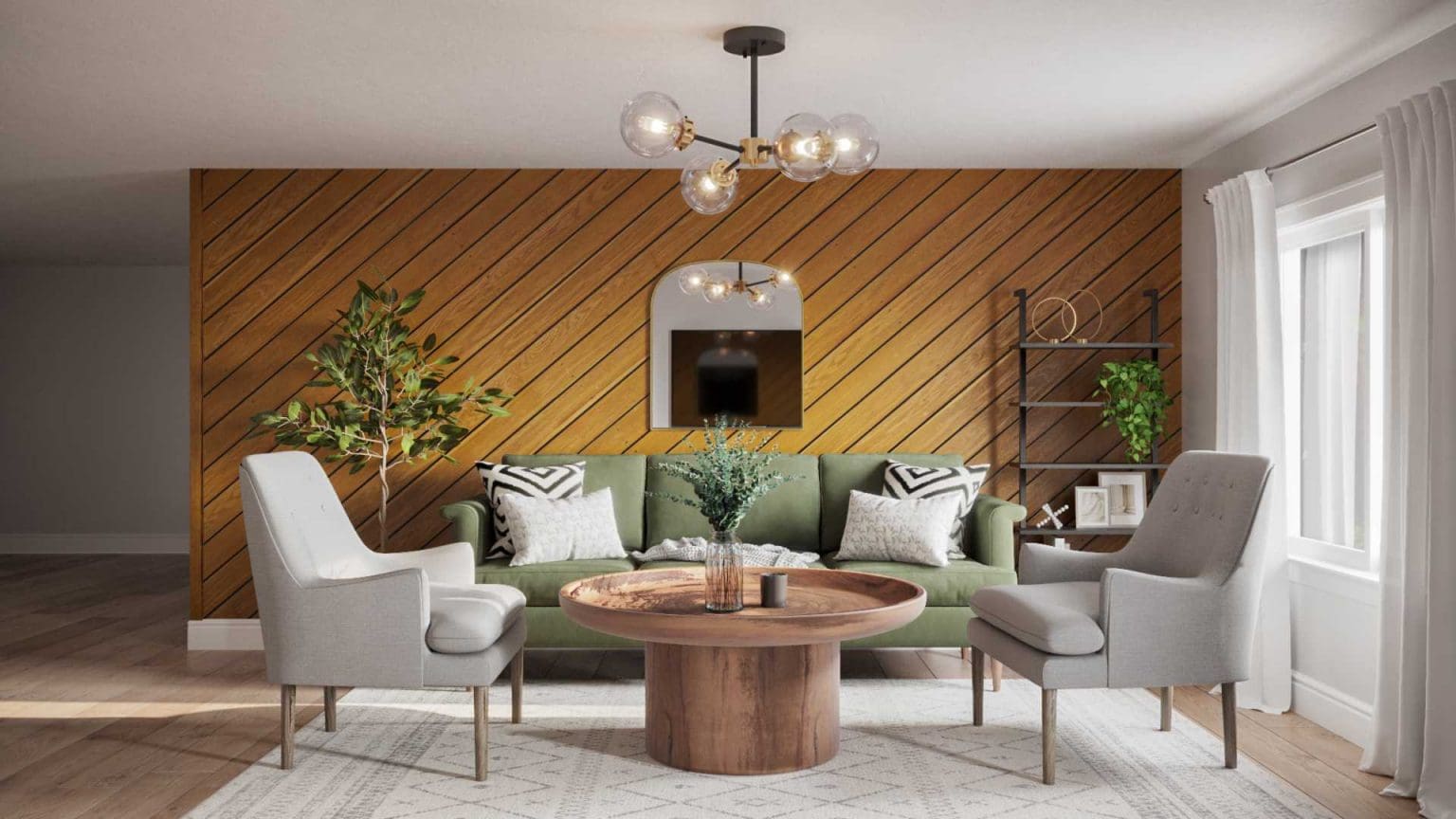 PHOTO: HEAVENLY HIDEAWAY
14. Sage Green + Grey+ Red
Red and green are complementary colors because they sit next to each other on the color wheel. If you want to introduce some drama to your interior and make the sage green look even more eye-catchy, use red accents.
Red may be daring but it packs a big punch. To soften the overall look, use muted neutral like grey as the dominant color throughout the space.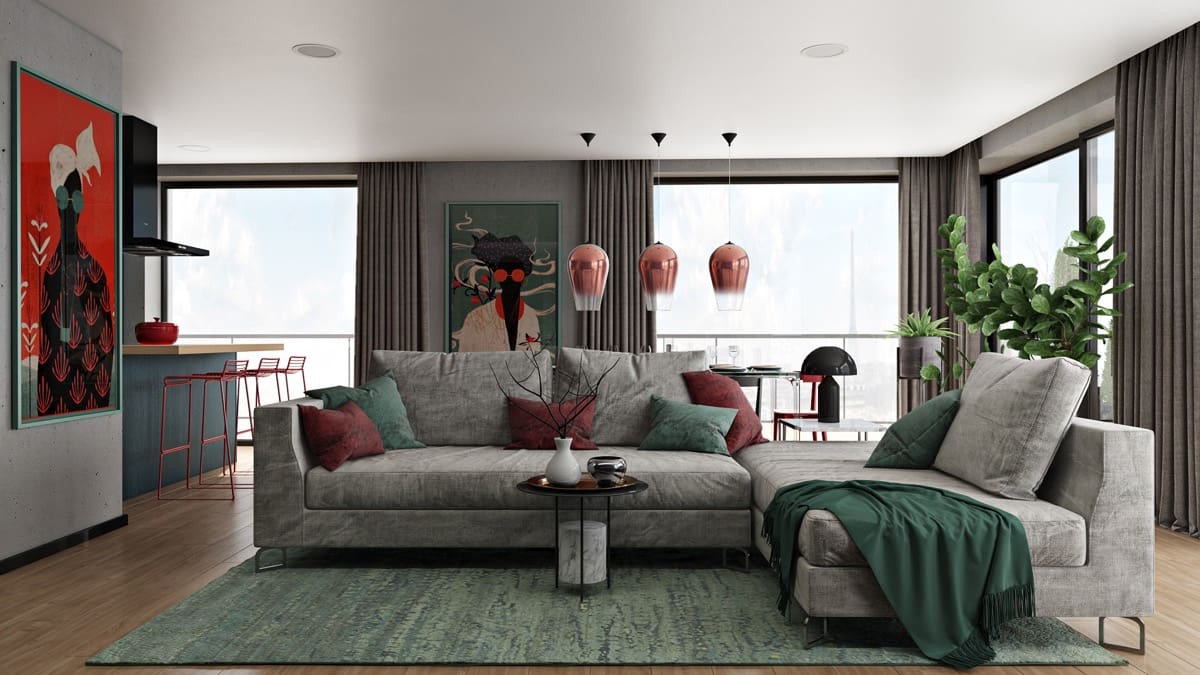 PHOTO: DARIA ALIEVA
15. Sage Green + Pink + Yellow+ Blue
This scheme showcases richness and eclecticism like no other. If you're a maximalist who isn't afraid of colors, then you may find these colors that go with sage green appealing. The pink, yellow, blue, and sage green living room color combination is full of splendor and visual interest.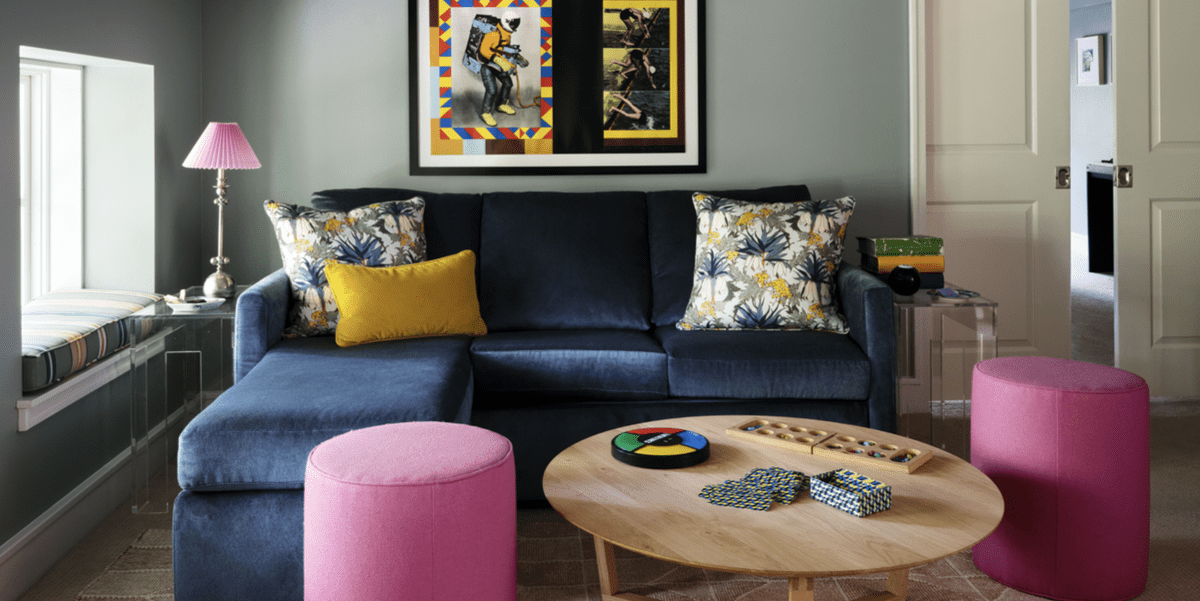 PHOTO: LINDSAY BROWN
16. Sage Green + Coral
Sage green and coral are complementary colors, which makes them a striking duo. Combining these two invigorating colors can imbue your space with color and personality. From a design standpoint, coral helps to make sage green pop for a contemporary and decorative touch.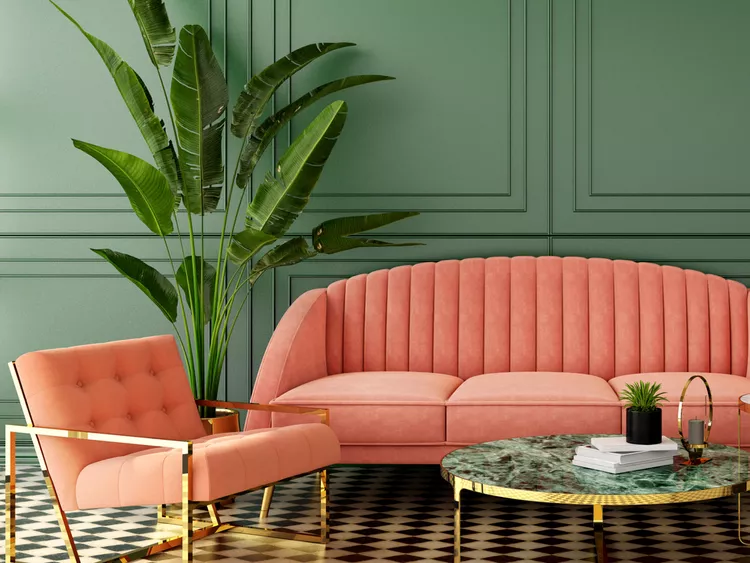 PHOTO: GETTY IMAGES
17. Sage Green + Brown
Brown and sage green work great together because they are both calming and nature-inspired hues. Brown is the color of tree twigs while sage green is similar to that of leaves. According to Helen Shaw, a color specialist at Benjamin Moore, decorating with brown may be challenging for some but it is a perfect neutral to add zing to any modern space.
PHOTO: SHERWIN-WILLIAMS
18. Sage Green + Pale Yellow
Muted or pale yellows and sage green will work well together to give your space a cheerful and inviting ambiance. What makes yellow one of the best colors that go with sage green is that they will contrast each other and produce a vibrant, light, and contemporary appearance. They also convey feelings of warmth and vitality.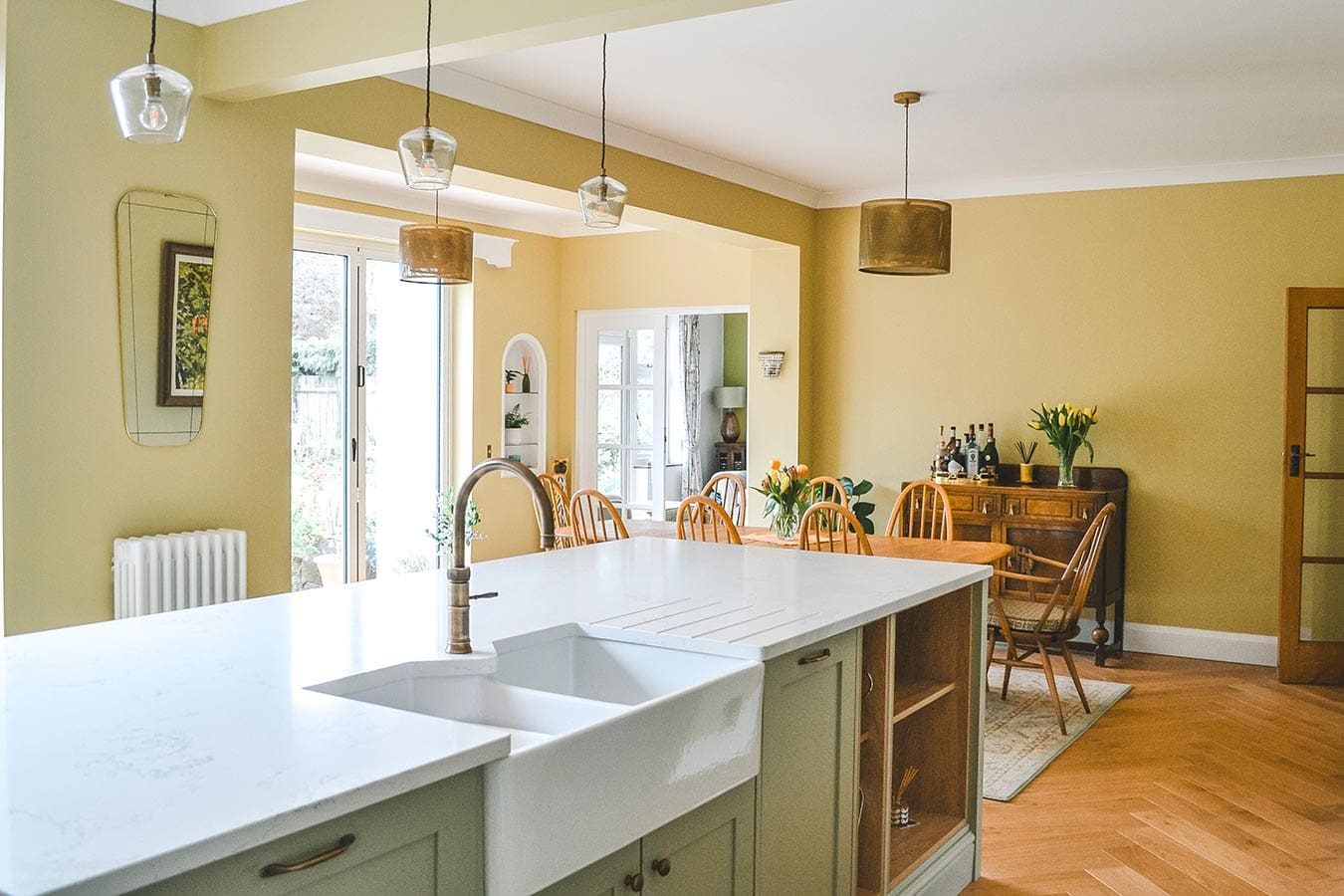 PHOTO: MOULTED KITCHENS 
19. Sage Green + Orange
Using green and orange for the interior is not always the easiest choice but it can be done with the right shades. The color orange is known to infuse a sense of warmth and drama into a room The best tone of orange to pair with sage green are burnt orange, salmon, rust, coral, and apricot.
PHOTO: DULUX
20. Sage Green + Red
Red accents paired with sage green are both sophisticated and daring. The key to nailing this combo finding the right balance between too little and too much. Too much red can overwhelm a space, so use it sparingly.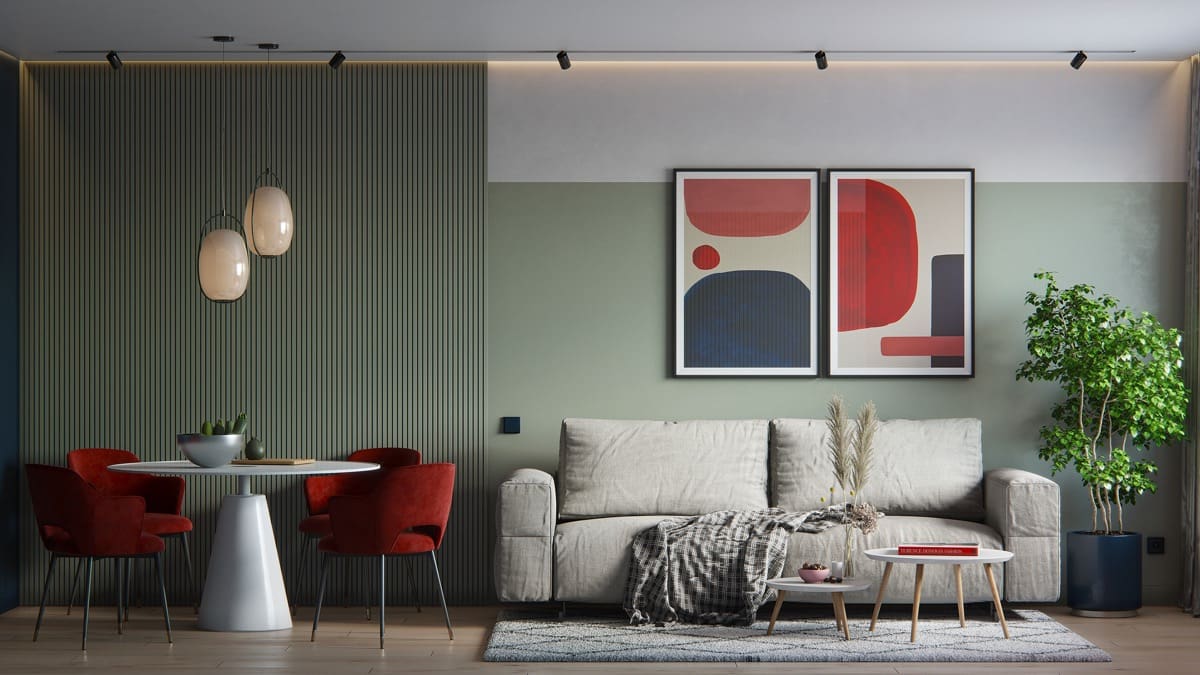 PHOTO: VIKTOR TARAKANOV
21. Sage Green + Beige
Beige is one of the most popular neutral colors in contemporary interior design for good reasons. It is often used in places of crisp white because it adds warmth to a space. Beige is subtle and chic and will work brilliantly with any color under the sun. It comes as no surprise that beige is one of the best colors that go with sage green. Muted wood tones can be used to accentuate the beauty of this scheme.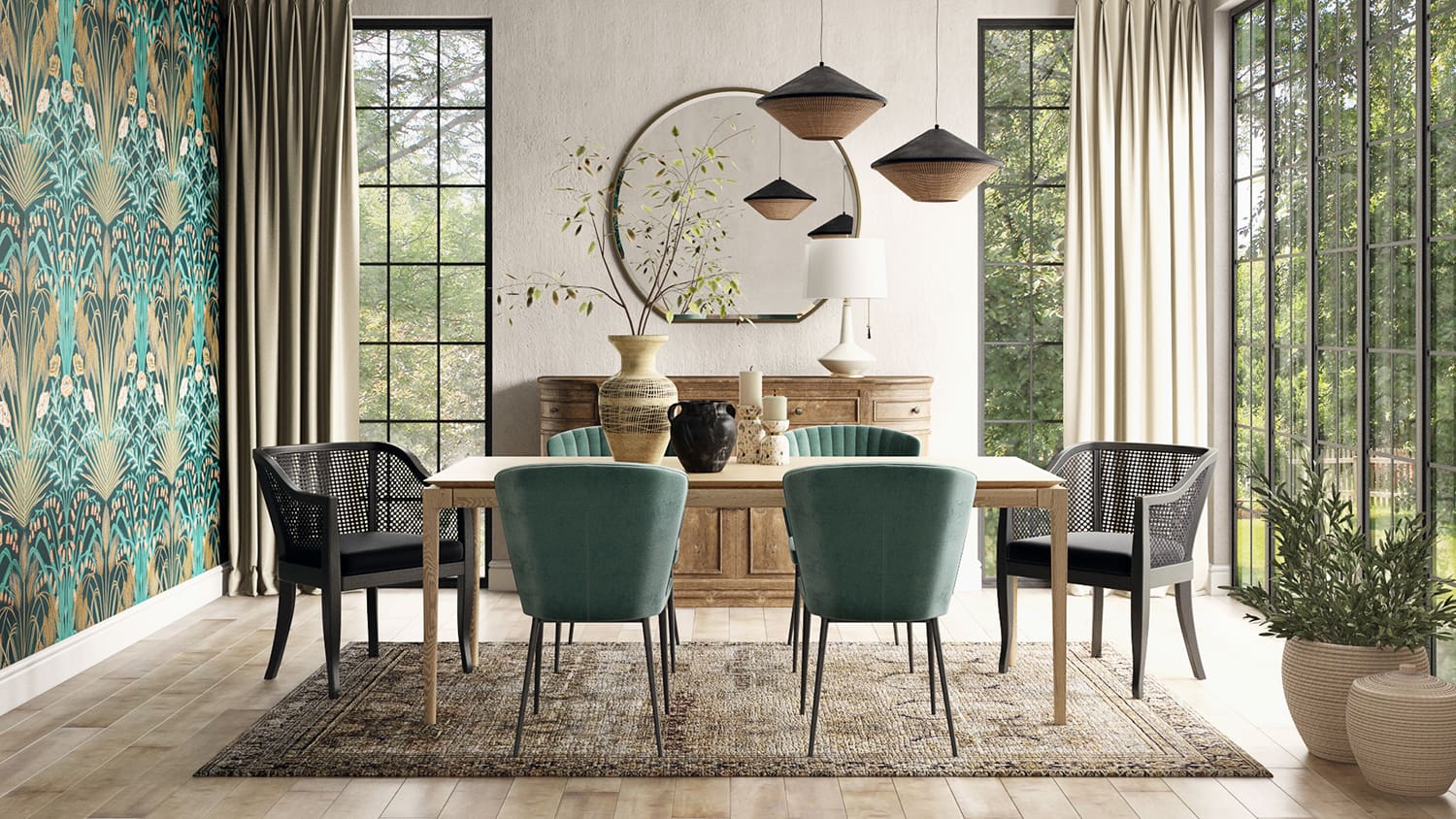 PHOTO: HEAVENLY HIDEAWAY
22. Sage Green + Blue + Yellow
Pairing sage green and blues together evoke the feeling of calm and serenity. They go together like Hamilton & Burr. A pop of sunshine yellow can help to elevate the beauty of the space. This sage green color combination is a timeless one and can create an effortless modern space.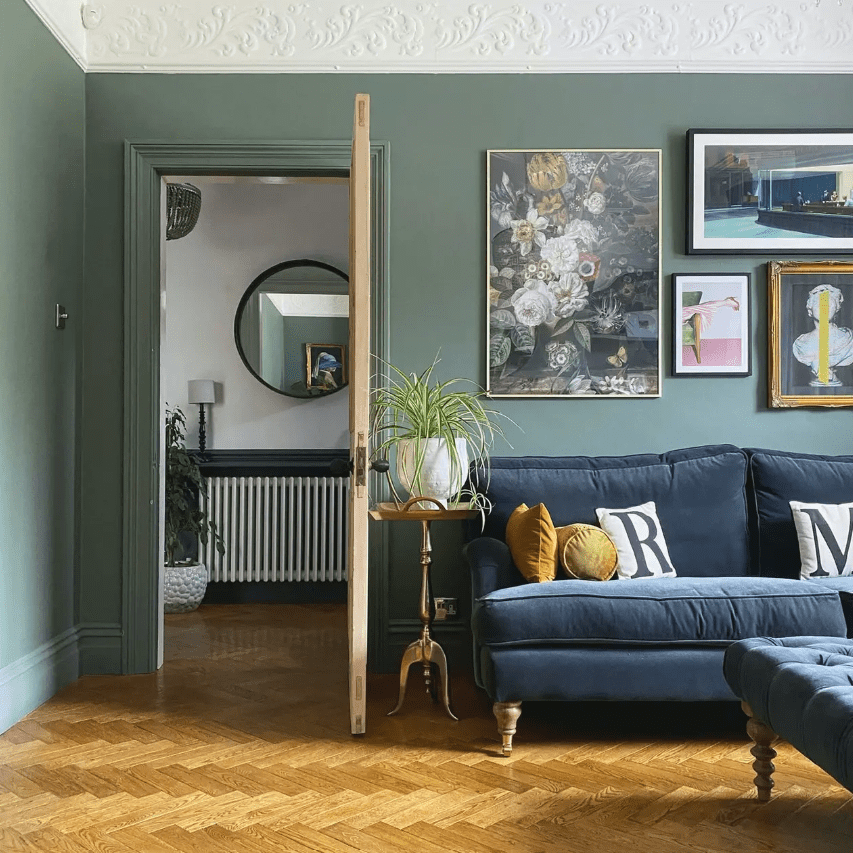 PHOTO: INSTAGRAM @BEETROOTANDBLACK
23. Sage Green + Aqua +Burnt Orange
Aqua is a dramatic color choice that can make a strong interior statement. It strikes the ideal balance between quirky and elegant. When combined with sage green, it creates a vibrant and energizing space. Burnt orange is an excellent choice to add a punch to this scheme.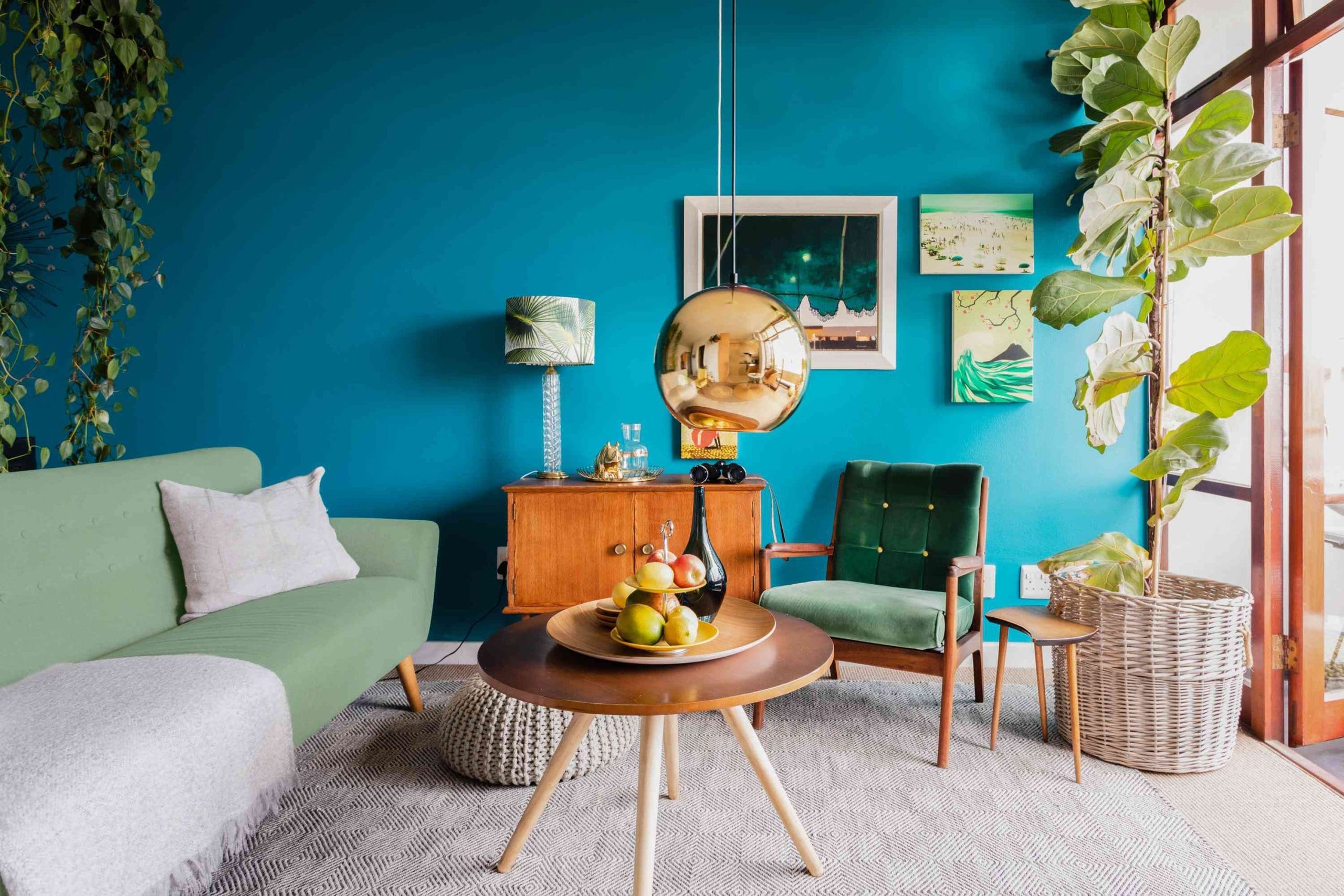 PHOTO: MICHELLE BACKER
24. Sage Green + Pale Pink + Burgundy
Pale pink is one of the colors that effortlessly complements sage green. They both create a tranquil and soothing ambiance. A deep reddish brown, burgundy is a beautiful moody color ideal for walls, accents, or furnishings. A hint of burgundy can add zest and character to the scheme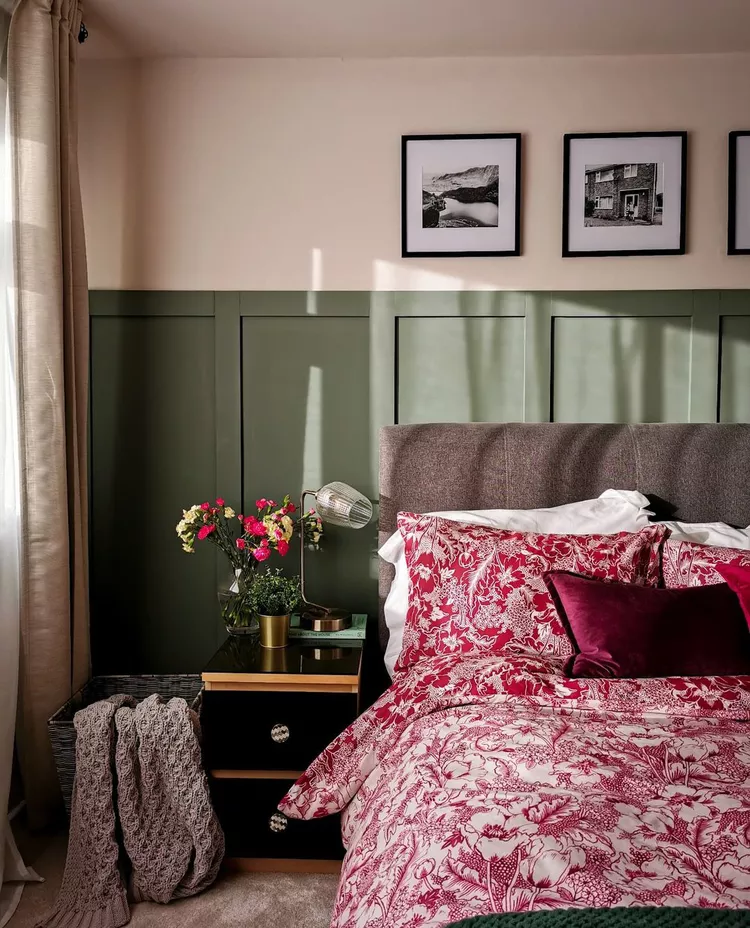 PHOTO: INSTAGRAM @LUCYS_HILLSIDE_HOUSE
25. Sage Green + Burt Orange
To create an eye-catching and energizing color scheme, combine burnt orange with sage green. Burnt orange is one of the most ideal colors that go with sage green because not only it is a perfect contrast but it also makes a room feel unique, rich, and inviting.
Pin for Later!