32 Hall Wall Colour Combination Ideas
Choosing a wall colour for your entryway can be tricky. But, before you decide to embrace boring stark white walls, check out these incredible hall wall colour combination ideas! 
The hall of a house or building sets the tone for the rest of the interior. This is the first place guests see and that's why it needs to be visually appealing and inviting.
In the context of interior design, a simple lick of paint on the wall can have a major impact on the overall aesthetics. Not only will the paint colour add a refined sense of style to the space, but it also has the ability to improve the ambiance of your home.
There are an array of wall colour ideas that are perfect for the hallway. Even better, there are many colour combinations that will establish a mood in your hallway. Wall colour mixing and matching is clever trick designers use to give a beautiful contrast and maximize interest in a room.
Looking for hall wall colour combination ideas to infuse a unique character into your home? We've got you covered! Whether you're planning to remodel your hallway or design a blank canvas, you will need some inspiration to get your creative juices flowing.
Get inspired by these 32 paint hall wall colour combination ideas that will make your space pop like never before.
1. Viridian Green and Dark Purple
Unexpected colour combinations can create the most striking look on interior walls. Viridian is a statement-making hue with a blue and green undertone. When paired with dark purple, it gives a dark and moody aesthetic that will leave the space feeling cozy and sophisticated.
PHOTO: LITTLE GREENE
2. Olive Green and Dark Blue
Green and blue is a classic and refreshing colour combination in interior design. These nature-inspired hues convey a sense of harmony and tranquility. In this elegantly styled hallway, the dark blue backdrop is balanced out by the olive green accents.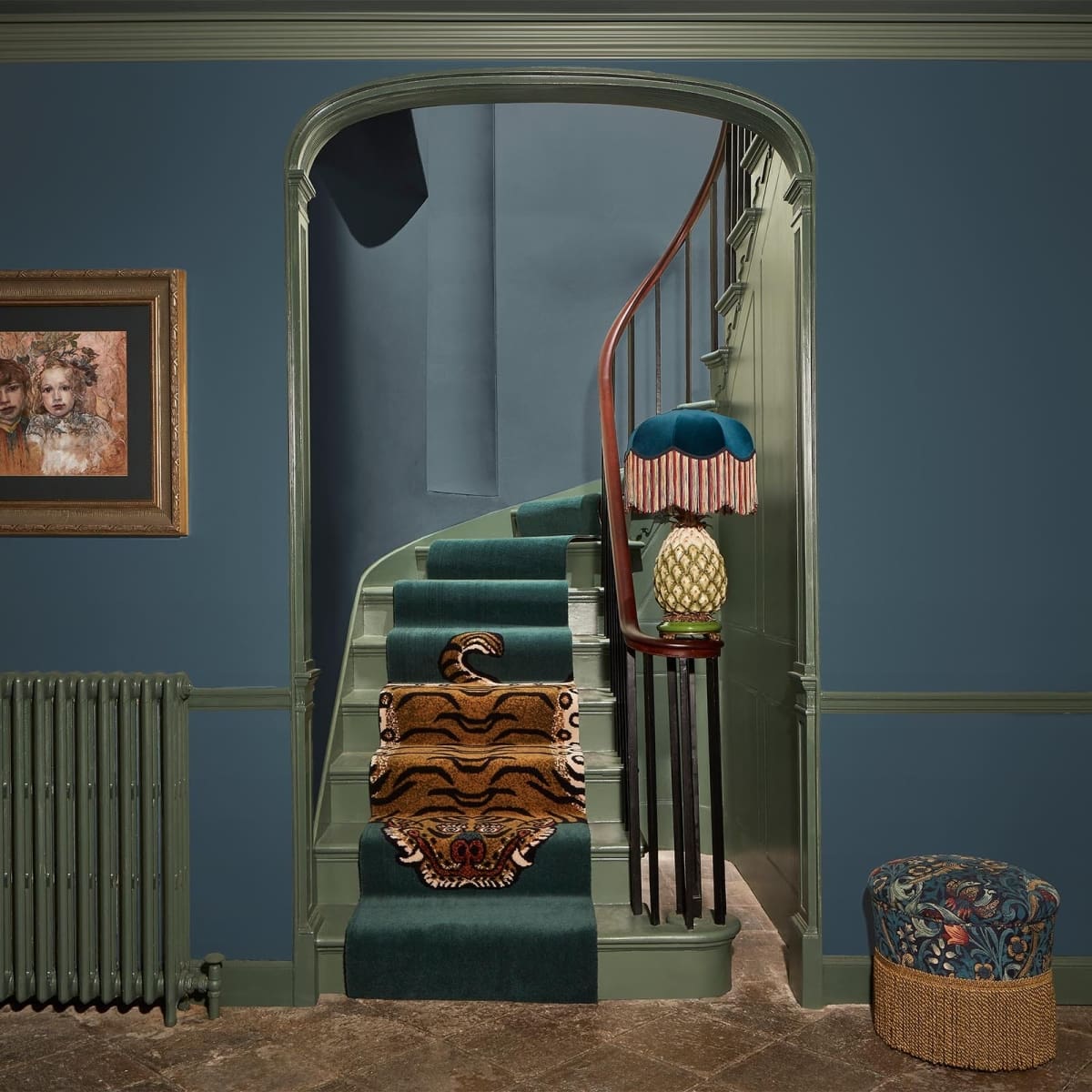 PHOTO: HOUSE OF HACKNEY
3. Persian Green and Light Grey
Just like other Persian colours, Persian green has historical significance. This eye-catchy hue is commonly used to make pottery and Persian carpets in Iran. Light grey is a neutral that can complement any other colour under the sun. It is a clever colour choice to soften strong accent hues like Persian green.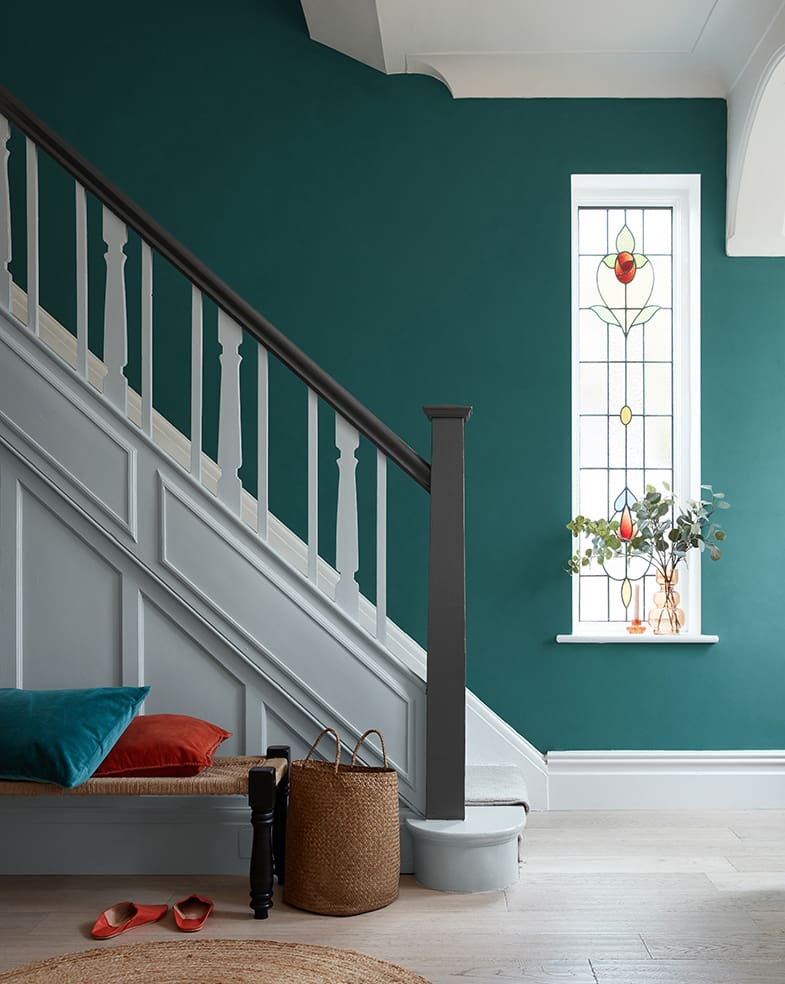 PHOTO: EARTHBORN PAINTS 
4. Sage Green and Pale Green
Sage green is in a league of its own as far as neutrals go. This alluring hue has been making waves in the interior design scene today. Experts refer to it as the "contemporary neutral". When combined with pale green, it creates a striking monochromatic scheme that is perfect for the hallway.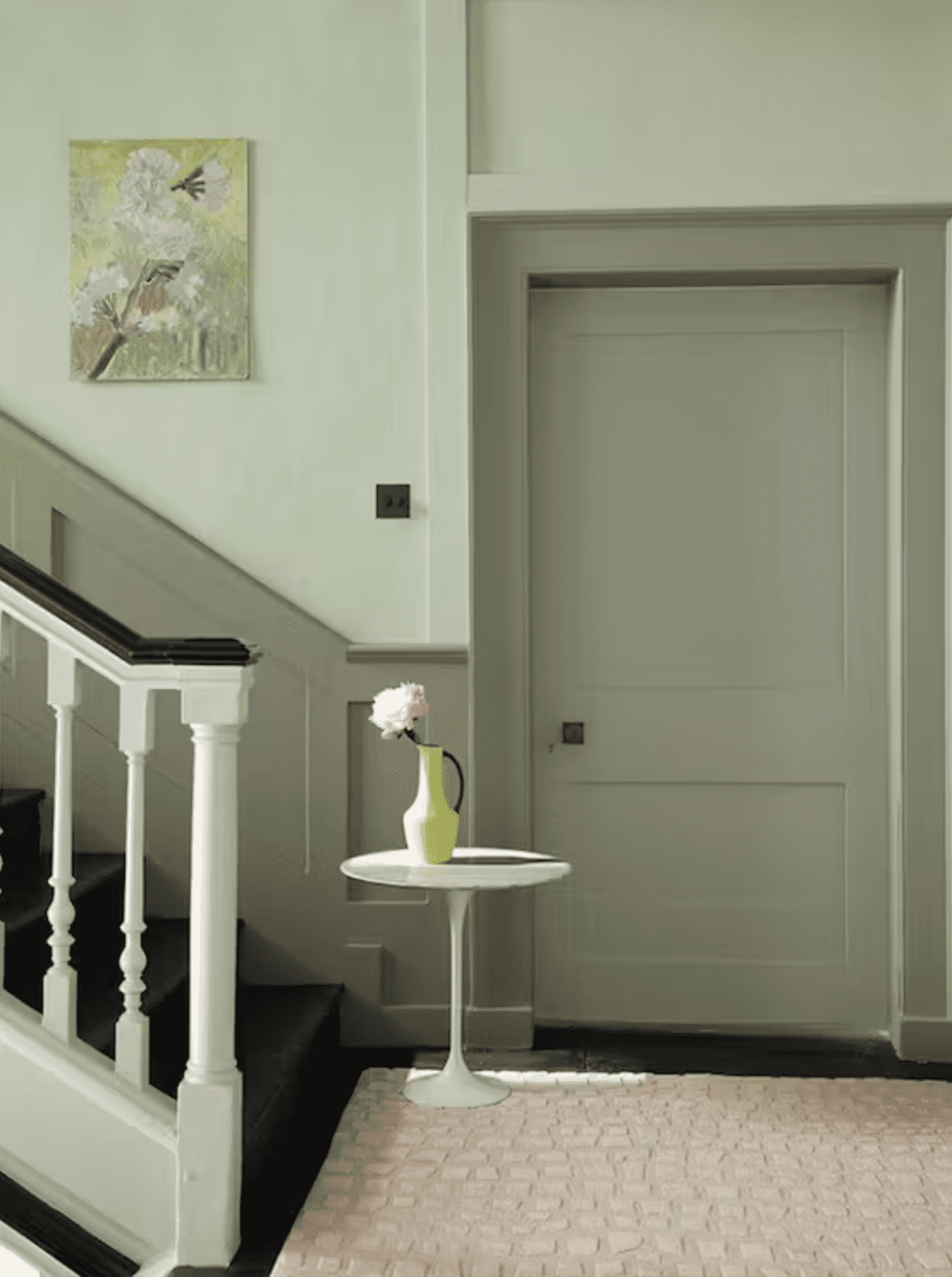 PHOTO: LITTLE GREENE
5. Purple and Pink
This two-colour combination depicts luxury and sophistication. Pink introduces soft feminine energy while purple creates a luxurious feel. Together, they create a unique and striking impression in the hallway.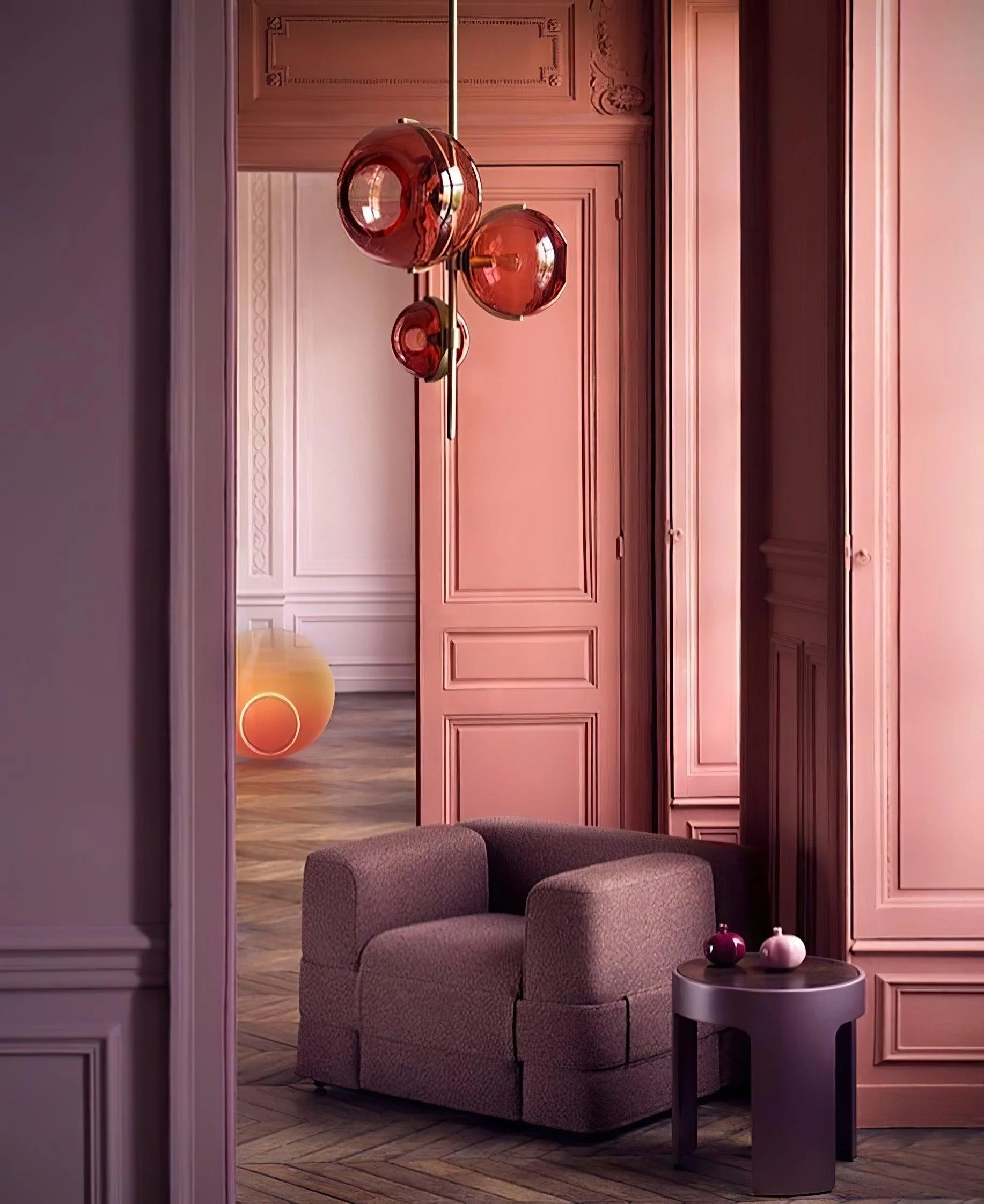 PHOTO: DAMIEN LANGLOIS MEURINNE
6. Dark Green and Pale Pink
The dark green and pale pink colour combination can easily create a lively and enticing space. Pastel hues like these instill a sense of freshness and tranquility in a space. What makes them a great pair is the sense of balance they create. The dark green keeps the pink grounded while the pink warm up and soften the green.
PHOTO: THE MODERN HOUSE
7. Burgundy and Taupe
Burgundy is a combination of brown, rusty red, and a hint of purple. It is a sophisticated and statement-making hue that never goes unnoticed. Burgundy is a bold colour choice for the hall but a taupe is the perfect neutral combination that can help soften its richness and red undertone.
PHOTO: PAINT & PAPER LIBRARY
8. Mint Green and Myrtle Green
Using two tones of the same colour is a tried and true colour scheme in interior design. What makes mint green and myrtle green an ideal hall wall colour combination is that it gives a sense of freshness and character to a space.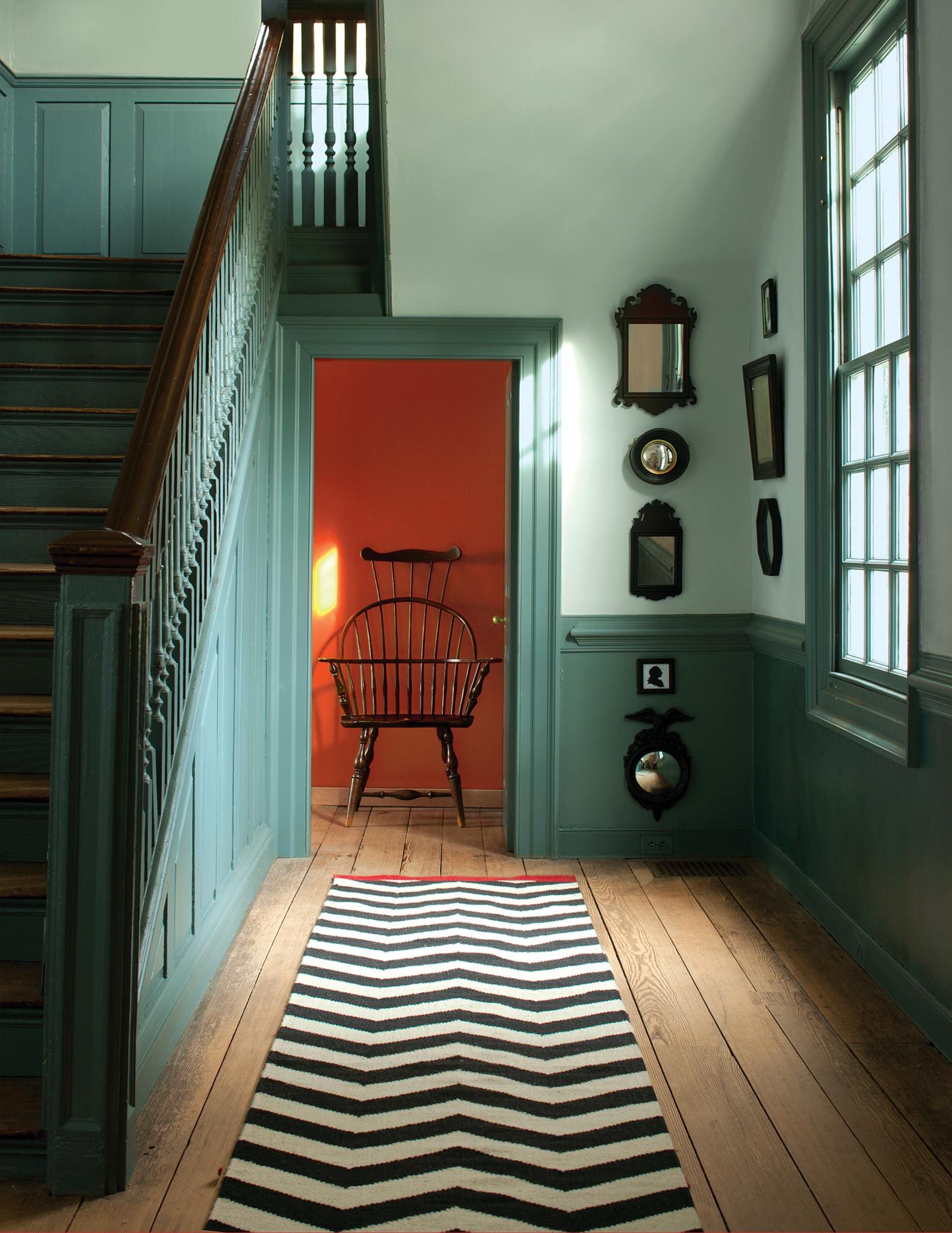 PHOTO: BENJAMIN MOORE
 9. Bold Red and Emerald Green
Red is a daring colour choice for interior walls, and frankly, it may not be for everyone but it is sure to make a real style statement in a hall. Emerald green is an ideal match for red because together they showcase richness and eclecticism.
PHOTO: LITTLE GREENE
10. Purple and Pale Lilac
This is yet another monochromatic scheme that works brilliantly for the hallway. The pale lilac gives the purple a more grounded effect. If there is any colour pair that can instantly redefine and rejuvenate your hallway, it is purple and pale lilac!
PHOTO: DULUX
11. Lime Green and Myrtle Green
Lime green is a striking and invigorating colour that works well as an accent colour for any room. Myrtle green is frequently used in interior design because it conveys a sense of tranquility and positivity. Side by side, they can bring a serene flair to your entryway.
PHOTO: BENJAMIN MOORE
12. Bold Red and Pastel Blue
Many would agree that it is not always easy to pull off such a daring look, but no other colour is as quite as daring as red. To give your hallway an impactful edge, take advantage of a bold red and pastel blue hall wall colour combination. 
PHOTO: LITTLE GREENE
13. Power Blue and Dark Blue
Power blue and dark blue can give an exquisite look to the room. Dark blue conveys a sense of clarity and purity while powder blue evokes calmness and relaxation. When combined, they create a cohesive feel and irresistible charm in a room.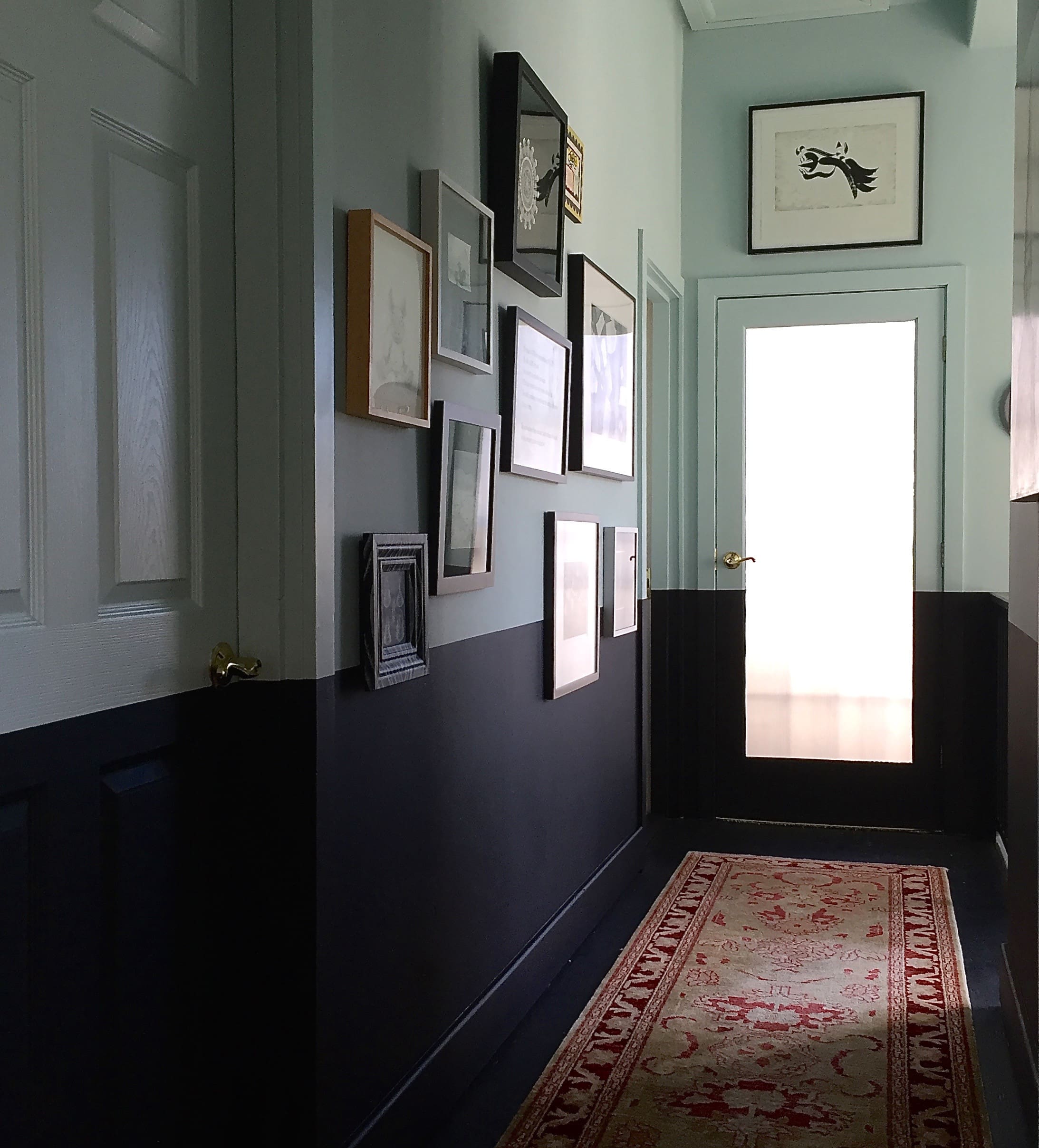 PHOTO: PLEIN HEIR 
14. Red and Mint Green
Red and mint green create a balance of simplicity and drama. The secret to nailing this style is to use more mint green than red to make the hallway feel more open and bright. This hall wall colour combination adds a sense of drama without overwhelming the space.
PHOTO: ANNIE SLOAN 
15. Light Green and Pastel Blue
Pastel blue and light green are soft and easy-on-eyes hues that can be used to create a bright and harmonious space. If you're colour-shy, pastel colours and muted neutral may be ideal for you— especially if you have a narrow hall that lacks natural light.
PHOTO: UP TO DATE INTERIORS
16. Dark Blue and Bold Green
Go bold or go home! Neutral colours are not for everyone. If eclecticism is your vibe then use bold hues for your hall wall colour combination scheme. Dark blue and bold green creates a refreshingly contemporary palette.
PHOTO: CROWN PAINTS
17. Pale Lilac and Grey
Lilac is a soothing and welcoming colour that entices you to unwind and stay in a room longer. Design experts recommend the use of lilac and grey with a hint of gold for a sophisticated and subtlety striking scheme.
PHOTO: BORN & BRED STUDIO
18. Pastel Blue and Blush Pink
Design-wise, pastel and muted hues can have a vintage or youthful vibe and are frequently used in nurseries or kids' rooms. But what many people do not know is that they also give a spectacular look to houses with older, classic architectural forms.
PHOTO:@GIRL.FRANKS
19. Dark Blue, Faded Yellow, and White
This three colour combination fits harmoniously into the entryway. The hint of yellow cheers up a room and provides a refreshing backdrop. If you're looking for a hall wall colour combination that evokes clarity and pureness, then this colour scheme should be on your radar.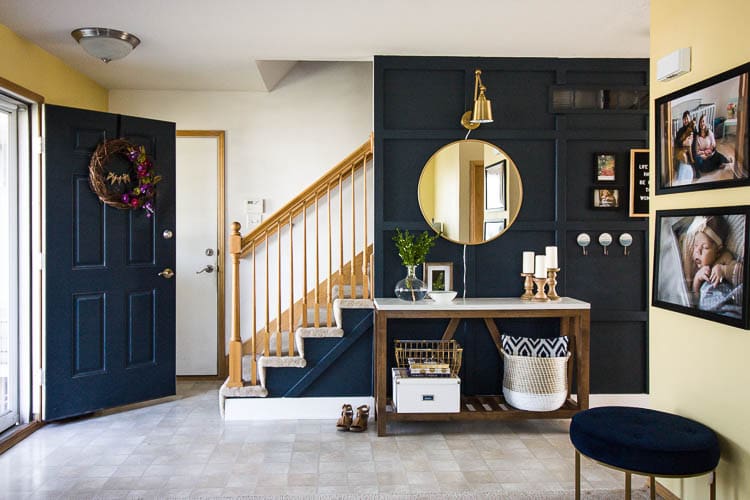 PHOTO: SMALLSTUFFCOUNTS.COM
20. Dark Green and Brown
Green and brown are nature-inspired colours that go incredibly well together. They can be paired in many ways but one masterful way to incorporate brown in your interior is through wood. Brown wood accents lend richness, warmth, texture, and beautiful contrast to a space.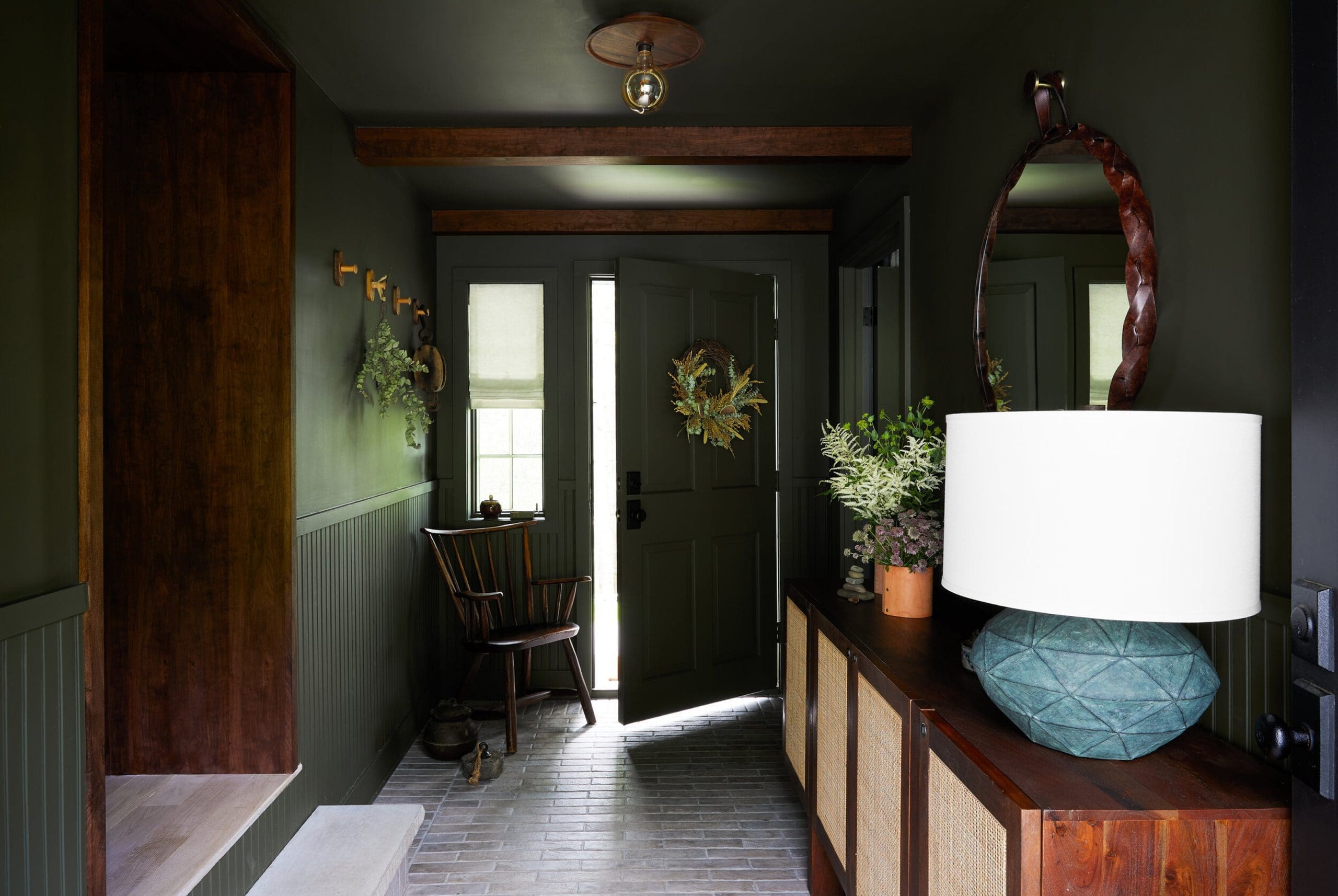 PHOTO:  SEAN LITCHFIELD 
21. Yellow and Brown
Brown is a striking colour that pretty much complements every other colour. However, a brown and yellow hall wall colour combination makes the space feel cozier, cheerful, and more intimate.
PHOTO:@GIRL.FRANKS
22. Pale Blue and Pastel Blue
Want a hallway that feels refreshingly stylish and bright? A pale and pastel blue may just be the perfect combination for you. These soft and muted colours add a relaxed, livable feel to a space. If you have small and poorly-lit hall, a combination like this can help provide a sense of more space and light.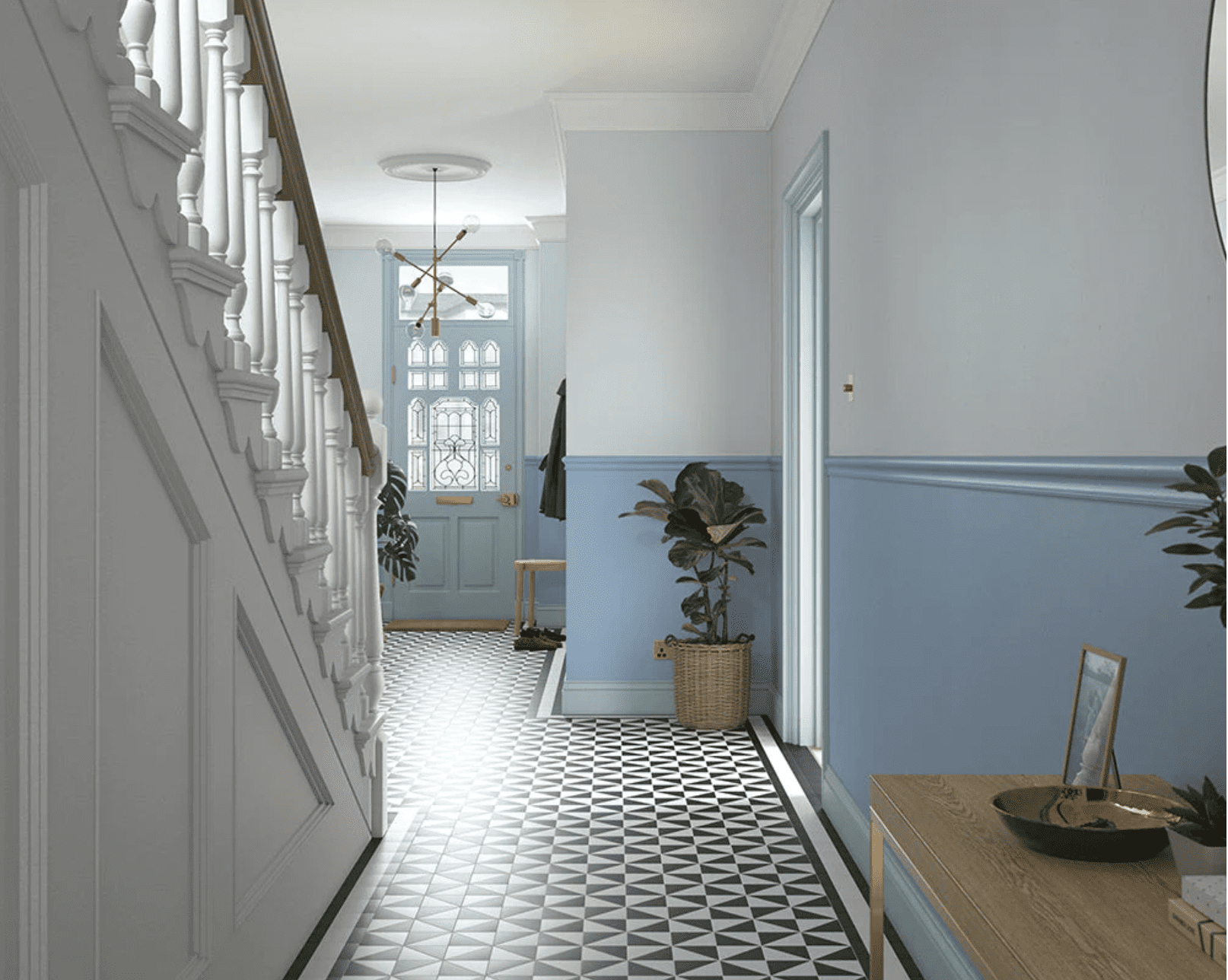 PHOTO: CHAPEL INTERIORS
23. Black and Grey
If you like the moody and characterful vibe of black but think it feels too intimidating, soften the look with a pale tone like grey. Grey and black are the most versatile neutral— a power couple like no other.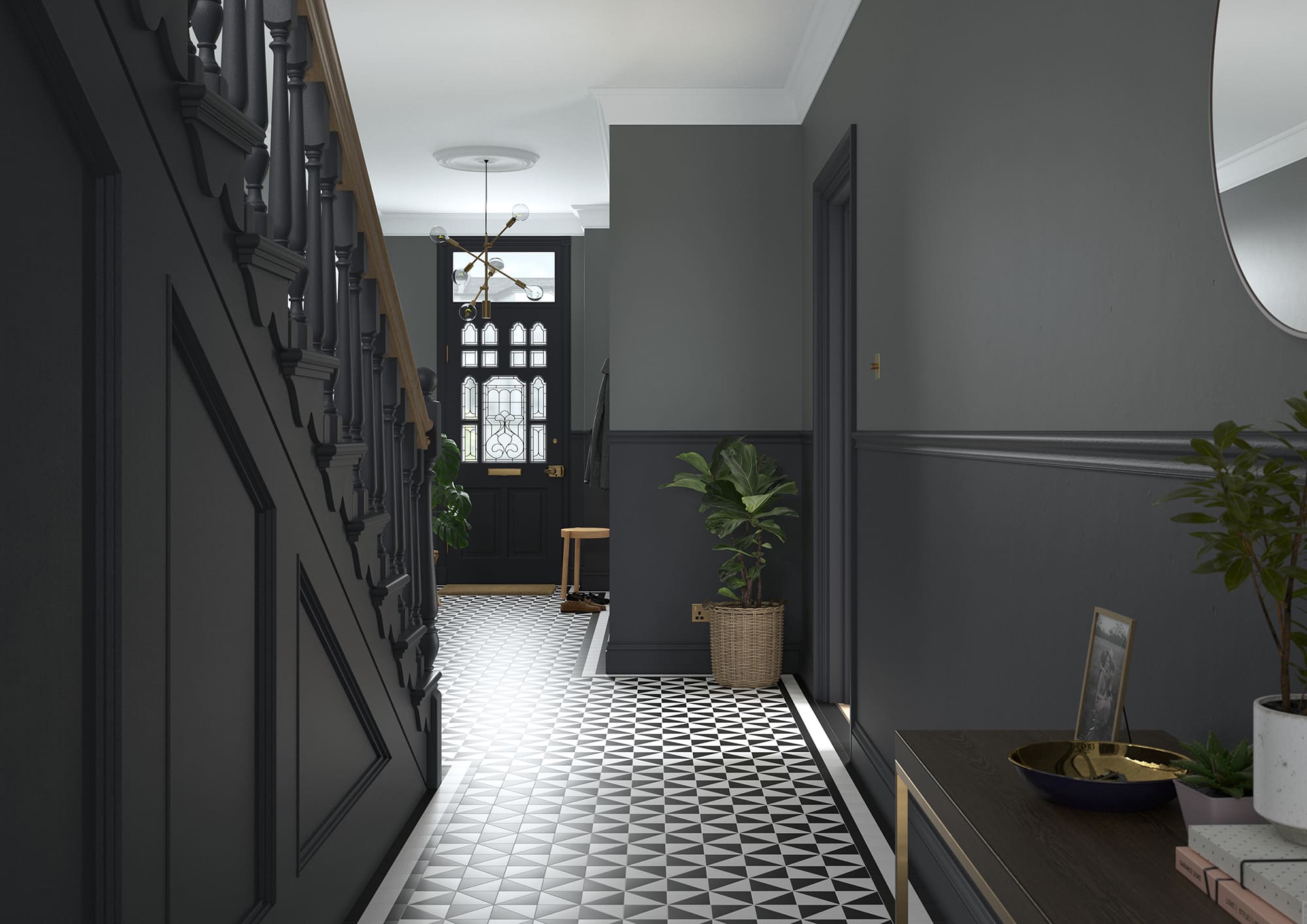 PHOTO: HERITAGE
24. Cherry Red and Pink
Cherry red and pink makes an interesting and dramatic hall wall colour combination. This pair can be also used to give an entryway a pleasant, comfortable feel or a feminine appearance. Just be mindful that excess red can be overwhelming.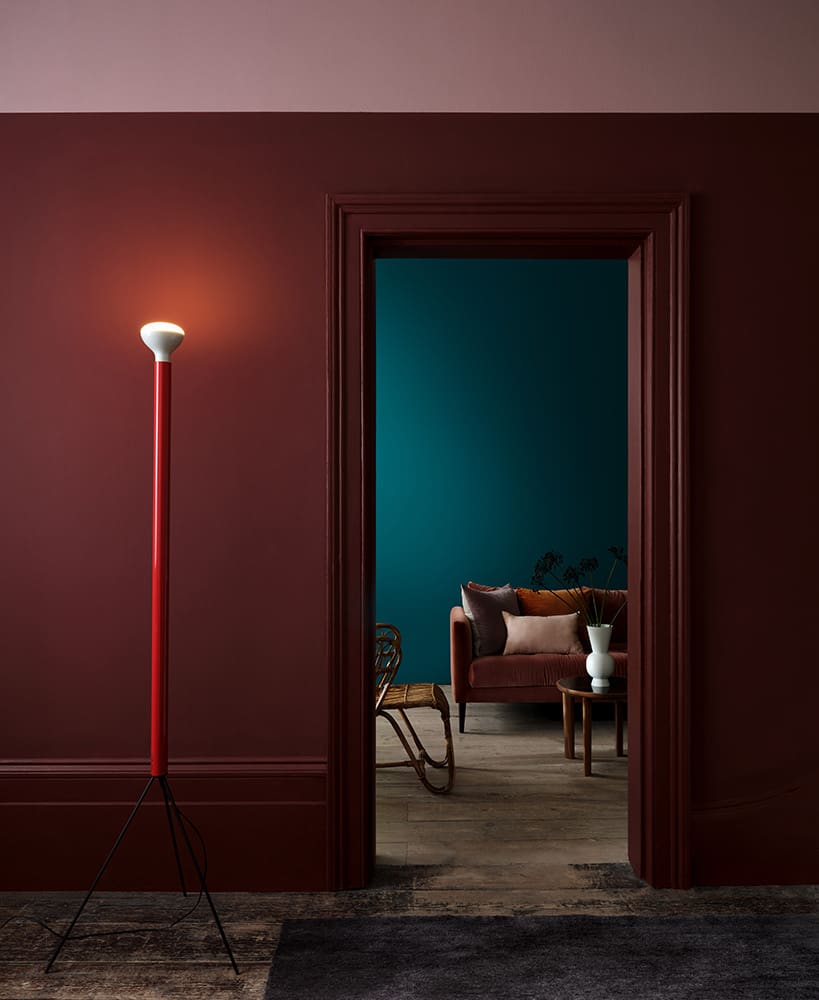 PHOTO: GRAPHENSTONE
25. Dark Green and Mint Green
Mint green conveys a feeling of freshness and creativity while dark green is a soothing colour that can aid in stress reduction in people prone to anxiety. When used together, they make the perfect combo of classic and contemporary.
PHOTO: LITTLE GREENE
26. Pale Pink and Dark Grey
In terms of versatility, grey outperforms all other colours. It is one of the most used neutral colours on interior walls. Pale tones like pale pink can help soften the look of grey. The pale pink and grey hall wall colour combination communicates a strong sense of style and simplicity to the eye.
PHOTO: PAINT & PAPER LIBRARY
27. Navy Blue and Yellow
Navy blue is popularly used to create moody and cozy interior spaces. Moody dark colours provide a cozy, welcoming atmosphere in the hallway. Yellow is the ideal hue to add a beautiful accent and a punch to the scheme.
PHOTO: MYLANDS
28. Mint Green and Forest Green
Dark green paint colours complement lighter shades of green such as mint green, but you can also use them to starkly contrast other dark shades. Mint green and dark green is the perfect colour combination for just about any hallway.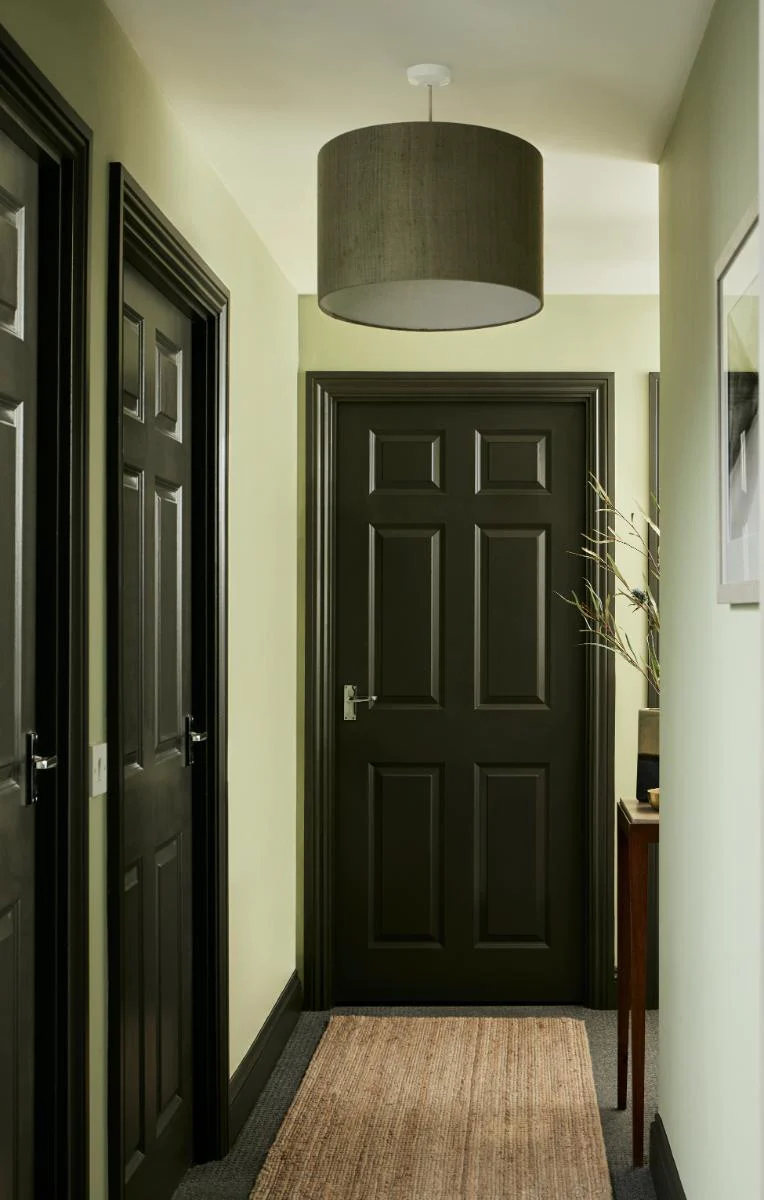 PHOTO: MYLANDS
29. Yellow and Cream
Frankly, yellow and cream is an unusual hall wall colour combination but it does work, brilliantly. This pair creates a fun and lively scheme in the hall. It essentially makes your home feel like a warm summer day all year round.
PHOTO: MYLANDS
30. Pale Pink and Charcoal Black
Charcoal black and pale pink are two very dissimilar colours. Black is an overpowering and dark hue, whereas pale pink is subdued and delicate. Consequently, these two colours complement one another perfectly.
PHOTO: JEMMA WATTS
31. Beige and Blue
Blue is serene and refreshing while beige is classy and mellow. This striking duo can create a beach-like oasis. A hall wall colour combination like makes a space feel more open and airy. It is the perfect colour scheme for coastal spaces. 
PHOTO: BENJAMIN MOORE
32. Cyan Blue and Green
What makes cyan blue and green the perfect hall wall colour combination is that cyan blue sits between blue and green on the color wheel. Cyan is often perceived as a light blue but it is rather an equal blend and blue and green. This color combo makes a space feel tremendously lively and invigorating.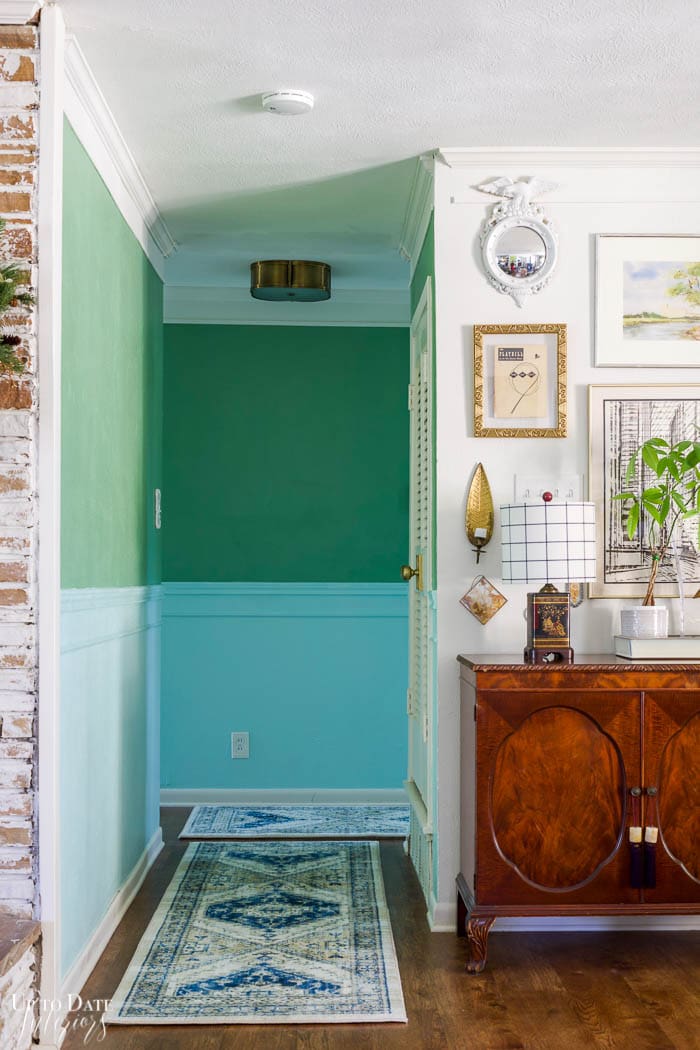 PHOTO: UP TO DATE INTERIORS