32 False Ceiling Design For Bedrooms
It's no surprise why false ceilings have become de rigueur in today's modern interior schemes. They can instantly add an understated elegance and a contemporary feel to a space. Get Inspired with these alluring false ceiling design for bedrooms. 
Did you know that the average person spends around 26 years of their life in the bedroom? You heard it here first! The bedroom is one of the most important spaces in a home. It is crucial that it serves both your practical and aesthetic needs.
There are endless ways to elevate the look of your bedroom. One masterful way to do so is to install a false ceiling. A false ceiling, also known as a suspended or dropped ceiling, is an artificial ceiling hung beneath the original ceiling structure.
This structure is made from a range of building materials such as wood, metal, glass, gypsum, POP (Plasters of Paris), and PVC (Polyvinyl Chloride).
A false ceiling is a great way to introduce character and inject style into a space. No matter your home style, aesthetic predilections, or preferences, we have ideas that are sure to inspire your next remodel.
Without further ado, here are 32 incredible false ceiling design for bedrooms.
1. Elegant Gold Trim
Gold trims have reflective surfaces that add a beautiful metallic finish to the ceiling. It is also a great way to add a touch of elegance and chicness to the space. If you're looking for a bit of a luxurious feel or even subtle stylish touch, gold trims are the way to go!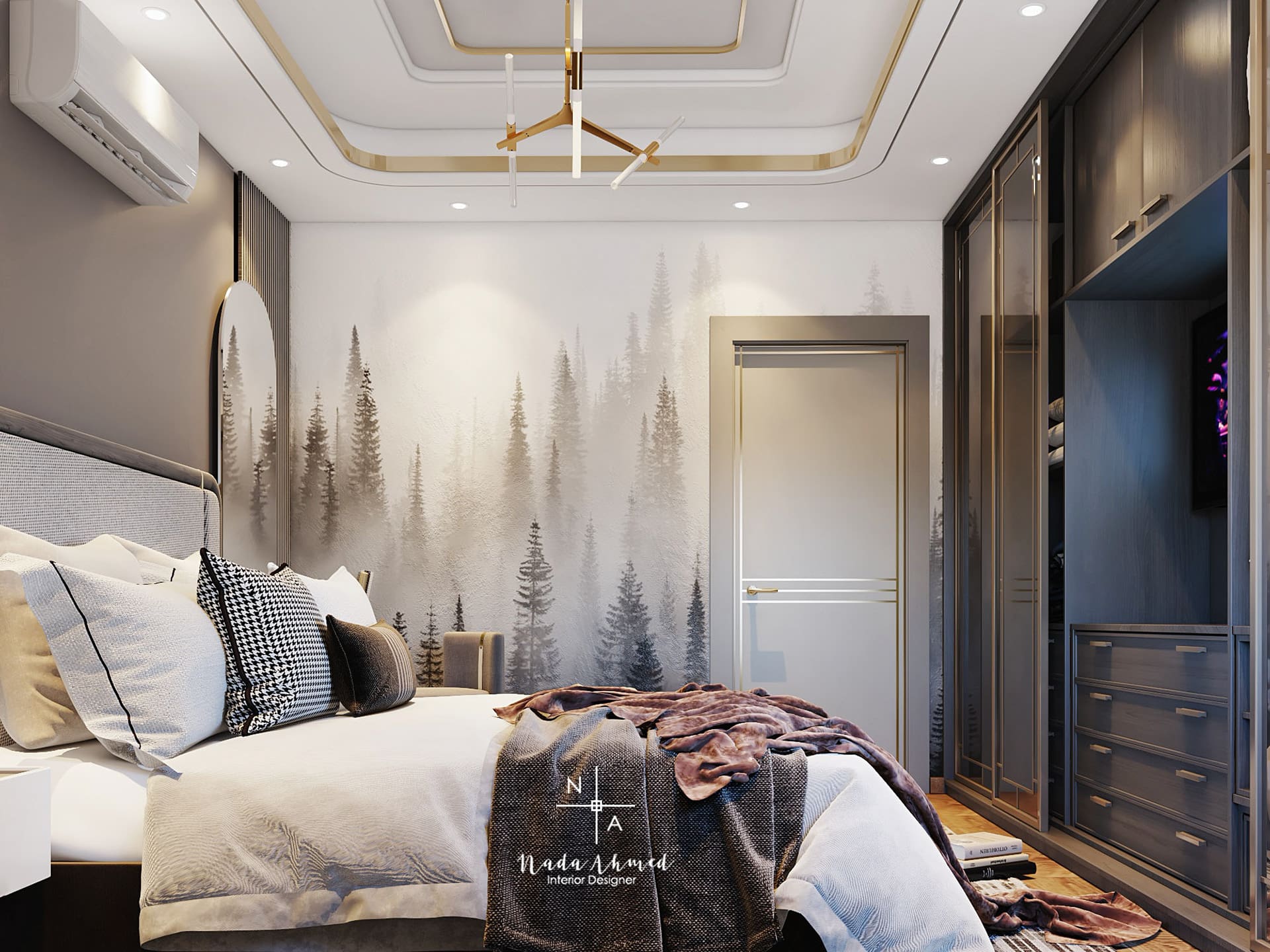 PHOTO: NADA AHMED 
2. Reflective Glass Bedroom False Ceiling
Mirror-like reflective glass surfaces help to create a perceived sense of extra space in the room since they reflect natural light. It essentially makes the room feel open and brighter while adding a decorative touch.
PHOTO: ESRAA BARAKAT DESIGNS
3. Round POP False Ceiling
A round POP false ceiling can serve as the perfect focal point for the bedroom and a great backdrop for light fixtures. This is a simple modern POP design idea that will work well in any space, big or small.
PHOTO: AMORE
4. Matching Wall and Ceiling
The materials used in constructing false ceilings can also be used to design interior walls as well. Using the same material and style for both the ceiling and the wall can help to create a cohesive and harmonious connected space.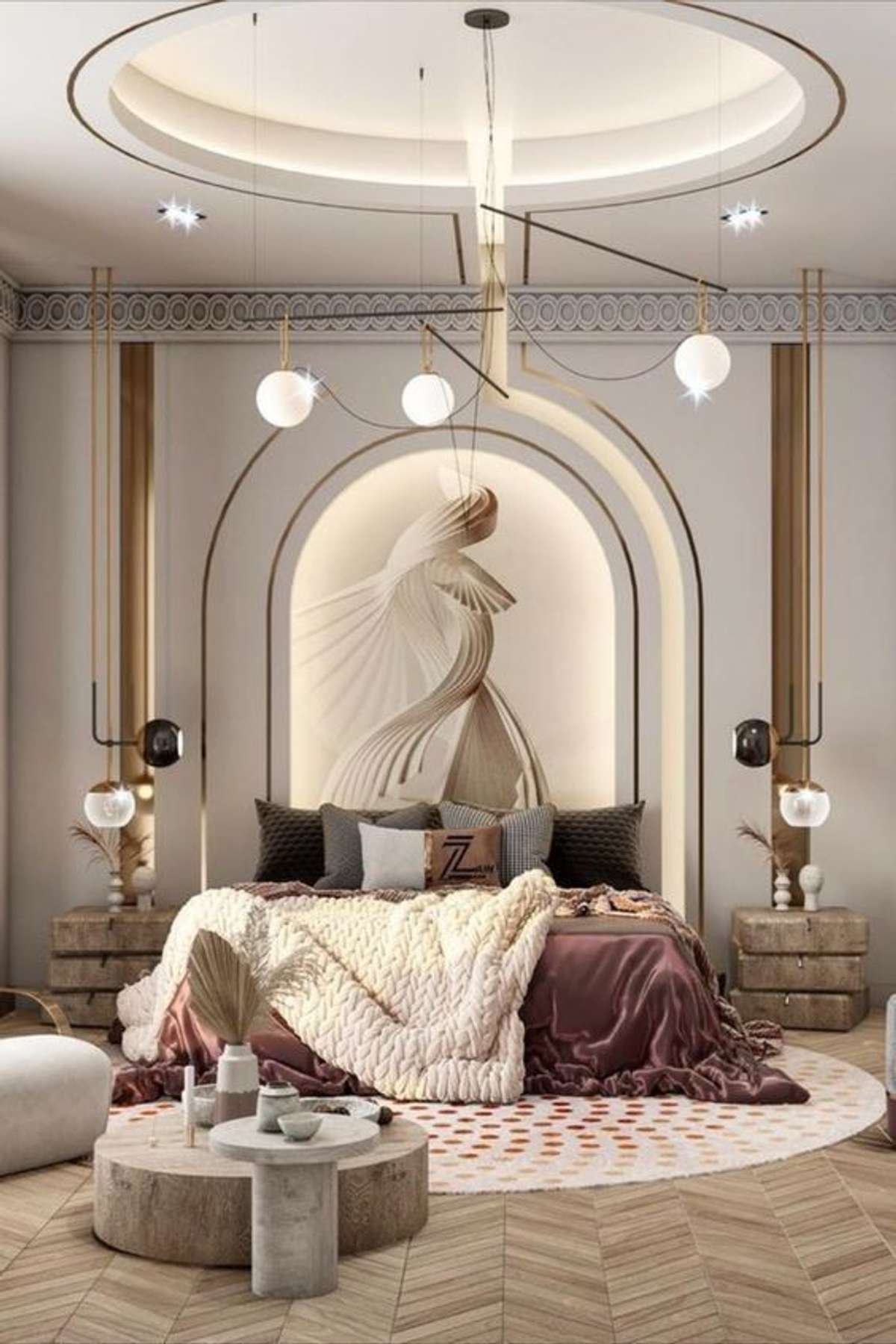 PHOTO: RÅVI PATIDAR
5. Gypsum and Wood Board False Ceiling
Combining materials is a great way to add a chic layer of interest and texture. For instance, wood can help bring warmth and a rustic feel to the space while gypsum can help to bring a modern twist and cutting-edge aesthetic. Together, they can make a big impact in the room.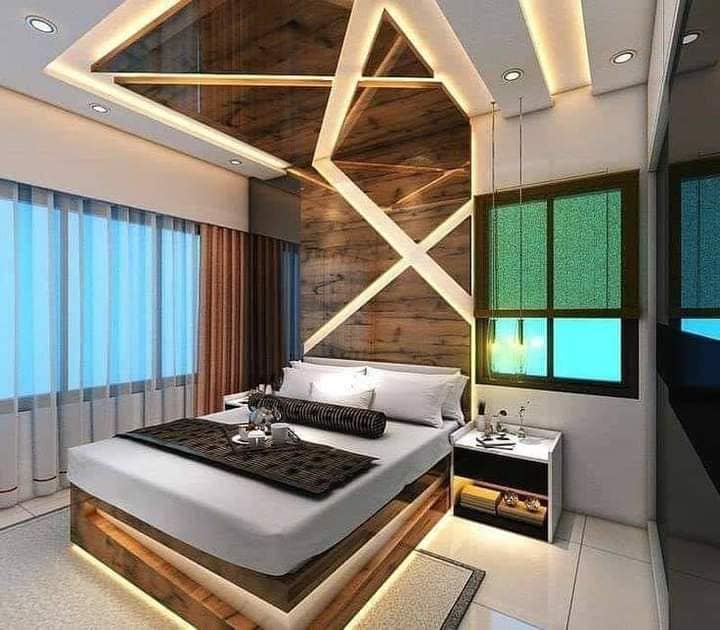 PHOTO: SAYYED HOME DECOR
6. Opt for a Simple POP Tray Ceiling
The tray ceiling design is one of the most popular and simplistic false ceiling designs. It is a less-intrusive design that is ideal for any type of space. What makes it so popular is that the tray ceiling style creates an effortless feel and adds a punch to an otherwise minimalistic space.
PHOTO: NATIVE ASSOCIATES DESIGN
7. Modern Tray Ceiling with Curved Edges
Another twist to the tray ceiling is to make the edge curved. This shape is also referred to as a squircle, which is a square with rounded corners. A squircle is also a laid-back style that is ideal for modern minimalist spaces.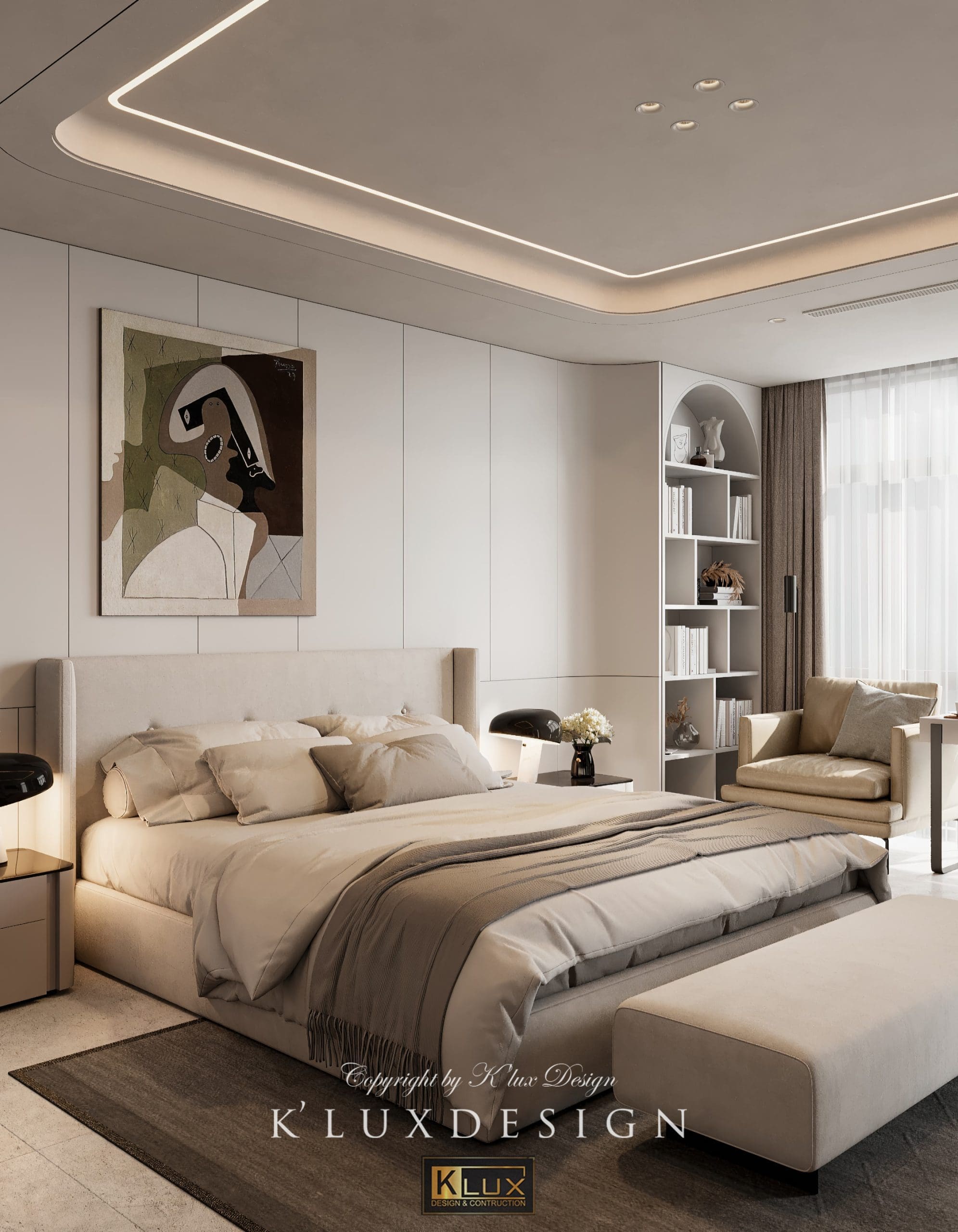 PHOTO: K'LUX DESIGN
8. Wood Ceiling Coving
A coving is a decorative feature added to interior walls and ceilings with the aid of an adhesive. There are so popular that you will find them in most homes today. They do not command too much attention and blend with the ceiling when painted white. However, a wood-tone ceiling coving will add character and a strong sense of style to your home.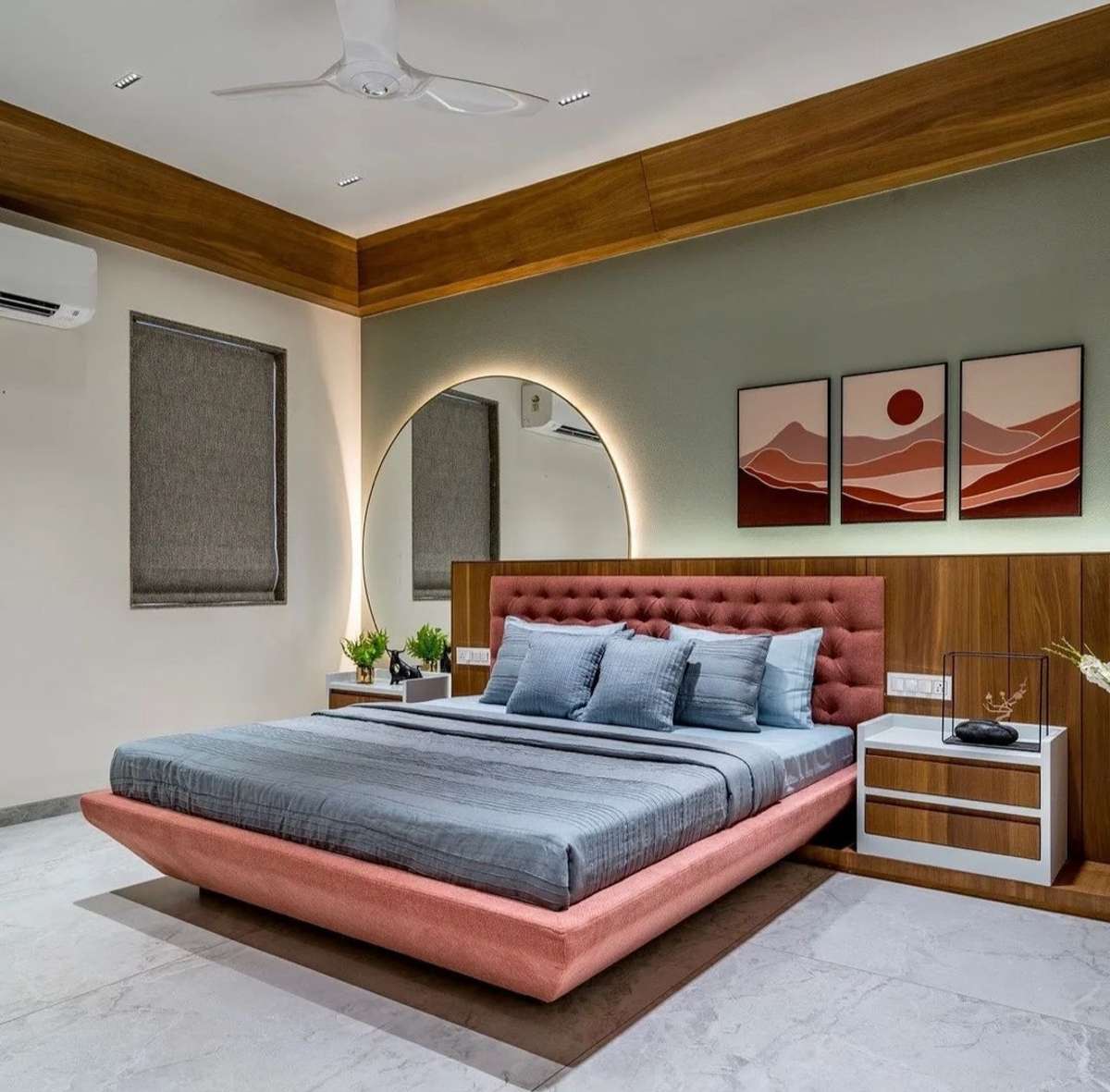 PHOTO: SAHIL MITTAL
9. Master Bedroom False Ceiling Centerpiece
Just like the lighting fixture, false ceilings can easily serve as a centerpiece in the bedroom. Create a centerpiece that feels authentic to you and can add effortless sophistication to the space.
PHOTO: PINTEREST
10. Reclaimed Wood Beam
Reclaimed wood gives a space the perfect rustic charm and lived-in feel. This type of wood has been used in the past for building and construction and then repurposed to meet today's ever-growing need for eco-friendly and sustainable materials.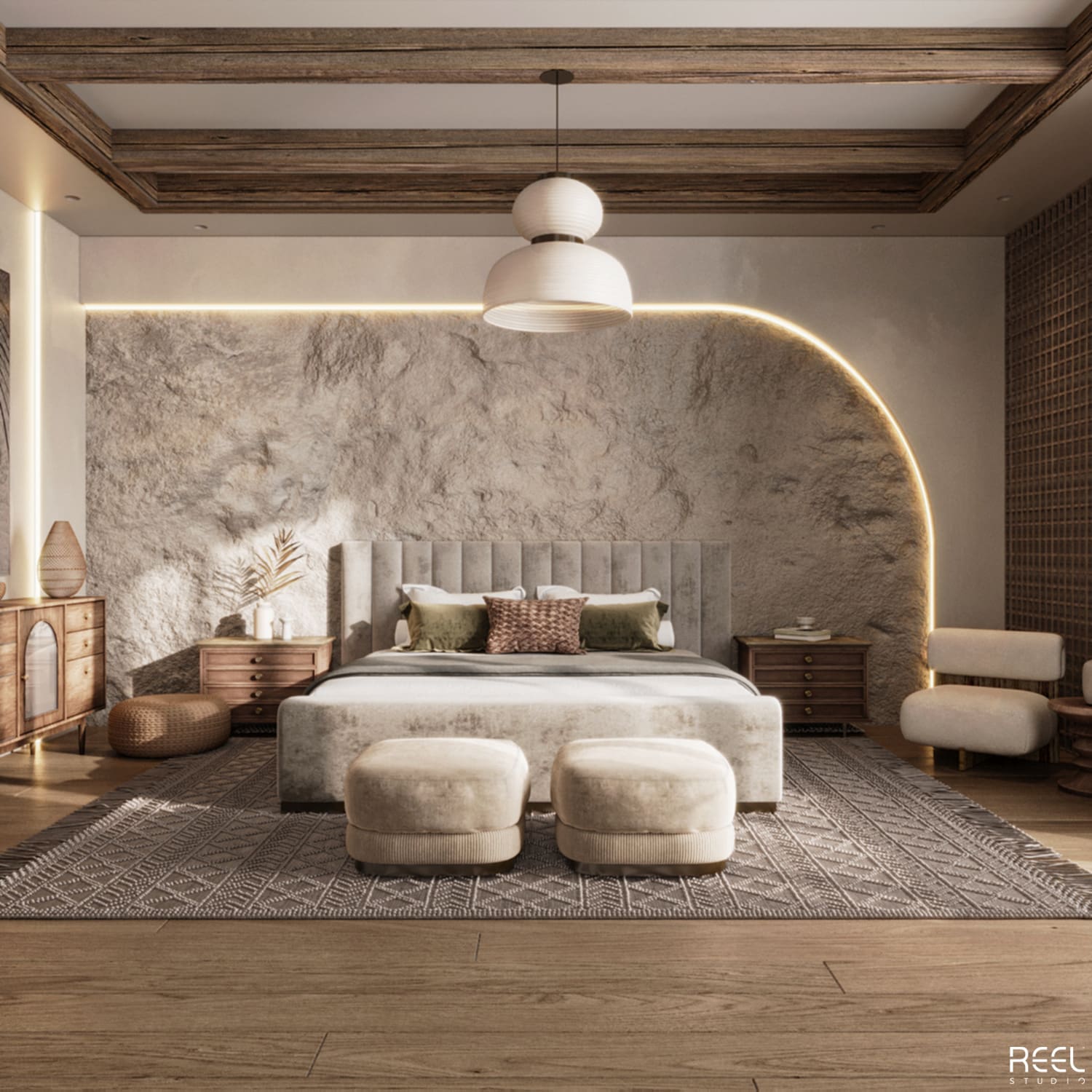 PHOTO: REEL STUDIO
11. Decorative Ceiling and Wall Panel
Decorative paneling can add a touch of pizzazz and elegance to the room. It is not an easy task to find a false ceiling design for bedrooms that will stand the test of time. Decorative panels are very versatile and have been around for a long time— and it looks like it is here to stay for the foreseeable future.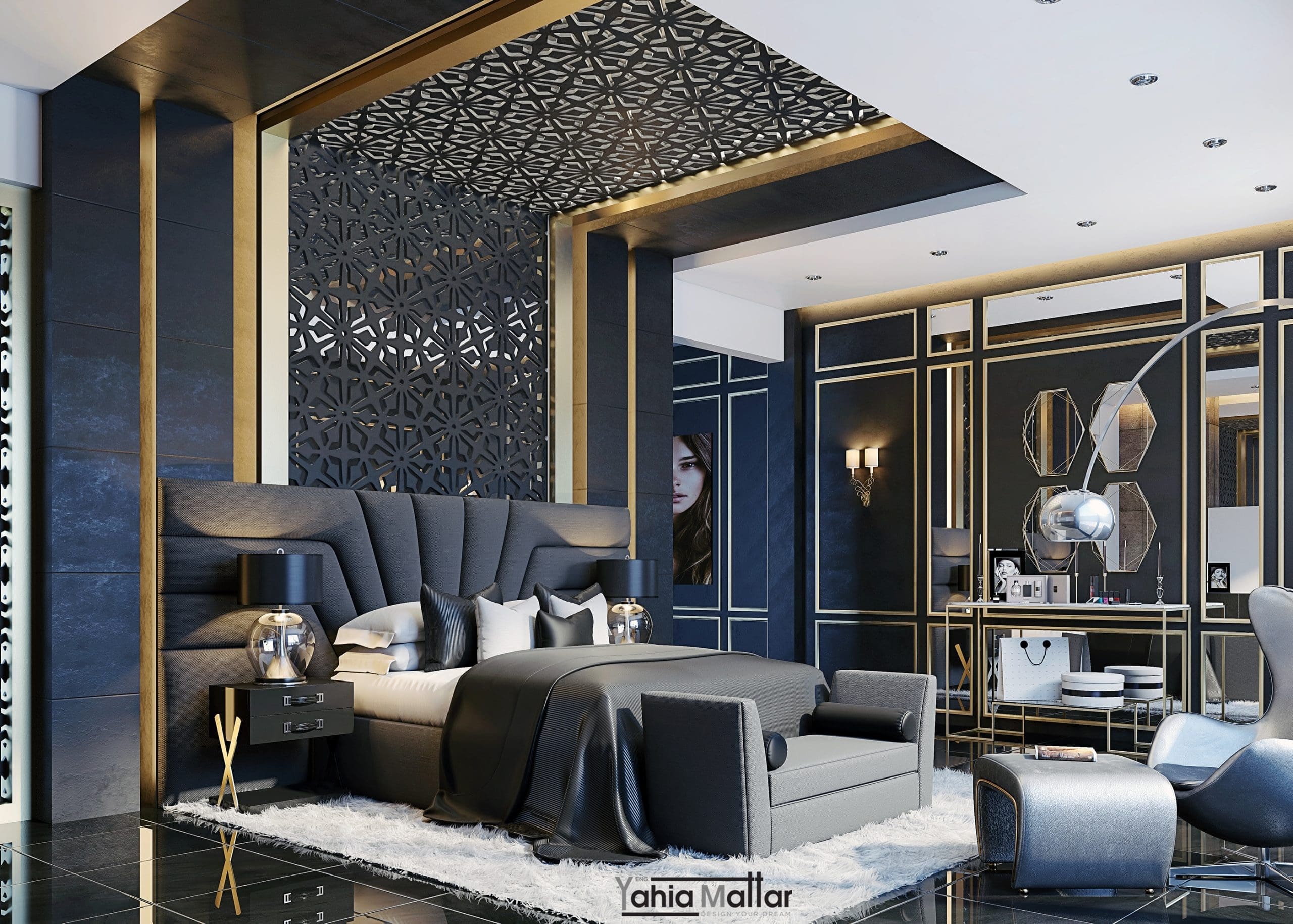 PHOTO: YAHIA MATTAR
12. Coffered Bedroom False Ceiling
A coffered ceiling has a sequence of sunken recessed panels added to the ceiling, usually in a rectangular or square grid. They can make a real style statement that draws the eyes. 
PHOTO: MAGIC BRICK
13. Crushed Velvet False Ceiling
Crushed velvet is unusual false ceiling material but the ultra-glam finish it gives creates an unexpected showstopping aesthetic.
PHOTO: SCALE ARCHITECTURE STUDIO
14. Exposed Wood Beams
In interior design, exposed wood beams in the ceiling are used to create an authentic vibe and warmth to the space. This is a common feature seen in farmhouse-style, country-style, and rustic-styled homes.
PHOTO: PINTEREST
15. Go for a Layered Approach
Layering is a design approach used to maximize interest in interior spaces. This technique is common in false ceiling design for bedrooms. No matter the shape or design of the POP false ceiling, layers help to create a visually intriguing and unique design that catches the eye.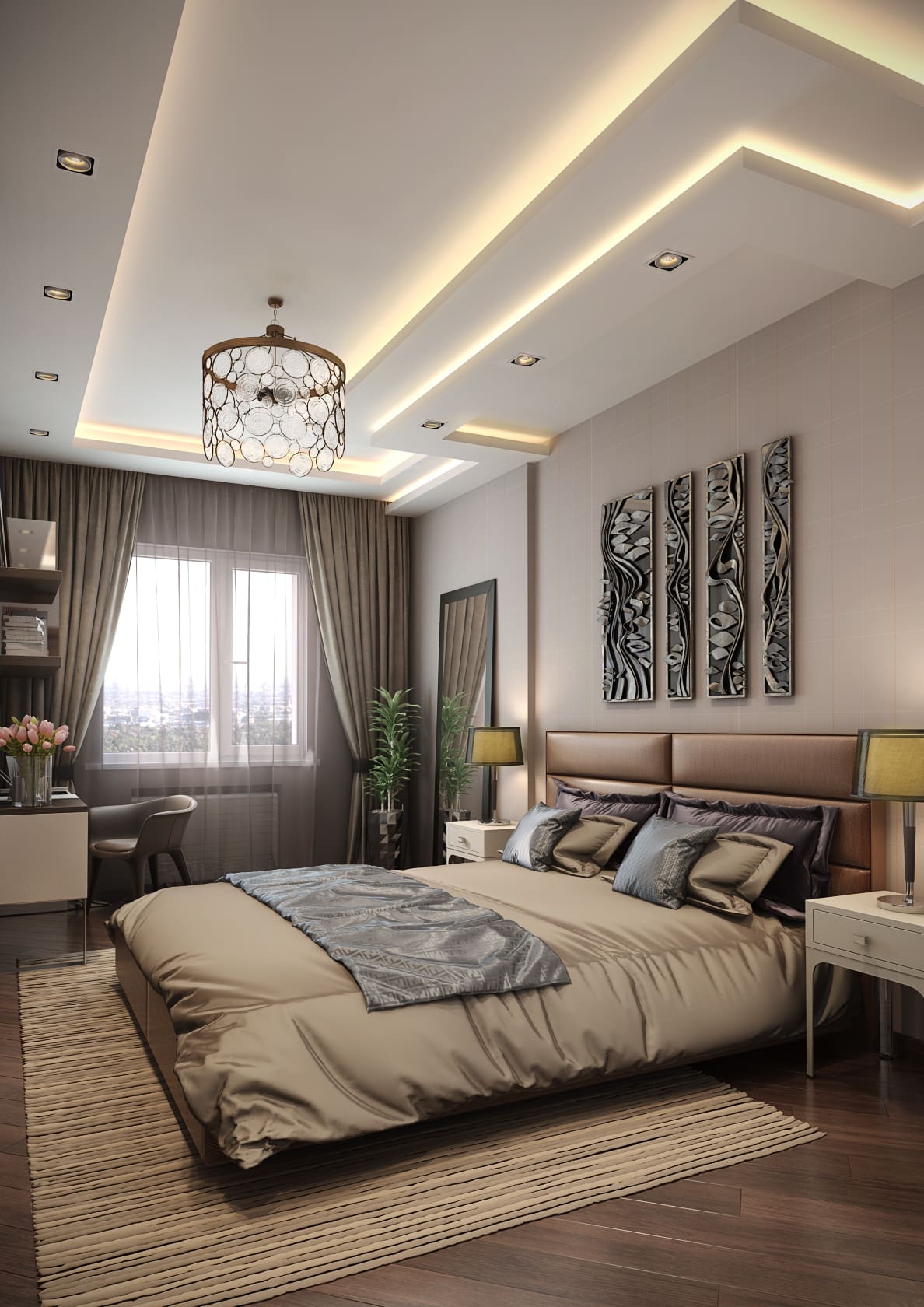 PHOTO: PINTEREST
16. Install Recessed Ceiling Lights
Recessed lights are commonly used for modern false ceilings because not only do they help to illuminate the space, but they also lend a clean and streamlined aesthetic to the space.
PHOTO: NAROTO
17. Embrace Modernism with Vertical Wood Panels
Vertical wood panels are growing increasingly popular in modern interior design for good reasons. Wood is known for providing enhanced acoustic insulation and natural thermal. Wood slat wall panels are also a fusion of elegance and modernity.
PHOTO: WAYFAIR
18. Wall-to-Ceiling Mounted Upholstery Headboard
Wall-mounted headboards are so popular as they serve as a feature wall and striking addition in the bedroom. What you may not know is that they can also extend to the ceiling to create a stylish look that is sure to demand attention.
PHOTO: PINTEREST
19. Extended Vertical Wall Panels
As mentioned earlier, vertical wall panels are widely used in contemporary interior design. When extended slightly to the ceiling, they make a great false ceiling design for bedrooms. Plus, vertical wall panels add a perceived sense of height to the room.
PHOTO: TARYN WHITEAKER DESIGNS
20. Add a Luxurious Feel with Metallic Trims
Metallic trims are a distinctive element in home décor due to their versatility in design. They can instantly add laid-back luxe and sophistication to the bedroom POP ceiling.
PHOTO: MOHAMED MADGY 
21. Make an L-Shape with POP and Wood Planks
This design is simple yet impactful. The wood-tone planks give the white backdrop a beautiful warm accent. It adds an organic softness to the bedroom scheme.
PHOTO: MAK DESIGNS
22. Add a Touch of Greenery to the Ceiling
Green is one of the most ideal colors for the bedroom because of its calming and soothing qualities. A pop of greenery on the ceiling will make your bedroom feel like a tranquil oasis that is perfect for relaxing.
PHOTO: PRATEEK SETHI DESIGN ASSOCIATES
23. U-Shaped Bedroom POP Ceiling
Sometimes, the simplest design can make the biggest gesture. A U-shaped POP design is one of the best false ceiling designs for bedrooms because it can add a strong sense of style and effortless beauty.
PHOTO: NEW ERA ARCHITECTS & DESIGNERS
24. POP Ceiling with Black Trim
Stark white ceilings are a classic but a black trim addition can elevate and add character to the ceiling's aesthetics.
PHOTO: ALBERWAZ INTERIOR DESIGN
25. Fixture Box False Ceiling
A fixture box POP false ceiling design can add a dynamic element to any bedroom. Not only will it serve as a focal point for the room but it will also serve as the perfect backdrop for your lighting fixtures and fans.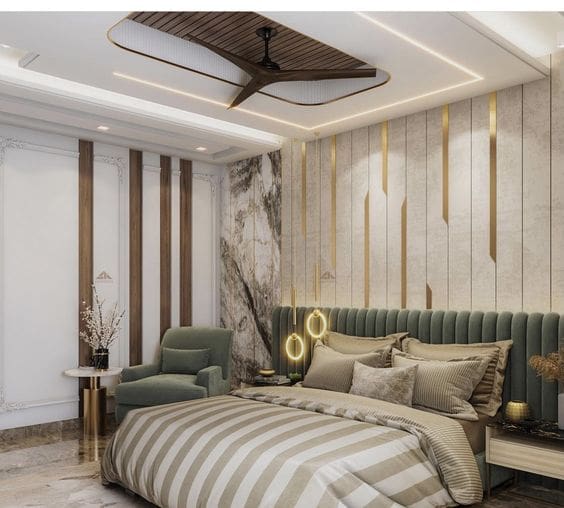 PHOTO: UNIQUE INTERIORS SOLUTION
26. Canopy Bed False Ceiling
The canopy-bed-like design can add a sense of drama and coziness to your bedroom. This is an unusual false ceiling design for bedrooms but it can make a grand gesture if executed properly.
PHOTO: DE CAVES
27. Simple Floor-to-Ceiling Aesthetics
A floor-to-ceiling false ceiling design for bedrooms can help you create cohesiveness and a sense of more height in the room. The seamless transition adds liveliness and visual appeal to the room.
PHOTO: CHLOE FIREDMAN
28. Mirrored Bedroom Ceiling
Mirrors are great for reflecting natural light and making a space appear bigger and more spacious. The drawback of a mirrored false ceiling is that it may easily attract clouds of dust and needs to be wiped down every now and again.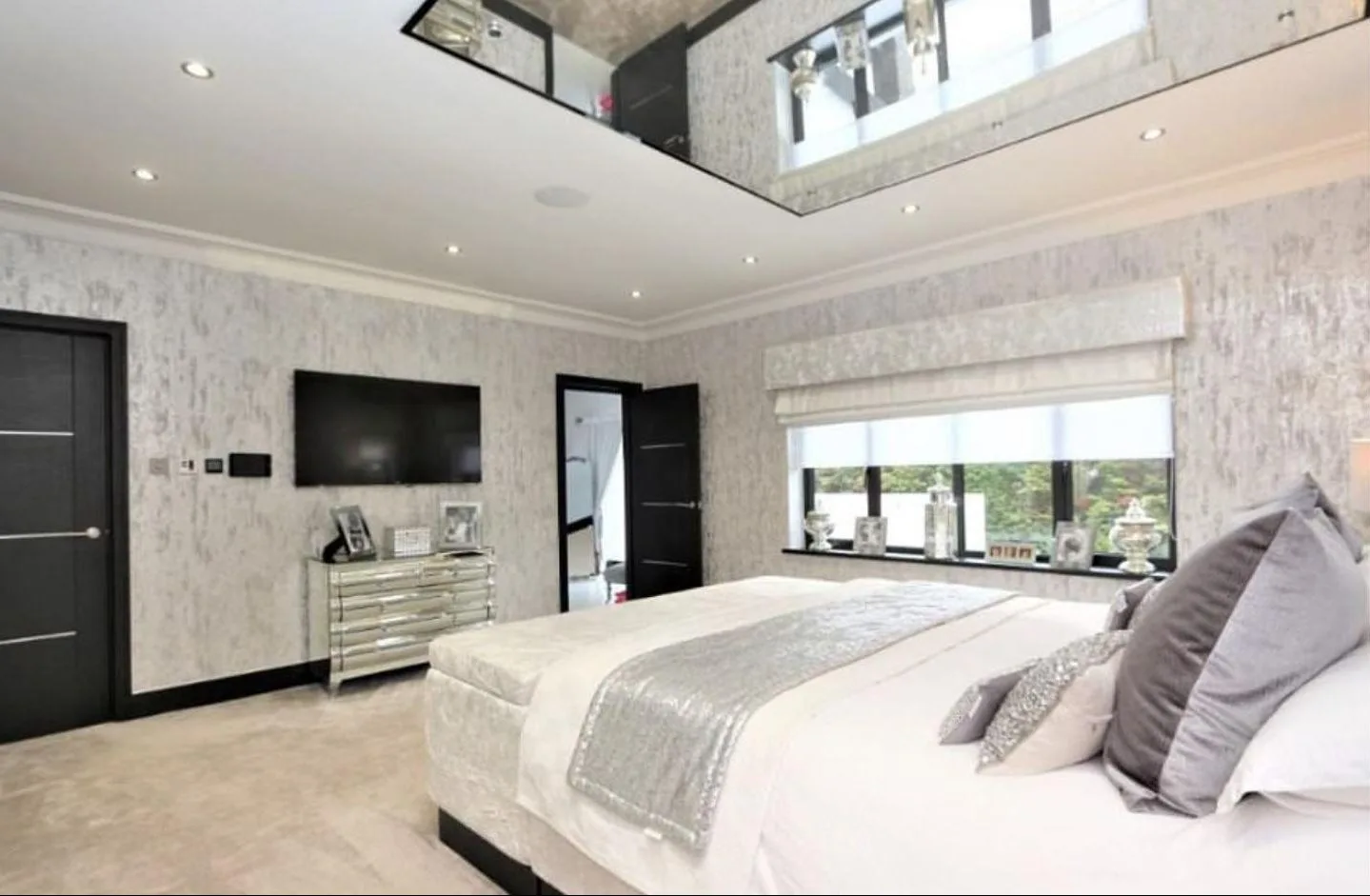 PHOTO: PINTEREST
29. Bedroom False Ceiling with Statement Lighting
Statement lighting can make all the difference to your false ceiling aesthetics. A centerpiece light, whether dramatic or simple, can help tie the overall look of the ceiling.
PHOTO:  LIFE ARCHITECTURE  & KUDRINA KRISTINA
30. POP and Wallpaper Bedroom Ceiling
Wallpaper can be used to create a striking false ceiling design for bedrooms. It can help to add architectural interest and visual depth to the bedroom ceiling and walls.
PHOTO:  NC DESIGN
31. Cornened POP Ceiling
There are so many false ceiling design for bedrooms to explore but a corned POP ceiling can inject style into your bedroom without costing a lot of money and time.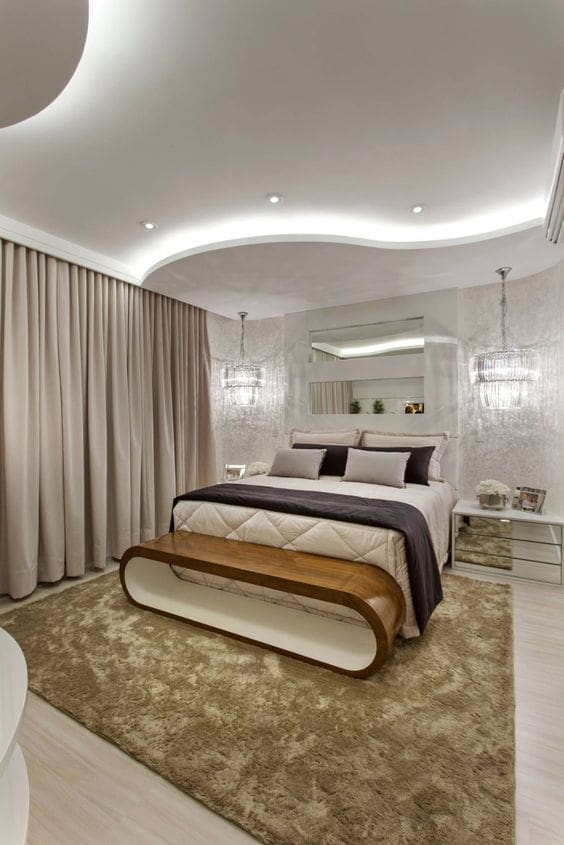 PHOTO: PINTEREST
32. Artistic Bedroom False Ceiling
Hand-carved artistic drawings can curate a statement-making design. When it comes to designing a home, this is a false ceiling design for bedrooms that can make the biggest interior statement.
PHOTO: VAIBHAV PATEL