All You Need To Know About The Peacock Chair
This furniture piece made of wicker, rattan, and wood stands out for its curved back that imitates the unfolded tail of peacocks. The peacock chair is a piece of furniture that dates back to the 19th century, which features a 1.07 m high arched backrest and an hourglass-shaped base. This armchair version gained notoriety when Sylvia Kristel, the lead actress in the French film Emmanuelle (1974), posed on it to promote the film.
Due to its exotic features, the peacock chair is intended for outdoor use, but it is also a great addition to the living room, dining room, bedroom, and reading corner. It is extremely comfortable thanks to its large format, which generates the feeling of being embraced completely.
A peacock chair tones with the rustic, Nordic, ethnic, tropical, and boho styles. It comes to be a preponderant furniture piece with an eye-catching backrest design. While you can add dark-colored (fuchsia, turquoise green) and rectangular cushions, you might as well opt for a chair and flashy yellow cushions.
Peacock chairs are never alone. They are usually installed among light, low-height, light-colored furniture pieces, which can be white, cream, or light gray. These armchairs can be perfectly combined with symmetrical pieces. This chair combines elements of light wood and iron to achieve a more rustic vibe, but it is also made of marble or metal and has polyurethane finishes. Metal and marble are perfect to get a more modern setting.
The chair that never goes out of style
Because many like natural fibers and vintage pieces, this chair is still trendy today. The peacock chair is also the favorite of lots of celebrities like Sienna Miller.
A wicker peacock chair is exotic, vintage, and sensual. Its sinuous and attractive curves have attracted thousands of music and film stars and it is currently a trend again.
The peacock chair dates from the 19th century but was probably made many years ago when it was the seat used by the king of the Tahitian dynasty, Fauteuil Pomare, the name by which it is known in France. In this country, the peacock chair is also known as the Emmanuelle chair, a 1974 movie starred by the actress Sylvia Kristel. The chair appeared on the film's poster and in one of its best-known scenes. That is why you cannot remember the movie without the chair and the chair without the movie.
Features
The Peacock Chair (or Peacock Chair) was designed in 1947 by the Danish designer Hans J. Wegner and manufactured by the Johannes Hansen firm.
The Peacock chair (Påfuglestolen in the designer's language) is inspired by the traditional Windsor armchair and owes its name to the shape of its exaggerated curved back, similar to the unfurled tail of a peacock. However, curiously, it was not Wegner who named it that way (actually, it initially had a much more prosaic name, "chair no. 550"). It was the designer Finn Juhl who named it when he saw it for the first time and coined it the name that holds nowadays.
This chair soon became an icon and a masterpiece during the 20th century for its comfort level, aesthetics, and organic lines that mix with decorative and artistic finishes.
Entirely made entirely of solid ash wood, it has a handmade wicker seat that can be completed with a cushion or a wool blanket to make it cozy and warm.
Due to the wood color, it is combinable in any home interior design like the Scandinavian trend, from which the Nordic style originates.
Throughout the years, peacock chairs have been black, mint, pink, and green. There are a lot of colors and models today. That's why it's so difficult to choose just one model.
How to decorate with a peacock chair
If the room has a neutral background, include a white peacock chair, and a sofa upholstered in light gray linen worked with the quilted technique on the seat and back.
Also, put a nested center table that has an irregularly shaped trunk top and black iron legs to give the decor a natural touch. Delimit the area with a sheep wool rug with geometric designs (triangles, rhombuses), stripes, or black zigzags on a beige or off-white background.
If it is a dining room with a rustic vibe, add a vintage peacock chair at the head of a solid wood table (cedar, oak, pine, mahogany). To highlight it, put soft yellow, orange, and red cushions near the crockery or around the centerpiece. Complement the decoration with long wooden benches.
Why peacock chairs look so good
The particular style of these chairs is simply wonderful. If you look closely, their design maintains the natural aspect of the materials that comprise them, magnifying their elegance.
The armchair recalls the peacock plumage, one of the most beautiful birds in the world. On top of that, it is versatile. You can use it for a wedding or alternative bohemian decor or for any special occasion you want to add a traditional touch. Just add it moderately. It is an accessory that takes up too much space.
You can cover the backrest with a wealth of elements to dress it up perfectly. Garlands, floral designs, and plush are good options to decorate this furniture for a wedding reception. These seats will look a thousand times better when combined with a wedding table. The table allows you to decorate it while playing with different elements.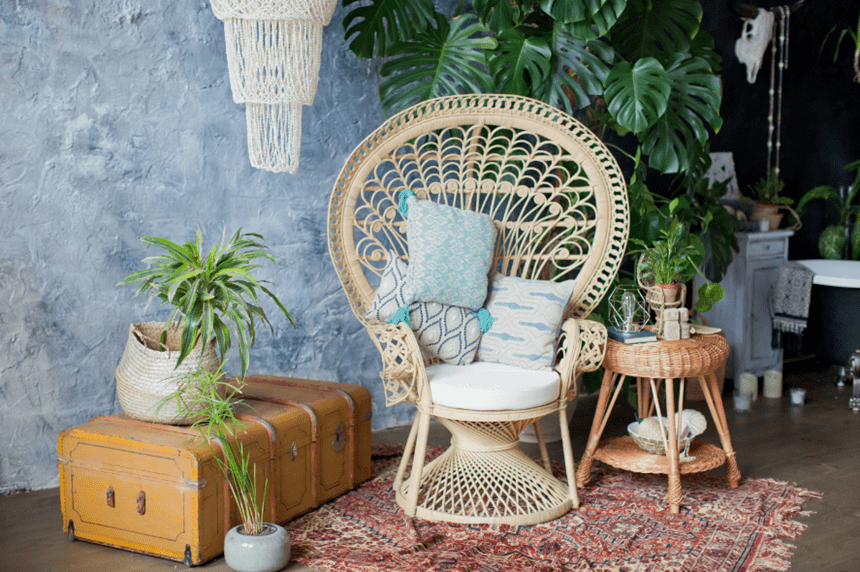 To take the perfect photos
Peacock chairs also allow you to have a very well set-up stage for a beautiful photo session. The best thing is that you can spice up the scene with other details that add originality, for example, neon signs, skins, geometric decoration, gold, and floral proposals.
Summary
The peacock chair has gone down in history for its originality, construction materials, and elegance. Right now, you can find multiple versions like the vintage peacock chair and the rattan peacock chair, which come in different colors. The market also offers a wide range of modern patterned cushions to go with this vintage seat.