10 Ways to Incorporate Wood into Your Interior Design
We can talk a lot about the eco-friendliness of wood, its hypo allergenicity, and the naturalness, and also the simplicity and availability of such material. But the main advantage of wood, what even an avid sceptic will agree with is its endless attractiveness.
The elegance of the annual rings of curls, the delicate velvet and warmth of the array, or conversely, the cool gloss of lacquer, the refinement of textures, uniqueness, and richness of the palette – from light to dark chocolate, from reddish cherry to milk ash, can you resist such wealth and beauty? And these qualities of natural wood are skillfully used by designers around the world. But anyone can learn different tricks to work with wood. Here, we've put together 10 ways to incorporate wood into your interior design.
1. Windows and doors: a tribute to tradition
Perhaps the most common application of natural wood in an interior is in the manufacturing of doors and windows. And we are talking about both an array of boards, and veneer finish – the latter is often used in the manufacturing of doors.
Often, the repair of apartments under the key implies the replacement of fundamental elements – and is it possible to prefer the warmth of natural wood to cold plastic? Especially if this plastic is designed to imitate the pattern and texture of oak, beech, walnut … And what to replace this thin, subtle flavor of freshness that fills the room at the moment when the wooden windows take their rightful place? Both designers and architects are unanimous – wood will not give up its position in this area anytime soon.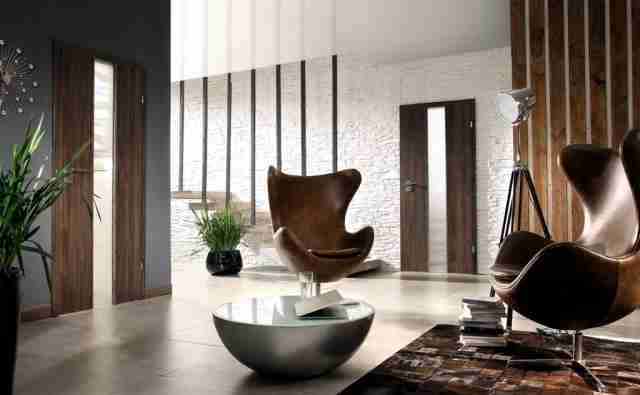 Image credit: Of Designs
2. Floor: parquet and solid board
This is one of the most common ways to incorporate wood into your interior design. The time-tested option is a wooden floor. For hundreds of years, wide and thick boards were used as decking in dwellings. And today, centuries-old traditions find application in the renovation of apartments, houses, and cottages- a parquet or a massive board is laid on a floor. Oak or beech, walnut or larch, even ash and birch – and each material has its own pattern, texture, rich palette of shades, and its own special warmth.
Natural wood flooring is excellent in any interior, from classic to avant-garde. It is stylish and extraordinary. It does not need heating, and it is also low-maintenance, reliable, durable, and safe even in children's rooms. What more can you what for your flooring? Definitely – wood is the best choice!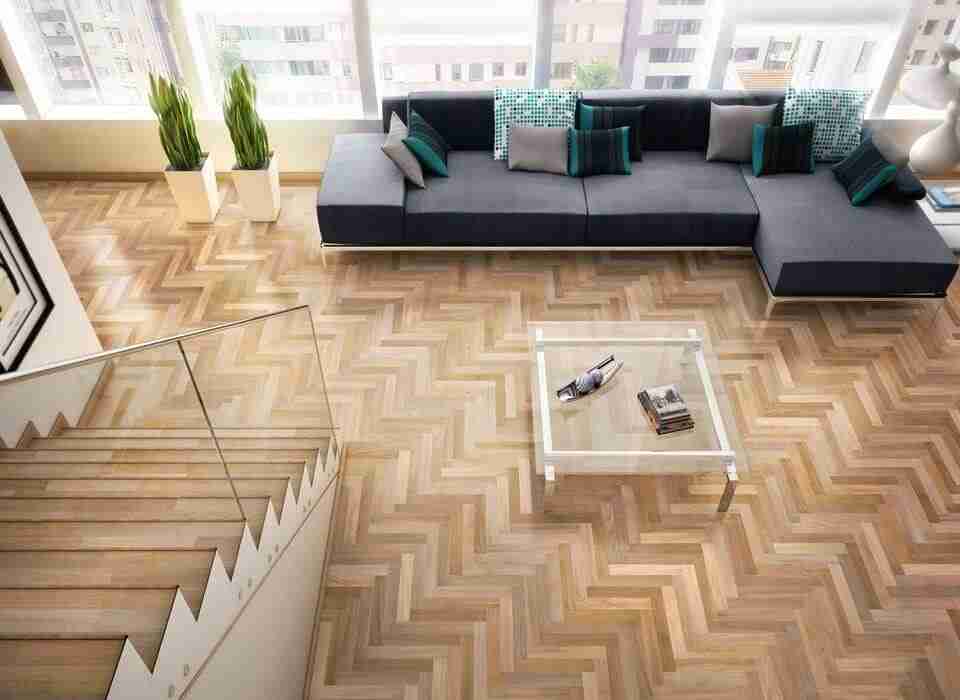 Image credit: Remodeling Calculator
3. Wall panels: saws and rails
The wagon, i.e. narrow and long planks, is often used for finishing balconies, loggias, hallways, and corridors. However, only a very few people know that the same wagon in combination with textile, stone, and painted wall surfaces can create a unique, literally unique interior in almost any room of the apartment or house.
Another fairly common design technique is wall decoration with saws. A branch or trunk of wood is sawn into thin plates, and each of these plates is attached to the vertical surface. In a similar way, you can design the entire wall, as well as its individual sections, which, according to many, will be even more expressive.
Well, if you set a goal to make the interior, not just unique and aesthetically pleasing, but also a true showpiece, you can use plates of different thicknesses – so the wall panel will acquire 3D volume and thus emphasize the originality of design.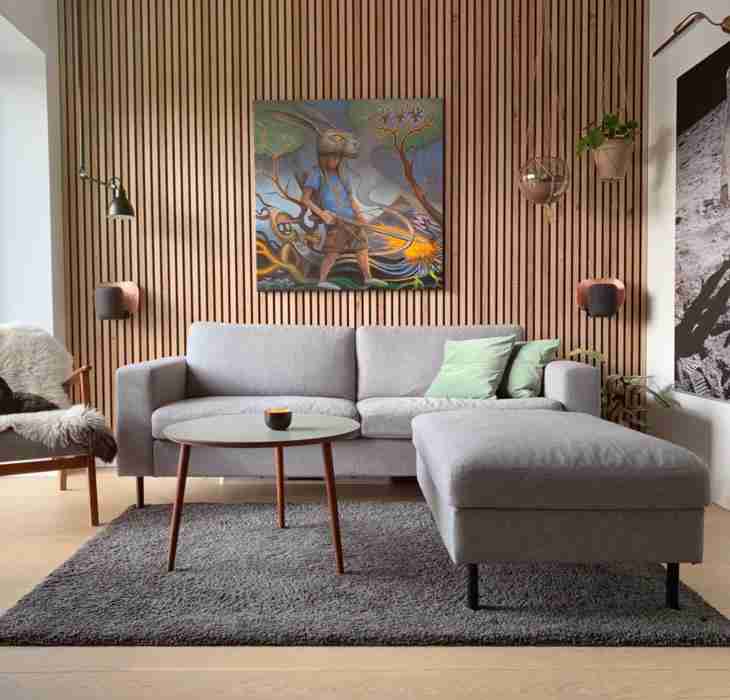 Image credit: The Wood Veneer Hub
4. Wallpaper: veneer and cork
Wooden wallpaper is quite a new variant of room design. As a covering for walls often acts veneer – a thin layer of wood, glued on a paper or paper-like base. Bamboo, wenge, and Zebrano – valuable, noble wood goes to the production of such wallpaper, and as a result, the wall gets a very unusual but invariably attractive appearance. Similarly, it is customary to decorate not the entire room, but only a separate wall or even a section of it – so the interior design turns out more expressive.
Cork wallpaper is much more common. Cork is the bark of cork oak, an evergreen tree growing in Mediterranean countries. The soft, velvety to-the-touch surface creates a feeling of endless coziness and warmth, relaxation, and a sense of unity with nature.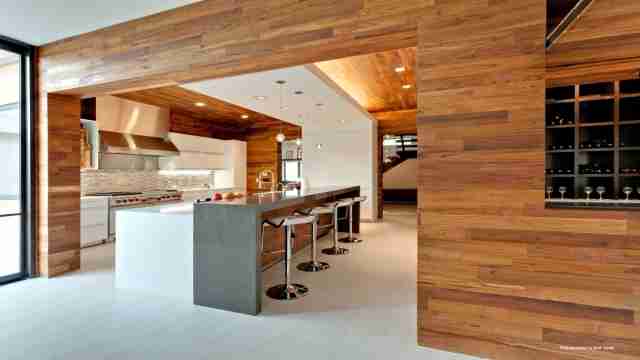 Image credit: Of Designs
5. Ceiling beams
Today, ceiling beams are more an element of the design of an apartment or country house than a practical detail that carries a physical load. But beams used to be a fixed part of any home, from an ordinary village hut to a temple or palace.
In today's interior, the beam can be used as a hanging point for a light fixture or – in the case of a false beam – as a place to hide wiring and other communications.
Wood on the ceiling requires an indispensable binding to a certain style – an axiom. Mountain chalet with its extensive use of natural elements in the decoration of the room, Provenza or Mediterranean style with pronounced ease, Japanese minimalism, American ranch, old Russian "hackneyed" spirit, factory loft, and even strict classics – directions in design where you can use wooden beams.
Image credit: Authentic Interior
6. Furniture: from a stool to the closet
This a great way to incorporate wood into your interior design. From wardrobes and chest of drawers, tables, chairs, and shelves – how to can you do without wood when creating all these objects? It is furniture that shapes the character of the entire interior, sets the tone for design, and creates the mood. What will it be like, your apartment?
Intentionally simple, permeated with the spirit of minimalism? Wooden shelving and laconic shelves made of light wood will help to decorate the interior in a strict, almost Spartan spirit.
Do you like the luxurious baroque mood or the refinement of French chic? Cabinets with carved doors, covered with a matte glossy lacquer, Vienna chairs, and thin coffee tables will come to the place.
Are you a fan of ultra-modern hi-tech? Pay attention to the magnificent contrast in the interior will create chrome metal and dark, aged wood in tables, stands, and cabinets.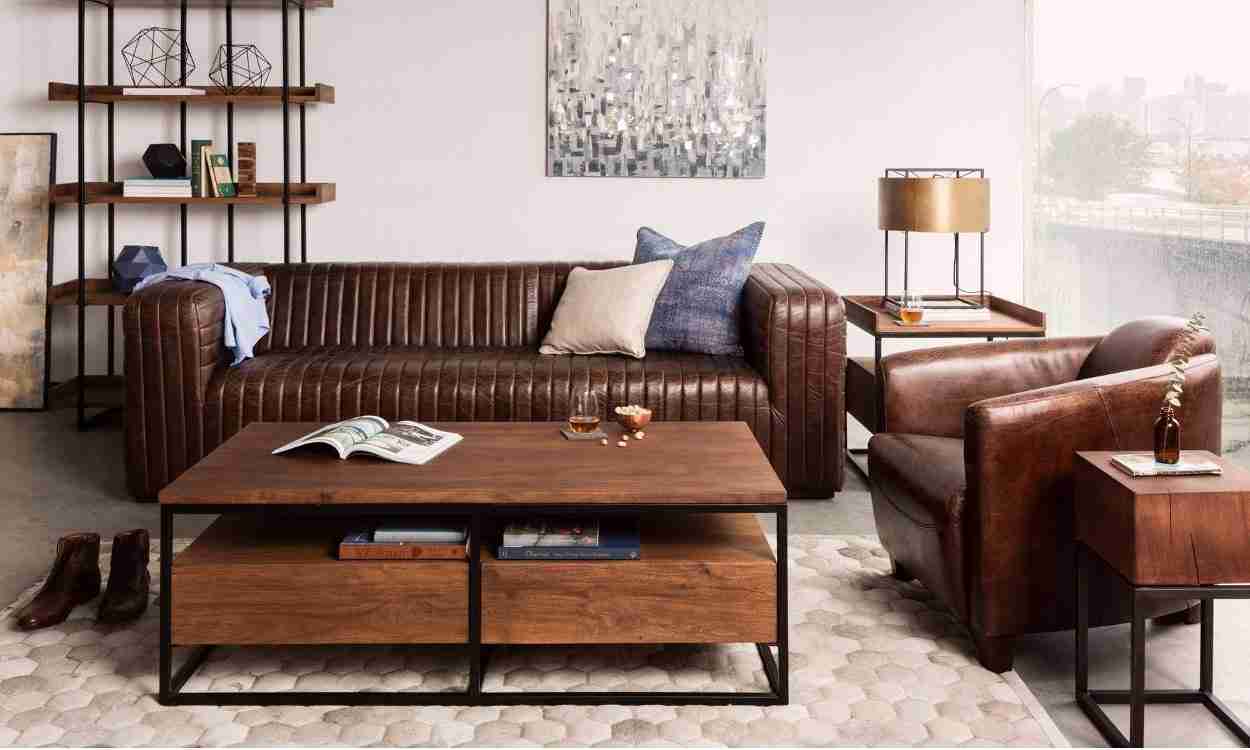 Image credit: OverStock
7. Worktop: kitchen classics
A wide board with a pronounced texture, sometimes emphasized by a skillful firing or a layer of lacquer, natural, natural shade, or, as a contrast, whitened, covered with a layer of paint – the wood worktop is appropriate in almost any kitchen, especially the white Corian worktop. After all, what, except wood, can give a room coziness and warmth?
The pros of this solution are obvious: you can make a wood worktop of almost any shape and size – from a simple dining table to a complex kitchen headset. In addition, wood can be easily upgraded if needed, removing traces of rough handling or accidental stains. With proper care, the headset itself will survive. What are the drawbacks? Well, they're hardly any!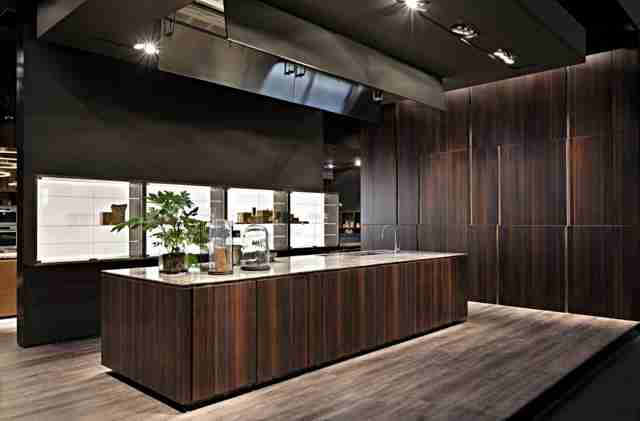 Design by Miyo
8. Stumps and snags: natural beauty
Stumps and snags are a design dictated by nature itself. Unusual, unique shapes, natural colors, and shades make the idea of using such unusual objects particularly attractive.
A large snag can be a bathroom sink stand or as a support for a stone tabletop in the living room; a huge stump – a luxurious coffee table or the base of the dining table; natural elements are used both as chairs and benches and as a base for lamps, play the role of sofas and chairs, bar racks and hangers. Only your imagination can possibly limit stumps and snags.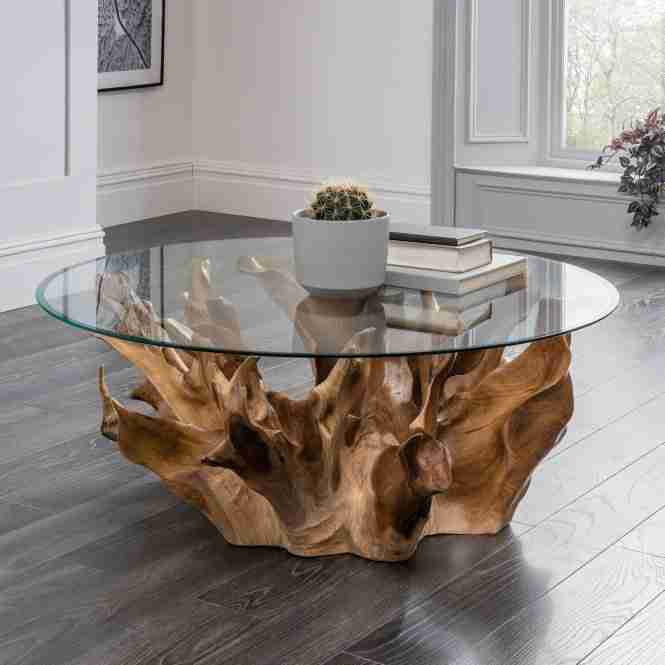 Image credit: Homes Direct 365
9. Branches and rods: unusual applications
There is nothing more beautiful and unique than natural materials. But the branches and rods in the interior of the room should be not just unusual, but almost invisible, not striking against the background of the rest of the decoration. Only then arises that complex sense of completeness and integrity of interior design, which every designer strives for.
An armful of rods, put together and connected together, will become a coffee table or the basis for a pouffe, and a flaky branch, attached under the ceiling – an unusual chandelier luster or volumetric decor with decorations suspended from it. Thin twigs, massive branches, even parts of the trunk of the tree – in the design of the apartment will find application for everything. 
Image credit: Remodelista
10. Details: there are no trifles
There are no trifles in the design of an apartment or house. After all, even seemingly insignificant details can radically change the impression, create a mood, and set the tone for the whole room.
For example, the faceless coolness of hi-tech will dilute the warmth of wooden stands for magazines and books, the rigor of the loft will be able to smooth the bright green plants in wooden pots, purposeful simplicity of the Scandinavian style will soften the wide frame of the floor mirror, made of untreated wood.
These are ideal ways to incorporate wood into your interior design. In addition, every detail, and every element plays an important role here.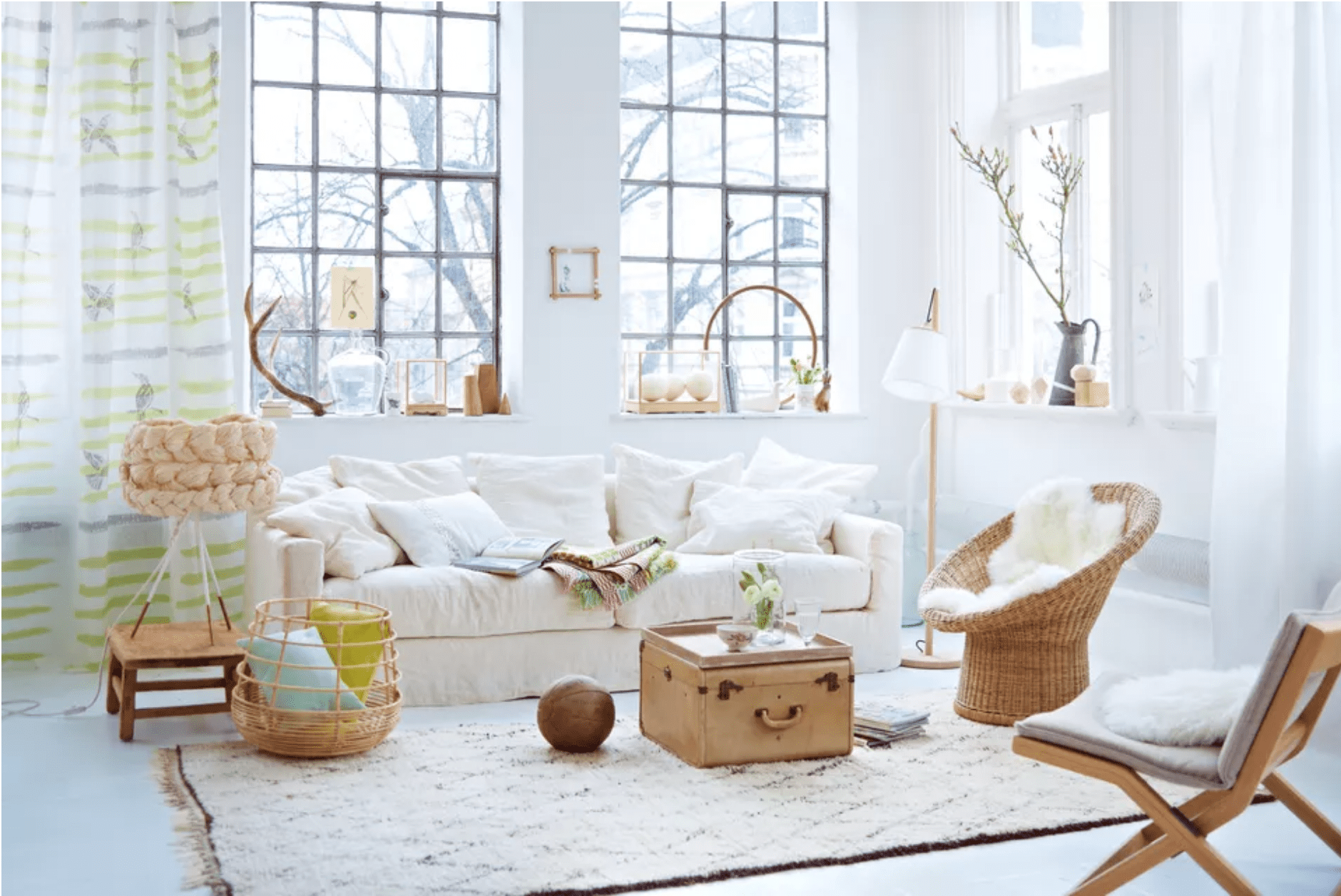 Janne Peters / Getty Images