5 Reasons to Invest in a Reclaimed Wood Dining Table
An authentic reclaimed wood dining table will give your dining room a natural beauty of unrefined, and raw wood. This type of furniture can add comfort and elegance with a homely coziness to any space. Not only does a reclaimed wood dining table add visual aesthetic to a space, but they're also known to be eco-friendly. Here, we've put together 5 reasons why you should invest in a reclaimed wood dining table.
But before we jump right into it, let's find out what reclaimed wood is. If you're about to invest in a high-quality piece of furniture, it is vital that you understand the type of wood used for that furniture, alongside the benefits and drawbacks.
Reclaim furniture is made from wood with a past. Reclaimed Wood or Lumber goes back in history, it has been used for structures and buildings from the 18th century to the 20th century. This wood was a part of a different era and structure, salvaged for the purpose of reusing while restructuring. However, reclaimed wood furniture is not made from recycled wood, neither is it repurposed or up-cycled.
The high-quality timber is taken apart bit by bit in other to preserve its unique qualities. What makes reclaimed wood very distinct from recycled wood is that reclaimed wood is never reprocessed. The most common reclaimed woods are Douglas fir, beech, redwood, pine, and oak.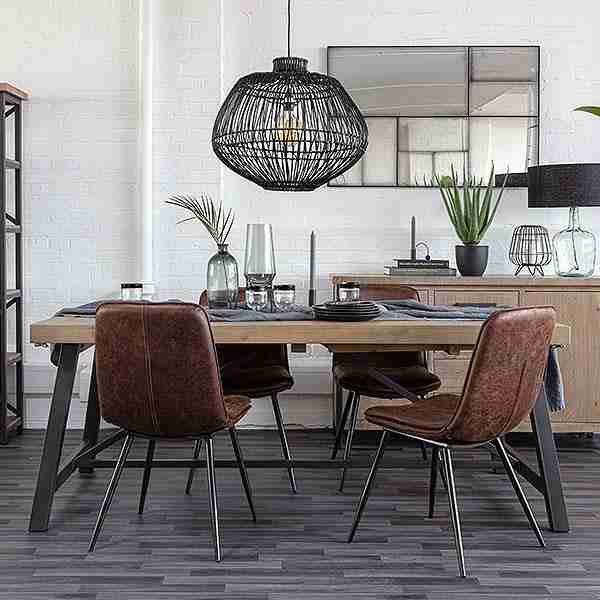 Here are the benefits of reclaimed wood dining table
RUSTIC SOPHISTICATION
This piece of furniture has an enduring style that can add a sophisticated rustic-look to your dining room. Not only does it adds warmth and character to your home, but a reclaimed wood dining table also creates contrast and interest. This type of dining table is also well-suited for contemporary interior design. Consider an authentic reclaimed dining table for your home, as it will add interest and sophistication that goes beyond the simplicity of style.
LONG-LASTING
Besides its beautiful rustic character, you can be assured of its durability, as it made using seasoned wood. Reclaimed woods are much stronger, stable, and durable compared to the wood being grown in forests today. This type of wood has been repurposed from old buildings and was harvested in jungles and forests that were centuries old. These trees have been able to fully matured and develop heartwood, the deepest part of the tree. This makes it have lower risks of cracking, contracting, expanding, or warping.
ENVIRONMENTALLY FRIENDLY
Increasingly, homemakers are now becoming more environmentally conscious when buying products, despite that, newly-harvested wood is still in high demand. Over-forestation has resulted in fewer trees in the forests, wood, and jungles. So, it is crucial that we preserve what is left. Furniture made from reclaimed wood does this because it is reusing old wood. Environmentally-friendly reclaimed lumber reduces deforestation and prevents the need for more trees to be cut down, therefore, protecting the environment.
AESTHETIC APPEAL
One of the reasons why you should invest in a reclaimed wood dining table is that they are visually appealing. The distinctive character of a reclaimed wood dining table will fill your room with fascination and charm. Old trees have more heartwood which comprises fine-grain patterns, distinctive marking, and rich multi-tonal coloring that cannot be easily replicated in less mature trees. The knots, nail holes, and staining shows its authentic individuality.
HARD-WEARING
Weathered by its past, this salvaged wood is sturdy, damage-resistant, and durable. Reclaimed wood has been contracting and expanding for many decades in its previous installations. The long-term weathering makes it less susceptible to splitting, drying, and cracking. A reclaimed dining table might be the ideal choice for young families. So you don't have to worry about scratches and marks as they can easily blend in with the uneven texture and tone of the furniture.